Screenshots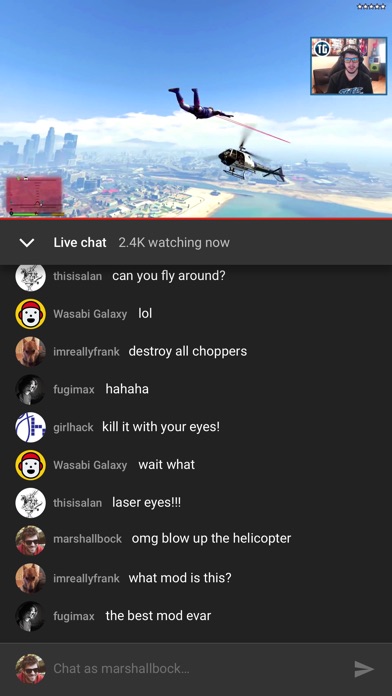 New in version 2.03
- Bug fixes and performance improvements.
Description
YouTube Gaming keeps you connected to the games, players, and culture that matter to you. Featuring videos and live streams with chat — including let's plays, reviews, news, speedruns, trailers, and more from your favorite gamers and publishers — you can explore the games you care about more deeply than ever before.

With videos covering Minecraft, Grand Theft Auto, League of Legends, Call of Duty, Garry's Mod, and tens of thousands more, it's all on YouTube Gaming.

Note that you may encounter mature content in YouTube Gaming.

VIDEOS AND LIVE STREAMS ALL IN ONE PLACE
- Watch videos from more than 25,000 games
- Experience live streams while chatting with other gamers
- Get recommended videos based on games you love

A DESIGN BUILT FOR GAMERS
- Browse dedicated pages for every game, as well as publisher and gamer channels
- Explore categories from reviews to let's plays, machinima, eSports, and more
- Favorite your games and channels for updates and easy access

THE BIGGEST GAMING COMMUNITY
- Receive live stream notifications to keep up with the action
- Join a community of publishers and gamers over 100 million strong
- Tune in to live streams of events like E3, PAX, and Gamescom
iPad Screenshots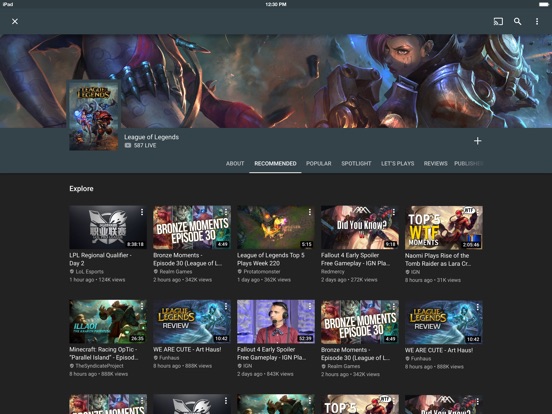 Reviews
Kinda buggy, but cool
JSFalconS4595
on
11/17/2017
There are still some bugs like the rotation glitch, but I hope it gets fixed soon
It does not work on iOS
one thing wrong with this
on
11/17/2017
It's good for watching live streams and videos but on iOS you can't live stream
60 FPS won't work
I've loved the app for a long time, but with the most recent update, I can no longer watch videos in 60 FPS anymore.
Stop complaining that there is no recording or streaming for iOS
Rubiks Cuber
on
11/17/2017
Do you people even know anything about iPhones? Apple is very strict when it comes to recording and streaming on any iOS device. And iOS has its own screen recorder now anyway, so there's nothing to complain about! Anyway, I think this app is great for when you just want to watch videos about gaming and don't want those random non gaming related videos.
Pure and utter ridiculousness
Ramcharger78
on
11/16/2017
Your complete inability to make your apps function properly is disgusting. Every time I go into full screen mode on the regular YouTube app and touch the screen, the app freezes completely, and I have to wait for my phone to respond. I switched to YouTube Gaming because it didn't have that problem. This recent update changed that, forcing me to uninstall both YouTube and YouTube Gaming. I have found an alternative and will be using it for the foreseeable future. I am sick and tired of you screwing up your apps with every update. No matter how many people complain, you still do nothing to fix it. Try actually focusing on fixing actual problems instead of adding useless features no one cares about. I hope someone is reading these reviews and is doing something to remedy these issues, but I'm going to assume I'm wrong. Fix these issues and fix your broken copyright system.
It's okay
uhh, read this?
on
11/16/2017
This is good just to watch. But I can't record or livestream my screen (I own iOS; iPhone6S+). I just updated and I haven't checked it, but if it's still not letting me, it needs to be fixed.
HOW?!
How in the world do you release two updates within the span of a few weeks from one another with this being the most recent and still have an issue with the thumbnails not showing up?! It's like updates these days either don't fix a thing or just makes things worse.
How is this
How is this not on the Apple TV?
Live broafcast
live broadcast Why do not you have it for android android come please live broadcast feature in iphone
Live streaming on IOS
Y can't I️ live stream on Apple for games but can on android
Videos on YouTube gaming
little. lidie
on
11/8/2017
I like the app it's just my friends can do videos on it with their apps on their phone and somehow I can't
Thank you!
Thanks for everything youtube And thanks for supporting smart invert colors 😍
Add this
Smash Skelecat
on
11/3/2017
I've done some live streaming on my tablet with this app, please tell me it can be done on iPhone now, why wouldn't we be aloud to live stream with this app on iPhone?
ONLY FOR SAMSUNG WHY YT
Mr_NoodleDerp
on
10/30/2017
ITS ONLY FOR SAMSUNG WHY YOUTUBE make it so u can mak vids in apple iPhone please I'm annoyed so until u do I'm only gonna rate one star jerks 😒
Wow
This showed up twice a day
MAKE STREAMING WORK WITH IOS AND I MAKE 5 Star
I am a new Youtuber and I enjoy gotten over 1k Subscribers in just a few Months. I cannot Stream with Face Cam on any other App and MANY Android Users have been Enjoying this feature for a while It would DRASTICLY HELP the Ios Gaming Community! Please Update this as soon as you guys can fix it Many apps have integrated the New IOS 11 features with screen Mirroring. Please fix this!! I love the app otherwise!
Live Stream
You can't live stream from your iOS device that very trash I would like to live stream from my iOS device
Make It Able To Livestream In IOS Pls!!!
Glitterz :3
on
10/21/2017
Hi google,if it ok if u can make it able to live in iOS many people want it to happen but u seem like u don't want it to happen because many people will already live on android and there a lot of people and also if u can on Android can u make it compatible with all the country cus there still country that want to go live and they have hard time to find a living app so please make it able to live and also record too if u can on iOS! Thx for reading this Google!😊
Love the new icon
I love the new icon for YT gaming. YT music on the other hand has a terrible looking new icon.
I hate this right now
Notenthused7
on
10/17/2017
I can't even open the app anymore. Fix this stupid app.
Mobile broadcasting
It will be better if gamers can broadcast from their mobile device
iOS 11 casting screen
gamertubehub
on
10/14/2017
You should make it able to stream from iOS on 11 since it can screen record it would really help plus to new update has casting abilities so you can make and update pls
ADD LIVE-STREAMING!
YO THE ANDROID VERSION OF THIS HAS LOWKEY LIVE-STREAMING WHICH IS THE MAIN REASON WHY I LOVE THIS APP BUT I JUST RECENTLY SWITCHED BACK TO APPLE AND I SAW YOU DONT HAVE LIVE-STREAMING LIKE YOO HOW AM I SUPPOSED TO DO MY YOUTUBE LIVE-STREAMING ANYMORE BRUH,PLEEAAASSSEE ADD LIVE-STREAMING FOR ALL THE YOUTUBERS MY YOUTUBE CHANNEL IS PIZZACHU
I can't record on my IPhone!
Potato Power Woman
on
10/11/2017
This app is cool, but for some reason you can't record on the IPhone! I though it was a small bug so I deleted it and reinstalled it and it STILL wasn't there! I'm getting impatient, but isnt it harder to make one phone not have a record button and the other to have one? It just makes no sense on why you did this. Please fix/add this.
Better than youtube
eboy the savage
on
10/11/2017
Way better than youtube
Good, but needs dark mode.
Absolutely love the app and the features. Helpful for meeting new streamers and getting involved with the community. Just wish it had dark mode like the desktop version.
Please make it for iOS user
ONE YEAR LATER AND STILL NO IOS LIVE STREAMING SMH Please make it compatible with iOS users to record live stream gameplay this would be awesome..I hope this would be the next update for it beside that this is a great app👍👍👍
한국에서 방송잘하고있습니다 히오스도좀 챙겨주세요 ㅠㅠ
유튜브게이밍 관계자여러분 ㅠㅠ 저는 히오스를 방송하고있습니다 신인스트리머입니다 ㅠㅠ 신인추천시스템도 마련해주세요 화이팅 유튜브게이밍 그리고 IOs아이폰에서도 모바일게임 방송가능하게해주세요. ㅠㅠ 신인과 인기크리에이터 차별을 안했으면좋겠습니다 ㅠㅠ 아프리카처럼 우덜식운영은 정말 안했으면합니다 앞으로 구글게이밍 응원합니다 ReplayKit ios10도 지원되면은 정말로 좋겠습니다 화이팅 구글게이밍 아프리카TV처럼 막장운영은 안됬으면 좋긋습니다 그리고 막장생방송에대해선 확실한 수위재재가있었으면합니다 그리고 한국시장에 진출하실때는 TV광고도 좀많이해주세요 ㅠㅠㅠ 아프리카를이겨봅시다 화이팅 ㅇ ㅇ 한국앱스토어에도 빨리 업데이트되고 홍보 도 되서 잘됬으면좋긋습니다 ㅠㅠㅠ 한국앱스토어에도 업데이트 되서 홍보좀 해주세요 ㅠㅠㅠㅠㅠㅠㅠㅠㅠㅠㅠㅠㅠㅠㅠ 정말 유튜브게이밍이 흥하면좋긋습니다 그리고 아이폰에서도 게임녹화되게좀 빨리업뎃하소 ㅠㅠㅠ 그리고 유튜브관계자여러분 앱업데이트때 신인유튜버추천도좀 해주시죠 신인이나 작은채널들은 꾸준히해도 구독자올리기힘든데
Getting better!
I think it'd be nice to have all this built into the YouTube app. Country is divided enough as is YouTube.com/GPUabuse
Is this good?
It's not free
on
10/6/2017
So I just downloaded this I'm not quite sure if I like it but I will tell you guys tomorrow so yeah!.
Amazing
Hyper Nebula
on
9/30/2017
Absolutely good I've been waiting for this
Yt gaming
typical firestorm
on
9/27/2017
The live button is not on where it should be I can not find it
Live streaming
Why did you guys remove the live streaming option. Why? Why? Why? Is this temporary? Thanks
WAT
OrionExploder
on
9/23/2017
I cant go live or make videos 2 stars D:
I want to go live on IOS!!!
Dr. junkienstien
on
9/23/2017
I been wanting to go live on iOS but it's only on android!! Please put it on IOS!!!
YouTube Gaming —> New IPhone screen recorder of IOS 11
Bubbles(orange bird)
on
9/23/2017
The YouTube developers (Google) should make YouTube gaming compatible with the new IOS 11 screen recorder. So we can not only post videos of our screen, but live stream with them.
Love It
Great for a nerd like me
Battery Drain
Update for iOS 11 please. This app is the biggest battery drain on my phone vs all my other apps I use.
HOW DO I REC
How do I rec I'm all ready and stuff it won't let me rec I wanted to rec roblox but it won't let me
Needs A Sponsor Feature
Youtube Gaming is good and all but there needs to be a sponsor button when your are watching someone that has the ability to be sponsored. It's on the Android app but not on IOS it makes no sense. So please add this feature soon
It doesn't stream
If you have an iOS device you hope to stream on, do NOT use this app! It can't do that, so just stick with normal YouTube.
iPhone Livestream
There are livestreams for android users but on IOS there are none.Please make a go live for IPhones please.
Idc
Great app for YT but not a Perfect app
IOS Streaming
The app is great! The thing that makes me mad is that I cant stream on my iPhone, but my friend can with his Samsung Galaxy, great app just please add IOS streaming
Ignorant users down voting this app
You can only stream from this app if the app you want to capture supports it. Not all apps support Apple's streaming API that YouTube gaming requires to stream them.
Version 2.00.1
Good Stuff Google! If your AirPlay button is missing, try clearing your cache on your phone then look for the AirPlay button again.
Images don't load
For some reason, the images won't load. Please fix that.
It's bad
SSJ4Otakudude/Nightcoredude
on
9/7/2017
I try to livestream for YT but I'm on ios😭😭😭😭fix this
Live stream isn't on
Plz help me
Fact Sheet
Publisher:

Google, Inc.

Category:

Entertainment

Released:

Aug 26, 2015

Current Version Released:

Nov 15, 2017

Version:

2.03

Size:

174 MB

Compatibility:

Requires iOS 9.0 or later.

Recommended Age:

17+

Game Center Certified:

No

Supported Devices:

iPad2Wifi-iPad2Wifi, iPad23G-iPad23G, iPhone4S-iPhone4S, iPadThirdGen-iPadThirdGen, iPadThirdGen4G-iPadThirdGen4G, iPhone5-iPhone5, iPodTouchFifthGen-iPodTouchFifthGen, iPadFourthGen-iPadFourthGen, iPadFourthGen4G-iPadFourthGen4G, iPadMini-iPadMini, iPadMini4G-iPadMini4G, iPhone5c-iPhone5c, iPhone5s-iPhone5s, iPadAir-iPadAir, iPadAirCellular-iPadAirCellular, iPadMiniRetina-iPadMiniRetina, iPadMiniRetinaCellular-iPadMiniRetinaCellular, iPhone6-iPhone6, iPhone6Plus-iPhone6Plus, iPadAir2-iPadAir2, iPadAir2Cellular-iPadAir2Cellular, iPadMini3-iPadMini3, iPadMini3Cellular-iPadMini3Cellular, iPodTouchSixthGen-iPodTouchSixthGen, iPhone6s-iPhone6s, iPhone6sPlus-iPhone6sPlus, iPadMini4-iPadMini4, iPadMini4Cellular-iPadMini4Cellular, iPadPro-iPadPro, iPadProCellular-iPadProCellular, iPadPro97-iPadPro97, iPadPro97Cellular-iPadPro97Cellular, iPhoneSE-iPhoneSE, iPhone7-iPhone7, iPhone7Plus-iPhone7Plus, iPad611-iPad611, iPad612-iPad612, iPad71-iPad71, iPad72-iPad72, iPad73-iPad73, iPad74-iPad74, iPhone8-iPhone8, iPhone8Plus-iPhone8Plus, iPhoneX-iPhoneX,

Supported Languages:

Afrikaans; Albanian; Amharic; Arabic; Armenian; Azerbaijani; Basque; Belarusian; Bengali; Bosnian; Bulgarian; Burmese; Central Khmer; Catalan; Valencian; Chinese; Croatian; Czech; Danish; Dutch; Flemish; English; Estonian; Finnish; French; Galician; Georgian; German; Greek; Gujarati; Hebrew; Hindi; Hungarian; Icelandic; Indonesian; Italian; Japanese; Kannada; Kazakh; Kirghiz; Kyrgyz; Korean; Lao; Latvian; Lithuanian; Macedonian; Malay; Malayalam; Marathi; Mongolian; Nepali; Bokmål, Norwegian; Norwegian Bokmål; Persian; Polish; Portuguese; Punjabi; Romanian; Moldavian; Russian; Serbian; Sinhala; Sinhalese; Slovak; Slovenian; Spanish; Castilian; Swahili; Swedish; Tamil; Telugu; Thai; Chinese; Turkish; Ukrainian; Urdu; Uzbek; Vietnamese; Zulu;

Parental Advisory:

Suggestive Themes; Mild Realistic Violence; Fear Themes; Mild Alcohol, Tobacco, or Drug Use or References; Mild Sexual Content and Nudity; Intense Profanity or Crude Humor; Intense Cartoon or Fantasy Violence;