This version of the app is not recommended
App last updated
Dec 13, 2017
Screenshots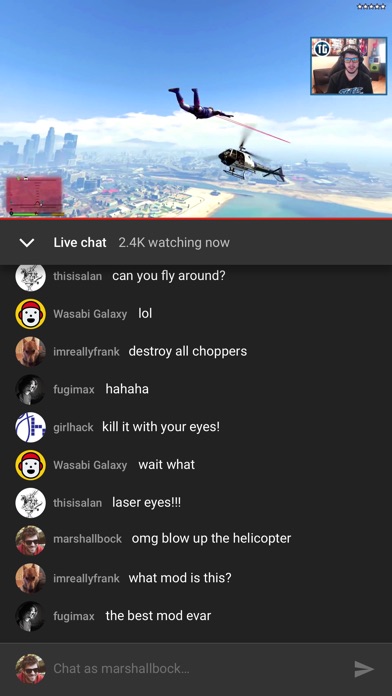 New in version 2.05
- Bug fixes and performance improvements.
Description
YouTube Gaming keeps you connected to the games, players, and culture that matter to you. Featuring videos and live streams with chat — including let's plays, reviews, news, speedruns, trailers, and more from your favorite gamers and publishers — you can explore the games you care about more deeply than ever before.

With videos covering Minecraft, Grand Theft Auto, League of Legends, Call of Duty, Garry's Mod, and tens of thousands more, it's all on YouTube Gaming.

Note that you may encounter mature content in YouTube Gaming.

VIDEOS AND LIVE STREAMS ALL IN ONE PLACE
- Watch videos from more than 25,000 games
- Experience live streams while chatting with other gamers
- Get recommended videos based on games you love

A DESIGN BUILT FOR GAMERS
- Browse dedicated pages for every game, as well as publisher and gamer channels
- Explore categories from reviews to let's plays, machinima, eSports, and more
- Favorite your games and channels for updates and easy access

THE BIGGEST GAMING COMMUNITY
- Receive live stream notifications to keep up with the action
- Join a community of publishers and gamers over 100 million strong
- Tune in to live streams of events like E3, PAX, and Gamescom
iPad Screenshots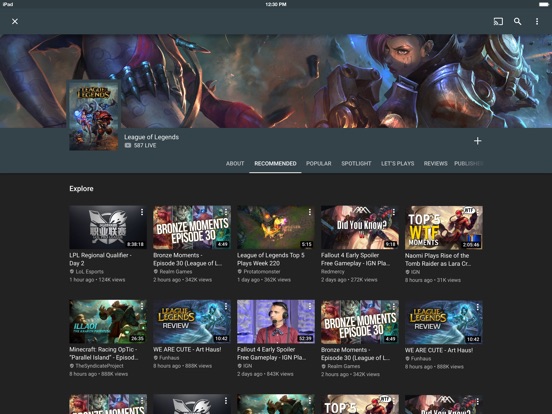 Reviews
How
Qwertyshffifjffjjfuffujd
on
1/21/2018
How do you record on iPhone live
Add Support Go Live Button For iOS Devices
Rawand King Fire
on
1/20/2018
Please,I want to add support Go Live Button For iOS Device Early Thanks for accepting my request!
Better than the Standard App
AbbyRoseCrimson
on
1/18/2018
I actually enjoy this app more than I enjoy the standard YouTube app. Very intuitive.
Unrelated
There a some unrelated videos that aren't about gaming and are still on here? You should try and fix it when that happens I'll give it a better rating
BOI
YOUNGCASHREGISTER
on
1/14/2018
BOI
Live streaming won't work
StreaaamSCREEEN
on
1/6/2018
Live streaming on this app works on my phone just fine, but it won't work on my iPad. I don't want to be drawing/animating on my tiny screen for the rest of my life, and my iPad can't live stream for some reason, (it's an iOS 9.3.5) please help, I really want to live stream on my iPad and it's stressing me out!!!
Freeze Glitch in Landscape mode
Weird bug that causes play or any button when in landscape mode to just freeze image of video you are watching when you re-enter app or you get a call and go back. It happens for about 15+ seconds. Also causes phone to not respond when trying to close out of the app with this problem. On an iPhone 6s Plus. Also happens in Regular YouTube app.
But how?
Randy Milkshake
on
1/3/2018
How do I go live on the app
Apple devices matter
Apple lives matter
on
1/2/2018
This app is giving away the chance of being a YouTuber because iOS is able to make videos but not apple so I can't make high quality videos for more subs this is outraging!!!! I just want to feel special to the people of the internet and this was the only chance I had but my LG can only process that ability so I'm very mad I'm rating this 0 stars because of that I'm deleting this app and you destroyed my dreams of being a youtuber so f**k you stupid creaters because this app is the same thing as YouTube but it's for lazy people like you. You can't just enable this ability to iOS and not apple? You guys are f**king idiots GOODBYE B***CHES
Could you please add streaming to iPod Touch
IndianFromHeaven
on
1/2/2018
I love this app but it won't let me stream with my iPod Touch idk why
I know exactly why you can't Livestream.
e10. with a lightning port.
on
1/1/2018
You need 25 subscribers. You can Livestream only when you have 25 subscribers. Or just Livestream from your computer.
IDC
mahmoud 99777
on
1/1/2018
Good app
10/10
Alejandro 826372
on
12/26/2017
Good app
Do This's
For ya gaming there should be a feature that you can screen record because on Apple the screen recording option works but when you want to upload it with your voice it does not work
App crashes ALL the time!
App crashes ALL THE TIME! If you pause a video, it will crash. If you try to post a comment, it will crash. If you try to fast forward or rewind, it will crash. Anything you try to do once you start a video, it will crash! It's been like this now for like 3 or 4 different updates and I'm STILL waiting for a fix. Why is this? This is TERRIBLE and needs to be fixed ASAP!
Sad
I have a iPhone 5c which means I can't get the screen recorder and I need youtube gaming for its screen recorder and live streaming plz
Livestreaming for iOS
Mdjdjsjdjdj
on
12/17/2017
In the next update u guys need to add livestreaming for iOS
I'm confused
Now I have a YT channle called supermariolover and I used YT gaming to screen record and now I can't when I got my own IPhone can you plz tell me why this is happening
Very Good For Live Streams
Like Watching Streams On This
1080 60FPS Video viewing option
Power watcher 26
on
12/14/2017
Bring back 1080 FPS option, watching videos worked perfectly with it. But it was removed for no reason.
iOS 11 Streaming
Foxzzforlife
on
12/14/2017
ADD IT BABE🤮
Live vids
Can iOS do live videos
Dumb
GlitchyEnderman
on
12/13/2017
I saw my friend had uploaded a video to youtube, I asked them the app to do so and they told me this so I downloaded it and they said "Oh all you need to do is find the Earth button" but that wasn't on mine and I realized that this a huuugee waste of time, if you are on an IOS device don't use it
Apple is stupid
Waber jason
on
12/12/2017
Please make streaming possible in the iOS it's not fair that android gets it and we don't.(I don't care if there a such thing as a screen recorder)
Fix all the bugs please
The Real Philly Phil
on
12/12/2017
I Love watching YouTube Livestream Gaming but for some reason when I want to comment in my friends video the comment doesn't read, it just disappears and it's really frustrating plus sometimes I watch the videos in landscape mode and the app would just crash and literally brick my iPhone 6s Plus for a good 10 seconds. Please fix all the bugginess soon and make YouTube great again. Thanks!
ADD LIVESTREAMS!
YouTube, I am asking you to PLEASE add lives on this. I really wanna talk to my subscribers more and I can't because of this, please make it so iOS users and stream.
NO iOS STREAMING!🤬
As someone who creates YouTube videos & streams iPhone & console games using iPhone, I know of a way to stream to YouTube from console but I can't do that… why can you not be cooler?!
Can't record on ipad
I can't record on the iPad I see nothing to make videos so why did I even downloaded this app?
Problem
dark alumni
on
11/27/2017
Everything works right but I can't start a stream
GREAT!!!
i like rpblox
on
11/23/2017
But let me kill some haters So? Get vicorec and record and yt gaming already has it set up! And iPhone REALLY ughh this is five stars but I'm mad
Restricted mode question
On the pc, YouTube gaming automatically uses whatever setting the person's regular youtube account is at. But somehow this is not the case with the gaming app, despite the fact that it's our same account. And on top of that, there's no option to change restricted mode within the app! Its extremely frustrating when you have a young boy who wants to watch gaming stuff but you don't want them to have access to just anything. Please change this! Either make the app sync with the account settings or include settings within the app for restricted mode.
Fix Please
Ok, so its an amazing app if i watched gameplay on it. But i use it for recording my gameplay, and it only works for my samsung tablet and not my MUCH better iPad. So i would like to record my gameplay on my iPad, please fix this!
How do I record now in iPhone?
How do I record?
on
11/20/2017
I've searched all of it and only my sister can record and make live streams but I still like that app
Kinda buggy, but cool
JSFalconS4595
on
11/17/2017
There are still some bugs like the rotation glitch, but I hope it gets fixed soon
It does not work on iOS
one thing wrong with this
on
11/17/2017
It's good for watching live streams and videos but on iOS you can't live stream
60 FPS won't work
I've loved the app for a long time, but with the most recent update, I can no longer watch videos in 60 FPS anymore.
Stop complaining that there is no recording or streaming for iOS
Rubiks Cuber
on
11/17/2017
Do you people even know anything about iPhones? Apple is very strict when it comes to recording and streaming on any iOS device. And iOS has its own screen recorder now anyway, so there's nothing to complain about! Anyway, I think this app is great for when you just want to watch videos about gaming and don't want those random non gaming related videos.
Pure and utter ridiculousness
Ramcharger78
on
11/16/2017
Your complete inability to make your apps function properly is disgusting. Every time I go into full screen mode on the regular YouTube app and touch the screen, the app freezes completely, and I have to wait for my phone to respond. I switched to YouTube Gaming because it didn't have that problem. This recent update changed that, forcing me to uninstall both YouTube and YouTube Gaming. I have found an alternative and will be using it for the foreseeable future. I am sick and tired of you screwing up your apps with every update. No matter how many people complain, you still do nothing to fix it. Try actually focusing on fixing actual problems instead of adding useless features no one cares about. I hope someone is reading these reviews and is doing something to remedy these issues, but I'm going to assume I'm wrong. Fix these issues and fix your broken copyright system.
It's okay
uhh, read this?
on
11/16/2017
This is good just to watch. But I can't record or livestream my screen (I own iOS; iPhone6S+). I just updated and I haven't checked it, but if it's still not letting me, it needs to be fixed.
HOW?!
How in the world do you release two updates within the span of a few weeks from one another with this being the most recent and still have an issue with the thumbnails not showing up?! It's like updates these days either don't fix a thing or just makes things worse.
How is this
How is this not on the Apple TV?
Live broafcast
live broadcast Why do not you have it for android android come please live broadcast feature in iphone
Live streaming on IOS
Y can't I️ live stream on Apple for games but can on android
Videos on YouTube gaming
little. lidie
on
11/8/2017
I like the app it's just my friends can do videos on it with their apps on their phone and somehow I can't
Thank you!
Thanks for everything youtube And thanks for supporting smart invert colors 😍
Add this
Smash Skelecat
on
11/3/2017
I've done some live streaming on my tablet with this app, please tell me it can be done on iPhone now, why wouldn't we be aloud to live stream with this app on iPhone?
ONLY FOR SAMSUNG WHY YT
Mr_NoodleDerp
on
10/30/2017
ITS ONLY FOR SAMSUNG WHY YOUTUBE make it so u can mak vids in apple iPhone please I'm annoyed so until u do I'm only gonna rate one star jerks 😒
Wow
This showed up twice a day
MAKE STREAMING WORK WITH IOS AND I MAKE 5 Star
I am a new Youtuber and I enjoy gotten over 1k Subscribers in just a few Months. I cannot Stream with Face Cam on any other App and MANY Android Users have been Enjoying this feature for a while It would DRASTICLY HELP the Ios Gaming Community! Please Update this as soon as you guys can fix it Many apps have integrated the New IOS 11 features with screen Mirroring. Please fix this!! I love the app otherwise!
Live Stream
You can't live stream from your iOS device that very trash I would like to live stream from my iOS device
Fact Sheet
Publisher:

Google, Inc.

Category:

Entertainment

Released:

Aug 26, 2015

Current Version Released:

Dec 13, 2017

Version:

2.05

Size:

173.1 MB

Compatibility:

Requires iOS 9.0 or later.

Recommended Age:

17+

Game Center Certified:

No

Supported Languages:

Afrikaans; Albanian; Amharic; Arabic; Armenian; Azerbaijani; Basque; Belarusian; Bengali; Bosnian; Bulgarian; Burmese; Central Khmer; Catalan; Valencian; Chinese; Croatian; Czech; Danish; Dutch; Flemish; English; Estonian; Finnish; French; Galician; Georgian; German; Greek; Gujarati; Hebrew; Hindi; Hungarian; Icelandic; Indonesian; Italian; Japanese; Kannada; Kazakh; Kirghiz; Kyrgyz; Korean; Lao; Latvian; Lithuanian; Macedonian; Malay; Malayalam; Marathi; Mongolian; Nepali; Bokmål, Norwegian; Norwegian Bokmål; Persian; Polish; Portuguese; Punjabi; Romanian; Moldavian; Russian; Serbian; Sinhala; Sinhalese; Slovak; Slovenian; Spanish; Castilian; Swahili; Swedish; Tamil; Telugu; Thai; Chinese; Turkish; Ukrainian; Urdu; Uzbek; Vietnamese; Zulu;

Parental Advisory:

Mild Alcohol, Tobacco, or Drug Use or References; Intense Cartoon or Fantasy Violence; Mild Sexual Content and Nudity; Intense Profanity or Crude Humor; Suggestive Themes; Mild Realistic Violence; Fear Themes;