Screenshots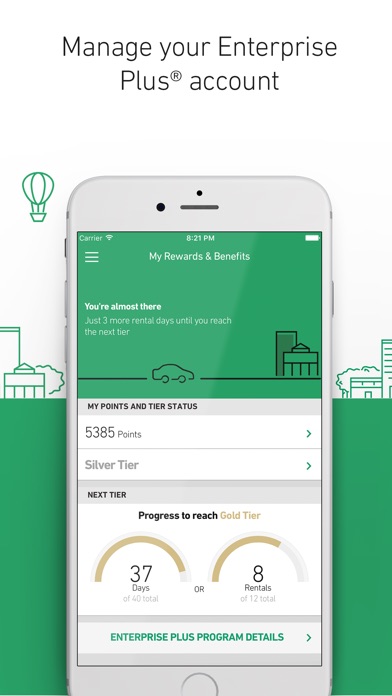 New in version 2.1
• Filter Locations by your travel times. Simply add your travel dates and times to the location filter to instantly see which Enterprise locations are available for your trip.
Description
It's never been easier to rent a car from your mobile device. The Enterprise Rent-A-Car App is your own free personal assistant for all things car rental. You can easily view or modify upcoming reservations, get directions to a rental branch, call roadside assistance, or find a rental car for your next trip at one of our 7,000+ worldwide locations. Stay signed into your Enterprise Plus® account to make reservations even faster, plus earn points toward free rentals.


Additional app features include:

Make a reservation
Find rental locations near you or your destination, narrow your search with location and vehicle filters, and save rental details to make future reservations even faster.

Access all your rentals in one place
Easily view the details of your rentals to reference pick-up or drop-off times, your current rental car information, directions back to your rental branch, and more.

Manage your Enterprise Plus® account
View your reward points balance, update your account details, and redeem points toward free rental days.

Get help when you need it
Contact roadside assistance or 24/7 customer support, and look up your rental branch details including phone number, address and directions.

Favorite a location
Visit a location frequently? Make it a "favorite" to quickly access the information you need or start a reservation.


We're there when you need us. And now we're making it even easier to experience the benefits of Enterprise from your mobile device.


By clicking on "Install", you consent to the Terms of Use and Privacy Policy including access to or storage of performance and usage device & app related data for analytic purposes by Enterprise Rent-A-Car or its third party providers.
Reviews
Extremely happy
Bassplayer 2012
on
10/16/2017
Excellent and reliable service! Over and over again .
Just what you want in an App!
Manda the Road Warrior
on
10/15/2017
Exactly what I hoped for in your app! Easier than your website, Sorry!! Wow! Love it! Love it! Love it!
Confirmed but NOT
ShelbyIN730
on
10/14/2017
Booked and confirmed then came to pick up car and found out no availability.
Review of Service
The Service I have received from this station has been excellent. Always my first choice of car rental place. Would refer my friends here too.
Time saver!!
Not often do I submit a review but I 💗 enterprise and their app makes reservations - even their great $9.99 weekend special - so easy to book. I've used it for business and personal, home and abroad.
Enterprise is good - the app is not
My neighborhood enterprise is consistently wonderful the app is not very good.
Review
shirleykennedynyc
on
10/11/2017
Everything went very well.
Great improvement
2" SteamHoleMilk
on
10/10/2017
Simple intuitive and fast
The ease of renting
Always an ease to rent from Enterprise, with the professional and courteous service I've come to expect and always receive.
Only Enterprise for Me!
Every single time I rent from Enterprise I am impressed by the experience. The people and service are top notch and they appear to love their jobs. The training program must be first rate because all of their employees are personable, friendly and eager to help. On too many occasions, I have fallen for the promotions of other rent car companies, but there is seriously no comparison. Anything other that Enterprise has proven to be a disappointment. When given the choice, I will always stick with them!
Very disappointed
Very disappointed, can not find any location, but there are about 3 locations around me.
Excellent Service
Ninjette2135
on
10/9/2017
Enterprise makes it easy to rent a car. Using their app I have always been able to get a car when I need it, at a great price and they make it easy to rent.
App works great!
Have been using Hertz Gold and National Emerald Isle apps for a while. I am now driving (RV) for work and renting from Enterprise. Works seamlessly with my Emerald Club account and couldn't be easier. Way to go National/Enterprise! (I do miss Hertz Presidents circle - but not the airports - even with TSA Pre Check!).
Thank you
Enterprise is always very accommodating, especially at the Vero Beach location where I rent frequently!
Rental Services
LynchMobbMrC
on
10/8/2017
Excellent service never a problem
Review
As a local resident in Mobile, Alabama, it was very difficult for me to get a rental to go pick up my aunt at the New Orleans airport. I ran into road block after road block and punished because of others' pack of morals and ethics. My aunt is elderly and has dementia and I had to be there at a specific time early in the morning. The mobile airport location would only accept and itinerary (which didn't apply to me) and there were no other locations open but there was no flexibility on that policy. So now I have to rent a car from another enterprise location and it jeopardizes me being there on time to pick her up which in turn could be disastrous for my aunt who may get confused or lost!!! Thanks
The prices are in British pounds
Not sure what is wrong with the app, but the prices (for American locations) are listed in British pounds. I am, nor have ever been, in Great Britain. My Enterprise account has an American address.
Love It
I Love How Everything Is At The touch Of A Finger, No More Waiting on hold, you can get everything set up right from your phone.
Easy-peasy
Lord Jeffrey Amherst
on
10/4/2017
Finally, an uncluttered app that works logically with just a few user inputs. Redeeming points is a seamless part of the process and is equally quick and easy.
Enterprise is #1
Most offices, most friendly and helpful staff, competitive rates, broad assortment of cars, excellent customer service by phone and in person. And they pick you up or drop you off in many cases. No one works harder for my business.
Best rental car company ever!!!
...
Area Director
Our organization has rented vans from time to time and have always been pleased with the service.
Good service
Friendly service, easy to use app.
Pembroke Ave., Hallandale/Hollywood, Fl.
The female manager, I love her, always a smile on her face at the Pembroke Ave . office in Hallandale, Fl. is by far the most well managed, the most courteous staff and has great cars. The best rental car agency that I have ever used!
PHE
Easiest app to use by far. Nice job
Easy
The app is very easy to use. This is about the only way I'll Rent-A-Car anymore. I like that you can choose Sirius XM and GPS through the app and it will be ready for you.
Always choosing Enterprice
La mejor compañía para renta de carros, lo recomiendo !!!!!!! 🚗🚕🚙🚘
Saving me again!!!
I have never been disappointed with Enterprise!
Hours At Locations
The only thing this app needs is to show the hours of the offices when you tap them on the map.
Great Experience
Enterprise is always on point and their app is responsive and easy to use. I love using their app!
Rentals
I booked a car in August. The vehicle was very comfortable, great on gas. The company's employees are very friendly, willing to assist in any way. My favorite rental company. The prices are reasonable & the vehicles are great!
Services of a top-notch
I travel often to St. Louis, this branch is always done a good job. It would be nice if they do a freebie here and there, like a free upgrade aside for the car I got. But they still do great job
Booked So Easy
Beautiful's and TT's Music
on
9/20/2017
This transaction was so simple I can't believe it. Everything was done on the Internet. I didn't have to talk to a representative. The only time I have problems is when I go someplace that is not at an airport. I don't know why the terms are different. But going online and being a member has its benefits. This transaction was cheaper then when I decided to pick up someplace else.
Great App!
Great app and great customer service.
Great app!
Fiona Fanatic
on
9/20/2017
With the weekend promotion added into the app, booking is a breeze!
Will never use Enterprise again!
The worst experience I've ever had with a rental company.
Enterprise app
Very easy to use.
Super convenient
Remembered my defaults. Reservation made in less than a minute.
Great app.
Always work haven't ever had a problem!
Great Help
This App is a great help when needing to book reservations at the drop of a hat. It's functions are also just as good and very easy to use.
Rent a car
I think it's a good ap. Enterprise is one of the best rental companies because they make the rental process easy and they have nice cars.
Want to use points
Where are the options to redeem
So easy to use
Great app. Never had a problem using the app to reserve a car.
User friendly
This app is what all apps should be. Very easy to understand and navigate. Thanks to whomever designed it.
Live the App
Very easy to use & convenient!
Awesome staff!!
Excellent and efficient!!
Fact Sheet
Publisher:

Enterprise Holdings, Inc.

Category:

Travel

Released:

Oct 03, 2015

Current Version Released:

Aug 08, 2017

Version:

2.1

Size:

94.3 MB

Compatibility:

Requires iOS 9.0 or later.

Recommended Age:

4+

Game Center Certified:

No

Supported Devices:

iPad2Wifi-iPad2Wifi, iPad23G-iPad23G, iPhone4S-iPhone4S, iPadThirdGen-iPadThirdGen, iPadThirdGen4G-iPadThirdGen4G, iPhone5-iPhone5, iPodTouchFifthGen-iPodTouchFifthGen, iPadFourthGen-iPadFourthGen, iPadFourthGen4G-iPadFourthGen4G, iPadMini-iPadMini, iPadMini4G-iPadMini4G, iPhone5c-iPhone5c, iPhone5s-iPhone5s, iPadAir-iPadAir, iPadAirCellular-iPadAirCellular, iPadMiniRetina-iPadMiniRetina, iPadMiniRetinaCellular-iPadMiniRetinaCellular, iPhone6-iPhone6, iPhone6Plus-iPhone6Plus, iPadAir2-iPadAir2, iPadAir2Cellular-iPadAir2Cellular, iPadMini3-iPadMini3, iPadMini3Cellular-iPadMini3Cellular, iPodTouchSixthGen-iPodTouchSixthGen, iPhone6s-iPhone6s, iPhone6sPlus-iPhone6sPlus, iPadMini4-iPadMini4, iPadMini4Cellular-iPadMini4Cellular, iPadPro-iPadPro, iPadProCellular-iPadProCellular, iPadPro97-iPadPro97, iPadPro97Cellular-iPadPro97Cellular, iPhoneSE-iPhoneSE, iPhone7-iPhone7, iPhone7Plus-iPhone7Plus, iPad611-iPad611, iPad612-iPad612, iPad71-iPad71, iPad72-iPad72, iPad73-iPad73, iPad74-iPad74, iPhone8-iPhone8, iPhone8Plus-iPhone8Plus, iPhoneX-iPhoneX,

Supported Languages:

English; French; German; Spanish; Castilian;