Screenshots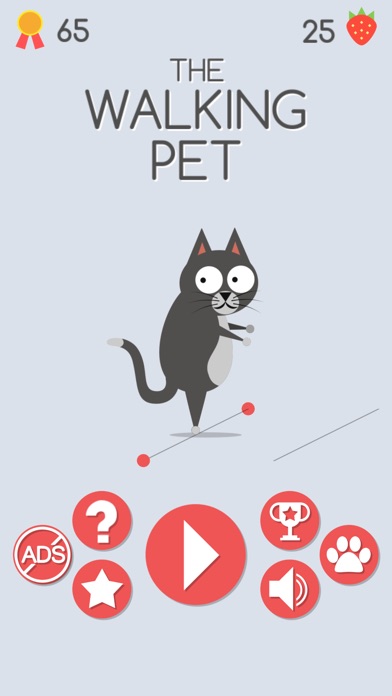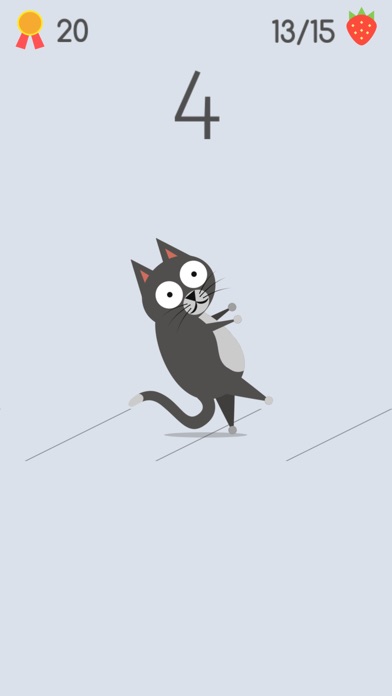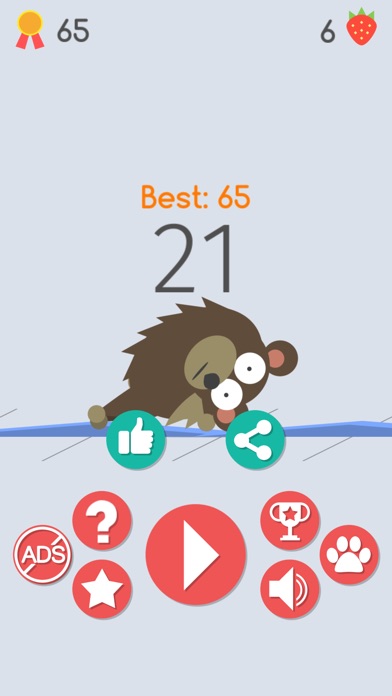 Description
If you think that walking on two legs is easy, the pets do not think so! Be a cat, a cow or a crocodile and try to walk on two legs. How far you can go?
iPad Screenshots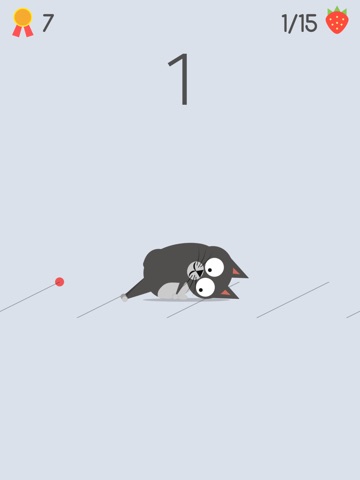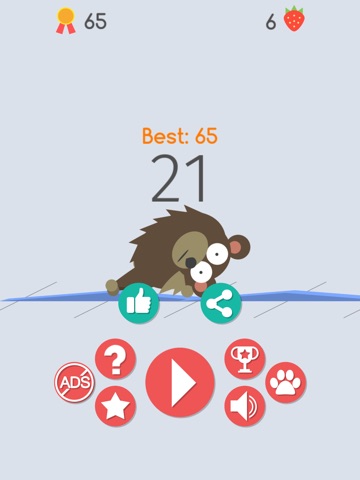 Reviews
Awesome
Massmurder75
on
10/11/2017
I love the game but if possible, maybe an option to take a picture of your pet and make them walk!
Decent game but
I understand bringing ads up for people that don't pay for it. I expect it. When the ads pop up in the middle of your clicking to make your chicken walk and causes failure, it makes you want to delete the game and give it 1 star. I have it 2 because there may be hope if they fix the ads popping randomly
Fun!!!
This game is really fun and challenging. I can't put my phone down!! You really should get it!! ❤️❤️😺😺
Fun but needs more animals (FINAL "ANIMAL" DISAPPOINTED ME)
Kelsi_Loves_To_Read
on
9/16/2017
This game is very fun but there should be WAY more animals then there is because once you get all the animals it's kind of like you finished the game so there is nothing else to unlock. But other than that it is very fun.
WAY TO HARD 😡
This game is waaaaaaay to hard !!!😡😡😡😡😡 I try to walk but it basically won't let you ! I HATE THIS GAME !!!!😡😡
Fun game but...
randomcthulu
on
8/30/2017
This game was fun, but the NONSTOP pop-up ads made it almost impossible to play. I'll still give it 3 stars for a fun idea.
Fun game!
Super hard at first but once you get the hang of it it gets easier. Still a challenge but not so frustrating! I enjoy playing
I like it
manofcoolness
on
8/2/2017
It's very addicting and I play it every day!
BAD GAME 💩💩💩💩💩💩💩💩💩💩💩💩💩
I really hated this game. It is really stupid.
SPOILER ALERT
I loved the game but spoiler alert the zombie at the end disappointed me add more characters and also a UNICORN like please
UNICORN!
I was expecting a unicorn as the ultimate pet. I wanted a unicorn. A unicorn would be more climatic. But the game was really fun. Also more animals please.
No clear instructions on how to play
Plus add every 3 seconds
Fun game but not enough animals/undead
🍭lollypop101🍭
on
7/11/2017
MORE🦈🐅🐪🐎🕊🐕🐉🐇🐩🐖🐫🐃🐳🐋🐂🐘🐐🐁🐁🐈🐲🐀🐓🐏🦏🐄🐊🐆🦌🦍🐑🦃🐿🐵🙈🙉🙊🐰🐶🐱🐭🐹🦊🐻🐼🐨🐯🦁🐮🐽🐸🐔🐧🐦🐤🐣🐥🐒🦆🦅🦉🦇🐺🐗🐴🦄🐝🐛🦋🐌🐚🐞🐢🕷🐜🐗🐜🕷🐢🐍🦎🦀🦂🦑🐙🦐🐠🐟🐡🐬🦈🐆🐊🐋🐳🐅🐃🐂🐄🐘🐫🐪🦌🦏🦍🐎🐖🐕🐑🐏🐐🐩🐈🐓🦃🕊🐇🐁🐀🐲🐉🐿
Great game
LOVE LOVE LOVE this game!! V addicted
long story.
i downloaded the app. became addicted to the app. app began throwing my life&relationship in a landfill. app made me realize how bad i was doing. im doing great now. u should get it. i deleted the app. i dont plan on redownloading it. but u should.
Umm... strange but fun
amazing taco maker
on
6/29/2017
It is surprising addictive and might be Able to keep me busy, it's just strange
MORE ANIMALS
I do like the game a lot but it's just to easy it needs more animals or levels, that would definitely make it a lot more fun.
🦊🦁🐝🐒🐸🐨🐼🐭🦉🐴
The_AWESOME _One
on
6/11/2017
i like this game but i think you should really add more characters!!
ONE OF MY FAV GAMES BUT...
Great if the great ####6
on
6/9/2017
this game is great over all but after I collected all of the characters I hade all of these strawberries and I didn't know what to do with them because I couldn't buy anything wit them so I was bummed about that.
Great, hard though
This game is awesome! It is the sort of game that you don't need Wifi for, so you can use it on the airplane, but it is also hard enough to keep you going. Overall, really good, even if there are a lot of ads. Great game!
Almost!
Misuire Purple
on
5/29/2017
This game is definitely good, but the controls are very finicky though. I'm not sure if it's just me, or if it just takes some getting used to.
GREAT but....
I think this game is great but it is a bit too tricky otherwise it's pretty fun!
Great game
the great in the world
on
5/12/2017
Love it
Very hard and frustrating! (But really cute!)
Barbra lemon
on
5/10/2017
This game is hard. I like it but it is almost impossible for me to get past line: 3. After the first three days of using it I deleted it because it was taking up to much space and I was not getting anything out of it. Other than that the game was very cute. I loved the cat and other animals!
Add more characters!!!!!!!
Bob123098654651
on
4/29/2017
I don't think that there is anything else to say. I got all of the characters in the first day. ADD MORE PLS!!!😫
Worst game ever 😡😡😡😡
can you dig that
on
4/23/2017
When I saw the reviews I was like "this game will be awesome ". It's annoying frustrating and hard honestly hate the game worst ketchapp game ever
Boring
Sophie banao
on
4/16/2017
Do not get this a game it so boring
game of the year
ManoleyLuvsGames
on
4/8/2017
definetly a must have game. i love it. it makes me wet.
Fix plz
The game is amazing and fun to play but I finished it within half an hour and I used no ads. U need to add new and better stuff. Otherwise it's a great game
Wow Ketchapp
If there's one thing Ketchapp is good at, it's cranking out simple, one mechanic games. I love a lot of their games, but come on, this is a blatant rip off of a much better game: DADDY LONG LEGS! Go download it!
Fun Game
Coolmomof4kids
on
3/8/2017
This game makes me smile. I just pick whichever character I think will make me laugh the most. I hope you keep adding too it. I love to play this game.
Great Game
Mupetmower1337
on
2/27/2017
All these people leaving bad reviews for too few characters or saying it's too hard or too many adds are crazy... this game is super fun. And the only reason they get the characters so fast is they watch vids to get the points to get new characters... If they would just play the game and not watch those then it would last longer. Not to mention you don't "brat" the game after you get the last character... there is no end to a game like this. You just continue to play for fun. So I not get all the complaining. The complainers are probably the same type of people who complain about everything else. Nothing is ever good enough for them. Good work on this simple yet very fun game.
Just Not Enough
It's a fun and simple game with the task being to collect all animals. The only problem is there are only 13 animals and I collected them all within an hour. There should be more levels of animals like an underwater group and such. Also if you collect more than the number of strawberries you need to upgrade then you should be able to keep what's left
Needs more Characters
Minomonsters booya
on
1/31/2017
Beat this game in 3 days should add more characters
To many ads!!
I was playing the game and all the sudden ( while I was playing the round) there was a ad and that caused my round to end. Also while I was playing there was a ad on the bottom of the screen that would not go away. So very upsetting
AMAZING, but
I like this game so much, it is amazing, but it has very little characters, and I think it would be awesome if you could compete with world wide players, but that is just me.
I like it
I like the game it's cute and simple
SPOILER ALERT!
Mallory and camilla
on
1/8/2017
I love your games ketchapp! And this one is probably my favorite, but I feel there should be more animals and color options. By the way (spoiler alert) the zombie at the end really disappointed me.😢 I thought there was going to be a golden bald eagle or something but a zombie... really? News flash last time I checked zombies are not pets or animals... they are just dead people. Plz add more animals, the game would have me looking forward to something. Thx🙂
Adorable but hard
Odd Oddrey100%
on
12/21/2016
I love this game! It is quite ADORABLE! Just WAY to hard. I saw the game in the App Store and saw the cat. I said " Ok, I have to get it!" I got it. It's very fun. I have had it for 2 days and I only have 2 characters! Maybe I am just bad at this game or it's to hard. Besides that I love this game and I am going to stop here so I can go play it! Byeeeeeeee!
Good
Sapphirestorm
on
11/24/2016
I like
AWESOMENESS But....
Tacoloverforlife😎🌮🎧👊
on
11/22/2016
The game is AWESOME but I got all the characters in the first day I got it. So PLEASE PLEASE PLEASE ADD MORE CHARACTERS!!! 😎😝
Do not get
Friendly_user101
on
11/17/2016
It's not worth it your waisting you time only getting like 9 characters and you don't get any more than that
Fun but ...
This game is so much fun!! I thought it was a little tricky at first, but now I am good at it and have gotten all the characters and would really love if they added more like 🐯🐸🐴🐰🐙🦁! Other than that it is an Awesome game
Great game...but too many ads
A very fun and addicting game, the pets are cute and the controls are fairly simple. BUT there are WAYYYYY too many ads! Like most Ketchapp games, this game has a TON of annoying ads, not only that, they pop up when you are playing out of the blue, causing you to die.
Just needs more animals
xxemolovexx381
on
8/27/2016
Needs more animals other then that it's a good game ☺️☺️
Fun game but should add more stuff
I really do love this game but I think you guys should add more characters🐶🐻🐮🐵🐔🐥🐝🕷🐠🐋🐂🐐🐀🐕🐱🐼🐷🙈🐧🐺🦂🐟🐊🐏🐄🐁🐩🐉🐭🐨🐦🐗🐞🦀🐡🐆🐪🐑🐓🐈🐹🐯🐸🐤🐴🐞🐍🐬🐫🐫🐎🦃🐇🐰🦁🐙🦄🐜🐢🐳🐃🐘🐖🕊🐿. And I think you should add a color option that every single character/animal has after you select them. It would go like this. So when you open the game or if you are still playing it, you would tap the dog paw which is where all your characters are. Once you opened it, it says "your pets" At the top,and has all the circular icons that show all the pets that you have. Once you select a pet to play as it shows really tiny circle icons filled with colors inside of them next to your pet. Once you tap any color, it will say select but you can undo it if you did not like that color. Also when you tap any color it will make that pet that you selected that color showing you what it would look like if you were playing. The colors I thought of were red, orange, yellow, green, blue, purple, teal, mint green, pink, magenta, brown, maroon, lime green, dark green, black, gray, and silver and gold. I can't really think of other colors that would look cool but you guys can certainly come up with stuff on your own! I just want a little more flavor in this game and I think a lot of people would love this idea!! Pls read this ketchapp I love your games! Especially this one but I want it to have more excitement!!
Great game but......
Cookiegirliopbvg
on
8/11/2016
I love this game but ever sense I got all the characters it's just been boring. GET MORE CHARACTERS !!!!!!!!!!
Addicting!!
So much fun and hilarious!
Fact Sheet
Publisher:

Ketchapp

Category:

Games

Released:

Aug 06, 2015

Current Version Released:

Aug 30, 2015

Version:

1.0.2

Size:

114.2 MB

Compatibility:

Requires iOS 6.0 or later.

Recommended Age:

4+

Game Center Certified:

No

Supported Devices:

iPhone3GS-iPhone-3GS, iPhone4-iPhone4, iPodTouchFourthGen-iPodTouchFourthGen, iPad2Wifi-iPad2Wifi, iPad23G-iPad23G, iPhone4S-iPhone4S, iPadThirdGen-iPadThirdGen, iPadThirdGen4G-iPadThirdGen4G, iPhone5-iPhone5, iPodTouchFifthGen-iPodTouchFifthGen, iPadFourthGen-iPadFourthGen, iPadFourthGen4G-iPadFourthGen4G, iPadMini-iPadMini, iPadMini4G-iPadMini4G, iPhone5c-iPhone5c, iPhone5s-iPhone5s, iPadAir-iPadAir, iPadAirCellular-iPadAirCellular, iPadMiniRetina-iPadMiniRetina, iPadMiniRetinaCellular-iPadMiniRetinaCellular, iPhone6-iPhone6, iPhone6Plus-iPhone6Plus, iPadAir2-iPadAir2, iPadAir2Cellular-iPadAir2Cellular, iPadMini3-iPadMini3, iPadMini3Cellular-iPadMini3Cellular, iPodTouchSixthGen-iPodTouchSixthGen, iPhone6s-iPhone6s, iPhone6sPlus-iPhone6sPlus, iPadMini4-iPadMini4, iPadMini4Cellular-iPadMini4Cellular, iPadPro-iPadPro, iPadProCellular-iPadProCellular, iPadPro97-iPadPro97, iPadPro97Cellular-iPadPro97Cellular, iPhoneSE-iPhoneSE, iPhone7-iPhone7, iPhone7Plus-iPhone7Plus, iPad611-iPad611, iPad612-iPad612, iPad71-iPad71, iPad72-iPad72, iPad73-iPad73, iPad74-iPad74, iPhone8-iPhone8, iPhone8Plus-iPhone8Plus, iPhoneX-iPhoneX,

Supported Languages:

English;