Screenshots
New in version 1.6.1.5
Even more performance enhancements for iOS 11
Description
The new Gogo Entertainment Player brings the magic of the movies and TV to the sky and onto your iPad, iPhone, or iPod Touch. Use the Inflight Entertainment service to watch the latest movies and hit TV shows in flight. Just make your selection, download the player, and enjoy the show!
iPad Screenshots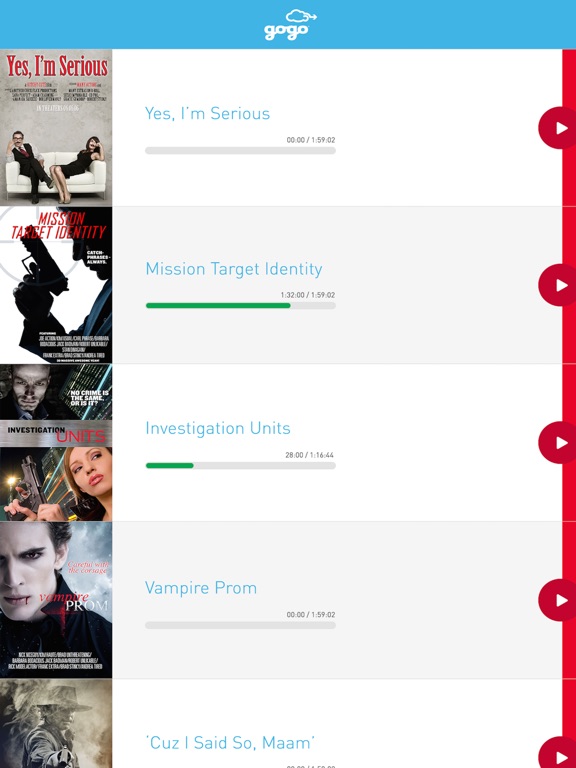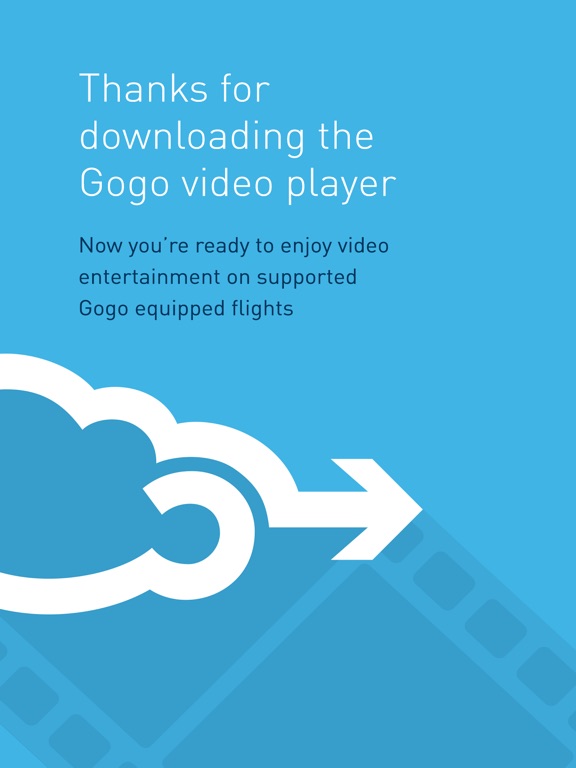 Reviews
Download again?
I have this app! I've used it many times. Don't know why I need to download it again while in flight. Oh well. I'll have time for a quick comedy I guess
SO slow to download in flight
1234justsaying
on
11/16/2017
I can't tell you if ap works or not. Tried for hour to download after take off and am giving up. Download Before you get on plane and maybe it'll be a neat deal.
Terrible experience
After trying for twenty minutes; getting bounced from CAPTIA six times and seeing just a sliver of the APP begin to download I just had to give up. I've never seen any app download experience quite this bad.
Great idea terrible product
It would be nice to offer zero stars. I spent 30 minutes downloading this terrible app and trying to get the video to play before I gave up. Just a constant loop of being in my browser selecting the video then choosing to play the video in the gogo app before it crashes and closes. It's better to just stare at the buckle your seatbelt sign than to waste your time with this app.
4 hour flight, download never finished
Download the app before you board the plane. Once you get on the gogo network, you will likely not be able to download it and end up wasting your money.
Sigh.
Gave up trying to download the app after 20 minutes. Garbage "service" that is worth every penny.
Will not download
Upset with Apple
on
11/3/2017
I own 3 different devices and the only one that would download was an older iPad that doesn't have IOS 11.
Didn't Work 75% of the Time
WilsonWheels
on
10/28/2017
I bought an all day pass for 2 of us for flights out and return flights. $64. It didn't work for either one of us the day we left and only worked for 1 of us on the return. Waste of money. Unless you want to watch the movies or shows they supply maybe. I don't know. I didn't watch their choices. I thought we could use it to get online and go to web sites we preferred. I'll stick to off-line uses next time I fly. No more Gogo for us.
AADoes a great job in providing the best IFE
App works fantastic. Do download prior to flying . AA had the best selection of movies and TV shows to watch
Took forever to download once you in the air
Took forever to download once you in the air
Omg best
This is the best app! But sadly, you have to wait till cruising altitude for it to work, even though they turned the airplane wifi.
If I give them 5 stars will the app download mid flight?
Fantasy 500 guru
on
10/10/2017
The app wouldn't download. I tried multiple times to get it to work and It kept getting to 75% done then would say its unable to be downloaded at this time.
Download
The most tedious portion of this was downloading it after being in the air. Great idea by delta IMO. App worked great. Don't understand the super aggressive DOWNLOAD BEFORE YOU FLY rant but yeah it would be more convenient if I had done that. Delta planes vary on amenities but I'd recommend just downloading it and updating before the next trip or now that I know about it I'm going to delete it and redone load the night prior. Good app and idea overall. Jim gaffigan was right when he said we have gotten too spoiled when it comes to travel.
Only 1 episode for you
I went to ninja warrior for the 2nd time on my 2nd delta flight to watch the 2nd ep of season 9 which the tv on some flights have, but this stupid app won't let me go to ep 2!!!!
Meh.
I've been on other commercial flights where there was wi-if but no app to deal with. I prefer United.
Seconds to download
Addict in Oregon
on
10/4/2017
I rec'd my Check-In email from Alaska Airlines. Right there in the email was a link to download the GoGo app with instructions to do so prior to the flight. Only took 30 seconds and I'm all set.
This app is terrible
Downloaded app before take off and never had any luck. App was clunky and useless. Just a way for Delta to drain you for an extra $16. Garbage. If I could give 0 stars I would.
Works perfecto
Downloaded app at home, worked perfectly on my Alaska Airlines flight!
Worst app, should not need
Why do you need this app? If you did not download the latest version and get up in the air, you are screwed. I resorted to the screen on the seat, which blows out my ear drum when an announcement comes over, only to have it freeze up and stop working. Thanks for the free movies but if they don't work, what's the point!
App is great despite download
Like most people I didn't know I needed this app until after takeoff. But despite being midair my app downloaded within the minute. So I guess it depends on connection or how many people are downloading. Either way mine came quick and it works great!
NONE of the movies will load on my phone
So, promising nothing is better than promising free that doesn't work. Both directions of my flight this app has been worthless. Movie is unavailable errors. Tried several different titles. Deleted and reloaded in between flights. At least the T-mobile free internet works, thanks for nothing, I'll stick with Netflix
Connect in the air
I'm looking at a booklet given to me about in flight entertainment that literally says "connect in the air" with instructions on how to download the gogo app in the air. -in response to the aggressive 5 star comment lol. Apps running slow but I'm impressed they can offer it at all.
Make sure u download on ground
Won't download in air or takes 30 min or fails completely
Keep adding new app
I'm giving one star, mainly because of the review they have chosen to highlight that's made to make people feel stupid. All the low stars are the developers own fault as they constantly upload new versions of this app instead of just updating the one that's there. They also do not tell you this so you don't know it happened till your on a plane. That, is why people are mad and don't download before they take off. Perhaps you should tell the jerk who wrote that review (who I'm assuming works for you). Grow up and do stuff right Gogo.
Favorites Icons Hijacked
Unfriendly Skies
on
9/22/2017
App worked fine, but several of my iPad "Favorites" icons were hijacked to display the GoGo logo. Research on the web did uncover a solution. I would advise against using it, and bring your own entertainment instead of watching reruns of "The Big Bang Theory"!
Good idea gone wrong
Smug passengers and stow it with their "download before boarding" rants. I am not a frequent flyer and I do not hang around people affiliated with airports. I buy the most cost effective flight and prey that the person next to me has no perfume or BO. The idea to have passengers use their personnel electronic devices for inflight media is novel. Unfortunately the requirement for an "app" is forgotten during the execution. Passengers who chose no to purchase inflight wifi must share a small bandwidth connection to download an app. Why the software engineers decided to designate a port of downloading this app is beyond me. I can only suspect that they engineer team did not want to invest the time and effort. Took an hour to obtain the app and it drained half my battery. I'll more then likely delete this app in a week and forget to pre-download it next time. Or I'll remember the frustration and chose to fly United Airlines.
Sh*t
Razercrafter504
on
9/21/2017
Sh*t
App is OK. Promotion is poor
The app works ok if there's something you want to watch. The problem lies in the promotion of the app. It's barely promoted and that's once you've left the ground and will spend almost the entire flight trying to get it downloaded. Once it's in your device it works.
Craptaculat
Bentleigh007$
on
9/18/2017
Great app if you want to enjoy frustrating errors and no actual entertainment.
Nursery rhymish.
When it is good it is very very good When it is bad it is horrid
MAKE IT ROTATE
KendrickBJohnson
on
9/13/2017
Works well but will not rotate to the orientation of the device. As others have mentioned, this is a substantial annoyance when using an iPad with a keyboard case. The video is upside down, and the alternative is holding the iPad yourself without the benefit of the case to prop it up.
App works great...people don't
It really bothers me when people don't use common sense before reviewing an app. It's not the apps fault that your planes internet was slow. This app does exactly what it says.
Couldn't navigate back to the home screen
I couldn't get back to the home screen after the movie finished. All of the navigation items and the home button were missing. Rebooting didn't help either. A buggy app.
Couldn get it to work
Groupon customer
on
9/8/2017
Tried to get it to work for several times during the 6hr flight and it never did :(
Make sure Wi-Fi is enabled otherwise it never works
liberal_guy502
on
8/31/2017
I had my Wi-Fi disabled when I downloaded it. Now, no matter what I do, the app won't install or run. I've tried every sequence of deleting the app and rebooting and I always get the same message "Wi-Fi disabled – enable Wi-Fi to operate the app… Blah blah blah". Guess I have to wait till I get a new phone.
Unable to download
Not able to download while in flight. iPad. I understand that it is a miracle that we can hurtle through the air while beaming an interconnected network of millions of computers into the cabin. It's all amazing, but I didn't download the app ahead of time and now I have to sit here and not watch Logan. So bummed. Like, whoa.
Prefect!!
No problems at all. I have done 3 flys and I haven't have any issues. Thank you for make my time on the airplane go fast.
Horrible service
OMG! How bad can a paid service be. Actually took 3 mins to pull up the App Store on a plane just to be able to type this review. Delta please find a decent WiFi partner.
Rotation
This app needs to be able to operate in landscape mode on any iOS device. While it seems to do that, it does not let you flip the device, which can be a problem depending upon your case.
45 minutes wasted so far
Zombie Nanny
on
8/11/2017
Second attempt downloading the app....45 minutes and still nothing. 😒
??????????
Okay, based on most of the reviews, I thought this app would really work. But, when I open the app, it just says "Thank you for downloading Gogo Entertainment you will be able to watch on your next equipped flight" or something I'm not EXACTLY sure what it says. And just stays on that screen. Like.... is it loading? Is it not loading? Is it frozen? Is it going to crash? Like PLEASE SOMEONE TELL ME.
Needs Work
First flight didn't have a problem. On return trip the movie stopped and would not continue even after reboot. Downloaded another movie and would not start. Then tried to watch TV but could not exit and could not get to menu. Tried reboot again but no luck. Finally deleted app but could not reinstall while in flight.
SO SLOW
Honeybeereviewer
on
8/2/2017
Horrible
Wifi. And service
This is the worst inflight entertainment out of any airline , this is taking half of a 4 hour flight to connect and still loading!!!! I will never fly deltA again
Go go
Used the app on a recent flight worked awesome. Now trying too re down load it and it's taken forever. But all in all it's a good app. Those that complain about it can't see why maybe it's their settings !!!
Drove me crazy.
The app only works in home-key-right landscape orientation. Then, if you rest the iPad on the tray table you keep pressing the volume buttons! It's trivial code to support all orientations. Pathetic.
NoNo
Sir Clappy Dripsalot
on
7/27/2017
I can't even download this app because GoGo is so slow and unable to offer acceptable service. Do not waste your money on GoGo... the app? Who knows?
Inconsistent Speed
I had great connectivity via gogo internet to download this app on one flight, then very poor connectivity the next. Unreliable & frustrating.
Useless
I downloaded the app, followed the instructions, andNOTHING but error messages.
Fact Sheet
Publisher:

GOGO LLC

Category:

Travel

Released:

Aug 04, 2015

Current Version Released:

Oct 21, 2017

Version:

1.6.1.5

Size:

16.6 MB

Compatibility:

Requires iOS 8.0 or later.

Recommended Age:

12+

Game Center Certified:

No

Supported Devices:

iPad2Wifi-iPad2Wifi, iPad23G-iPad23G, iPhone4S-iPhone4S, iPadThirdGen-iPadThirdGen, iPadThirdGen4G-iPadThirdGen4G, iPhone5-iPhone5, iPodTouchFifthGen-iPodTouchFifthGen, iPadFourthGen-iPadFourthGen, iPadFourthGen4G-iPadFourthGen4G, iPadMini-iPadMini, iPadMini4G-iPadMini4G, iPhone5c-iPhone5c, iPhone5s-iPhone5s, iPadAir-iPadAir, iPadAirCellular-iPadAirCellular, iPadMiniRetina-iPadMiniRetina, iPadMiniRetinaCellular-iPadMiniRetinaCellular, iPhone6-iPhone6, iPhone6Plus-iPhone6Plus, iPadAir2-iPadAir2, iPadAir2Cellular-iPadAir2Cellular, iPadMini3-iPadMini3, iPadMini3Cellular-iPadMini3Cellular, iPodTouchSixthGen-iPodTouchSixthGen, iPhone6s-iPhone6s, iPhone6sPlus-iPhone6sPlus, iPadMini4-iPadMini4, iPadMini4Cellular-iPadMini4Cellular, iPadPro-iPadPro, iPadProCellular-iPadProCellular, iPadPro97-iPadPro97, iPadPro97Cellular-iPadPro97Cellular, iPhoneSE-iPhoneSE, iPhone7-iPhone7, iPhone7Plus-iPhone7Plus, iPad611-iPad611, iPad612-iPad612, iPad71-iPad71, iPad72-iPad72, iPad73-iPad73, iPad74-iPad74, iPhone8-iPhone8, iPhone8Plus-iPhone8Plus, iPhoneX-iPhoneX,

Supported Languages:

English; French; Portuguese; Spanish; Castilian;

Parental Advisory:

Mild Cartoon or Fantasy Violence; Suggestive Themes; Treatment Information; Mild Sexual Content and Nudity; Mild Alcohol, Tobacco, or Drug Use or References; Mild Profanity or Crude Humor; Fear Themes; Mild Realistic Violence;