Not Recommended
App last updated
Jan 15, 2018
Screenshots
Description
The new Gogo Entertainment Player brings the magic of the movies and TV to the sky and onto your iPad, iPhone, or iPod Touch. Use the Inflight Entertainment service to watch the latest movies and hit TV shows in flight. Just make your selection, download the player, and enjoy the show!
iPad Screenshots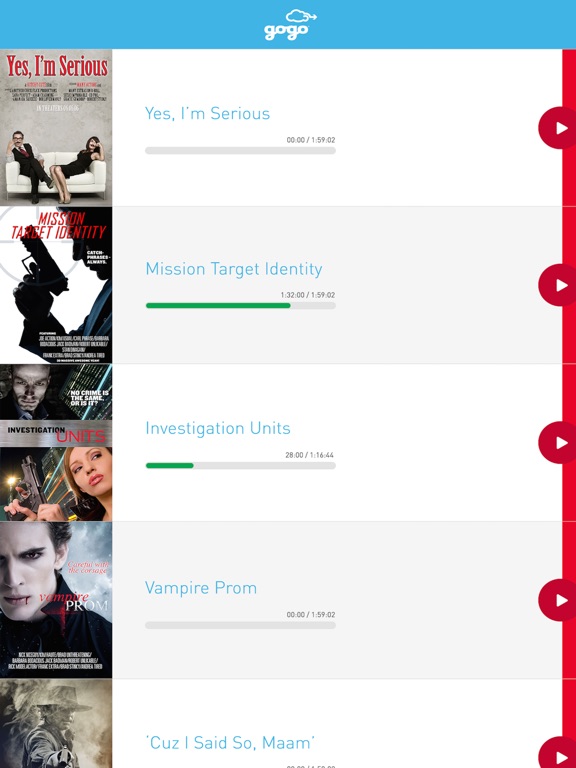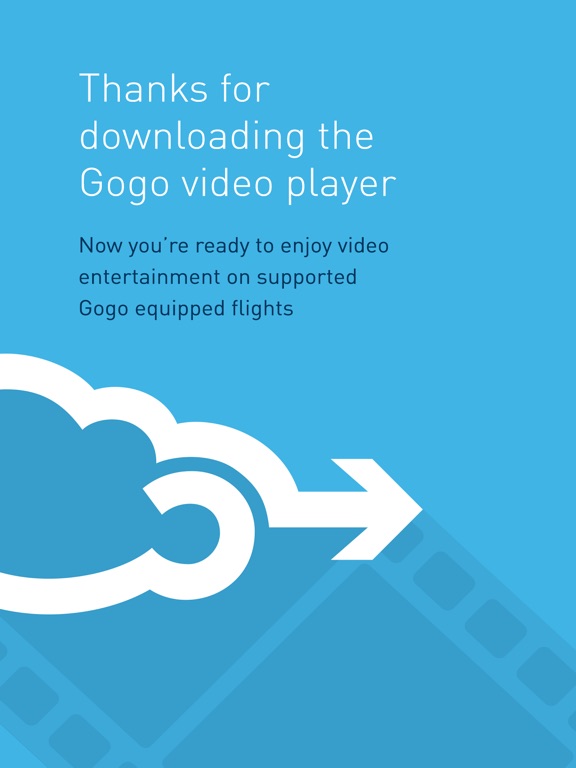 Reviews
Alaska Airlines: Tucson to Seattle
Musician&TechEditor
on
1/21/2018
I saw the download instructions before takeoff. Downloaded the app on my iPhone 8; picked a movie I hadn't seem, and it worked great throughout the entire flight—even paused it several while flight attendants served refreshments and to take a break. Enjoyed the movie. Thanks Alaska and GoGo!
Can't even download it
Over 1 hour only 50% download. Turtle speed
Touchy controls
While it's nice to even be able to watch streaming video on an airplane (for free, at that), the app could be much better if the playhead control wasn't so touchy. As soon as you touch the playhead, you can easily accidentally bounce several minutes forward or back in the movie. In other words, there's no precision when trying to re-watch the last 10 or 20 seconds. Also, it would be nice to have a jump back and jump forward control the way you can in the Netflix or Amazon Prime streaming apps. This way, if you miss a detail and want to watch the last 10 or 20 seconds again, you would simply press that control instead of trying to scroll with your finger on the playhead. Other than that, the app does it's job, and lets me watch streaming entertainment, helping me get through a flight.
Doesn't work well on iPhones
Kiki909876668
on
1/19/2018
For some reason I get connection errors every time I try to connect with my iPhone. It generally takes about 30 minutes of turning off and on WiFi and reconnecting to finally get it. It's a pain.
Only allows one movie
I was so excited to get this app and watch movies on my long flights. It works beautifully except it would not allow me to move onto something else if I chose something I didn't like after beginning to watch it or if I watched something and still had more flight time to watch something else. I hope they can clarify why or fix it!
Great App
I found out about this app while boarding for a long flight. Downloaded just prior to take off and enjoyed a great movie during the flight. This app was originally for Delta, but have most recently used it on Southwest. It works well and I'm spoiled now, won't fly without ability to watch a movie!
Not too bad
Sonicsdungeons
on
1/14/2018
Not sure why there are so many neg reviews? But this app worked great! Only crummy thing is I didn't get to finish the movie before I landed, but it was easy to use and didn't have an issue with it.
It's a joke, right?
Launching the app after takeoff only to be told i need to update to new version. After 45 minutes, still waiting for it to download and its not even half way done. Only a 2.5 hour flight, so this is pretty much worthless, isn't it?
Garbage what a joke of an app
Not taken already nickname6969
on
1/8/2018
Couldn't wait to land so I could write a review. All the app does is crash in its attempts to lift barriers between what you want and what they have. Useless all flight.
Apple is not what it used to be
I was trying to install the app for one of my family phones and it was completely impossible to make it work without a cell phone connection to receive a double verification even though I was approving in person. Somebody does not have common sense with these approvals. I had 3 hrs to try everything within my means and it was a 4hr flight frustration. The app works well but apple is not what it used to be!!
Seriously guys?
Please get by world back!
on
1/4/2018
While I do see people ranting about not being able to download in the plane, I do agree with it, but why can't we just get free WiFi like seriously? It's like $65.00 to watch something like YouTube. What is your guys' problem? Disgraceful.
Eh App
I really enjoy all the movies they have, but like many others have said, the download time takes FOREVER! Plus, it takes a long time for the movie you want to watch to load
Good Idea Gone BAD
First off DO NOT download this app during ur flight it takes FOREVER I've been on a 3 hour flight downloaded the app and it wasn't downloaded by the end of the flight. Also once u get ur movie and the app FINALLY downloads the movie cuts out A LOT and the connection breaks up sooooo...ig it's better then nothing (: try harder next time GoGo...good concept, poor execution
Gets the job done on select domestic flights
A example of not adopting good tech. The app is sluggish, clumsy and echoes early 2000's video apps. It falls way behind Netflix, Amazon, Hulu, YouTube and other video apps. Airlines need to adopt better entertainment options.
Opens and closes
Ariea's second review
on
12/26/2017
I would have normally given this app 5 stars but it's not working anymore. I try to open the app and it automatically closes out.
35 minutes later
Still trying to download the app. Wish I would have known I needed an app to watch, I would've downloaded it before the flight so I wasn't sitting here staring at the seat belt and no smoking signs.
Terrible
Terrible. Delta forces you to use this app while on the plane. I spent a half hour trying to refresh safari to even recognize the Wifi network to then download the app to then watch a show that froze multiple times throughout the flight. Phonetically Delta just gave me the D.
Slightly better than nothing
Mikeyboi17429
on
12/24/2017
Took about 2 hours to watch 30 minutes of a movie because the connection kept getting interrupted, so I eventually gave up. It would cut out every 10 seconds and it would take a minute or so to reconnect. Its great that some of these movies are free but actually being able to watch them would be a big improvement for the next update. This app would be marginal at best for a free service, but don't even consider wasting your money on it.
reasonable
willy anderson
on
12/24/2017
I don't see why so many reviewers of this app are confused that they are unable to download it while on a flight. Additionally, the only thing I'd say is that the app needs more content! More shows, etc. :) But overall the idea behind the app is reasonable. 3 stars/5.
Immediately Crashes
The app crashes within one second every time I try to launch it on iOS 11 on my iPhone X. Like everything GoGo touches, this is terrible.
Gogo stinks
gogo stinks
on
12/19/2017
Your wifi and app is molasses compared to united. Gogo app failed to load several times . Take a lesson from united inflight services.... next time I will fly united
Haha
GeneralMills39
on
12/18/2017
The app downloaded just fine once I was in the air and has worked with every flight I've ever been on. I fly a lot so I didn't get lucky... I also didn't pay for any internet, just turned it on and downloaded the app from the App Store. Haha. People love to whine . 5 stars for GoGo!!
App works great
The works as promised, but as Delta recommends on their website, download at home before your flight.
Never again.
Evanscool41304
on
12/17/2017
After booking a flight with American Airlines 8 months ahead. My first flight was great. My flight back was not so great. American had moved my seat and the help desk did nothing. After the flight it took another 45 minutes to get my luggage due to American Airlines merging it with another flight. Never again will I fly American Airlines.
❤️❤️❤️
This is my favorite plane app you could watch movies❤️❤️❤️❤️❤️❤️❤️❤️❤️❤️❤️❤️❤️❤️❤️❤️❤️
Actual garbage
Couldn't even figure out the wifi was on
One way, no outlet
Downloaded the app before a flight. Selected a movie from the choices, then closed the app for the safety brief. When I brought the app back up, it had the same movie selected with no option to go back to the menu. It was like a town full of one way streets going the same way. The whole town is seating on one side with only the option to watch the first movie selected. Haven't figured out a way to get back to the menu yet. Gotta call this one a buggy dud.
Terrible download speed!!
Goodby SplashID
on
12/14/2017
I've been trying to download the app for over 30 minutes and it's only at 50%.. Why not make a plugin for the web browser?
I wouldn't know
Because it won't load! No better than the Alaska Airlines website, which is crap.
App blows
Easy review. It doesn't work.
Not happy!!
I'm not impressed at the moment!! Downloaded the app!! All I got is a blue app.. Says enjoy!!!! Enjoy what?? A picture of a blue app???!!
Great
I've used this app on Alaska Airlines flights to and from Hawaii. I downloaded and installed at home to avoid the hassle of downloading inflight. Nice to watch movies on my iPad with my headset.
Nice try Alaska Airlines
FrustratedMillennial
on
12/4/2017
Listen to NintendoJoe. Make sure to predownload the app before boarding!
No in flight entertainment
Just paid $10 for one hour of internet on my delta flight so that I could download this app and access free movies. The app then says there is no in flight entertainment on this flight. The attendants specifically say there is. I would post a screen shot if I could but there's no menu system or anything to troubleshoot. Terrible app. Terrible company that just ate $10 that there's no way I'll get back. Zero stars would be more accurate.
Very nice
Disappointed Times subscriber
on
12/2/2017
Flew with Delta and was provided with a wide range of free movies in the sky. I almost wished the flight was longer so I could finish the one I was watching. App loses a star because it hung up a couple of times trying to start a movie, but all in all, highly recommended.
Crap!
As expected from google it just doesn't work. Everything they do is experimental crap. Not ready for prime time. Please don't do anything about AI Google! Please, otherwise you'll destroy humanity!
Brilliant
Connie in Az
on
11/23/2017
After booking my Delta flight for Thanksgiving, I read about this app and despite the poor reviews decided to give it a try. So glad I did as it worked perfectly. As soon as the plane reached cruising altitude, I selected the free entertainment wifi, selected my movie and started watching. I was very impressed with the wide selection of movies for all ages and genre, the clarity, and ease. If you are undecided about using this free service, don't be, download it and make your flight more enjoyable. I also set up the app for my non-techie husband, and he had no problems.
Waste of time
Don't even bother trying to watch anything if you haven't downloaded the app before you are in the air. I've currently been waiting a half hour for it to download and it is barely a third done. Hopefully by the time we land it will be done
Awesome app... works really well with only a few errors
Laxer1113 (: :P
on
11/19/2017
I love this app I use it every time I go on a flight it has a great selection and tons of awesome new shows. I recommend it to everyone because if you have a long flight this app will be your best friend. I have only had a few errors using the app but none that would really frustrate me. Again this app is awesome and I recommend it!
Download again?
I have this app! I've used it many times. Don't know why I need to download it again while in flight. Oh well. I'll have time for a quick comedy I guess
SO slow to download in flight
1234justsaying
on
11/16/2017
I can't tell you if ap works or not. Tried for hour to download after take off and am giving up. Download Before you get on plane and maybe it'll be a neat deal.
Terrible experience
After trying for twenty minutes; getting bounced from CAPTIA six times and seeing just a sliver of the APP begin to download I just had to give up. I've never seen any app download experience quite this bad.
Great idea terrible product
It would be nice to offer zero stars. I spent 30 minutes downloading this terrible app and trying to get the video to play before I gave up. Just a constant loop of being in my browser selecting the video then choosing to play the video in the gogo app before it crashes and closes. It's better to just stare at the buckle your seatbelt sign than to waste your time with this app.
4 hour flight, download never finished
Download the app before you board the plane. Once you get on the gogo network, you will likely not be able to download it and end up wasting your money.
Sigh.
Gave up trying to download the app after 20 minutes. Garbage "service" that is worth every penny.
Will not download
Upset with Apple
on
11/3/2017
I own 3 different devices and the only one that would download was an older iPad that doesn't have IOS 11.
Didn't Work 75% of the Time
WilsonWheels
on
10/28/2017
I bought an all day pass for 2 of us for flights out and return flights. $64. It didn't work for either one of us the day we left and only worked for 1 of us on the return. Waste of money. Unless you want to watch the movies or shows they supply maybe. I don't know. I didn't watch their choices. I thought we could use it to get online and go to web sites we preferred. I'll stick to off-line uses next time I fly. No more Gogo for us.
AADoes a great job in providing the best IFE
App works fantastic. Do download prior to flying . AA had the best selection of movies and TV shows to watch
Took forever to download once you in the air
Took forever to download once you in the air
Omg best
This is the best app! But sadly, you have to wait till cruising altitude for it to work, even though they turned the airplane wifi.
Fact Sheet
Publisher:

GOGO LLC

Category:

Travel

Released:

Aug 04, 2015

Current Version Released:

Jan 15, 2018

Version:

1.6.1.7

Size:

33.6 MB

Compatibility:

Requires iOS 8.0 or later.

Recommended Age:

12+

Game Center Certified:

No

Supported Languages:

English; French; Portuguese; Spanish; Castilian;

Parental Advisory:

Mild Sexual Content and Nudity; Mild Profanity or Crude Humor; Fear Themes; Treatment Information; Mild Cartoon or Fantasy Violence; Suggestive Themes; Mild Alcohol, Tobacco, or Drug Use or References; Mild Realistic Violence;