This version of the app is not recommended
App last updated
Feb 27, 2018
Screenshots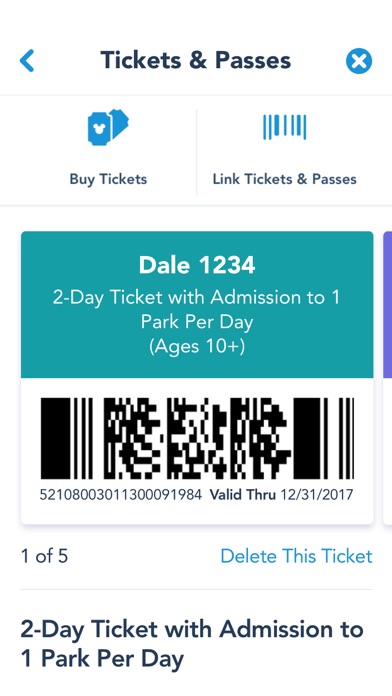 New in version 4.10.1
With this release, you'll be able to see wait times in near real-time. The app will now display standby wait times as they appear in the park—with little delay. Plus, we added a feature that lets you select which types of notifications you'd like to receive.

We also fixed bugs and improved overall app performance.
Description
Download the official app for the Disneyland® Resort! Enhance your next visit with an enchanting mobile experience. Buy your tickets, see wait times, browse maps, check FASTPASS return times, locate Disney Characters appearing throughout the parks and much more!

- Check Wait Times: See attraction wait times for Disneyland Park and Disney California Adventure Park at a glance.

- Skip the Ticket Lines: Buy park tickets* with the app and show your barcode at the gate for admission when you first get to the park! No ticket booth lines to stand in or e-tickets to print out.

- Purchase Disney MaxPass: Maximize your visit—get unlimited Disney PhotoPass downloads for the day and make FASTPASS selections from your device while you're in the parks.†

- Check FASTPASS Return Times: View FASTPASS distribution information for select attractions and entertainment (subject to availability).

- View Disney PhotoPass® photos: Download and share your PhotoPass photos throughout your visit. Enjoy unlimited downloads of your photos taken by our complimentary photographers at select locations—including select Character Dining experiences and attraction photos—when you purchase the Disney PhotoPass+ or Disney PhotoPass Collection product or through Disney MaxPass.††

- Exploring Made Easy: Find what you're looking for quickly with GPS-enabled maps that show your location and the attractions, restaurants, shops and more near you.

- A Must-Have for Passholders: Link your passport to view blockout calendars and expiration dates. Show your digital barcode at the gate for admission when you arrive!**

- Locate Favorite Characters: Get those autograph books ready! You'll magically know when and where Disney Characters are appearing in the parks

- The Details You Need: See park hours, schedules, accessibility information and descriptions for attractions, dining, entertainment and more.

Make your visit more magical with the Disneyland app!

Download it before your next visit.

*U.S. and Japan residents only.

**Annual Passholders: Don't Forget to Bring Your Passport!

You'll still need to show a valid Annual Passport card for FASTPASS tickets, Passholder discounts and more.

†Guests are strongly advised to check the day's FASTPASS ticket availability and other park details before purchasing the Disney MaxPass feature or using a park ticket with Disney MaxPass. Popular attraction FASTPASS tickets may not be available at the time of Disney MaxPass purchase or use as FASTPASS tickets are limited and availability is not guaranteed. Disney MaxPass is nonrefundable, nontransferable and subject to restrictions and change without notice.

††Disney PhotoPass is subject to the Disney PhotoPass terms and expiration policy.

Note: Some app features require location data or for you to register by providing your full name, country, birthdate and email address in order to use them. If Bluetooth is enabled on your device, this app will also collect your precise location information through beacon technology in order to improve your in-park experience, such as wait times. Optional planning tools may also ask you about your travel party or allow you to save a credit card to your profile for online purchases.

This app provides you with the option to receive push notifications for information relating to your visit to a Park or stay at a Disney Resort hotel.

Features include the ability to make purchases and require a Wi-Fi or mobile carrier data connection. Must be 18 years or older to make purchases.

Children's Privacy Policy: https://disneyprivacycenter.com/kids-privacy-policy/english/
Terms of Use: http://disneytermsofuse.com/
Privacy Policy: https://disneyprivacycenter.com/
Reviews
Rides down
Rad springs racers down. Too many other rides down
Having trouble buying ticket on the app
Tried for more than 10 times and it doesn't work. Now have to stay in the ticket line for hours..
Like Magic
I'm not a tech person but the Disney app is easy to use! fast pass and photos to share too .... absolutely love it!
Yay
aj is happpppppppppppppppppuy
on
3/16/2018
It the happiest place on earth
Bad information
shocked....happily
on
3/16/2018
I have been given bad information all day and I want a refund!
Too Glitchy
The app keeps shutting down any time I try to do anything.
Great app
It works great, but on my iPhone 8 it can't seem to find my location.
Rides out of service
2nd visit years apart and at least two major rides have been down today. DL should offer discounted tickets when major rides are down upon time of entrance. And it's always the better rides, like Space Mtn, Thunder Mtn, Splash Mtn, Matterhorn. So I'm stuck riding kiddie rides all day.
Apps
Loving this app... makes my life much easier and very family friendly ❤️ tnx
Broken down rides:(
Love the park get the max pass tickets . I don't know is we are bad luck but stood in line for 4 rides and all of them has technical difficulties which made our wait longer. Luckily we had fast pass
My 7 yr old is upset
Haven't got on any rides- they are all breaking down before we get on them. Indian Jones Pirates Thunder mountain And Now Matterhorn Been here since 10:30 and no rides
Terrible
Awehbxhssnsbhx
on
3/15/2018
Front of the line at Indiana Jones, then they close it. Yelled at by a cast member for taking the wrong exit. Sorry, I don't friggin work here. Been here only an hour and I will probably never return.
Happiest Place on the West Coast
Love Me Some Disneyland!
Not too enjoyable
1sassyflygirl
on
3/14/2018
Too crowded, too many rides closed. Was not able to use a fast pass to my advantage. Felt I got ripped off $10
The great uses of the app
This app is very helpful to me because I I am an annual pass holder. It helps by giving me discounts, helping me get fast passes faster and it shows me the map and what the wait times are for the rides so you don't have to go to the ride and look that is also the same with the fast pass advantage of this app.
Eh
So much construction. No parade. No fireworks. No military discount. Only time I've been able to come in years. Going over seas again in a month. Very disappointed
Needs updating
For the most part, the Disneyland app is great, but there are two important things missing that are on the Disney World app. 1) Where's the family and friends section? 2) Where's the hotel reservations section under my plans? There's no way to add reservations.
Make a list
A list would be nice rather than just photos.
Dallas Disney
helicopter mommy
on
3/13/2018
You are always very crowded open one in Dallas it would be perfect.
Confusing map
Love the help with the app just the map is a little confusing and the guide doesn't match me
Can't create account
Very frustrating!
Awesome app
diz fan 4321
on
3/13/2018
Just get it and you'll see how great it is.👍🏻👍🏻👍🏻
Great!
The wait times are not very accurate at times
App is obtuse
When you buy fast pass it's so unclear and you think you have it linked to your phone. We got to the gate and it didn't show up so now we are wasting more than half an hour in line for customer service
Muy bien
Excepto la atención en los restaurantes es pésima te atienden de mal modo como si les pidieras fiado
Disney I love you!!
Mr.cooper3913
on
3/11/2018
My wife and I really appreciate the love and care Disney employees put into make our 5th wedding anniversary the best time of our lives, and a special thank you to the people at the Jolly Holiday Cafe for be very understanding with my wife's allergies. Thank you Disney!!!!
Rain closures
Oxfordmomof3boys
on
3/11/2018
Lots of rides closed due to rain :(
Frustrating
We know it's a rainy day at Disneyland however standing in line for 20 to 40 minutes at a time in the rain, only to be told that the ride is broken down for an undetermined amount of time and we can't ride the ride is very frustrating. It's happened to us numerous times today including a fast pass that we were holding for space Mountain and during the time of our return it was down. Not a fun day in Disneyland when you pay so much for a ticket, stand in lines miserable in the rain only to find that you cannot ride the ride regardless.
No checklist for itinerary.
No place to keep track of and plan the itinerary for the day or the trip.
Dinner reservation
Got a reservation and then was told unavailable
Apple Wallet? Apple Watch? Dining menus?
Keeps getting better and better! Would like tickets, APs and PhotoPass scan code to be able to show up in Apple Wallet. Bonus points for Apple Watch support for scanning passes at the turnstiles. Would be great to not have to take out the phone at turnstiles and for PhotoPass photographers. Also, all dining menus show an error message: "Something's not right... We're sorry for the inconvenience!" Looking up dining options is only marginally convenient without the full menus.
Reservations for dinner
Html rules_d00d
on
3/9/2018
Had to cancel due to emergency person on the phone was really rude on the phone when I was canceling.
Best park ever!!
This park is exciting, fun, & cute! I loved my time here & want to return soon! 😁
Who doesn't love Disneyland?
We love it.
Help
Can someone get in contact with me regarding this app? It deleted all my pictures! I'm so heartbroken💔
Disney app fast pass
It wont allow me to scan fast pass with my phone!!! Buuuuu
Finally!
After years and years and years, the app works great, but they really need an iPad optimized version. WDW does have one already.
Purchase tickets
I was not able to purchase tickets using the app. It is truly crap.
Always convenient
I love looking to see what the wait times are without traveling across the park to see them. Very convenient.
A most accurate and fun app...
TribuneHelios
on
3/5/2018
A most accurate and fun app that truly w aid in enhancing your experience and stay at any Disney resort.
It's going to make your experience more enjoyable
It's a must if you're going to Disneyland and it easy to use
It Disneyland!
The name says it all! App is awesome
Loving DisneyApp
This app is been nothing but a god send this past trip to Disneyland. Having the ability to see everything on my plan in one app has been awesome. Love the reservation option.
This app does not work
Simple, sports, fanatic
on
3/4/2018
Won't save address. Won't buy tickets. Won't log on and then all of a sudden logs me in.
Map should load quicker
My only issue with this app is how long it takes the map to load. Can't be frustrating. When it is loaded, God forbid you try to enlarge any section, gotta wait for it to load all over again. Not sure why this cartoony rendition of the map requires so much time for me to pull up.
Love this app💜
Reecelovesone
on
3/2/2018
I love this app it's so awesome even when your not at the park and using it for wait times it has awesome information that can be useful at any time!!!! It's great for regulars and for people visiting!! Thank you disney for this awesome app and all its awesome Disneyland information!!!!
Amazing
Spectacular wonderful and enjoyable unforgettable amazing! Thank you
Fact Sheet
Publisher:

Disney Electronic Content, Inc.

Category:

Travel

Released:

Aug 04, 2015

Current Version Released:

Feb 27, 2018

Version:

4.10.1

Size:

213.8 MB

Compatibility:

Requires iOS 10.0 or later.

Recommended Age:

4+

Game Center Certified:

No

Supported Languages:

English;