TapNova doesn't recommend this version of the app.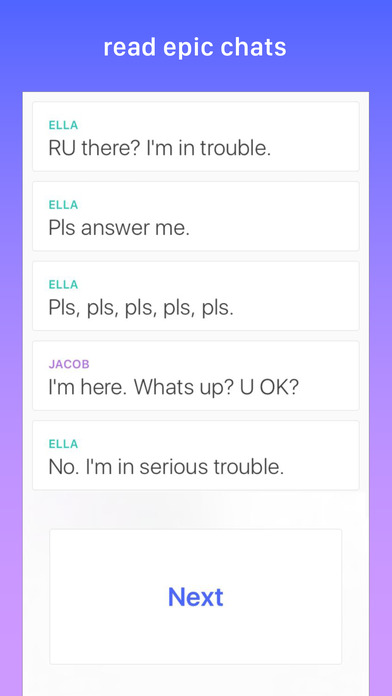 New in version 2.29.3
owl: darkness is coming
owl: run quick to the light
owl: shadows are growing
owl: prepare for a fright
Description
HOOKED lets you read amazing chat stories FREE. These are gripping, edge-of-your seat thrillers that will keep you reading for hours. Or, write your own story and get lots of fans!

Every HOOKED story is told as a bite-sized text message conversation, as if you were reading someone else's chat history.

HOOKED also lets you create your own chat stories from your iPhone. Share stories from your life, funny texts or creepy crawly conversations from your worst nightmares. HOOKED is your very own chat diary, for the world to read!

With Hooked's Fantasy Chat feature, you can even write stories WITH your friends! Choose a prompt, create your character, and invite your friends to play along with you. It's like improv on chat!

We love reading, just like you, but we know it can get BORING when stories are too long. So we created this app to make reading snappy, spooky and fun.

Drawing on the long tradition of epistolary literature, like Bram Stoker's Dracula, HOOKED stories unfold through back-and-forth conversations.

If you can't get enough of books like Hunger Games, Divergent, The Fault In Our Stars and Harry Potter. Or if you're a fan of fanfic, like stories about One Direction. Or if you just can't put your Kindle down at night. You will love HOOKED. And even if you're not a big reader, but you love Snapchat, you should give HOOKED a try!

New stories added daily!

HOOKED UNLIMITED SUBSCRIPTION:
- You can subscribe for unlimited access to our full story catalog and premium content
- The subscriptions are $2.99 weekly, $7.99 monthly and $39.99 annually*
- You'll be able to read unlimited stories for the duration of your subscription
- Payment will be charged to your iTunes Account at confirmation of purchase
- Subscription automatically renews unless auto-renew is turned off for at least 24-hours before the end of the current period
- Account will be charged for renewal within 24-hours prior to the end of the current period at the cost of the chosen package
- Subscriptions may be managed by the user and auto-renewal may be turned off by going to the user's Account Settings after purchase
- No cancellation of the current subscription is allowed during active subscription period
- You can read our privacy policy and terms of use at http://telepathic.tv/privacy.html
- Any unused portion of a free trial period, if offered, will be forfeited when the user purchases a subscription to that publication

*Prices are equal to the value that "Apple's App Store Matrix" determines is the equivalent of the subscription price in $USD.

By using Hooked, you agree to our Terms of Use and Community Guidelines available at http://www.telepathic.tv/terms-of-use

Questions? Email support@telepathic.tv for help!
Reviews
Wow. Just wow. BAD
You need to be a super hoot for EVERYTHING and there are swear words. Like I hate this app just hate it I'm only giving it too stars for the stories. I'm never playing this again 👎👎👎👎👎👎👎👎👎👎👎👎👎👎👎👎👎👎👎👎👎
The best joke in history
Jenna Xd 100
on
7/21/2017
Hooked has me HOOKED into the app get it?😸😺😺👍🏻👍🏻👍🏻👍🏻.......
It's pretty cool
Even tough I don't get scared easily I got scared reading it
Do not download
They make you buy everything. They never get to the point with anything . Biggest waste of time !!
Why is this legal
Ffffghffssgbfdxgfddgvf
on
7/21/2017
Apple shouldn't allow stupid and click bait stuff like this to be put in the App Store
Not paying
hihosilveraway
on
7/21/2017
Not payinf
This is so good
Hfudjdhdxoxkxbhshsusjsbdbcjfjf
Really really good
This is a perfect app to read at night at a sleepover and also you can get your kids to read also has great stories I can read them 24.7 and never get bored
Great!
This app is great! I got confused at the beginning, but I figured it out!
Hooked
Chloee Hachman
on
7/21/2017
I think the title just explain it all I love it so so so much
Don't get unless you're willing to pay
Allurnicknamesbelongstous
on
7/21/2017
Seriously misleading app. Advertised as "free" but you can't even get through the first story without having to wait 30 minutes halfway through, or paying $3 a week or $40 bucks for the year. And you have to pay to see pictures in the stories. Save your money and go find the same thing online for free
It's okay
It said free but isn't free
Nice 👍
I like the cool horror text 👻👩🏻‍💻📱⌨️
Hooked-chat stories
Love it I'm HOOKED!!
$$$$$
Frenchfrychibi
on
7/21/2017
You have to pay to see pictures on stories, and they ask you almost every time to pay a subscription fee to get unlimited passes. The money problem is my only problem with it.
Omg
Just what I needed. 😵😱😭🤔🤧🤗😍
Great
Jdjdkdndkjzvsjsj
on
7/21/2017
Grecg
Tagging
The stories aren't as good as I thought and it's very Annoying when u have to wait 40 minutes to read the rest of the story 😑
Hooked
Bluechristian12
on
7/21/2017
It is great
It's ok
I like the stories but everything costs money.
Love the app but
I wish all the story's had voice over
Paying For Reading??
Jennie chase343
on
7/21/2017
Its great but right whenever you start reading you have to wait about 30 mins for your reading limit?!? And once you run out if hoots you have to wait another 30 minutes !Then a message comes up saying you should pay for it ... i dont understand!!? but overall the stories are great but the quality deserves 1 star!!
Your an awesome game
I love ❤️ this game because it's like you can hear 👂 awesome 👏 story's it's just scary and sweet and cool 😎 I bet your super popular and I like it so much so thank you 😊 very much this game means so much to me I ❤️ this game so much so just to say again thank you very much!😘😍
TO EXPENSIVE plz fix
raptorslasher1728
on
7/21/2017
I really love the game but do you need to be so greedy bc 3$ a week may not sound bad but it is I can buy so many more worth it stuff than this so lower the prices a bit or make special offer for a limited time I bet I will make this app more more fun.
OK but not the best
@SerAton.epi
on
7/21/2017
It's really annoying to pay to see the pictures and the hoots easily run out.... honestly I think it's similar to choices or episode
Awesome!
I can't stop reading I feel so nosy though 😂 great job! 👍🏾👍🏾👍🏾👍🏾
Amazing
qveen_ashlynn
on
7/21/2017
I love all the stories I get scared but it funny
Scare rate 101%
Dman199053472538
on
7/21/2017
Great for kids
Need more opportunities as free user
Nice but u should have free stories that don't need time to wait for
Wish you didn't have to pay
Would be great app if you could just read without paying. I could understand watching adds for earning hoots but not paying for them.
I'm paying for what
Ballindude710
on
7/21/2017
This app really wants me to pay to read scary stories and whatnot when I can find some on the internet for free. And it's ridiculously priced. Can't even make it past the first story without running out of hoots. Wish these ads would stop coming up on my YouTube.
Awesome
It's a great app download it.It leaves you in cliff hangers
You have to pay if you want to use the app for more than 2 minutes.
Unless you want to wait 40 minutes to read every 2 minutes.
Trash
Jamalenaliusaranakan
on
7/20/2017
The click bait of the AppStore
Great
jdogplaying8
on
7/20/2017
This app is super good I'm really interested in it makes my day and plus if my day was ok it would be great because of this app😉😉😉
Good god.........
I should have known that this was a scam to have us Lose our money by the second. DONT get this app it's just another waste of time from the corporate fuckheads that want nothing more than the dough in your pockets.
Awful
This game deserves to have a one star because this also includes bad language and show viral photos of people that can contain violence and blood. I'm uninstalling the app and I'm not going to install it again, this will deserve a dislike. No one in the world likes horror stuff that can end up in violence movies, and can also kill somebody if they so chose to. I saw a bad language and I really don't appreciate that type of behavior and language, I made it clear that we can end up as bad people anytime now. This Game Deserves a 1 Star.
BULL
Rail gun Master$$$
on
7/20/2017
I was actually really interested in t
Not worth your time
Don't download it
Good
Sophia_090203
on
7/20/2017
This is really good app very interesting I'm starting to get addicted to this app.
Ratting hooked
What do i love about hooked the awesome chat story,s
Good
Really good stories but have to wait for hoots is cruel
Waste of time
I kept seeing the commercials on YouTube and finally my curiosity got the best of me... but apparently now you have pay to see stupid photos.
Extremely greedy
This might be considered a "free" app but you can't even read the first story without having to pay or wait over 30 minutes. In addition you can't look at pictures or listen to audio without paying the ridiculous amount of $3 a week. This is the WORST pay to pay app ever and it is actually only the second bad review I have ever given an app so that says something about how disappointed I am with this app.
Wasted time, money and this is a crap
Please don't download it not even free versions to try!!!!! 😡😡😡😡😡😡😡😡
Horrible
Kaiti11101705
on
7/20/2017
Every time I wait for hoots I can't even get two texts in and it says waiting to recharge
This scare the heck out of me.
Excalibur3794
on
7/20/2017
Amazing job with the story's. They keep me scared but excited, or should I just say HOOKED, HAHAHAHAHA.... I'm sorry. Only thing I don't like is you have to pay for so much simple stuff.
Fact Sheet
Publisher: Telepathic Inc.
Category: Book
Released: Aug 21, 2015
Current Version Released: Jul 18, 2017
Version: 2.29.3
Size: 96.6 MB
Compatibility: Requires iOS 9.0 or later.
Recommended Age: 12+
Game Center Certified: No
Supported Devices: iPad2Wifi-iPad2Wifi, iPad23G-iPad23G, iPhone4S-iPhone4S, iPadThirdGen-iPadThirdGen, iPadThirdGen4G-iPadThirdGen4G, iPhone5-iPhone5, iPodTouchFifthGen-iPodTouchFifthGen, iPadFourthGen-iPadFourthGen, iPadFourthGen4G-iPadFourthGen4G, iPadMini-iPadMini, iPadMini4G-iPadMini4G, iPhone5c-iPhone5c, iPhone5s-iPhone5s, iPadAir-iPadAir, iPadAirCellular-iPadAirCellular, iPadMiniRetina-iPadMiniRetina, iPadMiniRetinaCellular-iPadMiniRetinaCellular, iPhone6-iPhone6, iPhone6Plus-iPhone6Plus, iPadAir2-iPadAir2, iPadAir2Cellular-iPadAir2Cellular, iPadMini3-iPadMini3, iPadMini3Cellular-iPadMini3Cellular, iPodTouchSixthGen-iPodTouchSixthGen, iPhone6s-iPhone6s, iPhone6sPlus-iPhone6sPlus, iPadMini4-iPadMini4, iPadMini4Cellular-iPadMini4Cellular, iPadPro-iPadPro, iPadProCellular-iPadProCellular, iPadPro97-iPadPro97, iPadPro97Cellular-iPadPro97Cellular, iPhoneSE-iPhoneSE, iPhone7-iPhone7, iPhone7Plus-iPhone7Plus, iPad611-iPad611, iPad612-iPad612, iPad71-iPad71, iPad72-iPad72, iPad73-iPad73, iPad74-iPad74,
Supported Languages: English; French; German; Italian; Japanese; Korean; Portuguese; Spanish; Castilian;
Parental Advisory: Fear Themes; Suggestive Themes; Mild Sexual Content and Nudity; Mild Profanity or Crude Humor;