Screenshots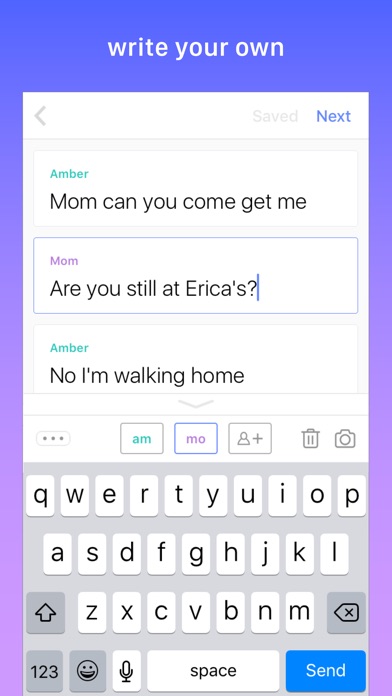 Description
HOOKED lets you read amazing chat stories FREE. These are gripping, edge-of-your seat thrillers that will keep you reading for hours. Or, write your own story and get lots of fans!

Every HOOKED story is told as a bite-sized text message conversation, as if you were reading someone else's chat history.

HOOKED also lets you create your own chat stories from your iPhone. Share stories from your life, funny texts or creepy crawly conversations from your worst nightmares. HOOKED is your very own chat diary, for the world to read!

With Hooked's Fantasy Chat feature, you can even write stories WITH your friends! Choose a prompt, create your character, and invite your friends to play along with you. It's like improv on chat!

We love reading, just like you, but we know it can get BORING when stories are too long. So we created this app to make reading snappy, spooky and fun.

Drawing on the long tradition of epistolary literature, like Bram Stoker's Dracula, HOOKED stories unfold through back-and-forth conversations.

If you can't get enough of books like Hunger Games, Divergent, The Fault In Our Stars and Harry Potter. Or if you're a fan of fanfic, like stories about One Direction. Or if you just can't put your Kindle down at night. You will love HOOKED. And even if you're not a big reader, but you love Snapchat, you should give HOOKED a try!

New stories added daily!

HOOKED UNLIMITED SUBSCRIPTION:
- You can subscribe for unlimited access to our full story catalog and premium content
- The subscriptions are $2.99 weekly, $7.99 monthly and $39.99 annually*
- You'll be able to read unlimited stories for the duration of your subscription
- Payment will be charged to your iTunes Account at confirmation of purchase
- Subscription automatically renews unless auto-renew is turned off for at least 24-hours before the end of the current period
- Account will be charged for renewal within 24-hours prior to the end of the current period at the cost of the chosen package
- Subscriptions may be managed by the user and auto-renewal may be turned off by going to the user's Account Settings after purchase
- No cancellation of the current subscription is allowed during active subscription period
- You can read our privacy policy and terms of use at http://www.hooked.co/privacy
- Any unused portion of a free trial period, if offered, will be forfeited when the user purchases a subscription to that publication

*Prices are equal to the value that "Apple's App Store Matrix" determines is the equivalent of the subscription price in $USD.

By using Hooked, you agree to our Terms of Use and Community Guidelines available at http://www.hooked.co/terms

Questions? Email support@hooked.co for help!
Reviews
FIX
Bloo_bubblez
on
9/25/2017
the update is good. i like how it's only like 30 seconds to wait for your next story and all. but when i try to invite my friend to write a story with me she tries to do it but it freezes up and doesn't work. so then we tried for her to invite me to her story and mine would freeze and not do anything. so it's obviously the app, and not our phones. please fix this. i wanted to write a story🙄
I don't really like it but I like the stories
I don't like how u have to wait between the story right at the good part and u have to buy ur way out of it
Story readers
Kdhemsghdndhs
on
9/25/2017
Best stories ever read.
5 Stars
Great App, I love it!
Great
Red Freckle Spec
on
9/25/2017
👍🏼👌🏼
I'm hooked😆
CheyChey2002
on
9/25/2017
Hooked is a great mystery app
Hooked
Cats rule dogs drule
on
9/25/2017
Hooked is a great app there are a bunch of stories that send chills up your spine! You should defenetly get it.
It's amazing! But.....
It's a really good app, but I really not the type of person to waste 15$ a month to pay for pictures, video calls, or Audio playing in the background. If your going to make the app great 👍🏾, don't have people waste their money. Also really don't like the fact if you leave: or accidentally leave a story it starts all over. 💖💖
Can't delete.
Child got a subscription. And now we can't delete it from our account
Review
Hi! I have been using hooked for a couple of months and I love it. The story's are great and very creative. But every time I try and sign up because I want to write some stories I put in my phone number it verifies it then when it sends of verification code I'll put it in and it won't work it goes to another page where I have to keep putting in the code and I can't sign up and I have deleted the app and tried over again and it still won't work so I don't know and I really like the app and I want to write but it won't let me so I really want someone to fix this problem so that I can write some stories. Other than that it's a good app and I love it. Thanks!!
Hooked
Cluck cluck12345678910
on
9/25/2017
I just wanted to say........ THISS APP ISSS AMAZINGGGGGG
Spooky
Crippling Debt
on
9/25/2017
The first story made me constantly turn around because I felt like someone was behind me
read 😂👇🏼
yeet gang gang 😂😂
on
9/25/2017
i love reading stories.... but i hate having to wait 30 minutes just to finish it update: i got an update, so i no longer have to wait 30 minutes, i just have to wait 30 SECONDS! great app 10/5 a lot of good stories thank you for fixing these flaws 🅱️
It hooks you
It's not dum it's a really good app and I'm actually Interessted unlike most of the apps I download
Bored 😐
Some times I like this game but it's so good but boring to so I give it 3 stars because it's sooo boring
Amazing
Horror and stuff I like it
Literally hooked
I've only had this app for a little bit and I'm already addicted. Anytime I can be on it I'm on it. I wish it didn't have the timer thing after a while cause that is really annoying to me. I just want to read it, over all it's a great app though and I'm pretty happy I got it
I'm HOOKED on the app!!!!
Amazing app 😍 but I don't like how you have to pay for images and time ridiculously!!!!!!!!!
Amazing
Can't stop reading
Disappointing
After I tape 2-4 times it say you have to wait 31 seconds really annoying I suggest finding a different app. It wasn't like this before the update
Hooked😝
This is a really good app 🤗
hooked
is a unique and fascinating app ...
Hooked
I love this app so much I almost read a story everyday
Yasssss
Jaidididndjdjjs
on
9/24/2017
Yasssss
fun
i really like how creepy the stories are and i like the variety of stories:))
Love this sooooo creepy🙈🙊👻👻👿😈
The goofy kid
on
9/24/2017
This game is so fun and really recommend it to you unless you get scared really easily but there are no jump scares I promise!👍🏻👻😈👿👹👺💩
I wrote a review
Idk if this works or not
on
9/24/2017
I wrote a review lol bored as hell waiting for the story to load gawd I hope my friends here soon
good
Happy heavan
on
9/24/2017
this app is good but needs to less time for just a little bit of read
Good app
NewTimesSquaree
on
9/24/2017
As a reader, I love these stories. The only thing o dislike is you cannot see the pictures, I'm not speeding any money. Other than that I OK
I love it all
I love the waiting suspense, the writing stories, the reading ones, all of it
Fun
iphone 5 123467890
on
9/24/2017
Gives a good scare but not to bad
Not what I wanted
I downloaded Hooked because it was free and I've heard good things about it. I didn't download it so I could only read for a little bit before I had to wait or buy it. If something is advertised as free then it should be. Not "oh buy this it's free! But wait! You can only read for thirty seconds before you have to wait or buy it! Enjoy our FREE app!"
Unicorns
This app is amazing it just you have to pay so much for unlimited
Love it
Black_Rose96
on
9/24/2017
This app is everything I want. Suspense, drama, horror. But the only downside is the price for the unlimited version. Not everyone has that on their iTunes card at the moment
Addicting
This app is amazing and addicting love it
Hooked
Every time before sleep I read this app called hooked and it is a amazing app
A lot better then Yarn in my opinion
ChokChokSoke64
on
9/24/2017
It won't randomly change stories and will let us choose without and flipping membership. 😍😍😍
Omg
PastelkittyQueen
on
9/24/2017
I love this app to death and like other people are just pointing out stuff they think is a problem I not going to I think the app is perfect and you should totally get it
Hooked
No more jazz
on
9/24/2017
I like it
I love it
chickenmcnuget
on
9/23/2017
It's really good I mean really good
Great stories stupid price
'Nuff said
I love it
I love it but how do ya get to se da pictures?
Fricken fantastic
Liv_Bear_Bear
on
9/23/2017
Awwwwwwwwwwesome
AWESOME
It's so interesting it gives you very quince story's
Fact Sheet
Publisher:

Telepathic Inc.

Category:

Book

Released:

Aug 21, 2015

Current Version Released:

Sep 21, 2017

Version:

3.3.1

Size:

111.1 MB

Compatibility:

Requires iOS 9.0 or later.

Recommended Age:

12+

Game Center Certified:

No

Supported Devices:

iPad2Wifi-iPad2Wifi, iPad23G-iPad23G, iPhone4S-iPhone4S, iPadThirdGen-iPadThirdGen, iPadThirdGen4G-iPadThirdGen4G, iPhone5-iPhone5, iPodTouchFifthGen-iPodTouchFifthGen, iPadFourthGen-iPadFourthGen, iPadFourthGen4G-iPadFourthGen4G, iPadMini-iPadMini, iPadMini4G-iPadMini4G, iPhone5c-iPhone5c, iPhone5s-iPhone5s, iPadAir-iPadAir, iPadAirCellular-iPadAirCellular, iPadMiniRetina-iPadMiniRetina, iPadMiniRetinaCellular-iPadMiniRetinaCellular, iPhone6-iPhone6, iPhone6Plus-iPhone6Plus, iPadAir2-iPadAir2, iPadAir2Cellular-iPadAir2Cellular, iPadMini3-iPadMini3, iPadMini3Cellular-iPadMini3Cellular, iPodTouchSixthGen-iPodTouchSixthGen, iPhone6s-iPhone6s, iPhone6sPlus-iPhone6sPlus, iPadMini4-iPadMini4, iPadMini4Cellular-iPadMini4Cellular, iPadPro-iPadPro, iPadProCellular-iPadProCellular, iPadPro97-iPadPro97, iPadPro97Cellular-iPadPro97Cellular, iPhoneSE-iPhoneSE, iPhone7-iPhone7, iPhone7Plus-iPhone7Plus, iPad611-iPad611, iPad612-iPad612, iPad71-iPad71, iPad72-iPad72, iPad73-iPad73, iPad74-iPad74,

Supported Languages:

English; French; German; Italian; Japanese; Korean; Portuguese; Spanish; Castilian;

Parental Advisory:

Mild Profanity or Crude Humor; Fear Themes; Mild Sexual Content and Nudity; Suggestive Themes;