TapNova doesn't recommend this version of the app.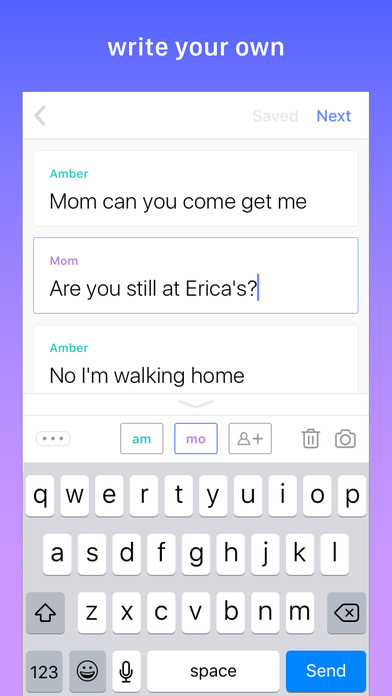 New in version 2.28.1
owl: darkness is coming
owl: run quick to the light
owl: shadows are growing
owl: prepare for a fright
Description
HOOKED lets you read amazing chat stories FREE. These are gripping, edge-of-your seat thrillers that will keep you reading for hours. Or, write your own story and get lots of fans!

Every HOOKED story is told as a bite-sized text message conversation, as if you were reading someone else's chat history.

HOOKED also lets you create your own chat stories from your iPhone. Share stories from your life, funny texts or creepy crawly conversations from your worst nightmares. HOOKED is your very own chat diary, for the world to read!

With Hooked's Fantasy Chat feature, you can even write stories WITH your friends! Choose a prompt, create your character, and invite your friends to play along with you. It's like improv on chat!

We love reading, just like you, but we know it can get BORING when stories are too long. So we created this app to make reading snappy, spooky and fun.

Drawing on the long tradition of epistolary literature, like Bram Stoker's Dracula, HOOKED stories unfold through back-and-forth conversations.

If you can't get enough of books like Hunger Games, Divergent, The Fault In Our Stars and Harry Potter. Or if you're a fan of fanfic, like stories about One Direction. Or if you just can't put your Kindle down at night. You will love HOOKED. And even if you're not a big reader, but you love Snapchat, you should give HOOKED a try!

New stories added daily!

HOOKED UNLIMITED SUBSCRIPTION:
- You can subscribe for unlimited access to our full story catalog and premium content
- The subscriptions are $2.99 weekly, $7.99 monthly and $39.99 annually*
- You'll be able to read unlimited stories for the duration of your subscription
- Payment will be charged to your iTunes Account at confirmation of purchase
- Subscription automatically renews unless auto-renew is turned off for at least 24-hours before the end of the current period
- Account will be charged for renewal within 24-hours prior to the end of the current period at the cost of the chosen package
- Subscriptions may be managed by the user and auto-renewal may be turned off by going to the user's Account Settings after purchase
- No cancellation of the current subscription is allowed during active subscription period
- You can read our privacy policy and terms of use at http://telepathic.tv/privacy.html
- Any unused portion of a free trial period, if offered, will be forfeited when the user purchases a subscription to that publication

*Prices are equal to the value that "Apple's App Store Matrix" determines is the equivalent of the subscription price in $USD.

By using Hooked, you agree to our Terms of Use and Community Guidelines available at http://www.telepathic.tv/terms-of-use

Questions? Email support@telepathic.tv for help!
Reviews
The watcher
lovemelissa_dancer
on
6/22/2017
I love it
Money seeking
Sub-par stories that you have to become a "special hoot member" to continue reading when you run out of "hoots".
...
You have to pay to see any sort of picture and can't even pick a story to start with. Then you have to wait to even finish it. Stinks.
Okay well
okaywelllllll
on
6/22/2017
I kept on getting interrupted with ads and running out of hoots so I will probably delete this and ignore it good stories though
Great App
The StrawHatViper
on
6/22/2017
This is definitely the best app in this series of scary texting apps. I downloaded this app through an ad on one of Leafyishere's YouTube videos, and it is very great.
Eh
Awkwardbeauty522
on
6/22/2017
I hate the hoots you gets and when you use them all you have to wait an hour. But i love the stories.
Don't Bother
The stories try so hard to build up suspense by practically using the same kind of dialogue with one person asking a bunch of questions and the other person just telling them to wait. You also have to pay to see images and essentially read the stories which is a bunch of crap. You're probably better off reading some creepypasta story off the internet: they're way better stories and you don't have to pay to read them. Please stay away from this app
Well....
Cathie Smith
on
6/22/2017
The stories are good but you have to buy a lot just to see an image or to read more
Worst app EVER
The Ginger of Awesomeness
on
6/22/2017
The whole thing is pay to read. They force you to do it and it's ridiculous after the first story I wasn't planning on reading anymore and I am deleting this garbage app. My suggestion. If you have like $3 a week for a waste of money go ahead and buy this crap but if you don't want to waste your time then don't download it
Micro-transactions ruin the whole experience
I wasn't even reading for 5 minutes before the app told me I had t either pay real money to finish the story, or wait 40 minutes. Atrociously greedy, won't ever touch the thing. Sad cause the idea is pretty cool, but I'm sure there's a better, free version out there
It's great
I love it !!!!!! 😍
Monthly Costs?!
StelarFoil71
on
6/22/2017
Why do I need to pay a fee to view pictures for the story? If it was a one time pay then maaybee I'll buy but then why not just charge for the app itself. But instead I have to pay monthly to view pictures?? Really? Rip off. The pictures seem off with the stories in the first place and can throw the story off anyway. I'll come back and reinstall when the charges go away.
Why wth
Hhhhekeksm...
on
6/22/2017
Why are they trying to steal our money? Wth...
It is great
I like it ,it has a good thrill to it when your reading
Love it!
This app is really cool and the stories really grab you like the nene suggests
Love it!
rinakatrina😎
on
6/22/2017
I love the stories! They are full of suspense
Yaaaasssssss
University is so good
on
6/22/2017
Love it
Misleading
iMadeTwitter
on
6/22/2017
It's not "free" if you want to enjoy the stories. Cost to see images and to read the stories at once without a 40 minute break. Don't waste your time.
Sh*tty and boring. Waste of time.
Reyes.13ronte
on
6/22/2017
This app has barely any stories that are interesting and they all seem the same. "This person got kidnapped, this girl is in danger, oh no!", and it never really works out for me. I've wasted my time and money on this app and I am severely disappointed in it to say the least. I'm also very annoyed with having to be patient or spend money. People who read these kinds of stories are not really patient. And if they are then they're not really interested. Just bored.
Scary!!
This is scary!! Love it 😍
Hooked!!!
mystery dweller
on
6/22/2017
Can't put my phone down!
Amazing
This app is amazing with great drama stories. In my opinion I would recommend this app to beginners.
Fun
sanitizedinwonderland
on
6/21/2017
So far these are fun little stories. I'm not crazy about waiting to finish reading, when you start the timer. But, I guess you have to make money somehow. Fun.
Crap
Get out your wallets folks. Please ✌🏿
Awesome
Hansen the swag man 😎😎😎
on
6/21/2017
I love it the stories leave u in suspense in2 what's gonna happen nxt
Ehh
This app I wouldn't say is bad but they do want to screw you over for money. Now if you like the suspense of waiting like I do then this app is good for you. Or if you would like you can download the app and look for interesting story's and then google them and view them all at once. I've done it a few times.
Free
I think it should be free
...
Uh, where should I begin? Maybe with the fact that this app along with its developers are strictly in it to make a quick buck. Changing everything around to where you have to pay to see images & to also keep reading the stories is ridiculous. (& if you actually indulge them you're ridiculous too). I wish I could give this app a negative rating such as it deserves but the liberation I feel from deleting it is justice enough. Esnizzy out, peace. ✌🏽
Don't Bother
What a SCAM! I'm going to pay after getting ten lines into the story? Like hell!!!
Eh
FlashGaming44
on
6/21/2017
The stories are cool but every time I scroll down to far it crashes and it's dumb that you have to pay to see images that ain't even realistic I will give five starts if you change these problems
Like
Really like the stories.
Waste of Time
MissyRocks123456
on
6/21/2017
As soon as it gets to the good part they want you to pay for a subscription!!?! Why would you charge people for this and expect them to pay??? Put ads or something on your app but I sure as heck am not about to pay $7+ to read this garbage. Don't waste your time!!!
Deleted it for a reason
Hihihihihihihiu
on
6/21/2017
I used to have this app and forgot why I deleted it so I redownloded it and remembered. You have to pay $7-$8 (forgot) just to see pictures and have to pay just to finish one simple story. If you want people to pay to read spooky stories at least make to .99-$2.
Wow seriously
mad and lonely
on
6/21/2017
You're trying to make people pay to read these cheesy half witted stories? And to view useless staged photos ?
😡
PinkFluffyUnicorns93
on
6/21/2017
You're so mean! Maybe I don't want to pay! I see why it's called hooked! You get people hooked and then you make them pay for it because you know it's suspenseful!😡😡😡😡😡😡😡😡😡😡😡😡😡😡😡😡😡😡😡😡😡😡😡😡😡😡😡😡😡😡😡😡😡😡😡😡😡😡😡😡😡😩😩😩😩😩😩😩😩😩😩😩😩😩😩😩😩😩😩😩😩😩😩😩😩😩😩
I can't handle the suspense!
It's awesome! The only thing I would fix is how long u have to wait to keep going after a certain number of texts
AmaZInG
Lauren cupcake 🦃
on
6/21/2017
So good can't get my hands off
Love
The game is so awesome
Xupcph
C is awesome we
on
6/21/2017
Dupchpcupu
This is great
This awesome now I won't be so bored anymore
Very Interesting
Jace Hashimoto
on
6/21/2017
I use this app in spare time and I love the stories.😃
Reading
Swagg jj😎😎💯%
on
6/21/2017
Very Intense, love it
Def Hooked
Specialist-Skye
on
6/21/2017
I am def Hooked on Hooked. It's a little cheesy at times but I enjoy it. The suspense, drama, intrigue. Waiting for my next turn.
Good...but
Such a great app and it's really interesting I just don't like it how we have to wait 30 minutes to read more but besides that it's a great app
this is the best app!¡
I love this app and I love reading the stories I don't like how I have to wait to read the next part but whatever!
Best App Ever!
Kyle W Marston
on
6/21/2017
Hooked is a great way to express yourself in a very Unique and New form of Social media where you can receive professional criticism, build a catalogue of your talents and spend your free time hearing stories told by any one of its millions of subscribers. I am on it and it is No joke. My newest favorite addiction at a Price that won't Eat Away at your wallet. Come Help a great cause and join now, for a better future and help set up an awesome Precedent! Also it is the only place you can read my Master's Thesis: The Search for Slurpee Roberts!
Hooked
They love._.Niya
on
6/21/2017
This is a great app❗️😊This gives you interesting stories 📔 to read, and they have stories that leave you with a deep feeling afterwards 🔮💎- Thank you for reading this review 💕💕💕💕💕💕💕💕💕💕💕💕
Fact Sheet
Publisher: Telepathic Inc.
Category: Book
Released: Aug 21, 2015
Current Version Released: Jun 21, 2017
Version: 2.28.1
Size: 90.1 MB
Compatibility: Requires iOS 9.0 or later.
Recommended Age: 9+
Game Center Certified: No
Supported Devices: iPad2Wifi-iPad2Wifi, iPad23G-iPad23G, iPhone4S-iPhone4S, iPadThirdGen-iPadThirdGen, iPadThirdGen4G-iPadThirdGen4G, iPhone5-iPhone5, iPodTouchFifthGen-iPodTouchFifthGen, iPadFourthGen-iPadFourthGen, iPadFourthGen4G-iPadFourthGen4G, iPadMini-iPadMini, iPadMini4G-iPadMini4G, iPhone5c-iPhone5c, iPhone5s-iPhone5s, iPadAir-iPadAir, iPadAirCellular-iPadAirCellular, iPadMiniRetina-iPadMiniRetina, iPadMiniRetinaCellular-iPadMiniRetinaCellular, iPhone6-iPhone6, iPhone6Plus-iPhone6Plus, iPadAir2-iPadAir2, iPadAir2Cellular-iPadAir2Cellular, iPadMini3-iPadMini3, iPadMini3Cellular-iPadMini3Cellular, iPodTouchSixthGen-iPodTouchSixthGen, iPhone6s-iPhone6s, iPhone6sPlus-iPhone6sPlus, iPadMini4-iPadMini4, iPadMini4Cellular-iPadMini4Cellular, iPadPro-iPadPro, iPadProCellular-iPadProCellular, iPadPro97-iPadPro97, iPadPro97Cellular-iPadPro97Cellular, iPhoneSE-iPhoneSE, iPhone7-iPhone7, iPhone7Plus-iPhone7Plus, iPad611-iPad611, iPad612-iPad612, iPad71-iPad71, iPad72-iPad72, iPad73-iPad73, iPad74-iPad74,
Supported Languages: English; French; German; Italian; Japanese; Korean; Portuguese; Spanish; Castilian;
Parental Advisory: Mild Profanity or Crude Humor; Suggestive Themes; Fear Themes;