This version of the app is not recommended
App last updated
Jan 17, 2018
Screenshots
New in version 2.2018.02101
* Bug fixes and performance improvements
Description
• Capture, edit, share, and collaborate on your notes on any device, anywhere.
• Add notes, lists, photos, and audio to Keep.
• Organize your notes with labels and colors.
• Set and forget. Get reminded about a note at the right time or place.
• Record a voice memo and have it automatically transcribed.
• Grab the text from an image to help you quickly find that note again through search.

WHEN AND WHERE YOU NEED IT
Need to remember to pick up some groceries? Set a location-based reminder to pull up your grocery list right when you get to the store. Need to finish a to-do? Set a time-based reminder to make sure you never miss a thing.

SHARE YOUR THOUGHTS WITH FAMILY AND FRIENDS
Next time you go to the store, share your shopping list on Keep and watch as items get checked off in real time. No need for text messages back and forth. Get things done together, faster.

FIND WHAT YOU NEED, FAST
Quickly filter and search for notes by color and other attributes like lists with the label "To-dos", audio notes with reminders or just see shared notes. Find what you're looking for even faster, and let Keep do the remembering for you.

ALWAYS WITHIN REACH
Keep works on your phone, tablet and computer. Everything you add to Keep syncs across your devices so your important stuff is always with you.

Try Google Keep on the web at http://keep.google.com and find it in the Chrome Web Store at http://g.co/keepinchrome.

Permissions Notice
Camera: This is used to attach images to notes in Keep.
Contacts: This is used to share notes to contacts.
Microphone: This is used to attach audio to notes.
Location: This is used to set and fire location-based reminders.
Storage: This is used to add attachments from storage to their notes.
iPad Screenshots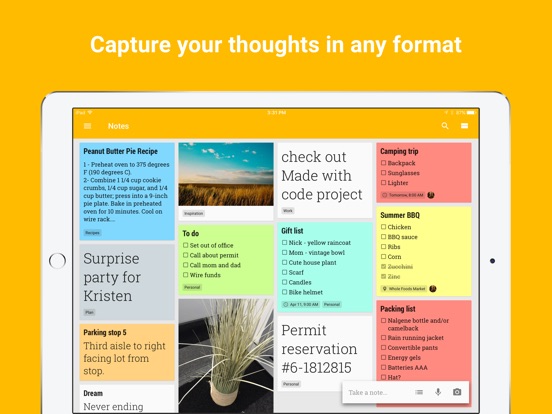 Reviews
App crashes after latest update. Now totally unusable
After the latest app update, app crashes immediately when icon is tapped. I am on iOS 8.3.
Crash
App keep crashing I trying everything but still on iPad Air iOS 8.4
Don't work in my iPhone 7 Plus
This app don't work in my iPhone 7 Plus.
Once a great app. Not anymore.
rlrrlrll rlrrll
on
1/19/2018
Google Keep was my go to app for note taking. It is simple, uncluttered and easy to use. But since iOS 11 it has become unusable and buggy as hell. A bug in the app doesn't let me save photos to the iPhone's camera roll and crashes in the attempt every single time. Saving to the Files app is hit or miss and a mostly buggy process. Also, synching to the Google cloud has become slow and unreliable. I have no idea why this happens as it used to work perfectly. The problem persists even after performing a factory reset on my phone. Sadly, I haven't found a worthy replacement.
Request
Birthday Freak
on
1/18/2018
Request: apple watch app please
Glitches Constantly
Switched to iPhone from Android, and the app looks great and I can pull up shared notes easily. Editing them is a mess though. After adding a line to a note the sentence will get mixed up. I assume this happens as it syncs. Then a few moments later it reverts to what I actually typed... so I keep typing, then a few seconds later it reverts back again and the sentence is all mixed up. No idea what's going on, but it's basically unusable aside from viewing notes from others. Edit: 1/18/18 - Just had an update, but glitches are still there.
Repeated crashes
Poor manager
on
1/17/2018
I'm on an old iPad2 running iOS 8.4 and the app crashes every time I try to launch it.
Buggy and unreliable!
This app looks good on paper and I've been using it for over a year, but it has proven to be the biggest pain in the butt! It consistently drops your info right when you need it. Keeps deleting my lists and won't sync with other devices/users. This is a cross platform and multi user problem. It's happens to the app on every device it's installed on and to everyone who is synced with my lists. Deleted a very important list right when I needed it. Twice! Deleting this app. Do not bother downloading, use a different app.
Doesn't Open
Immediately crashes. iOS 8, iPhone 5.
Like it but...
I really like this app for making my grocery store list but a great added feature would be to be able to organize them by category such as dairy, canned, meat, so you don't have to browse your whole list when in a certain area of the store.
Incredibly buggy
How not to build a collaborative editing tool.
My once essential app is now just crashing
dj jon bates
on
1/15/2018
I've been using Google Keep since forever, and was getting close to dropping my Evernote Premium subscription in favor of Keep. But since the last update, the only thing Keep does is Keep crashing on launch. (iPad Mini 3, iOS 11.2) Google, I keep trying to move my cloud life to your services and gSuite enterprise, but between Google Photos endlessly reimporting dupe photos and an unstable Keep, it's hard to rationalize switching to less stability and more hassles. C'mon!
Crashes when labeling
Love this app. Only thing that annoys me it crashes when I try to label my notes. Fix it please.
I loved it at first. Now? It frustrates the heck out of me.
My husband and I use this app to share weekly to do lists, grocery lists, general information. It has too many bugs and we suspect because it's not an apple supported application. When I type or update a shared list, the words I deleted reappear and the ones I typed disappear. I'm about to give up on this once useful app and find a more efficient and reliable one.
Was great, but isn't now- Bugs,bugs,bugs
Aplication was great, but from few months-VII.2017 they can not fix bugs In aplication for IOS... DirectorMenager should be replaced for this bugs... I will end pay for Google aplications (Google drive etc)
Love the app but there's something missing
This 4 star could easily be a 5. I simply love this app. It's the only note taking app that I use; but I'm thinking about switching because GK doesn't offer an Apple watch app. While other note taking apps are not better than GK they do offer Apple watch app. I would miss GK but the developers have gotta step into the 2018's
Slower than molasses
The app used to run well, until the last 2 updates. Now it drains the battery extensively, and is slow. I have to wait sometimes up to 12 seconds after clicking on a note to get it to open, then again to add or edit anything. It is the same problem on my 5S as my sig others 6 on different OSs. Sad to see this, as it is no longer functional for our list management.
Terrible compatibility with iOS
C4r4Sunsh1n3
on
1/12/2018
I used this app on Android before I switched to Apple, and it worked beautifully. I loved the organization, and the cloud sharing capability between authorized users. Now on Apple, my notes don't sync properly; it doesn't save what I wrote, let alone sync it correctly to my shared user. The most frustrating part is that it will not let me type!! I will type a few words, and then the app glitches and mixes them all up. It will take the first part of the first word, and the last part of the last word, stick them together and erase everything inbetween. It's been doing this for months. I keep trying to no avail, hoping that with each new update it will be fixed. But I'm losing patience and long for the amazing flawless features this app has with the compatibility of android!!!
Crashing constantly
Unusable. Can't open. Only solution is to uninstall, reinstall. Works briefly. Rinse, repeat. Forcing me back to other solutions...
Text Entries Disappear
I've used this app ever since it came out and loved it! Very unlike Google, it has developed a major flaw recently. While typing in entries, the text just disappears. You go back and try to fix it and it does it again. Please fix this!
Now buggy and unreliable
Worked great on previous versions of iOS, but now on iOS 11.2 on iPhone X, certain notes conflict for no apparent reason, text does not appear while typing, and the "last sync date" is sometimes incorrect. Sigh. Already dumped Evernote because of similar issues.
Alphabetize Features for 2002 Sakes
I see there a forum dating back to 2016 ... please for the love of this app, add an alphabetizing feature... please
Very slow
$$$Chosen one$$$
on
1/8/2018
Incredibly slow. Has become unusable.
Missing a few features
Using google keep is easy and very convenient, but you can't bold or underline text or make charts. These features are pretty important to me so I hope they add it in the future.
Good, but...
itsmyw0nderland
on
1/8/2018
Overall, the app is good. Display is visually appealing and is user friendly. But it could benefit from a few things: • in two column view, it would be nice if you could have the option to organize things in two columns rather than just from left-to-right format which automatically re-formats the remainder of the items • if you could add multiple lists in a single note. Once you make a list in a note, you don't have the option of a line break to make a new list in the same note. • the date & time reminder feature isn't responsive. When you try to change the date or time of a reminder, it doesn't recognize the change and just defaults back to the original time
Deletes my text!
This is the best note app out there. BUT, within the last few weeks there's been several issues. When typing a sentence, it seems at random it will delete all that you've just typed out. That's incredibly irritating. Then the app continues to crash and DOES NOT save anything that was typed. I love this note app and use it literally every single day. I hope that the performance issues can be fixed with another future update or I'm going to have to find an alternative 😔
Regularly Lags
I've been a long timer user of Google Keep. Around when iOS 11 updated, this app became very laggy. It happens particularly when connection is poor; as if the app is attempting to save with each rearranging of task or character typed. I can regularly expect this lag when I open the app. I would love to understand why this happens.
Bad fix?
Now 06 Jan 18 and this app does not work on iPad or iPhone. Any insights, anybody? After 26 Oct fix, won't open on iPad or iPhone. Now 13 Nov and this still does not open on my iPad. Is somebody addressing this or is this a casualty of some sort of skirmish. 16 Nov 17. Hi. I let the app update on my iPad and it still won't open (brand stays static on screen, no data). Works on several other devices, including an iPhone 6. Dutifully, on 26 Nov, I tell you this no longer works on iPhone and still doesn't work on iPad. Deep distress.
Easy to use tool but very buggy
I would say that 1/3 times that I use this application I encounter some sort of problem, usually specific to the checkbox function. I try to drag and drop to reorganize check boxes in a list and they will scramble and be in an incorrect order or it will drag two at a time but instead of just the one I attempted to select.
Good
We want Mac and Apple Watch apps
The best note app
This is the best app for making quick notes and lists. One suggestion, however. I would love to be able to add items to a list with Siri. Like a shopping list; e.g.: "Hey Siri, add eggs to my shopping list on Google Keep."
Excellent App For Productivity & Notes Easy To use
Completely love this app works across all my devices from android to iOS never had a issue simply does what it needs to and very simple to use thank you google
Surprisingly Disappointing
The daily reminders simply do not work, frustratingly inconsistent..... I would have expected a lot more competency from a Google product
Useful, but lags a lot
ledzeppelin53211
on
12/31/2017
Tapping can freeze the UI for 3-5 seconds. How can it possibly be that slow to update a list?
Embarrassing App from Alphabet
money faucet
on
12/30/2017
Slow as a 2011 freight train. Buggy and terrible.
Great.. but
Love the cross platform use just wish it had the option to secure personal notes would make it the best out there.. Here is hoping it will come in one of the future updates..
Excellent tool, painfully slow
Although lightning fast an Android this app is painfully slow on iOS. Clicking on a note takes about 2 seconds to open. Checking off a task takes so long you continue to tap thinking you missed the checkbox, only to find out you've unintentionally checked off 2 other things. I love the cross platform capabilities and sharing notes, which is why I continue to use this app. But I often find myself cussing at it out of frustration.
Incredible productivity tool!
nbct.wright
on
12/28/2017
This app has quickly become one of my go to apps throughout each and every day. It's cross-platform approach makes jotting a note on my phone, revising it on my Chromebook, then converting it to a Google Doc on my desktop a snap. It is lightweight in terms of storage space and processor demands, yet it is robust in its abilities. Saving audio, photos, etc into notes is simple. Setting reminders, even recurring reminders, makes this app outrageously useful for jotting quick reminders when adding something to a calendar is just too time consuming. And again, the cross-platform approach means that the reminder pops up on your iPhone, your Chromebook, and your Windows machine (or Mac) unlike Apple's native reminder / to do apps. Of course, you have to be using Chrome on your computers as the internet browser. But why wouldn't you? :-) In all, it's a very useful app for organizing and staying on top of personal and professional business!
One item missing
There is a bug where there is always one item from the list missing. You can see a blank space where it's supposed to be, but you can't see what it is. Please address this issue in the next update.
My new go-to for notes
Way to go Google, I love this app!
I'll give you a 5 Star
If you update the app so I can sort my checklist a-z and by date entered. Thanks 😻👍
Best cross-platform notes/reminders app
not Nancy Pelosi
on
12/26/2017
I use Keep mainly because it's available on iOS, Android, and in the browser. This is the only reason I can overlook the frequent wonky behavior in the iOS app—strange menu animations, wrong behavior when you hit enter in a checklist while using a third party keyboard, elements stuttering around the screen while typing. It could definitely use some improvements to be as nice as the default Notes app, but I'll stick with it for notes that I want to share with non-Apple devices.
One Issue
(Using the latest update) When writing in Arabic which goes from right to left everything works well the first time and all sentences are on the right side of the screen. However, when opening the note a second time the sentences are on the left side of the screen which is a pain for someone who wants to edit or view the note in Arabic. Please fix this issue. Otherwise, great app.
Love but
I love this app... but I wish it was accessible from my AppleWatch.
RTL Support?
h.moghaddasi
on
12/25/2017
Aren't you going to fix RTL problem? Since it is correct on other platforms, its pitty that iOS version is not supporting it. Please add text alignment option (and please keep in mind that it must remember the alignment after saving the file. The current version supports RTL when typing, but it goes back LTR when you save the note and close it.).
Great app from Google but..
It's not useful until they support copy-pasting image into note and some text formatting (eg bold and underline). It's surprising that such basic features are still unsupported.
Bold, Italic & underline formatting are missing but it's a great alternative to Onenote
BoredMeteor
on
12/22/2017
It feels incomprehensible that Google wouldn't allow users of this great app to format text with bold, italic or underline. This basic feature, part of every word processing program since the late 80s is missing from this app! It's stupefying. You can do this in every other Google app but not this one. This missing feature is single-handedly keeping this app from really competing with Microsoft OneNote. Google has an opportunity since OneNote for iOS has been badly broken for over a year. It won't sync notes across platforms anymore! Authentication is completely bugged and your notes won't sync unless you sign in every day which leads to all kinds of conflicts. The app is unusable these days. Google keep could pick up that market. That's how I know about it. I had to abandon Microsoft's platform after they broke it.
Unusable
drewpoeppel
on
12/21/2017
The app is unusable. It hangs. Sometimes it doesn't even open the list. Garbage!
Could be 5 stars...
When it works, this app is my saving grace. The Pinterest-style layout is a great way to quickly view and organize my many to-dos and reminders in one glance. However, as other reviewers have stated, the lag and delay between when I tap a sticky and when the sticky actually opens makes this app practically unusable. And that's if it reacts at all! It's maddening. Hopefully a company of this stature will fix this problem ASAP because if they do, this app will be my go-to for notes and reminders. Until then...it no longer has a place on my phone's homescreen. Sad.
Fact Sheet
Publisher:

Google, Inc.

Category:

Productivity

Released:

Sep 24, 2015

Current Version Released:

Jan 17, 2018

Version:

2.2018.02101

Size:

168.6 MB

Compatibility:

Requires iOS 8.0 or later.

Recommended Age:

4+

Game Center Certified:

No

Supported Languages:

Arabic; Catalan; Valencian; Chinese; Croatian; Czech; Danish; Dutch; Flemish; English; Finnish; French; German; Greek; Hebrew; Hindi; Hungarian; Indonesian; Italian; Japanese; Korean; Malay; Norwegian; Bokmål, Norwegian; Norwegian Bokmål; Polish; Portuguese; Romanian; Moldavian; Russian; Chinese; Slovak; Spanish; Castilian; Swedish; Thai; Chinese; Turkish; Ukrainian; Vietnamese;