Screenshots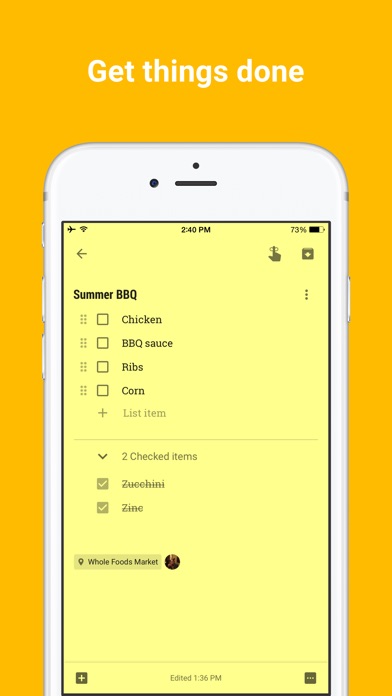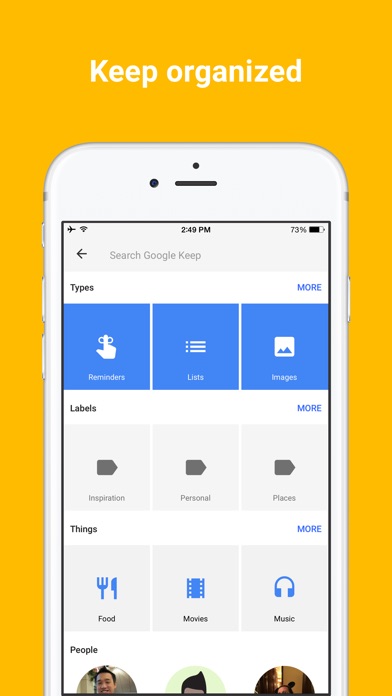 New in version 2.2017.44204
* Bug fixes and performance improvements
Description
• Capture, edit, share, and collaborate on your notes on any device, anywhere.
• Add notes, lists, photos, and audio to Keep.
• Organize your notes with labels and colors.
• Set and forget. Get reminded about a note at the right time or place.
• Record a voice memo and have it automatically transcribed.
• Grab the text from an image to help you quickly find that note again through search.

WHEN AND WHERE YOU NEED IT
Need to remember to pick up some groceries? Set a location-based reminder to pull up your grocery list right when you get to the store. Need to finish a to-do? Set a time-based reminder to make sure you never miss a thing.

SHARE YOUR THOUGHTS WITH FAMILY AND FRIENDS
Next time you go to the store, share your shopping list on Keep and watch as items get checked off in real time. No need for text messages back and forth. Get things done together, faster.

FIND WHAT YOU NEED, FAST
Quickly filter and search for notes by color and other attributes like lists with the label "To-dos", audio notes with reminders or just see shared notes. Find what you're looking for even faster, and let Keep do the remembering for you.

ALWAYS WITHIN REACH
Keep works on your phone, tablet and computer. Everything you add to Keep syncs across your devices so your important stuff is always with you.

Try Google Keep on the web at http://keep.google.com and find it in the Chrome Web Store at http://g.co/keepinchrome.

Permissions Notice
Camera: This is used to attach images to notes in Keep.
Contacts: This is used to share notes to contacts.
Microphone: This is used to attach audio to notes.
Location: This is used to set and fire location-based reminders.
Storage: This is used to add attachments from storage to their notes.
iPad Screenshots
Reviews
I NEED this app for my iWatch
The only reason I don't give this app a 5-Star rating is because I cannot use this app on my iWatch!!! I have tried SO MANY "list" apps and this one is by far my favorite! Simple and easy to use. Yet, so functional. APPLE AND/OR GOOGLE PLEASE, PLEASE, PLEASE, make this app available for the iWatch!!!
Disaster Since iOS 11
Both on my iPad Pro and iPhone X the app crashes, or doesn't even open. I have tried uninstalling it but no change when Re-installed.
Bad fix?
John Wehrle
on
11/16/2017
After 26 Oct fix, won't open on iPad or iPhone. Now 13 Nov and this still does not open on my iPad. Is somebody addressing this or is this a casualty of some sort of skirmish. 16 Nov 17. Hi. I let the app update on my iPad and it still won't open (brand stays static on screen, no data). Works on several other devices, including an iPhone 6.
Great note-taking app!
BabyWugglez
on
11/16/2017
I initially gave it 4 stars for not being optimized for the iPhone X's screen, but the latest update changed that. I've been using it back when I had an Android phone, so I'm happy to learn that this iOS version is just as good as the Android one. Overall, great app for keeping notes and creating lists while maintaining organization!
Disgrace to Google
Asif Siddiqi
on
11/16/2017
This app is in market for a long time, with frequent updates, Yet it freezes, lags and often struggles to connect to it's servers and then when it connects, replaces the newer version with an older one. Frustrating cause it works flawlessly on Andriod and PC. Have some time out to see what is inherently wrong in the app and fix it. It's a very useful app other wise.
Great for checklists, reminders, syncing
I *really* like being able to see my lists in an overview, and I love the sync with the Mac app (free download, associated with the Chrome browser) and web app. I'm giving it 5 stars although it's pretty mediocre for merely taking notes. For that I use Apple's free Notes app. But pretty much everything else is in Google Keep.
Good update for a great app
Thanks for updating to iPhone X screen resolution!
Lags and Stutters in iOS
Indispensable app, but on iPhone X, heavy lagging and stuttering when scrolling in larger note files.
Keep crashing on startup
With the last 2 Keep app updates it has crashed on my iPhone 6s running iOS 11.0.3 on startup. Keep behaved normally on my laptop.
The best note service
Google keep is more than just an app. It's a service you can use on any platform that helps you organize your notes, thoughts, and reminders all at one place synced on all of your devices. The iOS app isn't the best and has some issues but I can't find any better alternative.
Lag time is the WORST
I love the interface and idea behind google keep, and the online version is fantastic, but the iOS app is pretty much the most frustrating thing in the entire world for me, All because the lag time is completely insane. When I open the app, it takes a good 15 seconds for everything to 'update' so that I can start tapping around or scrolling through my lists or anything. Once I open any list, it is a good nother 10 seconds or so before that list will become functional and let me start typing or tapping around. Once you start typing, about every fourth or fifth letter, it entirely pauses agaaaaaaaain. If I just keep typing away, it will take about five or six seconds, and then all of the letters I've been typing will pop up really fast but then it will pause again and do it all over. It is so godamn frustrating, all I want to do is type like normal, like every single other app will let me do. My phone is relatively new, my operating system is up to date, and this problem has been going on with Google Keep on iOS for the entire year I've had my phone since I switched over from android. I reeeeeeally need to give it up and just switch to Evernote. 😡😡😡
Nice UI, poor experience
I really wanted to like this app, but somehow I feel that Google put too much emphasis on the UI, and not enough thought into the features. For example: I don't need a whole note to have check boxes; this is not a todo app. Also, there is no way to format your text (bold would be a nice addition). I hope the developers can add these features in a future version. Otherwise, I really appreciate the multi device cloud sync!
Perfect for note taking, journaling
Faith and Beard
on
11/10/2017
I use this app daily for personal study, check listing, and for constant reminders. It's so easy to use, and the pins for important notes make it even more helpful for prioritizing. I recommend this over Evernote
Thank You Google
It's been a journey and you've always been the people's champ. To offer just about everything for free that others make you pay for makes me happy that you've dominated & took away their customer base. You guys rock and are brilliant for changing the game.
No sorting options :(
The notes can't be sorted by last modified.... Meaning you're constantly scrolling to find your note. Very disruptive when you're trying to quickly note things in succession.
Needs More Bugs Fixed
TheeMrsLinear
on
11/9/2017
This is a great app however, when I add a collaborator it glitches and removes things that are typed and closes out by itself. I have tried it when the other collaborator isn't even in the notes. Please fix this ASAP!
Best notes app!
I've tried many different note apps and this is my favorite! I love how you can color code notes and place them into different categories! I love the checklist and how it automatically falls to the bottom upon checking but doesn't erase! (That feature allows me to merely uncheck it when I need to get more of whatever it is) The only reason I haven't given five stars is because it doesn't remember the places I've set as reminders. If I could have, i would have taken only a ½ star.
Not getting better
Same lack of features for years now. Apple and MS have added feature to their respective notes apps, but keep had stayed the same. Features that are missing: -Formatting text. -lock/password protect individual notes (but they then can't read it for advertising) -folders (tags are messy and lame) -download pics that have been previously inserted into a note. As of now once the pic is attached to a note you can't copy it out anymore. -add attachments (pdf/video/audio) To get the idea. Apple notes and OneNote have all these features.
No iPhone X support
Please do the right thing and support the screen size for the iPhone X. We're all waiting for you to update all of your apps.
Dang!
I really like this app. Simple & Accessible on all my devices. If a journal feature got added, Google would be the center of my personal information network.
It's awesome when it works..
Can't open the app right now because it continues to fail on launch and won't even allow me into the app..
Love the share feature
Only thing is missing is notifications when someone updates a shared list.
Encrypt notes
This is a fantastic app that I will be using more of over all other note taking apps only if it gets the ability to encrypt notes with a password, PIN, or swipe code.
clyon
Anacanapooner
on
11/4/2017
Great app! So useful. But I give only 2 stars because the text can't be adjusted larger within the app for us Senior citizens. We use Smartphones, too. But it's difficult to read the smaller print, so please consider us older folks when you design. Thanks.
Falls short of expectations
airlinepilot72
on
11/4/2017
Would be an excellent app except you cannot paste into it. This is a VERY troublesome issue. Many of my notes are cutting and pasting from docs and web sites. Please fix this ASAP and it will be 5 stars.
Only problem and I'm hoping soon it will come
I've been searching for an app like this but also with the function of setting reminders for the rest of the family and where a textwoukd be sent to remind them such as appointment or meetings . Please tell me this is in the works. I really like google product so I don't want to have to add another app to handle that for me.
Great Features, Clean and Fun Design
aberrantartist
on
11/3/2017
I love as many others have stated the simple and fun UI. The labels are handy especially that you can use add one with simply putting in a hashtag. What would be nice is if there was a way to combine handwritten and typed notes more seamlessly instead of having two separated sections for drawings and typed notes. If handwritten notes, drawings and typed notes could be included in the same canvas somehow, that would be amazing.
Tips
StarbucksIndian
on
11/2/2017
Great app. Love the ease. Would love to be able to change the label colors as well as have more freedom to move notes (like apps on a home screen) around.
New update fixed issues from iOS 11
Great simple app, just what I need!
Bad
Googe mums gayecksdeefaggitlulz
Buggy Train Wreck
I love Google Keep and was super excited to finally have it come to iOS but it is unforgivably buggy. I'll be typing and my text will disappear only to partially reappear when I try to type it again. It won't sync certain notes some of the time if I've added to or checked off an item on a list. Really frustrating.
Moving cursor bug
When I click on text to edit and my keyboard pops up, I cannot move the cursor by touching somewhere else in the note. This is very annoying and did not happen before. Please fix the bug.
Best note app
Easily log in anywhere. Best note app with simple features.
Currently very frustrated
I've been using this app for a few weeks and it really could be great. But, the issue I have pertains to the mobile app. As I write in an item in my checklist, it will delete half or the entire line. Sometimes it comes back and other times it deletes it entirely. I use the app so I don't forget. When it deletes the items I need to remember, it serves no purpose. In actuality, it does more harm than good. I believe the info is saved and it's not. FIX IT! You're google for gods sake.
Love it. Watch app please!
Matthew Horvat
on
10/29/2017
Thanks Google
Was great, but isn't now- Bugs,bugs,bugs
Aplication was great, but from few months VII.2017 they can not fix bugs In aplication... DirectorMenager should be replaced for this bugs...
Needs text formatting
claranea1990
on
10/28/2017
I really want to switch to Google Keep - I was really liking the interface and features! - but what felt like such a setback was the lack of text formatting. I feel like a lot of notes app worth using have that, so it was disappointing to see that if I migrated my notes over, it wouldn't keep the text formatting. If it's ever added as a feature, I'd be up to trying it again.
Buggy with iOS 11
When you type it erases the text and sometimes the line. It undos the text or autocorrects the spelling. Please fix it I can't type anything
Updated - Late September update seems to have fixed the issues caused by the August changes.
[updated] They finally seem to have fixed Keep, thank goodness. For about 6 weeks it was unusable. Now it seems to work fine, no longer deleting items and failing to sync. Glad Google fixed what they had broken, but better communication from the company to its users should have happened. 👎 on treating your users this way. I used it daily. Still use it via the web. But the August iPhone update made it unusable. Can't connect. Screws up your entries. It's a disaster. And Google's been silent through it all. No acknowledgement anywhere -- support pages or forums -- of the problems. The app support pages are worthless. Hey Google, end the silence and let us know that you've heard us! And fix this used-to-be great app and the sync issues, please.
Something's off lately
I tap and won't react. Especially when trying to select text. Going on for last few days. What's going on
Haven't been able to sync in weeks
Wish I could actually use this wonderful app, but apparently my connection has not been available ~for weeks~ so I can't share lists nor sync them across devices. Not cool.
Glitchy
Frequent and persistent text input issues. The app jumbles up words after, or while, you're typing
UPDATE
Please update the icon , you guys are a multi billion dollar company and the icon is super old and the app could sure use a new look .
Why is there no file scanning function?
Guarding Democracy
on
10/24/2017
ipad native memorandum now supports file scanning, but Google keep does not seem to give full play to the performance of iPad pro to optimize. But also hope that you can use Google keep records after adding the notebook format lines, easy to print after browsing.
Terrible
Keeps freezing. Not syncing. Please fix this app. Used to be my favorite and can't even use it on my phone anymore.
PLEASE FIX after last update app in malfunctioning!
whitetiger32526
on
10/23/2017
Lagging nonresponsive putting info in backwards instead of forward or just deleting what you input it's just completely disarray. PLEASE FIX ISSUES !!!!! This is my favorite app that keeps my family list all together and in order. It is giving me issues and a headache!!!!! Use to work perfect! When issues are fixed I will give 5 stares
Adds ruined this app
This used to be a good app until the adds ruined it. It's a productivity app! If adds slow it down its worthless, get a clue. I will pay to not have adds.
Broken Again!
LovinMyiPhone5
on
10/22/2017
10/22/17 - when this App is working, it's the best, and I heavily rely on it. Now I'm noticing with the latest update, my collaborators are having difficulties editing notes I share with them, making the collaboration functionality of this app virtually unusable. I can only hope that in the future Google will do a more thorough job testing changes to the code and environment to avoid breaking critical functionality so often. C'mon Google! Please get your act together on this app!!
Fact Sheet
Publisher:

Google, Inc.

Category:

Productivity

Released:

Sep 24, 2015

Current Version Released:

Nov 15, 2017

Version:

2.2017.44204

Size:

159.1 MB

Compatibility:

Requires iOS 8.0 or later.

Recommended Age:

4+

Game Center Certified:

No

Supported Devices:

iPad2Wifi-iPad2Wifi, iPad23G-iPad23G, iPhone4S-iPhone4S, iPadThirdGen-iPadThirdGen, iPadThirdGen4G-iPadThirdGen4G, iPhone5-iPhone5, iPodTouchFifthGen-iPodTouchFifthGen, iPadFourthGen-iPadFourthGen, iPadFourthGen4G-iPadFourthGen4G, iPadMini-iPadMini, iPadMini4G-iPadMini4G, iPhone5c-iPhone5c, iPhone5s-iPhone5s, iPadAir-iPadAir, iPadAirCellular-iPadAirCellular, iPadMiniRetina-iPadMiniRetina, iPadMiniRetinaCellular-iPadMiniRetinaCellular, iPhone6-iPhone6, iPhone6Plus-iPhone6Plus, iPadAir2-iPadAir2, iPadAir2Cellular-iPadAir2Cellular, iPadMini3-iPadMini3, iPadMini3Cellular-iPadMini3Cellular, iPodTouchSixthGen-iPodTouchSixthGen, iPhone6s-iPhone6s, iPhone6sPlus-iPhone6sPlus, iPadMini4-iPadMini4, iPadMini4Cellular-iPadMini4Cellular, iPadPro-iPadPro, iPadProCellular-iPadProCellular, iPadPro97-iPadPro97, iPadPro97Cellular-iPadPro97Cellular, iPhoneSE-iPhoneSE, iPhone7-iPhone7, iPhone7Plus-iPhone7Plus, iPad611-iPad611, iPad612-iPad612, iPad71-iPad71, iPad72-iPad72, iPad73-iPad73, iPad74-iPad74, iPhone8-iPhone8, iPhone8Plus-iPhone8Plus, iPhoneX-iPhoneX,

Supported Languages:

Arabic; Catalan; Valencian; Chinese; Croatian; Czech; Danish; Dutch; Flemish; English; Finnish; French; German; Greek; Hebrew; Hindi; Hungarian; Indonesian; Italian; Japanese; Korean; Malay; Norwegian; Bokmål, Norwegian; Norwegian Bokmål; Polish; Portuguese; Romanian; Moldavian; Russian; Chinese; Slovak; Spanish; Castilian; Swedish; Thai; Chinese; Turkish; Ukrainian; Vietnamese;