Screenshots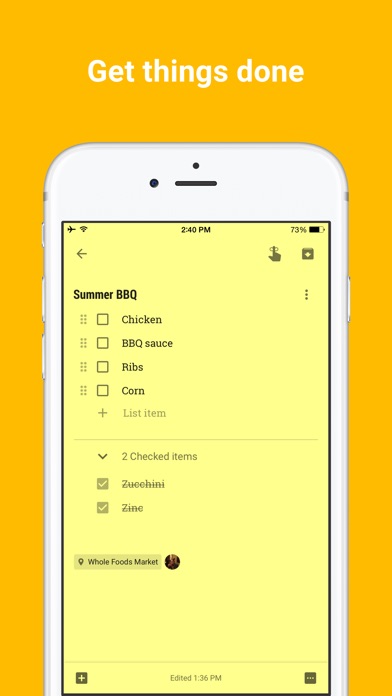 New in version 1.2017.36201
* Bug fixes and performance improvements
Description
• Capture, edit, share, and collaborate on your notes on any device, anywhere.
• Add notes, lists, photos, and audio to Keep.
• Organize your notes with labels and colors.
• Set and forget. Get reminded about a note at the right time or place.
• Record a voice memo and have it automatically transcribed.
• Grab the text from an image to help you quickly find that note again through search.

WHEN AND WHERE YOU NEED IT
Need to remember to pick up some groceries? Set a location-based reminder to pull up your grocery list right when you get to the store. Need to finish a to-do? Set a time-based reminder to make sure you never miss a thing.

SHARE YOUR THOUGHTS WITH FAMILY AND FRIENDS
Next time you go to the store, share your shopping list on Keep and watch as items get checked off in real time. No need for text messages back and forth. Get things done together, faster.

FIND WHAT YOU NEED, FAST
Quickly filter and search for notes by color and other attributes like lists with the label "To-dos", audio notes with reminders or just see shared notes. Find what you're looking for even faster, and let Keep do the remembering for you.

ALWAYS WITHIN REACH
Keep works on your phone, tablet and computer. Everything you add to Keep syncs across your devices so your important stuff is always with you.

Try Google Keep on the web at http://keep.google.com and find it in the Chrome Web Store at http://g.co/keepinchrome.

Permissions Notice
Camera: This is used to attach images to notes in Keep.
Contacts: This is used to share notes to contacts.
Microphone: This is used to attach audio to notes.
Location: This is used to set and fire location-based reminders.
Storage: This is used to add attachments from storage to their notes.
iPad Screenshots
Reviews
Issues with Collaboration
I have used Keep on and off for years but I have just now recently begun using the collaboration features. There is a major problem when using it this way and that is the bug that will delete text and then it will reappear. It is quite frustrating and I have considered moving to a different app altogether. Please fix this Google!
Please add a feature of password/ touch id protected notes
With people storing all the info to keep handy in Google Keep, password/touchid protected notes is very useful and needed.
Broken update was fixed by iOS install?
Seems so. Google Notes is handy alternative for the thrifty to Quick idea capture, Grocery lists, Quick sketch, Organize ideas by tagging with a label. Wishlist...to be able to keep checklist and plain text in same note.
Stopped working after the newest IOS update
It was working until I updated my phone to the new update.
goodbye Notes app
this app has quickly become a favorite - it is what i want Notes to be. simple, clean, easy to use. i absolutely love the "pinterest"-esque feel to the UI. the labels are great for organizing and i love the way the font sizes differ depending on what i've typed. don't get me wrong - i loved and used Notes for a very long time, it's become a very capable and powerful native app. but google keep has completely stolen my love of digital note taking. unless apple comes up with something nearly identical, i don't know if i'll ever switch back. the reason i take off a star is because i would like some more editing options in terms of fonts, i think the default (and only) font is a little ugly, personally.
New update = thumbs down
I loved this app so much until the newest update. Now the notes delete within seconds of typing them up. The actual note/file and title would be there, but nothing else. I've deleted the app, hard started my phone, and tried every fix I could find. Nothing works. Hopefully this will be fixed soon and I will revise my rating.
No iOS11 Drag and Drop support
Doesn't support iOS 11 drag and drop of text and images
Recent update has issues
I love using this app, but lately it has been randomly deleting parts of my notes as i type. Very odd and frustrating.Hope this is fixed soon.
Unable to use app properly after iOS 11
Prior to iOS 11 the app worked flawlessly and was my go to rather than use apples own Notes. However, since iOS 11 update, I am unable to place the cursor with any accuracy and sometimes even place it at all. This is the same behavior on my iPhone 6S as it is on my iPad Pro. Hopefully the next update can fix this, then I can give it the rating it deserves.
Update the resolution for iPad pro 10.5
Update the resolution for iPad pro 10.5
Zero crashes on my iPhone 7 Plus
I relunctantly installed Keep after reading the negative reviews regarding crashes. But I was on a quest to find a way to keep my thoughts, plans, interests, and things I find on the web that I'll need later (I hate browser bookmarks.) And the solution must be cross platform (i.e. Work on anything.) After a month of using Keep it has won me over. No bugs or crashes. AND there is a Chromebook app for Keep. And it works exactly like the mobile app but just a bigger display. Since it's updated in realtime it doesn't matter when I make an entry it always shows up on every device and computer I own. Android, Windows and Mac support exist as well, of course. Further, you can add collaborators to Keep entries and this makes it very nice to be able to share things with my wife. The grocery list, Christmas list for our son, etc I'm hooked. For those who try Keep and don't like it, check out Dropbox Paper. It just came out - still in beta as I type this. It would have been my next choice if Keep didn't work out. I have a never ending battle between using Google or Dropbox. Google won out in this area. It's a great time to be alive. Twenty years ago this technology would have seemed like something out of a Star Trek movie.
Encryption please
This app looks amazing to use and I'd like to transfer from Apple Notes. However, without encryption note support, it's a deal breaker. Please let us encrypt sensitive notes!
I have passive aggressive hate towards this app
Baka sgiasgiasnnskznzznjz
on
9/18/2017
I have to write schoolwork on this and I have some built up rage against this app because of it. Made me suicidal Pretty helpful tho so it gets five stars
PDF files not allowed
I like the app but it does not allow PDF to be attached/inserted into the notes. I hate that this ability is missing.
Please add sublists
This app is a welcome addition for google accounts. Right now, the main addition I would like to see is the ability to make sublists or sub-items.
Needs option to underline words.
I wish you could add the option to underline the words when typing maybe you could add that in the next update please thank you.
Awesome Again!
LovinMyiPhone5
on
9/15/2017
9/15/17 - when this App is working, it's the best! With the latest update, the cloud sync issue that made it virtually unusable for the last several weeks is now fixed, and the app is now working beautifully. I can only hope that in the future Google will do a more thorough job testing changes to the code and environment to avoid breaking critical functionality so often.
it have just one thing
Hi .... when i write a note i can't put a picture between a text.😘 i wish you can update the app to Supports this feature. thank you for all Your wonderful programs..
To be good
It's a great app but it needs a password to be better. Thanks google.
OBSESSED
nikkimarie19
on
9/13/2017
IM UPSET I DIDNT KNOW ABOUT THIS APP SOONER 💯💯💯💯
One of my favorite apps
DisappointedUserofthisapp
on
9/13/2017
If the app is not working it is the phone. I have an iPhone 7+ and have never had a single problem. The app works well with simplicity. Use it. You'll be a fan!
Works perfect for me so far
My work uses everything Google, so I wanted to try app for work and personal. As far as syncing, it's synced easy with each account, updating instantly for each, so there have been no issues with sync. As for layout, I love the "tile" and color look of it, as it seems more user friendly and interesting. Color-coding has further ordered everything. I agree with a previous review about adding a PDF scan/pic capability would make it perfect for me. A few suggestions: sometimes I want to transfer notes between folders and it's not easy to do. The function exists, but it's not obvious. Also, include compatibility to transfer notes into Google Docs, Sheets, etc. would make this app exceptionally useful in being able to write notes, outlines, etc. and to continue the work into the other Google apps.
Doesn't Update
straightupelevated
on
9/12/2017
When I first got the app, we loved it! However the last two months it hasn't been updating correctly or sharing notes with collaborators. :( I wish it kept working!
Good but
Is there any way to boost the font? Too tiny for these old eyes, and I don't always want to wear my reading glasses in the grocery store.
Application has promise but bugs exist
The constant pop-up saying cannot connect at this time, try again later is more than annoying. It is disgraceful Google. Fix it...now! It makes a good application almost useless.
Syncing Issues
Rusty M Shackleford
on
9/9/2017
I use this mostly for shared notes between family and coworkers. The problem is the notes sometimes don't update properly. Deleted items come back. Overall needs work.
Broken App
Don't download the August 30 update. It does not sync or update. My Android version is fine, and opening Keep through a browser works too. But something has happened to this app.
Works great when it works - needs work
ellie19883245
on
9/8/2017
I thought this was a really cool little app - the 'sorry can't connect try later' message is making it unusable. That Google released an app this unstable is puzzling.
I like it!
Big list maker /note taker here! I'm just starting to explore the app and it seems like it's working for me! One thing I could see that would make this app truly stand out is being able to merge lists!! Best, Tori
Great service, terrible iOS app
I can't seem to actually add new notes and get them to sync, making the app pretty much useless. I keep it installed for when I have a couple minutes to wait for my existing notes to load so I can browse them. Keep is my most used Android app, though, and it's pretty good on my Chromebook. The service itself is indispensable, but the iOS app is junk. Please update Keep, Google!
Items keep unchecking themselves
This is really tough to use for things like shopping lists and to do lists if you can't actually check things off of it, since as soon as you do they just uncheck themselves. Please fix.
App won't update
App won't update past the aug 30th 2017 update and crashes.
Doesn't work
This app never seems to be able to connect to the server and constantly puts things on my list that I just removed
Crashing
When I click an item to be taken off of my list... it puts it right back on!! Update please!
Getting worse
I'm not sure what is going on but thigs are getting worse 1- I constantly get "can't connect right now -- try again 2- when I do connect, 1/3 the time the data is duplicated a couple times even if I delete I'll change my review when it gets better.
Great idea but does not sync update consistently
I have noticed when the list is shared that it does not update. My wife takes the list to the store on her phone and it is different than mine We check off items only to find them reappear moments later. I update the list and her phone will not sync the list Using iOS latest versions I am a big fan of Google apps but this one is disappointing
Great, until latest update
Really awesome app, but this last update made it slooooow and it quit syncing. I'm sure some programmer will fix it.
Horrible for iPhone
I have really wanted this to work for me as my Android friends all love it. But it is HORRIBLE on my iPhone. It keeps unchecking list items, duplicates items, and always gives me error messages that the system can't be accessed right now, try later. SO FRUSTRATING.
Love
Thanks google, this is great and I use it all the time for me notes, checklist and more.
Google Keep - Good job Google 😃
This is a great app to use if you need reminders, to-do lists, and more. I would highly recommend it.
No possibility for a voice recording
Marinametwice
on
9/5/2017
The app simply drops recording after a few seconds. It also attempts to transcribe it for no good reason. And does not recognize the language to boot.
What happened?
This went from an awesome app to completely useless app. If I can't use the check box feature I'm not even going to use it.
Super buggy
The app just doesn't work. It un-checks checked items, adds glitchy text to the middle of words, it's constantly "unable to connect", and it frequently reverts the changes made to lists. This would be a great app if it worked.
Too many issues
This app used to be so useful but has failed me more than a few times these last few updates. If can't get fixed then will have to find another app to use.
Not usable after update
I check something off and it magically reappears after a minute. I get a lot of "unable to connect" errors. The wife and I used to love the google keep app, but after the last few updates, it is horrible. Why did you try to fix something that wasn't broke to begin with???!!! Guess it is time to move on to Evernote or Simplenote.
Syncing is HORRIBLE
Christina2026
on
9/4/2017
I really love the interface and features of this app, but it simply doesn't work if you're using it on your iPhone. If I'm editing or making a list on my computer, things work fine. I use it for grocery lists and while I'm at the store, the second I uncheck an item, it comes right back. Sometimes I think it's worked and I've unchecked half the list, only to open it up again and find that every item has been unchecked all over again. I really hope this gets fixed somehow because I use Google exclusively for everything and I was happy to have found a list-app within Google without having to create a whole new account for some different app. Please fix this!!!!!!
Love-Hate relationship
Great for note keeping across all devices. However, he checklists continue to not function. You can add anything to the list, hub if you try to check anything off, it quickly undoes your check off.
Love the concept, but terrible app
I love using this app for keeping all sorts of lists and sharing with my husband, but it NEVER works properly. I really wish Google would fix it!
Unusable
I really want to like this app. Checked items constantly uncheck themselves and reappear within the list after a few seconds. Blank entries appear in the list. Words oddly repeat in a list item ("YogurttYogurtYogurtYogurtYogurtYogurtYogurt"). Lists sync inconsistently with collaborators (new items may or may not show up, checking them off doesn't, etc) These all seem like syncing related issues. Unfortunately this all renders the app pretty useless. It's a shame because the simplicity of the interface and functionality lives up to the high standards and quality of Google's other apps. The performance doesn't.
Perfect!
I have been using the stock notes app on my iPhone for years. I discovered keep about a year ago and started integrating that into my daily use. For some reason all of my stock notes disappeared and I cannot get them back. Thank goodness for google keep! I will be using this app for years to come! I have never had any issues with it crashing or other things that are mentioned here. I highly suggest you give keep a try!
Fact Sheet
Publisher:

Google, Inc.

Category:

Productivity

Released:

Sep 24, 2015

Current Version Released:

Sep 13, 2017

Version:

1.2017.36201

Size:

157.2 MB

Compatibility:

Requires iOS 8.0 or later.

Recommended Age:

4+

Game Center Certified:

No

Supported Devices:

iPad2Wifi-iPad2Wifi, iPad23G-iPad23G, iPhone4S-iPhone4S, iPadThirdGen-iPadThirdGen, iPadThirdGen4G-iPadThirdGen4G, iPhone5-iPhone5, iPodTouchFifthGen-iPodTouchFifthGen, iPadFourthGen-iPadFourthGen, iPadFourthGen4G-iPadFourthGen4G, iPadMini-iPadMini, iPadMini4G-iPadMini4G, iPhone5c-iPhone5c, iPhone5s-iPhone5s, iPadAir-iPadAir, iPadAirCellular-iPadAirCellular, iPadMiniRetina-iPadMiniRetina, iPadMiniRetinaCellular-iPadMiniRetinaCellular, iPhone6-iPhone6, iPhone6Plus-iPhone6Plus, iPadAir2-iPadAir2, iPadAir2Cellular-iPadAir2Cellular, iPadMini3-iPadMini3, iPadMini3Cellular-iPadMini3Cellular, iPodTouchSixthGen-iPodTouchSixthGen, iPhone6s-iPhone6s, iPhone6sPlus-iPhone6sPlus, iPadMini4-iPadMini4, iPadMini4Cellular-iPadMini4Cellular, iPadPro-iPadPro, iPadProCellular-iPadProCellular, iPadPro97-iPadPro97, iPadPro97Cellular-iPadPro97Cellular, iPhoneSE-iPhoneSE, iPhone7-iPhone7, iPhone7Plus-iPhone7Plus, iPad611-iPad611, iPad612-iPad612, iPad71-iPad71, iPad72-iPad72, iPad73-iPad73, iPad74-iPad74,

Supported Languages:

Arabic; Catalan; Valencian; Chinese; Croatian; Czech; Danish; Dutch; Flemish; English; Finnish; French; German; Greek; Hebrew; Hindi; Hungarian; Indonesian; Italian; Japanese; Korean; Malay; Norwegian; Bokmål, Norwegian; Norwegian Bokmål; Polish; Portuguese; Romanian; Moldavian; Russian; Chinese; Slovak; Spanish; Castilian; Swedish; Thai; Chinese; Turkish; Ukrainian; Vietnamese;