TapNova recommends this app!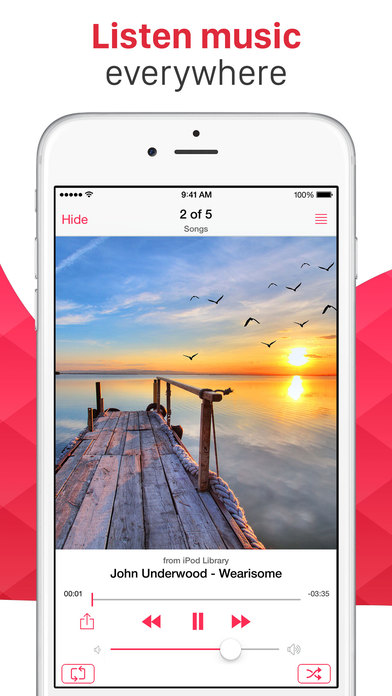 New in version 1.3
- Minor fixes and stability improvements that you might not necessarily notice, but will definitely improve your app experience!

Thank you for your support and positive reviews! Your opinion matters.
Description
5,000,000's of Users Worldwide Already Enjoy This App and Keep Counting!

Easily download and listen offline your favorite music! Make your unlimited music library available across all your devices. Anytime. Anywhere.

Access offline your favorite music! Download your music from free cloud storages or import from iPod, PC/Mac, email etc. Listen offline!

MAJOR FEATURES
- Download music for offline access
- Play offline–no internet or WiFi needed
- Store music in free cloud storages - Dropbox, Google Drive, iCloud Drive
- Stream online to save device space
- Import audio from PC/Mac, iPod, email, WiFi transfer, iTunes file sharing
- All major audio formats support - mp3, m4a, m4b and flac, more…
- Playlist shuffle and repeat modes
- Background music playback
- Lock screen and control center playback
- Headphones and remote control support

If you love my app please rate and review it with 5 stars!

NOTE: Due copyright restrictions this app cannot play drm protected files purchased on iTunes Store.
iPad Screenshots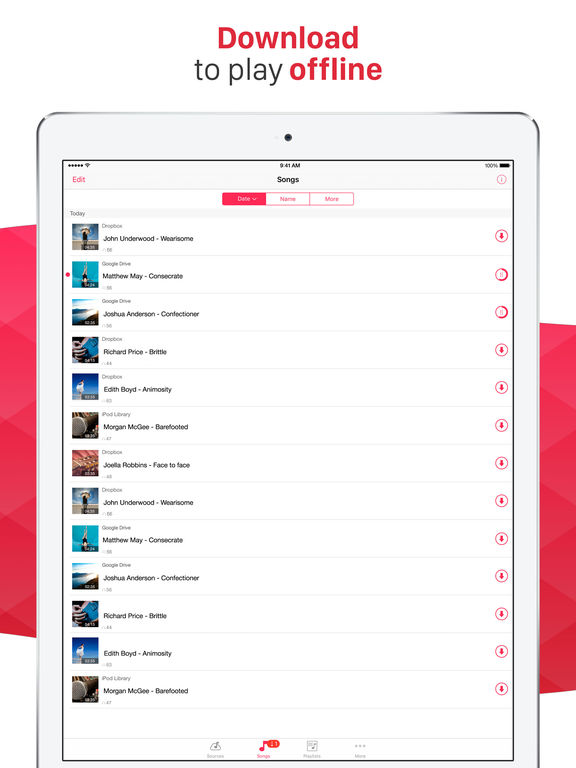 Reviews
Kf
Jdndydusndifkfhdhd
on
6/23/2017
It's good
Bad app
Brittany Joanna
on
6/23/2017
Just don't download
Wifi feature removed
BhamMusicLover
on
6/18/2017
WiFi feature removed?
Search
This is a good app, but can u add a search in the source..Its very hard to find a song in 2000-3000 files. Also cons - too many ads...
AWESOME APP
The_loved_1😍😍😍
on
6/15/2017
You dont have service your out on the go who to call...MYCLOUDMUSIC awesome for anyone anywhere
Help
It's an okay app but is there any way to extract files, like send those files directly to another source
How do we use the app
Can someone tell me how to use the app becuase I don't know how to do if someone would tell me I'd appreciate it
Love It! 😍
I love this app I can listen to the music I love! Some people say it is slow but for me it is pretty fast. But I love it! 😍
It's an…okay app
So first off there are way to many ads and I find it annoying to have to turn off my wifi to listen to music especially when I'm trying to multitask. Secondly the app closes itself, like when a song is put on pause for to long or I'm on another app. Is there a better way of looking for a song maybe a search bar or something would be great. And when I play songs and hit random it plays a "random" sequence of songs then the next time I hit random it plays the exact same "random" sequence of songs. And lastly there has to be a better way to make playlist or delete songs instead of only being able to select one song at a time and that's a hassle when I'm trying to make large playlists or if I'm trying to delete large amount of songs. You seriously need to update your app big time, but I do like this app and I don't want to delete it and all the music I have on it so can you please just update? Thanks
5 stars
not.the.norm.
on
6/10/2017
excited
Glitchy
hahahdndbdjdjsn
on
6/8/2017
Doesn't work when I want it to. I try to play a song and it goes to my home screen
PartyTime
BreezeCheetah2414
on
6/7/2017
I think that this app is awsome
💯 I love it
Keep up the good work
Says itll download
Im trusting it
Ads
Too many ads but is a great app
Booo
I hate this app it is confusing and has to much adds!!!
Love it!
I loovvvvvveeee it! 💜💜💜💜💜
Love it!
All I want to say is that, this's one of the greatest apps I've ever had for listening my favorite songs
Amazing
MartinRdz3456
on
5/31/2017
Simply the best
Great app
Sonny Chapman
on
5/30/2017
I would recommend this app to someone else
Am
Peepoopybutt
on
5/29/2017
Amazing app
Ok?.
#1 Hanna Boo
on
5/29/2017
Still trying to figure out how to download music on this
Great!
Toy Boy's Friend
on
5/29/2017
Love it! Thanks!
Awesome app!!
Great music!
Solutions !!
Ads solution - doesn't this say it's an offline music player we'll turn your wifi off to get no more of those ads. Here is a reason why there are ads popping up - The app uses the ads so the app can be free and they need money to keep it running so they just put in ads to lower their expenses - signed by a 8 year old
Still trying to get it to work
Thatdumbdude
on
5/24/2017
I'm doing wat it says and it's not working but Ima keep trying till I do
Like it!!
I been figuring out how to transfer MyCloudMusic to iTunes
good
lol 5 star review BC it want me to give it for free music whatever 😂
Nice
Jeksjdzjjskaka
on
5/20/2017
Having really got a chance but I'm sure it will work wonderfully
Lit
Nidhdbxgdhdjdhdb
on
5/18/2017
Lit
It's good
It's not horrible
Theres alot of ads
Can u see if u can like mad ads disappear that would be great no disrespect
Too many adds
The dollars21
on
5/16/2017
I would like this app better if their wasn't too many adds
Ads
Gio Universe
on
5/16/2017
I think its great but can do better without th full screen game ads like game of war or something
Great app!
Kaitlyn34267
on
5/16/2017
So far its great, havent used it much yet though
Great app
Jach.castillo45.81
on
5/15/2017
Like this app ... Works great!
I love this
Awesome girl2550 ninja master
on
5/14/2017
I love this app so much you helped me have free music so I can not be bored weathers connection or somewhere where it's really really really really really really really really boring and we can listen to music all we freaking want
Goodbykyle
Hhshcnncnbffc
on
5/11/2017
Download
Whjsnsnsnjzjnx
Gagahahsjs
???
This is confusing how do I even get music on this?
Fact Sheet
Publisher: Denis Musicant
Category: Music
Released: Sep 24, 2015
Current Version Released: Aug 24, 2016
Version: 1.3
Size: 24.9 MB
Compatibility: Requires iOS 7.1 or later.
Recommended Age: 4+
Game Center Certified: No
Supported Devices: iPhone4-iPhone4, iPad2Wifi-iPad2Wifi, iPad23G-iPad23G, iPhone4S-iPhone4S, iPadThirdGen-iPadThirdGen, iPadThirdGen4G-iPadThirdGen4G, iPhone5-iPhone5, iPodTouchFifthGen-iPodTouchFifthGen, iPadFourthGen-iPadFourthGen, iPadFourthGen4G-iPadFourthGen4G, iPadMini-iPadMini, iPadMini4G-iPadMini4G, iPhone5c-iPhone5c, iPhone5s-iPhone5s, iPadAir-iPadAir, iPadAirCellular-iPadAirCellular, iPadMiniRetina-iPadMiniRetina, iPadMiniRetinaCellular-iPadMiniRetinaCellular, iPhone6-iPhone6, iPhone6Plus-iPhone6Plus, iPadAir2-iPadAir2, iPadAir2Cellular-iPadAir2Cellular, iPadMini3-iPadMini3, iPadMini3Cellular-iPadMini3Cellular, iPodTouchSixthGen-iPodTouchSixthGen, iPhone6s-iPhone6s, iPhone6sPlus-iPhone6sPlus, iPadMini4-iPadMini4, iPadMini4Cellular-iPadMini4Cellular, iPadPro-iPadPro, iPadProCellular-iPadProCellular, iPadPro97-iPadPro97, iPadPro97Cellular-iPadPro97Cellular, iPhoneSE-iPhoneSE, iPhone7-iPhone7, iPhone7Plus-iPhone7Plus, iPad611-iPad611, iPad612-iPad612, iPad71-iPad71, iPad72-iPad72, iPad73-iPad73, iPad74-iPad74,
Supported Languages: Belarusian; Croatian; Czech; Danish; Dutch; Flemish; English; Finnish; French; German; Greek; Hungarian; Italian; Japanese; Korean; Malay; Polish; Russian; Chinese; Spanish; Castilian; Swedish; Thai; Chinese; Turkish; Ukrainian; Vietnamese;