Screenshots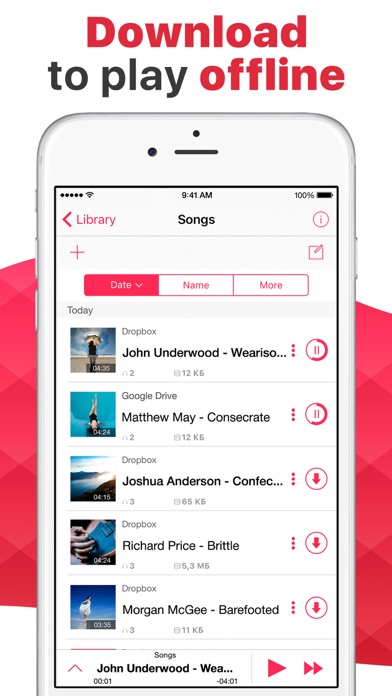 New in version 1.6
- Dropbox bug fixed
- Performance and stability improvements
If you love my app please rate and review it with 5 stars!
Description
6,000,000's of Users Worldwide Already Enjoy This App and Keep Counting!

"This app is cool it is easy to download. I found the right app to download music" - by Misshynee

"Good app easy to get music on" - by Broly The Legend

"It is easy to use, very straightforward and reliable" - Airi1592

Easily listen to your favorite music without internet connection! Make your unlimited music library available across all your devices. Anytime. Anywhere.

Access offline your favorite music! Listen to your music from free cloud storages or import from iPod, PC/Mac, email etc.

MAJOR FEATURES
- "Smart" playlist - automated playlists with new or the most popular tracks
- Download music for offline access
- Play offline–no internet or WiFi needed
- Store music in free cloud storages - Dropbox, Google Drive, iCloud Drive
- Stream online to save device space
- Very simple and user-friendly library structure
- Import audio from PC/Mac, iPod, email, WiFi transfer, iTunes file sharing
- All major audio formats support - mp3, m4a, m4b and flac, more…
- Playlist shuffle and repeat modes
- Background music playback
- Lock screen and control center playback
- Headphones and remote control support

If you love my app please rate and review it with 5 stars!

NOTE: Due copyright restrictions this app cannot play drm protected files purchased on iTunes Store.
iPad Screenshots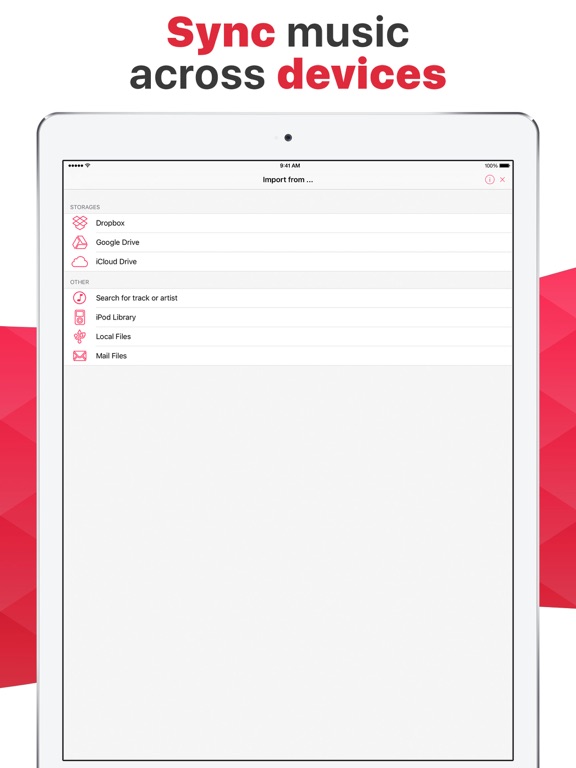 Reviews
Some suggestions
The app is great, but there are somethings I think should be added. 1- search engine to the music inside the app. 2- Make us control more in the widget 3- Give us more control in the player
Muy bien
Oaxacochingon
on
12/11/2017
Muy buena
Arijeet
I love it so much 😍😍😇
Only two suggestion
Less ads. I know this you need it for revenue, but I would love it if there were less. Allow album covers to be put on music. The screenshots on App Store show the music with covers, how can we actually do it? ALSO THIS IS AN EDIT: please fix the shuffle play to actually shuffle, it keeps on playing the same order of songs, I love shuffle b/c it keeps me on my toes as to what songs next. PLEASE FIX THESE THANK YOU
TRASH
This is a thieving piece of trash! I want a refund!!
Disappointed
Way too many ads!!!!
Me
Mycloudmusic
on
12/2/2017
Hi thanks
Can't even evaluate!
OMG, you can't even evaluate this app to see how it works without pop up ads blasting away at you, covering the screen, trying to make you play stupid games, totally keeping you from controlling a song. I don't mind paying for an app, but there's no way to know what this would be like if you did pay for it. I couldn't even play one song before all this started. Suggestion to developer... let people see what it will be like if they pay. Give them 3-4 songs in premium mode, then turn on the ads. Too late for me, though. Deleting it now and hiding it so I don't accidentally DL it again.
Glitches and too many ads!
I searched through so many apps until I found this one. I was satisfied until a few weeks later I found that if I skipped two songs, it'd go back to the song I tapped first and loop between three songs, causing me to exit the app then start with a different song which was a temporary fix. Secondly, there are way too many ads. I'd have been fine with it if the ads didn't play in the middle of a song or pop up one after the other once I exited the first ad. Thirdly, if you download more than a certain amount of songs, it freezes a couple seconds after you open the app then just quits. I tried deleting then re downloading with no change so....great concept, crappy outcome.
Review
It was working fine before and now it's glitching. Like I'll click to go on the app and it'll go on for a few seconds and then my screen will go black brining me back to my home screen
Decent
xXZander808Xx
on
11/26/2017
It's just the ads keep appearing non stop however it's still a good app.
Very hard to use, fulled with ad
Quite complicate and ad is every where
Me encanta 🔥
Está perfecta deberían poner un ecualizador
Ads are intense
Spokenwithhonesty
on
11/17/2017
They're very very annoying, intrusive and excessive. It's only a bare bones music player not really any better than the stock player. .
Nothing but ads
theRainestorm
on
10/31/2017
Deleted it immediately. Ads ads ads ads ads.
Great, but.....
music_may87
on
10/25/2017
I love the app, and I use it a lot, but the 30 second ads have been popping up after every song, and sometimes interrupting my music! For some reason, I can never transfer any music to the app, like for example my iCloud, Dropbox, or another app. Does anyone have any suggestions on how to fix it?
Amazing
Exactly what I needed thank you!!!❤️❤️😍
Shuffle all
LghtSknTattd
on
10/20/2017
Love the app, paid version. but I personally would like to have a 'shuffle all' option within each playlist. I also have some files that are not properly tagged. And would like the option to be able to rename files if possible.
Great
ThatVeryCoolYoutuber
on
10/19/2017
Gr8
Good! (And a suggestion)
People are complaining about the ads, but that I can deal with. Something that would make me use this app more would be, so I could import photos on the music. Idk why I feel a bit crazed when I c that some of my imported music has photos and others don't. So it'll be a cool feature to have if you make that.
Perfect
Perfect app👌Thanks
Viruses
Had the app for less the 2 minutes and got 6 new viruses. Very disappointed
Very recommended
One of the best apps out there lets you listen to music offline I don't get interrupted with adds and when my playlist finishes it keeps playing songs that I might like.
Won't Allow Downloads Anymore
Very sad that it will not allow me to download from Dropbox anymore...it just gives a notice that "internet connection is needed to download" but I have internet...no one to contact...was great for a few weeks only...NOT WORTH PURCHASE!
Review
kevanHershey
on
10/9/2017
I purchased the pro version and the adds still popped up. It's a waste I would recommend another app until the fix the add problem on this one. It would be a five star and a really good app
Terrible
Cadenfry200713
on
10/8/2017
It keeps saying that I have to pay for the pro version I DONT WANT IT!
Myanmar sound
Myanmar sounds
How music helps me
I have been a music lover all my life everyday since I was a little I've listen to all kinds the the lyrics are the most important when you are not having a goodday music is the best Medicine for everyone to enjoy.
Stop asking for a review
The gameman64
on
10/6/2017
Pretty meh
Won't connect to Dropbox
GenericAppStoreNickname
on
10/2/2017
Every time I try connecting to my Dropbox account, I get the message "Server not available" which is strange since I can easily connect to Dropbox on all my other devices (laptop, desktop, phone, and TV).
App is not working after purchase.
Purchased app but is not loading and stuck in the home screen
Ads with audio on a music app
There are ads at the bottom, between track listing, on the cover art, and as popups. I'm usually pretty tolerant but some of these play their own music or sounds and will overlay on your own. Plus some weird functionality where when you hit the left arrow, most music players restart the song, this app will actually send you to the previous track. Otherwise the app does look nice and does do what it says which is allows you to play apps from your cloud. I'm more than willing to pay for an ad free version. This is ridiculous.
Bien mais
Appli pratique mais trop de pubs
Music👌🤘
I like hearing music
DO NOT DOWNLOAD WHAT EVER THE OTHER REVIEWS SAY!!!
SeeingIfAppsAreGood
on
9/14/2017
Gives ur phone a virus as soon as u download
beware
just a horrible app. spent my $3 without asking subscription price.
Great music app!
This app continues to please, but, I bought your adless upgrade and there are still ads. Fix this. I spent $3 on a complete lie. I can't use the widget and there are still ads when I use the app. Just don't buy the upgrade until it gets fixed.
For the road
This is so great for the road if you have internet pr something
Great app!
Works well once you get a system down and works a lot better with a computer to deal with the files
10/10
Whitney Hicks
on
8/29/2017
RECOMMEND
Ads
Overall this app would be perfect if it wasn't for the ads and so I bought the pro and yet the ads continued to pop up.. this needs to be fixed and even though it restores my purchase, the ads still show. Please fix this issue. Would be a 5 star if fixed
Ok😒
Nutcracker 01
on
8/26/2017
You have to have music on your iPhone or iPod
Purchased upgrade; still get ads
oscar1556778
on
8/23/2017
You can buy as many upgrades as you want; they'll still play annoying ads every 30 seconds
Average
Edirin Abugewa
on
8/22/2017
It's a good app but I can't play songs offline
Fact Sheet
Publisher:

Denis Musicant

Category:

Music

Released:

Sep 24, 2015

Current Version Released:

Oct 19, 2017

Version:

1.6

Size:

78 MB

Compatibility:

Requires iOS 8.0 or later.

Recommended Age:

4+

Game Center Certified:

No

Supported Devices:

iPad2Wifi-iPad2Wifi, iPad23G-iPad23G, iPhone4S-iPhone4S, iPadThirdGen-iPadThirdGen, iPadThirdGen4G-iPadThirdGen4G, iPhone5-iPhone5, iPodTouchFifthGen-iPodTouchFifthGen, iPadFourthGen-iPadFourthGen, iPadFourthGen4G-iPadFourthGen4G, iPadMini-iPadMini, iPadMini4G-iPadMini4G, iPhone5c-iPhone5c, iPhone5s-iPhone5s, iPadAir-iPadAir, iPadAirCellular-iPadAirCellular, iPadMiniRetina-iPadMiniRetina, iPadMiniRetinaCellular-iPadMiniRetinaCellular, iPhone6-iPhone6, iPhone6Plus-iPhone6Plus, iPadAir2-iPadAir2, iPadAir2Cellular-iPadAir2Cellular, iPadMini3-iPadMini3, iPadMini3Cellular-iPadMini3Cellular, iPodTouchSixthGen-iPodTouchSixthGen, iPhone6s-iPhone6s, iPhone6sPlus-iPhone6sPlus, iPadMini4-iPadMini4, iPadMini4Cellular-iPadMini4Cellular, iPadPro-iPadPro, iPadProCellular-iPadProCellular, iPadPro97-iPadPro97, iPadPro97Cellular-iPadPro97Cellular, iPhoneSE-iPhoneSE, iPhone7-iPhone7, iPhone7Plus-iPhone7Plus, iPad611-iPad611, iPad612-iPad612, iPad71-iPad71, iPad72-iPad72, iPad73-iPad73, iPad74-iPad74, iPhone8-iPhone8, iPhone8Plus-iPhone8Plus, iPhoneX-iPhoneX,

Supported Languages:

Belarusian; Croatian; Czech; Danish; Dutch; Flemish; English; Finnish; French; German; Greek; Hungarian; Italian; Japanese; Korean; Malay; Polish; Russian; Chinese; Spanish; Castilian; Swedish; Thai; Chinese; Turkish; Ukrainian; Vietnamese;