Screenshots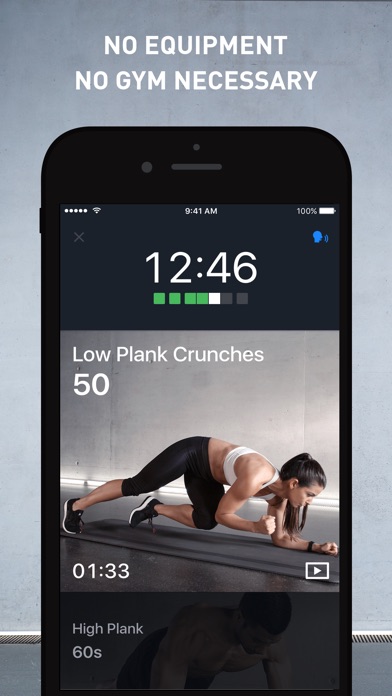 New in version 2.5.4
You have the will, we have the way! Guaranteed Results with your perfect bodyweight training app. Check out what we've changed!

- We hate bugs as much as you do. Our team of experts always works to exterminate the problem as quickly as possible! Sorry for bugging you ;-)

Love Runtastic Results? Rate us with 5 stars & tell others why we're your favorite training app!
Description
Don't wait for summer to be over, START TODAY! Who cares if it's not Monday - you can start any day of the week. More energy. More confidence. Your BEST self in just 12 weeks!
Get started today with your customized bodyweight training plan. With over 180+ bodyweight exercises (no boredom here!), you're guaranteed to get in the best shape of your entire life.

BURN FAT. BUILD MUSCLE. FEEL SEXY.

Lack time and motivation? Results tackles both of those barriers, head on!

APP FEATURES & BENEFITS:

- Your customized plan: Kick off your 12-week plan with a fitness assessment to determine the perfect plan for your fitness level.
- Bodyweight workouts only: No equipment. No gym.
- Workout Creator: You choose the duration, muscles you want to train and press start - it's that easy!
- Health & Nutrition Guide: Weekly healthy nutrition and lifestyle tips to maximize your results.
- Progress Pics: Keep track of your transformation by taking Progress Pics right in your app. Keep them for yourself or motivate others by sharing them on social media. You could be the reason why someone decides to change their life, too.
- Step-by-step instructional videos: 180+ HD videos that demonstrate proper and safe execution of each exercise.
- Standalone Workouts: Bonus workouts you can do whenever you want! Why? Just because we love you.
- The Runtastic Community: Join millions of like-minded people looking to stay active, healthy and in shape!
- Apple Health: Upload activity data like duration and burned calories to Apple Health
- Get some friendly motivational quotes and tips periodically throughout your transformation
- Never boring! Wide exercise variety keep your training plan fresh and challenging
- Results guaranteed!

Results available on your Apple Watch
- Training Plan & Standalone Workouts: Effortlessly start your Results workouts directly on your wrist with Apple Watch
- View details of your current workout in real time
- Share your success on Facebook and Twitter directly from your Apple Watch

Now is your time to transform your body and life forever. Download the app now, we want you to be our next success story! Get ready for more energy, more muscle tone, more fat burning, more confidence and boosted endurance with Runtastic Results.

Should you choose to upgrade to a Premium Membership, payment will be charged to your iTunes account at confirmation of purchase. Your monthly subscription is $9.99 per month, a six-month subscription is $39.99, while the yearly subscription is $49.99 per year. (Price may vary by location.) Your subscription renews automatically unless cancelled at least 24 hours prior to the end of the current period and cancellation of the current active subscription period is not allowed.

Auto-renewal may be turned off in your Account Settings in iTunes after purchase. You can also manage your subscriptions in Account Settings after purchase.

Runtastic Terms of Service: https://www.runtastic.com/in-app/iphone/appstore/terms
Runtastic Privacy Policy: http://www.runtastic.com/in-app/iphone/appstore/privacy-policy
iPad Screenshots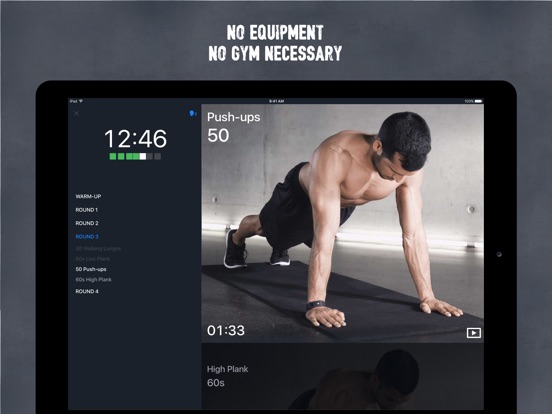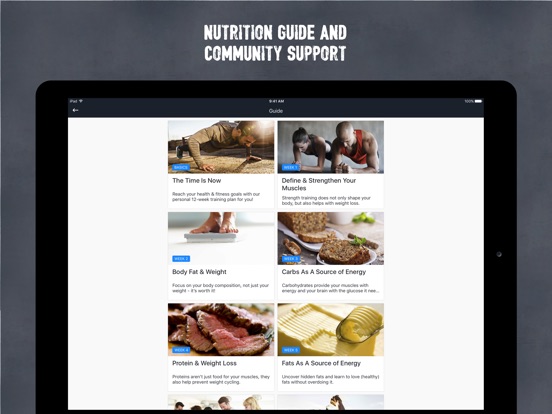 Reviews
Keeps Crashing on iPad Pro ios 11
rolaidsson10
on
10/17/2017
Literally can t finish a workout without the app crashing. Please fix. I love this app and hate to stop using it. Especailly since I gave you guys 50 bucks
'Results' begets results
The app does a great job of engaging you into a progressive, efficient, and fun fitness regimen that is habit forming. Although I received a free premium subscription as a gift, I'm purchasing an annual one for my wife because I think it's a good deal. No reason you should not get results with this app! I rated it two stars simply to attract attention to my two minor critiques here: - please offer an option to opt out of the obligatory social media prompt after every workout. It's annoying for those of us who do not use social media. For that matter, please offer an option to opt out of the "how did you feel" page too. - please input a way to delete the exercise how-to videos from the device. I like how the videos are seamlessly built in to the app, but as I progress in the program, the app is taking up a lot of memory. This will be of great help for those of us who do not have much memory or manage it poorly. I do integrate pull-ups on my own because there are minimal pulling exercises in this program. But that is a minor quibble and I like the purity of the body weight only program because it's often not possible to have a pull-up bar handy at all times.
Fabulous
It's nice not having to figure out a hard workout on your own! Love this
سعودي
نريد لغة عربية
on
10/11/2017
نريد توفر البرنامج باللغة العربية أرجوكم 😫😭😫😩😭😩😫😔😣☹️😖
Perfect fitness app
Great guide. Perfect interface. Realistic goals. Big fan of this app amongst a sea of $hitty apps.
Whew!!! Love this app.
Just finished my fit test & it was tough. Loved the instructional videos of each exercise! Looking forward to my customized workout plan.
Love it!
I am a Triathlete and a Body Weight enthusiast and I have only done the fitness test at the beginning I can already say I love this app. It's so cool how you do one quick test and bam! You have a work out plan in seconds. Well done guys. Can't wait to see the "Results"!
App possibly broken
Would not let me register through Facebook or email stating I'm already registered. I have never used this app or any variation. Uninstalled.
Fantastic App
Absolutely awesome. Not too expensive either. Perfect for me because I travel a lot.
Pretty good app
Would love to have a more integrated experience with the runtastic running app. Would also be great if pull ups were included in the repertoire.
Yes to this
Ben of the forest
on
10/2/2017
I tried this for a month and liked it well enough to purchase the 1-year subscription. The variety and the plans motivate me
Selfishness
GodBetterPlan
on
10/2/2017
People in this world is just to selfish, by the time pastes soon they'll know that there's nothing anymore.
Love how simple it is
Hard work but worth the money and effort
Tailored for Where I am
Anthony081993
on
9/27/2017
The app does a real nice job of evaluating how I'm doing w/ my workouts and adjusting accordingly. This is a great way of keeping my personal motivation up the upswing
Fantastic!
This app is nothing but a savior for people like me, who have been athletes in the past and want to gain back the stamina in Mid-30's. The regime helped me work out on things which I didn't like to work on (legs). These are simple 'Do at home' exercise which can be done anywhere. Started feeling better in my 5th week. Then I skipped Many weeks due to work. Starting again. Love the stretching. Thanks again.
Great little app
To augment your normal lift run etc fitness routine and work on your core.
Excelente
Aún la versión gratis te ofrece un entrenador adecuado, le tengo mucha fe
Very good
Great supplement to gym membership for body weight exercises.
Please add Apple Watch heart rate compatibility
Hi, I love the automatic personal plan design and the difficulty levels feedback of the app. The instructions of the moves are also pretty clear. Only one thing that's preventing me from giving it a five star and continue to subscribe: the app does not support Apple Watch heart rate records in the health workout. All of my other health apps are giving me HR records, which is good for me to keep track and look back. Please add this compatibility!
Love love love this app!
Love it!
Not free!!
girlthateats
on
9/22/2017
It won't let you do anything until you buy a plan. Most workout apps have the courtesy to let you sample before forcing you to make a purchase. For this, you view the homepage then regardless of whatever selection you make are then taken to the "select plan" option. Is it that hard to buy a girl dinner first? (In my humble opinion)
Great workout in little time
Nice workout and it takes too little off you time todo other things...
Great app it defiantly
Great app I'm happy I purchased it
5stars because it works
MikeCampbell
on
9/20/2017
Update: I've come back to results for my third full 12 week plan. I'm now 181 lbs and 23% body fat. Prior post: I'm 30yo and prior to starting I was 198lbs (at 5'11") and 30% body fat as measured by Fitbit's Aria scale. I'm through 8weeks of training (10 weeks actual time) and I'm currently 191lbs and 25% body fat. I've seen improvements in my athletics, feel healthier, and even received compliments from others about improved physic. Note: I did run a half marathon and complete the Savage Race in the time I was doing the premium workout plan. I also have been using MyFitnessPal to monitor nutrition.
Amazing app
Wish they would update the warmups though
Worth looking into.
It's a good thing when you have yourself to rely on. Sharing your progress... Some say it's narcissistic. But others see it as motivation. I'm ending week thirteen and feeling great. Got three people to sign up from showing progress alone. Anyone can achieve their goals. It's up to you to get up and do something. I don't want to compete with anyone. I want everyone to succeed! And Runtastic is helping me get there.
Excelent app. No need to go to the gym
Two thumbs yo
Get now
It's the best app ever
Best app ever
Trust me it's great best app ever
Perseverance Pays Off!!!
I'm in my 43rd week and loving it! Sure it's hard. But man, is it worth it!! Along with my diet and tips from Runtastic, I went from 222lbs and a size 36" waist down to 174lbs and a 32" waist! I'm now at 180lbs and the gain has been all muscle. I feel fantastic and I no longer have chronic lower back pain due to a herniated disc. My neurosurgeon told me to start exercising before he would consider putting me under the knife to see if my body could improve itself. Well, it worked. As I push myself daily through each exercise I feel my strength, stamina and posture improve. I look better than I did when I was in the Army years ago! Go for it! Do it! Feel better than you think you can.
Great app
This app has everything your body needs to lose weight. It can advice meals and as long as you do the workouts and eat correctly you'll see results. It's only goal is to improve your body.
Great app
Mz. Cherokee
on
9/13/2017
Love this app
So far so good
Myk_Trendkill-er
on
9/13/2017
Just started the app today. The test is simple yet challenging, and the first week of body-weight training looks fun. We shall see how this goes!
Killer app
Great variety Love the variations in routines Deceptive: on paper looks easy-peasy Then you get into it! Really helped me get re-charged on just plain getting in a work out at home or the gym
Never boring!!
Monkey Hands
on
9/11/2017
Great app for motivation and variety! I wish it would count the workouts as cardio though. Very challenging!! Would highly recommend!!
Really so good
Ex collegiate athlete...amazing how Well this app dials in an appropriate workout week in / week out...I'm 6 months deep looking forward to the 6...
No time for gym
I came across this app, tried and loved it. I'm a mom and employee, I don't have time to workout at a gym and I'm too tired at the end of the day to drive or go one more inch away from home. As a mom of an asperger child, it's hard to workout, and this app gave me what I need at home. Have dinner, put my child in bed and work out at the comfort of my home.
Workouts
TechNETSavvy
on
9/11/2017
So far so good! I like how the workout is catered to me. How many workouts each week and he exercises based on the fitness test.
Great app!
I've been using it for about 4 months, and it's definitively worth the money. I love the fact that a single subscription gives you access to more apps. I only give it 4 stars because the warmup and the cool down are always the same, which kind of makes it boring (warmup and stretch, not the actual workout). If it had different warmups and cool downs, i would give it 5 stars without a doubt!!!
Runtastic
nofacebookfan
on
9/10/2017
This app is only available to those who join Facebook. For those of us who don't want to be a member of Facebook, too bad. No diversity found here!
좋군요
일정관리에 상세한 동작 동영상까지 혼자 집에서 하기엔 최고
Go to for a quick hit
Stunnedmullet
on
9/9/2017
This app rocks.. a great way to start the day ..20-30 min.. no Thinking required just set and go.. great that it links to runtastic to look at cardio. Highly recommend 👍💪
Good app
Huge2smallxcvv123
on
9/6/2017
I like it very much. I keep my weight at low level by training.
Just started!!!
Coach driver 10
on
9/5/2017
Just started! But I have a fantastic feeling that this will be great
Cool
This is an awesome app!
Muy bueno
Muy buenos entrenamientos y altamente recomendado.
Well designed App
Cool Dude's App
on
9/4/2017
The program is challenging but doable so you do not lose interest. Worth the money.
Easy to use
Great app! Helps keep me on task and not waist time.
So far so good
I just started. I'll update when I see results.
Fact Sheet
Publisher:

runtastic

Category:

Health & Fitness

Released:

Nov 12, 2015

Current Version Released:

Oct 16, 2017

Version:

2.5.4

Size:

206.8 MB

Compatibility:

Requires iOS 9.0 or later.

Recommended Age:

4+

Game Center Certified:

No

Supported Devices:

iPad2Wifi-iPad2Wifi, iPad23G-iPad23G, iPhone4S-iPhone4S, iPadThirdGen-iPadThirdGen, iPadThirdGen4G-iPadThirdGen4G, iPhone5-iPhone5, iPodTouchFifthGen-iPodTouchFifthGen, iPadFourthGen-iPadFourthGen, iPadFourthGen4G-iPadFourthGen4G, iPadMini-iPadMini, iPadMini4G-iPadMini4G, iPhone5c-iPhone5c, iPhone5s-iPhone5s, iPadAir-iPadAir, iPadAirCellular-iPadAirCellular, iPadMiniRetina-iPadMiniRetina, iPadMiniRetinaCellular-iPadMiniRetinaCellular, iPhone6-iPhone6, iPhone6Plus-iPhone6Plus, iPadAir2-iPadAir2, iPadAir2Cellular-iPadAir2Cellular, iPadMini3-iPadMini3, iPadMini3Cellular-iPadMini3Cellular, iPodTouchSixthGen-iPodTouchSixthGen, iPhone6s-iPhone6s, iPhone6sPlus-iPhone6sPlus, iPadMini4-iPadMini4, iPadMini4Cellular-iPadMini4Cellular, iPadPro-iPadPro, iPadProCellular-iPadProCellular, iPadPro97-iPadPro97, iPadPro97Cellular-iPadPro97Cellular, iPhoneSE-iPhoneSE, iPhone7-iPhone7, iPhone7Plus-iPhone7Plus, iPad611-iPad611, iPad612-iPad612, iPad71-iPad71, iPad72-iPad72, iPad73-iPad73, iPad74-iPad74, iPhone8-iPhone8, iPhone8Plus-iPhone8Plus, iPhoneX-iPhoneX,

Supported Languages:

Czech; Dutch; Flemish; English; French; German; Italian; Japanese; Korean; Polish; Portuguese; Russian; Chinese; Spanish; Castilian; Chinese; Turkish;