Screenshots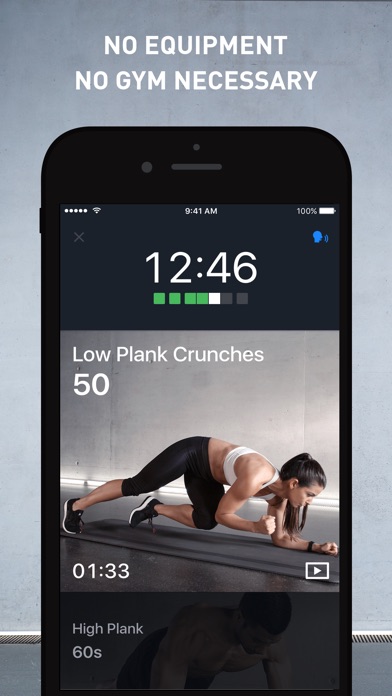 New in version 2.7
- No more hassle downloading the short preview videos before an exercise — we'll do it for you!

Love Runtastic Results? Rate us with 5 stars & tell others why we're your favorite training app!

Got a question for us? We've got an answer at help.runtastic.com!
Description
Don't wait for summer to be over, START TODAY! Who cares if it's not Monday - you can start any day of the week. More energy. More confidence. Your BEST self in just 12 weeks!
Get started today with your customized bodyweight training plan. With over 180+ bodyweight exercises (no boredom here!), you're guaranteed to get in the best shape of your entire life.

BURN FAT. BUILD MUSCLE. FEEL SEXY.

Lack time and motivation? Results tackles both of those barriers, head on!

APP FEATURES & BENEFITS:

- Your customized plan: Kick off your 12-week plan with a fitness assessment to determine the perfect plan for your fitness level.
- Bodyweight workouts only: No equipment. No gym.
- Workout Creator: You choose the duration, muscles you want to train and press start - it's that easy!
- Health & Nutrition Guide: Weekly healthy nutrition and lifestyle tips to maximize your results.
- Progress Pics: Keep track of your transformation by taking Progress Pics right in your app. Keep them for yourself or motivate others by sharing them on social media. You could be the reason why someone decides to change their life, too.
- Step-by-step instructional videos: 180+ HD videos that demonstrate proper and safe execution of each exercise.
- Standalone Workouts: Bonus workouts you can do whenever you want! Why? Just because we love you.
- The Runtastic Community: Join millions of like-minded people looking to stay active, healthy and in shape!
- Apple Health: Upload activity data like duration and burned calories to Apple Health
- Get some friendly motivational quotes and tips periodically throughout your transformation
- Never boring! Wide exercise variety keep your training plan fresh and challenging
- Results guaranteed!

Results available on your Apple Watch
- Training Plan & Standalone Workouts: Effortlessly start your Results workouts directly on your wrist with Apple Watch
- View details of your current workout in real time
- Share your success on Facebook and Twitter directly from your Apple Watch

Now is your time to transform your body and life forever. Download the app now, we want you to be our next success story! Get ready for more energy, more muscle tone, more fat burning, more confidence and boosted endurance with Runtastic Results.

Should you choose to upgrade to a Premium Membership, payment will be charged to your iTunes account at confirmation of purchase. Your monthly subscription is $9.99 per month, a six-month subscription is $39.99, while the yearly subscription is $49.99 per year. (Price may vary by location.) Your subscription renews automatically unless cancelled at least 24 hours prior to the end of the current period and cancellation of the current active subscription period is not allowed.

Auto-renewal may be turned off in your Account Settings in iTunes after purchase. You can also manage your subscriptions in Account Settings after purchase.

Runtastic Terms of Service: https://www.runtastic.com/in-app/iphone/appstore/terms
Runtastic Privacy Policy: http://www.runtastic.com/in-app/iphone/appstore/privacy-policy
iPad Screenshots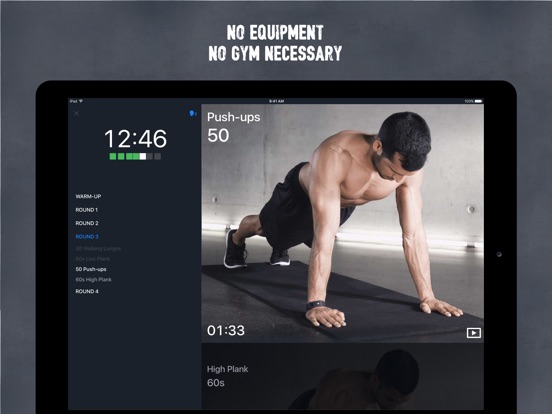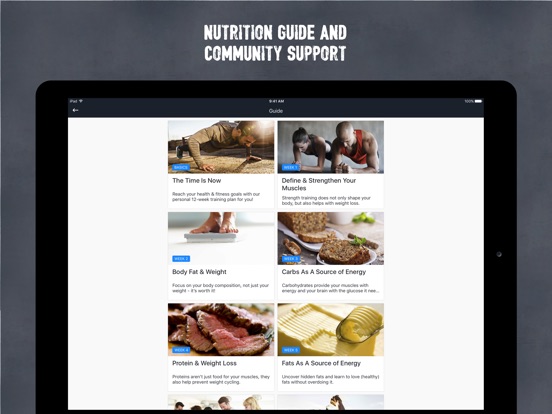 Reviews
Great App
Workouts are great. Instructional videos are very good. Keeps you motivated to improve workout to workout.
Fun fitness app
Someone in Houston
on
12/9/2017
Great body-Weight app / workout routine. You may find yourself keeping the number of reps consistent through all rounds (they lighten up as the session progresses) but it's still a good workout you can do anywhere. Good luck!
Great high quality app
I'm just a beginner, so no real results yet. I just wish the Apple Watch app had a bit better interface, heart rate monitor and if possible rep counter that would help much. The videos and voiceover are excellent. Just use it systematically and you will see the results of your effort.
Used Free App for over a month then Upgraded
Can't wait to see my body transformation!
Quick and Simple
Workouts a brief but get a good sweat rolling. With a regular running routine, this workout will produce good results. As a Navy Officer, I arrive in my office early and knock out these workouts in under 20 minutes 3 days a week and run 4 miles twice a week. It keeps the pounds off and my strength up even with a very busy schedule. I can work out in the time it used to take me to get in the car and travel to the gym. The app provides excellent videos for those who are new to these exercises. $50 is well worth the annual subscription.
Runtastic
Great app really like the workout
Disappointed
Great exercises and used to work great with my Apple Watch. No longer working correctly with Apple Watch series 3. Is not recording workout or heart rate at all! I've tried contacting developer with no response. Also, why does it have to be tethered to the phone still? Shouldn't it be a stand alone app? Hope to see these fixed.
Great, could be better.
Please add pulling exercises such as pull ups, chin ups, and inverted rows to the app.
Great app, but.....
I miss having the heart rate measurements from the Apple Watch. We used to be able to start the app from the watch, and then have the heart rate sensor turn on and measure during the workout. About 4 months ago that feature was removed. Now I have to download an app called "Fit Heart" and run it along with Results. It's a hassle, but it works.
Great potential
App has a great potential. There're many useful and fun exercises and workouts. I'd like more options in how workouts are used - Ability to pause/resume. - Control the number of sets. Eg. Sometimes I want to do 2 sometimes 4 sets of Charlie or another workout.
Disappointed
johnnyboy11788
on
11/27/2017
You know what would be amazing, if I could go through more then two consecutive workout set routines without the app closing on me and having to relaunch the entire program again. Wouldn't that be lovely thanks 😬
Bait and switch
2fun12234567900
on
11/27/2017
Nothing free about it. No trial period. You sign up with email before you see anything then a pay app right off the bat. You can find the same program with a free web search except with web search you don't get junk email. Not worth the time in my opinion.
Want my money back.
It was on special for the one year. -58 off and was still charged the regular amount
Requires an account on first launch
100 times out of 100, if you ask me to create an account before I can try the app, it's an instant delete. 🚮
Great!
Best fitness app around !!!! It will change for life!
Slow and frustrating customer service
On November 12th, the app wouldn't work for me as I set about doing my 5th workout of the week. Each time I would try to swipe through each exercise, there were errors with the timers not starting, or being unable to swipe up. Nevertheless, I completed the workout but couldn't mark my workout as complete, as the app was basically frozen. Only today did I finally get a resolution from the customer service department. I initiated a support request 4 days ago. It took a full day to receive a response, which was to tell me that they were looking into it. Another day goes by, and they tell me to update my app and the issue would be resolved. I did that and responded to let them know the problem wasn't resolved. I expressed my frustration that I wanted to continue with my exercise plan immediately. I got no response. The next day, I received a message from them to request that I send them a screenshot to make sure I had done the update correctly. My long-winded review is my way of begging the owners of this app to please consider revising your customer support. The lag times for responses are too long. It's imperative that if you have an app where people are relying on adhering to a schedule for their fitness level, that you can solve your customers issues in a timely fashion, and offer suitable compensation for causing people to lose days of a plan that is paid for. The actual app itself is fine. The exercises are doable, albeit I wish there were automatic music being played on the version I have.
Great for nubies
Love the videos. I hope this will link with my Abs app from same company
Motivation
If you are self motivated enough this app will work. Keeps me on my toes. With 2 kids, 3 and under, this app allows me to work out whenever I get a chance.
Great!
Eric the Travel Guy
on
11/11/2017
Excellent way to keep on task and whip out a solid workout in a short time!
Good app
Include pull ups and different warm up
****Buyer Beware****
Good luck signing up for a trial of this software and Runtastic not charging you for a premium membership! You can easily sign up for a trial, but it is very unclear how to cancel your trial membership and not get charged! I cancelled my membership the exact same way I signed up for the trial.. yet they still charged my credit card as well as put me on auto renew! This may be a good workout app?? Who knows, I don't, I never even used it. But their business dealings are shady to say the least!
liebe es, aber...
ich bin mit der App sehr zufrieden, habe Gewicht abgenommen und fühle mich besser als je zuvor obwohl ich schon 62Jahre alt bin. Aber heute habe ich mein Training nicht beenden können, weil es sich zwischen den Übungen nicht "weiterstreichen" liess. Und das nach 70 Burpees 😟 woran könnte das liegen? was kann ich tun dagegen? bitte um Hilfe UPDATE: mit dem letzten Update funktioniert alles wieder bestens und ich gebe jetzt gern die verdienten 5 Sterne
Nice app with good exercises !!
Ravindra Singhai
on
11/6/2017
Nice app with good variety of exercises. Video guidance is excellent !! Thanks for uploading such a wonderful app !!
Where is the nutrition plan?
Angryfernando
on
11/3/2017
I like the app but where can I find my nutrition plan
Never boring!!
Monkey Hands
on
10/27/2017
Great app for motivation and variety! I wish it would count the workouts as cardio though. Very challenging!! Would highly recommend!! Follow up from my original review. Decided to keep going for another 12 weeks. These workout still kick my butt! I really do love this app it helps keep me on track and feeling good about myself. The tutorials are awesome and the exercises are just fun. I highly recommend to anyone.
Great app!
This I a great app that does exactly what is claims. Even better with the running app! Thank you
Great challenge
Awesome workout coach
Tricky and misleading
Mr. Sir Nunya
on
10/22/2017
I purchased Runtastic Results Premium (monthly) for 9.99. Had it for a few months and it won't allow me to create a workout. Whenever I try it takes me to the subscription page. Save your money unless you want to spend $50 bucks; and still don't know if it'll work or will it just take my money again.
سعودي
نريد لغة عربية
on
10/22/2017
نريد توفر البرنامج باللغة العربية أرجوكم 😫😭😫😩😭😩😫😔😣☹️😖 بأسرع وقت
Great app, but there are bugs in this version
Running couch potato
on
10/19/2017
I love the Runtastic fitness series, and Results is a great program that keeps me challenged and engaged. But I'm only giving the app three stars because I'm encountering a lot of bugs in this app version. I've had to delete and reload the app four times because it gets stuck. I've stopped looking at the instructional videos because they always get stuck. And the social media function always hoses me up too. If a new version of the app comes out that fixes the bugs, I'll be happy to up my star score.
Keeps Crashing on iPad Pro ios 11
rolaidsson10
on
10/17/2017
Literally can t finish a workout without the app crashing. Please fix. I love this app and hate to stop using it. Especailly since I gave you guys 50 bucks
'Results' begets results
The app does a great job of engaging you into a progressive, efficient, and fun fitness regimen that is habit forming. Although I received a free premium subscription as a gift, I'm purchasing an annual one for my wife because I think it's a good deal. No reason you should not get results with this app! I rated it two stars simply to attract attention to my two minor critiques here: - please offer an option to opt out of the obligatory social media prompt after every workout. It's annoying for those of us who do not use social media. For that matter, please offer an option to opt out of the "how did you feel" page too. - please input a way to delete the exercise how-to videos from the device. I like how the videos are seamlessly built in to the app, but as I progress in the program, the app is taking up a lot of memory. This will be of great help for those of us who do not have much memory or manage it poorly. I do integrate pull-ups on my own because there are minimal pulling exercises in this program. But that is a minor quibble and I like the purity of the body weight only program because it's often not possible to have a pull-up bar handy at all times.
Fabulous
It's nice not having to figure out a hard workout on your own! Love this
Perfect fitness app
Great guide. Perfect interface. Realistic goals. Big fan of this app amongst a sea of $hitty apps.
Whew!!! Love this app.
Just finished my fit test & it was tough. Loved the instructional videos of each exercise! Looking forward to my customized workout plan.
Love it!
I am a Triathlete and a Body Weight enthusiast and I have only done the fitness test at the beginning I can already say I love this app. It's so cool how you do one quick test and bam! You have a work out plan in seconds. Well done guys. Can't wait to see the "Results"!
App possibly broken
Would not let me register through Facebook or email stating I'm already registered. I have never used this app or any variation. Uninstalled.
Fantastic App
Absolutely awesome. Not too expensive either. Perfect for me because I travel a lot.
Pretty good app
Would love to have a more integrated experience with the runtastic running app. Would also be great if pull ups were included in the repertoire.
Yes to this
Ben of the forest
on
10/2/2017
I tried this for a month and liked it well enough to purchase the 1-year subscription. The variety and the plans motivate me
Selfishness
GodBetterPlan
on
10/2/2017
People in this world is just to selfish, by the time pastes soon they'll know that there's nothing anymore.
Love how simple it is
Hard work but worth the money and effort
Tailored for Where I am
Anthony081993
on
9/27/2017
The app does a real nice job of evaluating how I'm doing w/ my workouts and adjusting accordingly. This is a great way of keeping my personal motivation up the upswing
Fantastic!
This app is nothing but a savior for people like me, who have been athletes in the past and want to gain back the stamina in Mid-30's. The regime helped me work out on things which I didn't like to work on (legs). These are simple 'Do at home' exercise which can be done anywhere. Started feeling better in my 5th week. Then I skipped Many weeks due to work. Starting again. Love the stretching. Thanks again.
Great little app
To augment your normal lift run etc fitness routine and work on your core.
Excelente
Aún la versión gratis te ofrece un entrenador adecuado, le tengo mucha fe
Very good
Great supplement to gym membership for body weight exercises.
Please add Apple Watch heart rate compatibility
Hi, I love the automatic personal plan design and the difficulty levels feedback of the app. The instructions of the moves are also pretty clear. Only one thing that's preventing me from giving it a five star and continue to subscribe: the app does not support Apple Watch heart rate records in the health workout. All of my other health apps are giving me HR records, which is good for me to keep track and look back. Please add this compatibility!
Love love love this app!
Love it!
Fact Sheet
Publisher:

runtastic

Category:

Health & Fitness

Released:

Nov 12, 2015

Current Version Released:

Dec 01, 2017

Version:

2.7

Size:

229 MB

Compatibility:

Requires iOS 9.0 or later.

Recommended Age:

4+

Game Center Certified:

No

Supported Devices:

iPad2Wifi-iPad2Wifi, iPad23G-iPad23G, iPhone4S-iPhone4S, iPadThirdGen-iPadThirdGen, iPadThirdGen4G-iPadThirdGen4G, iPhone5-iPhone5, iPodTouchFifthGen-iPodTouchFifthGen, iPadFourthGen-iPadFourthGen, iPadFourthGen4G-iPadFourthGen4G, iPadMini-iPadMini, iPadMini4G-iPadMini4G, iPhone5c-iPhone5c, iPhone5s-iPhone5s, iPadAir-iPadAir, iPadAirCellular-iPadAirCellular, iPadMiniRetina-iPadMiniRetina, iPadMiniRetinaCellular-iPadMiniRetinaCellular, iPhone6-iPhone6, iPhone6Plus-iPhone6Plus, iPadAir2-iPadAir2, iPadAir2Cellular-iPadAir2Cellular, iPadMini3-iPadMini3, iPadMini3Cellular-iPadMini3Cellular, iPodTouchSixthGen-iPodTouchSixthGen, iPhone6s-iPhone6s, iPhone6sPlus-iPhone6sPlus, iPadMini4-iPadMini4, iPadMini4Cellular-iPadMini4Cellular, iPadPro-iPadPro, iPadProCellular-iPadProCellular, iPadPro97-iPadPro97, iPadPro97Cellular-iPadPro97Cellular, iPhoneSE-iPhoneSE, iPhone7-iPhone7, iPhone7Plus-iPhone7Plus, iPad611-iPad611, iPad612-iPad612, iPad71-iPad71, iPad72-iPad72, iPad73-iPad73, iPad74-iPad74, iPhone8-iPhone8, iPhone8Plus-iPhone8Plus, iPhoneX-iPhoneX,

Supported Languages:

Czech; Dutch; Flemish; English; French; German; Italian; Japanese; Korean; Polish; Portuguese; Russian; Chinese; Spanish; Castilian; Chinese; Turkish;