Screenshots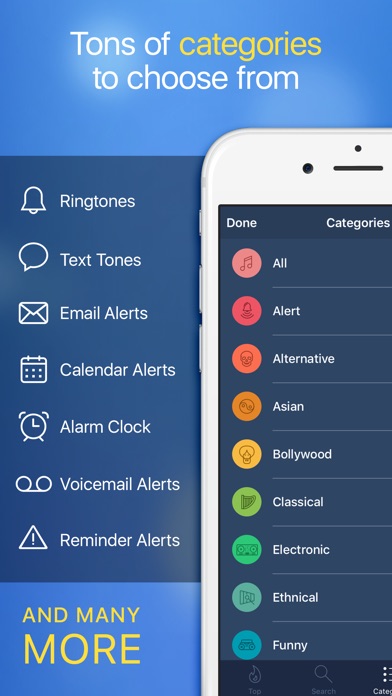 New in version 5.4
We made some important changes in the new version:
- Stability and performance improvements
- Minor issues fixed

Thank you for being with us!
Description
ALL NEW Ringtones Catalog with fresh ringtones - check out now!

Browse, Create and Customize
UNLIMITED Ringtones, Text Tones and Alert Tones!

Now you have the ability to personalize your iPhone by adding or creating your own ringtones, text tones and other alert tones. Choose the soundtrack you want to use as your ringtone, specify the type of your alert, then choose the required segment from the audio track and tap 'save'. It's really easy!

App Key Features:

- Full iPhone 7/7 Plus support

- All new ringtones catalog with freshest ringtones

- Dozens of thematic categories: Funny Sounds, Top, Christmas Tones, Classical, OST, Effects and many more!

- Browse featured, most popular or newest Ringtones

- Create unlimited ringtones using songs from your Library

- Create unlimited text tones and alert tones (iOS 7.0 and later)

- Use the microphone to record ringtones, text tones and alert tones

- Organize & edit your saved ringtones, text tones and alert tones in "My Tones" library

Download our latest ringtones app now and get cool popular mobile ringtones, including Christmas, Bollywood, Punjabi, Hindi, Arabic, Country, Funny ringtones and many more! Just select gratis ring tones in our catalog and app downloader will transfer them to your phone. Use our ringtone maker to convert mp3 songs from your library or make your own best music ringtone for free with ringtone editor. Replace your old default sms message/mail/calendar/alarm tones with our brand new ringtones!

Please note that you will have to sync your device with iTunes in order to transfer your downloads.

Notes:
- To install your ringtones, sms/mail/calendar/alarm and other tones and alerts you will have to follow our instructions and then sync your device with iTunes
- Sms/mail/calendar/alarm and other tones and alerts setup is available only for iOS 7.0 and later
- iPhone 3G is not supported
Reviews
Sad
countrydad1992
on
9/25/2017
Doesn't wrk with iOS 11 :( I have hade this sense iPhone 5
Horrible
Uninstalling. No good ringtones. Can't take from iTunes.
Like it
Bella Benbeana
on
9/21/2017
I enjoy hearing every ringtone
Annoying
Doesn't stop interrupting you ever
Waste of time
I downloaded this app after seeing all the high rating on it. I opened songs in my music and the app couldn't convert any of the ones I wanted to make a ringtone out of. Not only that, the over abundance of "rate us 5 stars" every few minutes along with the continual pop up ads made me delete this app quickly. Don't waste your time downloading this.
Great
Fireball justice
on
9/21/2017
So far so good
Great app
reviewing fool
on
9/20/2017
Can't wait to use my first time! But first "let me write a review!"
Boring
That's what happens when it's free.
Less Ads and Easier Directions
I like this app. Took me a couple of tries before I finally got them added to my tones on my computer. I give this app 4 stars. It would have been a 5 but the aggravation of getting them onto my computer in order for them to get to my phone. I like the variety of music and ease of the controls in customizing your ringtone.
UPGRADE!!!
Wengacosta1014
on
9/20/2017
This notification keeps popping up about how it wants you to upgrade it. It's annoying.
No Gospel music ringtones 😡
Bible Girlie
on
9/19/2017
NO GOSPEL MUSIC RINGTONES😡
I like it
JudyLynn H2O
on
9/19/2017
Still exploring but so far, so good
Good but just one thing...
You need to allow something like adding a link because there may be songs on youtube or other sources that people want to turn into a ringtone, but can't because it is not on itunes or in the catalog.
Doesn't work with new iMac
The app works great on phone. Instructions how to get ringtone from edit mode to ringtone via iMac are no longer relevant. iOS 10.12.6
Easy
Normagonemad
on
9/18/2017
Easy to use. Convenient and free.
Love this cool app!!
So easy to make custom ringtones 👍🏻
Would be great, if the ads didn't kill it
It worked once, then crashed as those ads choked it.
Horrible
Amazingly confusing, very bland ringtones, and impossible to create you own definitely a waste of money
Haven't gotten it to work so easily
Guy using this
on
9/15/2017
Still struggling followed all instructions
Better than other free apps
Don't use the standard ring tones from the iPhone but this is way better.
wow!
Прекрасное приложение!
جده
MoOoNLighT🌙⭐
on
9/14/2017
أتمنى لو تسهل استخدام التطبيق شوية مو عارفة اسوي نغمة واحطها نغمة رنين في جوالي
Too early to write a review.
Just installed it. How can I rate it without experimenting first?
No Longer Works
ITunes 12.7.0 doesn't have the apps menu item so this app is broken :-(
Can't use iTunes music
Wouldn't let me use any of my purchased songs. Bummer!
This App needs a serious makeover!!
BigCountry11c
on
9/13/2017
Its truly hilarious how I just keep falling for the awesome details of these piss poor apps, much too time consuming, the guilty parties involved in throwing this garbage together and then polishing it up with words just be held accountable false advertising... if it's too good to be true then you bet it truly is...
I love it it is great
Land of Legs
on
9/12/2017
SICK!!!!!!!!!!!!!!!!!😃😎😃😎😃😎😃😎😃
Worked once
finkleienhorn
on
9/12/2017
Now iTunes pretends to sinc but the ringtones are not on my phone.
Love love love
If I can't find it I can make my own!
App design flawed
DarknessKnightmare
on
9/10/2017
What is this app good for? I'm trying to make a ringtone out of the songs on my phone, but the app isn't loading the songs. I get ads every few seconds about some fantasy crap and I'm thinking this app is for spamming purposes only and not for ringtones.
Junk
Doesn't even upload a song to make a ringtone with, I tried 6 songs and it doesn't even play the first 3 seconds... what a joke
This suckkksss!!!!!
You can't use it with Apple Music 👎🏾
Great App
Love this app! Easy to use and endless choices. Well done!
Great
MichellePawprint
on
9/8/2017
This is awesome
Disappointed
Big Daddy6959
on
9/7/2017
Not enough selection and way way way too many ads. They pop up every other ringtone or alert. Uninstalling.
Needs major rework
Hard to use. The catalog is really bad with categories like "popular", "new" and "autumn" there are no genres or usable catagory names. The search feature either doesn't work at all or is Extremely limited as it couldn't find a single thing I typed in, and you can't go two minutes without it asking for a rating review. Seriously how can someone know enough about an app in the first 2 min?? And every min or two after that it continues to ask. I'm deleting this junk app and looking for one that's actually useful with Real categories not jus new popular or cool. My catagory for this app? Lame!
Okay let's see
This app is kinda cool because of all the different choices you have with the ringtones and it's just not ringtones it's text, voicemails, tweets,etc. The only thing that I hate is all the ads, it's like really annoying when they pop up all the time like in a couple minutes there were about 15 ads it's ridiculous. The app is good but the ads are not!!!
Great app. Please read below....
I downloaded this app and had a bit of trouble interpreting the tutorial for iTunes syncing. Here's what I did to get this app to function perfectly. 1. Make sure your iPhone syncs with iTunes. If it doesn't it won't work. 2. Pick a song from your list of songs and click and drag it to your phones music folder. 3. Sync your phone. 4. Open app. 5. Select song from list. 6. Depending on what type of tone, don't forget to make sure your choosing a "ringtone", "text" tone, etc from the scroll list. 7. From here pay attention. After you pick a song edit it accordingly for the exact section of the song you want. Save it. 8. Now go to iTunes. Sync your phone again. Go to your phone menu in iTunes with the "apps" item listed. 9. Click it. 10. Scroll down until you see the app listed. Make sure the save as button is there in the lower right hand section. 11. Click save as. 12. No when the files list shows up you need to add a folder. I added one that ends up on my desktop. 13. Save the song section. 14. Now check to see if it's there in the newly added folder. 15. If it is. Great. Now "right" click the link and choose "open with" iTunes. 16. Almost done. After the song plays in iTunes sync your phone again. 17. Go to the "tones" link under apps link in iTunes under your phone. 18. Click tones. Your song should be listed. 19. Check the box. Push apply button. 20. Maybe sync your phone one last time. Now go to settings on your phone. 21. Goto sounds. Ringtone, text tone, etc. your song should be listed choose it and enjoy. You may have to edit and individual contact to use a different song as you add items to your phone. GOOD LUCK and Enjoy. Paul 11.
So far so good
Luvgreat(&free)apps!
on
9/3/2017
Got some ok tones in there, but haven't really had much of a chance to see how it works yet
Love IT
Perfect for all my ringtones
Wait
Just opened it up. And they want you to rate them. Should have waited. But oh well.
Decent
statisfactory
on
9/3/2017
Done loading to phone should be one step
Opinion
Need to improve quite a lot
Amazing
FairyGir-airwave
on
9/3/2017
Now, I have a more creative way to tell who is who by the ringtone!!!!!
Fact Sheet
Publisher:

Ringtones App Ltd.

Category:

Music

Released:

Sep 22, 2015

Current Version Released:

May 22, 2017

Version:

5.4

Size:

38.5 MB

Compatibility:

Requires iOS 7.0 or later.

Recommended Age:

4+

Game Center Certified:

No

Supported Devices:

iPhone4-iPhone4, iPad2Wifi-iPad2Wifi, iPad23G-iPad23G, iPhone4S-iPhone4S, iPadThirdGen-iPadThirdGen, iPadThirdGen4G-iPadThirdGen4G, iPhone5-iPhone5, iPodTouchFifthGen-iPodTouchFifthGen, iPadFourthGen-iPadFourthGen, iPadFourthGen4G-iPadFourthGen4G, iPadMini-iPadMini, iPadMini4G-iPadMini4G, iPhone5c-iPhone5c, iPhone5s-iPhone5s, iPadAir-iPadAir, iPadAirCellular-iPadAirCellular, iPadMiniRetina-iPadMiniRetina, iPadMiniRetinaCellular-iPadMiniRetinaCellular, iPhone6-iPhone6, iPhone6Plus-iPhone6Plus, iPadAir2-iPadAir2, iPadAir2Cellular-iPadAir2Cellular, iPadMini3-iPadMini3, iPadMini3Cellular-iPadMini3Cellular, iPodTouchSixthGen-iPodTouchSixthGen, iPhone6s-iPhone6s, iPhone6sPlus-iPhone6sPlus, iPadMini4-iPadMini4, iPadMini4Cellular-iPadMini4Cellular, iPadPro-iPadPro, iPadProCellular-iPadProCellular, iPadPro97-iPadPro97, iPadPro97Cellular-iPadPro97Cellular, iPhoneSE-iPhoneSE, iPhone7-iPhone7, iPhone7Plus-iPhone7Plus, iPad611-iPad611, iPad612-iPad612, iPad71-iPad71, iPad72-iPad72, iPad73-iPad73, iPad74-iPad74,

Supported Languages:

Dutch; Flemish; English; French; German; Italian; Japanese; Korean; Portuguese; Russian; Spanish; Castilian; Swedish;