Screenshots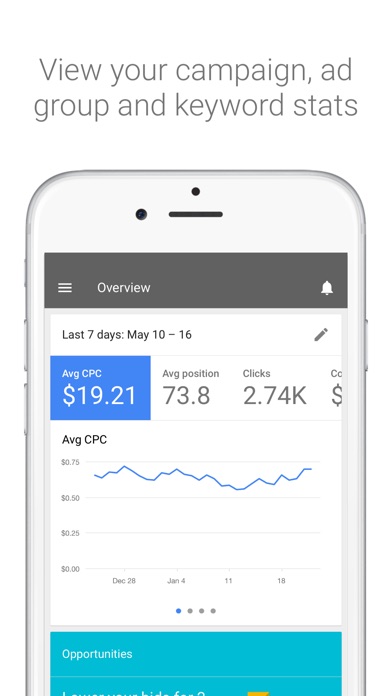 New in version 1.6.33
* Add, edit, or remove keywords on the go using the app. Keyword editing will become available in the app for everyone soon.
* Bug fixes and performance improvements.
Description
The Google AdWords app helps you stay connected with your ad campaigns from anywhere, using your iPhone. You can easily view your ads' performance on the go with this simplified companion to your desktop account. So you can keep your campaigns running smoothly—no matter where your business takes you.

* View campaign stats
* Update bids and budgets
* Get real-time alerts and notifications
* Call a Google expert
* Act on suggestions to improve your campaigns

This app is for existing AdWords customers only and is free to download. To learn more about advertising with Google, visit google.com/adwords.
iPad Screenshots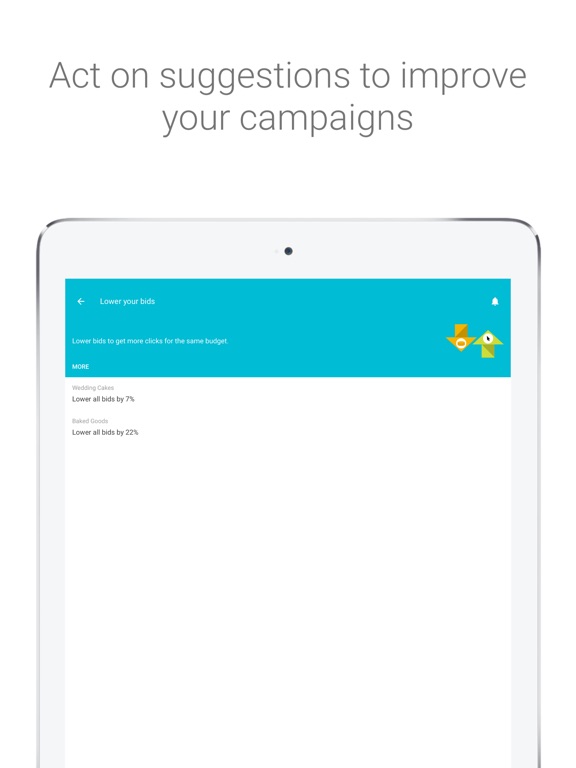 Reviews
Just Check
Gulf State Software
on
11/28/2017
But don't have option to edit ppc price.
Don't waste your time
golfer1876holein1
on
11/13/2017
Just keeps saying I need to finish setting up my account when I've already been using it for over a month on my computer. Pointless app
Can't load any data
rob08934283
on
10/22/2017
I have a connection except the app just says "can't load data." I have multiple Google accounts on my phone and only one has an adwords account. I'm thinking that there's a bug in the app for this use case. Please fix!
Installed can't log in
Btgdbmkgvkud
on
10/13/2017
Doesn't work. Please review
Doesn't let me login
I just created an ad and downloaded the app and it doesn't allow me to login and doesn't even tell me if it's my password or email. It just backs me out to the login screen. Pretty pathetic for being part of google.
Confusing, expensive, marginally effective, and arrogant
Jackswelters
on
7/23/2017
I am an MIT grad and very experienced with computers. I signed on with Google Adwords to market my small business and spent many $thousands on this program. I found it quite difficult to master and it is very easy to make mistakes that result in huge unexpected bills. My attempts to work out these problems with Google were met with a "tough sh*t for you, fella" attitude. This company is arrogant toward its small customers and I have found that Facebook, for all its shortcomings is both more effective and interested in its clients success.
Does not work
This app won't let me add my account. After I sign it keeps looping back through the sign in page. 👎
Cripple functionality
I would probably be more forgiving of an adwords app that didn't have the full functionality if the full website worked on an iPad, but instead it crashes in Safari and in Google's own Chrome app, making productivity on the iPad a non-starter. Google either needs to flesh out this app or fix the adwords site.
$18 per customer call. Abomination.
Would you like to pay $18 for every potential customer who calls? Neither do any quality local businesses. Use Yelp, BBB, Houzz, Nextdoor Neighbor, or any other business platform that doesn't operate on extortion.
Mr. John Kelley
Here is an easy way to manage and run your business, Google to the rescue, I love this app, give it a try 🐾😎
Can't even create a new ad.
Useless to me.
Awesome
Crazy pro gamer
on
5/30/2017
Best for youtube
Worthless. Can't do anything with it.
Only useful for viewing your ads and spend. Can't do a thing that's actually useful. No editing at all of anything.
What is the point if I can't manage my ads!
AwEsOmE_sAuCe!!!!!!
on
5/23/2017
What is the point of having this if I can't manage my ads, like creat new ads for example! Same problem with Google my business app it's USELESS! Because I can't post from it.
Ad scheduling
I got a glimpse of the Android version of this app and the functionality includes nearly everything available on desktop. Being unable to bulk edit or adjust ad scheduling makes this pointless for management on the go. Helpful only to see where spend is for the day.
Inaccurate and outdated info - typical of Google
Having checked my AdWords campaign on my phone for the first time this morning, I was reminded of the fact that there was an AdWords app. So I figured I'd give it a try. The mobile browser page had told me that I'd received 4 clicks so far today, but upon loading the app was told that I'd had 1 click for the same time period. So what exactly is the point of using the app if it doesn't even give me a current set of data? This kind of inaccuracy and inconsistency is so typical of Google. Basically no point having this app.
Cannot sign in
Stupid iOS nickname
on
4/10/2017
After password and google Authenticator the apps goes back to log in screen.
Good for monitoring. Would be more useful if it could edit.
Christofer Williams
on
3/21/2017
It's nice to be able to monitor campaigns, but that's all this app lets you do. I don't expect full desktop functionality from an app, but it would be helpful if I could add/adjust keywords and ads in response to data while on the go.
Dumbest app ever!!!
Wisest critic guy
on
3/20/2017
It wont even let me log in. Instead it tries to send me to express so I can't control the amount per click sounds fishy to me
Can't log in
I will write a new review when I can log in.
Broken
Can't log in at all. App completely functionless. Waste of time.
Beware!
Small biz7542
on
3/7/2017
Google makes millions selling worthless 3rd world bot traffic to American small businesses. Beware!
Great for updates
Obviously not as powerful as using Adwords on the desktop, but this is great to get quick updates.
Can't even log in
This is very annoying. I've been trying to login for two days. Please fix this!
Won't let me sign in
Please fix this!!! The app won't even let me sign in. Super frustrating
Missing Features & Plagued w/ Fake Clicks
Can't add negative keywords, IP address, edit ads or extensions, and a lot more stuff. Also, AdWords is plagued with false clicks that google charges your account with. Call for support and you won't get much help. Disappointed with the customer service and support.
Fast and easy to use.
Kelsterdude Account
on
10/13/2016
Makes watching my campaigns simple.
Very dissatisfied/NOT user friendly
A few months ago I signed up for Google Adwords. I put $50 into my account in order to see if it was worth putting serious money into it. After 2 months I had 0 clicks on the Adwords app. At this point in time I reached out to a Google partnered Internet advertising agency to help promote my website. Whenever my website got to the first page of Google I went to deactivate my Adwords account because I didn't want to get billed for all the clicks my advertising agency was sending to me. However whenever I got onto the Adwords app it showed I still had 0 clicks. ( even though I was on the front page of Google) So I assumed that the Google partnered advertising agency had worked with Adwords to make it where I wasn't getting billed twice (that makes too much sense it seems). After checking my bank account I have been getting charged by Adwords for every click my advertising agency has sent my way, even though my Adwords app still says I have 0 clicks. So I called the customer service for Adwords and explained my story that I've been paying twice for each click and I feel like I should be given a refund since the app still says 0. The rep then told me that I have Adwords express, not Adwords. I assumed like most that they were the same app and the same thing! I'm not tech savvy like all the Google people! I was under the impression that only the money you put into the account could be touched by Google and that was it. No one told me it was a monthly occurrence or I wouldn't have messed with it. I am very dissatisfied with Google for over complicating a seemingly simple process. I've never experienced hidden fees but I guess this comes close. I wouldn't recommend Google Adwords to anyone. There are so many better alternatives. They definitely misled me and I am not happy. I would give zero stars if I could. Thanks
Great, but missing SQR functionality
Stan - SEM Professional
on
9/2/2016
Great app that offers what you need for on the go insights and reporting. Wish it let you go through Search Query Reporting and add negatives and keyword additions. *Wish list item that would take this app to the next level*
No search functionality
Chickennuggetbagel
on
8/29/2016
An app by the world's top search engine doesn't have a search function. Truly unbelievable considering AdWords is Google's lifeblood. One would think this app is geared toward the type of user with an MCC containing a number of accounts, so the lack of an ability to search for an account is inexcusable.
Fantastic Tool for SEM on the Go
I really love this app. It provides clear overviews of accounts, from campaigns to keywords; however, there's room for improvement. I would love some more filter options, especially a target network filter! I'm hoping the developers are looking to improve the user experience, which is already very good.
Simple navigation and elegant charting
I really like the core functionality of the app - really simple, fast, and easy to browse through my campaigns.
Better than web version
And much simplier, for a quick peak. Well done.
Great For quick account review on the go
Finally! But i have manual payment it will be 5 stars when i have this option to recharge campaigns as doing it on mobile browsers its hard enough Use desktop for general management
Awful app, typical google
Hello I'm Tyler Durden
on
5/19/2016
Complete crap. Claims i don't have an account. You'd think google would know how to make a simple app by now. Maybe it's the slides and all that junk food keeping the staff from actually doing their jobs
great tool!
yeah you can't edit every detail of your account with this app but it's still awesome.
Doesn't Work!
I can't believe Google and Apple haven't figured this out yet! Huge disappointment! Ima business owner who needs mobile access to my Adwords but this app doesn't do it and there are no alternatives? Ugh.
Pointless!
All you can do is look at SOME of the information! I want to be able to modify my ads while I'm on the go, but it's not possible with this pointless app! If I can't edit my campaigns then why would I continue to use Adwords??
Worst ap ever!
Will not perform any functions. It just spins. Useless. Zero stars.
Useless
It does not give you options to optimize your advertising. Google only scams you into wasting more money. As with any Google advertising they try to confuse you so that you end up wasting money. Total crooks, not an honest company.
Not billing Page
Can't check balance of my add, Your adds are running and you don't know how much you owe unless you check on your computer,. Can't make payments!!.
Doesn't work
Bsjelcnavajdb
on
4/5/2016
No stats,
Seems to works ok but...
It broke a basic iPhone UI. There seems to be no way to turn off cell data usage for the app. I'm surprised Apple allowed it. I do a lot of international travel and this is a Big Deal.
Not functional
Nmorales7771
on
3/31/2016
Can't make payments
Does not work
It shows 0 statistics when I open the app
Crashes all the time
Crashes after splash screen how about fixing that
where make a payment link??!
WHEN will you allow to make a payment off of iphone without having to go to desktop mode???! you don't want ppl to control their payments easily so you can make more money.... dumbest way of making extra $$.. how bout just BE BETTER and you will not have to use such a lousy tactics to make more money as forcing ppl go to desktop to pay or add NON authorised keywords in to their accounts without their knowledge!
Great start, needs more
Let me start by giving a quick rundown of my qualifications as a user of this app. I've been Adwords certified for 5 years now and my agency has had Partner status that same time. I was the featured Google Partner in the official Google+ Partners community in October of 2014. Ok enough about me. PROS: The UX is great. Easy to use, clean design, sexy interface. Data is easy to find at each level. You can pause under performing keywords. Good top-level tool to see historical data. CONS: I see two major things that need to be added to truly make this a useful app to an AdWords manager and not just a glorified version of the Analytics app. 1. Having the ability to change keyword bids is almost pointless without being able to filter or bulk apply the bid change. If you manage thousands of keywords, changing a bid one-by-one is not realistic. 2. You cannot create new items. Perhaps creating new campaigns, ad groups, even extensions doesn't make sense to someone in the mobile environment. I agree, those things should be left for the desktop in most instances. However for an Adwords manager, one of the most common optimizing activities is to add new keywords and a/b test ad copy regularly. In order to do this from the app you should be able to add new keywords and ads but you cannot. In closing this app has long been waited by active Adwords managers. Thank you for finally launching it! It's a good start and I hope it continues to improve. For now, I don't think I'll get much use out of it. Looking at data is great, but if you can't act upon it to optimize performance then it's just a reporting tool - and I can wait til I get in the office to do that. What would be helpful to an Adwords manager would be to make adjustments to campaign performance on the go (primarily keywords and ads). This would allow for faster campaign optimizations and less time at the desk; what a truly effective app will accomplish.
Finally!!!!
Finally!!!! ....Oh wait! No way to make payment! Useless!!!! Come on Google. This is lame!
Fact Sheet
Publisher:

Google, Inc.

Category:

Business

Released:

Jan 28, 2016

Current Version Released:

Oct 18, 2017

Version:

1.6.33

Size:

182.2 MB

Compatibility:

Requires iOS 8.0 or later.

Recommended Age:

4+

Game Center Certified:

No

Supported Devices:

iPad2Wifi-iPad2Wifi, iPad23G-iPad23G, iPhone4S-iPhone4S, iPadThirdGen-iPadThirdGen, iPadThirdGen4G-iPadThirdGen4G, iPhone5-iPhone5, iPodTouchFifthGen-iPodTouchFifthGen, iPadFourthGen-iPadFourthGen, iPadFourthGen4G-iPadFourthGen4G, iPadMini-iPadMini, iPadMini4G-iPadMini4G, iPhone5c-iPhone5c, iPhone5s-iPhone5s, iPadAir-iPadAir, iPadAirCellular-iPadAirCellular, iPadMiniRetina-iPadMiniRetina, iPadMiniRetinaCellular-iPadMiniRetinaCellular, iPhone6-iPhone6, iPhone6Plus-iPhone6Plus, iPadAir2-iPadAir2, iPadAir2Cellular-iPadAir2Cellular, iPadMini3-iPadMini3, iPadMini3Cellular-iPadMini3Cellular, iPodTouchSixthGen-iPodTouchSixthGen, iPhone6s-iPhone6s, iPhone6sPlus-iPhone6sPlus, iPadMini4-iPadMini4, iPadMini4Cellular-iPadMini4Cellular, iPadPro-iPadPro, iPadProCellular-iPadProCellular, iPadPro97-iPadPro97, iPadPro97Cellular-iPadPro97Cellular, iPhoneSE-iPhoneSE, iPhone7-iPhone7, iPhone7Plus-iPhone7Plus, iPad611-iPad611, iPad612-iPad612, iPad71-iPad71, iPad72-iPad72, iPad73-iPad73, iPad74-iPad74, iPhone8-iPhone8, iPhone8Plus-iPhone8Plus, iPhoneX-iPhoneX,

Supported Languages:

Arabic; Bulgarian; Catalan; Valencian; Chinese; Croatian; Czech; Danish; Dutch; Flemish; English; Estonian; Finnish; French; German; Greek; Hebrew; Hindi; Hungarian; Indonesian; Italian; Japanese; Korean; Latvian; Lithuanian; Malay; Bokmål, Norwegian; Norwegian Bokmål; Polish; Portuguese; Romanian; Moldavian; Russian; Serbian; Chinese; Slovak; Slovenian; Spanish; Castilian; Swedish; Tagalog; Thai; Chinese; Turkish; Ukrainian; Vietnamese;