TapNova doesn't recommend this version of the app.
New in version 1.5.1
Description
Frontier's mobile app makes travelling easier than ever before! Wanna skip the lines? Use our mobile boarding pass and go straight to the security checkpoint. Need to add a bag or select your seat? This app makes it easy. Now you can add you bag or seat after you make your initial booking and even after checking in. On the go, but need to book a flight? Shop our low, low fares here. Want a stretch seat, a checked and/or a carry-on bag? THE WORKS makes them available at one low price which includes refundability and no change fees. Wanna' know the status of your flight? Get up-to-the-minute flight information here.

Features:

· Mobile Boarding Pass
· Mobile Check In
· Book a Flight
· Check Flight Status
· Interactive Route Map
· …and much more!
iPad Screenshots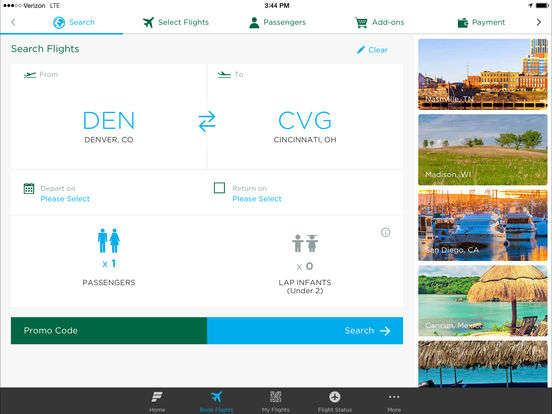 Reviews
So far so good
Super convenient Trenton airport Never busy never a headache. If you willing to travel light you r in good hands
A travel must have
This app can do anything and everything you need if you are glying Frontier Ailines it is a must have!!
Delayed over and over
Terrible service, delayed twice and doesn't update their own times. Had to fine out from Priceline
Great Airline
Easy travel arranging with Frontier App...
Effortless
Z$763-69&);/5dhjj
on
7/20/2017
Wonderfully easy to use for not so savvy users.
Good App
I use it for all my travel
Booking online
It was a breeze!
Always the best fare possible! I love the ap
Pick Me! Pick Me!
on
7/19/2017
Also frontier maybe no frills but they get you to where your going for the best possible price.
Glitchy!
Stupid play button
on
7/19/2017
Every time I try to book a flight it won't let me check a return flight option, it's greyed out. Very frustrating! Also their fares jump around A LOT.
Awesome
Best prices I found for a flight to and from and really easy to book
Best. Ever.
Seriously, I love this airline and its app. So extremely thankful for Frontier and the way they do business. I always, ALWAYS recommend them to everyone I know.
Easy to navigate but nickel and dime you to death
papabeareddie
on
7/18/2017
Everything you pay extra for. Air fare , seats, carry on. Checked bag, I'm surprised they didn't ask for a fuel charge. Saved $100 over southwest we will see if it's worth it. I'm not feeling warm and fuzzy about this airline. I review my review after my trip
First flight
I made my reservation online then downloaded the app to be able to "check in" online for both my flights and with the app I was also able to check the flight status Very easy to use app
Gender issue on app
The app does not carry over your gender from the saved profile. I always have to log out during booking, then log in at the end to get my early returns credit. Not a huge deal, but still annoying.
The app is a little wonky...
I had to keep creating accounts to make it work but customer service helped me and combined my accounts together. The TSA precheck number was messing it up.
Forgot Password
Frontier member and can't even get discount added! Can't even change password from app or website! Was on the phone for 35 mins and no one ever answered!
Never again!!!!
My first time on Frontier was a disaster. I was the first person in line at the Pittsburgh airport to check my luggage. I paid the $40 charge the day before and was already checked in through the app. When I got on the plane the seats looked like lawn chairs, absolutely no padding. There was zero leg room. My tray table had a huge wad of gum on it and when I asked the flight attendant to help me she asked me if it was mine, she wasn't joking. When my 3 other colleagues who were right behind me when checking our luggage received their luggage and mine did not make it I was understandably upset. I stayed calm and asked for help. They opened a claim and authorized $100 for me to buy clothes and necessities. That barely replaced my toiletries. I am sitting in my hotel room attending a professional teaching conference with no clothes or personal items. It's has been two full days and not only do I not have my luggage but no one will answer my phone calls or return the messages I have left at the number I was giving to check in. This has really ruined my trip. I will NEVER fly this airline again. Trust me when she say it's not worth the savings.
Frequent flyer
Good value and non stop flights are awesome
Nice trip
I like when I check in by my phone very easy and fast .
Easy
Canaan Martin
on
7/14/2017
Super easy set up and easy to navigate!!!
Awesome price, it's flight
Alabama dude
on
7/14/2017
Thanks!
Crazy lines
Arrived at airport in Orlando to check in lines over 200 people deep. Wow, never seen such long lines to check a bag
Frontier app
I like it, saves time from having to carry paper ticket. I also like the prices they are very comparable with other airlines.
Love Frontier
I love frontier airlines! They have the best customer service an the EXCELLENT SALES/PRICES.
Poor policies.
Benjijammin 12mdbc
on
7/13/2017
Very poor customer service. If you try and change your reservation it costs you more then the actual tickets.
Basic, with problems.
Pretty basic but effective, with shortcomings. The app tends to create duplicate profiles because it's log-in/log-out behavior is unpredictable. There are times I'm not logged in when it appeared that I was. It should also support Touch ID.
Best Airline App
Cpsbulliedme
on
7/12/2017
Although Frontier doesn't have the best service and charges ridiculous amounts for baggage and seats, they do have a great app. They have perfected the idea of simple and easy to use. I love how my family's profile is saved so when purchasing I can just select their name from a list without having to type in names and birth dates. This makes for no mistakes when using my phone. I only wish I got push alerts when they have sales. Other than that AWESOME app and very easy to use.
Very easy
Quick booking/ user friendly
Great airline!
The staff for Frontier are so helpful and polite. They make it enjoyable to fly. The stretch seats give you the room you need so you do not feel claustrophobic during the flight. Kudos to the airport staff and kudos to the flight staff from the pilots to the flight attendants.
App issues
The app keeps saying that I didn't choose my gender, so it wouldn't let me proceed with payment on the bargain den price.
Bag fees
Should not be charged for carry on bag fee.
Updates
Flight had several delays. Frontier should push out flight updates like most airlines. Nice checking in procedures but, that's about all.
Woeful App
Colorado14er
on
6/28/2017
It's almost impossible to envision a more poorly designed app. Bugs everywhere and boarding passes come across with incomplete information. If you are elite it doesn't show. If you are TSA approved it doesn't show...no way to get to a home screen. It may actually be worse than the Frontier website which is hard to fathom.
How is the app worse than the site...
pickanic-name
on
6/22/2017
Lol let me just start by saying all airline travel in general is a rip off. But that's not what this review is about. This app takes like FOREVER to load pages and reflect options/changes, even if you're just browsing! And that's all the pages. Really terrible considering that the website's only real issue is that it randomly goes down for long periods of time. That's the only reason I downloaded the app in the first place
Barely works. Horrible user experience
Reloads every time you switch a tab, which makes it unbearably slow to use. Can't access pass to add to Wallet yet. I'm assuming it won't be available until 24 hours before flight, but there is no indication of that on the app. At least it offers the bare minimum. But still... do better. The website is more functional.
An app almost as bad as my flights
The app crashes randomly - notably when I try to check in for a flight/retrieve my boarding pass. In general, flying Frontier is miserable. I certainly won't be doing it again, and I hope this review dissuades some poor souls from making the same mistake I did. The discount isn't worth a night in the airport.
Great app
Jfjnrjfj hdnfnnfndnf
on
6/15/2017
Used this app on my first trip to vegas and it was great and easy to use!
Great app and great product
I fly this airline often and, as a travel agent, recommend Frontier to many of my clients. We all use the app and find it very easy to navigate and never have any problems with crashing. We use the app on tablets, MacBooks and PCs with no problem. Most are Apple products, but some are android and PC. The app is EASY TO USE and so simple. AND, I really enjoy flying Frontier and not having to be extracted from a tiny 17" seat with a shoehorn ( like on the OTHER three ).
Worst company ever
Horribly rude employees backed with stingy service from start to finish. Seriously, avoid these clowns at all costs.
Functional
We used the app to check-in and validate our boarding pass before boarding. Did not encounter any issues. It's not as polished as Delta, AA or United but it gets the job done.
Update in the middle of a purchase
NO I don't want to update in the middle of a purchase. Can't proceed..ok I'll force close the app before I delete it and book on Virgin America.
App Needs Help...
Tried checking in to find my flight had been "cancelled." Went to the actual website, which said there was a delay instead. My boarding pass never updated based on the delays. Not impressed.
No terms and conditions accept button.
Tried to check into my flight... won't let me continue without "accepting terms and conditions" if you want to actually check into your flight. Try a computer their app is garbage.
Coupon codes
Coupon codes don't work when applying them on the application
Gender issues
I have yet to be able to book a flight the app has all my information but refuses to transfer my gender into the booking page to purchase a ticket. Having me to resort to going on a web browser to book my tickets. Every time there is an update I am like could this be the day this issue is resolved?
Terrible app and airline
DJ Wheel Thrown
on
5/26/2017
Can't check in. Tells me I need to accept terms and conditions yet does not prompt me with the option nor can I find it. The worst!
Will not do anything
Wont let me log in nor retreive my booking info. Useless
Terrible App.
The app does not allow you to input dates. I have no problem with the actual airline itself but I'm rating the actual Frontier App and it's horrible. Deleting it now.
Bug report
Gregcheersykes
on
5/24/2017
Bug alert: In my profile in the app it has my gender, but when trying to book a flight it won't fill my gender in, the field is just grayed out, and I can't enter it. It won't let me continue with clicking: Next. It just says: Error, please enter gender or something similar. I had to book on my laptop. Please fix bug. Pretty good. App says: Passbook. Should be updated to say: Wallet.
Fact Sheet
Publisher: Frontier Airlines, Inc
Category: Travel
Released: Oct 15, 2015
Current Version Released: Jul 10, 2017
Version: 1.5.1
Size: 38.7 MB
Compatibility: Requires iOS 9.0 or later.
Recommended Age: 4+
Game Center Certified: No
Supported Devices: iPad2Wifi-iPad2Wifi, iPad23G-iPad23G, iPhone4S-iPhone4S, iPadThirdGen-iPadThirdGen, iPadThirdGen4G-iPadThirdGen4G, iPhone5-iPhone5, iPodTouchFifthGen-iPodTouchFifthGen, iPadFourthGen-iPadFourthGen, iPadFourthGen4G-iPadFourthGen4G, iPadMini-iPadMini, iPadMini4G-iPadMini4G, iPhone5c-iPhone5c, iPhone5s-iPhone5s, iPadAir-iPadAir, iPadAirCellular-iPadAirCellular, iPadMiniRetina-iPadMiniRetina, iPadMiniRetinaCellular-iPadMiniRetinaCellular, iPhone6-iPhone6, iPhone6Plus-iPhone6Plus, iPadAir2-iPadAir2, iPadAir2Cellular-iPadAir2Cellular, iPadMini3-iPadMini3, iPadMini3Cellular-iPadMini3Cellular, iPodTouchSixthGen-iPodTouchSixthGen, iPhone6s-iPhone6s, iPhone6sPlus-iPhone6sPlus, iPadMini4-iPadMini4, iPadMini4Cellular-iPadMini4Cellular, iPadPro-iPadPro, iPadProCellular-iPadProCellular, iPadPro97-iPadPro97, iPadPro97Cellular-iPadPro97Cellular, iPhoneSE-iPhoneSE, iPhone7-iPhone7, iPhone7Plus-iPhone7Plus, iPad611-iPad611, iPad612-iPad612, iPad71-iPad71, iPad72-iPad72, iPad73-iPad73, iPad74-iPad74,
Supported Languages: English;