This version of the app is not recommended
App last updated
Dec 19, 2017
Screenshots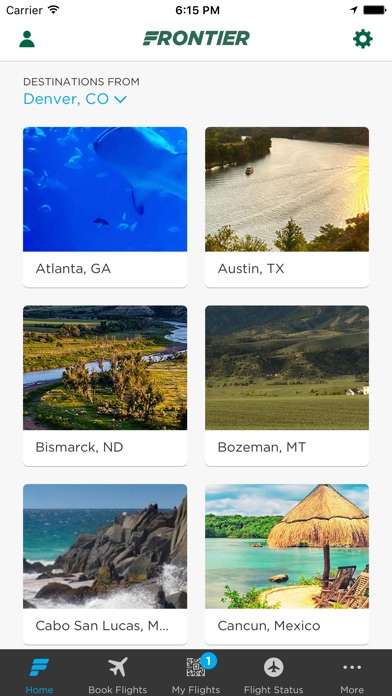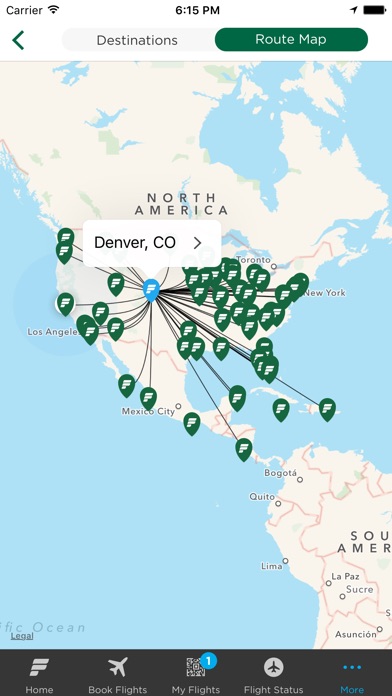 Description
Frontier's mobile app makes travelling easier than ever before! Wanna skip the lines? Use our mobile boarding pass and go straight to the security checkpoint. Need to add a bag or select your seat? This app makes it easy. Now you can add you bag or seat after you make your initial booking and even after checking in. On the go, but need to book a flight? Shop our low, low fares here. Want a stretch seat, a checked and/or a carry-on bag? THE WORKS makes them available at one low price which includes refundability and no change fees. Wanna' know the status of your flight? Get up-to-the-minute flight information here.

Features:

· Mobile Boarding Pass
· Mobile Check In
· Book a Flight
· Check Flight Status
· Interactive Route Map
· …and much more!
iPad Screenshots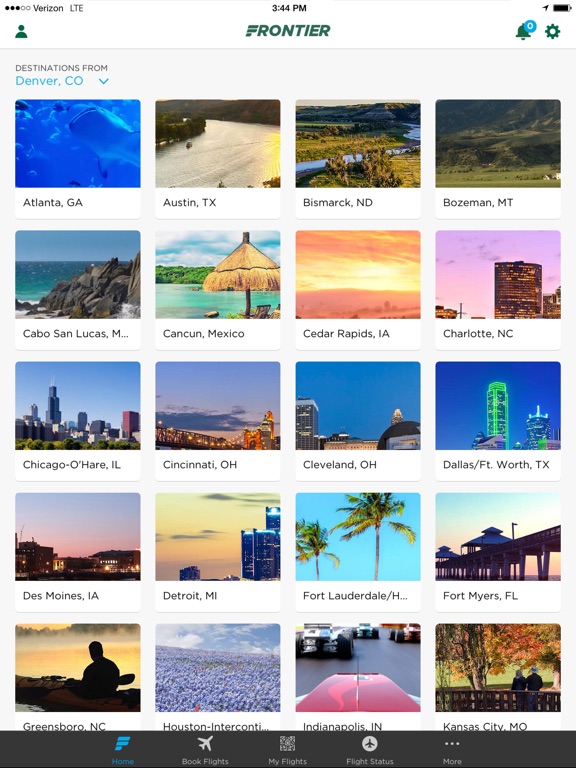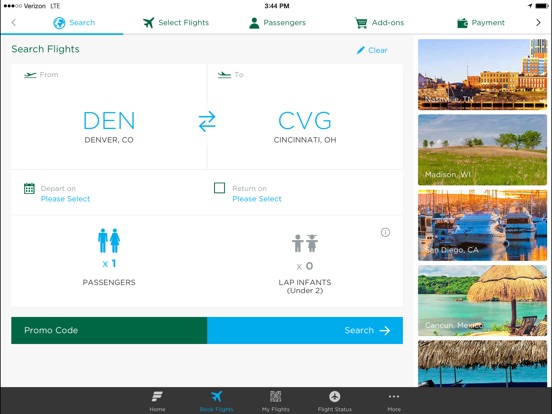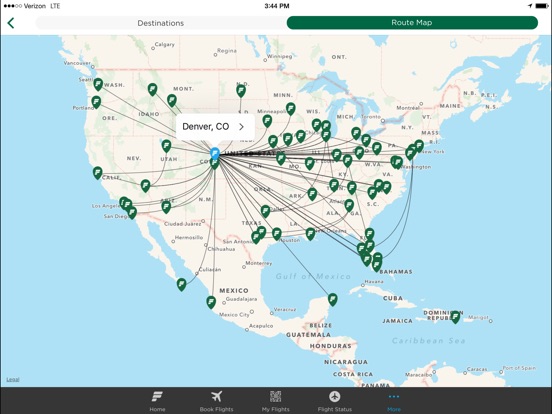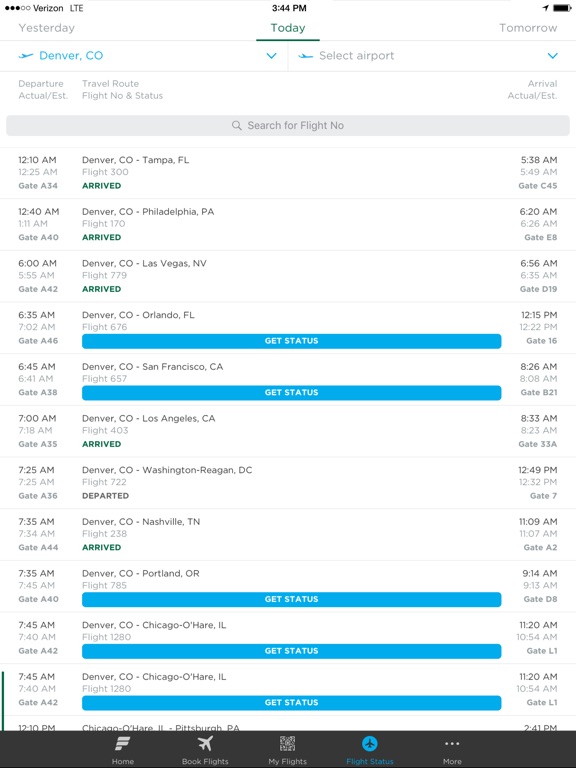 Reviews
Need better IT support
Seriously Frontier? I use the app but have to enter my conf number to do anything. I'm sitting in Orlando airport and get to gate to find flight delayed. Pretty sure I've opted in for any incoming messages. Why do I have to get all the way to the gate to discover late flight? Get some user testing in your budget!
Jan
Boilermaker1975
on
1/20/2018
The fill in fields for address were difficult to find.
Friendly
Mississippidiane
on
1/20/2018
The site is easy to use, the prices are reasonable and the employees are friendly and helpful.
App to hard!
Old Movie Lover!
on
1/20/2018
Hard to read on phone because lettering too light. App is NOT user friendly! Very difficult to use. Should include card scanner. Should allow auto input from iPhone memory. Anything to make it easier to use!
Looks good but is hard to use
My chief complaint is that there is no way that I have found to just type in the name of a city or airport to find a flight. You have to first scroll through a list of cities to select a departure point and then scroll through pictures to find the destination city.
Bare bones, not what we expected
OC Generators
on
1/18/2018
No WiFi No tv No meal Rude staff Stewards were loud when we tried to sleep Announcements to apply for credit cards while we were trying to sleep First row legroom not good Two hour delay Will NEVER fly Frontier again unless they fix everything Dreading the flight back in claustrophobic first row with little legroom
Great!!!
Great App! Perfect when your in a rush!
YOU GUYS ARE GREAT!
I think you made it way easier with the app, the while struggle about printing boarding passes is not for the millennials and you guys get that 👌.
Anderson Nguyen
Andersn Nguyen
on
1/16/2018
The best fare
Recommended 100%
Definitely recommend the app if you're flying with frontier. Easy check in and access to boarding passes!
One of the best app
Great app . Very fast and convenient
Prepare to pay for oxygen too,
Spider fuzzy
on
1/16/2018
as soon as they figure out how to depressurize the cabin without killing the pilot. 👻 Poor service, terrible website, their app works, but only so they can squeeze more money out of you. Deleting everything as soon as I step off the plane!
Excellent!!!!
Great app!!!!
Great!
CollegeSmith
on
1/15/2018
Booked right on my iphone. Thanks!!
Return flight
I was not able to pay for return trip bags or seats. Why?
Get IOS supported!
Get IOS supported!
My flight
Trip was ok going but coming back was awful! Canceled due to mechanical problems, then they got the part but it was the wrong part! Stood in line from 11:30 pm to 3 am in the morning for vouchers for hotel but needed to provide our own transportation. They said they would reimburse us . Feel asleep waiting so never got to the hotel! Next day we were supposed to leave but problem was not fixed. Sat in the airport for several more hours. It was awful!!!
Bags
The app won't let me check my bag on line.
Just not easy
It's easy to find flights, but getting logged in is a pain, entering information is a pain, and god help you if you forget your password
Great airline to fly!
Cheryl from PA
on
1/10/2018
Affordable airfares, easy booking on the app, friendly staff too. Flights are generally on time.
Didn't receive Den discount
I made a reservation and although I entered my email and full name, I did not receive my den discount. When I called the manage reservation agent she couldn't understand me and claimed the discount had been honored. I asked her to send me a revised itinerary. When I received the email it was the same and had not been honored. I'm not sure why the app doesn't already have the early return discount number, it would've made this so much easier. My early return/ den disc # is 3300017264.
Nowhere to put discount code
Could not enter discount code anywhere.
I love Frontier!
msvontrap2345
on
1/8/2018
I love Frontier! They have the best deals! Great for a quickie getaway, wonderful staff, excellent app! Perfect! I'll be flying Frontier forever!
Favorite Airline
I love the price and service on Frontier .. highly recommend
App works well ...
App works well
Frontier is Affordable But Has Hidden Fees
Arcadian_Rebel
on
1/7/2018
Worked great for the flight my wife and I took.
Terrible experience
Took hours to finally book flights. Called customer service and completely wasted my time for 45 minutes. Never in life had these problems with southwest (the best).
Awful
Seats are hard cheap plastic with thin covering and very cramped; it may seem like a deal but everything comes with a cost so go with the better airline!!! Food is overpriced and not even water is available for free on across country flight. No access to tv, WiFi, etc. on cross country flight. Flight attendants treated us as passengers with disregard and discontent. I flew Frontier in the past (years ago) and bragged on what a great airline they WERE. If you get a GREAT deal for a very short flight and you can ignore not being treated with respect then it might be worth it. I so wish they were like they used to be...more like Jet Blue!
Website
Only downfall would be trying to reset my password. It didn't work and finally had to call. That was the downfall to this!
Carry-on
Not happy about the carry on fee. You guys had the best available price but have reduced the size of a normal carry on that is included with other carriers prices. Than is an underhanded way to upcharge the flight. Either you have the best price or you don't. Don't sneak up from behind when ticket has already been purchased and make this known knowing now the traveler doesn't have a choice if there going to be able to bring anything of a decent real sized carry on that would fit anything of any use to somebody.
Do you want to PAY for a carry on??
No wonder they're the cheapest airline around. They charge you for an actual carry-on bag! Going through their 'Check-in' process is like going through signing up for cable; screen after screen of 'extra offers'. This airline could change their branding to "The Rip-off Express". At least then they'd be honest about who they are and the "service" they offer.
Seats
You did not let me pick my seats!
Upcharges
After booking the flight and checking in, found out it cost $40 for a carry on. Wow!
New York
I will never book a flight again with frontier! We had went to New York for part of our daughters Christmas to see Hamilton. While there a snow storm hit on Wednesday our flight was scheduled for Friday morning which they canceled without giving us notice of any kind but to top that of they gave us two choices our money back or seats for Wednesday. When we asked who is going to pay for our hotel for five nights no answer that was our only choice. We were ok for two days but 5 crazy. We ended up renting a car to get home.
Great airline
Have great experience flying and can beat there prices . I fly with them 3 or 4 times a month. Keep up the good work.
Well Designed App + No Acct Requirement
Disasterpeace
on
1/5/2018
Would prefer to not need an app though to check-in as I use Passbook
The best airline AP I use
FRONTIER has stepped up their game big time. Very intuitive. It works perfectly. That's ALL I want — taking the hassle out of flying. Bravo!
Needs a bit of improvement
Yogini Sailor
on
1/3/2018
I'm not sure why I need to be told that I'm at the departure airport... really??? No kidding!! How about something useful like "your flight is currently on time".
Frontier App
The Frontier Airline app is ridiculously easy to use. Smoothest booking process I have used for travel in a long time!
Awesome
DaveyBoy102982
on
1/2/2018
I'm recently a frequent flyer on Frontier Airlines , and I've got to say , they're an AWESOME airline and this app makes my life so much easier !!! Thank you Frontier !!
Duplicate charge
Martha123454321
on
1/2/2018
On the app I booked my seats and a carry on bag then paid with my credit card. 5 hours later at the airport check point they did not see my bookings and made me pay for the carry on bag again. The app has a nice flow,seems to be straight forward but it is not useful if the data is lost on the way. I ended up paying twice, once to book a seat which I ended up not sitting on as the database would not show it at the airport, then for a carry on bag the higher fee as that was also not showing up in their system. Usually I'm pretty good with the apps and don't make mistake so the issue seems to be with the app.
Tsa pre check
Can't seem to get tsa precheck to show up on my tickets
Dr. Dengel
carolineelised
on
1/1/2018
There are so many problems with this website though it has made some improvement. I almost signed out without buying my baggage and seat on the return flight. Nothing to cue me there. I was looking for the return option and had to go back to find it. Then, of course, my updated phone no. Did not stick and I had to re-enter it. In addition, there seem to be 3 profiles for my name depending on caps vs small case-none of which match. That's not good. Data bases are not melded and add to confusion. Data base errors seem to be the biggest problem on Frontier sites. Unfortunately the customers are putting in that data and your computer does not recognize duplicate info. Big problem.
Bags
lori taulbee
on
12/31/2017
Didn't explain baggage very well. I paid to take a checked bag, it no where did I see that I needed to pay to bring it back?
Frontier Airlines
Great Deals during the month of January take advantage
Cheap n Cheerful !
Margaretta915
on
12/30/2017
Great low priced airline that enables me to fly to visit my kids n grandkids more often ! Ive always been happy with Frontier ! ☺️
It's Like Paying Twice
I understand paying for upgrades, but for the love of God...forced payment for a carry on? Forced payment to sit with my son? It cost me nearly as much to check in as it did to purchase the ticket originally. This will be my last frontier experience.
Easy to use
Cam Hathaway
on
12/30/2017
I've found the app, website and emails to be very helpful while preparing for my trip. All platforms are intuitive and easy to walk through. I'd recommend having your email open in a separate browser as you toggle back and forth during the process. Have your confirmation number handy.
1st time flying!
So far so good, very happy with prices and very happy to be taking our trip!
Fact Sheet
Publisher:

Frontier Airlines, Inc

Category:

Travel

Released:

Oct 15, 2015

Current Version Released:

Dec 19, 2017

Version:

1.5.6

Size:

41.9 MB

Compatibility:

Requires iOS 9.0 or later.

Recommended Age:

4+

Game Center Certified:

No

Supported Languages:

English;