Screenshots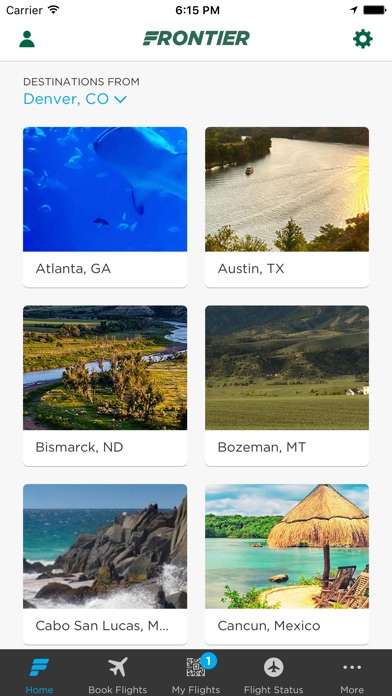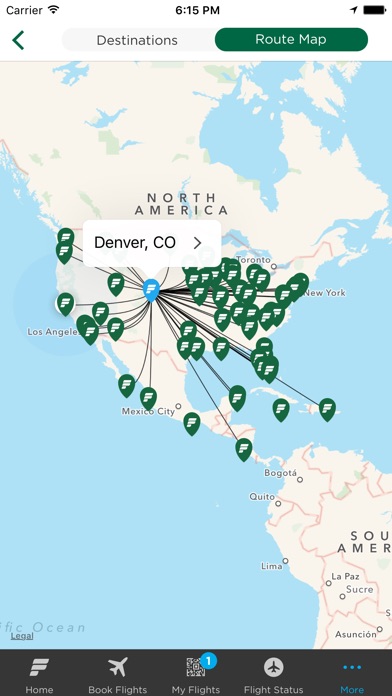 Description
Frontier's mobile app makes travelling easier than ever before! Wanna skip the lines? Use our mobile boarding pass and go straight to the security checkpoint. Need to add a bag or select your seat? This app makes it easy. Now you can add you bag or seat after you make your initial booking and even after checking in. On the go, but need to book a flight? Shop our low, low fares here. Want a stretch seat, a checked and/or a carry-on bag? THE WORKS makes them available at one low price which includes refundability and no change fees. Wanna' know the status of your flight? Get up-to-the-minute flight information here.

Features:

· Mobile Boarding Pass
· Mobile Check In
· Book a Flight
· Check Flight Status
· Interactive Route Map
· …and much more!
iPad Screenshots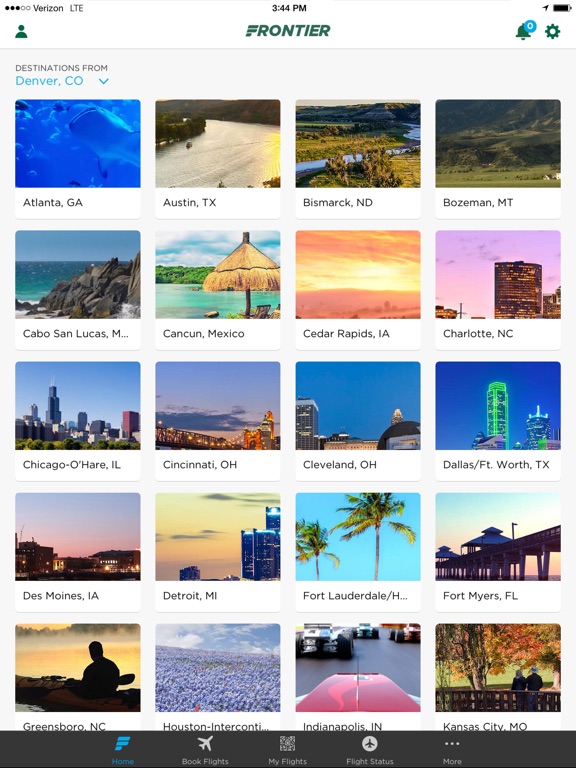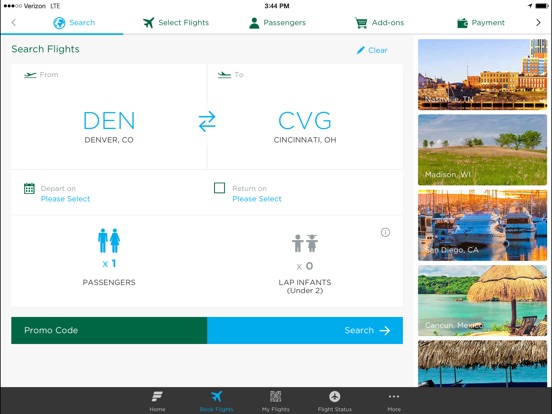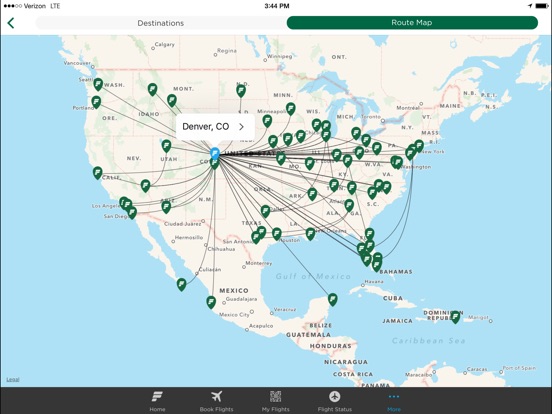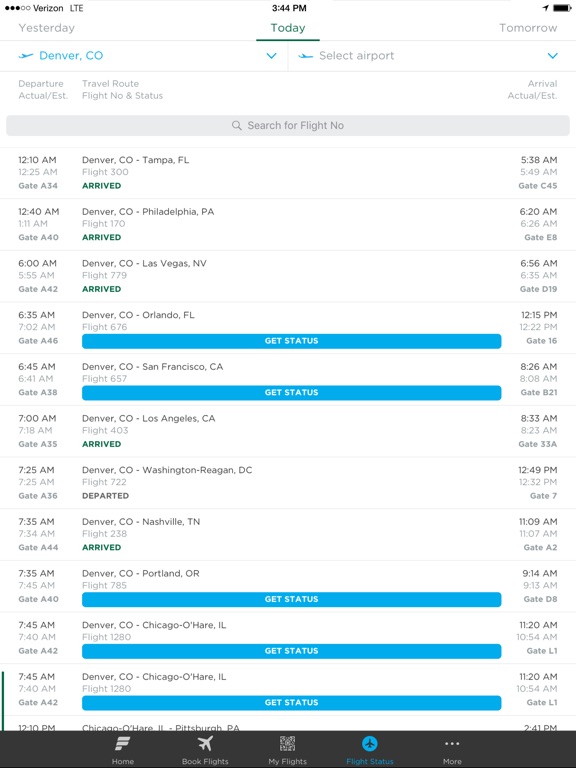 Reviews
Rating based on app experience
Idk why people are using this to review the airline, pretty sure you should review the app itself. For my purposes, the app worked great, very straight forward and simple. I was able to check in using and had no problems. That being said, I didn't have to use anything to in depth on the app, like making a profile or ordering flights. Just used it as a boarding pass and checking in, so 5 stars on that.
Sign in issues
For some reason the app keeps logging me out. Very inconvenient when you're trying to scan your boarding pass at security check points. I also couldn't see a way to add my boarding pass to Apple Wallet.
MEDIKAR
Allergy reaction tracking phot
on
9/23/2017
Smooth app. Keep up good work. The bigger airlines need to learn from you
Booking
That was much easier then most
thanks I'm disabled up stairs. easy for me to get to denver
thanks
Worst Airline Ever
I only downloaded the app because, in a the sea of ineptitude presented to me by their website and call service, this was the only way I could eventually manage to check in for my flight, and finally get to overpay for carry-on. Woohoo.
Mother
Great price great website easy to navigate. Can't wait to travel!!!
Den Deals
Everyone need to buy den deals they are the best!!
Great Appp
I wasn't able to access the website on my laptop kept getting an error, but the app on my phone was great!
Good
Coolcalmhero
on
9/19/2017
Best of the best
First time user
This was the first time using this app. No issues and very easy to use. Great work!
Excelent app
Easy to navigate and manage
Way better than website
The app is way easier to use on a phone than the website. Saves time, stores your ticket to scan at tsa and gate. If you have any frontier flights I recommend this app.
Frontier
UnhappyPatient
on
9/16/2017
While I love it that my flight is direct, all of the add on fees for EVERYTHING are ridiculous. If it wasn't our city hub, I'd fly a different airline, since there are usually no savings here.
Frontier has a great app!
Frontier's app is extremely easy to use and simple to navigate. I like that I can check in to my flights and manage my bookings all from the app.
Best airline app I've ever used
I love how user friendly it is. You can check in right from the app and your boarding pass is there too. If you're an iPhone user you can opt to add the boarding pass to your wallet.
...."it's great"
Another Reader can't find name
on
9/15/2017
The app drops reservations and makes keeping your travel records impossible. It is nonfunctional and unreliable. Other than that and that it takes up space on your phone...it's great.
Ezzy Peasy Nice and Easy
No problems. Friendly crew. Seats could use a little more cushioning.
Vuelo deben San Diego a Orlando y viceversa .
El vuelo fue horrible, el avión más incomodo que yo halla experimentado asientos son estrechos , No se pueden reclinar y no están acolchonados Salió más caro que un vuelo normal, yo llevaba mi hijo y a me hija, Y fue bien incómoda y horrible vuelo que hicimos de San Diego a Florida a Orlando, por favor no huelen en esta aviones de Alaska. Te cobran hasta el agua literalmente. Aparte de que cobran por todas las maletas ya sea que la lleves en el avión o contigo.
Excellent Rates your options
I made reservations easily through the Frontier App. i was able to customize my options which helped keep the fare lower and within my travel needs
Awesome
Easy and Straightforward and I like the wildlife pictures especially since I'm vacationing in the Rockies Thanks frontier
Check-in
Maria Vaduva
on
9/13/2017
Can you put all the payments at the beginning of the booking please ? Including the baggages !
Satisfied First Time Frontier App User
The app was simple, easy and fun to use.
Easy and Logical
The Frontier App makes booking a breeze! It anticipated my question simply with the "next" button. And it was fast!
Very user friendly.
The Frontier app is very quick and easy to use.
Rahama
I love it how you check in ur self easy
Why
I got the app because the mobile site is worthless, and half the time the app links to the mobile site. Took 30 minutes to check in for a flight and buy a bag. Why do they even bother?
Easy and fast
This is just for the app as I've never flown frontier. Easy to use and fast to input and process.
Aggressive sales
App is pretty good. When it resorts to website formatting it is not user friendly on cell phone. Aggressive sales of seats etc is manipulative and annoying. Something straightforward and honest that somehow acknowledges that the cheap ticket you got is not the full cost of your trip would be appreciated.
Good prices
The Garcia's D/k
on
9/9/2017
Good prices and seating options
Great option for lower priced travel
Even with additional charges for checked and carry on baggage, Frontier is a great choice. Taking random seat assignment has worked out well....unless you choose to pay up for extra seat space. Booking online is very easy and listing of costs for alternate dates is helpful. Good by Delta!
Gender
I can't book through the mobile app because my default profile is missing the gender and it doesn't allow me to edit it.
Rick
Can't forward itenary to another party
MVP -Phl
chico and Red
on
9/6/2017
Checked luggage line was a bit slow and I almost missed my flight but otherwise it was fine!
Always good
shelleywillow
on
9/6/2017
I enjoy flying Frontier. I find the prices to be reasonable, the flights on-time and the staff friendly and competent.
Auto fill
App does not allow itself to remember your information for billing and rewards number to Log in.
I love this app and prices
I love this app and prices
Luv Frontier Airlines
Robert (Roberto)
on
9/5/2017
Great price. Great flight times to go see Mom. Thank You!
BEST AIRLINE & STAFF
Tyler Muskopf
on
9/5/2017
I have flew over the year domestic and abroad. Frontier airlines are by far the best in the business.
Frontier is the worst.
Frontier is just the worst. That's all. Go on. Fly it. Find out for yourself.
Well done Frontier
Thumbs up ease of use booking app
Frontier Fab
I have flown Frontier several times in the last couple of years. They have always been so accommodating and the flight has been crew amazing!
Hate having to do this
I hate having to download a mobile phone app to check in for my one flight because the website is too crappy to work for check in on a mobile device.
The airline and the app are amazing.
So good!
Can't reset passwords on iOS devices.
Mobile web and App fail when attempting to reset passwords.
TSA PRE
They were not able to apply our TSA PRE CHECK codes.
Very satisfied!!!
Cortezchicago
on
9/1/2017
Really quick and easy to use. Always finding better deals on app than what pops up on google.
❤️❤️❤️
My favorite airline !
Best airline ever!
I cannot say enough great things about Frontier.
Needs some work
The app needs to have all the functions the web page does.
Fact Sheet
Publisher:

Frontier Airlines, Inc

Category:

Travel

Released:

Oct 15, 2015

Current Version Released:

Sep 14, 2017

Version:

1.5.3

Size:

39.2 MB

Compatibility:

Requires iOS 9.0 or later.

Recommended Age:

4+

Game Center Certified:

No

Supported Devices:

iPad2Wifi-iPad2Wifi, iPad23G-iPad23G, iPhone4S-iPhone4S, iPadThirdGen-iPadThirdGen, iPadThirdGen4G-iPadThirdGen4G, iPhone5-iPhone5, iPodTouchFifthGen-iPodTouchFifthGen, iPadFourthGen-iPadFourthGen, iPadFourthGen4G-iPadFourthGen4G, iPadMini-iPadMini, iPadMini4G-iPadMini4G, iPhone5c-iPhone5c, iPhone5s-iPhone5s, iPadAir-iPadAir, iPadAirCellular-iPadAirCellular, iPadMiniRetina-iPadMiniRetina, iPadMiniRetinaCellular-iPadMiniRetinaCellular, iPhone6-iPhone6, iPhone6Plus-iPhone6Plus, iPadAir2-iPadAir2, iPadAir2Cellular-iPadAir2Cellular, iPadMini3-iPadMini3, iPadMini3Cellular-iPadMini3Cellular, iPodTouchSixthGen-iPodTouchSixthGen, iPhone6s-iPhone6s, iPhone6sPlus-iPhone6sPlus, iPadMini4-iPadMini4, iPadMini4Cellular-iPadMini4Cellular, iPadPro-iPadPro, iPadProCellular-iPadProCellular, iPadPro97-iPadPro97, iPadPro97Cellular-iPadPro97Cellular, iPhoneSE-iPhoneSE, iPhone7-iPhone7, iPhone7Plus-iPhone7Plus, iPad611-iPad611, iPad612-iPad612, iPad71-iPad71, iPad72-iPad72, iPad73-iPad73, iPad74-iPad74,

Supported Languages:

English;