Screenshots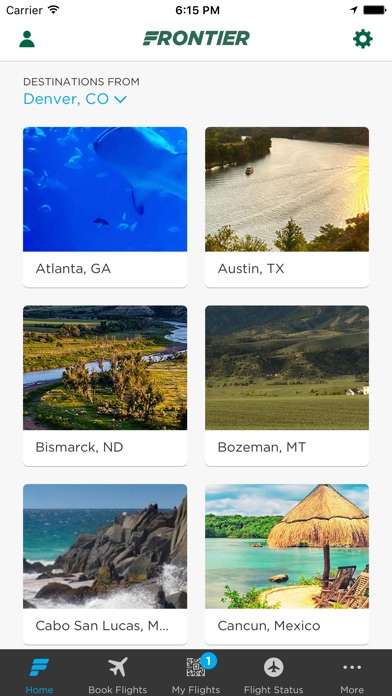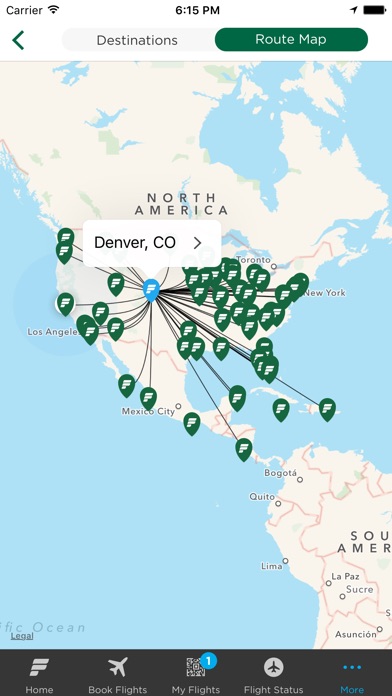 Description
Frontier's mobile app makes travelling easier than ever before! Wanna skip the lines? Use our mobile boarding pass and go straight to the security checkpoint. Need to add a bag or select your seat? This app makes it easy. Now you can add you bag or seat after you make your initial booking and even after checking in. On the go, but need to book a flight? Shop our low, low fares here. Want a stretch seat, a checked and/or a carry-on bag? THE WORKS makes them available at one low price which includes refundability and no change fees. Wanna' know the status of your flight? Get up-to-the-minute flight information here.

Features:

· Mobile Boarding Pass
· Mobile Check In
· Book a Flight
· Check Flight Status
· Interactive Route Map
· …and much more!
iPad Screenshots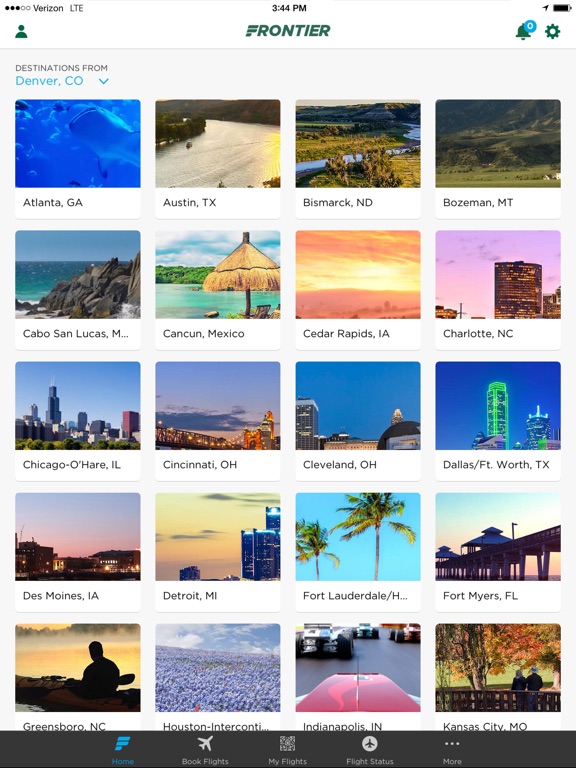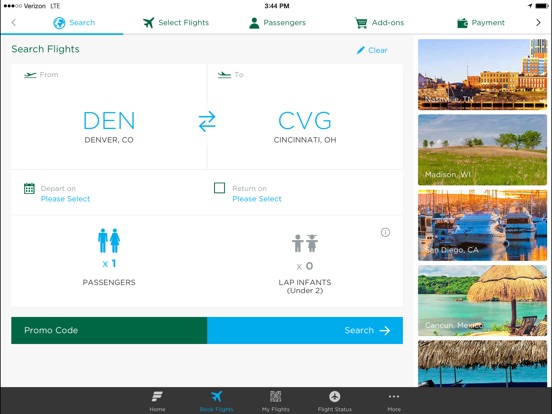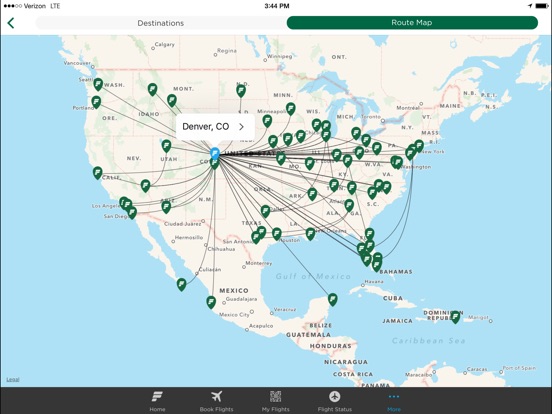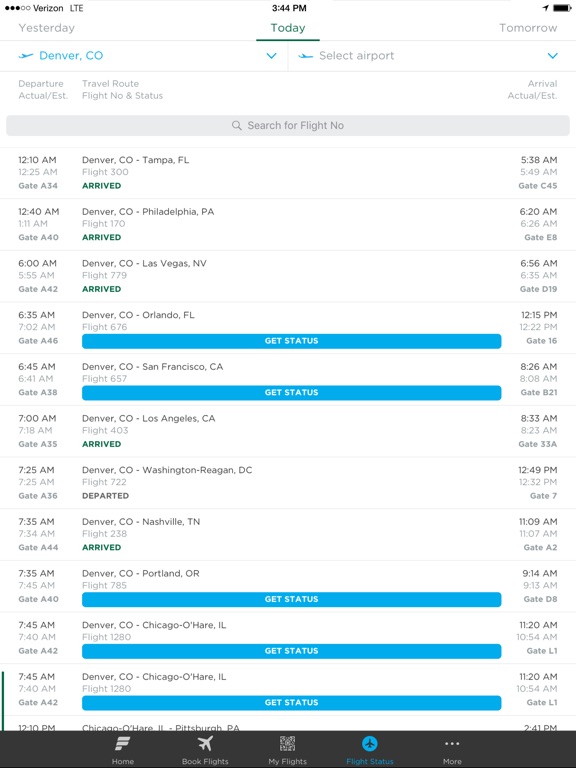 Reviews
Cumbersome and unclear
The developers apparently did not have a consumer test , this app is cumbersome and unclear Any one new to Frontier would be lost and confused .
First Time Flying Frontier
The Military Journalist
on
11/18/2017
The low prices are great for getting people on board, but the catch comes at paying $40.oo per additional piece of luggage, which can be a double edged sword. For example: A family of four with two checked bags and a check bag each will be $960 round trip and that's after paying for the flight. In on aspect it's good because you only pay for what you use, on the other hand you have to pay for luggage both ways. So yes, you're round trip luggage cost is going to be double. In that regard it's a major bummer. Remember to bring your own snacks, Frontier charges for drinks and snacks. But that's up to you and your wallet. No onboard entertainment, so make sure your devices are charged and ready to go. All in all it's very basic and you pay the extras for what you need/wants. But use causation, that cane quickly become pricy. Will I fly Frontier again? Well, I won't say no, but I'll definitely double check and price compare before purchasing my tickets.
Love Frontier
GeneNewcomb
on
11/17/2017
Great airline
Great App to use with Frontier!
Very simple to use, boarding passes are integrated after entering your confirmation code. Nice features were check-in from app and notifications while at the airport. It even adds boarding pass to Apple Wallet.
It's pretty good
Fairly easy to use
Cheapest flights last minute
Excellent
Flight from RSW (Fort Myers)to Long Island Islip
Experience was great...finally able to fly DIRECT from Fort Myers Airport to LI . We paid some extra fees....for seats with more leg room, for carry on luggage and for choosing seats in advance. BUT STILL cost us LESS than Southwest flights which only offer connections to Fort Myers and NO direct flights. Frontier crew were all exceptionally friendly.....flight left right on time....and arrived early. Comments I heard from fellow passengers were quite similar. Frontier airlines brings long overdue direct flights from LI to Fort Myers. Couldn't be more pleased! I will recommend to all!
Disappointed customer.
Deceiving prices! A total rip off.
Military
Need some way to Identify Military
Flight on 11/11/17
Extremely disappointed in the customer service we received when our flight was unexpectedly canceled. No emails or texts regarding the cancellation prior to our arrival at the airport. AND in addition we were told they had no ability to even check other airlines on our behalf. I find that hard to believe when EVERYONE can see flights on the internet. I am removing my name from your email notifications. I would MUCH rather pay more for a flight than to be treated that way again from Frontier. Won't be flying with Frontier again!!! Customer service center was very unprofessional! Employees were very rude and disrespectful.
Easy Travel App
Sweet Perfume & Leather Jacket
on
11/15/2017
Saying yes or no to bags was a breeze in the Frontier Airline App. No paper wasted is a plus, too!
App didn't remember my TSA pre number
I tried to enter it after I noticed and I can't get it to generate my ticket. App should remember your TSA pre number from a prior flight if you used it previously.
Perfecto
Tere gonzalez
on
11/14/2017
El mejor servicio👍🏻👍🏻👍🏻👍🏻
Shittiest!
Carissaa901
on
11/14/2017
This is the shittiest airline ever!
Extra fees everywhere....
Less a comment about the app and more a comment about the airlines, but every time I do anything, there is another fee and charge
Easy to use!
Sexton werk
on
11/14/2017
I love the App, website and every employee i have dealt with in airports, on planes and on phones.
No Frills Air
When I say no frills I mean less than no frills. Never before been on a flight that offers NOTHING. Did drinks are $3 each. I'm not sure why they even have flight attendants. You can upgrade to an exit row seat with 3/4 inch more leg room for $50 each seat. Probably won't fly Frontier again.
NYC here I Come
Nice app!!
Den deals rawks!!!
Den deals is the best!
Pricing...
Would much prefer seeing all fees with initial search
Expensive bag fees!
$40 for a bag, regardless whether you check or carry on? Will have to rethink flying Frontier in the future because the car was not that great.
Customer service
This is a terrible airline as far as customer service.
Did not add promotional discount
Didn't add promotional discount
Pricing
The app works fine but the payment system for Frontier is ridiculous!
CROOKS!!!
THEY ARE CROOKS!
on
11/8/2017
When you think you got a great deal for airline tickets, you go to check in, and that's when they stab you in the back. They charge you for EVERYTHING!!!! I would have saved a lot more flying with Delta or any other airline. I ended up paying twice as much!!!! Dont get caught In their scheme that they are saving you money! You buy and airline ticket, well doesn't that guarantee a seat already, noooooo you have to pay for that, and additional $10-30. You want to save money by carrying on your luggage, nope can't do that, you have to pay additional for carry-on luggage. I'm waiting to pay extra for a seat belt if I want one....... too good to be true!!!!
Mary
Me encanto comprar tickets con ellos
cheap fare rip off
Sara Marcipan
on
11/7/2017
Although I love flying from my local airport the add-one on these cheap flights is beyond irritating.
Fantastic prices
Tahiti in love
on
11/7/2017
This gonna be my second trip with frontier, I recommended a lot! The service is very god, the app is nice and the people in the flight are very nice and helpful.
Great!
airfromphilly
on
11/7/2017
Awesome app that is easy to use. Great format that is simple & easy to understand. Frontier is a great carrier as well, frequently fly from PHL -> Orlando for usually under $100 round trip. Glad I found frontier!
Pretty decent, does the job
I like how it remembers my boarding details and doesn't require me to login again and again Quick and useful
Best.
I love frontier! Unfortunately we waited for ever and our flight went up by 30 bucks but honestly every experience is so good! It's so cheap if you just want to go somewhere with a couple of changes of clothes in a backpack and the essentials and even if you need a bag it's not expensive! I love this airline and it's always my go to if I need to fly to Denver. I've been all over with frontier and always a good experience! 11/10 would fly again
Different before the Better Airline
I love flying Frontier. Their flight crew has a sense of humor and are not uptight like other Airlines. The best thing about them is the Fly nonstop to Colorado Springs
Like it!!
Easy to use book a flight.
Great app and easy to use!
cco175ranger
on
11/3/2017
This app makes booking and checking flights a breeze and even prepares your boarding passes so they are easy available once you get to the airport.
Booking Florida Vacation
Easy to use and fast. Had my flight and paid in 5 minutes Loved it and will use again and again.
Good
Well actually it's great!
No confirmation page!?
Pullingmyhairhere
on
11/1/2017
Lame.
My frontier flight
Bruce Lincoln hall
on
11/1/2017
So far I have been using Frontier airlines to travel back-and-forth from New York Long Island airport to Tampa Florida. The prices have been very good the staff has been courteous and polite. I have traveled only two times on this flight and I will continue as long as the prices stay as they are.
I love to Fly with Frontier
Quick, Nice, I do not carry too much stuff, so others, therefore, the boarding process is fast and simple.
Frontier from Islip
Frontier easy and inexpensive
Enjoyable Flight
Nice flight crew Clean cabin Roomy seating Storage under seat will only fit dimensions for personal bag listed online.
I wanted to like this airline
So my now husband and I really wanted to have a destination wedding honeymoon. We booked tickets and they switched them 3 times from Sunday afternoon to Sunday morning to Saturday at midnight completely messing up our trip. When we tried to swap our tickets to Sunday afternoon again we were very shittily told that since we didn't pay the extra 85 per ticket when purchasing our tickets previously that we would have to pay $100 for the tickets we already purchased that were $100 a piece to begin with to change our tickets to the original time on Sunday which was still available on their website for some reason. Since we purchased tickets for family members and friends it would of been well over a grand to switch everything around. Frontier was not in anyway accommodating or understanding. Frontier was however the cheapest airline to be able to pay for tickets for family and friends. We were sad and angry about how everything worked out. We are offering 1 star for the affordable prices but that's the only plus side. If you pay the extra 85+ per ticket for the upgrade at that point you should probably just purchase tickets through a different airline and ride on a plane with better seats and better customer service.
Mr John Rothert
Myplane 172
on
10/29/2017
App is a little confusing by comparison. Been using other App's for decades and must go slow to be sure all aspects are completed.
Really like Frontier
Boogie Bored
on
10/28/2017
Able to take my family of four on vacation without costing an arm and a leg.
Great Carrier
PL Penaloza
on
10/27/2017
Best flight I ever had
Excellent App!!!
Extremely easy to navigate!!!?
Frontier is the worst
i know's my muzac
on
10/26/2017
Can't think of anything good to say about frontier except for the fact my plane hasn't crashed yet
Super
Super easy to use app
Never again
neveruseagain
on
10/26/2017
"Nice" experience by comming 1 hour before our flight and find that was nobody at the front desk to check in.... calls after calls tried to reach somebody till we finally los our plane... no money refund,will have 100$ cancellation fee plus they keep the rest of amount in company accounts for next trip etc etc.
Fact Sheet
Publisher:

Frontier Airlines, Inc

Category:

Travel

Released:

Oct 15, 2015

Current Version Released:

Nov 14, 2017

Version:

1.5.5

Size:

41.2 MB

Compatibility:

Requires iOS 9.0 or later.

Recommended Age:

4+

Game Center Certified:

No

Supported Devices:

iPad2Wifi-iPad2Wifi, iPad23G-iPad23G, iPhone4S-iPhone4S, iPadThirdGen-iPadThirdGen, iPadThirdGen4G-iPadThirdGen4G, iPhone5-iPhone5, iPodTouchFifthGen-iPodTouchFifthGen, iPadFourthGen-iPadFourthGen, iPadFourthGen4G-iPadFourthGen4G, iPadMini-iPadMini, iPadMini4G-iPadMini4G, iPhone5c-iPhone5c, iPhone5s-iPhone5s, iPadAir-iPadAir, iPadAirCellular-iPadAirCellular, iPadMiniRetina-iPadMiniRetina, iPadMiniRetinaCellular-iPadMiniRetinaCellular, iPhone6-iPhone6, iPhone6Plus-iPhone6Plus, iPadAir2-iPadAir2, iPadAir2Cellular-iPadAir2Cellular, iPadMini3-iPadMini3, iPadMini3Cellular-iPadMini3Cellular, iPodTouchSixthGen-iPodTouchSixthGen, iPhone6s-iPhone6s, iPhone6sPlus-iPhone6sPlus, iPadMini4-iPadMini4, iPadMini4Cellular-iPadMini4Cellular, iPadPro-iPadPro, iPadProCellular-iPadProCellular, iPadPro97-iPadPro97, iPadPro97Cellular-iPadPro97Cellular, iPhoneSE-iPhoneSE, iPhone7-iPhone7, iPhone7Plus-iPhone7Plus, iPad611-iPad611, iPad612-iPad612, iPad71-iPad71, iPad72-iPad72, iPad73-iPad73, iPad74-iPad74, iPhone8-iPhone8, iPhone8Plus-iPhone8Plus, iPhoneX-iPhoneX,

Supported Languages:

English;