TapNova recommends this app!
New in version 0.4
-Add new theme and music "Level Four"
-Add big body mode, will triggered in every 4 games.
-Optimize localization
-Update Game Engine
Description
Music, Neon light, Geometry.
Jump, Hold , Stomp.
The perfect combination of pure joy.
It is born for you, and you are born for it.

What are you waiting for?
iPad Screenshots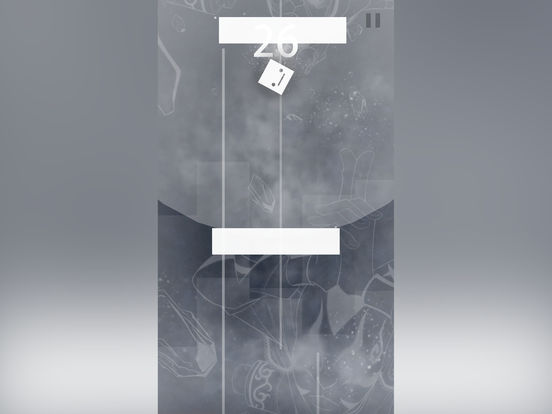 Reviews
Can't get past level one
Hobbes/Francis
on
7/23/2017
This game needs improvement
Awesome.
Veddi Garcia
on
7/23/2017
A little expensive,but amazing.I love it!😝
Good games
A little bit better than geometry dash
Design perfection
Visually one of the best games I've ever seen. This oozes styles. The only negative is how quick you unlock everything.
Cool music but sound effects
The graphics are great and music is to be expected, but the sound effects the cube makes bothers me for some reason. The slam sound is cool tho
Absolutely love this game
I got this app when it was the free app of the week so Props to that. Also I love the music they put with it it is absolutely amazing and puts me in a good mood. The game is fun to play and very addicting after alittle while of playing. For those of you who love electro/dubstep music along with bright colors I recommend this game for you!
Great
Great and challenging game
Fun!
Really easy to play and love the music
Crashy
On an iPad Pro with latest iOS, you wouldn't expect my game to crash as often as it does. I notice it most often happens on Tha Trickas - LEGEND. Sadly this is the one with the coolest graphics. Otherwise, decent game!
Smooth game play
Music goes with the gameplay , must buy 100%
Amazing
Excellent game with a very unique concept hope you bring more levels in a futur update
Incredible game
The C.L.A.S.S.I.C.
on
7/3/2017
Not much else to say other than if you like electronic dance music and simple gameplay, Beat Stomper is a match made in heaven. Very well done!
Perfect
Lucifer Magnificent
on
7/3/2017
This is Great
Addicting in the best way!
Great quality game. The visuals, music, gameplay, unlockables and replay ability all make it easy to spend countless hours having so much fun (or sneaking in that quick 5 minute fix). Support this game, it's well worth it!
Trippy fun
+1 for No ads or in app purchases!
App crashes all the time
App force closes all the time. Super annoying. Also, this game would be waaaaay better if it followed the beat in some way.
Oh my God, oh my God!
What can I say? The best money and megabytes invested by far.
Fun!!!
Finished the game! Loads of fun! Gets a bit boring though once you've played for a while. There should be some more features.
Simple, Fun, interesting music, yeah...
Jump, land, with music? ...Jam!
Too sexual
The sounds in the game behind the dubstep are to sexual for target audience
Fun
Addicted to this game play it hours on end.
Fun and challenging
Great game with retro graphics and fun music. It starts out easy enough and ramps up the difficulty not too soon after. Definitely enjoyable.
The "sexy" voice needs to go
Decent gameplay, although pretty standard and derivative. It's not a rhythm game, but has catchy tunes. The explosions on correctly timed jumps distract and can cause lost timing. The worst thing about this game though is the COMPLETELY UNNECESSARY "sexy" announcer voice. I don't need every quip try to sound as though the announcer is right on the verge of peak sexual pleasure. The extreme vocal fry is annoying too. This game may be a good time waster, but there are better games out there.
In love, but there could be so much more.
dannygoesrah
on
6/25/2017
The game is fantastic and always scratches that arcade itch when it pops up, but there could be so much more to this app. My main feedback: towards the higher levels (and higher difficulty) the music is actually distracting versus helping you keep beat and have fun. Don't get me wrong though, if this is intended, and I need to "git gud", then I retract my statement and I'll get better 🙌🏼
Fun and addictive.
Sleepbelowstars
on
6/25/2017
Simple in concept but challenging enough to keep you coming back for more. Soundtrack is just icing on the cake.
Where is the Award for Best Mobile Game of The Year?!?
Coolpersonnn3
on
6/25/2017
This is an addictive platform game where the tracks fit the themes of the level. The background and character designs are super simple but cool! The game is short but it was worth the money! This game has replay value!
Fun
Fun game got it for free
Fun
earthmeetsfire
on
6/24/2017
Fun game. Im baked.
Neat Stomp
BluntlyOunest
on
6/24/2017
It's Fun, love the tunes, it's entertaining... I like the challenge, very unpredictable.
Pretty good game
i've played in the android but my god in the iphone version it all goes so smooth love it to bits!!!
Ohh yeah baby it's triple!
BrewMasterAJ
on
6/24/2017
That's like heaven to your ears+ time killer
Very fun and challenging
Awesome
Beautiful. And has tons of potential
Firstly, just... wow. Satisfying visuals, beautiful music, and smooth and pleasing gameplay. I could play this for hours. If you like good music and aesthetically pleasing sights on a game, get this right now. Secondly, this game has serious potential. A lot of game mechanics are in here and presented lightly, like boosts and random times of going double-sized. I'm sure the future will hold more depth to these fun mechanics... hopefully alongside more amazing songs. Keep it up guys 👏👏👏
Meme
assholius mongolios
on
6/23/2017
This is a edgy 🅱️ame lol XD 😂👌
Nice!
Porcooooooii
on
6/23/2017
Quite funny, but you can make it better 😋
AMAZING MUST GET!!
This is what you call the perfect game ! . It should win the game of the year ! 100% best game i got so far .
Very simple
But fun for little bursts. Nice 3 minute break game.
FUN!!!!!
COC gamer546
on
6/22/2017
I love this game!! It keeps me entertained for hours and the music is great! Should be in top charts! WORTH IT!!!
cool game
Bob Majdak Jr
on
6/22/2017
this is a cool game but even on "medium quality" it only runs at a pretty low framerate which actually makes it harder than it should be. no idea why it doesn't run as smooth as other more complex games.
Real fun
redPorsche911
on
6/22/2017
It's very addictive and fun I encourage everyone to play it before it's 2 dollars again
Very fun!
This app is one awesome and addicting
This Game is Awesome
justAnotherReviewerr
on
6/22/2017
First off, I'd like to complement all of those involved with the development with this game as it is absolutely phenomenal. The combination between a platform climber and music was a fantastic idea that was executed excellently. So great job to you all. Second, I'd like to report what I think is a bug. When sound, music, and character voice are all muted, there is still a faint sound in the background that is playing. I'm not sure if that is supposed to be there as that sound seems to go with the music. If you could fix that in a later update it'd make the game even better. Thanks for all of your work and I look forward to playing more of your games in the future.
Wow
Wat
on
6/22/2017
Great game just needs to pace it self better and have more unlocks, I got them all in like 20 minutes.
Really Fun And Challenging Game!
I REALLY love this game! The songs are beyond amazing and I hope you are nowhere NEAR done with Beat Stomper! One suggestion, add a face selection. I got it for free because of the sale, but even then, it's worth the $2 that it normally is! 10/10
A lot of fun
Great game to pass the time or just to get yourself pumped for the day. Hope to see more content soon and maybe add our own music
Sooooooooo buggy
There is constant problems with this game. The apocalypse stage is bugged, so you can't even get it. Also, the no boost 50 stage is near IMPOSSIBLE, due to so many boosts. There should be a option to turn off the boosts
Nice-
qualityhamstertime
on
6/22/2017
I like
Fact Sheet
Publisher: Rocky Hong
Category: Games
Released: Mar 08, 2016
Current Version Released: Feb 06, 2017
Version: 0.4
Size: 136.1 MB
Compatibility: Requires iOS 6.0 or later.
Recommended Age: 4+
Game Center Certified: No
Supported Devices: iPhone3GS-iPhone-3GS, iPhone4-iPhone4, iPodTouchFourthGen-iPodTouchFourthGen, iPad2Wifi-iPad2Wifi, iPad23G-iPad23G, iPhone4S-iPhone4S, iPadThirdGen-iPadThirdGen, iPadThirdGen4G-iPadThirdGen4G, iPhone5-iPhone5, iPodTouchFifthGen-iPodTouchFifthGen, iPadFourthGen-iPadFourthGen, iPadFourthGen4G-iPadFourthGen4G, iPadMini-iPadMini, iPadMini4G-iPadMini4G, iPhone5c-iPhone5c, iPhone5s-iPhone5s, iPadAir-iPadAir, iPadAirCellular-iPadAirCellular, iPadMiniRetina-iPadMiniRetina, iPadMiniRetinaCellular-iPadMiniRetinaCellular, iPhone6-iPhone6, iPhone6Plus-iPhone6Plus, iPadAir2-iPadAir2, iPadAir2Cellular-iPadAir2Cellular, iPadMini3-iPadMini3, iPadMini3Cellular-iPadMini3Cellular, iPodTouchSixthGen-iPodTouchSixthGen, iPhone6s-iPhone6s, iPhone6sPlus-iPhone6sPlus, iPadMini4-iPadMini4, iPadMini4Cellular-iPadMini4Cellular, iPadPro-iPadPro, iPadProCellular-iPadProCellular, iPadPro97-iPadPro97, iPadPro97Cellular-iPadPro97Cellular, iPhoneSE-iPhoneSE, iPhone7-iPhone7, iPhone7Plus-iPhone7Plus, iPad611-iPad611, iPad612-iPad612, iPad71-iPad71, iPad72-iPad72, iPad73-iPad73, iPad74-iPad74,
Supported Languages: English;