TapNova recommends this app!
New in version 0.4
-Add new theme and music "Level Four"
-Add big body mode, will triggered in every 4 games.
-Optimize localization
-Update Game Engine
Description
Music, Neon light, Geometry.
Jump, Hold , Stomp.
The perfect combination of pure joy.
It is born for you, and you are born for it.

What are you waiting for?
iPad Screenshots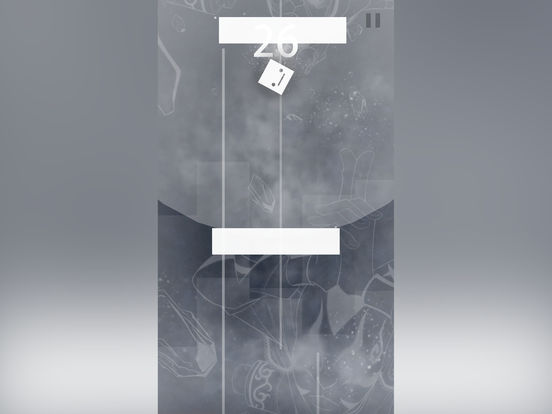 Reviews
Sooooooooo buggy
There is constant problems with this game. The apocalypse stage is bugged, so you can't even get it. Also, the no boost 50 stage is near IMPOSSIBLE, due to so many boosts. There should be a option to turn off the boosts
Nice-
qualityhamstertime
on
6/22/2017
I like
Geez...
SongListener1123
on
6/22/2017
I hate writing reviews for games, but this one...is crazy. The music is a major part of this game because as you make your way up the levels the music gets better and faster. It goes very well with the game it's self! I don't think I've ever seen a game out there like this one. I highly recommend this game to anyone.
So glitchy
This game constantly freezes and has an incredible amount of lag, not worth the download.
Not a Rhythm game
This is your average infinite jumper with a price tag. It has nice visuals but it gets boring quickly and offers nothing in the way of an actual rhythm game.
Awesome
Love the game and love the beats. Keep the awesome music coming
AWESOME!!!
AndrewCgaming 64
on
6/21/2017
Really fun and addictive game. This reminds me of geometry dash with the square and the crazy music, but this is a great game on it's own.
This game is so much fun!
manuelrobles20
on
6/21/2017
Really enjoy playing this game
DA BEST GAME EVER!!!!
Silent_Ninja937
on
6/21/2017
I like everything the background, graphics, the style e.t.c. Well the point is that it's the best and to be honest I don't rate apps so yeah I like this game but I wish I could make a game like this, cool. #DABESTGAMEEVER
Download NOW
Get it while it's free
Great Game
Very fun to play
Need a 0 star option!!!
JellyRox.com
on
6/21/2017
HORRENDOUS GAME! MAKES ME VOMIT! TERRIBLE LAG! BLEAGHHHHHHHHHH!!!!!!!!!!!
Surprised
Builderman071
on
6/21/2017
I'm surprised that this is the free app of the week, it's so bad.
Best game ever
Thebestnutblaster
on
6/21/2017
I love games that incorporate music into them and arcade style gameplay. Great game mechanics, runs smooth, vibrant color and plenty of songs, fun and challenging, I nearly played this for 5 hours straight! This is like geometry dash but easier and its totally worth getting. I would recommend this game to anyone who needs to kill some time and needs a new challenge.
Wonderful time waster
Who doesn't love wasting time? Especially in an app with no in app purchases. Wonderful!
Good game
Bsgreenfamily
on
6/21/2017
Nice music good gameplay fun achievements only downside is the lack of variety
Just wanted to leave a sign that i played this game
A_KnightMare_4ever
on
6/21/2017
Great game
Honestly terrible
Terrible
Lit AF👌💓🔥🔥
Aubree Jenkins💖
on
6/21/2017
This game is lit as fudge!!! The music is outstanding and up beat. I don't think you need min. Or wifi which really good for me😏💞💖 Get this game trust me it's awsome!!👌💭
why is it called beat stomper?
Klefkiisrlygood
on
6/21/2017
I was hoping for a more rhythm-based gameplay, but it's just another endless jumper with some electronic music in the background. The music isn't tied to the gameplay in any way, so why bother making it such a selling point? It's kind of misleading. I'm not a big fan of endless jumpers, but I love rhythm games and was lead to believe that this would be one. Does not do what it says on the tin.
Love it !
The game is great and so fun
❤️
Wow I love this kind of music be it makes it to listen to as well I recommend
Honestly Great Game on the road
The Colors. The Music. The great visuals!! It's way better with headphones tho
BEST GAME
I FREAKING LOVE THIS!!!!!!!!!
Time crusher
If you need a fairly arcade type game to cruise through time , I highly reccomend this game !👍 good job developers!
Good
Reminds me of songs in geometry dash fun game
Nice n simple
Good music with fun and simple gameplay.
Great game
#Fox is life
on
6/20/2017
This game has great music. Totally need to get this game
It's pretty good but...
The app keeps crashing before I can achieve even half of the achievements.
needs improvement
I got this app for free via free app of the week Pros Good music and gameplay Cons The girl's voice is fine but the grunting sounds every time you jump should be removed. The voice lines when you get the +20 ish points should be changed because they seem to be straight from Candy Crush. These +20 ish voice lines make me think I'm playing candy crush/distract from the music.
Awesome game
LMD1280282814
on
6/20/2017
I first thought this game is too colorful. But after a few times playing, I feel quite comfortable about the ui. Great game!!
Awesome
Eagle_phoenix
on
6/20/2017
Highly addicting
Visual effect is not good and feel stress to eye!
Hope they come up with themes or better color scheme.
Great game!
Infamous Izzy
on
6/20/2017
It's a really fun game! Cool music, cool gameplay, etc! Great game!
Game has nothing to do with the music
Despite the name implying that you'd stomp to the beat, this game has absolutely nothing to do with the music playing. Deleted within a couple minutes.
Super Good !
Hahahahahahhahah hehehe
on
6/20/2017
This game is super fun, and has some goals which makes the player want to come back and play more to unlock all the different songs !!
Fun😊😊
Gigi super cool master 1356
on
6/20/2017
I got this game for free because of the "Free app of the week" on Apple Store, this game is really fun and easy, I got this game today and I am already on 100 ☺️☺️ it works really great and has some awesome songs👌🏻👌🏻👌🏻 I totally encourage you to download this game ☺️
Hard but fun
Thatonegamerwhowontshutup
on
6/20/2017
I rarely fee my deaths are unfair, it's addictive and easy to grab and start, hard to master
Ehh not that fun
Jdjdjdjjsksmncdjxjdn
on
6/20/2017
I've listened so the music there and just because you use is doesn't impress me. Some of the music is not bad but it's just a endless jumper if you take the music away, nothing more nothing less just that. The fact of paying for it shocks me even more. Not cool. Basically if you come for music head on over to SoundCloud.
Wow!
I've played many fun games before but none as immediately as fun as Beat Stomper! No tutorial, just immediate fun, good music and the experience really is enhanced with headphones. You almost forget about your surroundings. Great job! Excellent game!
Great!!!!
AWESOME I LOVE THE BEAT!!
I don't like this game
Furby Orange
on
6/20/2017
This game is to boring.
This game is GAY
It's super addicting and annoying and I can't stop playing it
A W E S O M E
The Best by the Best, thanks
Really good beat game
Fisherman1234564:5357835
on
6/20/2017
It has nice music and great mechanics keep up the good work guys
Fantastic graphics and music
I gotta say I was very skeptical about this app and when I start playing this game I felt very energized. I wanted to keep playing this game. The music is amazing, I love the dupstep vibe of the songs.
Very good
Its so funny and easy to relax
Not worth 2$
Do not buyyyyyy
Really fun
This is one of the most fun games I've ever known. I only say that tho becuz I'm a huge fan of endless jumper games and this type of music. Plus the vibrant colors really catch my eye. Outstanding work. It would be five stars but the female voice is just annoying. Especially when she says,"TASTY!" If u deleted that function I would rate 5 stars. But overall is a great game.
Fact Sheet
Publisher: Rocky Hong
Category: Games
Released: Mar 08, 2016
Current Version Released: Feb 06, 2017
Version: 0.4
Size: 136.1 MB
Compatibility: Requires iOS 6.0 or later.
Recommended Age: 4+
Game Center Certified: No
Supported Devices: iPhone3GS-iPhone-3GS, iPhone4-iPhone4, iPodTouchFourthGen-iPodTouchFourthGen, iPad2Wifi-iPad2Wifi, iPad23G-iPad23G, iPhone4S-iPhone4S, iPadThirdGen-iPadThirdGen, iPadThirdGen4G-iPadThirdGen4G, iPhone5-iPhone5, iPodTouchFifthGen-iPodTouchFifthGen, iPadFourthGen-iPadFourthGen, iPadFourthGen4G-iPadFourthGen4G, iPadMini-iPadMini, iPadMini4G-iPadMini4G, iPhone5c-iPhone5c, iPhone5s-iPhone5s, iPadAir-iPadAir, iPadAirCellular-iPadAirCellular, iPadMiniRetina-iPadMiniRetina, iPadMiniRetinaCellular-iPadMiniRetinaCellular, iPhone6-iPhone6, iPhone6Plus-iPhone6Plus, iPadAir2-iPadAir2, iPadAir2Cellular-iPadAir2Cellular, iPadMini3-iPadMini3, iPadMini3Cellular-iPadMini3Cellular, iPodTouchSixthGen-iPodTouchSixthGen, iPhone6s-iPhone6s, iPhone6sPlus-iPhone6sPlus, iPadMini4-iPadMini4, iPadMini4Cellular-iPadMini4Cellular, iPadPro-iPadPro, iPadProCellular-iPadProCellular, iPadPro97-iPadPro97, iPadPro97Cellular-iPadPro97Cellular, iPhoneSE-iPhoneSE, iPhone7-iPhone7, iPhone7Plus-iPhone7Plus, iPad611-iPad611, iPad612-iPad612, iPad71-iPad71, iPad72-iPad72, iPad73-iPad73, iPad74-iPad74,
Supported Languages: English;