Not Recommended
App last updated
Feb 22, 2018
Screenshots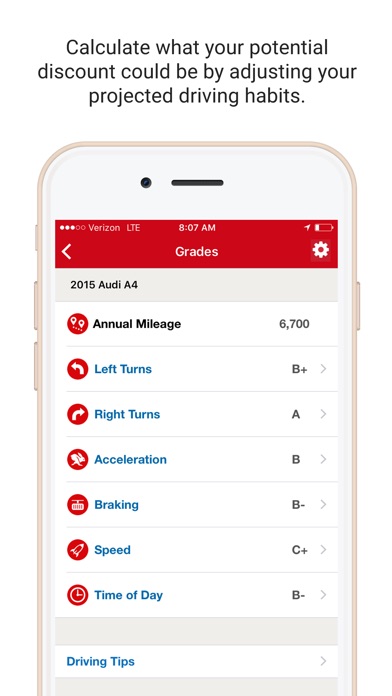 New in version 2.0.3
Thanks for using Drive Safe & Save! This update includes bug fixes as well as improved messaging and trip sending for an overall better experience.

Let us know what you think by using "Send App Feedback".
Description
You'll save an initial 5% when you sign up for Drive Safe & Save™ from State Farm. And the safer you drive, combined with the fewer miles you drive, the more you could save on auto insurance.

Your smartphone, along with a Bluetooth beacon you'll receive in the mail, will collect basic information about your driving characteristics. Next, the app will use this information to calculate your potential discount on auto insurance.

Key Functions

• View your current and trending discounts based on specific driving characteristics
• Calculate your potential discount by adjusting a variety of driving characteristics
• See how your driving stacks up against others
• Learn how your driving habits, such as braking, mileage, speed and acceleration, affect your discount
• Read tips to improve your grades on key driving characteristics

Available in select states only. Please contact your State Farm agent for availability.

Continued use of GPS running in the background can dramatically decrease battery life.
Reviews
Bad car company
Such a scam. My grades change constantly, I barely drive my car, probably less that's 8,000 miles a year. I've had this app for 6 months and on my last renewal my discount went down from $142 to $41 dollars. I blame my "bad grades" on this app. I already got a better quote with Geico for the same policy. State Farm told me my renewal went up because based on my model, a lot of those car are having accidents. Totally unjustified. Too bad leaving State Farm after 7 years of being with them and never submitted a claim.
Remove Time of Day grade
This is really stupid , they have a grade for the time of the day you drive and the Tips to help improving that is limit the late-night travel and Try carpooling or public transportation. First not everyone drive in day time we have different work shifts and second not everywhere have public transportation or car pull. =0(
Having horrible time with this thing
Everything takenhhgg
on
3/15/2018
I had the first beacon. It messed up so second one was ordered and installed. Now it's not recording. I have had this program a year. Never received notifications to send pic of odometer. I remembered on my own but alas it was to late to get discount after first six months. The new beacon quit recording trips in January. Now the second six months is a bust. My agent was supposed to contact me about all this mess but guess what he didn't. Now I called again today. Nothing I can do was told it was all on them to get operational just to wait to hear from them. Using this was supposed to lower rates with good driving. All it's been for me is one big hassle and I still have no idea if I will ever get a discount. If your from State Farm check my history if you don't believe my post.
Battery zapper
The fact that I need to remember to turn on location AND Bluetooth kills me. Keeping both on all day even when I'm not driving is out of the question because then the battery will be zapped. Majority of the time I just get in my car and drive. When I do remember it ether doesn't record trips or records half of them. Don't understand why there even needs to be the little device in the first place. Why can't it just work solely on the location feature.
This app crushes battery life
Noticed I'm barely getting a day out of my phone and constantly lose percent while my phone is unused. Uninstalled this app for a day and it cleared up my issues. There are plenty of other apps that have similar services running in the background at all times. You need to figure out how to resolve the battery drain issues immediately.
Burns Through Battery
Only way to keep using this is to turn off all location services/Bluetooth when you leave your car. Otherwise your battery depletes itself just sitting on your desk.
Seriously?!
annakristen321
on
3/12/2018
That's cool how y'all can "record my trips today" when I have an eye infection and can't wear my contacts so, therefore, CAN'T DRIVE. I haven't left my house today and somehow you "recorded my trips." Biggest scam of a program by the worst insurance company.
Good idea... bad for phone
I have been using this app for about 5 months now on my iPhone 6. At the time I installed this app, I was getting 2 1/2 days on a charge. After the install I needed to charge every day. I called tech support several times for help (their propaganda led me to believe this should not happen) but yesterday I gave up and shut the app down. I saw no value in prematurely wearing out my iPhone battery. This morning my phone still had nearly 50%. If State Farm figures out how make this app battery efficient, I will most likely try it again. A $20/year savings is not worth trashing a $800 phone.
Highly Ridiculous
adamhuntsman12
on
3/8/2018
I understand the grading system for this, but I find it highly ridiculous that you can be penalized for the time of day that you are driving. Some of us have work and school that requires to commute at times of the day that have high traffic. Also, the fact that they use your smartphone to track your turns and braking is highly ridiculous. It is so easy for GPS positioning to be flawed with your speed, turning, braking, etc. Not worth the hassle.
Log on
Why is this the only app that consistently fails to open through Touch ID?
Drive safe and save
christian lopez1
on
3/4/2018
Touch ID never works right.
JOKE
After being robbed by State Farm for so long and being FORCED to get this device for "discounts"...I REALIZED IT WAS ALL A JOKE. "92.70" discount it said on DRIVE SAFE app so why was my bill $343-$380? BECAUSE I WAS BEING ROBBED therefore I took my MONEY and impeccable driving to GEICO last week where I saved $200 and I wasn't FORCED to activate a DEVICE that basically JUDGES how I drive. give me a BREAK. "B+ for left turns and C for right turns". GOOD RIDDANCE STATE FARM!
19% battery usage!!!
Out of everything I have to do in a day. I do not need 20% of my battery life eaten with this app that is 'always on'. I had to kill it from my phone and I never saw the discount though I got a B+ and drive minimally. I will redo it when they get that fixed.
Hogwash
Annie Oakleytoo
on
3/1/2018
Annoying repeat reminders to update. Drains battery. Scores on driving are ridiculous. For example, try to round out turns instead of turning so sharply. Duh. I have to stay in my lane. And original $12 discount drops to a stead $2.50. Wow.
Battery killer
Please reconfigure the app so it doesn't have to refresh in the background when not in use. I only drive a couple times a week yet your app is constantly draining my battery. I love the idea, however my phone should not have to be a slave to your app when not in use.
Battery burn
App burned through 80% of my battery overnight for "background activity"! Why?
Needs Improvement
The part of this app that is bugging me most right now is that its Use Touch ID option is literally useless / pointless. It doesn't work. Ever.
Crap
I've had it for almost a year and it's worked fine, only saved me 7 bucks a month but hey it's something. Suddenly the beacon needed to update and wouldn't. So it gives you a number to call. Called and the tech told me to delete the app and reinstall it. Well after deleting the app it won't allow me to reinstall it! Keeps saying to press continue to verify but there is no continue button. I'm very annoyed.
It records miles i drove on a different car
I dont like the fact that even if i dont drive the truck were i have the beacon it still keeps track of the miles i drove on a different truck....is there something you guys can do about that?
Uses too much battery
Now can not get by without charging my phone twice a day! It is bad!
Good Idea - But Needs Work
As mentioned by many - it is a battery hog. A second, and more serious problem is that it is unaware of the conditions you are driving under. For example it downgrades you for wide turns - but if you drive in areas where the lanes are marked for wide turns you would be unsafe making the turn tight - example multiple lanes making a left turn at an intersection. Another case is you get a bad downgrade for driving 80 or faster - while some freeways now have speed limits of 80 or higher - and it is probably unsafe to drive slower than 80.
I want my battery back
My battery lasts about 1/2 of what it use to (after installing this app). It would also be good for State Farm to have a consistent story. My agents office recommends that I don't have location services always on. To top it off, our State Farm rates went UP considerably about 2 weeks after starting this. They said it's not due to the app but rather just the overall market in IN. It's so bad that the office admin mentioned he personally had to get different auto insurance because rates went up —- and he works for State Farm! Frustrated!
Suggestion
Asif Siddiqi
on
2/22/2018
I don't know how,but ideally everything should happen on the device that you have asked us to put in our cars. It should be able to pick and send all the data to you on monthly basis and at that time only should this app get active on our cellphones and stay dormat otherwise. What is the point if my phone is serving your app all the time. I understand that it will add cost to your device but it will also give you more data, control and customers their peace of mind. Other than this monumental issue, app is stable and works in the background.
Designed to annoy so you quit using it and don't get the discount
Rusted Knight
on
2/20/2018
Here are the positives : none The negatives: battery hog, demands you leave location services on even when not using the app which is unnecessary and an invasion of privacy, 2 factor log in which is slow and unnecessary, logs you out after only a few minutes of idle time like when shopping at Walmart meaning you have to log in again before driving home. Absolutely not worth the discount on insurance
Worst App Ever! Eats battery like no tmw!!
Big Black Bass
on
2/19/2018
Like all the other reviews already say, this thing eats battery faster than any app I have ever had (android or iOS). I've had my iPhone for over 5 years and nothing comes close to this horrible app. Prior to downloading this app, I can go all day without charging my phone... now it drains like 2% each minute (and I'm not even touching my phone). What a joke!!!
Worthless
Requires me to remember to turn my Bluetooth on before i drive in order to capture trips correctly ... so basically worthless and kind of annoying. I don't keep my Bluetooth on all the time . Also the log in process feels straight out of 2011.
Bad design
This app would be fine but it forces you to always allow the app to use location services which drains the battery. There is an option, which is logical, to use location services only when using the app but when you open the app it forces you to change it always allow. Absolutely ridiculous. There is no reason this app needs to always use location services even when not using the app. Poor app developer.
This app will crater your battery
Wow. I'm not sure what kind of tight loop is being used in the bowels of this application but something is just crushing my battery. If this can't be fixed with a realistic solution I can't use the app. If I can't use the app I don't get the discount. If I don't get the discount I may need to shop for a provider whose app doesn't crater my phone battery.
Randomly quit tracking
Had both Bluetooth and location enabled last few days, despite fact it tracked everything. Wondering if app isn't compatible with latest iOS update. Isn't even registering that I've been driving (and I've driven 15-20 miles). App needs to update every week or 2, not every month or 2.
Doesn't work
This app isn't tracking any of my trips and keeps saying "something went wrong".
Battery Life Drain
This app is easy to use but drains the phone battery really quickly. Location services must be kept on all the time and background app refresh is required. Today was my first day using it and my phone would've died without a charge at the 8 hour mark of a 10 hour day. I'm not a heavy phone user either. I check work email and a group messaging app a couple times a day. There's got to be a better solution State Farm.
I've never reviewed an app, but this one is worthy.
Shehswhwuurruu2732
on
1/31/2018
There are so many flaws involved with this app it's unreal. For instance I never drive the vehicle that's insured (use work truck) But I HAVE to drive that truck to meet the minimum criteria? I thought it's to measure how much you drive to save, well if I barely use it I should save more and not be forced to randomly drive my vehicle. With that being said, it's always sending pop ups to my phone when I'm using my personal truck. It has sent "data" on times I've not even been near my truck. Also it destroys my battery life. Overall I am completely unhappy with this app and I CANNOT wait to delete it from my phone!
Very disturbing app
"Forced" to use this app to get discount, which would be ok if the app weren't so annoying. It keeps asking for permission to refresh on the background, which it already has. What's the point of keeping bugging me? Second, it would pop up with a notification blocking my map while I'm driving, asking for some other permissions, I can't think of anything more dangerous, irresponsible and annoying than that.
Just got the beacon, first few attempts Login Error
The App is repetitively throwing Login error. Disgusting! Who can help to resolve this? I am able to login to my statefarm mobile app and the website with the same login credentials.
Battery Drain and Location On 24/7
Katie Danger
on
1/30/2018
Had to delete this....Drained my battery like crazy since it has to be on at all times...I'm also not a fan of my car insurance app knowing my location at all times when I'm not driving.
I don't want my insurance tracking stuff like this.
Stop trying to find ways of making more money by gathering more information from people.
state farm
why can't i delete this app.
No problems with mine
Can you label which grades are being displayed under the "Compare Driving>Over Time" page. The graphs aren't labeled for what they're representing. For instance, the first graph won't say if the grade is the Left Turns or Braking or Acceleration or anything... just graphing last grades over time without knowing which category the grades are for. You could figure it out with a bit of work, ie screen shot your grades and juxtapose them with new grades l, memorize all your grades, or go back and forth between menus to figure out which graph may correspond to your grades based on the current grades, but that should be unnecessary and would be simply fixed if you just label the graphs for the Grades they correspond with. Please. ——— Don't know why so many people have so many issues seemingly mainly with the battery. I was weary before downloading it because of the reviews. But I've had it for a couple of weeks and I don't notice any difference in battery. The app isn't CONSTANTLY running in the background determining my location. The app specifically stated the certain scenarios where location is determined and it didn't include "while sittin' on your couch and stuff."
Download issues!
Dee in Dallas
on
1/27/2018
I have tried three times today to download this app on my iPhone and it gets almost there and just stops, or gets stuck... It's very frustrating! Can anyone help, please! Dee
It's a pain!
Every time I want to check my scores. I have to sign on and then it won't take my password. I've never had to change my password so much. It has never once gave me my discount. So, don't really know if it's worth it or not. Then it doesn't record all my trips.
Location Services!
I have a few questions about the app. I have not used the app just yet but I will soon. Will other people be able to track where I am? Is there a way to turn off the location services if I wanted to? Is there a way to shut off the i Bluetooth beacon whenever I want?
Doesn't work
M@RK_3LLIO77
on
1/22/2018
You're just sending SF al your location info etc. Doesnt give any info about savings or why one car has a lower discount than the other. Waste of time and battery!
Frustrating
Apples&oranages
on
1/20/2018
Since switching to the iPhone this app will not work when on Bluetooth in my Jeep. I've tried everything.
Grades!?
Big Mama Patxaran
on
1/19/2018
Publish the criteria for how you calculate the grades. I park in parking garages and it seems that the Right and Left turn grades are affected in a negative manner.
App doesn't work
I keep getting emails asking me to upload my odometer information to stay enrolled. I have 5 days left to upload the info to the app, or I'm kicked out of the program. I've tried multiple times to log in to the app and upload the info, but after logging in, I'm met with a blank white screen that you can scroll. There's nothing there and you can't move forward from the page. I've tried logging in to the website to upload it, but the website wants me to update my password via the link in the email they have yet to send. So I probably won't need the app much longer (not by choice).
More work than it's worth
andrewkaltman
on
1/16/2018
Keep having to set up the beacon and log in every time State Farm does an update. You end up losing the discount even though all the information stays in the system.
Does this app actually do anything?
I've been using this app for about 3 weeks now and there's still no "grade" shown. I was using something similar with Allstate and my grade showed up after my 10th trip. I've done about 30 trips on this app and all it shows is the distance driven. Im not having any battery issues so there's that at least.
Download
garmin is crap
on
1/11/2018
Refuses to complete download on my iPhone 10–worked fine on my spouse's 10 Definitely not ready for prime time!!! If my agent can't fix this tomorrow am, State Farm loses a very good 40+ year customer! Btw, the last person I talked to on your helpline, didn't! That person was full of excuses and also not ready for prime time!
SLOW and Crashes
This app is horribly slow and crashes before you can login. When an insurance discount is dependent on you to log in information, it would be nice if the app would work!!
Scam
I've had this app for a year. Says I'll revive $110+ in savings next term. Don't waist your time with this app. The savings it states you will receive, never show up. I've gone through this twice and even spoke to my rep who could not explain how this so called "savings" works. Oh, and just an FYI. I've had no accidents, tickets, etc.
Fact Sheet
Publisher:

State Farm Mutual Automobile Insurance Company

Category:

Travel

Released:

Nov 08, 2015

Current Version Released:

Feb 22, 2018

Version:

2.0.3

Size:

59.6 MB

Compatibility:

Requires iOS 10.0 or later.

Recommended Age:

4+

Game Center Certified:

No

Supported Languages:

English;