Recommended app!
App last updated
Jan 17, 2018
Screenshots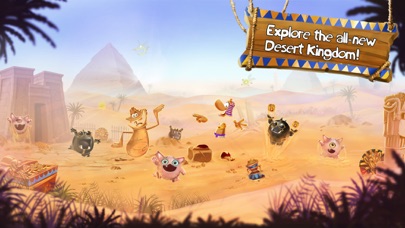 New in version 3.1.0
Rayman and friends are back with an epic marathon in the Desert Kingdom! Accept the challenge and run as far as you can, to win grand Golden Scarabs! Introducing Raysiris, Sandbox, and two exclusive new families – The Anubii, and The Sphynxies! Update your game today and join us for this exciting adventure!

We're on Facebook! Follow us on Facebook.com/RaymanAdventures for exclusive sneak peeks, fun contests and more!
Description
The enchanted forest is in trouble; the ancient eggs that sustain the sacred tree have been stolen and scattered across the world.
Embark on an amazing adventure through legendary worlds to help Rayman and his friends rescue the Incrediballs' eggs to breathe new life into the sacred tree!

FEATURES
· Experience an exciting mix of ACTION and EXPLORATION.
· SEEK OUT and COLLECT all of the Incrediballs and bring them home.
· Unleash the POWER of the Incrediballs to conquer epic adventures!
· CARE for the Incrediballs: feed them, play with them and even MAKE MUSIC together!
· GROW the tallest TREE in the world and soar above the COMPETITION!
· Set off on a gorgeous adventure with AMAZING VISUALS and CONTROLS!

Jump into the action and battle minotaurs, bandits and many other monsters in Rayman Adventures!
Journey through various mysterious lands, haunted medieval castles and the mythical worlds of Olympus and unravel their hidden secrets!

Download the legendary free-to-play Rayman platformer game that takes you on an adventure unlike any other!

Game available in: English, French, Italian, German, Spanish, Russian, Brazilian Portuguese, Danish, Finnish, Norwegian, Swedish, Turkish, Korean, Japanese, Arabic and Chinese.

PLEASE NOTE: This game is free to download and play but some game items can be purchased for real money. You can disable in-app purchases in your device's settings.
iPad Screenshots
Reviews
Marathon Coins
I love this game, but I opened it today to find my 800+ marathon coins gone. Very disappointed. I was saving them for Sandbox, and now I probably won't get him.
What's going on
Mr.turnyoazzout
on
1/23/2018
No iPhone X support
So addictive
But so glitchy at times. Since this last update I haven't been able to get any of the two new families that are winter themed—except when I just bought an egg from the "family of the day" special. I don't want to buy them, I want to find them, but I haven't found one on the map yet. They're specific to road story so I've been playing... well too much toad story.
Crashing
Big bad koala shaman
on
1/22/2018
Crashes on I pad 2 please fix this problem
great game but
its great game but problem is thta its not stable for iphone 4s its gletches and then turns off backs to home backround so fix it
Problems are a constant
It would be a 5 star game if they paid as much attention to debugging as they do selling toys and making useless videos of the characters. There are Constant Problems. The other major issue is the 4 hour wait to play the game every 3 mini games. I need to take the time to find something else to play.
By far Best Side Scrolling Adventure Game
I've had this game for over 3 years and it never ceases to amaze with awesome graphics and tons of fun. Just wish there were more girl characters that had more decent clothes. I mean it makes me feel embarrassed even as a girl. Other than that I like the game
Admittance yo stupid complaint
Okay.. I admit I did not read the description well enough on the frost bites being a new family that you can find on the map and making myself look like an idiot. But have you considered adding in former event incrediballs like the good-knights or the sandees or the luchadors? I mean people that have completed the basic families have nothing to do except for compete in marathons and opening golden tickets not getting anything. It would make the game much better and those people who didn't get a chance to get those incrediballs can now look for them on the map. Plz write back after reading this
Amazing game it's so fun but the reason for 3 Star is the glitches
jgfllfjglgfjgljf
on
1/21/2018
Whenever I try and go to get the other carecters the app closes and it freezes up when I try and do the online stuff please fix cool game though
This game is AWESOME!!
I wouldn't have gotten this game if I didn't have rayman legends for the wiiU first! I love games like these so keep making more! The graphics are really good so if Ubisoft does make more I would love them to make these graphics in their next game!
Awesome.
Domi gamer26
on
1/20/2018
So awesome! So speechless! Fun adventures. Never gets old. P.s I came here from growtopia.
I <3 this game
So far this game is vary fun.A little hard (made me rage quit one time) but sooooo much fun!!!
Omg
This is my first time and I love it but can you add an instagram person called ladeadpanda
Used to be good
SwordInTheLight
on
1/19/2018
I used to play this game all the time. Back when there actually were things to do. But it's getting ruined now. The only thing Ubisoft is adding anymore is special missions to collect new characters and Incrediballs. This gets very old very quickly. A special mission is good every once in a while, but not every month! We haven't seen any new features or regions in a year and I'm getting upset. The visuals are good and the gameplay is fun, though. Anyways, here's a full list of pros and cons. PROS: Fun to collect Incrediballs Can make music Cool music and worlds and artwork CONS: No new gameplay features Ads are spinning out of control! In-App purchases are EVERYWHERE! I have never, ever entered the app without being hassled about a new "Ubisoft Mega Pack" or something like that. One every once in a while is fine. But they expect you to spend, like, a hundred dollars in a week on this game. Please fix the issues in this game. I love this game and I know you guys can fix this! Thanks for reading.
Rahman adventures hangs and more
Zimbabweruins
on
1/19/2018
My app hung yesterday when I received Snot and the flower won't go beyond 590. Very annoying. I cannot play the game at all!! It is a great game but needs the bugs ironed out. Please fix this problem so that I can move on. I am reviewing this on my iPad because I can't continue on my IPhone. Help I have just finished playing the months long competition to get the Shoos and it's been 6 days since it ended and you can't make any progress in the game. All you can do is play the same levels over and over again to get diamonds, elexirs etc.Grrr I am continuing this review again because after this update the game is unplayable - it appears that the servers are down. On top of that we're repeating the same gameplay as Shoos. Do they not want people to play their game? So sorry but the game has hung again and I can't play it. I have played the Hell-o-wheel level and got all the eggs plus over 1000 bones and here we go again. Please, please sort your game out. Thank you so much for getting my game up again:( Not only did you delete my game and remove all my progress for the past year, over 5000 meters on the tree and 3000 coins, but you also deleted my second game with similar progress. So I will not start over and have now permanently deleted the apps from my devices. I will be sure not to download any of your apps again ever. Have to thank the developers. Their response was very positive and they restored my main game:) Just a quick note. I updated my game yesterday,1/18/18, to play the Desert Marathon challenge and OOPS I can read all the fun things you can collect but I can't actually play the game as it appears that there is no way to access it. Please fix this bug. I have already lost two days of play!!!!!!!!!!
PLEASE SUPPORT IPHONE X RESOLUTION
Seriously, I love Rayman, I get all the games when I can, but you need to keep up with the mobile trends! iPhone X and it's new-fangled resolution are here to stay. And if you don't wanna lose any fans you HAVE to update your game to support iPhone X. When you do that, then I'll add the last two stars.
Whay should be online?
It,s hard to be online whenever you want to play And in use lots of battery!
Great but many bugs
Its a great game but tooo many bugs. Crashes a lot. On my iphone 8 plus. Please fix it .
really good but..
always,in game that i play i can listen to music but unfortunately in rayman music stopped...pleas check it and fix it....thank you for this amazing game♥️🙏🏻
Please cancel the Rayman series
Had my game save deleted twice, you can't back up saves, money will literally be stolen from you and you can't get it back. Also, this is the most disgusting incarnation I've ever seen as an awful free to play greed fest. The run games were much more fun. Or play Rayman Legends for a far superior game.
Amazing game
This game is great and worth the 5 stars and I would recommend this game to everyone
Online
Make it online so u can race against people and upgrades for shoes and stuff like that
Yeah I like it not
Yeah I like it but there are a few more changes which is everything
Fun
Even if you think xbox or PS3 is better it is worth it
Fun Fun Fun
Love this game. Must have
I like this game I am Rayman fan but it's glitching
And I just came in this it was really fun but when I open the customize when I exit out the game just glitched I didn't get kicked out I just had to like to reset the game can you please on the bug please fix it
Love it but...
It's a very fun game but there are really no new updates. Same 4 places to go and all the levels are the same. No new creatures to hatch unless you want to spend 1.99 each. Also, one of my slots (I restated because I have all the available creatures on my 1st one) is stuck at hatching a creature it goes to switch to my tree and freezes there no matter how many times I restart. Seriously getting frustrated with the game. I barely play anymore.
Incredible
One of the best games i have ever played
Okay I have a suggestion, Please read.
This is overall an amazing game but I have a really serious suggestion... I accidentally bought 10 new creature elixirs when I meant to press one. My finger slipped and it landed on 10 new creature elixirs, I was saving up my gems for the future and I just wasted the majority of them on 10 new creature elixirs that I didn't need, so I think you should really make it so it asks something along the lines of "are you sure you want to buy this" before you get the thing(s) you wanted to buy because I got extremely upset when I realized that this happened. I don't exactly want this to happen again. But if you move past that, I will say this game is super duper fun and it never fails to make me entertained. :)
I love the classic games
Moechalfont2693
on
1/7/2018
It's so awesome I love the classic games
Amo Rayman
Mas é pra menores
on
1/5/2018
É muito Legal!!!
Ads override mute with max volume
Logic puzzles
on
1/3/2018
This game has many ad videos. I'm ok with that but I am not okay with those ads "resetting" the music and sound settings thereby suddenly blasting me with full volume noise despite the fact that my sound volume was previously low and my phone on mute. This is absolutely jarring and inappropriate. Very disappointing.
❤️❤️❤️
Rayman adventures is awesome even though I'm only nine I love it
Old times
This game is so amazing. I miss the days when me and my brother played rayman origins so I am happy I found this game
Awesome
Cupcake fights
on
1/1/2018
This game is so challenging and addictive.I recommend this to anyone who loves challenges!😋
Great game.
Love the game. Doesn't glitch at all. Works wonderful. And it's challenging!
No iPhone X Screen Support
LiAmber Nichole
on
12/28/2017
The game doesn't fill the screen making it appear very small. Too distracting to play for me.
Awesome
This game is fun and relaxing. It's the perfect combination
Great untill you hit 5100 m
This was a great Game untill 5160 m. Up until now there was always one egg with a new creature available on the map. Now, when using spyglass many times in a row to reveal available eggs I can see there is no eggs with creatures. Wait for 4 hours to get 15-30 gems is absolutely ridiculous. Off course you avoid all that if you pay for instant hatching. I was willing to make a purchase before to support the developers, but, no, not this way. Very disappointed and I'm deleting this game now.
Great Until It's Not
Findtheharmony
on
12/26/2017
I love this game! So much so, I have caught all of the "available" Incrediballs. Unfortunately, the developers have removed the exclusive Incrediballs from the game, unless you pay $1.99 per incrediball, through the "Family of the Day" promotions. DEVELOPERS, PLEASE BRING BACK THE PREVIOUS SPECIAL EVENT INCREDIBALLS, so the fun can continue!
Great game
This game is fabulous. I play it every day. I am always there to loo at all the updates
Awesome
This game is awesome there are a bunch of awesome levels and worlds this is one of the best games ever created you must play this game.
Ray's
Rayman Legends is really good. I think people should play and rate 5 stars.
Rayman Aventures
snapchat : snappyobishn
on
12/23/2017
When you're app has a update tell me
A good way to kill time ⏱
If I'm on a long road trip I just pull up the game and play for hours, but if I wanna get on the next level I have to put on Internet to hatch an egg which kinda bugs me. I am obsessed with this game! 👍🏼👍🏼
Great game just a few problems
I am a huge fan of the Rayman series and this game in general but I believe the program has a few bugs. When you pick three incrediballs at the start of the level and you die or you restart, those three that you picked are recycled and you have to pick new ones. It's really annoying. Also, you should have more incrediball families found on the map rather than the holiday ones. Much easier and more fun cuz at this point (and this is just me personal), they're more hassle than anything else.
iPhone X update needed!
Update the display compatibility please.
Fact Sheet
Publisher:

Ubisoft

Category:

Games

Released:

Oct 20, 2015

Current Version Released:

Jan 17, 2018

Version:

3.1.0

Size:

455.4 MB

Compatibility:

Requires iOS 9.0 or later.

Recommended Age:

4+

Game Center Certified:

No

Supported Languages:

Arabic; Chinese; Danish; English; Finnish; French; German; Italian; Japanese; Korean; Norwegian; Portuguese; Russian; Spanish; Castilian; Swedish; Turkish;