Recommended app!
App last updated
Apr 01, 2016
Screenshots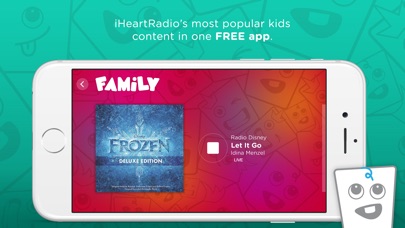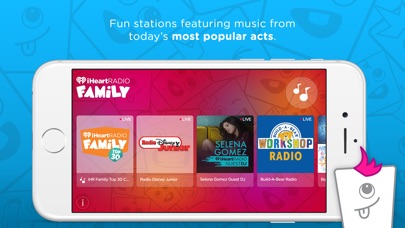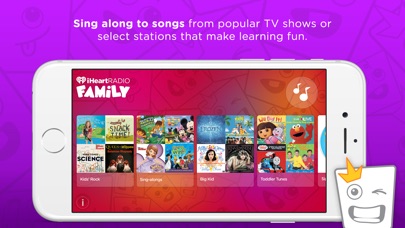 Description
iHeartRadio has a brand new app that provides the most popular kids content in one FREE app! Whether you are enjoying a family road trip or celebrating the holidays, iHeartRadio has THE BEST APP to listen to fun radio stations featuring music from today's most popular acts like Taylor Swift, Justin Bieber, Selena Gomez, Sam Hunt, Kelsea Ballerini and Dan + Shay on great stations like Radio Disney Jr., iHeartCountry Kids, and North Pole Radio. Plus music from characters that kids know and love from hit shows on Nickelodeon, Disney, PBS and more.

Your Children's Favorite Characters Are Now on One Free Radio App!
iHeartRadio Family has the best radio programs for kids. Get stations featuring top characters like:
- Dora The Explorer
- Elmo
- Thomas the Train
- Austin and Ally

Sing along to fun songs heard on TV or choose shows that will help your child learn important facts or listen to soothing music before bedtime. With our easy-to-use app, your children can spend their time in a safe, productive and fun way.
Our radio shows are specifically chosen to be;
- Entertaining
- Educational
- Safe
iPad Screenshots
Reviews
Really awesome!
I love this. My sister uses this all day! And it has great songs for kids.Every day I spend two hours of listening too all of these great songs. They are so awesome even my dad likes this. It's so awesome! In fact, it's so good that I'm listening to this while I write this review! You should do some updates and make this for kids and adults! I think you did good on this app.
⭐️⭐️⭐️⭐️⭐️
diamondcity24
on
8/19/2017
I love it but it could have more albums
Great app!!!!
Amanda Baratta
on
6/12/2017
This is a great app but it could have more albums.🙁 Also it has a lot of songs in the 10 albums !!!!😍😍😎😎😎😎😍😍😎😎😎😎😎😎😎😎😘😘😎😎😎
⭐️⭐️⭐️⭐️⭐️
KingdomPrenuer
on
6/11/2017
This app is awesome and has lots of Christian stations. I can allow my kids to listen without worrying what they will hear next
Iheartradio family
I like this app format design needs to change
Absolutely hate
Jacob makub
on
12/25/2016
I hate the app it doesn't have twenty one pilots like come on why not add heathans
Good music bad layout.
This app is too simple. It can't play in the background. It Donny show what's playing and it can't run with device in normal upright position which is very annoying.
Great app, but live stations need work
I love this app. There are lots of great stations with a variety of kids' music and even top 40 for the adults to enjoy too. I like that I don't have to worry about inappropriate language. My biggest beef with this app is that the live stations don't list the artist/song, which bothers me a lot as I want to know what I'm listening to if I like the song. Even regular FM stations in my car do this now so iHeart needs to get their act together to display this basic information.
Simple, safe & easy
Perfect companion soundtrack while playing with your kids or car rides! Put the tunes on and you won't have to worry about bad language. Great addition to the iHeartRadio family!
Great app!
Itwillalwaysbeshea
on
6/28/2016
This is a great app especially for my nieces. They love the story time station, Fairy Tales.
Giant Ad
cmdrquesadilla
on
4/30/2016
The whole app has been taken over by a giant Build-a-Bear ad and doesn't look anything like the screenshots. What a disappointment I thought I could lot my kid use this but not any more.
Love this
Micheleg0908
on
3/31/2016
Easy to use. Has great family music. I love all the choices. But I wish there was a Christian music station also.
Could be better.
Love the app. But a few things it needs. A way to rate stuff A sleep function Infinite skips or more than 5.
Love it
Amazing kids group
on
2/1/2016
Has perfect songs for kids and bleep out bad words. I listen it all day
Great
This is a great app! It's just amazing I have no words! I recommend this app
Santa needs an attitude adjustment
For variety and child friendly content, I give this app 4 stars. I hear songs on here that I don't hear anywhere else. I do wish I could hear people talking about Christmas memories and traditions like in the iHeartChristmas app. Also, I don't like how sassy, greedy, and entitled the "Santa" is in this station. His attitude certainly isn't what I would expect from Santa and isn't one I would want my daughter learning. It would be awesome if Santa's attitude was more like the Santas in the classic Christmas specials I grew up with.
Hey!!
My kids like this app but what happened to the Sing Along Songs. They are not their anymore??
Not age appropriate
MandPGarcia
on
11/28/2015
I downloaded the app based on the title , Family Radio, and the recommended age. Very surprised that Build a Bear Workshop radio is playing pitbull and a few other artist with very risqué songs. And the jokes Santa makes on the Christmas radio are a bit crude at times.
Great Selection
NannyEngineer
on
11/23/2015
I have two boys. And I always want a good selection of music, censored and a good variety! I have finally found it!! iHeartRadio Great app I recommend it for everyone with a family! Toddlers to teens to young adults. Great app!!!
Amazing App
Itwillalwaysbeshea
on
11/23/2015
Great stations and perfect for my kids
App
Jae Andrews
on
11/22/2015
This iheart family radio will not play any music.
Great For All!
Disappointed 510
on
11/16/2015
My kids love it. Something for kids of all ages. The rest of the family enjoys it too. Thanks for including classical. Great addition to iHeartRadio.
Just OK
I don't like how the search works and the music options are just ok
Great little app
Good selection of music choices for the kids and like how I don't have to worry about them finding something inappropriate.
Fun and easy to use
Great music and radio stations for kids of all ages. Such fun! And so easy to use. Love it!
My family loves this!
What a great and easy way to listen to music that the kids know and sing along to!
Great app for family time!
Great for road trips! My kids love it! Thank you iHeartRadio!!
Fun!
Great app for my 8-year-old. His favorite station is Kid's Pop. Love how easy the app is to use, very simple yet fun. Well done!
So great!
I've been waiting for a music/content app for my daughter. So excited about this!
Fun app!
Cool app, love the interface, looks bubbly and fun.
Dude, they listened!
Fab Five Fan
on
11/10/2015
I stumbled on this by accident, but glad I did. This is the soundtrack to my next family road trip - should be fun sing along for the kids! Really cool how iHR listens to feedback - I had asked for an app just like this last month
Perfect for the kids!!
BellaDonnaLisa
on
11/10/2015
Easy to navigate, colorful and fun. Acoustic time out is good for all of us in the car.
Perfect for my nieces!
Great app for the family!!
Fact Sheet
Publisher:

iHeartMedia Management Services, Inc.

Category:

Music

Released:

Nov 09, 2015

Current Version Released:

Apr 01, 2016

Version:

1.2.1

Size:

35.1 MB

Compatibility:

Requires iOS 8.3 or later.

Recommended Age:

4+

Game Center Certified:

No

Supported Languages:

English;