TapNova recommends this app!
New in version 2.3.14723
Battle Bay is now available worldwide! Now you can challenge opponents from all over the globe.
Other changes:
– New shop
– Brand new music
– Added support for more languages
– Various bug fixes

See the full patch notes on the forum at battlebay.net
Description
Face off against real opponents and own the waves in real-time team battles.

A real-time multiplayer battle arena in your pocket. Choose a ship, slap some guns on it and take to the waves with your fleet of teammates to trounce live opponents in five-on-five PvP contests of seafaring strategy and firepower. Smile and wave goodbye to your enemies!

Mobile Multiplayer Mayhem
The thrilling competitive fun of a team battle arena, right on your mobile device. Join a fleet of allies and take on competitors the world over in bite-sized battles among the rolling waves – all while you wait for the bus.

Choose A Ship
Choose between 5 ships, each with their own speciality – the Enforcer packs a powerful offensive punch, the Defender is a nearly indestructible floating tank, the Shooter can equip more weapons than you will ever need, the Speeder stays in the action with acceleration and agility, and the Fixer keeps your teammates floating. Upgrade your ships for more health, defence, speed, and firepower!

Weapons, Armor, Items, Abilities
Cannons, torpedoes, grenades – Collect, fuse and modify items with almost infinite variations. Choose from an arsenal of destructive or defensive items to fit your fighting style. Whatever it takes to keep you and your team afloat.

Get Strategic
Attack your enemies with a full on offensive assault, or play defense and capture the point. With different classes of ships to choose – each with their own unique abilities, and a motherload of weapons, armor, items, and perks, there is plenty of room for a wide range of battle strategies.

Join a Guild
Team up with your friends in a guild to chat with your guildmates while you conquer your enemies in combat. Guild leaderboards pit your crew against other bands of blast-happy captains. Who will be the best?

Quests, Achievements and Tournaments
Finish quests to earn gold and sugar or go on a quest marathon for a chance to earn rare loot! Achievements like destroying an enemy boat with your burning husk will earn you pearls you can exchange for just about anything! Also, prove your mettle by competing in a new tournament every 2 weeks for exclusive rewards!

VIP Subscription
Battle Bay offers a VIP subscription service that grants VIP Members exclusive benefits every week or every month.

VIP Subscription Benefits:
– +50% Ad-Free bonus to Battle Rewards
– 20% faster Crew Training
– One free Daily Shop Refresh
– Access to the VIP Chat Channel.

The VIP membership subscription is available as a weekly or monthly purchase at a price of $4.99 / week or $9.99 / month. Payment will be charged to your iTunes Account starting at the initial confirmation of the VIP Subscription purchase. Your VIP subscription will automatically renew 24-hours before the end of the current payment period.

Manage subscription auto-renewal in iTunes Account Settings. No cancellation of the current subscription is allowed during the active subscription period. Cancellation will take effect at the start of the next subscription period.

---

Terms of Use: http://www.rovio.com/eula

Privacy Policy: http://www.rovio.com/privacy

This game may include:
- Advertising of Rovio products and also products from select partners.
- The option to make in-app purchases. The bill payer should always be consulted beforehand.
- This application may require internet connectivity and subsequent data transfer charges may apply. After the initial download, additional content will be downloaded and this may include data charges.
iPad Screenshots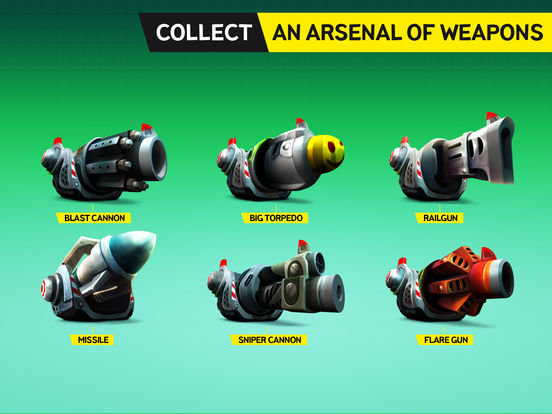 Reviews
Needs work Great game though
clash of clans foreverer
on
6/26/2017
The game needs a lot of work with the way you are paired with teammates I love the game but it makes me so angry when I keep getting paired with players who don't know how to play. I was at a 1000 infamacy and then dropped to 700 in a couple battles and it was all because I got unfair teams. Other people who play are so much worse than me but ride good teammates and build super high infamacy.
Cuuuuullll
:D i love every game!!
on
6/26/2017
So cuuuuullll. Just wish there werent cyberbullys like themanbearpig. Overall this game is so cuuuuullll and five stars for the physics and waves ⭐️ ⭐️ ⭐️ ⭐️ ⭐️
Vast amounts of fun
I highly recommend this one.
Bull Crap
Jakson Black
on
6/25/2017
Paid 10 bucks into this and it cheated me, game is half decent But i hate it when i'm cheated this has happened before 😡
Good luck climbing
MCPON MESSIE
on
6/25/2017
Firstly it is what it is, a free app looking for micro transactions. However I don't think it gives enough to deserve more than an "atta boy" for concept and design. The ships seem sluggish even when fully equipped with turbos, and the controls lack a certain sensitivity. Outside of that the match making process is lame, get used to carrying a whole team. I don't get less then 3 kills and dish out over 2000 damage. So gaining infamy is difficult to say the least. Still I'll spend a few minutes a day playing this in hopes it amounts to something 😁.
Battle bay
The Best game ever
Would be five but..._
The stupid tutorial wouldn't let me skip I know it's to help but I'm pretty sure I could have figured it out after the second time it was frustrating please allow the option to skip tutorial
Super Fun! 😉
Wow this game is so good and addicting I don't even know where to begin. It's like only the first hour I've played it, and I already know it's my favorite game!
best game ever
This game is the best one I have played... I cannot stop playing with every single day.
Good game
Great multiplayer game
Fun
MrS.. AwEsoME 👍👍👍
on
6/25/2017
Great so far
Good fun
My kids love this game. Lots of action right out of the gate!
Love the game it's very addicting
Datotherguy44
on
6/24/2017
😂
Suckers born every minute
I got this game because it was from Rovno, a name I put trust in. Totally misguided, I found out later. Anyone playing this game with the idea of winning, look elsewhere unless you have a lot of money laying around. There are so many things wrong with this game, I don't have enough space to list them. First, this game is like playing slot machines. You start the battle and the computer decides what is going to happen. The only difference is this game makes you go through 3 to 5 minutes of meaningless battle. I could go on Ana on about bugs (numerous times I had to fight 4 or 5 battles to get the 3 daily battle rewards. The system to decide the number of stars is all whacked out. I had over 2000 hit points and one sunken ship and got nothing. To wrap up, if I could give this negative stars, it sure would not get 1 star. So if you want to succeed in this, break out your credit cards.
Sugar
smart persan
on
6/24/2017
Add a way to get rid of sugar in a way that helps you
Best game ever
It it's so fun. And I just started and I'm loving it. Get it best game
Great game. But stop nerfing all the time!!!
Too much nerfing for no reason. Things are too expensive. Afk so annoying. But still great. I would love more maps and the ability to play with bigger teams. Suggestions!
Good not great
I had a lot of fun with this game at first, played it a lot, but after a certain point it seems impossible to progress without spending money on it. I got up to 1200 infamy and hovered there for many weeks, not able to get any higher. The most frustrating part of the game is the fact that everyone on the losing team loses the same number of trophies. I should lose less trophies than the guy that goes AFK if I led the team in damage. They need to make it so people who do more damage/heal more get less of a punishment for losing. Right now it's just angering.
This is awesome
Ducufjtrufud
on
6/24/2017
I love this game because you get to feel important and destroy other ships. The only disappointment is that it needs wifi but other than that it's been a great game so far.
Fun to play!
Give it a try guys!!!!!!
Very addicting!!
Simple and quick to fun!!
Good game,yet stupid
Kartepolo 123
on
6/23/2017
No reporting of droppers ruined everything. Eventually you would end up spending more money to climb the ladder
Fun but Frustrating
dezireel2010
on
6/23/2017
I have a love hate relationship with this game, you lose just as much as you win so makes it hard to gain infamy without paying big bucks. Many games now are like this though so I guess if you like this game and have the money to waste you will be able to enjoy it a little more than others. It's frustrating being on teams with people who you cant communicate with, even just being able to say stay back, dont follow, go left, go right, maybe target specific people on your team you're talking to... it would just help a lot, because not everyone is on the same page and it causes you to lose battles unnecessarily. It's pretty obvious that the game purposely sets you up with bad matchups so you can keep losing and want to spend money on upgrades. Everyone has around a 50% win ratio sooo.. just saying, its obvious. I just hope there is another big update coming up with some big changes to how they calculate infamy.
Wow!
Hi, you know that Battle Bay is fun so much! And you get just so cool ships! You should rate this app
Game is worth it
I like to play a game for a good week before I write a review. (First I'd just like to say, any WoT players will adapt fast!) I've been playing this one close to two weeks now, and it's well worth it. Now you need to remember it's PvP. So you will have ppl sitting in battle doing nothing Bc they want to drop "infamy." It's their way of a "trophy system." So of course that's annoying, but you'll soon find yourself doing the same thing if you stick with it. In-app purchases are worth your hard earned cash. Really well balanced and a subscription is the best bet. Don't worry! You can switch auto-pay off at any time. Be sure not to hoard too many weapons or you'll soon find yourself out of space. It's good to scrap! You're gonna to need it. I don't want to tell you everything, so go check it out for yourself. GREAT GAME.
Best game ever
I'd love for them to make a few more ships!!!
Great Game!
KingApollo233
on
6/23/2017
Awesome game, great graphics! You would love this game!👍
Great fun game
The game play is awesome I have but 1 flaw with game play and that is the inability to talk to teammates after you die. I have had multiple matches where enemy is capturing and my teammates doesn't see it and I have no way of warning them. Other than not being able to say the auto phrases when dead the game it self is AMAZING definitely a game worth downloading Thanks : DemoWeasel
Fun, but Way too frustrating for ftp!!!
Grandmatime2245245
on
6/22/2017
This game was fun until the recent update. Now, however, balancing teams is too simplistic and obviously groups paying players against free to play players. This uneven grouping must be improved. Don't be a fixer because it doesn't get star credit or stats. Gameplay is pretty good, but the game purposely pairs you with people who are dropping infamy to get stars more easily, so climbing the ladder is not possible unless you can win against 5 boats with at least one boat sitting in the corner doing nothing. Of course, if you dump a bunch of money into it, you can win....such an obvious ploy to make you drop cash into the game!!! Until they fix the dropping issue, or we are allowed to report droppers, this game will be almost impossible to play. It is fun for a bit, but do not bother if you are looking for long term, free to play, fun!!! Caution...don't bother watching the commercials, many (~40%) reset your iPad. They get paid for showing the commercials but you DO NOT receive the bonus for watching them!!! SKETCHY! But, if you pay a monthly fee, you get the bonus without the commercials, again an obvious ploy to force you to pay money to play...they think you are ridiculously stupid and you will not notice these money grabbing issues :(
JEEZ!!!
Ok I was originally gonna say that this is a new and creative game that is pretty fun but then... I saw the rating, it's 12+, why Rovio?! And it's not like it deserves that rating, I mean sure there's guns... But there isn't blood or anything! I actually thought that you guys were trying to do something new, fun and still kid friendly, but it turns out that you just made another crappy peice of non-kid friendliness! At least this isn't a AB game, but even then they're becoming more mature too.
It's cool
INCREDIBLE 201
on
6/22/2017
It's cool but it need more stuff to do like mini games or something and it would be cool to customize your tank
Fleet Up
Needs more members for fleet. I play daily with my friends and family. Would greatly appreciate it. #BB
Battle bay
Best game ever I love the fact that you have to upgrade your boat in order to destroy your opponents
Battle bay
This game is awesome
Good
Catlover37484927
on
6/22/2017
I love it I just wish it was easier to control the boat
Rigged
The matchmaking system is made for you to fail. Just like any 5v5 game on mobile devices. The progression takes forever!! If you mess up oh well. If you want to correct it you are expected to waste more time. Not a game worth taking time to play.
One word: Addictive
SilverScotty
on
6/21/2017
Super fun and it can get intense. Game is free but if you intend on actually achieving anything, get ready to spend some money. This game has two types of players. The ones that play a lot and earn things and the ones that buy their way into the game. If you like the game figure out which one you are early on.
Fun game
Takes awhile to level everything up but I'm enjoying it.
Very good
Captain mxmus110
on
6/21/2017
I highly recommend this to w.o.w. Fans and I like this in greater in general
Great
LeggoMyGreggums
on
6/21/2017
Awesome game so far
Love it!!👌👌👍👍
This game is amazing! Perfect game to kill your time and amazing way to be a strategic person while being in the action! One thing that disappoints is that the game doesn't work well without wifi (unless with like 4G and with like 5 bars). That one issue is not enough to put me down to 4 stars just of how much I love it!
The best
hubertborj01
on
6/21/2017
My kind of game
Kinda Good, but with downsides.
This 5v5 game is totally worth the excitement but it's really terrible since there's some unbalancing things like how you would just instantly become a prime target by 5 unfriends or how your ship is completely terrible because you didn't focus on it. It's pretty hard to catch up with the other ships and whatnot, and the game here is really meant for rage.
Fact Sheet
Publisher: Rovio Entertainment Ltd
Category: Games
Released: May 03, 2017
Current Version Released: May 19, 2017
Version: 2.3.14723
Size: 483.8 MB
Compatibility: Requires iOS 8.0 or later.
Recommended Age: 12+
Game Center Certified: No
Supported Devices: iPad2Wifi-iPad2Wifi, iPad23G-iPad23G, iPhone4S-iPhone4S, iPadThirdGen-iPadThirdGen, iPadThirdGen4G-iPadThirdGen4G, iPhone5-iPhone5, iPodTouchFifthGen-iPodTouchFifthGen, iPadFourthGen-iPadFourthGen, iPadFourthGen4G-iPadFourthGen4G, iPadMini-iPadMini, iPadMini4G-iPadMini4G, iPhone5c-iPhone5c, iPhone5s-iPhone5s, iPadAir-iPadAir, iPadAirCellular-iPadAirCellular, iPadMiniRetina-iPadMiniRetina, iPadMiniRetinaCellular-iPadMiniRetinaCellular, iPhone6-iPhone6, iPhone6Plus-iPhone6Plus, iPadAir2-iPadAir2, iPadAir2Cellular-iPadAir2Cellular, iPadMini3-iPadMini3, iPadMini3Cellular-iPadMini3Cellular, iPodTouchSixthGen-iPodTouchSixthGen, iPhone6s-iPhone6s, iPhone6sPlus-iPhone6sPlus, iPadMini4-iPadMini4, iPadMini4Cellular-iPadMini4Cellular, iPadPro-iPadPro, iPadProCellular-iPadProCellular, iPadPro97-iPadPro97, iPadPro97Cellular-iPadPro97Cellular, iPhoneSE-iPhoneSE, iPhone7-iPhone7, iPhone7Plus-iPhone7Plus, iPad611-iPad611, iPad612-iPad612, iPad71-iPad71, iPad72-iPad72, iPad73-iPad73, iPad74-iPad74,
Supported Languages: English;
Parental Advisory: Intense Cartoon or Fantasy Violence; Suggestive Themes; Mild Profanity or Crude Humor;