Screenshots
New in version 2.4.15107
-Introducing Mk7 ships
-New item: Repair Bolt
-Battle Log
-Bug fixes & improvements
Description
Face off against real opponents and own the waves in real-time team battles.

A real-time multiplayer battle arena in your pocket. Choose a ship, slap some guns on it and take to the waves with your fleet of teammates to trounce live opponents in five-on-five PvP contests of seafaring strategy and firepower. Smile and wave goodbye to your enemies!

Mobile Multiplayer Mayhem
The thrilling competitive fun of a team battle arena, right on your mobile device. Join a fleet of allies and take on competitors the world over in bite-sized battles among the rolling waves – all while you wait for the bus.

Choose A Ship
Choose between 5 ships, each with their own speciality – the Enforcer packs a powerful offensive punch, the Defender is a nearly indestructible floating tank, the Shooter can equip more weapons than you will ever need, the Speeder stays in the action with acceleration and agility, and the Fixer keeps your teammates floating. Upgrade your ships for more health, defence, speed, and firepower!

Weapons, Armor, Items, Abilities
Cannons, torpedoes, grenades – Collect, fuse and modify items with almost infinite variations. Choose from an arsenal of destructive or defensive items to fit your fighting style. Whatever it takes to keep you and your team afloat.

Get Strategic
Attack your enemies with a full on offensive assault, or play defense and capture the point. With different classes of ships to choose – each with their own unique abilities, and a motherload of weapons, armor, items, and perks, there is plenty of room for a wide range of battle strategies.

Join a Guild
Team up with your friends in a guild to chat with your guildmates while you conquer your enemies in combat. Guild leaderboards pit your crew against other bands of blast-happy captains. Who will be the best?

Quests, Achievements and Tournaments
Finish quests to earn gold and sugar or go on a quest marathon for a chance to earn rare loot! Achievements like destroying an enemy boat with your burning husk will earn you pearls you can exchange for just about anything! Also, prove your mettle by competing in a new tournament every 2 weeks for exclusive rewards!

VIP Subscription
Battle Bay offers a VIP subscription service that grants VIP Members exclusive benefits every week or every month.

VIP Subscription Benefits:
– +50% Ad-Free bonus to Battle Rewards
– 20% faster Crew Training
– One free Daily Shop Refresh
– Access to the VIP Chat Channel.

The VIP membership subscription is available as a weekly or monthly purchase at a price of $4.99 / week or $9.99 / month. Payment will be charged to your iTunes Account starting at the initial confirmation of the VIP Subscription purchase. Your VIP subscription will automatically renew 24-hours before the end of the current payment period.

Manage subscription auto-renewal in iTunes Account Settings. No cancellation of the current subscription is allowed during the active subscription period. Cancellation will take effect at the start of the next subscription period.

---

Terms of Use: http://www.rovio.com/eula

Privacy Policy: http://www.rovio.com/privacy

This game may include:
- Advertising of Rovio products and also products from select partners.
- The option to make in-app purchases. The bill payer should always be consulted beforehand.
- This application may require internet connectivity and subsequent data transfer charges may apply. After the initial download, additional content will be downloaded and this may include data charges.
iPad Screenshots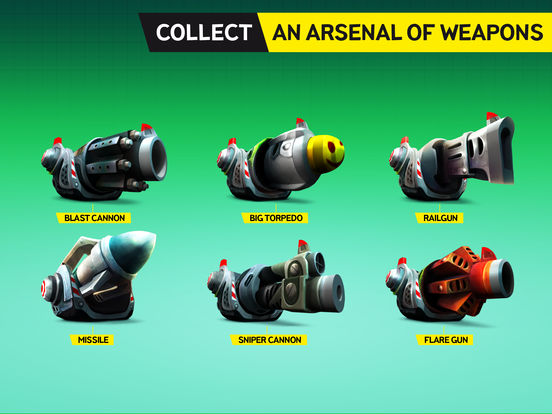 Reviews
very good
very good and excellent game
Really great game
Djgonzalez777
on
8/21/2017
Fun and creative
Good game
Which there was a better need for medics, not good enough when healing don't get more then 2 stars.
Rubbish developer
Dont download this trash app Wasting time
Battle bay
Five stars great game
Great game!
potatoblock01
on
8/20/2017
This game is extremely fun and not to hard for beginners because it's really hard to play if ur new at some games but this one has it very fair I've not been playing it for too long but it's already my favorite game!
⭐️⭐️⭐️⭐️⭐️
The Don Mano
on
8/20/2017
Great game and u should make it so u can have 5 guns available as well
Best RPG ever
Fun RPG to play with friends or alone
Nice
This game is really awesome!!!
Great Game
Boondocksaint66
on
8/18/2017
Addicting
Awesomeness
str8killer98
on
8/18/2017
Awesomeness
Battle Bay
Awesome game I love it !!
So far so good loving it in the early stages of the game
Yup
Very gud
Very fun not to addictive so far loving it
BGE
Straight-upFacts
on
8/16/2017
Best game ever. That's all you need to know. Get it
Gg
honest review but lazy
on
8/16/2017
Try it it's functionality is good
Love it
Springrain12003
on
8/16/2017
Love it
Great Game
PonderPlayer21
on
8/15/2017
This felt like a great break from angry birds. I'll look forward to whatever Rovio puts out next
Nice game but Bad Customer Support
I'mnoturbabe7060
on
8/15/2017
It's a great game to play but customer support service is really really bad. 😒😒
Good concept but a terrible game for new players.
I like the game don't get me wrong but as it stands I can't progress due to high tier players intentionally abusing the terrible matchmaking system, since before I was even high enough lvl to get a mk2 I've been lucky to find a match where the enemy team was not a minimum of mk3 and mine full of mk1/mk2 and even when I get the highest damage in the lobby I still lose due to enemy ships having 2-3k hp each vs my 950. Like I said it has potential but until this obviously broken matchmaking system is fixed I can not recommend new players to this game.
Mortars ruin the game
The game in its current state is unplayable. With random team pairs it always seems you get some kind person with a ship full of mortars who contributes nothing and you end up with a 5vs4. Im currently captain rank 27 and nothing drops at a higher than uncommon level unless you pay to win. Even then, you don't get to choose the weapons you get from chests or part upgrades so if you want a specific epic weapon you need to pay over $25 for it. Shooter ships have 4+ weapon slots at this level so it's only pay to win at this point. Lots of potential, but too bad Rovio isn't supporting this game like their 4674368th version of Angry Birds seems to get. This game will most likely be dead in a few months
Fast & furious
Love the graphics and explosions
it's high noon
NinjaCheeseburger
on
8/15/2017
genji deflect pow
Potential to be great, but isn't
The biggest issue is the scoring system. It's a 5 vs 5 battle, random although supposedly even, yet somehow incredibly streaky. It's not uncommon to lose 10 in a row. Especially when your "quest" at the moment is simply to win 3 battles. In those losses you can have twice the stats of any boat for either team, yet your individual score goes down with each loss. If you're going to be ranked individually overall then the scoring should be on an individual basis per match. Guilds are pointless compared to other similar games. 80% are shooters because people want to shoot, it's a game where you have to shoot the enemy to win. Fixer needs a 2nd weapon badly, why go to mk4 and still only one weapon?
So much promise....
And so little thought put in to match making. Word of advise, unless u plan on spending a lot of money don't bother playing
Nice game
It's a good game
I'm the murder
Capskullbraeker
on
8/14/2017
Everyone give me back up and I'm lvl 3 and I'm winning every round and my team also get kills
It's great
solidbuffaloe
on
8/14/2017
It's so fun and addicting I want to play it all the time
Very fun!!
Just downloaded this game and am now hooked. Great game!
Here is a idea!
Grandmatime2245245
on
8/13/2017
This game can be loads of fun! Unfortunately, it can be really frustrating, too. The balancing of teams is way too simplistic and MUST be addressed. One side will have 3 shooters a fixer and a speedster, while your side has 1 shooter and 4 speedsters. The other major problem is still high ranking players dropping infamy so they can easily get 3 stars every match, or seal clubbing. While they have tried to address this issue, they have failed. Here is an idea, how about pairing players using highest infamy during the season, while taking into consideration boat type and weapon level. That way players won't face legendary weapons while they are still stuck with rare weapons! CAUTION: DO NOT PLAY THIS GAME ON SEASON WEEKENDS!!! After "legendary" players get their season high, they will rush into danger for the next 20 games and lose on purpose. This is so frustrating for those of us who choose not to cheat! Either that, or they are such awful players who have been carried to high season totals. Hope you are not paired with a loser with 3 legendary weapons! You WILL lose!
Simple and fun to play.
Great fun and simple to play.
Pefect but
Samer Kherit
on
8/13/2017
Its a pefect game great work but can you ad like if you kill 3 enemy you get a drone with you or like a somthing to help a reward for your kills great work😃
Nice game
Enjoy a lot playing it
Good game
Boss man1992
on
8/12/2017
Good game
Is this it I'm jaystation
Is this the game that jay said he would give a $50 amazon gift card on YouTube
Why cant you have a more poered guns
GigiHadidNot
on
8/12/2017
Idk
Cheats on air/ Pay to win
The Laugh of Nefertiti
on
8/12/2017
I'm pretty sure most of players didn't pay for all these epic and legendary weapons, they even didn't battle as much as me, they have no tactical moves, no idea how to war but they all have impressive guns. Download some hacktools to android and that's it. I hope Rovio bans them but I don't think so. They don't effort for this unimportant little detail! Ah are you asking for fun, oh yes it is. Absolutely good game, would be great in equal or at least fair situation like without any cheat or other bullshits, sorry. Ah and the last words for bugs, yes folks unfortunately there are some bugs in game e.g. sometimes my ship go through a rock and can't leave, really I'm serious. And enemies having really fun at that times, they wreck my ship slowly, fire a gun and wait then fire other ship, you can't leave a game if you don't close.
Solid fun
I've been playing for a few weeks. This game is fun and engaging.
Battle bay juego multijugador
leonidassalvador
on
8/11/2017
Muy divertido y fácil de usar
Gosh dang glitches
Jeremy clausen
on
8/11/2017
I keep getting kicked out of the game(but it is a really good game)
Good game but a copy.
I played this game for five minutes and played my first match and it's a total copy of world of tanks.
Completely addicted
Have played for a month almost every day. Have not spend a cent and highly entertained. Teamwork always works best
Lacking
2 stars only. Reason why is 1) its far from a fleet having only (2) players at a time. This really makes having or being in a guild pointless. Developers I know you guys are on the same page w me and the many many other players who has to agree w me. Otherwise a good game w absolute potential to be a GREAT GAME w the help from the developers!!! When and if it ever becomes guild vs guild (5 vs 5) I would give this game 10 *s. I'll even buy them if I have to from the iTunes Store haha!
Fact Sheet
Publisher:

Rovio Entertainment Ltd

Category:

Games

Released:

May 03, 2017

Current Version Released:

Jun 29, 2017

Version:

2.4.15107

Size:

493.9 MB

Compatibility:

Requires iOS 8.0 or later.

Recommended Age:

12+

Game Center Certified:

No

Supported Devices:

iPad2Wifi-iPad2Wifi, iPad23G-iPad23G, iPhone4S-iPhone4S, iPadThirdGen-iPadThirdGen, iPadThirdGen4G-iPadThirdGen4G, iPhone5-iPhone5, iPodTouchFifthGen-iPodTouchFifthGen, iPadFourthGen-iPadFourthGen, iPadFourthGen4G-iPadFourthGen4G, iPadMini-iPadMini, iPadMini4G-iPadMini4G, iPhone5c-iPhone5c, iPhone5s-iPhone5s, iPadAir-iPadAir, iPadAirCellular-iPadAirCellular, iPadMiniRetina-iPadMiniRetina, iPadMiniRetinaCellular-iPadMiniRetinaCellular, iPhone6-iPhone6, iPhone6Plus-iPhone6Plus, iPadAir2-iPadAir2, iPadAir2Cellular-iPadAir2Cellular, iPadMini3-iPadMini3, iPadMini3Cellular-iPadMini3Cellular, iPodTouchSixthGen-iPodTouchSixthGen, iPhone6s-iPhone6s, iPhone6sPlus-iPhone6sPlus, iPadMini4-iPadMini4, iPadMini4Cellular-iPadMini4Cellular, iPadPro-iPadPro, iPadProCellular-iPadProCellular, iPadPro97-iPadPro97, iPadPro97Cellular-iPadPro97Cellular, iPhoneSE-iPhoneSE, iPhone7-iPhone7, iPhone7Plus-iPhone7Plus, iPad611-iPad611, iPad612-iPad612, iPad71-iPad71, iPad72-iPad72, iPad73-iPad73, iPad74-iPad74,

Supported Languages:

English;

Parental Advisory:

Suggestive Themes; Mild Profanity or Crude Humor; Intense Cartoon or Fantasy Violence;