Screenshots
New in version 2.6.16825
- Gain XP from battles!
- Improved the tutorial!
- Improved matchmaking!
- Improved Mk1 and Mk2 ships!
- Captain Journey!
- Improved in-battle commands!
- Added basic support for iPhone X!
Description
A real-time multiplayer battle arena in your pocket. Choose a ship, slap some guns on it and take to the waves with your fleet of teammates to trounce live opponents in five-on-five PvP contests of seafaring strategy and firepower. Smile and wave goodbye to your enemies!

Mobile Multiplayer Mayhem
The thrilling competitive fun of a team battle arena, right on your mobile device. Join a fleet of allies and take on competitors the world over in bite-sized battles among the rolling waves – all while you wait for the bus.

Choose A Ship
Choose between 5 ships, each with their own speciality – the Enforcer packs a powerful offensive punch, the Defender is a nearly indestructible floating tank, the Shooter can equip more weapons than you will ever need, the Speeder stays in the action with acceleration and agility, and the Fixer keeps your teammates floating. Upgrade your ships for more health, defence, speed, and firepower!

Weapons, Armor, Items, Abilities
Cannons, torpedoes, grenades – Collect, fuse and modify items with almost infinite variations. Choose from an arsenal of destructive or defensive items to fit your fighting style. Whatever it takes to keep you and your team afloat.

Get Strategic
Attack your enemies with a full on offensive assault, or play defense and capture the point. With different classes of ships to choose – each with their own unique abilities, and a motherload of weapons, armor, items, and perks, there is plenty of room for a wide range of battle strategies.

Join a Guild
Team up with your friends in a guild to chat with your guildmates while you conquer your enemies in combat. Guild leaderboards pit your crew against other bands of blast-happy captains. Who will be the best?

Quests, Achievements and Tournaments
Finish quests to earn gold and sugar or go on a quest marathon for a chance to earn rare loot! Achievements like destroying an enemy boat with your burning husk will earn you pearls you can exchange for just about anything! Also, prove your mettle by competing in a new tournament every 2 weeks for exclusive rewards!

VIP Subscription
Battle Bay offers a VIP subscription service that grants VIP Members exclusive benefits every week or every month.

VIP Subscription Benefits:
– +50% Ad-Free bonus to Battle Rewards
– 20% faster Crew Training
– One free Daily Shop Refresh
– Access to the VIP Chat Channel.

The VIP membership subscription is available as a weekly or monthly purchase at a price of $4.99 / week or $9.99 / month. Payment will be charged to your iTunes Account starting at the initial confirmation of the VIP Subscription purchase. Your VIP subscription will automatically renew 24-hours before the end of the current payment period.

Manage subscription auto-renewal in iTunes Account Settings. No cancellation of the current subscription is allowed during the active subscription period. Cancellation will take effect at the start of the next subscription period.

---

Terms of Use: http://www.rovio.com/eula

Privacy Policy: http://www.rovio.com/privacy

This game may include:
- Direct links to social networking websites that are intended for an audience over the age of 13.
- Direct links to the internet that can take players away from the game with the potential to browse any web page.
- Advertising of Rovio products and also products from select partners.
- The option to make in-app purchases. The bill payer should always be consulted beforehand.
- This application may require internet connectivity and subsequent data transfer charges may apply. After the initial download, additional content will be downloaded and this may include data charges.
iPad Screenshots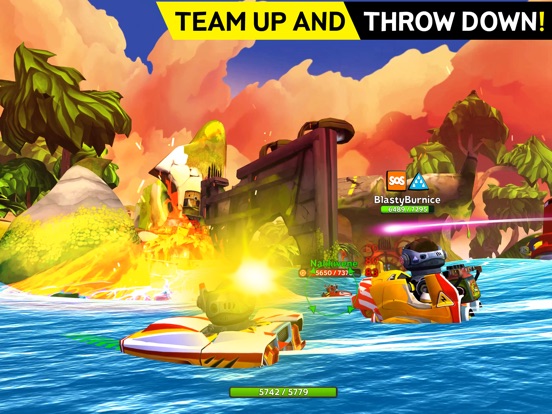 Reviews
Terrible Matchmaking
The current version of matchmaking is absolute garbage. This game was fun before that. Unbalanced!
Great
KiddGetItDone
on
12/10/2017
But wish there was better ways too get stuff instead of money
AWESOME, DO BUY!!!!!!!!!
This is such a fun game, you have to get it! 🍷🍻🥂🍸🍹🍾🍺🍸🥂🍾🍺🍷🍻🍹🍻🍷🍹🥂🍸🍺🍾
Why we should have guild battles
Guild Battles Please?
on
12/9/2017
We should have guild battles to see how powerful our guild is, it also makes guilds more fun.
Unfair
Uriejsjxnsnms
on
12/8/2017
It's shame I'm giving this one star because although the game is pretty decent and fun at times, my account was randomly banned for 2 weeks for "harassment" even though I didn't do anything. My guess is that people were mad at me for beating them and they all reported me, if you get enough reports even if you're innocent the devs just assume you're guilty and ban your account for 2 weeks right off the bat. Not cool fix this garbage system.
Rebueno y muy especial
Yo le di 5 y está muy bien hecho 😲😲😺👌🏼👍🏼👍🏼
Good game, but watch out.
It's a good game and all, but if you stick around in the chat long enough, you'll learn a swear word or 2.
Guild tokens not receive
When Rivalry season ended, I did not receive the guild token award. Please fix...
Decent and fun
Lucky duckkky
on
12/5/2017
It's a simple game and action packed. Worth a few hours but devs messed up some boats, so if you did any work with those your screwed
Love it
Fun, exciting and everything a good game has to offer!
Fun game......BUT
This game could be so great....BUT, the matchmaking is ABSOLUTE crap! Far too many overpowered players in the lower arenas and I understand the pay to win parts of these games but it doesn't make me want o spend money on a system that is so flawed. Fix it and I will reconsider.
Fun but...
It's very fun but match making needs a lot of work. I keep getting put in games with mrk3 or higher...not bad but I only have a mrk 1. I just turn into bait and hide 99% of the game not very fun.
Good But Hard
This game is too fun but what is not good is that you can only play online we need NPC Battles in this game if a creator is reading plz do it☹️😣
Install now
Octet to cat
on
12/4/2017
Really great game, love the easy to play layout and just it's general uniqueness. I would like to see soon a new game mode
Wonky controls
Can't aim where I want to aim and drive my boat where I want to go. Seems clunky and slow. Honestly it's kind of gross how sluggish the controls are. I played around 30 games and barely played any real people "online". This game looks good but it's a serious waste of time. It looked so promising! Sad.
I'm battling 800-900, when I'm V5 shooter, ranked now in 396!!!!
James Elroy Phillips
on
12/3/2017
Refer to above statement 👆🏻, it seems unfair, I liked it the way it was. It's the same class ship (ie: v5, v2) Please fix it, before I uninstall the game🤨😒
The match making is terrible
It just keeps happening.
Good
Why can't you just rename your nickname
iPhone X Update
Where's the iPhone X update cmon y'all slacking
Awesome
Ssssyuuuuppppppp pirate
on
12/2/2017
Best gane
Good game
Vince and Nina
on
12/2/2017
Good game, somewhat fun
Player
I love the game and it's so easy to get money to buy new Barlow ships
Love it!😄
turtle puff2
on
12/2/2017
This game is awesome because it's a battle game and it's really easy to shoot boats and easy to learn:)
A very bad app
This game is really a great 5v5 game but sometimes when you enter the game it crashes the game, so we need a new update on this app that can get really amazing. I can't get this done. We need Rovio to fix this!!
Cooool
I love how it's against real people.
Do not spend money
Fun game, however there are many issues that need to be resolved. Extremely unfair and unbalanced game play due to poor team matching. It will get very frustrating when you lose many battles in a row because of team selections. I've had to battle on a team facing 3 fixers and 2 shooters and our team had no fixers. Not an ideal setup. Game play can get glitchy. The radar is a joke. One second the enemy is there the next second they disappear only to reappear right in front of you. I've been obliterated in 5 seconds from the start of the game by unseen enemies. Not complaining about my ship's destruction but the fact that apparently the enemy had me locked in and saw me but I could not see them. The ships aiming and targeting function is jumpy. It jumps from one enemy to another too easily causing many misfired shots. Overall the game is fun but some improvements need to happen to level the playing field or you will forever be frustrated with this game. Update- still 2 stars. Radar is still suspect. Needs to be fixed. Enemy is tracked at a distance but as they get closer they disappear. Next thing you know they are right behind without seeing them. Very frustrating. Major problem.
I love this game but
buttch3cksuranus
on
12/1/2017
i love it but can you make a p2 please I've been waiting SOOOOOOOOOOO LONG
iPhone X support
Need some support for the X users Resolution and the app exit bar under the screen. except these everything is great
Great Game but needs work
You'll get 5 stars when you start using the whole iPhone X screen and when matchmaking starts making sense.
DaBestCaptin
Udsfwethkcsf
on
11/29/2017
This game is amazing buy it!!!
Matchmaking needs work
Matchmaking into other players who are 2 - 3 boats evolved than you is unfair. Happens in 200-300 infamy level. Matchmaking should place you in same power level players. This game feeds those that spend money to buy currency and level faster than those that don't. This is a pure pay to win game. It shouldn't start out that way and considering you bump into this after a couple wins really makes the game not worth the time. Slow drips of Xp / Gold / Sugar just infuriate after a hard win. Fix your matchmaking.
Great game but dang
Thiskdkdksnxnjx
on
11/28/2017
fix the do it takes way to long to upgrade and upgrading people barley move you up
Not Worth It - No Fun Anymore
Was a great game until they updated it. Who wants to play with others that are way better and you constantly lose all the time! Just lost 10 games in a row! Don't get this until they fix this issue - if they even do.
Invite people to play it!
It is so addictive and so fun!If I like a lot of people would like it🙂
Matchmaking
spiderjocley6547
on
11/27/2017
Matchmaking needs a lot of work.I got my first rare weapon which is good.But I am being match up with level 3 and 4 ships.im barely a level one ship.improve the matchmaking by ship levels.for example,I'm a level one ship so I should be match up with level one ships.
It's the best and so am I
It's the best! And I am to the other team had five players that's the max I was the only one on my team I came back!!!!!!!!!!!!!!!!!! I won not lying I sware it's so fun!!!!!!!!!!!!!!😁😁😁😁😁😁😁😁😁😁😁😁😁😁😁😁😁😁
It a good game
Very good game to play like it a lot 🤤👌🏽
Love it but...
This is my favorite game on my phone currently. And rovio always makes great games to play. The reason I give 4 stars is because I. The past recent weeks of me playing there has been some shady crap going on in the game. I don't know if this is a mistake or on purpose but it has cost me a crap ton of pearls. When I train people and then I go do a battle, when I come back from said battle it says In the top right (ex) "Brock is done training to level 9". Then I go In the training area and it says that there is like 6 hours left. So basically the game is telling me the people are done training when there not. In my last review I addressed the matchmaking which was crap. It got a lot better and more fair but now this is happening so I can't force myself to give the game 5 stars. I have lost over 500 pearls because I thought the guy was done so I clicked the button that says "speed up?" Thinking that is was the "pick ability" button. I am asking for a refund on gems but if I don't get one I completely understand. Other than that one tiny issue it's a great game
Is it True? But still Amazing Game!
19271927193729382938293736182
on
11/25/2017
Hello! I was going to ask if this was true! When I Installed This game it said that "This game is free to play but it will save progress on any app purchase" then I got worried I tried testing it but it made my phone a bit laggy and I've been playing this game for 6 Months thanks
DO NOT PLAY THIS GAME!!!
Grandmatime2245245
on
11/25/2017
This game is severely punitive when you fail to maintain a high level of play, so if you have a bad week of play, you are screwed forever! This game is quite simply no fun!!!! It was, before the anti-tanking tool ruined the game; now, if your infamy falls below your HIGHEST EVER achieved infamy score, you are sent to Battle Bay purgatory. You get severely diminished rewards, no stars and you still must play against the higher level players. It simply is not possible to play your way out of this black hole created by the anti-tanking infamy tool! I have been stuck here for months, and because I cannot consistently win 75% of the matches, I will never get out. When "customer service" was asked about this black hole, they responded that this is how they want the tool to work! At some point they must realize folks are not tanking to get more stars, because you can't get stars from here! It should be obvious to even these developers that some of us are trying to get out of this hole, but they have made it impossible to do so. The poorly written and unsophisticated anti-tanking infamy mechanic is an absolute failure and it has completely ruined this game! The mechanics judge play based on all-time high infamy, so if you have a lucky streak your game is basically broken! No other game will punish you for not maintaining your ABSOLUTE HIGHEST SCORE! This is a truly absurd requirement!!! The newest moronic addition is guild quest, in which players must use weapons and boats they have not leveled in an attempt to satisfy guild quests. Now they encourage players to drop even further into the black hole of the anti-tanking tool. Apparently, only idiots work on this game, and they certainly don't play it (unless they power their stuff for free). With such stiff penalties for losing infamy, this guild quest idea is simply bad! DO NOT PARTICIPATE OR YOU WILL GET SUCKED DOWN WHERE THERE IS NO COMING BACK!!!!! This game had potential, but the moronic anti-tanking tool makes this game a one-star game at best (only because you cannot give zero stars). Skip this game!!!!! Games are supposed to be fun; this game punishes you severely for simply playing at your true skill level! I wish SuperCell ran this game so it would be done right!
Good game but
Dogewhisper
on
11/25/2017
I feel like that you should add like a thing to it would pair you with opponents that are the same level or rank as you so it wouldn't be so easy to win
Good game
MiamiKigali0909
on
11/25/2017
Good game but maybe add rapid fire
Great game
Hello Rovio. You have made a great 5v5 game it has now become my new go to games. It I think you should add the following, 1 you should make a scope so you can perfect your shots 2 make more people be able n your boat helping you defeat bad guys and it should help the people who just stated to play the game. People who want to download this game you definitely get it it's a great game.
Rated 5
My nickname is axz54
on
11/25/2017
Gg I did it rite
The best game ever.
Braylen Grissett
on
11/25/2017
The best game with battling boats.
Addicting
Purely awesommmeeee :) no joke
This game is cool
Makhias Romain
on
11/25/2017
This game is awesome, I do think that you need to fix a few things. But over all a great game!!❤️❤️❤️
Fact Sheet
Publisher:

Rovio Entertainment Ltd

Category:

Games

Released:

May 03, 2017

Current Version Released:

Nov 16, 2017

Version:

2.6.16825

Size:

546.3 MB

Compatibility:

Requires iOS 8.0 or later.

Recommended Age:

12+

Game Center Certified:

No

Supported Devices:

iPad2Wifi-iPad2Wifi, iPad23G-iPad23G, iPhone4S-iPhone4S, iPadThirdGen-iPadThirdGen, iPadThirdGen4G-iPadThirdGen4G, iPhone5-iPhone5, iPodTouchFifthGen-iPodTouchFifthGen, iPadFourthGen-iPadFourthGen, iPadFourthGen4G-iPadFourthGen4G, iPadMini-iPadMini, iPadMini4G-iPadMini4G, iPhone5c-iPhone5c, iPhone5s-iPhone5s, iPadAir-iPadAir, iPadAirCellular-iPadAirCellular, iPadMiniRetina-iPadMiniRetina, iPadMiniRetinaCellular-iPadMiniRetinaCellular, iPhone6-iPhone6, iPhone6Plus-iPhone6Plus, iPadAir2-iPadAir2, iPadAir2Cellular-iPadAir2Cellular, iPadMini3-iPadMini3, iPadMini3Cellular-iPadMini3Cellular, iPodTouchSixthGen-iPodTouchSixthGen, iPhone6s-iPhone6s, iPhone6sPlus-iPhone6sPlus, iPadMini4-iPadMini4, iPadMini4Cellular-iPadMini4Cellular, iPadPro-iPadPro, iPadProCellular-iPadProCellular, iPadPro97-iPadPro97, iPadPro97Cellular-iPadPro97Cellular, iPhoneSE-iPhoneSE, iPhone7-iPhone7, iPhone7Plus-iPhone7Plus, iPad611-iPad611, iPad612-iPad612, iPad71-iPad71, iPad72-iPad72, iPad73-iPad73, iPad74-iPad74, iPhone8-iPhone8, iPhone8Plus-iPhone8Plus, iPhoneX-iPhoneX,

Supported Languages:

English;

Parental Advisory:

Suggestive Themes; Intense Cartoon or Fantasy Violence; Mild Profanity or Crude Humor;