Screenshots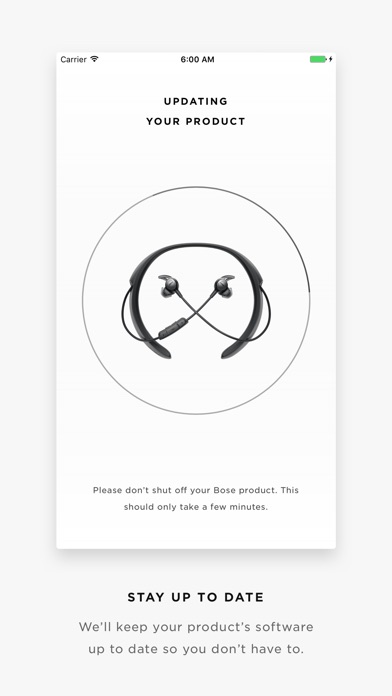 New in version 5.0.0
What's new in Bose Connect 5.0:
- Updated for compatibility with our new QuietComfort®, SoundSport®, SoundLink®, and SoundWear® products.
- Find My Buds – a new feature for SoundSport® Free Wireless Headphones – a simple tool to help you find lost earbuds
- Introducing Party Mode for SoundLink® Color Bluetooth Speaker II* (requires firmware update for speaker)
- Fresh new icon
- Bug fixes and enhancements
Description
Bose Connect unlocks the full potential of your Bose Bluetooth® Product. ??

EASY ACCESS TO EVERYTHING?
Get quick access to the key features on your products, like the auto-off timer, volume control and battery readings. And it's the easiest way to manage multiple Bluetooth connections. But that's just the beginning.?

SHARE THE MUSIC?
MUSIC SHARE lets you listen together. Now two pairs of Bose® wireless headphones can share the experience - listen together, at the same time, while one of you DJ's. New PARTY MODE lets you sync two SoundLink® speakers for double the audio…ideal for listening in two different places, and new STEREO MODE immerses you in music by separating the sound into Left and Right channels across two paired speakers for that amazing stereo experience.?

GET THE MOST OUT OF YOUR HEADPHONES? CONTROLLABLE NOISE CANCELLATION on our QC®30 headphones lets you decide how much of the world to let in by adjusting the level of noise cancellation right in the app. And the built-in HEART RATE MONITOR for our SoundSport® Pulse headphones displays your heart rate clearly in the app.?

AND SO MUCH MORE?
From viewing product details to personalizing settings, get the most out of your Bose wireless products. It even downloads the latest software in the background and only installs it when you're ready. See how our simple app can make all the difference.?

?* NOTE *?
Bose Connect works with QC®35, SoundSport® wireless, SoundSport® Pulse wireless, SoundSport® Free wireless, QuietControl™ 30, SoundLink® wireless II headphones, and SoundWear Companion speaker, SoundLink® Color II, SoundLink® Revolve, SoundLink® Revolve+, and SoundLink® Mirco speakers? ?

The Bluetooth® word mark and logos are registered trademarks owned by Bluetooth SIG, Inc. and any use of such marks by Bose Corporation is under license.
iPad Screenshots
Reviews
🤬🤬🤬🤬
For whatever reason this app is unreliable in my iPhone 8+ running latest iOS. I had no issues on my iPhone 7 iOS 10, so what's up? My QC35's are paired up but when I open the app I get that FN grey screen asking for a setting check. In order for the app to work I have uninstall then reinstall and then it's a 50% chance. It would be wonderful to be able to download the latest firmware to my headphones but all hope is gone I guess I'll switch to JBL.
Update for my headphones made them worse
abdulaziz Martin
on
12/13/2017
After updating my headphones, when I see a snap or Instagram the sounds do not work at all..
Too quick to turn off
Left hand signing
on
12/13/2017
10 seconds before auto sleep, if it can beep so that it doesn't turn off and then I immediately turn it back on
App only works upon first installation, shows Bluetooth error forever after
Odd issue, and perhaps it's a glitch with the iPhone x but I doubt it. When I have Bluetooth on and the headphones are even connected the app says Bluetooth must be turned on and allows no access to the rest of the app, which obviously hinders my finding out the battery life. I find reinstalling it works but only once until I must repeat the dreaded process over again to get any results
Good but not great
Nice clean app, however there isn't much benefit using it other than turning on and off the sound cancelation and checking battery life. I would like to see an equalizer at the very least? There is no reason for this app, also the thumbnail of the app is dreadful. An off centered plus sign..really guys, it's unappealing.
Trouble between apps
valleygirl00100001
on
12/10/2017
I don't understand why when the headphones connect 2 devices at once, if there's audio on one device I can't hear audio from an app on the iPhone. I'm not sure if it's the Bose app causing the problem, but when I don't have audio playing from the 2nd device, I expect to be able to hear audio from the iPhone without having to open the Bose app and "connect" if the iPhone Bluetooth settings show the device already connected.
Minimal features riddled with bugs
First, Bose speakers and headphones are great. Over-priced, over-hyped, but great sound. Unfortunately, it seems that they've decided to build their own software and it's way out of their skill set. The app does very little that's not already part of the Bluetooth standard. Even within its tiny feature set it is reliably unreliable. Even when the OS can communicate with the device just fine, Bose often drops connection or gets confused as needed some other way. With that in mind, I only use it for firmware updates.
Something's wrong
AngryAtHBOGO
on
12/9/2017
Audio quality is great. Bluetooth pairing is not. I have to *delete and then reinstall* the app if I want to pair my headphones with new devices.
Used to work well
Then 11.2 happened. Keeps asking to turn on Bluetooth when already listening to QC30s.
Good, but no iPhone X support?
The app functions good, and works reliably. But there is no iPhone X support almost 2 months after launch?
Useless
The latest version refuses to connect, thus rendering the app completely useless.
Soundsport Free
Tugcaptain26
on
12/7/2017
Great product and app.
Would be great if...
There are a few control features like repeat 1 or repeat playlist.
Buggy
Won't find my QC35 II 40% of the time even though music is playing through the headphone.
It's about time for the update
Accidentally downloaded the Bose Hear App, which is for the hearing aid headphones, and surprisingly that app was updated to be compatible with iOS 11 and iPhone X. But this more general consumer focused app still is not updated??? Bose, you need to step up your game. The software is also where you have been good at comparing to others, so keep it up!
Best headphones, worse app
The sound is great. But unable to adjust to my liking. Home theater bose systems allow you at least to control bass and treble. This app does not. Just some basic function app. Waste of memory on my phone. I Wish Bose had great app developers as they have great audio engineers
Set-up and Noise Cancelling
The easiest headphones I've owned to pair. Being able to pair up to 8 devices is an extra bonus. I use the headphones to block noise for reading. So, the only down side is they have to be turned on and playing music etc. to cancel the noise. I'm one of those people who has to read and study in a quiet environment. The lowest volume definitely cancels the noise. The music sounds great! They are worth the cash
Really works for me!
Discerning Reader
on
12/6/2017
Connecting was so easy and the sound is great!
Orange sunshine
I loooooove it! Thanks Bose!❤️❤️❤️❤️❤️🌵😊👍🏽
App getting worse. Won't connect
When i launch the app says turn BT on when BT is already on. Had to delete the app and reinstall. Then ok. Next one the app has connected to the phone I turned on music and no music! Went back to the app and it showed two devices connected. Disconnected my laptop and then finally music began to flow. You have a good product. Let's fix these glitches.
Can not connect
My headphones are connected to my phone, but the bose app does not recognize this. It's been a week or more since I was able to properly use the app. Disappointed that there has not been an update to fix this.
Battery life
I love Bose products overall. But the battery charge on the Bose SoundSport is limited please improved.
App is worst now
I don't know how at first the apps are great but now they are horrendous. I have my Bluetooth on but the app won't recognize my devices even when I go to the settings and relink them manually. I am using an iphone x but I noticed this trend with iOS 11 in general.
Really not that useful
I have the wireless headphones and it connected fine. Recently got a revolver and it keeps telling me to go to my settings to connect it to my phone even though it already is connected. Have forgot device, restarted etc. nothing worked. Useless app.
App needs an update (December 2017)
"HEY! We need bluetooth in order to work our magic. Please turn it on." That's the very first thing the app says when you open it up. My bluetooth is on and the headphones are paired. The pairing and headphones are NOT the problem. The problem lies within the app. You can't close the prompt but I found if you delete the app and reinstall it, then it will let you use the app until you close it. Then when you re-open it, you will get that sane message. The app is useless right now. It's a big deal because the app lets you ping your headphones to a spot you were last connected to incase you lose them.
It doesn't work
Even though the app is not necessary for a single speaker, I still would like to use it. I hope bose will fix the issue of connectivity with the app.
App won't download
ccampbellhale
on
12/3/2017
On iPhone7
BOSE CONNECT
steiner.andres
on
12/2/2017
Honestly everything about Bose is always amazing, but I do think this app needs some sort of lock protection against other incoming connections. I would just feel safer if the Bluetooth would connect with my headphones after I entered a password.
Yas
Merlin Miami
on
12/2/2017
I love the fact that I can now upgrade the device firmware thru the app instead of having to plug it into a computer!
hard to connect to iPhoneX with soundlink revolve
It was nice app before I change my iPhone 6 plus to X. It connected and sounds well but in this app, keep telling me "connect". Now I having trouble with controllering my soundlink revolve plus, switch iPhone to laptop. Please get right that problem...
It's ok
There is a few things I don't like, if I'm playing music and I record on snap the music won't record, if I'm talking on the right ear piece I should be able to listen to music on the left while I speak or at lest control the volume of the chat and music, I can't connect to ps4 because I would need this app, but for the most part I enjoy my new toy...
Keeps asking for bluetooth
Iphone 6s, IOS 11.0.2, "We need Bluetooth in order to work our magic"
Connection Issue
Nickparrekksja
on
11/29/2017
When i first connect the headphone with my phone it was fine. But when i try to connect it again, the app keeps saying there is an error and it wants me to keep trying to connect, when the headphone is already connected. Please fix this problem
Cannot connect
Simply cannot connect to my iPad. Tried restart and all kind of ways. Just simply doesn't work.
Works great for my needs
I use my Bose headphones with multiple devices. Bose Connect allows me to disconnect devices not in use so there is no conflict. Also has features like adjusting the level of the noise consultation.
Useless, literally
Not delving into hyperbole-this app is actually useless. Keep getting error message to turn on Bluetooth...while I'm listening to bose wireless headphones via Bluetooth. Can't get past this error message so the app is quite literally useless. Deleting and re-downloading doesn't help.
App needs to be update!
foreverperson
on
11/27/2017
This app worked well until I updated my IOS system. The headphone connected with my phone successfully through Bluetooth but the app could not be opened. It kept showing that I need to turn on my Bluetooth.( which obviously already been turned on) Maybe the app needs an update.
Useful app
nilefreedom
on
11/26/2017
Great useful app . Need more upgrade .
DO NOT BUY Bose QC products
Purposely purchased (2) QC30 at $400 a piece based on Bose reputation and the sharing abilities. All went well the they upgraded software and now nothing but issues. Can't share with other QC30. Have seen issues on all types of boards but no replies from Bose. So I guess once they get your money they don't care!!!! Not a way to do business. Would give them 0 stars but app won't let me. DO NOT BUY
Worked ok until last update
BigBear24!!!!!
on
11/26/2017
App is limited but worked ok until last update. While using the app I was able to turn and connect to my speaker. After the last update the app won't connect my phone. I have to go into settings to connect. Bose, get your app together!!!
Some glitches
The power level reading is not always accurate. When trying to control the volume without playing music, it will adjust your ringer volume instead. I wanted to set the starting 5 AM before actually playing music but this was not possible in the app. Does not seem to work with iPhone X.
Best Audio/Best Steady BlueTooth Connection
This headphones make any place noiseless, just like been at the library.
iPhonr X support and Dark mode
I love your products but this app needs a lot of work to match your great products. iPhone X support and Dark mode when using the app in the dark. The app overpowered by white color makes it annoying when using it in the dark. All the best!
Stopped working
The app recently stopped working with my nose sound link color 2. It will go to connect with the speaker, even though the phone is already connected, and then it just gives an error message saying unable to connect. Before this, the app always worked great for me.
Not smooth operating
There are issues with the IP X. REMEMBER this iOS has been available for months now. One expects more from BOSE.
Great App
Starfighter1234
on
11/23/2017
I use it with my QC35, and it works seamlessly with an appealing and simple layout.
It's decent, but still needs work.
SnowflakeDancer360
on
11/23/2017
Personally, I LOVE Bose products itself. This app is well displayed and everything! However, I do not understand the purpose, considering you can do most of the features that are in the app, outside the app. Playing music can be done outside the app, as well as renaming the device, connecting to the device, etc. Connecting is hard to do inside the app, especially considering most of the steps need to be done outside the app. Though, there are some cool things that you can't do outside the app, such as party mode, which I actually really love considering you can have speakers everywhere in your house, and you can just use one device to play music on all of them. Overall, this app does have some downsides, but it's still pretty good.
Bose Products
App don't really factor in it's helpful yes but the biggest u daddies go out to the headphones they just fing rock period
Worthless App
Classyking123
on
11/20/2017
Just spent 20+ minutes trying to get my Bose Revolve speaker to connect to the app but it failed every time. Continuously takes you through the prompt to connect your speaker through the devices Bluetooth settings... which works fine. But I was expecting this app to give access to additional features. Total waste of time. Side note, the reason I downloaded this app is because the speaker cuts in and out when connected via Bluetooth. Very annoying. Can't seem to fix it. Will be returning the speaker at this point.
Connection issues
Copelia's Left Knee
on
11/18/2017
Rarely connects to the app.
Fact Sheet
Publisher:

Bose Corporation

Category:

Music

Released:

Dec 08, 2015

Current Version Released:

Sep 21, 2017

Version:

5.0.0

Size:

141.5 MB

Compatibility:

Requires iOS 9.0 or later.

Recommended Age:

4+

Game Center Certified:

No

Supported Devices:

iPhone4S-iPhone4S, iPadThirdGen-iPadThirdGen, iPadThirdGen4G-iPadThirdGen4G, iPhone5-iPhone5, iPodTouchFifthGen-iPodTouchFifthGen, iPadFourthGen-iPadFourthGen, iPadFourthGen4G-iPadFourthGen4G, iPadMini-iPadMini, iPadMini4G-iPadMini4G, iPhone5c-iPhone5c, iPhone5s-iPhone5s, iPadAir-iPadAir, iPadAirCellular-iPadAirCellular, iPadMiniRetina-iPadMiniRetina, iPadMiniRetinaCellular-iPadMiniRetinaCellular, iPhone6-iPhone6, iPhone6Plus-iPhone6Plus, iPadAir2-iPadAir2, iPadAir2Cellular-iPadAir2Cellular, iPadMini3-iPadMini3, iPadMini3Cellular-iPadMini3Cellular, iPodTouchSixthGen-iPodTouchSixthGen, iPhone6s-iPhone6s, iPhone6sPlus-iPhone6sPlus, iPadMini4-iPadMini4, iPadMini4Cellular-iPadMini4Cellular, iPadPro-iPadPro, iPadProCellular-iPadProCellular, iPadPro97-iPadPro97, iPadPro97Cellular-iPadPro97Cellular, iPhoneSE-iPhoneSE, iPhone7-iPhone7, iPhone7Plus-iPhone7Plus, iPad611-iPad611, iPad612-iPad612, iPad71-iPad71, iPad72-iPad72, iPad73-iPad73, iPad74-iPad74, iPhone8-iPhone8, iPhone8Plus-iPhone8Plus, iPhoneX-iPhoneX,

Supported Languages:

Danish; Dutch; Flemish; English; Finnish; French; German; Hungarian; Italian; Japanese; Korean; Bokmål, Norwegian; Norwegian Bokmål; Norwegian Nynorsk; Nynorsk, Norwegian; Polish; Portuguese; Russian; Chinese; Spanish; Castilian; Swedish; Thai; Chinese;