TapNova doesn't recommend this version of the app.
New in version 4.2.0
Bose Connect 4.2 contains the following new features:
⁃ Our privacy policy has been updated to include even more information
⁃ Introducing noise reduction settings for QuietComfort 35 wireless headphones (requires firmware update to headphones)
⁃ We've also fixed some bugs to make Bose Connect even better
Description
Bose Connect is the companion app to your Bose Bluetooth® headphones and Bluetooth speakers.

EASY ACCESS TO EVERYTHING
Get quick access to the key features on your products, like the auto-off timer, volume control and battery readings. And it's the easiest way to manage multiple Bluetooth connections. But that's just the beginning.

SHARE THE MUSIC
MUSIC SHARE lets you split audio from one device to two pairs of Bose® wireless headphones, so sharing music is easy. New PARTY MODE lets you sync two SoundLink® Revolve speakers for double the audio, and new STEREO MODE immerses you in music by separating the sound across two paired speakers.

GET THE MOST OUT OF YOUR HEADPHONES
CONTROLLABLE NOISE CANCELLATION on our QC®30 headphones lets you decide how much of the world to let in by adjusting the level of noise cancellation right in the app. And the built-in HEART RATE MONITOR for our SoundSport® Pulse headphones displays your heart rate clearly in the app.

AND SO MUCH MORE
From viewing product details to personalizing settings, get the most out of your Bose wireless products. It even downloads the latest software in the background and only installs it when you're ready. See how our simple app can make all the difference.

* NOTE *
Bose Connect works with QC®35, SoundSport® wireless, SoundSport® Pulse wireless, QuietControl™ 30 and SoundLink® wireless II headphones, and SoundLink® Color II, SoundLink® Revolve and SoundLink® Revolve+ speakers.

The Bluetooth® word mark and logos are registered trademarks owned by Bluetooth SIG, Inc. and any use of such marks by Bose Corporation is under license.
iPad Screenshots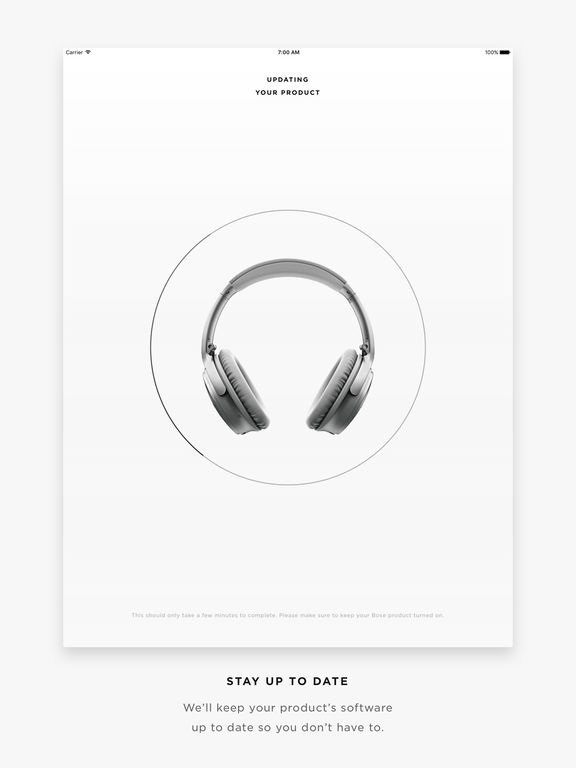 Reviews
Simplicity
Alice45678910
on
6/24/2017
As soon as I turned on my headphones the app instantly found them and helped me set it up and name them. The features are amazing! Bose is definitely worth the price.
Bose
SchemeDreamr
on
6/24/2017
So far so good
Great update, keep going
Still needs some equalization capabilities but the update certainly improved the sound in a side by side comparison. Also the ability to share music is cool.
Broke pairing
bluebeliever531
on
6/24/2017
Headphones will not pair with any device since update occurred.
Firmware update just loops.
The firmware update just keeps looping on "preparing update" --- 31 minutes each time.
Not using this update
workingclassdog
on
6/23/2017
Why mess with awesome, you people got what you wanted crap headphones. They offer headphone without noise cancellation. This update falls underneath the heading be careful what you wish for.
Ok
Connects good and is easy to use, but needs an equalizer in the app to control the speaker.
No Update Option
Danimation707
on
6/23/2017
This app had a section that said if the head phones were up to date or if an update was available. That seems to be gone otherwise this would be 5 stars. Update 6/23/18: Still no area that shows if headphones firmware are up to date in app. Also after the update I do not see the section for adjusting the noise cancellation. Pretty frustrating. I am using the app on iPhone 7 & the headphones are the quitecomfort 35.
Easy
Great app. Easy to use and look up info on your product. Great accessory just wish it had a remote control feature.
Not working properly
Iheartcoco78
on
6/23/2017
Trying to apply the new update but it doesn't seem to be working. It keeps to be just downloading and then keeps looping Downloading but not applying it to the the headphones been trying for a few hours now!
Firmware update stuck in loop.
Not sure abt Boseqc35
on
6/23/2017
as soon as firmware update finishes, firmware update again starts.total time for firmware update is more than 33mins. its 1AM in the morning ,everything is sooo quite. i have my qc35 ON .but i can still hear my 45db dishwasher working .i am sitting in the same room where dishwasher is. is there a problem.plz help
Good App
Works great with QC 35. Would be awesome if it can support SoundLink OnEar.
Finally Useful!
The new update to the Bose Connect app finally gives the app a much needed purpose. If you have the QC35, you now have the option to update to firmware 1.3.2 , which lets you control the level of noise cancelation to either high, low, or off. So far, the new firmware update is actually very good! The only thing that is needed at this point is an option to change the sound profile (I find the default "signature" sound profile to be way too midrange focused with soft bass and very weak highs). If this feature were to be added, this app would be perfect.
Bluetooth headphones no longer function
Diving Pirates
on
6/22/2017
This worked great until recently, now the headphones won't pair with any device I own and have been rendered useless. I'm bummed as I own 3 Bose headphones. The Bluetooth ones have both quit functioning the wired ones still work great...if I had a headphone jack...Thanks Apple.
Much better than the old way
limpelephant
on
6/22/2017
App is much easier to manage settings and apply updates. I'm using the app with a pair of AE2 wireless.
Noise reduction settings!
Finally noise reduction settings! I love it!
Amazing
Great firmware updates for QC35 to improve sound.
Could be better
Reddy Kilowatt
on
6/22/2017
It's great that you can opt out of data collection, but why can't they make the press of the power button tell you the battery percentage as well as the connected devices?
Quite Useless
itstherealjg
on
6/22/2017
....Except for the ability of Bose to monitor your usage -- including songs. Yes, you can opt-out but this policy is still quite invasive. Other than that, the headphones and speakers are excellent.
This update just broke pairing
Live from the Jersey Shore
on
6/22/2017
Don't upgrade folks, this version just no longer pairs. You'd think they would get critical part correct...
Needed app!
transplanted1
on
6/22/2017
I use my headphones as noise cancelers only to sleep when I travel (airplane roar) or have to sleep in noisy places or when my husband snores. As a side sleeper I only insert the upper ear piece, having the other ear smothered in the pillow. Works like a charm. I also turn off voice prompts (they wake me up) and disconnect my devices. The only way I have then to check on the battery level or to easily manage volume is trough this APP. I love it. Thank you!
It's glitchy and doesn't add any "value"
Outside of the headphone sharing these isn't anything this app does you can't do with any other Bluetooth device.
This app literally ruined my new revolve soundlink speaker
Jimbob frank Lou smith
on
6/20/2017
Installed the app and tried to connect device to install updates...now speaker doesn't even pair with my devices. I've reset everything multiple times...I even reset my phone to factory settings. Terrible. Take this piece of garbage app off of the App Store and give me 300 bucks back please.
In love
American Anomaly
on
6/20/2017
I love this headset. All of the power of music comes through crystal clear. From the deepest bass to the lightest treble and all the vocals in between. The noise canceling feature is awesome. Right now I am sitting between a running dishwasher and a loud floor fan and can hear neither. You will still be able to hear aircraft engines, but you can't hear cars if they are behind you so be careful to adjust the NC feature for your environment. The only thing preventing me from going to 5 stars is that the device moves around the neck too much and you can't retract the cord. Sometimes it will drop a connection to a paired device in mid song or navigation for no reason (iPad or android phone). Its range when connected to an iPad is much much greater than when connected to an android phone. I am very happy with this product and I tell everyone if you can get a pair...get them; it's a great experience!
Easy
Simple to install and set up. Syncs quickly with Apple products. Love the speaker and Bluetooth range is excellent. Not sure why its app driven but whatever.
Doesn't work
App will not connect to my soundsport wireless headphones
Totally Unnecessary. Primarily Useless.
Perhaps I'm missing something. Or maybe this app just isn't applicable to the Bose Soundlink Color II speaker -- which would be very strange and not good. Because this app DOES ABSOLUTELY NOTHING. Except help one connect their phone to the speaker. But anyone with an iPhone can easily connect a Bluetooth device to it using Settings. I did, not knowing about this app. I only downloaded the app because the Users Manual and the above Description claims that it offers all these additional features. Features that one would want and expect. Such as enhanced volume or EQ functions for example. But so far all this app does is help you pair the speaker to your iPhone. Seriously? Why does this app exist???
Poor party mode
The instructions on the systems were weak at best, and the Party mode from the app works 10% of the time at best.
Firm ware update needed
Temple Musiq fan 81
on
6/18/2017
The headphones often disconnect from my iPhone unexpectedly. Perhaps a new firm ware update is needed. Please fix this.
Easy as Pie & a MUST!!!
You will NEED this APP in order to update your earphones or earbuds from BOSE. It also helps you understand the OPERATION if you through your pamphlets away. If no other reason, I fall back to having the App for updating! I just purchased my Bose earbuds & it needed an important update right out of the box! It worked like a charm.
Works perfect
Works seamlessly with my nose products
Worked as Adverised
Great product great app
Doesn't really do anything....
Digital1mpulse
on
6/16/2017
Cool you can share your song with someone else. Other than that you can just control your volume. I was expecting to be able to control treble, bass, mids but was super let down. Unnecessary app, but great headphones.
Thanks
Excellent Not sure what else to say. It is exactly what it says it is.
Spying continues
Is it too much to ask to buy $350 headphones without the company profiling what I'm listening to and piping it straight to advertisers? Get your stuff together Bose, an opt-out doesn't fix the issue for the thousands of people being misled by a once reputable company.
Loss of fidelity and other things I hate!!!!
I found there to be a loss in fidelity when using the connect app. It shouldn't connect to get what I'm listening to, I know. I should set auto download of firmware. Should be strictly used to connect to correct device, set onboard headphone equalizer setting; eq, like iphone settings->music->eq[acoustic,Bass Booster...]
Bose connect
Downloaded app but app won't open. Am worried that private data will be shared. App won't open so I can't disable private data sharing . PLEASE DO NOT share my data!!!!!!!
Worth every Penny
An amazing product. Far exceeds all other competition. Try it yourself!
What is this App really offering?
I think this app is lacking functionality for such a reputable company. There is no equalizer and that's a huge miss. I don't know why Bose thinks all genres will fit their headphones without any tweaking. I suggest they learn from Jaybird, as their app is actually providing a purpose. This app is borderline useless.
App stopped working
My app stopped working for my iPhone 7. At first it stopped connecting to my Bose headset. So I tried erasing the app and re-downloading. Now it won't even open on my iPhone 7. ;( Please fix with an update.
Its amazing
I can control all my Bose devices from this one app and it has music share
Privacy respected, loyalty earned
IndianRepublican
on
6/10/2017
Good app to manage your Bose headphones. Bose is a great company and should never have collected data without our permission. We shouldn't have to find out second hand about data collection. Good on them to fix it quickly.
Needs updating
The app was great for pairing on my iPhone 6. However, I just upgraded my phone to the 7 & now every time I want to use my Bose Sound Dock II color, I have to remove the device from my phone's Bluetooth connection list & re-pair it. Every. Single. Time. If I listen to Apple Music & close that out, the Sound Dock is automatically disconnected. Re-pairing takes up a lot of time & is very frustrating. Please fix
Update
valleygirl00100001
on
6/8/2017
Idk what happened, but my QC35 is getting totally mixed up with which BT device to connect to. That didn't used to happen while I was streaming and it does now. I'll be listening to something and then audio just disappears.
New 6S connects better w/o app Qc35
Old 6 was destroyed. Using a new 6S. The app will not connect with the set of QC35 no matter how many times and resets of Bluetooth. The headphones connect to the iPhone great without the app and it mush less frustrating. What is the app supposed to be doing??
Terrible
Bulldognocomp
on
6/8/2017
Useless
Love this!
I feel high tech with the wireless Bose noise cancellation headphones and this app. Good job!
Please add split screen and landscape to the app.
Very annoying to have an iPad Pro and not have at least landscape as a view option. Other than the view options, pretty good. Thank you for adding the privacy setting.
Not Bose quality!
Phone game fan
on
6/5/2017
Some of the best headphones I have ever heard. This app however is far from that, lacks any real functionality and doesn't even work to connect you Bluetooth half the time...... not sure what this app is actually for.
Simple and smart
This app makes perfect sense. It doesn't try to take over someone else's work by requiring you to download another apps work to use it. Simply open it and it begins enhancement. Something finally makes sense to me here.
Fact Sheet
Publisher: Bose Corporation
Category: Music
Released: Dec 08, 2015
Current Version Released: Jun 22, 2017
Version: 4.2.0
Size: 95.9 MB
Compatibility: Requires iOS 9.0 or later.
Recommended Age: 4+
Game Center Certified: No
Supported Devices: iPhone4S-iPhone4S, iPadThirdGen-iPadThirdGen, iPadThirdGen4G-iPadThirdGen4G, iPhone5-iPhone5, iPodTouchFifthGen-iPodTouchFifthGen, iPadFourthGen-iPadFourthGen, iPadFourthGen4G-iPadFourthGen4G, iPadMini-iPadMini, iPadMini4G-iPadMini4G, iPhone5c-iPhone5c, iPhone5s-iPhone5s, iPadAir-iPadAir, iPadAirCellular-iPadAirCellular, iPadMiniRetina-iPadMiniRetina, iPadMiniRetinaCellular-iPadMiniRetinaCellular, iPhone6-iPhone6, iPhone6Plus-iPhone6Plus, iPadAir2-iPadAir2, iPadAir2Cellular-iPadAir2Cellular, iPadMini3-iPadMini3, iPadMini3Cellular-iPadMini3Cellular, iPodTouchSixthGen-iPodTouchSixthGen, iPhone6s-iPhone6s, iPhone6sPlus-iPhone6sPlus, iPadMini4-iPadMini4, iPadMini4Cellular-iPadMini4Cellular, iPadPro-iPadPro, iPadProCellular-iPadProCellular, iPadPro97-iPadPro97, iPadPro97Cellular-iPadPro97Cellular, iPhoneSE-iPhoneSE, iPhone7-iPhone7, iPhone7Plus-iPhone7Plus, iPad611-iPad611, iPad612-iPad612, iPad71-iPad71, iPad72-iPad72, iPad73-iPad73, iPad74-iPad74,
Supported Languages: Danish; Dutch; Flemish; English; Finnish; French; German; Hungarian; Italian; Japanese; Korean; Bokmål, Norwegian; Norwegian Bokmål; Norwegian Nynorsk; Nynorsk, Norwegian; Polish; Portuguese; Russian; Chinese; Spanish; Castilian; Swedish; Thai; Chinese;