Screenshots
New in version 4.2.0
Bose Connect 4.2 contains the following new features:
⁃ Our privacy policy has been updated to include even more information
⁃ Introducing noise reduction settings for QuietComfort 35 wireless headphones (requires firmware update to headphones)
⁃ We've also fixed some bugs to make Bose Connect even better
Description
Bose Connect is the companion app to your Bose Bluetooth® headphones and Bluetooth speakers.

EASY ACCESS TO EVERYTHING
Get quick access to the key features on your products, like the auto-off timer, volume control and battery readings. And it's the easiest way to manage multiple Bluetooth connections. But that's just the beginning.

SHARE THE MUSIC
MUSIC SHARE lets you split audio from one device to two pairs of Bose® wireless headphones, so sharing music is easy. New PARTY MODE lets you sync two SoundLink® Revolve speakers for double the audio, and new STEREO MODE immerses you in music by separating the sound across two paired speakers.

GET THE MOST OUT OF YOUR HEADPHONES
CONTROLLABLE NOISE CANCELLATION on our QC®30 headphones lets you decide how much of the world to let in by adjusting the level of noise cancellation right in the app. And the built-in HEART RATE MONITOR for our SoundSport® Pulse headphones displays your heart rate clearly in the app.

AND SO MUCH MORE
From viewing product details to personalizing settings, get the most out of your Bose wireless products. It even downloads the latest software in the background and only installs it when you're ready. See how our simple app can make all the difference.

* NOTE *
Bose Connect works with QC®35, SoundSport® wireless, SoundSport® Pulse wireless, QuietControl™ 30 and SoundLink® wireless II headphones, and SoundLink® Color II, SoundLink® Revolve and SoundLink® Revolve+ speakers.

The Bluetooth® word mark and logos are registered trademarks owned by Bluetooth SIG, Inc. and any use of such marks by Bose Corporation is under license.
iPad Screenshots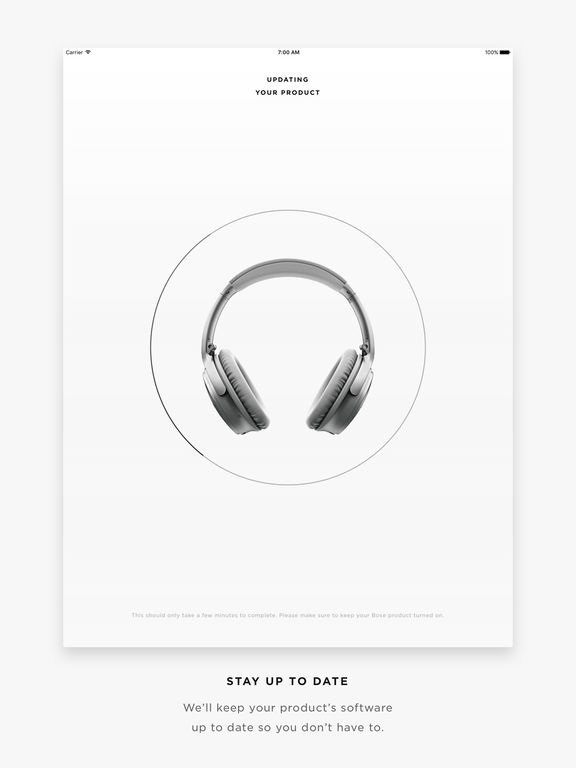 Reviews
Very Dissaponted!
Ryderscooter2!
on
8/18/2017
After countless attempts to connect my new headphones with my IPad , I have come to the conclusion that Bose dropped the ball and if I knew that I was not going to be able to use the wireless capability with my IPad, I would it buy beats. I have been a huge allied of Bose until now
Inconsistent is the word
Latin Drummer
on
8/18/2017
Not yet ready for Prime Time
cant pair
I've got a bose soundsport, just cant get paired, sent an email to Bose, and no reply...
Works Really well
Used this for about a day it seems to work really well, connected very well to my ipad and my iPhone , has a decent range, have not heard any drop off in connection while listenining to music. Wish it had an app for the laptop to control the noise cancellation feature. But overall a very good app for the QC 35.
Inconsistent operations
This app comes with Bose QC30 Bluetooth ear pieces. When these headphones work they are wonderful, clear, crisp with immense depth . Problem is, about half of the time one or more functions don't work. Currently the integrated buttons on mine have stopped working. No disconnecting, no sound adjustments, no shut off. The old classic response to glitches the global shutdown doesn't fix it. Have also had the sound spontaneously drop-off or rise followed by warning tones that can't be shut off. The unit doesn't play well with The Audible app; it keeps skipping, shutting down or turning itself on. There's no rhyme or reason to it's behavior and no documentation in the "manual" is any help. Don't try to carry the phone in your pocket, the transmission garbles; not a problem with $29 apple Headphones. The app needs serious work. Not recommended. One star for great audio quality, and one for battery life. Minus three for poor execution.
Feature Request: Default Noise Cancellation Level
I usually don't use noise cancellation so on every connect I have to reset it back to no cancellation. Please allow a default cancellation to be set in the app.
Causing bluetooth issues
Stability issues with devices after they have been connected. Naming of devices also causing the device to not be recognized.
Tardado !!
No me gusta !!
Irritating Notifications...Doesn't work well outdoor
I don't need to have the list of connected or disconnected devices repeated over and over. I don't need to know that it's disconnected from my laptop if Im on my phone. Seems pretty self evident and pointless to have. Plus that voice is obnoxiously & irritatingly loud. For what these headphone cost it should have been fixed already. I'd much prefer a male voice too. Come on people... When outside the headphones are useless. Keep breaking up. I will not buy these again.
Good service
The app works very good
Doesn't show the device
I have two products. Sound link and QC 30, none of them are visible on the app. Just horrible.
Confusing App
vellsfernandes
on
8/13/2017
Most confusing and hard to connect app. Bose should hire more efficient IT team. Takes as hour or sometimes countless hours to connect Bose revolve sound speakers thro the app. 0 star for this app
Horrible Customer Service
Replacement headphones have not been sent out. No responses to emails inquiring when I'll receive them. Proceed with caution people.
have to restart app every time
also does not save nc settings.
Misses the mark
If you are trying to pair two speakers and one needs to be updated, there's no option to update the device. All in all, Bose apps aren't very good. Which isn't too bad, because the sound quality hasn't declined.
Great Start
UsedCarRicky
on
8/11/2017
Love the hardware. Would love to add my own photos to the backgrounds.
Firmware Update Failure
The app works well while connecting to my QC35 headphones.. However, the firmware update takes forever to download and timer keeps going on again and again.. Please fix this ASAP Bose as I want to update the firmware..
Love the app but have one request!!
My favorite feature of this app is the ability to turn on the Revolve+ speaker through the app. Why not give the user the ability to turn the speaker off as well? Add that function and you get 5 stars from me.
Great app
I've had this app on my iPhone 7 plus since January 2017 and I have no complaints. It works perfectly and as it should. Would recommend this app to anybody.
The pits
Fails most always
Garbage
James Sonny Crockett
on
8/9/2017
As usual we all beta test for Bose
App won't connect
Problems I've had since owning it for the past 6 or so months: 1 - paired with my computer but on occasion if I turned the volume up or down it stops working and I have to pause, wait a few seconds, then play to "hopefully he the sound back. 2 - paired an Echo DOT once and would "usually" have control in the app to turn off what device I want to listen to...not the case now. Speaker says it's connected to my phone but app on the phone doesn't. The phone settings say it's connected in the Bluetooth menu...app doesn't. 3 - To turn the volume down from the speaker you literally have to press it about 20 times to get any type significant volume change. I got it as a gift but don't recommend it to anyone that "just wants to hear music".
Udates to infinity
The update counts down to 0, at which time it starts over again. The update is painfully slow, probably designed for doing an update using a dial up internet account. There is no way to increase the speed or disable updates. Something I find very annoying is that you cannot reach any settings in the app unless the device is connected.
Basic
The app has basic functions. The best part is the firmware update for your headphones. I'd like a real EQ addition, much like what Jaybird has. Apple's built in presets don't do much for me.
Almost never connects
Even though Bluetooth is connected between the phone and the bose wireless headset, it almost always shows no bose products found
It's getting better!
Please add default noise cancellation option. Gets old having to always open the app and switch to low manually. Also adding an EQ or bass/mid/high controls will allow for much needed user preference options when listening to different types of music. The headphones are awesome hardware, please improve the available options on the app! Thanks!!
No Manual Update Option
Danimation707
on
8/6/2017
This app had a section that said if the head phones were up to date or if an update was available. That seems to be gone otherwise this would be 5 stars. Update 6/23/18: Still no area that shows if headphones firmware are up to date in app. Also after the update I do not see the section for adjusting the noise cancellation. Pretty frustrating. I am using the app on iPhone 7 & the headphones are the quitecomfort 35. Update 8/6/2017: Haven't been using my headphones for a while. Fired them up today and the app finally told me there was an update available. Please put a button within the app to allow for manually checking for updates. The update allows for high, low or turning off the noise cancellation which is excellent.
Useless
Can't answer incoming calls with iPhone 7 plus.
Stored registration Information
So I registered my headphones through the app, now needing support since my headphone does not hold any charge and won't turn on but can't see registration info since the headphones has to be connected, thus making things very difficult. Why not store registration info on the app?
Great app
Negro I said please
on
8/5/2017
So goos
Update
valleygirl00100001
on
8/4/2017
Idk what happened, but my QC35 is getting totally mixed up with which BT device to connect to. That didn't used to happen while I was streaming and it does now. I'll be listening to something and then audio just disappears. I hate when I lose a call because short pressing the volume button doesn't answer the call. Long pressing the center of the volume button rejects the call and the last audio starts playing even if no audio was playing before the call. I wonder if iOS 11 will fix it? Streaming audio stops when I'm moving between WIFI and LTE. It means I have to shutoff WIFI to keep streams going.
Bose revolve and revolve +
This app is unable to update bose revolve products, now unable to pair my two bose revolve products. I love bise speakers but they need to fix this software issue. What a shame for such a high quality product.
Needs EQ
kevingarywilkes
on
8/3/2017
This app is useful, with noise cancelation level adjustment and firmware updates the core of the user experience, but one compelling feature offered by Jaybird, the equalizer, is unfortunately absent. Add an EQ. Make these headphones better.
It's awesome
It's a good app
Bose Connect
I just bought one soundlink revolve+ so I don't see the purpose of this application. I noticed Bose is eager to collect user information, by default (at least they let you opt-out, or so they claim). At the very least, some equalization would be nice. however, if you pair an Android device, there are music players in Google Play that provide equalization. I will mention that i do appreciate the fact that I can update the firmware and that I can set a 40 minute auto-off timeout. Please note Bose.... Please add landscape support for iPad. I paid $300 for your product (most of of which is for the name brand alone) so i think i'm entitled to a simple iPad application with landscape support. we all are. gracias!
Great
Love app and product
Y u no connect
It won't work!!!!
Loud beeps
Vulgar demos
on
7/29/2017
Connections come with really loud, jarring beeps unless you remember to turn down the volume before disconnecting. Since there is a two-device connection limit (an annoying limit I assume built into hardware) it means you have to hear the beeps quite often. Would be nice to be able to turn them down or off. Also: The music share option is pointless and yet I accidentally tap on it all the time because they put it so close to the other icons. I love Bose products but this app is ill-suited to the Bose brand.
Use of App & Headphones
I just got my first pair of blue tooth Bose headphones and so far so good. Still learning the many uses I'll be able to get out of this amazing device. Will continue to update progress.
Soundlink revolve connection
seguraandres73
on
7/28/2017
I am having issue with pairing my soundlink revolve+ to the application and getting them to party mode.
App captures and transmits what you're listening to
App is mostly useless from feature perspective, but recently it has become known that the app tracks and transmits your listening back to Bose who resells that data. All without asking for permission. UPDATE (1 star to 4) Bose has added ability to opt-out and a clear splash screen stating they collect your data on first start. Unfortunately the only option on the splash is "I agree" to collecting my data and the opt-out is hidden in the main menu within "privacy policy". Not ideal experience but points for being upfront about it.
Great App and Products
This app is very easy to use and offers very useful information pertaining to whichever Bose product you are using through it.
Updates mean no more noise cancelling for me
Friday Girl 714
on
7/27/2017
After last two updates my very expensive QC 35s no longer have noise cancellation capabilities. In fact, they seem to AMPLIFY outside noise. I'm well outside the return window, and since I purchased from Apple, Bose won't take them back, even though their update trashed the product. I will never purchase another Bose product after the awful customer service experience. Every company puts out a bad app update, but to not own up to the issue is another thing altogether. Update with caution!!!
Sends data back to bose
coastalpanda
on
7/27/2017
App spies on your listening habits, really underhanded of bose when I pay so much for their products
Firmware Download Failure ALL THE TIME
The newest firmware is consistently downloading. The update never complete successfully.
Useful
Great app to control ur headphones
Love this update
You can custom noise canceling level now! Finally! Love this feature!
Nada del otro mundo
Muchos pasos para un simple cambio de fuente Bluetooth. Me gusta que a través de la app se actualiza el dispositivo vía BT.
App wouldn't connect
Couldn't connect my Soundlink II speaker through the App to my device but after uploading the latest software for the speaker via my computer I got it to work. Could be more intuitive though.
Fact Sheet
Publisher:

Bose Corporation

Category:

Music

Released:

Dec 08, 2015

Current Version Released:

Jun 22, 2017

Version:

4.2.0

Size:

95.9 MB

Compatibility:

Requires iOS 9.0 or later.

Recommended Age:

4+

Game Center Certified:

No

Supported Devices:

iPhone4S-iPhone4S, iPadThirdGen-iPadThirdGen, iPadThirdGen4G-iPadThirdGen4G, iPhone5-iPhone5, iPodTouchFifthGen-iPodTouchFifthGen, iPadFourthGen-iPadFourthGen, iPadFourthGen4G-iPadFourthGen4G, iPadMini-iPadMini, iPadMini4G-iPadMini4G, iPhone5c-iPhone5c, iPhone5s-iPhone5s, iPadAir-iPadAir, iPadAirCellular-iPadAirCellular, iPadMiniRetina-iPadMiniRetina, iPadMiniRetinaCellular-iPadMiniRetinaCellular, iPhone6-iPhone6, iPhone6Plus-iPhone6Plus, iPadAir2-iPadAir2, iPadAir2Cellular-iPadAir2Cellular, iPadMini3-iPadMini3, iPadMini3Cellular-iPadMini3Cellular, iPodTouchSixthGen-iPodTouchSixthGen, iPhone6s-iPhone6s, iPhone6sPlus-iPhone6sPlus, iPadMini4-iPadMini4, iPadMini4Cellular-iPadMini4Cellular, iPadPro-iPadPro, iPadProCellular-iPadProCellular, iPadPro97-iPadPro97, iPadPro97Cellular-iPadPro97Cellular, iPhoneSE-iPhoneSE, iPhone7-iPhone7, iPhone7Plus-iPhone7Plus, iPad611-iPad611, iPad612-iPad612, iPad71-iPad71, iPad72-iPad72, iPad73-iPad73, iPad74-iPad74,

Supported Languages:

Danish; Dutch; Flemish; English; Finnish; French; German; Hungarian; Italian; Japanese; Korean; Bokmål, Norwegian; Norwegian Bokmål; Norwegian Nynorsk; Nynorsk, Norwegian; Polish; Portuguese; Russian; Chinese; Spanish; Castilian; Swedish; Thai; Chinese;