Screenshots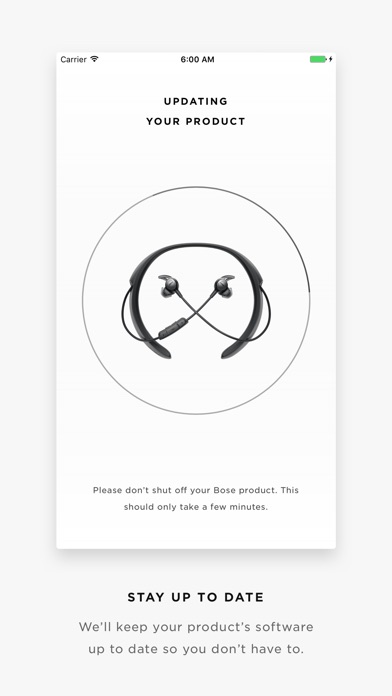 New in version 5.0.0
What's new in Bose Connect 5.0:
- Updated for compatibility with our new QuietComfort®, SoundSport®, SoundLink®, and SoundWear® products.
- Find My Buds – a new feature for SoundSport® Free Wireless Headphones – a simple tool to help you find lost earbuds
- Introducing Party Mode for SoundLink® Color Bluetooth Speaker II* (requires firmware update for speaker)
- Fresh new icon
- Bug fixes and enhancements
Description
Bose Connect unlocks the full potential of your Bose Bluetooth® Product. ??

EASY ACCESS TO EVERYTHING?
Get quick access to the key features on your products, like the auto-off timer, volume control and battery readings. And it's the easiest way to manage multiple Bluetooth connections. But that's just the beginning.?

SHARE THE MUSIC?
MUSIC SHARE lets you listen together. Now two pairs of Bose® wireless headphones can share the experience - listen together, at the same time, while one of you DJ's. New PARTY MODE lets you sync two SoundLink® speakers for double the audio…ideal for listening in two different places, and new STEREO MODE immerses you in music by separating the sound into Left and Right channels across two paired speakers for that amazing stereo experience.?

GET THE MOST OUT OF YOUR HEADPHONES? CONTROLLABLE NOISE CANCELLATION on our QC®30 headphones lets you decide how much of the world to let in by adjusting the level of noise cancellation right in the app. And the built-in HEART RATE MONITOR for our SoundSport® Pulse headphones displays your heart rate clearly in the app.?

AND SO MUCH MORE?
From viewing product details to personalizing settings, get the most out of your Bose wireless products. It even downloads the latest software in the background and only installs it when you're ready. See how our simple app can make all the difference.?

?* NOTE *?
Bose Connect works with QC®35, SoundSport® wireless, SoundSport® Pulse wireless, SoundSport® Free wireless, QuietControl™ 30, SoundLink® wireless II headphones, and SoundWear Companion speaker, SoundLink® Color II, SoundLink® Revolve, SoundLink® Revolve+, and SoundLink® Mirco speakers? ?

The Bluetooth® word mark and logos are registered trademarks owned by Bluetooth SIG, Inc. and any use of such marks by Bose Corporation is under license.
iPad Screenshots
Reviews
Revolve+ and Bose Connect
After the firmware update and the app update nothing really works anymore. I can pair my iPad to the speaker and play music, answer the phone, and other fun stuff. When I press the Bluetooth button the speaker happily reports its connected to my iPad. Launch the app and swipe down to connect and it continuously says to pair the device with the speaker. Meh. One star
Not working
Only worked the first time now it never connects to any of the devices but seriously is bose even going to do anything about it ????
Too many bugs
Jameismyenglishname
on
10/14/2017
Both speaker and the app has way too many bug!
Pairing barely works
Turn Bluetooth on, connect to my QC35. Can hear the music, everything looks good. Go to the app and bam, says there's no device connected. Happens all the time. The app is pretty much useless at this state.
Wow.
Just wow. I am an owner of a few pairs of the QC20s and they are really good. These 30's are way fabulous. No cord to get in the way and well over 8 hour battery life make these a great set. I recommend them. Oh, and the app is fine. It does what it's supposed to do.
The level of stupidity....
This app has issues which has already been discussed. From and consistency to in ability. To be fair Bose updates it's app. And it is one of those updates which combined with the before mentioned issues that I have given this app a rating of one star. The updates are sometimes very useful and sometimes nonsensical. For instance, why change the applications icon to a small black plus symbol? The icon should be iconic. We current app icon does not describe what this app is. There is a saying. If it's not broke don't fix it. Revert the app icon back to its previous design. Then take all the energy for redesigning the app icon and apply it towards creating a piece of software that is consistent and reliable.
iOS 11 screw things up
I have a Bose revolve and everything was working great. I updated to iOS 11 and now every time I want to connect the speakers I need to go to Bluetooth in settings, clinch on forget device, search for my bose and connect again. Before it connected automatically to incriminate turn on the Bluetooth on my phone. Also, it does not longer recognizes my iPhone's name.
buggy
For a company making such good products, it's surprising how terrible this app is.
Can't connect or pair Bose Revolve speakers!
Tejano Joe M
on
10/9/2017
Worst decision of my life. Ever since I got the upgrade I cannot pair my Bose revolve speakers and stereo or party mode. I'm now left to just use one single speaker.
Nice!
Bluetooth sport headphones are comfortable and sound good. Easily connects to my iPhone every time. My iPhone music EQ does not seem to work on these earphones. Please add an equalizer function to the Bose app. Thanks!
Switching devices is too error prone
Standfast999
on
10/9/2017
This takes way too much time to switch devices
Bad update
valleygirl00100001
on
10/9/2017
It actually made things worse. Now I cannot connect to iPhone #2. I've tried several times with different devices turned off, and it still won't connect. The iPhone sees the Bose, but it won't pair anymore. Last Update: the app doesn't work at all. Even with BT turned on in Settings, the app thinks it's off.
Can't change soundlink's Bluetooth name
KathyMinnich
on
10/8/2017
I want to change my speaker's Bluetooth name from "Bose Resolve SoundLink" to something else. This was possible in an earlier version where the app would give new name suggestions - and had some very clever ones too! But I can't find this feature with the latest version of the app. PLEASE BRING THIS BACK! ☹️
Glitchy App
This review is for the October 2017 update. I update the app, which is required with Bose QC30 Bluetooth ear pieces, after each update so my one star review isn't unfair. Problem with the app is that function has steadily gotten worse not better. Boses latest update reduced the frequency of one problem only to create another. Around half of the time the sound in the headphones will spontaneously rise until a shrill warning beep sounds 2-3X per second which won't shut off. The latest problem is a voice command telling me to select English goes off; it can't be turned off until the unit powers down. There is no way to get either of the glitches to stop. Push buttons, disconnect the Bluetooth, charge it, nothing. The volume spontaneously rises or falls and the sound is either earsplitting or non existent. None of the button functions work. If i switch to Apple phones the problems go away. Uninstalling used the app used to correct the problem for a day or so, now it doesn't . The app won't allow itself to be turned off if BT function is on so you can't install in on two devices. When running the phone can't be carried in a pocket, because it keeps turning the screen on resulting in garbled sound. Never a problem with $29 apple Headphones. The app needs serious work. Not recommended. One star for great audio quality, minus 4 for poor execution.
Update Broke My heaphones
So unsatisfied with my QC35 headphones, but this is the last straw. Opened this app just a minute ago and clicked the "update button" and now my headphones wont even turn on. They are completely useless now. The light doesn't even turn on when i plug them in. Its actually extraordinarily impressive that this software could be designed so poorly that its possible to completely disable the device instantaneously. I wish I could return my headphones but Bose is also terrible about that.
Buggy and doesn't do much
I bought the QC30 Headphones, which I really like. They recommend this app, but it doesn't do much. The worst part is it's buggy. When I'm connected to the headphones and open the app, it says my Bluetooth is off, and it won't do anything. I can eventually convince it to work (turn Bluetooth off then on), but why bother? The app tells you the battery level, but the headphones tell you that with an electronic voice when you turn them on, and the battery widget on the phone also shows the level. It lets you set the noise cancellation level, but you can do that with the buttons on the headphones as well. And unless you opt out, this app reports back to Bose what you listen to! For software updates you can use their Mac or PC app, which is what I did when I bought the headphones. Even that app launches every time you startup your Mac or PC, unless you disable that feature. I've always loved Bose's products, but their software needs serious improvement.
Connectivity issues
Not sure if I got a faulty pair of headphones but the connectivity is trash! If I turn my head slightly or my phone is not super close to the headphones they go in and out. The range is supposed to be 30 feet. I've re-downloaded the app, made sure it's the latest version and still not working. I should not be having these issues. I use my headphones for running and the last thing you want to do it troubleshooting your headphones on your runs.
Poor app for qc35
Bose should do something to improve the quality of the app .qc 35 is a good quality headphones.
Great companion for great audio devices!
J J Anderson
on
10/3/2017
This app enables lots of helpful functions for all of the great Bose products. You can change the name of your headphones, choose a level of noise cancellation (if your device features the quiet comfort option) and even will help with their upcoming wireless earbuds for locating them! A must-have companion if you own any Bose audio product.
Party Mode
Party mode doesn't work. I have Micro and Revolve they will not pair. Saying I either need to update or ooops something went wrong. Anyone having same issues. Please help
Bose ain't what they used to be. Amar Bose would be very disappointed.
This app is no better than the Bluetooth headset I had to replace twice due to poor quality. Now I can't even delete it from the App Store.
Live em
Sparkplug723
on
10/2/2017
So far I love em. I've had them for 5 days and they have great sound, easy to use and the mic and speaker work great for phone calls.
horizontal Flip view
Daniel Egner
on
10/2/2017
Add a horizontal flip view for the IPads. If Bose can do that then this app is perfect.
Does not work with Sport
Buddy & Jill's Mom
on
10/2/2017
Worked at first. Now it sees my device and someone else's and won't pair. Waste of time and money.
Quietcomfort 35 refuses to connect to iPad Pro 9.7
Citizens user
on
9/30/2017
Connects fine to iPhone 6 and Toshiba laptop
Cannot connect to speakers
What use is an app like Bose Connect if it can't even connect to the speakers. My phone is connected to the speakers (and playing music on it), but for some reason, the app says nothing is connected. And the rare times it connects, it says it'll take 1.5 hours for a firmware update. Seriously?
Bose Connect & Q30
Seamless sound stream of non interruptions! Outstanding sound quality with great battery life. Q30 kicking tail! So far no complaints and very clear and precise lyrical and instrumental sound quality! This far, best purchase I've made with Bose!!'
Not Working in os11 for iPhone
I updated to os11 and the app stopped working completely. I can connect my iPhone to the speaker but the connect app will not pick it up. It works on my iPad for some reason but no luck on either of my iPhones. Maybe we need an update?!?
Disappointed
Just paid for the new QC35s Version 2 to find out they don't have music share yet. The headphones are on the apps list as compatible. Id like to know when they will be compatible?
MAGGBOSSE COLOUR II
Hands down, Best BT portable speaker Ever! Dollar for Dollar. In the mid to high target market, at $129, in the $100-$175 speaker price range, this Lil Son@$#% is very loud n with its loudness, this lil Son%#&$ doesn't break it's Crisp Clear Smooth yet Hard sound for Nobody! Then when you add the Bass that ties it altogether....You get this Lil SON&@$%#. The compliments I get from people is cool man...... I was jammin out with this thing in a banquet room that I was "WORKING" in Staging an event, and was lost in my music.I was playing it kinda loud...my bad. didn't realize the song that was on was a lil lil bit much for a fancy banquet room, until the client walked by me and said "Hey, who's playing that". So of coarse I say "my bad" it's mine, I'm turning it off right now, my bad. Then the client says to me "No no no" just wanted to see where the music was coming from because from that side of the banquet hall, that has to be the one of the most clearest sounds of clarity n bass that I've ever heard, especially coming from a small speaker. Makes the song sound very nice. And all I said was "nice", thanks man. But that's how I Roll!!
Headphones not switching off with latest update
frustated remitly customer
on
9/29/2017
Headphones QC35 are not switching off after the latest update. Connecting again and remaining on after switched off.
More control
Love the fact that I can change the noise canceling now but I really want and hope that they put on is AN BOSE Eq that has bose presets and a manual adjuster PLZ
Too many resynchs
This latest update makes me want to throw away every Bose Bluetooth device I have. It seems like I have to clear the Bluetooth memory every time I was to connect to an additional device whether it be a phone, tablet or computer. Very frustrating especially if I trying to use me Bose ear sports for a phone call and had been listening to music previously off my tablet.
Not working fully with iOS 11
Bluetooth has to be manually paired every time you restart the speaker and the Bose Connect app doesn't work.
Mediocre at best.
If you must have an app to use your Bose QC35 then it should add some value to the experience. This app drops connection when right next to a device and will enter a mode where you can't get sound from your iPhone even with headphones turned off. The app seems to grab the audio channel and strangle it.
Bozzze?
this app is buggy. iOS 11. the firmware update for qc35 succeeded. but now every time the app is launched it says "hey we need bluetooth to work our magic" and then it bumps me to the wrong OS settings section (notifications). So uninstalled and reinstalled the app trying to fix this a couple times, so far no luck. you bose guys should fix this! my brother works for bose, i'm gonna tell him to tell your boss. hehe. good luck!
Awesome
Isai velasauez
on
9/26/2017
I didn't know Bose had an app do this but I really like this app. It is so useful to me when I misplace my headphones
Bose 👌🏼
Nice and good quality 👍 My earphone ( soundSport Pulse ) ♥️👌🏼
Not as helpful as it should be
This app will only assist in connecting your headphones to mobile devices apparently. Tried for literally hours to connect to a Bluetooth transmitter for my TV because the whole point of buying wireless was to be able to watch shows without having to be connected to a tv by a wire. Super unhappy.
Terrible
Terrible app - keeps saying Bluetooth needs to be on. Bug ridden and it's easier to just go to Settings and manually set up the Bose 35 everytime i use them - which should say everything you need to know. Don't use the app, worst experience w/Bluetooth in 10 years of my using iOS devices.
Do not update!!
Do not update this app if you have quiet comfort 35 headphones. The update will break your pairing with headphones and you will no longer be able to pair. They did not do any testing when rolling out this update.
I don't usually write reviews, but when I do....
AWESOME! I love the music sharing feature. Innovative. Glad I can turn off noise cancelling as needed. Great configuration of headphones options.
New icon disaster
Seriously, what??..
on
9/24/2017
I wonder how many people and how much money was wasted on thinking up this brilliantly stupid new icon
Bluetooth Trouble
I updated my iPhone to the newest update and now I'm having trouble connecting my QC headphones to the app through Bluetooth. When my headphones are connected, it always says to turn on Bluetooth when my headset has been already been connected. Even tried turning off the connection and putting it back on and I still have problems. Hopefully this can be fixed.
Party mode should be called party pooper
Brandon DeBello
on
9/23/2017
Good luck getting party mode to work. Takes 15 min of turning off then on then reconnect. Do that about 15 times and maybe it will work. I bet you get frustrated first and just use one speaker.
Only go into the app to update
I really don't have much of a reason to go into this app other than to update my wireless headphone software. I can operate my headphones from my music apps by simply turning on my headphones. I tried to use the find my headphones feature, but doesn't seem like it's an option for my headphones? They're relatively new, so I don't consider it to be obsolete. Perhaps consider optimizing this feature.
App support
Ayad al-healy
on
9/23/2017
Happy to use Bose QC35 most of my friends bought QC35 after trying mine, totally satisfied with the app and looking forward to see more options in next updates
Icon - Are you serious?
It's a joke....right?
Best I've ever had!
History Sponge
on
9/23/2017
Tried others, none compared to Bose 35! Clearest sound , music, vocals are enhanced as to a live concert! Pairing set up also easy. Quality you'll know immediately! Worthy investment for all music lovers. Incoming call Feature earns my 5 star rating!
Poor Bluetooth
twistedboriqua2
on
9/22/2017
When launching the app for the first time every use it continues to say Bluetooth is off and prompts me to my settings and I have to turn Bluetooth off and on for it to work. Doesn't happen on any other Bluetooth device I have. Also started with last update.
Fact Sheet
Publisher:

Bose Corporation

Category:

Music

Released:

Dec 08, 2015

Current Version Released:

Sep 21, 2017

Version:

5.0.0

Size:

141.5 MB

Compatibility:

Requires iOS 9.0 or later.

Recommended Age:

4+

Game Center Certified:

No

Supported Devices:

iPhone4S-iPhone4S, iPadThirdGen-iPadThirdGen, iPadThirdGen4G-iPadThirdGen4G, iPhone5-iPhone5, iPodTouchFifthGen-iPodTouchFifthGen, iPadFourthGen-iPadFourthGen, iPadFourthGen4G-iPadFourthGen4G, iPadMini-iPadMini, iPadMini4G-iPadMini4G, iPhone5c-iPhone5c, iPhone5s-iPhone5s, iPadAir-iPadAir, iPadAirCellular-iPadAirCellular, iPadMiniRetina-iPadMiniRetina, iPadMiniRetinaCellular-iPadMiniRetinaCellular, iPhone6-iPhone6, iPhone6Plus-iPhone6Plus, iPadAir2-iPadAir2, iPadAir2Cellular-iPadAir2Cellular, iPadMini3-iPadMini3, iPadMini3Cellular-iPadMini3Cellular, iPodTouchSixthGen-iPodTouchSixthGen, iPhone6s-iPhone6s, iPhone6sPlus-iPhone6sPlus, iPadMini4-iPadMini4, iPadMini4Cellular-iPadMini4Cellular, iPadPro-iPadPro, iPadProCellular-iPadProCellular, iPadPro97-iPadPro97, iPadPro97Cellular-iPadPro97Cellular, iPhoneSE-iPhoneSE, iPhone7-iPhone7, iPhone7Plus-iPhone7Plus, iPad611-iPad611, iPad612-iPad612, iPad71-iPad71, iPad72-iPad72, iPad73-iPad73, iPad74-iPad74, iPhone8-iPhone8, iPhone8Plus-iPhone8Plus, iPhoneX-iPhoneX,

Supported Languages:

Danish; Dutch; Flemish; English; Finnish; French; German; Hungarian; Italian; Japanese; Korean; Bokmål, Norwegian; Norwegian Bokmål; Norwegian Nynorsk; Nynorsk, Norwegian; Polish; Portuguese; Russian; Chinese; Spanish; Castilian; Swedish; Thai; Chinese;