Not Recommended
App last updated
Mar 08, 2018
Screenshots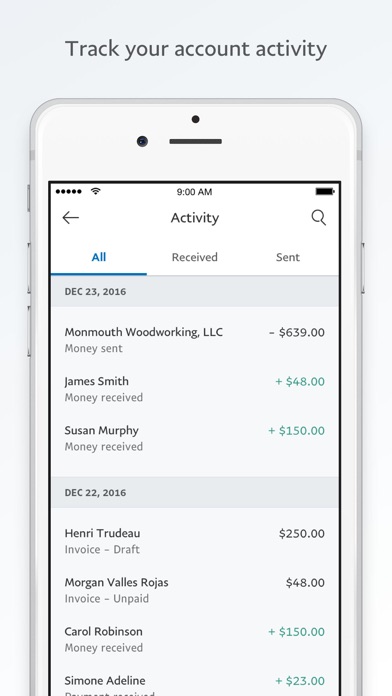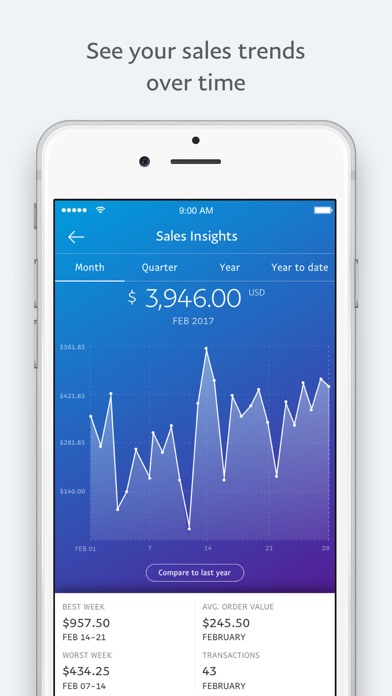 New in version 1.5.6
Bug fixes and improvements.
Description
For businesses on the go! Send invoices, track sales, and manage your money with the PayPal Business app.
• Make and send invoices quickly
• Manage sales and track account activity
• Transfer money
• See monthly, quarterly and yearly sales trends at a glance
• Access your customer info quickly

SEND INVOICES AND GET PAID
Create, send and manage invoices quickly from the PayPal Business app. PayPal's invoice maker also makes it easy to send payment reminders to customers directly from your mobile device.

MANAGE SALES AND ACCOUNT ACTIVITY
See your daily sales, and view your business' monthly, quarterly and yearly sales at a glance.

TRANSFER MONEY
Move money to your linked bank account, issue refunds, and send money in just a few clicks. Save time by skipping the bank lines with this mobile money management app.

ACCESS CUSTOMER INFORMATION
View customer transaction history, contact information and get in touch with your customers directly from your mobile device. It's also easy to import your contacts too!

The PayPal Business app offers your business a quick and simple way to make and send invoices, get paid, and manage your money right from your phone.

Need to accept credit / debit cards on a mobile device? Try the PayPal Here mobile app!
Reviews
Great App!
Works great and does all I need it to do, to conduct business on the go like I need it too!
Love it!
I've been a Paypal user for many years. Now that I run my small business I love this app! I can do everything through my phone which makes it super convenient.
Makes my life easier
Love this app and that it frees up this busy stay at home mom with her own small online boutique! I can take it on the go with all my kids activities and events!
Money moves
Makes making money simple.
Love how easy it is to use
It's nice because sending invoices are so easy with the PayPal app and it overall helps with my business! 5 stars!!!
Great app
Only issue is the charges, I wished that there was an option for when you billed a customer for the amount you want to receive, PayPal could automatically charge the customer the difference so you will get your invoice total.
Almost Perfect!
Love this app! It is simple and easy to use. I would give it 5 stars but you cannot bill for a fraction of an hour. Although I rarely need to, if I do I have to go to the actual site to create the client's invoice.
Accidental purchase
The pandora premium ad popped up and froze my phone screen. When I tried to push the home button after attempting to back out of the "purchase" it just took my fingerprint and authorized the purchase 😭. I've been trying to take the subscription off but it has been complicated and already contacted apple support to try to get my refund back 😩
Exactly what I needed!
shoplittlepapercrane
on
2/28/2018
This app is exactly what I needed it to be! I love that I can send invoices from my phone now and transfer money to my account super easily!
Invoice duplicates
Since updating, when I make changes to an invoice, the app sends my customers an update of the invoice every time I chance it, even if I don't hit send.
Withdrawals
Just a word to those looking to use this as your CC processor. If you do a high volume then you may be ok. I do between $5k and $10k a year. Usually withdrawals to your account take 1 business day. I am having one held right and the reason I'm given is that, I don't make enough enough withdrawals so it has been flagged as suspicious by the system and must be reviewed. Not that they are going to do that while I'm on the phone mind you but rather in 5 days. Imagine that, you have a customer that's been with you for years without even the first problem and you are going to hold their withdrawal and tell them their activity is suspicious. Nice. Suspicious of what? Trying to make a living?? At any rate, this was my experience and it may not be yours.
Pages scroll very slowly on invoice screen
Not sure why this is. It's really annoying.
Used to love this..
I used to love this app but after the recent updates there are so many glitches when it comes transferring money, it's super frustrating. Change it back!
Can't load with biz debit
As much as PayPal is good it is just as bad ! Not sure why there is not an option to load your account other than bank transfer especially when you can with personal account. I think that's absolutely ridiculous
Great
Mike's handy work
on
2/16/2018
Great app
It's ok
Just ok, not super great when I invoice people and they don't receive it. I've had this happen many times. I sent a invoice 5 times before the person received it.
One missing link
This used to be a FIVE star app. However, when they took away the ability to do immediate transfers (even though it cost $0.25), the rating came down. It's better than a three star, but not quite a 4 star. But I'll give it the up vote. It is EXTREMELY important for business to have the option to transfer immediately. Such a shame it was removed.
PayPal app
Iron Bear Jewelry
on
2/13/2018
Works great! No problems or issues with the app or PayPal at all. And I do recommend using them.
Easy
Hyperdunker09
on
2/13/2018
Great service easy to setup and use. Works great for my business.
PayPal App
Phyderica Holt
on
2/12/2018
I love the app but I wish it would bring up my different templates inside of using the default one. And I wish it would save my policy info.
Love it!
ReggaeDomain.com
on
2/11/2018
Invoicing on the go is a great feature! People complain about fees... But those fees are what help keep you guys going and doing what you do! And for that, I am grateful! Keep up the good work, Paypal!
Very helpful
boundless grace
on
2/8/2018
This app has been extremely helpful in getting Boutique going. Let's me invoice, create and purchase shipping labels (no post office visits), it also lets me have quick access to my funds when needed. Boundless Grace Boutique
Easy to use.
Like the format but if you want to ad pictures to the invoice they are super slow to load. Otherwise pretty good app!
Glitchy
This app boys down so badly after just two items are added for invoicing. It's unreal. But it's okay. Our business will be through Square after all the horror stories I've read how PayPal automatically gives a customer money back even though they are being fraudulent
It's sending two invoices?
Why? Every customer receives an invoice and an updated invoice at the same time. Weird bug! It's annoying and confusing to my customers.
Works well- very convenient
For the most part the app works for what I need it to, when I need it. Occasionally it is unresponsive but I am not sure if that is the app or my phone.
Easy to use
Very easy to use.
Easy to use!
Works very well for my retail sales! Did not give 5stars due to having to manually enter sales tax, due to it failed to calculate accurately on every sale. Other than that, I've been very pleased!
Love it
Use it everyday. Lifesaver :)
Really convenient
I actually love this app. As a personal and online trainer, I have to frequently send out invoices, and this app makes it super easy. I love that it "saves" each product description, so I don't have to keep typing it every time. Super fast and easy. Has done nothing but help me with my business and I love being able to see how much I brought it for the month.
Great App to sell items and create invoices
TRACY HOWARD SELLS
on
1/26/2018
Enjoy and appreciate how fast and intelligent this application software is. I like its "Automatic Intelligence". Thanks!
Gets the job done!
NotSoCriticalCritic
on
1/25/2018
Works well. Fees are a bit much for me but the system works well so 🤷🏻‍♀️
Terrible lag
This app has a nice design and could be potentially useful, but whenever I open any invoice on my iPhone X I experience horrible lag and slowdown. Like the app slows to a halt and I can barely scroll up or down. Never seen this on any other app and I've used hundreds.
Great for self-employed
I use this app for invoicing all of my clients. It saves me time and money on a bookeeper. Highly recommend it.
Great App, Great Service
MohamedToure
on
1/22/2018
PayPal Business is a great app, along with the PayPal service. I had a few hiccups twice with them holding my money, but overall it's a great service and this app is great for mobile. I strongly recommend it to any business.
Love Paypal!!!
Thank God for Paypal!! I own a small business and don't have time for bookkeeping, and sending out invoices!! So Easy to print all my Reports for the End of the Year and so Easy to do the invoices right away and get Paid right away!! 😄
Invoices from my phone oh my!
adorewithpage
on
1/20/2018
I am thrilled to be able to write an invoice from my phone. Makes a big difference in response time which is important in sales. 😊
Sending invoices on the go
Mazon Hustler
on
1/20/2018
I really like how i can create an invoice and have that sent over to my clients. Makes it very easy to collect payment.
Easy to use
Dirtyscribbler
on
1/19/2018
Most of my business is conducted online and at random hours. The ability to create an invoice and send it from my phone is invaluable!
Need access to shipping labels
I'm so happy to be able to create invoices from my phone. It would be wonderful to be able to create a shipping label from my phone as well.
Total waste
TedabbsTHIRTEEEN
on
1/14/2018
Unable to send invoices & money requests through the original app are never received. PayPal is bad for business
So frustrating
try to make a living
on
1/13/2018
I am getting an error everytime I try to send an invoice through the app. And what's worse is that it just says error and doesn't tell why. I would reenter the information and still get that error Popup. So I go to through the website and it sends the invoice on the first try😡. Also it doesn't save customers information for repeated customer. You always have to re-enter it.
Perfect!
Trianna Moore
on
1/4/2018
Is wonderful for simple invoices and for a small business!
Love it
I do a ton of online business and this app is priceless for it! Get an email, enter item, and boom send! All done!
App doesn't work for me
Nettie love u
on
1/3/2018
App was working for me at the beginning but now stop I had over 2 different phone and down loaded this app same problem
Easy app
Easy to use. Happy with the app. Able to send invoices on the fly.
Great app
Great App, it lets me work from my phone, when I'm out of the office.
Super Convenient!
I love having the application on my phone. I can whip up an invoice for my services rendered business on the fly. I sometimes travel to clients' homes, and I charge a flat travel rate plus an hourly rate. Having the app handy like this allows me to tell my clients exactly what the complete charge will be. Communicative accuracy is wonderful!
It's evolved into something functional
Mike Kojoori
on
12/29/2017
I remember back in 2010 when the app didn't really exist. I gave a significant amount of feedback to PayPal regarding the functionality of their website and their app. It seems that they listened. I've been using PayPal since 2010 as a professional photographer. It's not beautiful when it comes to business presentation, but he gets the job done.
Everything I need in one place.
This app works great for all my customer billing and bookkeeping needs. Organized, easy to use, and free. What more can a tiny business want.
Fact Sheet
Publisher:

PayPal, Inc.

Category:

Business

Released:

Nov 28, 2016

Current Version Released:

Mar 08, 2018

Version:

1.5.6

Size:

129.9 MB

Compatibility:

Requires iOS 10.0 or later.

Recommended Age:

4+

Game Center Certified:

No

Supported Languages:

English; French;