TapNova doesn't recommend this version of the app.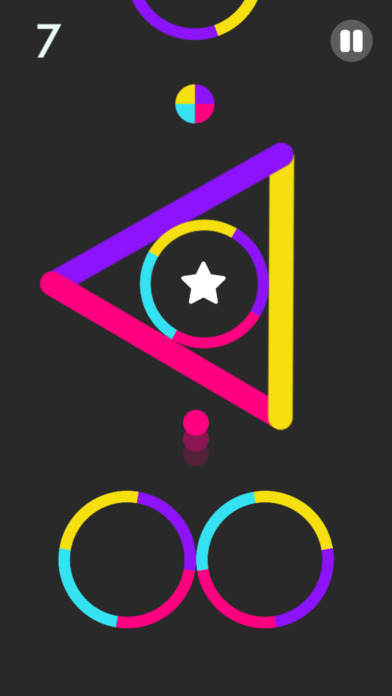 New in version 8.21
- Mini game Volcano after updating the game
- 25 new levels in Lava Mode
- New endless mode : Lava
Description
Over 150,000,000 downloads worldwide!
Play now the #1 addictive game of the year!

Tap the ball carefully through each obstacle and your ball will switch color with some powerups.
You must follow the color pattern on each obstacle to cross it !

Be careful not to pass through the wrong color, or you'll have to start again.
iPad Screenshots
Reviews
good
NightMare3227777
on
6/26/2017
👍🏻👍🏻👍🏻👍🏻👍🏻
Wow
Nenailoveu4ever
on
6/26/2017
I think it is LIT
no
ZOZOZOZOZOZOZOZOZOZO18
on
6/26/2017
its hard and frustrating
Pretty good
Quack is a duck
on
6/25/2017
I love this game and I'm so addicted to it but there at way to many adds! It's so freken annoying!
Too hard
Rayrayrayrayrayjbcdjfbrkfbdf
on
6/25/2017
Many of the levels are way too hard. some even seem impossible. it's ridiculous
Great app but too many ads
Jojomohojon568
on
6/25/2017
This app has too many ADS and I know everyone says that but it really does. Sometimes the ads get in the way of your playing and not only messes you up but also annoys you very much. The game is really fun and addicting but it has way to many ads that either just pop up on the screen or come up on the bottom of the screen. The ads are the reason I give this game 3 stars
Can you not blow up my phone with ads 24/7
Great, addicting game but you literally have an ad ready every time I die on a level. Sometimes even in the middle of my attempt. And you'd think it would be a different ad every time but NO it's always some gay "episode" ad. Can you please reduce or even eliminate all ads.
Amazing but...
This game is one of my favorites but the ads are getting crazy. There are ads every 3-4 rounds. I would really like u guys to fix the ad problem and I would be really happy. Other than the ads this app is amazing!!!!😀😀😍😍 I Just bought no ads but the problem is you can't watch an ad to continue the game. I would really love it you Could fix that. ❤️❤️❤️❤️❤️
Awesome
GRAT game.... download now...
Awesome Game However.
Mudcrawler83
on
6/25/2017
For the next update can you make it so that if you have it on lets say the iPad and iPhone that the game data sinks between each other. Other than that the game is very addictive and I love it keep up the hard work guys.
Meh
This game is ok, I guess. I started playing because of lava. It had a lot of potential. But, around level 60, the gameplay just got cancerous and not fun. I did still finish it just to say I had. It had so much potential, and they just got lazy i guess and decided to make literal garbage gameplay. On top of this, like every other review, there are way too many ads. It's not like they are going to change that though, people are playing their game, they are making loads of money, why would they stop? They won't. So bringing it up here is almost pointless.
AMAZING.....but
priscilinga👑
on
6/25/2017
I recommend this game to a lot of people because it is a good time waster but there are just to many ads😑 when you die an ad pops up and then you have to wait. Besides there being hundreds of ads, there are a ton of different challenges that you can do👌
MKAE THE MODES EASIER AND I HAVE COMPLAINTS😡
Why u reading reviews🙄
on
6/25/2017
I kinda like the game but when I play the game it says I touched like a color that wasn't my color and I see that I didn't touch it and also when I downloaded this game on my sisters phone it downloaded fast but I downloaded this on my moms phone IT DOWNLOADED LIKE VERY SLOW u might say oh it not the game it's the phone and mind u when I download games on the phone it download LIKE game but this game is a nope 👎 and also the modes r like so hard again it says I touched a color that wasn't my color but i see with my own eyes 👀 that I didn't touch it 😠 please fix this and make the modes easy and not hard I want to have fun playing this game but be frustrated everytime i play the game please fix this
Amazing but except for one thing
Great job the creater
on
6/25/2017
I love this game so much! I couldn't stop playing it!! But there is one thing, the garden scrapes game ad can glitch me out of the game and when I enter it keeps crashing! Ughhh.
Great puzzle game!
SockMunchies
on
6/25/2017
This game is awesome, difficult, and fun at the same time ;). I'm almost 100% with the whole game. I love that they come out with new levels very often!
Soo Many Addssss!!!
Color Switch is an awesome game but it has to many adds!!! Even when I'm in the middle of the game it plays a ad!! It's sooooo annoying!! Don't buy color switch, I'm begging you!
Love this game
UnicornPoopSwimmerOrangePizza
on
6/25/2017
New levels all the time!! Really fun to play.
Please fix this game and I think it's so much fun! So please do fix this game
This game is so fun and awesome but on the game mode color fly level 9 it is so freaking hard at the end and there are so many adds is that even necessary!?
I want to pull my hair out
Bish_nigga 69 420 swag scope
on
6/25/2017
I am addicted to this game but it also makes me want to shove a shotgun down my throat then kill my self.
Good game
LightningBug1357
on
6/25/2017
I absolutely love this game. I have it on all of my devices, and it's so addicting!!! It gets a bit boring at times, but I still love it!! ❤️❤️❤️❤️
Best game!!!!😝
I love this game really fun to play when your bored and just having fun also the bad thing is that there are too many adss and sometimes the adds Freez and you have to exit out and yeah so I would get this game so fun😍😀🤗😜😋😎
Lovee it 💓💓
this game is sooo addictive!! love how there different games to choose from but one problem to manyyyyyy ads!
Love the game!! But....
Speedla06fast
on
6/25/2017
There are too many ads!! I can't even finish one level without an ad popping up! The game is hard, addicting, and makes super rage! Another problem, every time an ad comes on it doesn't let me exit out so I can't play the game until I exit out of the app. I suggest an update that can fix that. I'd really appreciate that.
GREAT game😍😊😎
See you later bye-bye
on
6/25/2017
Tjyhyhyhgyhh
So addicting and fun!
I love this app a lot! Game modes, endless game modes, daily challenges, mini games, daily wheel, classic, and characters or whatever you call them are all super fun! And I love collecting stars in levels and stuff to unlock different stuff. I don't care about the ads, really. But we all know their annoying in some games, but there's a reason why there's ads. So they can make money. We all love money so we can spend it on stuff or give it to the homeless or poor people. And come on guys, quit complaining about the ads! They only go up to 30 seconds! You guys can get over the ads. So there probably never going to take the ads away because they want to make money. So start leaving good reviews about it instead of bad reviews about stinking ads that you can get over with!! Think about what your going to say before saying it out loud. And also, if you guys are going to keep complaining about the STINKIN ADS, Then just PLAY IT OFFLINE!!
I HATE IT
Vannybridges218
on
6/25/2017
I PAYED FOR NO ADS AND I STILL GET ADS AND MY GAME ALWAYS GLITCHES TO WHERE WHEN I'M ABOUT TO FINISH IT MAKES ME DIE I HATE WHOEVER MADE THIS GAME
Love it but ads
Always_Flippin_10
on
6/25/2017
It's my favorite app that I have but the ads are really annoying but still fun!💕👍🏻
I know you won't read this 🙄
Fiorenza_luv
on
6/25/2017
I don't like this game at all. Ads pop up all the time which is annoying. And the game isn't good enough for this. Its a good game but its not AMAZING so limit the ads. But since no one is going to read this... I wasted 3 minutes of my life 🙄
Awesome
Bbbbbbbbbbbggggg
on
6/25/2017
This is so addictive and fun and it doesn't need wifi which is good to play on a airplane
Meh
1224$;&,8;$;$(&(&(&;&;7?&
on
6/25/2017
The game is good but the ads make it super annoying and ruins the game completely we should boycott the game until they remove the ads
You'll need Adblock
Ok first of all this game is fun and a great time waster. BUT THERES HUNDREDS OF ADS. I'm angry because this game has so much potential but the ads are getting very annoying and they really need to limit the ads, SERIOUSLY.
Terrible I hate it
Babe/Kenzie Rule!!!😘
on
6/25/2017
I feel like this game is rigged. I try each day, but it never works. I recommend not getting it
I hate it
Never get this app it is so annoying and it will make you mad believe me once you start playing it it's fine then but wants you keep playing you'll hate DON'T GET IT AT ALL
Love it so much
Stratman dolphin
on
6/24/2017
Best game ever I love it so much but I also like YouTube cookieswirlc cookieswirlc yay color switch
so many ads
Sophia_love66
on
6/24/2017
there are so many ads can you please stop the ads! i'm disappointed but great game😡😘
Addicting game and fun game!
Its fun but needs new updates
on
6/24/2017
Color switch is addicting, but fun.Theres a lot of adds.Ive played color switch for about a year and half,i got addicted to it in about a week,i beat every single level, but i deleted and Re-got it so i could play it again. I would highly recommend to play this game, i love it so much!!!!A BIG THANKS for the person who created it ❤️
AWSOME!! But…
GameReviewerPlus'xzl
on
6/24/2017
This game is so fun and addicting! I love the Lava, Bling, and Fidget tap game mode. But… their is WAY to many ads, once I fail or reach the finish line of a level a ad would pop up and it happens ALWAYS between my level ends. I'm in love with this game 😍😍 but it's TO MANY ADS!! 😠 Please put less ads, or NO ADS! 🙂
Just bad
Gosh sishfhdhdhdhdhhd
on
6/24/2017
Sooo many adds and by the end of the level on game modes like lava it gets ridiculously hard I bought this game so I'm not stressed out the ads itself make you not want to get DO NOT GET THIS GAME!!!!!
Fun I love it
You should buy it
Great Game 😊😊
This game is the best seriously I mean you could play this for 2 hours without being bored 😐 there's tons of of challenges and levels you can finish. It's so fun👌👌🎊
Addicting
Thiago simoes
on
6/24/2017
Very addicting game but the ads in full volume makes me crazy. I just can't play late at night. I know that i can solve that buying the app, but i think they lost their mind doing that. I just deleted from my iphone because of that.
Way too fun and addicting!!
CupcakeDerpKitty
on
6/24/2017
I honestly LOVE this game!! It's fun, addicting, and great art style to go with the background music. I love the game modes and saving money to buy the expensive models. If I could change one thing, it'd be to give it a soundtrack. Honestly! The music is too good to not have one! 10/10, would recommend!
Great Game
Ceiling Fan child
on
6/24/2017
This game is amazing. I totally recommend this game!!! There are game modes literally for everyone and it's really challenging. Between daily challenges and daily prizes, it's really easy to get coins. Plus there are updates at least like every month. Hope you buy this app because it's well advised!!! Good luck🐢
Amazing
Wjdjdjdjdjjsj
on
6/24/2017
☺️👌🏻👌🏻👌🏻👌🏻👌🏻👌🏻👌🏻👌🏻👌🏻👌🏻👌🏻👌🏻👌🏻👌🏻👌🏻👌🏻👌🏻👌🏻👌🏻👌🏻👌🏻👌🏻👌🏻👌🏻👌🏻👌🏻👌🏻👌🏻👌🏻👌🏻👌🏻👌🏻👌🏻👌🏻👌🏻👌🏻👌🏻👌🏻👌🏻👌🏻👌🏻👌🏻👌🏻👌🏻👌🏻👌🏻👍🏻👍🏻👍🏻👍🏻👍🏻👍🏻👍🏻👍🏻👍🏻👍🏻👍🏻👍🏻👍🏻👍🏻👍🏻👍🏻👍🏻👍🏻✌🏽✌🏽✌🏽✌🏽✌🏽✌🏽✌🏽✌🏽✌🏽✌🏽✌🏽✌🏽✌🏽✌🏽✌🏽✌🏽✌🏽✌🏽✌🏽✌🏽✌🏽✌🏽✌🏽✌🏽✌🏽✌🏽
Game mode glitch
I update the app every time an update comes out including for the new game mode volcano. When I open the app with wifi, cellular data, or none and still no volcano mode. I really enjoy when new game modes come out and this is disappointing.
The adds tho.....
Dat_Random_Fandom
on
6/24/2017
This game is really fun! It's addicting and I play is a lot other than Line Play or 1010! But the adds. The adds ruin the game a lot. Every Time I die, and add pops up. Even when I'm playing a game, an add appears. One of the adds(Ralph's add) will lag up the game and sometimes my iPad! Please fix this!🙎
Cool
Credit Dumper
on
6/24/2017
It's a good way to do when board in da car. And it's free so I can download it without my parents nowing. It's also fun seeing how much ahead I an from. Other people. 😂👻😺😽👌🐼 Also, the figit spinner is stupid and I ACTUALLY has ADAHD
Wow!
Best game ever super fun big of a fan on classic but theres about 30 modes get this game!
Hardest level of the year 👱🏻‍♀️👱🏻‍♀️👱🏻‍♀️👱🏻‍♀️👱🏻‍♀️
maliah nicole carter
on
6/24/2017
This game is so hard,I can't beat level 50.I am so close to beating one hole level.I can't wait any longer,I'm gonna flip out.
This game makes me so mad
BrookeS's Music
on
6/24/2017
While I'm playing this game it makes me yell and get ready mad. It makes it look like you did something wrong, when you never did! It makes me so frustrated.
Fact Sheet
Publisher: Fortafy Games DMCC
Category: Games
Released: Dec 05, 2015
Current Version Released: Jun 23, 2017
Version: 8.21
Size: 78.6 MB
Compatibility: Requires iOS 7.0 or later.
Recommended Age: 4+
Game Center Certified: No
Supported Devices: iPhone4-iPhone4, iPad2Wifi-iPad2Wifi, iPad23G-iPad23G, iPhone4S-iPhone4S, iPadThirdGen-iPadThirdGen, iPadThirdGen4G-iPadThirdGen4G, iPhone5-iPhone5, iPodTouchFifthGen-iPodTouchFifthGen, iPadFourthGen-iPadFourthGen, iPadFourthGen4G-iPadFourthGen4G, iPadMini-iPadMini, iPadMini4G-iPadMini4G, iPhone5c-iPhone5c, iPhone5s-iPhone5s, iPadAir-iPadAir, iPadAirCellular-iPadAirCellular, iPadMiniRetina-iPadMiniRetina, iPadMiniRetinaCellular-iPadMiniRetinaCellular, iPhone6-iPhone6, iPhone6Plus-iPhone6Plus, iPadAir2-iPadAir2, iPadAir2Cellular-iPadAir2Cellular, iPadMini3-iPadMini3, iPadMini3Cellular-iPadMini3Cellular, iPodTouchSixthGen-iPodTouchSixthGen, iPhone6s-iPhone6s, iPhone6sPlus-iPhone6sPlus, iPadMini4-iPadMini4, iPadMini4Cellular-iPadMini4Cellular, iPadPro-iPadPro, iPadProCellular-iPadProCellular, iPadPro97-iPadPro97, iPadPro97Cellular-iPadPro97Cellular, iPhoneSE-iPhoneSE, iPhone7-iPhone7, iPhone7Plus-iPhone7Plus, iPad611-iPad611, iPad612-iPad612, iPad71-iPad71, iPad72-iPad72, iPad73-iPad73, iPad74-iPad74,
Supported Languages: English; French; Japanese; Chinese;