Screenshots
New in version 9.70
- New endless mode : Autumn
- 25 new levels
Description
Over 180,000,000 downloads worldwide!
Play now the #1 addictive game of the year!

Tap the ball carefully through each obstacle and your ball will switch color with some powerups.
You must follow the color pattern on each obstacle to cross it !

Be careful not to pass through the wrong color, or you'll have to start again.
iPad Screenshots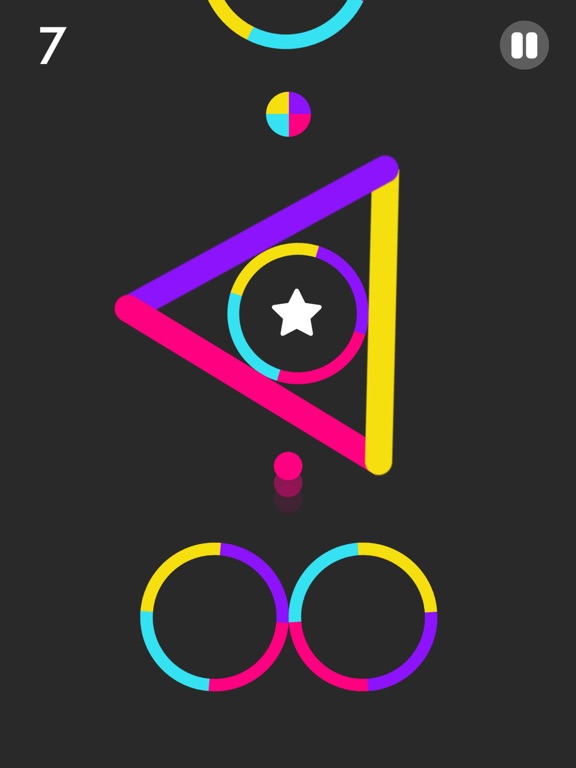 Reviews
Reset My Progress
Msjdndjdnsmsnj
on
10/17/2017
I had over 2800 levels completed, but one day I came back and all my progress was gone. I am very disappointed. Otherwise, it's a fun game.
Color Switch Review
It's a very fun game! I really like how there are all the different game modes and how they are challenging in every different level👍👌😃 it also works out your thumbs and makes your hand muscles 💪🏽 stronger I don't really like how there is soooo many commercials even as your playing they just pop up and you end up dying and having to start iver
Stress reliever
Boonemommyof4
on
10/17/2017
This game is my stress reliever. This is awesome. This is the best and I mean the best game ever
Trash
Game is very laggy and ads pop up while in the middle of the game.
Lag/Forceclosing
Upset not happy snapchat user
on
10/17/2017
I love the game, it is great and I do not mind the ads but after the lead update, for some reason everytime I watch an ad, the game goes blank or freezes at a white screen to where I have to close and open the game back up and start over on the level, which is getting pretty irritating. Sometimes it force closes and also lags. Before the leaf update it was fine so maybe it is a bug of some sort? But please fix it, I would love to continue playing this game without all the lag and force closing, Thanks! =)
ADS
Too many adds. Whenever I am trying to beat a level, a stupid ad comes and it makes me scream. And worse color switch makes it go on FOREVER. I hate it. Otherwise, color switch is ok, not great though.
Savagekylie puppet lover 111223344556677889900
I love this app it's fun I rate this a 1,000000
Great Game, One Personal Problem
Robert Sherman's friend
on
10/16/2017
I love this game, but I personally have a hard time playing most game modes due to one thing: I'm Colourblind. If it's possible to make a way to help people like me, who enjoy your game (I'm addicted) instead of just having to guess some colours on some levels/games, it would be awesome. I know it would certainly be a challenge, and only a very small demographic that plays your games have this problem like I do, but it would of course be nice.
UUUGGGGGGG ADDDDZZZZ!!!!!
grumpycat116
on
10/16/2017
I LOVE this game but ENOUGH WITH THE ADS!!! They annoy me SOO MUCH!!! While playing, I accidentally click on an ad and my phone GLITCHES and I have to DELETE THE APP and START ALL OVER AGAIN!!!
Awesome!
Mtyiiigg679
on
10/16/2017
I highly enjoy this game, and I'm highly addicted to this game. I love the many selections of levels. Though if I could change something, I would create a mode where you can make your own levels and share them.
Glitchy
I used to love his game. But lately with all the new updates, my app has been acting up strange. I have about five seconds to play this game before the app will close on me. I tried uninstalling the app and installing it again, that worked, but I lost all my progress. I don't want to do that again. Please fix! Other than that, this is a great game.
What in the world happened
Lydia Lynnette Lamp
on
10/15/2017
Hi, I just now got on this app and all of my progress got somehow erased! All of my game modes are now at 0%! Now I have to start all over. This has happened to me two or three times now since I got the app. Really would wish you would fix that! Lydia
Glitches
The Bossette🙂
on
10/15/2017
I really like the game, but every time I 1st get on the app, the 1st round I play glitches out and it stops and freezes or I'll be tapping it and the ball just falls. I really don't like that. Gets me frustrated. Other then that, it's an addicting game and really fun! 😊😊😋
Amazing!
Cory the new kid always
on
10/15/2017
The game is addictive and fun that I decided to pay for the ad free version!!
I 💜 this game!💜💜💜💜💜💜
Gryfindor4eva
on
10/15/2017
I love it so much!!! But, the thing is the adds open at weird times like, right after u start a level so when it comes back to the game u r in the air and u die. But the adds themselves aren't that aggravating just when they show up. But anyway, great game I highly recommend it!!!!
Just one thing
Great to do
on
10/15/2017
I've been playing this for about 4 months and it's my favorite game and I love that there are so many choices. The only thing is that I can't stand the ads! So I decided to pay the three dollars to remove the ads but they were still popping up. Which got me mad. So I bought it again and said it would remove it for free since "it was already bought" so the ads went away for a minute, I lose at the level I was playing but the ads came back😠. Everything else is amazing just please remove this issue.
Good game really hard
colerswitch
on
10/15/2017
It's a challenge most people like a challenge or 2 sometimes so it's good
Probably the most addicting game I've stumbled across.
The Rating of IIan
on
10/15/2017
Need I say more?
Supper addicting game!
I love color switch, it is super addicting and easy to get hooked on. My favorite game mode is circular but something really irritating keeps happening. Every time I close out of the app it resets and all the levels I beat and balls I unlocked vanish if they were never there. As you can see this would be very irritating after setting a high score and beating all of the levels.
Love! But...
Lilcat The Cat
on
10/15/2017
I play all the time but recently some ads haven't been letting my click off and the game shuts off randomly... it super annoying! Please fix!!!
Best game ever
idxotpulyfyd
on
10/14/2017
Got a quick question why is this so addicting? Get this game.
Wow just wow
Marioandyoshigamer
on
10/14/2017
I loveeee this game it's Awesome plz make more levels 👍🏻😱😲😌😋🤗😁
Glitch
smwhite2990
on
10/14/2017
I live this game but recently it's getting a glitch or going into slow motion I the middle of the game ever since he new update
Game Report
Caroline's b day
on
10/14/2017
Really fun I like how they have different game modes really fun my friends have it so I wanted it SUPER fun and addicting but lags like crazy and every time I get on it logs me off so that takes some fun out of it but WAY to many averting videos 👿👿 you can't go 1 minutes without there being a averting video it's like it doesn't want you to play please fix bugs or I will have to delete the app
My Review
Dilson Almonte
on
10/14/2017
This Game is Just Amazing!!! - Keep Updating
no thanks
this is a fun game. it is super addicting and i enjoy playing it. half the time. there are so ooo many ads, you cannot close out of some of them, they take forever, and they pop up in the middle of the game. it is also annoying that because there are so many ads loading the game play is lagging, delayed, and slow which often ruins the game. it has also been messing with my phone.
It's okay
__maddy__75
on
10/14/2017
When I first got color switch it was so addicting and fun and I loved it! I still enjoy it lots now and I'm on high levels but since the new update happened, there is so many ads! It used to be add free and I didn't have a problem with it. It keeps glitch ing out and it's very annoying. If you would please fix that problem it would be great. Overall, it is an amazing and addicting game and I would recommend it.
Soooo many ads
Xx Solar Gaming xX
on
10/14/2017
Ok, so I have been playing this game for a long time and I have never had any trouble with it, no glitches, not many ads, but recently after a bunch of updates have came out it is literally every time I die there is a 30 sec ad on the screen that I can't get out of until it's over, or when ever I start a new level it gives me another ad. It is just too much now it's like every time i'm on it, it's just ad, ad, ad. That's not how I want to play games and I think you need to fix it. I'm going to delete this app unless you stop putting so many ads.
So addicting!!!
kelsea ballerini101
on
10/14/2017
This game is my favorite game and it's so addicting!i love that it has different modes.i can't think of 1 bad thing about it
So awesome!!!
This is cool and I'm gotta die for this game! 💀💀💀💀💀💀💀💀
It's okay but I'm not sure
It's and all but the new update is boring and useless and the rounds are not as fun. Can you add like blocks and stuff kind of like Minecraft I guess but just more fun at least and I want you to add like rounds called jumps and bumps something simple cause my brother keeps asking me like what's the name if this round and stuff like that.
Used to be...
Was my fav now it freezes up all the time
Add more fun modes
Do a water, gun, obsolates endlees
Addicting
This game is fun. 8 have Ben playing this game for 3 years. Needs another Holloween game mode.
Awesome but Annoying
Punch Champion
on
10/13/2017
I love the app because there are so many game modes and levels but if they changed one thing it would be that adds don't pop up while you're playing. I don't mind the adds but they're annoying when they pop up while you're playing instead of when you finish a level or something.
It's great!
This is an amazing game 👏👏It is very creative and a great way to kill time. The only flaw to it is that there are way too many ads. They pop up all the time and after a while it gets annoying😣 other than that... I love it 😍
Too many ads!
I got my shoe stuck in a tree
on
10/13/2017
This game in general is my favorite and it is very fun to play. However after you die 3 times you have to watch an ad. At first I didn't mind, but now it is really annoying. If you have to do ads please not Word Cookies at that one is sooooooo bad.
Good...but
ChocolateCupcakes🎂
on
10/13/2017
Ok so this is a very good game but it has so many ads.You can be in the middle of beating a level and an ad will just pop up.Its like there is an ad every five seconds.This needs to be fixed until then I'm deleting this game.
Too Many Ads!
annelimariah
on
10/13/2017
I like the game a lot, but there are way to many ads!
Rating
iballisticdubhcat
on
10/13/2017
Omg I love this game it is so fun to play and aooo satisfying when you when!
The glitch
The game glitches all the time and you fail levels #the glitch is real
To many adds
It is a AWESOME game and it cheers me up but it has WAY to many adds
Let's Be Honest
This games started out great but has really gone downhill. Instead of improving the excellent levels they had already created the developers create a bunch on new little games that are basically exactly like the other. Used to be fun and addicting now it's just a game I use when I'm ignoring my parents or am bored in class. I wouldn't recommend it, but if boring basic arcade games are what you like then no judgment here. Also the stupid adds are ridiculous and not worth the hassle. Really 3 stars just cause it was okay at the beginning.
I love the game but...
justareviewtogetthereward
on
10/11/2017
The game is great and very addictive, but the ads are so annoying. It always has ads! The game is always interrupted by the ads and also all the ads are usually the same. I completely hate the ads and I hope they are reduced. Anyway great game, but horrible ads
$2.99 For No Ads.. but Still have Ads... Not Happy!
Just downloaded this app. All the ads were extremely annoying so purchased the No Ads for $2.99 and still have all those darn ads. Seriously? Buyers beware... You don't get what u purchase!!!
Great but 1 problem
unicornqueen8
on
10/10/2017
This app I got a couple months ago from my friend. I loved it till a couple days ago. A couple days ago I opened up the app and ALL my progress was gone I had hundreds of balls and hundreds of levels completed otherwise I would of given it 5 stars
Ads
Rate the apps
on
10/10/2017
Such a god game but there are too many ads
WAY TOO MANY ADSSSS!!!!!!!!!
While I play, an ad pops up. EVERY 45seconds I get adssssss!!!!!!!!!! SO ANNOYING. Guys, Color Switch gets paid for putting ads in their app. ITS IRRITATING. Please fix.
Addicting But Glitchy
Betty Beirne
on
10/10/2017
My friends and I absolutely love this game but I always lose due to constant glitching.
Fact Sheet
Publisher:

Fortafy Games DMCC

Category:

Games

Released:

Dec 05, 2015

Current Version Released:

Oct 13, 2017

Version:

9.70

Size:

94.9 MB

Compatibility:

Requires iOS 7.0 or later.

Recommended Age:

4+

Game Center Certified:

No

Supported Devices:

iPhone4-iPhone4, iPad2Wifi-iPad2Wifi, iPad23G-iPad23G, iPhone4S-iPhone4S, iPadThirdGen-iPadThirdGen, iPadThirdGen4G-iPadThirdGen4G, iPhone5-iPhone5, iPodTouchFifthGen-iPodTouchFifthGen, iPadFourthGen-iPadFourthGen, iPadFourthGen4G-iPadFourthGen4G, iPadMini-iPadMini, iPadMini4G-iPadMini4G, iPhone5c-iPhone5c, iPhone5s-iPhone5s, iPadAir-iPadAir, iPadAirCellular-iPadAirCellular, iPadMiniRetina-iPadMiniRetina, iPadMiniRetinaCellular-iPadMiniRetinaCellular, iPhone6-iPhone6, iPhone6Plus-iPhone6Plus, iPadAir2-iPadAir2, iPadAir2Cellular-iPadAir2Cellular, iPadMini3-iPadMini3, iPadMini3Cellular-iPadMini3Cellular, iPodTouchSixthGen-iPodTouchSixthGen, iPhone6s-iPhone6s, iPhone6sPlus-iPhone6sPlus, iPadMini4-iPadMini4, iPadMini4Cellular-iPadMini4Cellular, iPadPro-iPadPro, iPadProCellular-iPadProCellular, iPadPro97-iPadPro97, iPadPro97Cellular-iPadPro97Cellular, iPhoneSE-iPhoneSE, iPhone7-iPhone7, iPhone7Plus-iPhone7Plus, iPad611-iPad611, iPad612-iPad612, iPad71-iPad71, iPad72-iPad72, iPad73-iPad73, iPad74-iPad74, iPhone8-iPhone8, iPhone8Plus-iPhone8Plus, iPhoneX-iPhoneX,

Supported Languages:

English; French; Japanese; Chinese;