Screenshots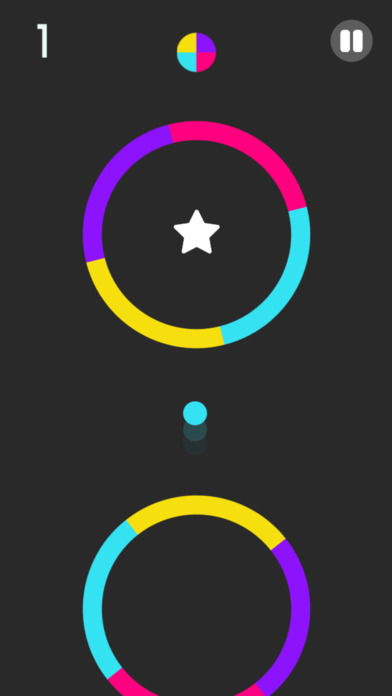 New in version 8.91
- New game mode : Obstacles
- 50 new levels
- 3 new balls
- Fix level 59 Summer
Description
Over 175,000,000 downloads worldwide!
Play now the #1 addictive game of the year!

Tap the ball carefully through each obstacle and your ball will switch color with some powerups.
You must follow the color pattern on each obstacle to cross it !

Be careful not to pass through the wrong color, or you'll have to start again.
iPad Screenshots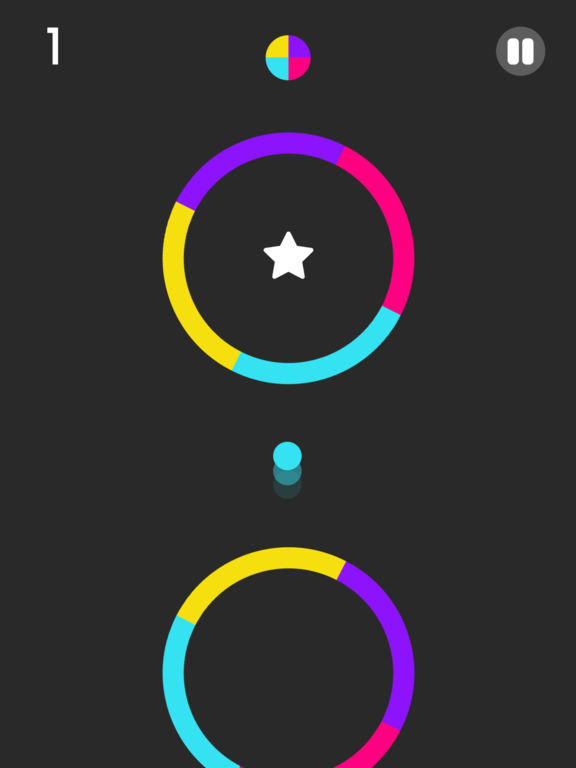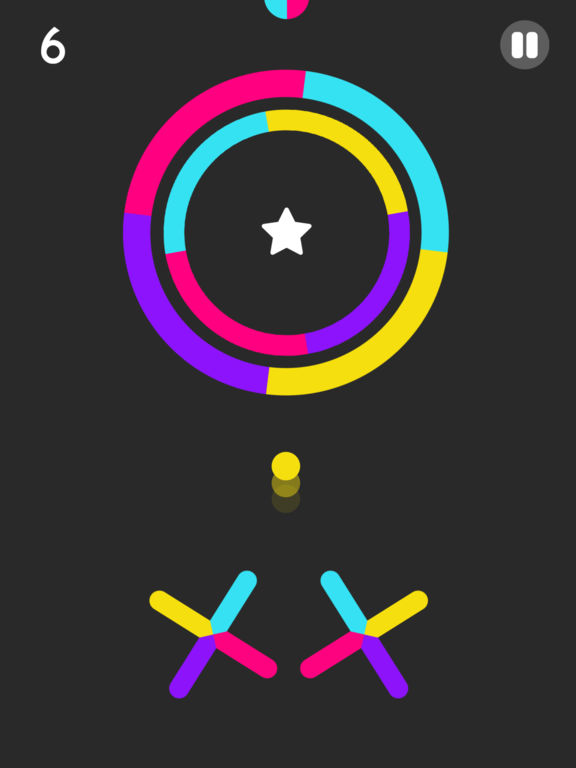 Reviews
Fun but Not
Jojo'sTunes6
on
8/20/2017
So fun to play but it continues to glitch and I am getting over it👍🏽😡
Nice
El diory vale
on
8/20/2017
Better
I have a mode suggestion!!!!!
Experienced MARIO player
on
8/20/2017
There could be a mode where it could be all the states in America each level have a states flag color for the ball and objects it is always different for each state
Horrible🙄🙄
catacorn lover 🐱🦄
on
8/20/2017
It is overall horrible becausethe adds are always popping up and so annoying. The one that is the worst is the cookie puzzle one it is so annoying😒😒
It awesome
sophiawyliefan
on
8/20/2017
I like obstacles cause you get to control it and each one i win
Not good
Bug loves black labs
on
8/20/2017
Everytime I want to play this game a ad comes up and freezes the whole game and have to wait several hours for it to reset fix or deleting
Fun but.....
Lmsgsjbscsjsbsb
on
8/20/2017
Color switch is a really fun game. It can be addicting sometimes on hard levels. I love this game but adds keep on popping up and if I'm in the middle of a level an add will pop up and I die!! This is really annoying!! Please fix this 😩 !!!!!!!
Really fun but frustrating
Steak breath
on
8/20/2017
When I got to the bonus rounds it really made me mad that the circles and the squires didn't move around in one way the whole time it made me want to not play
Ads...!
This app is a 5 star game!! So much fun. But I'm THROUGH with the ads. They're so annoying (especially the Word Cookies ads). They even start when I'm right in the middle of a game. Please. Get. Rid. Of. Them!!! 😡😡😤😫 I will quit this game if they are not removed - they are that annoying!
Ads
Is it necessary to place an add at the very bottom the the screen, conveniently right where I tap my finger for the game, so the add opens and screws me all up? This is literally the only problem I have with this game.
Love the game, but hate it...
Geometry Dash Boss
on
8/19/2017
I got so far into the game and didn't play it for a bit and when I went back on everything was gone!!! I was so upset!!! Color switch creators please try to fix this, that would be very helpful for the future. I ended up deleting it since I lost everything as soon as it's fixed I might download it again, idk. 😬😕
I love it but the update...
Stephanie Restrepo
on
8/19/2017
Has to many ads💩
An awsome game
This game is awsome. If I could only have game it would be this game.i would never ever delete this game
Great game but
Sumflum Mumfler
on
8/19/2017
The game is really great and nice, I even got to beat my first pack or something. BUT, there are wayyyy too many ads. Each third or fourth time I die, ads pop up and it's just ruins most of the fun. If the creators could make it so less ads pop up each time we die, I would be pleased and play this much more.
Really?
Dhhdjdakaksn
on
8/19/2017
I can't even get past today's daily challenge without the same as cutting me off at a certain point. This is happening with newer levels, too. It's getting boring playing because of the ads. Fix it.
Kind of Sick..
(Edit at the end) ...you didn't let me finish. Sick of the Hexa Puzzle Ads. It's not even as good as they told us it would be. Also, maybe... maybe you could... reduce the ads? I do know how ads work, and once you have enough to reduce the ads, I will be content... More content than I am now. Hexa Puzzle is actually kind of annoying! But other than that, 10/10! Definitely would play again. --Edit-- I've just updated it, and it keeps crashing whenever I load the app... and I want to do the daily challenge! Love this game, so could you please fix it? :) Thanks!
NOT GOOD
Awesomeness51
on
8/19/2017
The app glitches and has adds every like2 seconds. The glitches happen when I tap it multiple times and doesn't detect it. It also returns me to the home screen time after time just randomly. Not good. Do not get!!!!
Good, but...
Ehhhhhhdhdhdjnfjdkcnfncncmc
on
8/19/2017
I love the game, and it is really fun, but they added the Fidget Spinner mode, and it is kind of annoying because in a year it wont be popular. Thanks for reading, I love the game!
Do you wonder why your game crashes so much?
It is because of the adds! I love this game but every time an add changes the game freezes the goes again and kills me. Please fix this!
Live this App
This app is so fun imm on 43 on lava mode Wrong Person.
GREAT GAME BUT!!!!!
I love this game! It is great! BUT those stupid Target Back to School ads DO NOT HAVE X BUTTONS!!!! THAT IS EXTREMELY ANNOYING HAVING TO CLOSE THE APP AND RESTART IT!!!!
Terrible!!!!!
If you enjoy ads or very glitchy games, then this is perfect for you. There is an ad every 5 seconds and I get so angry. If you get rid of the ads then it would be a pretty decent game
Rigged
This app is rigged so you can't win at all don't get it
Bug fixes needed
Mr.DABBINGTON
on
8/18/2017
I love this game but I have to say there way to many pop up adds. Also if you get far on circle mode for endless the game starts to get glitches. It might be something with my iPad.
Okay but
Millie manage
on
8/18/2017
First of all the ads are really annoying games that I don't wanna play and they come up too frequently so that removes 1 star. Second star is because the normal game is boring so I do the challenges but they make me so crazy because the circle is too small and they should also be a little more uhm how do I say this... possible! (Update: now rated 2 stars because me and my friend are stuck on level 28 on the summer challenge and it is actually messing up up mentally! I demand an apology note.
Level 25 in target mode
Mrsbettyboop820
on
8/18/2017
This level is impossible to beat. I'm very good at color switch but that level has me stumped for weeks. Fix it please. Overall a good game. Thanks for adding different modes.
It's good but the ads
Missmadmoonlight
on
8/18/2017
This is a fun game to get rid of your boredom! I have fun playing this game when I go on trips, but the ads are killing me, ads every time that I either die or complete a level, ands on the bottom that distract me because of the colors. I know you gain profit from it but it's annoying, REALLY ANNOYING
💖🌈🦄Unicorn Gamer💖🌈🦄
🦄🌈💖 Unicorn Gamer 🦄🌈💖
on
8/17/2017
Okay, so let me say, I love this game. It is fun and challenging! I love every level that there are to offer. But there is one really, really annoying thing that I do have to mention. Occasionally, I'll be starting a level, and getting down a pattern, it'll all of a sudden it takes me to the App Store. I hit the "back" button, it moves my ball a bit, and then it takes me back to the App Store. It does this until I completely shut down the app. This is about the tenth time this has happened, and it's really frustrating because it makes me lose my level
Awesome game love it 😍
color switch craze
on
8/17/2017
I freaking love this game. It is awesome. I am at slow level 35 it is crazy 😜 hard but fun so be prepared for the best game of your life. I will never delete this game
I like it, but some things got my angry!!
When Ever I play I feel that there are to many ad's. Arghhhhhhh!! I just want to get back to the game. Once I was on a level, it was called swoop and I really liked it, anyway, when I was playing it just sent me back to the home page, I was a little angry at that. But it keep on happening, so I got angry and angry, and then I had enough, I shut down my phone, and didn't pick it up. I didn't touch it or play on it or texted on it. When a week went by I realized I could not LIVE with out my phone. I mean the best apps have the worst adds, and all u need to do is, just put ur phone down and go live a little!!!😜
Terrible
EpicCraft262
on
8/17/2017
A scam, overloads the game with adds so you buy the no ads pack, kills you when you didn't die just so it can play more ads to annoy you and have you buy the no ads pack. Don't get it
ADs make it glitchy
Fun addictive game. Too bad pop up ads make it glitchy to the point where it's unplayable
Too much ads
I see a lot of games with ads on it but this too much
This App is so addicting!
🐶Samus4ever🐶
on
8/16/2017
This is one of the best apps created! Whenever I'm bored i play this game!
Fun
It's great to play when your 😐 bored
Awesome
Layla-Smile123
on
8/16/2017
There are so many courses and levels and it's awesome! I just completed lava and I love it!And obstacles is nice as well.I just wish that there wasn't so many ads.I think that they should get rid of them, because if you can watch an ad for stars, you shouldn't have to watch more!But other than that, the app was awesome!♥️😊😉
So addicting you won't believe me!
swaggsterman42
on
8/16/2017
When I first got it I played till my phone was dead. I tried all of them and got really attached to hop hop. I completed it in a day! I really recommend it. HAVE FUN
Fun and Annoying
Color Switch is fun and all but of course the adds. It is so annoying that I can't take it! If I'm close to finishing a level it will block me from my game completely. Then when I finally close the add, the game just pops up and I lose because I didn't see it coming! Even though I learned to avoid that it is still annoying. But I still love playing the game! I just hope that would be fixed soon!😫
Color switch
Color switch is the perfect app to play.
Great game but the adds are getting to me
Shewasborntoride
on
8/16/2017
That's all I have to say
Issues
I am absolutely IN LOVE with this game BUT... every time I lose a turn it goes to an add. WAYYY to many ads.
Fun game!
Yesss Blessed💎 Girl
on
8/15/2017
I love the app! but... I have an iPhone, I'm about to get a new phone, I don't think I can transfer the app over (for some reason) . & it would be nice if we could make an account with gmail & (or) Facebook, with a password place so if the game gets deleted from the phone or something, you can download it again, & keep all your progress! Please & thank you! 😇 --Joe-Joe
Overall a great game but.......
Bigbobjone697
on
8/15/2017
I had this game since Summer 2016 and I loved the game! But now, the new modes ate basically coping other modes. Another issue are Ads. It always appears on my screen mostly when I complete a level. It also creates a little lag.
GLITCHES!
I have been trying to deafeat level 20 and it's making me lose!
One of the funniest games but…
You are really smart
on
8/15/2017
This is one of the most fun games but, ads come up way to often then they need to. The ads come up every 5-8 levels and sometimes it won't let me skip so I have to close the app and load it up again.
👍👍👍
malayna (mah lay na)
on
8/15/2017
It's awesome and time consuming so I play it when I'm bored and have nothing to do for a long time
Fact Sheet
Publisher:

Fortafy Games DMCC

Category:

Games

Released:

Dec 05, 2015

Current Version Released:

Aug 10, 2017

Version:

8.91

Size:

79 MB

Compatibility:

Requires iOS 7.0 or later.

Recommended Age:

4+

Game Center Certified:

No

Supported Devices:

iPhone4-iPhone4, iPad2Wifi-iPad2Wifi, iPad23G-iPad23G, iPhone4S-iPhone4S, iPadThirdGen-iPadThirdGen, iPadThirdGen4G-iPadThirdGen4G, iPhone5-iPhone5, iPodTouchFifthGen-iPodTouchFifthGen, iPadFourthGen-iPadFourthGen, iPadFourthGen4G-iPadFourthGen4G, iPadMini-iPadMini, iPadMini4G-iPadMini4G, iPhone5c-iPhone5c, iPhone5s-iPhone5s, iPadAir-iPadAir, iPadAirCellular-iPadAirCellular, iPadMiniRetina-iPadMiniRetina, iPadMiniRetinaCellular-iPadMiniRetinaCellular, iPhone6-iPhone6, iPhone6Plus-iPhone6Plus, iPadAir2-iPadAir2, iPadAir2Cellular-iPadAir2Cellular, iPadMini3-iPadMini3, iPadMini3Cellular-iPadMini3Cellular, iPodTouchSixthGen-iPodTouchSixthGen, iPhone6s-iPhone6s, iPhone6sPlus-iPhone6sPlus, iPadMini4-iPadMini4, iPadMini4Cellular-iPadMini4Cellular, iPadPro-iPadPro, iPadProCellular-iPadProCellular, iPadPro97-iPadPro97, iPadPro97Cellular-iPadPro97Cellular, iPhoneSE-iPhoneSE, iPhone7-iPhone7, iPhone7Plus-iPhone7Plus, iPad611-iPad611, iPad612-iPad612, iPad71-iPad71, iPad72-iPad72, iPad73-iPad73, iPad74-iPad74,

Supported Languages:

English; French; Japanese; Chinese;