Screenshots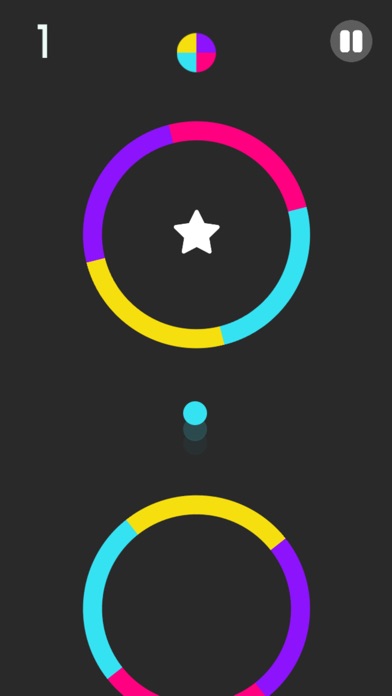 New in version 10.50
- New endless mode : Avalanche
- 25 new levels
Description
Over 190,000,000 downloads worldwide!
Play now the #1 addictive game of the year!

Tap the ball carefully through each obstacle and your ball will switch color with some powerups.
You must follow the color pattern on each obstacle to cross it !

Be careful not to pass through the wrong color, or you'll have to start again.
iPad Screenshots
Reviews
Bad game
It has ads during the game
So...many...ads...
You clear 3 phases, ads pop up. You die 3 times, ads pop up. You breath in, ads pop up. You breath out, ads pop up.
:P
Diego0193918391748174
on
12/11/2017
This game is't so funny
Great app!!!!
Lucdolphin#1
on
12/10/2017
-1 ⭐️ for adds The only way for you to see this is if it has 5 ⭐️s so that's what it shows but it is only 4 for me. I really like this app but the adds can really be annoying. I know that if you turn off wifi you don't get them, but if you want a new life, ( can be very useful in many cases) you need to have WiFi on. I personally love the game otherwise it's great!!!!
Frustating & Fun
I wrote a review a while back but now I want to revise it. This game is still my all-time favorite for many reasons. The music is amazing since, personally, I love EDM. Also, the creativity and level design makes playing the game timeless since there are many game modes that fit personal game styles, or like I said before, a perfectionist will probably try to master all of them! My only complaint is that I wish the developers would either make new balls, or allow players to use up their saved up stars as a type of currency for other things, like unlocking levels or skipping ads. I've already purchased the no-ad benefit, and I purchased the x2 stars. Without the ads, I'm no longer able to get a "re-do" on levels that I fail. Maybe you guys can make it so that a redo costs 25-100 stars or something like that. Basically, I'm just asking for a way to use my stars that are currently collecting dust. Otherwise, 4.75 stars out of 5, in my opinion. Great game!
Transfer
Ro Ro's game
on
12/10/2017
Got a new phone and my progress didnt transfer.What do i do?
Color Switch Review
I absolutely love this game! Every single level is challenging, but fun to beat. I also really like the spin the wheel and daily challenge, plus all the different modes. The only reason I'm giving it 4 stars instead of five is because of all the ads. The ads are frequent and frustrating. Sometimes, I'm in the middle of a really hard level, and I'm about to win, when, suddenly an ad pops up, and I lose! Also, they sometimes last way too long, or get stuck and repeat, so then I have to exit and restart the app to be able to play. The ads aren't exactly super appropriate sometimes especially the Episode ones, so I think everyone agrees the game would be a lot better if you would just get rid of the ads!
Love this app!😀😀
This app is awesome, and I am totally addicted to it. Just one thing...some of the adds are so annoying!🙁 If you got rid of the adds, this app would be totally awesome. Besides this, this app is great!!
Improvements needed
Block Buddies 4
on
12/10/2017
This game is okay I guess but when u push yes to notifications it starts u all the way over. U keep ur stars and that's it. It makes me mad when it does that so I don't think imma do it again.
Good but...
I love this game with all my heart, and I've been playing it since forever. My problem is the fact that the game makers need to chill on the ads. I know it makes you money, but I'll be playing in a level and an ad will suddenly pop up (IN the MIDDLE of the level). I'll get frustrated, then finally when the ad goes away, I die. This bothers me, and I really hope you fix it. Other than that, I think all of the levels are enjoyable and I think I'll be playing this for an even longer time.
Amazing app !
I love that It's challenging and it takes skill. I give this app five stars
Addicting, but has faults
Qt.Boomguard
on
12/9/2017
I do really love this game, but the ads freeze and I have to restart the app.
Color blind
😃😃😃😃😃😃🐈🐆🐈🐈🐈🐆
on
12/9/2017
I generally do like this game my only problem is that i am color blind, making it harder to play would be awesome if that could br added
Pretty good I guess
SO MANY ADS IF YOU HATE ADS DONT PLAY THIS GAME but I mean other then that the game is super fun and addictive
Game lost progress
Game lost my progress and has not restore to get my levels back.
Don't play
abriana_roman
on
12/8/2017
I tried playing his game the mode was brick and every time I tried to move the thing that the ball bounces on it glitched and a different app pops up and I did loose I know it sounds ridiculous but it glitched a lot and it was not working than my game froze and the game didn't work for a week
Not very happy with this app
Keeps showing adds and a lot of glitching so i ended up deleting color switch
Good but
I have had color switch for a long time now and don't get me wrong it is a good game, but I have unlocked all the balls and have over 13,000 stars and I can't do anything with them. Can Color Switch please come out with something to do with the stars
C
Kills me even when I'm on my color
Wow, just 🤮
COLORSWITCHHATER33333
on
12/7/2017
Ok, ads and more ads and more adsand more adsand more adsand more adsand more adsand more adsand more adsand more ads. The wishbone ads are THE WORST. Come on, everyone already has wishbone and it's slowly disappearing on the popularity level. It always glitches at the end of it and won't let me keep playing unless I restart my phone which, gees takes a million years. Some levels are actually impossible. Yes, I was dumb enough to calculate all the angles and speeds. IT. IS. IMPOSSIBLE. 🤯🤯🤯🤯🤯🤯🤯🤯 please fix this. And if dumb wish's muscle game wants us to buy their app, then we'll ignore it. If they don't bug us about it, we might get it. I hate color switch and everything about this lame game that PEOPLE ACTUALLY PLAY FOR FUN!!!! 😭😭😭😭😤😤😤😤😤😤😭😭😭😭😤😤😤😤😤😤😭😭😭😭😭😭😤😤😤😤😤😤😤😤😭😤😤😤😤😤😤😤😭😭😭😭😭😭😭😭😭😭🤯🤯🤯🤯🤯🤯🤯🤯😳🤯🤯🤯🤯🤯🤯😡😡😡😡🤬🤬🤬🤬🤬🤬🤬🤬🤬🤮🤮🤮🤮🤧🤧🤧🤮🤮🤮😵💩💩
How good of a game
savage bella
on
12/7/2017
I think this game is good because it challenges you and test you and it is so good because it gives me different options and you can collect star every time you finish a level
Okay for older people with PATIENCE
Pennywisesee
on
12/7/2017
The adds are inappropriate and the game is addicting! The ads contain sex and stuff and the game is fun even though it's addicting!
Its fine but
Stupid ads bug us when we are trying to play if you die you have to watch ads I don't like it i wish we didn't have to watch ads but we di
Fun but ads are so annoying
The game itself is pretty fun, but I am seriously about to delete this app because, like everyone else is saying, the ads are ridiculous! They are so long and the exact same things over and over. Get the hint- If someone has closed out the exact same ad 15 times, they probably don't care about it. The main ad is Word Cookies but there's also a lot of Episode ads and Snake vs Block. It would be so much better without ads but if you really want the app I highly encourage you to buy the ad free version.
please dear god get rid of the ads
honestly idk why even bother telling them about the ads. they arent going to fix it. they could at least make a paid version with no ads. but they wont do that. i still would like to propose they either do that or just remove them completely unless using a continue none of us should have to wait through 30 second ads after finishing a level. it's ridiculous
I have a glitch
So I am having this glitch where after some ads my screen turns white and I have to close out and get back to what I was doing. So if that could get fixed then that would be great but overall the game is really fun.
Fun game, highly flawed
Dat random guy
on
12/5/2017
The gameplay is fun, however certain levels feel unfair in the difficulty department. Often the required timing is near impossible to do. The biggest issue is the obscene amount of ads that are played that often lead to crashes and irresponsiveness.
Awesome
rainbow unicorn cat
on
12/5/2017
ya noobs dis game is lit
Good game but bad inappropriate ads for age of game
Good game however with the game being for ages 4+, it needs to have age appropriate ads. I don't consider the ad for "Episode" appropriate for 4+ with a girl in a bra kissing a boy with no shirt. Come on my son handed me the phone and goes "what's this mom." Very frustrating!
Really?!?
Ypppyoowmmvmmak
on
12/5/2017
Y'all I been play by this game for a few years and never deleted my stuff until the last few updates. The heck man! Fix this now!! I want all my stuff back. Like all my stars and levels I finished I'm pretty upset about this. Even my balls are all gone My the f*** man
Small FPS drop ruins the game
Larry & Chris Jr
on
12/5/2017
Can't play because the timing is interested with a fps drop that disrupts any attempts at a smooth timing of taps.
Great game, but I have one request
WhiteGuyyMatt
on
12/5/2017
I've been playing this game for almost 2 years and I've enjoyed it on my iPhone 6s (even though the ads are extremely frustrating) but I just got my iPhone X and I was hoping after this update the app would be made to fit the screen like most apps are doing. Some I ask if you can release an update to have the app for the whole screen.
It's ok
I really do like the game but the glitch needs to be fixed. Sometimes it'll just go to a plain white screen and will stay there until I completely clear the game out and go back in.
Addicting App
Artistic Arist
on
12/4/2017
I've been using this app since late 2016. It is the first app I got. So Fun. I have too many ads. But still FUN game. 😍😍😍😍😍😍😍😍😍😍😍😍😍😍😍😍😍😍😍😍😍😍😍 I haven't finished any of the modes completely, BUT... I was so close to finishing Fidget Spinner but then they added more levels. And I didn't find them as fun as the ones Before. 🤩🤩🤩🤩🤩🤩🤩🤩🤩🤩🤩🤩🤩🤩🤩🤩🤩🤩🤩🤩🤩🤩🤩 I love the new update PIXEL, it is so amazing, I love it! You guys should add even more levels to it , because I'm close to finishing it and a want more challenging levels for the mode PIXEL 🏝🏝🏝🏝🏝🏝🏝🏝🏝🏝🏝🏝🏝🏝🏝🏝🏝🏝🏝🏝🏝🏝🏝 😉😉😉😉😉😉😉😉😉😉😉😉😉😉😉😉😉😉😉😉😉😉😉 I love the game it is so AWESOME, ADDICTING, AND FANTASTIC. Thank You for making this amazing game. I love keep up the good work Color Switch Team! Keep making more modes! Thank You again! 😁😁😁😁😁😁😁😁😁😁😁😁😁😁😁😁😁😁😁😁😁😁😁 I also love the new update Avalanche.... IT IS SO FUN. I love how the snow ❄️ falls on level 5... I am barely on level 6. I just started playing today. =) 🥇🥇🥇🥇🥇🥇🥇🥇🥇🥇🥇🥇🥇🥇🥇🥇🥇🥇🥇🥇🥇🥇🥇😀😎😀😎😀😎😀😎😀😎😀😎😀😎😀😎😀😎😀😎😀😎😀🤪🤪🤪🤪🤪🤪🤪😘😘😘😘😘😘😉😉😉😉😉😉🙃🙃🙃🙃😊😊😊😊😊🤣🤣🤣🤣🤣😜😜😜😜😋😋😝😝😝😋😋😜😜
Good but....
Has the best music
on
12/4/2017
It is a good game but to many adds 🙄🙄🙄🙄🙄🙄🙄🙄🙄🙄🙄🙄🙄🙄🙄🙄🙄🙄🙄🙄🙄🙄🙄🙄🙄🙄🙄🙄🙄🙄🙄🙄🙄🙄🙄🙄🙄🙄🙄🙄🙄🙄🙄🙄🙄🙄🙄
All I have to say is lag
girl game ;)
on
12/4/2017
There's lag spikes that's pretty much my complaint BAI
TOO MANY ADS !!!!!!!!!
terminator125
on
12/4/2017
This game has way too many ads
Stopped
Every time I try to tap to jump, it stops and then I get killed. Please try to fix the glitches or it's just my phone. Thank you 🙏
Fun, a few problems/suggestions
Burb a Lurbs
on
12/3/2017
This game is overall very fun. There are tons of different modes and each one is a bit different. However, they make some modes, name it accordingly, and when a holiday rolls around, they copy the same idea, just calling it something that goes along with the holiday. But whatever. Like everybody else said, this game has so many ads. Usually I just turn on Airplane Mode before I play the game, and that solves the ad problem. When I don't turn on Airplane Mode, though, I usually manage to play one level before they hit me with ad. Super annoying. Anyway, I do have one suggestion. I think it would be nice to be able to move the modes around. Like in that big list when you choose which one your going to play? You should be able to move those around so that you can move your favorites up to the top, etc. It used to not be a problem, but now there are so many modes that it would be super helpful to be able to do that. Overall great game!!
Color switch
prettygirlsocool
on
12/3/2017
Omg it is so good when I first got the app I was addicted I seriously couldn't stop playing it but sometimes the app glitches and then takes me back to my home page on my phone but over all it is pretty good
Great fun, BUT...
The game is amazing! It comes with about 50 different game modes that are all so different it's like playing different games. But the adds can be really long. Also, when I play connected to wifi, it pauses for just a very short time, but long enough that it makes you mess up. The only solution to both problems is to have my phone in airplane mode while I play.
1 s͓̽i͓̽n͓̽g͓̽l͓̽e͓̽ t͓̽h͓̽i͓̽n͓̽g͓̽
T͓̽O͓̽ M͓̽A͓̽N͓̽Y͓̽ A͓̽D͓̽D͓̽S͓̽!! C͓̽o͓̽l͓̽o͓̽r͓̽ S͓̽w͓̽i͓̽t͓̽c͓̽h͓̽ i͓̽s͓̽ S͓̽O͓̽O͓̽O͓̽O͓̽ f͓̽u͓̽n͓̽ b͓̽u͓̽t͓̽ I͓̽'m͓̽ t͓̽e͓̽l͓̽l͓̽i͓̽n͓̽g͓̽ y͓̽o͓̽u͓̽ n͓̽o͓̽w͓̽ t͓̽o͓̽ m͓̽a͓̽n͓̽y͓̽ A͓̽D͓̽D͓̽S͓̽!!
Fun game, Some Problems…
This is one of the most entertaining games I play, but it has 2 issues that must be fixed. First of all, the first issue with this game is that you NEED to cut back on the ads, because every time you play a level, (whether you win the level or loose) an ad pops up. Not only it's an add, it's the SAME one every time. I think you should either not make so many adds, or you should play different adds. My second issue with the game is that it has a glitch. When you tap the screen with both of your thumbs at the same time, it will go slower, in a result of loosing, which causes another ad to come up. PLEASE fix these issues and I will write another review the next update you make. THANK YOU!! -k
Fun but..
LukeTheGamer👾
on
12/3/2017
Too much ads but it's very fun
Amazing and fun,addicting
Valerie Switch
on
12/3/2017
So fun! I love it!!
Ads are ridiculous
Look, I realize that for a free game to make money it has to have advertisements. But this game takes it to a whole other level. For every 30 seconds or so that you spend playing the actual game, there's about a minutes worth of ads
Eh
I love the game but for some odd reason while I'm playing the game,ads always pop up and ruin my game.😑But overall a fun game if you like ads...Happens to me so many times.That It's clearly annoying!
I love this game!!! But...
hzndiamsossnsgshd
on
12/3/2017
I got this game at the beginning of the year because my cousin showed it to me. I thought it was so much fun. I still love this game a lot!! The problems that are really bugging me are that 1. SO MANY ADDS!!! When your not playing there is a add when you are playing there is a add in the middle of the level!!! One time I was stuck on one and I finally got to the very end and I was about to make it then a add popped up and after the add I died. 😡😡😡 UGH!!! Last I think that it is really dumb you have to have WiFi to get free stars!!! I am really mad at this game. You better fix this soon. Or else I'm deleting this app. And trust me I will NEVER GET IT AGAIN
Amazing 🦄
There is an lest 20 different modes my favorite is ICE!!! I think you would like this game
Good
Color Switch is a very good game. But, as with most games, the ads are the only problem. The ads wouldn't bother me as much if they didn't pop up in the middle of a game, causing you to lose control. Then your game is done because you lost control because of a silly ad about an ad you probably won't get anyway.
Fact Sheet
Publisher:

Fortafy Games DMCC

Category:

Games

Released:

Dec 05, 2015

Current Version Released:

Dec 08, 2017

Version:

10.50

Size:

84 MB

Compatibility:

Requires iOS 7.0 or later.

Recommended Age:

4+

Game Center Certified:

No

Supported Devices:

iPhone4-iPhone4, iPad2Wifi-iPad2Wifi, iPad23G-iPad23G, iPhone4S-iPhone4S, iPadThirdGen-iPadThirdGen, iPadThirdGen4G-iPadThirdGen4G, iPhone5-iPhone5, iPodTouchFifthGen-iPodTouchFifthGen, iPadFourthGen-iPadFourthGen, iPadFourthGen4G-iPadFourthGen4G, iPadMini-iPadMini, iPadMini4G-iPadMini4G, iPhone5c-iPhone5c, iPhone5s-iPhone5s, iPadAir-iPadAir, iPadAirCellular-iPadAirCellular, iPadMiniRetina-iPadMiniRetina, iPadMiniRetinaCellular-iPadMiniRetinaCellular, iPhone6-iPhone6, iPhone6Plus-iPhone6Plus, iPadAir2-iPadAir2, iPadAir2Cellular-iPadAir2Cellular, iPadMini3-iPadMini3, iPadMini3Cellular-iPadMini3Cellular, iPodTouchSixthGen-iPodTouchSixthGen, iPhone6s-iPhone6s, iPhone6sPlus-iPhone6sPlus, iPadMini4-iPadMini4, iPadMini4Cellular-iPadMini4Cellular, iPadPro-iPadPro, iPadProCellular-iPadProCellular, iPadPro97-iPadPro97, iPadPro97Cellular-iPadPro97Cellular, iPhoneSE-iPhoneSE, iPhone7-iPhone7, iPhone7Plus-iPhone7Plus, iPad611-iPad611, iPad612-iPad612, iPad71-iPad71, iPad72-iPad72, iPad73-iPad73, iPad74-iPad74, iPhone8-iPhone8, iPhone8Plus-iPhone8Plus, iPhoneX-iPhoneX,

Supported Languages:

English; French; Japanese; Chinese;