Screenshots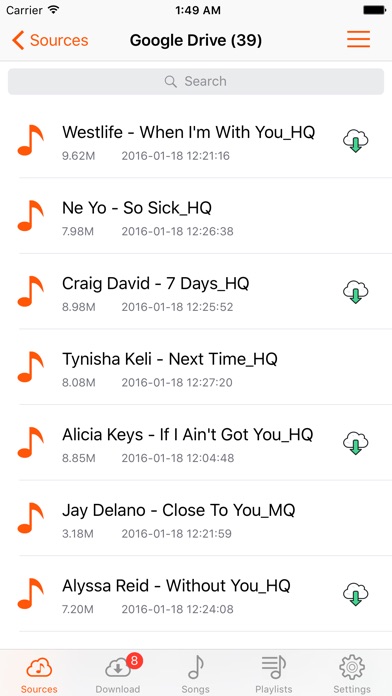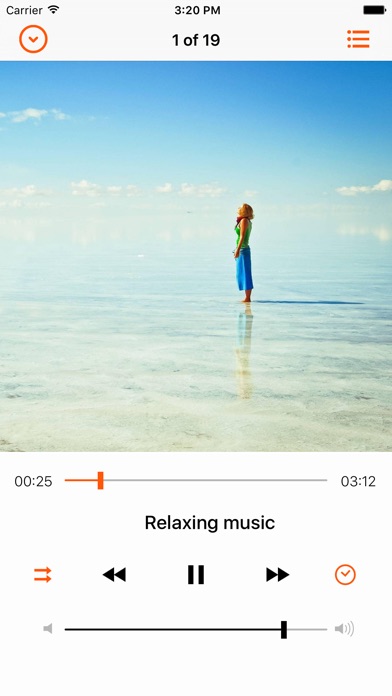 New in version 1.2
Add Dropbox.
Add OneDrive.
Description
Easily download to your device and play offline your favorite music!

Save space on your device and have access to all of your music stored in Google Drive, DropBox, OneDrive.

Download all your music to your device to play it without internet (Offline mode).

- Supported formats: mp3, m4a, and wav
- Listen offline – no internet or WiFi needed
- Offline list, to maintain located your download files.
- Sleep timer
- Lock screen playback controls
- Background music playback
- playback with repeat of song or list and shuffle.
- Create, rename, edit playlists
iPad Screenshots
Reviews
Nice app but
I wanted to listen to Bruno mars but I couldn't find it fix this
App keeps closing
So I got this app. It has 3 separate platforms for downloading. 1. Google Drive, which it can't connect to 2. Dropbox, which is empty 3. OneDrive, which HAS my music stored and when I open it I can see the songs for about 2 seconds then the app shuts down. Think you can help me with this problem please??
Pleaseee is this
Whenever I press the Dropbox source it does wat respond it just keeps loading and loading but never works
Love this app
Honestly love this app I use it for all music however these days every time I try to go to my Dropbox even when I'm under good WiFi it doesn't want to load any of the songs so I can download them. If u could fix this is issue but otherwise this app is perfect
Great app but completely stopped working
Darthdisaster
on
10/13/2017
I have around 2000 songs downloaded and I use the app daily, and just this past week I can no longer connect and download any songs onto the app from Dropbox. Needs fixed ASAP pls);
Waist of time
You have to create a google drive account to even use this app. (Which it won't even allow me to do)
Dropbox???
I love this app it's the best but a week ago the drop box wouldn't open it kept loading but never loaded and idk why please fix it
great app
i love this app! i can actually DL & listen to it all offline but now when i go to my dropbox, the app freezes. please update
Fantastic
Unlike other apps this is the full package no ads no upgrade option simply download and enjoy
It's Great Guys 👍🏼
I love the app but, my sources aren't working?! Why is that? 😕 It could be a little better!
Technical difficulty
Hello. I love this app and it's so great but 3 days ago it hasn't been letting me open Dropbox it just keeps loading but won't ever turn on. Is there any way to fix this?
Nitida
JhonhatanReyes
on
9/29/2017
Unas de las mejores aplicaciones que he usado
Doesn't Work
Does not work 😥period!!!
V808
I wish the google drive feature worked???? Other than that, it's a handy app to store your music.
Help
Madieboo ( Madison )
on
9/19/2017
So I'm having trouble with the all I can't figure out how to even search for music to download but everyone else says it's amazing and it won't let my log onto my google drive or whatever it is so I need help
Cool app
Precious_Marie15
on
9/16/2017
It's cool but needs an update n make it better like organizing the songs etc etc
Bad
I installed it but it didn't load anything and it wouldn't help me at all plz don't download a waste of time.
Wow
Terminator11906
on
9/9/2017
This app is better than iTube all you have to do is drag your songs to drop box and it downloads them!! Best app ever 10/5 if I could
Google support needs to be updated
Malaiphonejlearner
on
9/8/2017
Can't sign into google. Error says that google no longer supports browser based authorization, and the developer should use one of the provided native app APIs.
Don't download
It is absolutely nothing
Great app
This is the best music app
Useless
scorpion0190
on
8/21/2017
It wouldn't let me do anything on their. Complete waste of space. Don't download it.
Requires internet
Bunnyhoney14734
on
8/21/2017
Without the internet Onedrive or Dropbox wouldn't even open. It's keep loading for hours until internet is back on. I tried leaving the app open without connection but after a certain time it stops working.
Good Downloading App So Far
TaE321321TaE
on
8/19/2017
It's really useful and makes downloading music easy. I have no problems with ads r pops like other apps. I would recommend to anyone 😊
Loading...
I downloaded the app through my one drive but the app won't load. It opens but it buffers non stop. Did I do something wrong?
Best app
The app is really good, best app ever
Subscription cancel
Guerrero Tortillas
on
8/13/2017
Made me pay and wasn't offline music play and kept crashing and didn't let me play my music after all and when I canceled my subscription I never got my money back
Gucci or so 🤣🤙🏽
Hasn't acted up no ads so I recommend it but once it start acting up . It's out of my Shi 😂
Doesnt work with Google Drive
Connecting to Google Drive results in error
???
Why cant it work on iphone6?
Everything I needed
Hejennerieooff
on
8/4/2017
I can pause, play forward, and play backward. Just like what an mp3 player needs to do. Can play offline. It's all that I needed.
Ok but there are some problems
It won't shuffle. I press the shuffle button and it continues to play in its designated order. Please fix this soon
this is a app
thanks for bringing the app out I love it
🤙🏼
celeste 4 hunnid 🤘🏼
on
7/30/2017
This app really did help me get all the music I want ! I just had to go on YouTube and copy the link of the song I wanted then I went on mp3 juice download the song clicked Dropbox and it downloaded the song I wanted 😇
Good
Hasty Chavoshi
on
7/27/2017
Like
Music Sync
Music sync is fantastic n quick , Wish it could integrate in the Apple Music list after downloading . I lost my playlist music and I still don't know how and why? But still recommend for sync which is far better then Apple Music sync via iTunes and all that jab....
Unhappy with this app try
I couldn't get no music I don't know what I'm doing wrong but it didn't work for me
Doesn't work for Google Drive
Even though I'm signed into my Google account on my device, this app seems to need a web-view-based authorization, which Google no longer supports. Instead Google sends back a 403 error. I could probably get around it by switching to Dropbox or MS Cloud, but I don't want yet another extraneous account that I won't use except to play music on this one app. There are other options, but this app effectively doesn't work for 1/3 of its intended users.
Awesome but
I love this app, but I wish I could listen to it in the background while I do other things as well
I was shocked!
I normally never write reviews so this is a rare occurrence. But I am in love with this app. I downloaded tons of apps trying to find one that would let me play songs offline that would replace Spotify because I was using too much data for that. And as long as you can find the downloadable MP3 online you can get it easily on to this app with Dropbox. It's so easy and free. The only thing is that shuffle is a little weird but you can easily just pick a different song so it's not a really big deal. Definitely download it. Just make sure you have one of the options because don't be confused. This app is not for searching songs right on it. You have to go online and download the song and then upload it to this app. Happy listening:)
No Google Doc access?
I had no problem backing up my IPhone 4s plus' music and data to a late 6s plus. Though just recently had to replace 6s Plus with another due to Touch screen call back. At first my cloud music wouldn't install with waiting under it. Now there isn't any music in the library, as well no access to my Google doc account?
Awesome!!!!
I love this app!!
AWESOME!!!
It's truly free! Any song you're looking for, you can download. I love this app. Found all the oldies I grew up with ❤️.
Awesome app
It's a nice app I used to use this all the time but now when I try to eat music from my google drive it gives me a 403 error pls fix :(
Not really what I expected...
I got this app thinking that I could download any song, but I found out that I couldn't download anything that already hasn't been downloaded! Not at all what I expected.
Fact Sheet
Publisher:

Jhon Belle

Category:

Music

Released:

Dec 20, 2015

Current Version Released:

Jan 21, 2016

Version:

1.2

Size:

9.1 MB

Compatibility:

Requires iOS 8.0 or later.

Recommended Age:

12+

Game Center Certified:

No

Supported Devices:

iPad2Wifi-iPad2Wifi, iPad23G-iPad23G, iPhone4S-iPhone4S, iPadThirdGen-iPadThirdGen, iPadThirdGen4G-iPadThirdGen4G, iPhone5-iPhone5, iPodTouchFifthGen-iPodTouchFifthGen, iPadFourthGen-iPadFourthGen, iPadFourthGen4G-iPadFourthGen4G, iPadMini-iPadMini, iPadMini4G-iPadMini4G, iPhone5c-iPhone5c, iPhone5s-iPhone5s, iPadAir-iPadAir, iPadAirCellular-iPadAirCellular, iPadMiniRetina-iPadMiniRetina, iPadMiniRetinaCellular-iPadMiniRetinaCellular, iPhone6-iPhone6, iPhone6Plus-iPhone6Plus, iPadAir2-iPadAir2, iPadAir2Cellular-iPadAir2Cellular, iPadMini3-iPadMini3, iPadMini3Cellular-iPadMini3Cellular, iPodTouchSixthGen-iPodTouchSixthGen, iPhone6s-iPhone6s, iPhone6sPlus-iPhone6sPlus, iPadMini4-iPadMini4, iPadMini4Cellular-iPadMini4Cellular, iPadPro-iPadPro, iPadProCellular-iPadProCellular, iPadPro97-iPadPro97, iPadPro97Cellular-iPadPro97Cellular, iPhoneSE-iPhoneSE, iPhone7-iPhone7, iPhone7Plus-iPhone7Plus, iPad611-iPad611, iPad612-iPad612, iPad71-iPad71, iPad72-iPad72, iPad73-iPad73, iPad74-iPad74, iPhone8-iPhone8, iPhone8Plus-iPhone8Plus, iPhoneX-iPhoneX,

Supported Languages:

English;

Parental Advisory:

Mild Sexual Content and Nudity; Suggestive Themes; Mild Alcohol, Tobacco, or Drug Use or References;