Photo & Video
Entertainment
Recommended app!
App last updated
Nov 11, 2017
Screenshots
New in version 2.3
• Optimized for the iPhone X
• Bug fixes and other improvements

We'd love to hear what you think! If you have any questions or comments, email us at support@codeorgana.com.
Description
Instantly correct lighting and exposure and transform your photos and videos into something extraordinary.

Relight is a realtime HDR app with eight unique modes that correct lighting and exposure issues, add artistic HDR effects, enhance details, and more. With single image HDR tone mapping techniques, you can edit your existing photos and you'll see the effects in your camera preview before you snap - letting you capture HDR images without missing a moment. Relight lets your camera see closer to what you see.

Relight also allows you to apply HDR effects to your videos and record live 1080P HDR videos on supported devices.

Optimized for the iPhone 7 and 7 Plus with 3D Touch Quick Actions, Peek and Pop photo and editing comparison previews.

Modes

Over 50 artistic and photo enhancement/correction presets across eight special modes:

• Enhance - Improve lighting, contrast, and color to give your photos a more natural to the eye look
• Low Light - Improve dim lighting and correct exposure problems
• Artistic - Add creative HDR effects to your photos
• Clarity - Bring out details and enhance local contrast to make your photos stand out
• Sky - Enhance contrast in the sky to create a distinct look
• Dramatic - Heighten the emotion of your photos with bold lighting
• Overexposure - Improve washed out and overexposed photos
• Fog - Reduce fog and haze to bring life to otherwise dull photos

Features

• Universal app for iPhone, iPad, and iPod Touch
• Realtime HDR lets you see the effect before you snap, so you don't miss a second
• Full range of adjustments to get just the right look
• Over 50 unique color filters to make your photos special
• Load photos from your Camera Roll, iCloud, and other Albums
• Share your creations on Instagram, Twitter, and Facebook
• Support for TIFF and other output formats
• Transform your videos with HDR effects (requires iPhone 5S, iPad Air, iPod Touch 6 or later)
• Record live 1080P HDR videos (requires iPhone 6S, iPad Pro, or later)
• Quickly edit your last photo with the Relight Today Widget

For more information, visit us at www.codeorgana.com, or follow us on Twitter and Instagram @codeorgana.
iPad Screenshots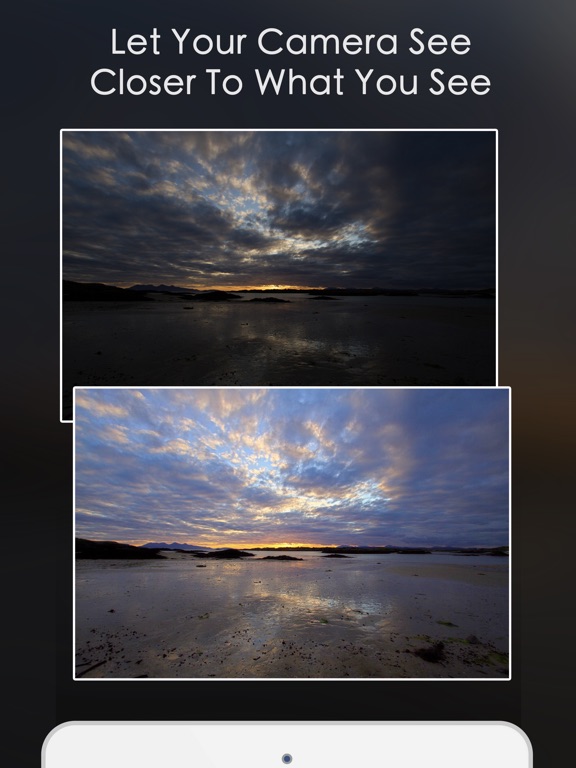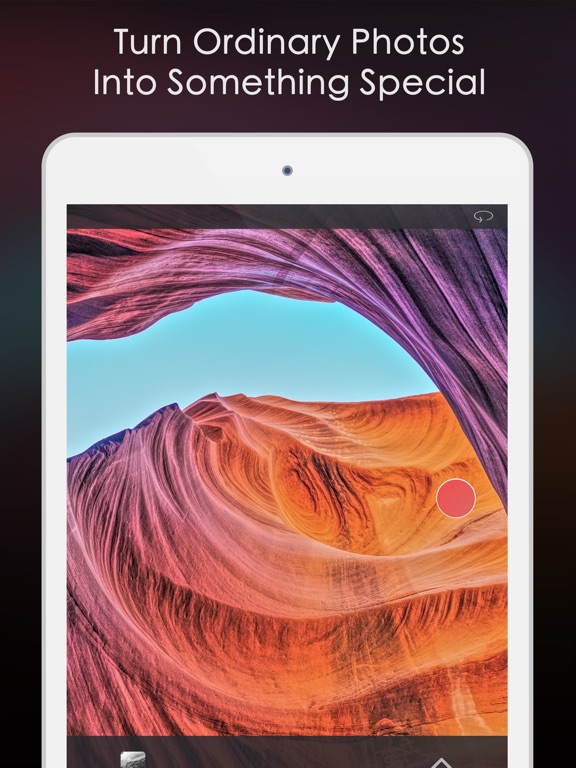 Reviews
Very nice and surprising photo app.
JOeKing AppLe
on
1/15/2018
I like this photo app, does a really nice edit for low light photos, it's a keeper.
Great at automatic lighting adjustments
Does exactly what it says. Take a picture (or load a saved pic) in a bad lighting scenario and this app fixes it nicely
Revolutionary Photo App; I Love It...
This app is a game changer. I've used many different photo apps over the years and must say that this app has the easiest and most straight forward user interface I've ever seen. It's pure genius. The adjustments and variations are so varied yet so easy; and the user experience is fun and even pleasurable. It's a revolutionary and fun new way to enjoy photo creativity with simplicity and pleasure.
Relight
Love this app, you can really do a lot with it once you study it a little bit!!
Easy to use
Fun to use, lots of variations to choose with satisfying results.
Nice app
Good for photos App crashes when trying to edit a video!!
Awesome app
First and foremost I want to express how happy I am with this app when it comes to editing a picture. Its the best I've used to this day and look forward to using as long as possible. However, I have ONE gripe. Since the updated video editing has come along I've been super excited to try it out on a few vids. Turns out the app crashes as soon as the edit is saved :( I really hope an update can resolve this issue because I would so love to be able to edit videos as well. Thank you!
Fun and Not Buggy
One of my "go to" apps. Fun, easy to use, plenty of options and not buggy.
Useful, and functions as advertised
For a quick fix, this app is great. The app has recovered some of my bad photos. Importing and exporting works as anticipated. No problems on iPhone 4S.
Best photo app
I have 6 photo apps on my phone. Relight is by far the easiest to use and the best photo app for my purposes!
Very useful!
This app is great! It is so useful for fixing dark pictures or just adding an artful bit of flare to an otherwise ordinary snapshot. Being able to fix my dark pictures is extremely useful. Fantastic app! It just keeps getting better
Amazing
Original app user
on
7/6/2017
I just downloaded the app. The more I play around with it the better it I like it! Very cool....
Fantastic
Relight is so user-friendly and intuitive, Iuse it for every one of my photos. Can't recommend enough!
Improves dark photos!
LindsOmething
on
6/30/2017
This app is great for fixing bad lighting on my photos. Photos I thought were trash come to life with these filters and light adjustments. Don't trash badly lit photos until you try this app!
Great App!
Gary in Arkansas
on
6/23/2017
My favorite app for photos.
Fantastic!
Absoltely recommendable
My favorite photo app
I can hardly take a photo that this app can't improve. I am a total amateur and Relight makes me look like a pro. Can't praise enough.
Awesome App 👍👍
I use this app all the time to relight not so well lit photos. Many thanks to the developers. 👍👍
Apple buy these guys
CanadianRace
on
4/30/2017
This should be part of the camera that comes with the iPhone. Best camera app ever!!
Absolutely great.
Better than the iOS camera app. This is the only app I have ever given 5 stars. Having said this. The app has a widget. I wish the widget would launch Relight in camera mode, not in photo edit mode.
Great
GarrySmithwick
on
4/11/2017
Great app for improving your photos.
No to modifying existing photos
App seems cool. However, I don't want it going through my existing photos and making changes. One star.
Great app.
Before the Common Era
on
4/8/2017
This is a great app. Well worth the money. I use it all the time.
Finally
theothernicknamesweretaken07
on
4/8/2017
The more I use this app the more I love it. I had so many pics that were basically useless & this app brought them back to life. Great HDR options and super easy to use, with pretty amazing results. The new update just puts it over the top with the video option! I pretty much use it for every photo or video I take.
Non skippable intro
I wouldn't even be able to review the app because I don't have the patience to stare at your absurdly persistent intro. Seriously, how long does this thing keep carrying on? How about a skip button so the app can be just used without the marketing and feel good fuzzy animations?
Excellent App!
So far the best "relight" app in the AppStore: Not only works with your own pics but also with videos!
Wow! Great app!
This app is the absolute best I've come across in months. It has helped me save hundreds of great photos that just needed a touch of Relight.
Hmmmmmm
I can't tell if it is good or not. Everytime i open a photo from my camera role it shuts down ☹️. Update....i finally deleted it. It just crashes every time i try to edit a photo from camera role 😡
My favorite camera app
I have so many apps related to camera -photo. But, I love Relight! I use it as my default camera and to edit photos. Before, I did not use much the camera, but now with Relight, I use it everything single day. I am missing panoramic and the saving the photo takes time. But it stills my favorite app.
Not saving full res
I noticed that all of the saved images are only 842x640 in size. Great app if edited photos is saved in full resolution
#j0momma
Want of the best photo HDR apps. However, keeps crashing every time I try to edit photo. Please fix and I will update my review to 5 stars (which it deserves)
NOT compatible w/ Google Photos
My entire photography collection has been uploaded to Google Photos and the files I have re-downloaded from there cause this app to crash every single time. Please fix this!
Unbelievably good at saving great pics w/ bad lighting
This app has saved a ton of pictures that are perfect except for the lighting. Never seen anything that is as good without being incredibly complex.
Easy to use, lots of options
I really like this app--it's versatile with lots of modes but not too complicated.
Lack of compatibility with google photos
I can edit any photo except for ones I download from my google photos app, which were originally taken on my phone and then transferred over.
Amazing app and support
I rarely rate apps. However, this company is one of those rare truly amazing ones. Their customer support is unbelievable. For the last few days I had a minor issue and they have non stop been communicating. Besides the support the app is also amazing. I've fixed quite a few photos with it. Extremely helpful in cases especially where the sun is directly in the back darkening the subject. This app is able to easily help. It's a must tool if you use your iPhone for photos as much as I do. Thank you!
needs fix/update
I downloaded this app and tried it on a photo I took within the app but when I tried to edit a photo from my camare roll, it crashes. Every single time. FRUSTRATING because I have a lot of images I would like to edit,but I cant. I tried delelting the app and reinstalling....nothing
📷Great photo editing app‼️‼️
LuvsEditApps
on
9/26/2016
This app will not disappoint!‼️ Great FLEXIBILITY & a VERY RESPONSIVE team at Code Organa👑. I will admit at first I missed just how impressive the arsenal 💼 of adjustments actually are‼️ It is user friendly for novice to advanced users. The presets effects can be adjusted which is a feature often missing in other apps. Having a way to save favorite edits to use again would make this 5 ⭐️⭐️⭐️⭐️⭐️ Star app even better‼️ Worth the 👛💳 and the learning curve. This app is definitely worth the device 📱space‼️‼️‼️ Sent from  iPad
On my top 10 for photo filtering.
This app is loaded with filters to help you see the many ways your pictures can translate your unique vision.
Impressive App
This is the only photo editing app I keep on my phone. It works really well and I love that there are so many options to choose from.
Great app!
Does wonders for pictures!
Don't download!
So disappointed. App constantly freezes. Was only able to use it once, and I liked it, which is the reason for two stars and not one. Please fix this.
Love it!
music junkie extraordinaire
on
7/30/2016
I'm totally an amateur, but this app is easy to use and makes my pictures look infinitely better!
Great app.
Very functional and intuitive !
We all have tool kits
This is app is one of my top 3 tweak apps, not 'edit' but finish app.
Thank you!
My photos are so clear and this app allows the iPhone to take stunning photos without any extra hardware!
Very effective and easy to use
I've found this app very useful in fixing up my I phone photos. It does a great job with lighting and color fixes.
Spectacular app!
I bought the 3-app bundle and am so happy with all three apps! They are all amazing and well worth the money. Take the time to play around with the app and learn what it is capable of...its amazeballs!!! For less than the price of a cup of coffee, you can create ART!!!
Very easy to use
I've had very nice results with this app. Very easy to use.
Relight
This is the Best photo app I have ever use; it was worth every penny.
Fact Sheet
Publisher:

Code Organa LLC

Category:

Photo & Video

Released:

Nov 11, 2015

Current Version Released:

Nov 11, 2017

Version:

2.3

Size:

13.4 MB

Compatibility:

Requires iOS 8.1 or later.

Recommended Age:

4+

Game Center Certified:

No

Supported Languages:

Dutch; Flemish; English; French; German; Italian; Japanese; Korean; Portuguese; Russian; Chinese; Spanish; Castilian; Swedish;