Recommended app!
App last updated
Apr 05, 2016
Screenshots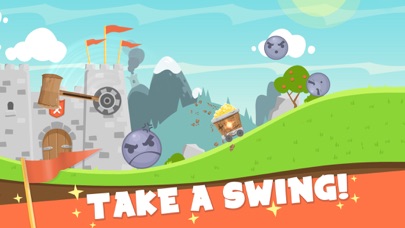 New in version 1.1.0
- New Power up items – 'bombs' and 'slow-time'
- All new pirate themed map
- New hills for added strategy
- Added several new hammers to collect
Description
Look out, the castle is under attack! If only we'd built a giant hammer at the front gate. Oh wait, we did. It's HAMMER TIME!

Your mission: fend off an onslaught of angry boulders with well-timed swings of your hammer. The longer you survive, the higher your score. It sounds simple, but when the action heats up and the boulders are rolling in thick and fast, one wrong swing of your hammer can mean the difference between glory and destruction.

You can also unlock dozens of different hammers to help you in your quest for leaderboard domination, from the mighty Mjölnir, hammer of the Gods, to... a prosthetic leg (no it's not technically a hammer, but it gets the job done.)

Take a swing at the addictive arcade action of HAMMER TIME!
iPad Screenshots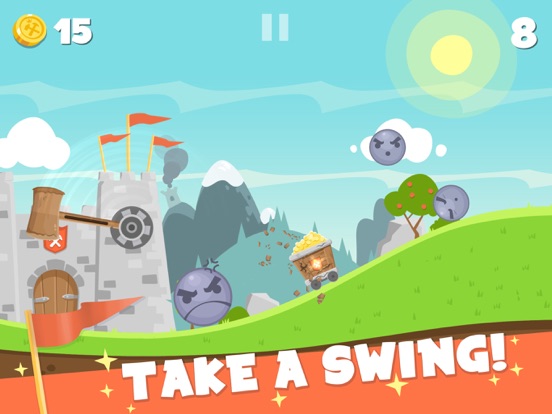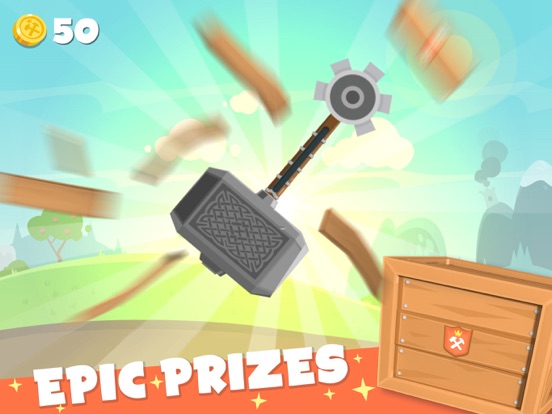 Reviews
I love your game
Oriongaming
on
11/20/2017
This game is really fun when I am board
Cool game
MINECRAFT ADDICT!!!!!!!!!
on
7/23/2017
Its pretty fun i guess
Ok
This game is fun but it will need challenges Online and more like other games have. I like it but it's not on my top 5
Great little game
Time management Hammer
Total garbage
Way to contribute to the dumbing down of our children. There is ZERO point to this "game." There's ZERO point to "collecting" hammers as they don't do anything that the normal hammer doesn't do. I feel like someone came up with this and wrote the code while taking a morning dump, which is exactly what it turned out to be. Stop making stupid ad stream "games." I have several free2play games that make very nice use of ads that aren't mandatory to play the game but give you a slight edge for watching an OCCASIONAL ad. I've watched 10 ads in 6 minutes just to play this. ✌️
Everything needs dollars.
I haven't been playing this game for quite a long time but I really don't know what holds for. You have over 40 different hammers to buy but all of them needs dollars. Bombs also need dollars.
BAD
Flyingtiger02
on
7/19/2017
Stupid it's just an app that's trying to get money from you for "cool" hammers it's jut a cheap game made in a day that's trying to make money off you.
AMA
Justis Johnson
on
4/1/2017
Love it!!!!!
BEST GAME EVER!!!!
Arcadian1972
on
3/22/2017
Dis game is awesome!!!!!!!
Gods app
J_IN_THE_BOX
on
3/15/2017
Fun game
Game
This is a fun, addicting little game.
A good way to kill 10 minutes
Not too hard; fun to collect hammers. Will need new challenges, though.
AMAZING BEST GAME IN THE WORLD!!! Other then Pokemon go😙
This game is really intense and also very creative I love everything about it. I hope you make a lot more games as much as fun as this one was!! Thank you for creating this game u am in love😘😘😘... I would recommend this game to literally EVERYONE!!!! Thank you again! Please make more game as great as this
It's all right
Just getting a feel for the timing. Fun. Won't be playing this game a year from now. It is fun right now.
Very fun
This it really cool
on
5/29/2016
Great game to play super fun
Very good, but...
Panda swimmer
on
5/29/2016
This is a very fun gam but needs to fix up some of the lag.
Super fun! Accept one issue
I think it's a great game accept its really hard to get new hammers also the format is kinda wierd.
Meh
Was a great game. Nearly unplayable after the latest updates. Total shame
Review
Good game. Highly recommended for a time passer.
Fun game
Demishadows12345
on
2/20/2016
Title says it all
Dumb
Had it downloaded for literally 1 minute. Avoid.
Love it
Lucy nowicki
on
1/30/2016
I do really like this game but I wish it would say like the rarity of the hammer or how strong it is and its stats sorry if it does already say that but if it doesn't it would be awesome to do that!
Good game
Very fun and addicting
Not Addicting
Fun for a couple of minutes but then it is just boring.
Bad
Evin vanaken
on
1/17/2016
Bad it's probably bad because I don't know how to play
😁👍🏿👍🏿👍🏽👍🏾👍🏻👍
Fun addictive
Beast
COOLKID100000000000000
on
1/16/2016
Awesome
Time pass
Fun game to pass the time
Fun game
More levels or balls with abilities and challenges would be cool.
Hammer time
Fjdjfkfkfjffnfjrj
on
1/10/2016
It's a very fun game but the reaction time for your "hammer" could be a lot better
Hammer time
Slaughterriffic
on
1/9/2016
Tis goooooood
Cool
Stevie G spot
on
1/8/2016
Cool
Ok but no point in playing
Nothing happens except unlocking hammers. You just swing the hammer till you lose and there. They should have upgraded for hammers.
Boring
I got bored in 5 mins
Good game
Kinda annoying....
Fun but pointless
stargazer2866
on
1/6/2016
Yep
Lose hammers
When I got in to the game it was fun but when I went to go play a different game and went back in I lost my hammers so I got them again and went out and then I went back in and lost them again so I deleted it.
Unalomas de jó!
Kicsit unalomas de el lehet vele hülyéskedni
Lol
So funny this is great 0.-
So so
It is nice! But i think you should add some unique abilties for each hammer!
😊ممتاز
😍روووووووووووعه😍
on
1/5/2016
🤕2002/10/12
Sweet
Jimmy Huntsman
on
1/5/2016
Awesome game for passing the time!
Fact Sheet
Publisher:

NextGen Reality Pty. Ltd.

Category:

Games

Released:

Dec 16, 2015

Current Version Released:

Apr 05, 2016

Version:

1.1.0

Size:

190.3 MB

Compatibility:

Requires iOS 6.0 or later.

Recommended Age:

4+

Game Center Certified:

No

Supported Languages:

English;