Screenshots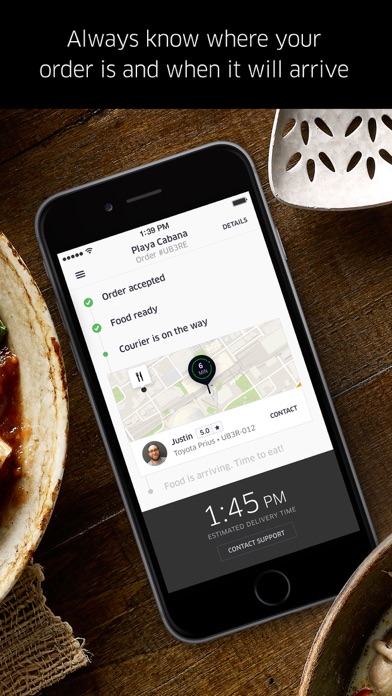 New in version 1.105.10001
We're always updating the app to give you the best possible experience. Check back next week to see the latest features and fixes.Love the app? Rate us! Your feedback makes UberEATS better, so you stay full and happy. Have a question? Tap Help in the UberEATS app or visit help.uber.com.
Description
Get the food you want, from the restaurants you love, delivered at Uber speed.

Food you want: We're working with over a hundred restaurants in your city to put great local food all in one place. If you're craving it, you can find it on UberEATS.

Speed you need: It's Uber fast from app tap to table. Through the Uber network, you can get anything from our roster of local restaurants, within minutes.

Service you love: When you're ready to place your order, you'll see a total that includes the food and delivery price. There's no need to tip. Pay with your Uber account and watch your order come right to you through the app.

UberEATS is currently available in Auckland, Bangkok, Bogota, Brussels, Dubai, Hong Kong, Sao Paulo, Singapore, Stockholm, Taipei, Tokyo, Madrid, Milan, Moscow, Mumbai, New Delhi, Vienna, Warsaw, and multiple cities in the US, Australia, Canada, England, France, Mexico, the Netherlands and South Africa.
iPad Screenshots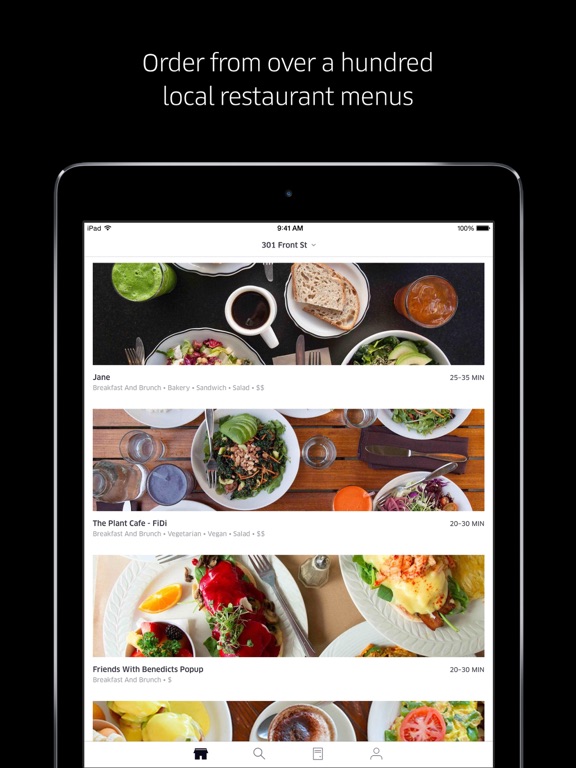 Reviews
Love
It does what it is suppose to do as an app and honestly the service is much faster than I expected it to be. Love uber eats❤️
Horrible service
The delivery driver arrived in a decent time but that was the ONLY good thing, 1/2 my order was missing & when I asked the driver if this was all the food he said "thats all they gave me" & walked away...i normally use door dash & i know it is the drivers responsibility to check the food before leaving the restaurant, so he either didnt check or kept my daughters meal & 2 of the 3 drinks that were missing. I contacted customer service immediately & still have not received a reply almost 2 hours later. Door dash contacted me immediately when I had a similar issue & sent another driver immediately to get my missing items at their own cost. I will never again use Uber Eats, Door Dash is a much better service. Uber eats is probably great for drunk people at night who dont notice they are getting ripped off.
Excellent
janesmith0106
on
10/19/2017
Love the app!
Pretty ok
Not too bad. Where I live there isn't a big selection of food so I wish it could broaden the range. All in all it's alright the food is still kind of warm when it arrives.
Don't ever use uber eats!!!!!
My orders was damaged and they didn't do nothing about it!! Worst delivery app
No customer service phone number
Better get your order correct because they don't have a customer service anymore. I'm considering deleting this app now. Other than that good app if you order correctly.
Wrong food, no credit
Received wrong food (and even that was cold). Small fries instead of McGriddle. App support just says "make sure to check before accepting". So waited 45 min for wrong delivery and blow off. App deleted, F this company forever.
Stay away
I ordered food for the first time with uber eats. My order was canceled after 20 minutes. I reordered after 30 minutes and after an hour my food was canceled and I was not refunded my $50.44. This is unacceptable to be advertising a service that you cannot deliver on. I called the restaurant and they told me that the food was ready for a long time and no one came to pick it up and there were another 7 orders that uber eats did not come to pick up. I am visiting Seattle all the way from Florida and this has been the worst part of my visit. I think this service is a disappointment and should not be continued. It is a shame to cancel my order and keep my hard earn money. Now I understand why this service gets such bad ratings.
ALWAYS wrong!
Bridgetleigh
on
10/18/2017
Weve used Uber eats numerous times but are stopping cold turkey. Every. Single. Order. We have placed with them has had multiple missing items. EVERY. SINGLE. ORDER. We were afraid they were going to start thinking we were just making it up to get food but here I sit hungry because they forgot something AGAIN! Now when we ordered we were just afraid of missing something again. Which is what happened.
Too fried to drive
carmin falcon
on
10/18/2017
Thanks for having this app n all the sweet promos I almost eat for free .. Especially Richmond area always gotta drive so when I can't Uber Eats always gots me since then .. recommend it totally try it here's 5$ on me( promo-code) ((eats-kevina20294ue))
Does anyone even work at tech support?
Steph6554347
on
10/18/2017
I have had so many issues with my card not working. Kept repeating that it couldn't verify info. I tried calling customer service. They don't even have a line to direct me to technical support. So they say they will have a tech call me within 24 hours. I didn't get a call. So a week later I try to figure out what's going on, so I try to log into the Uber app and it's saying my account has been disabled and I have to write a brief note and wait for someone to call me back so I can re activate my account. Three days later and I still haven't gotten a call or email. Uber is ridiculous and missed out on money because they can't even take the time to help customers that are wanting to spend money and use their services!! What a joke.
Love it!
UberEats rocks! Food comes fast and it's a highly reliable service!
Great
App is great so far. Saved me so many times
Worst service Ever
Slotmachine777
on
10/18/2017
I give it zero stars. I used Ubereats twice. I ordered dinner and the order got cancelled automatically and a popup said "Order does not get fullfilled". This happened all the time and it infuriated me. I deleted the app. This is the worst service ever. I'm never using Ubereats again.
Terrible Model and Customer Service
Unlike it's competitors like GrubHub or Eat24, you rely on drivers with no connection to deliver food. This introduces a middle man with no incentive to ensure proper delivery. We had problems before and Uber eats would correct it, an hour or more later. Tonight was the last straw. I just had a 18 hour work day and was too tired to cook. They delivered half the order - the driver did not check the order before leaving. I called and explained what happened to tech support (outsourced to South Asia). I waited 5 min while they tried to get ahold of someone and was told they would call me back as theynwere having issues reaching the driver and the restaurant. I eventually call back after 15min of waiting and by the time Customer service was able to get ahold of the driver and the restaurant, the place closed. I was asked to make another order that would be followed closely. I made an order with another establishment and the driver got within 3 min of delivery for 30min. I called a few times to see if something happened and she did not pick up. I called customer support - apparently the driver decided to go back home, after being 3 min away because her phone died ---- with my dinner. She managed to answer Ubers calls but didn't get a chance to deliver my food. Mind you the restaurant of course closed by the time I could try to go in person to get food. In fact it was past 9 so all was open was fast food, I could have had that without this app. It's why I'm deleting this app entirely.
Worst
Like other reviewers, worst service in anyway. Period. My order was cancelled last minute. I was starving. Unethical service just like their regular Uber. Period.
It's convenient, but a little costly!
My only complaint is the amount you have to pay for delivery haha. I think it should count as a tip to be honest.
First/best food delivery app in my area
peace love music 93
on
10/18/2017
To say I'm extremely thankful for its existence would be an understatement. I think it does a great job notifying you of the status of your order and location of the delivery driver, and it's such a smooth, quick, easy way to get specific meals when you don't have time. I love it so far. My only hope is that more restaurants will partner with it.
Amazing
Natalialyce
on
10/18/2017
I love this app
I love delivery
Great food in good time. I only wish they would include more sit down type restaurant options.
You won't receive your items
The UberEATS driver not only got lost on her way to the restaurant to pick up my food, but called me twice to tell me which road she was on and that she was on her way. I put my place of work as the address with clear instructions. Not only did she never arrive or deliver my order, Uber marked my food as delivered. There is no phone number to contact any sort of human or customer care. I just wasted $20 for food I will never see. I tried to call back the number which called me, and is apparently now a dead line, and on top of that I have filed 2 complaints that my food hasn't come and nobody has reached out to me. All UberEATS will get you is a headache.
Used to be ok
Cautious Poke
on
10/18/2017
Now when you order something it will say it'll be 30-40 minutes maybe an hour till you get it. Ok fine - but then the time will drag on and on and eventually 30-40 minutes extra is added to that time. They also upped there delivery prices so between that and the service getting slower really no point in using them anymore.
Good but could be better
Better customer service and less booking fee for delivery
Love it!
Amazing app!!! I love it!
Wrong orders
I keep getting the wrong orders 2nd time this happens already and you do nothing about it
Needs variety
Alison Curran
on
10/18/2017
Where is chipotle? Or popular food places? It only seems to deliver Mom and pop type restaurants
Glitchy App
Better off calling restaurant directly. Seems every time I order, the RT tracking is off and I have to run downstairs to meet driver. Customer service is no help.
Good
Ha sido la mejor rápido y eficiente
$15 coupon: "eats-jm9407ue" 👍👍
I can't say that I've had the same experiences as some other people. I live in temple terrace so I have a lot of choices...as far as food goes...I've only ordered hooters wings through this app and although it took about 30 minutes to get here my food has never been cold. The prices are average to sitting down eating there and the delivery charge is $4 which you'd spend in gas so I think it's pretty fair. I work from home so it's awesome to just have food delivered to me being I only have a 30 minute lunch. I love the fact that you can literally see the drivers every move as far as what street their turning on and how close they are to you. So all in all I'm satisfied with this app I've used it about 4 times and haven't had any complaints yet. Keep up the good work!!
UberEATS
I don't like that the booking fee is so expensive. Although the app is a very smart idea for lazy people though
Too many chances, too often failing
I am SICK and TIRED of getting the great emails and promotions that are for new customers only. Got an email for free delivery for the entire month of October but lo and behold it's only for new people. Not to mention I have yet to have an order go 100% right which is the restaurants fault mostly, but for Christ sake check the order. I get if it's missing a dipping sauce but if I order 4 items and get 3 then it becomes your fault. If your going to give the middle finger to your loyal customers and only reward the new ones, then I'm done. Door dash and Lyft from now on.
LOVE UBER EATS
Lillmiguelito
on
10/18/2017
I have had a great experience using Uber eats. Used it plenty of times in Atlanta and now that its in Buffalo i have used it and I really love it. 👏🏼👏🏼
Great
Used this app 3 times now and works perfectly. Saves me so much time! Thank you!!
Excellent service
This app has only given me great service so far
WORSE DELIVERY APP EVER.
Not only its the third time in a row that my order is delivery wrong. They have no immediate support team to help you fix it. The restaurant says they have nothing to do with it once the order is out, and ubereats takes up to 24 hrs to address your concern, when it should be immediate. Tonight I ordered from Arabian nights, there were some mistakes but the restaurant was kind enough to fix everything and requested me to order another uber to pick up the items. The driver was lazy to deliver because he didn't want to pay for parking of find a free one, and just cancelled my order without even trying to contact me. I lost my food, nobody can do anything about it, and the unprofessional driver is probably eating it himself. ABSURD. I do not recommend anyone to order through uber eats, seriously. I have it 3 chances, all of them wrong. Extremely upset.
Not satisfied with the app
Georg247365
on
10/17/2017
There are multiple things wrong with this delivery app. My food has probably sat in the restaurant waiting too long for a driver numerous times. My latest experience had me in a mood to write this review. Ordered a mcflurry and it was liquid by the time I got it. I have no idea why they'd prepare an order to a fast food place when a driver isn't nearby. It's clearly unorganized. Also, they should give you an option to have a car deliver your food if you don't want your order ruined on the back of a dude on a bike. This app could be better but there's a lot of ironing out to do.
Wrong order
philipconscious
on
10/17/2017
I ordered a steak but got fried chicken instead. I reported instantly and what I get is someone will contact me in 24 hours. This meal is right here sitting in front of me and I have to wait for couple hours to get my dinner right? And there is no costumer service number that can instantly help me solve this problem. Now I have to reorder and write a note make sure they give me the right food. Wish to get my money on the wrong order back. (They charged me price for steak)
Wow, UBER has clearly dropped the ball!
After reading these overwhelmingly-negative reviews, I can see I need to immediately DELETE this app before I'm ever tempted to use it! In fact, seeing just HOW bad Uber seems to be handling things, I'm honestly inclined to delete my main Uber app as well. I've never used any other ride service, but if Uber Customer Service is FRACTIONALLY as horrible as these reviews indicate, I might be better-off trying out the competition.
Great
Very convenient A+++
Great Selection
Better selection than GrubHub
Some bugs but great!
someguyinunderwear
on
10/17/2017
There are stores minutes away from me who use UberEats, and the app can't find them ANYWHERE using my current location or my "deliver to" addresses.
Terrible
Old uber user 1111
on
10/17/2017
Way over priced, fees and additional charges are crazy high! The service is terrible for the amount of money you pay, expect your meals to arrive late and incorrect most of the time..
Easy to use
Easy to use. Nice feature that I can track my order while it's on the way.
Another fault in a star
I can't tell you enough how angering it is to have people not respond to you about an incorrect order. I was given no credit, no refund, and there was no opportunity for anyone to make it right. The best part about this whole situation is I get the chance to chat with an automated message as if it automatically knows how to assist me.. Uber is just being real pitiful in my opinion.
Very convenient
I love the convenience of the app!!
Don't use this app
For some weird reading UberEATS keep disabling my account
Gorgeous App, Great Food and serves Poor Neighborhoods
You can't beat that combination!
Expensive
It's expensive but at least it gets here
Convenient & Reliable
Can order from anywhere :) They messed up my order once and I got delivery and missing item credit right away. So that's good!
Fact Sheet
Publisher:

Uber Technologies, Inc.

Category:

Food & Drink

Released:

Mar 01, 2016

Current Version Released:

Oct 09, 2017

Version:

1.105.10001

Size:

151.5 MB

Compatibility:

Requires iOS 9.0 or later.

Recommended Age:

4+

Game Center Certified:

No

Supported Devices:

iPad2Wifi-iPad2Wifi, iPad23G-iPad23G, iPhone4S-iPhone4S, iPadThirdGen-iPadThirdGen, iPadThirdGen4G-iPadThirdGen4G, iPhone5-iPhone5, iPodTouchFifthGen-iPodTouchFifthGen, iPadFourthGen-iPadFourthGen, iPadFourthGen4G-iPadFourthGen4G, iPadMini-iPadMini, iPadMini4G-iPadMini4G, iPhone5c-iPhone5c, iPhone5s-iPhone5s, iPadAir-iPadAir, iPadAirCellular-iPadAirCellular, iPadMiniRetina-iPadMiniRetina, iPadMiniRetinaCellular-iPadMiniRetinaCellular, iPhone6-iPhone6, iPhone6Plus-iPhone6Plus, iPadAir2-iPadAir2, iPadAir2Cellular-iPadAir2Cellular, iPadMini3-iPadMini3, iPadMini3Cellular-iPadMini3Cellular, iPodTouchSixthGen-iPodTouchSixthGen, iPhone6s-iPhone6s, iPhone6sPlus-iPhone6sPlus, iPadMini4-iPadMini4, iPadMini4Cellular-iPadMini4Cellular, iPadPro-iPadPro, iPadProCellular-iPadProCellular, iPadPro97-iPadPro97, iPadPro97Cellular-iPadPro97Cellular, iPhoneSE-iPhoneSE, iPhone7-iPhone7, iPhone7Plus-iPhone7Plus, iPad611-iPad611, iPad612-iPad612, iPad71-iPad71, iPad72-iPad72, iPad73-iPad73, iPad74-iPad74, iPhone8-iPhone8, iPhone8Plus-iPhone8Plus, iPhoneX-iPhoneX,

Supported Languages:

Arabic; Azerbaijani; Bulgarian; Croatian; Czech; Danish; Dutch; Flemish; English; Estonian; Finnish; French; German; Greek; Hebrew; Hungarian; Indonesian; Italian; Japanese; Korean; Latvian; Lithuanian; Malay; Bokmål, Norwegian; Norwegian Bokmål; Polish; Portuguese; Romanian; Moldavian; Russian; Chinese; Slovak; Slovenian; Spanish; Castilian; Swedish; Thai; Chinese; Turkish; Vietnamese;