Screenshots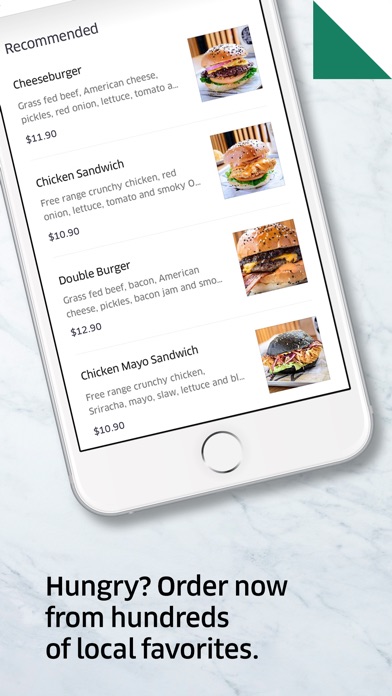 New in version 1.114.10001
We're always updating the app to give you the best possible experience. Check back next week to see the latest features and fixes.If you enjoyed your experience with Uber Eats, please take the time to give us a review.
Description
Delicious eats. Delivered easy.

Hungry? Get the food you want, from the restaurants you love, delivered at Uber speed.

Eat what you like, where you like, when you like. Find the local flavors you crave, all at the tap of a button.

Browse local restaurants and fast food favorites for inspiration. Or get just what you're looking for by searching for a specific restaurant, dish, or cuisine. Pizza. Burritos. Burgers. Sushi. If you're hungry for it, try Uber Eats.

When you're ready to place your order, you'll see your delivery address, an estimated delivery time, and the total price including tax and booking fee. Tap to seamlessly pay with your Uber account, or add a credit card. Track your order in real-time as it heads your way.

Uber Eats is currently available in cities and metro areas including Abu Dhabi, Adelaide, Amsterdam, Atlanta, Auckland, Austin, Baltimore, Bangkok, Bogota, Brisbane, Brussels, Cape Town, Chicago, Dallas, Denver, Dubai, Hong Kong, Johannesburg, Glasgow, Liverpool, London, Los Angeles, Madrid, Melbourne, Mexico City, Miami, Milan, Moscow, Mumbai, Nashville, New Delhi, New Orleans, New York, Ottawa, Paris, Philadelphia, Rio de Janeiro, San Diego, San Francisco, Sao Paulo, Seattle, Singapore, Stockholm, Sydney, Taipei, Tokyo, Toronto, Vienna, Warsaw, and Washington DC.

Uber Eats helps you find food delivery around the world. Order delivery in Australia, Belgium, Brazil, Canada, China, Colombia, France, Japan, India, Singapore, South Korea, Mexico, New Zealand, Poland, Russia, South Africa, Spain, Taiwan, Thailand, United Arab Emirates, United Kingdom, United States, and more.

Not in your city yet? We hope to be soon! Head to https://about.ubereats.com/cities/ for a current list of all the cities we serve.
iPad Screenshots
Reviews
Landscape Please
Love the app, but would love it more if I could use it in my 12.9" iPad Pro since its always in landscape when used in its keyboard accessory.
Dumb account setting
worst Karo game
on
12/13/2017
Uber would require you login with your phone number(receive a code)to change your phone number. And once your old number is not reachable, you are done with thia account. One more thing, if your new phone number is already registered by others, you are done with uber. Because the customer service number they provided in website, is no longer in use. End of my story with uber. Some company fail for a reason.
Only had TWO bad experiences with UberEATS
I've never had bad experience with UberEATS but MOST OF THE TIMES my fries are wet and soggy. It disgusts me. Like why would my fries be like that !! Also , I ordered drinks from another restaurant and I payed about 5 dollars for two drinks and I NEVER GOT THEM ! I was so mad I had to eat my food with no drink. I had to walk to the store for a drink and when I came back my food was already cold. I asked driver for my drink and he said " no " really rude. Uber needs to know who they hire.
Good
Doing well in letting delivery sent to my door
Love it
Twisty McSpliffit
on
12/12/2017
Perfect for busy people
Don't bother
dont bothwr
on
12/12/2017
I have had nothing but issues with this app since I got it. Even through updates and "fixes" I've still had nothing but issues and when ever there is an issue Uber Eats magically loses the receipt so I can't even see if it was a fault in Uber Eats side or the restaurants side and after speaking to the restaurant it was definitely Uber Eats so good bye and good riddance.
Incredibly faster than postmates or seamless
soonerfan10709
on
12/12/2017
Won't use any other service unless I have to
Account Deletion Nightmare
StargazerTX
on
12/12/2017
After reading that Uber was hacked last year and that they paid off the hackers I decided that Uber Eats may not be that safe to use. 39 days ago I tried to ensure that all my vital info was totally deleted from their servers. I had to send in the request to be told that my account was deactivated and it will take 30 days for my info to be deleted!!!! I checked back after 32 days and got an email run around. I was told that my account was still not deleted and that they will be happy to resend my request. Another 30 day wait? I asked for a customer support ph that I could call. They have no customer support ph number! I was asked to continue my conversation thru email. Each reply gave me a different person telling me something different. The last person says 'from what I can tell your info has been deleted so you should be good to go.' Guess I need a replacement card now. UberEats seemed to be a cut above the rest of the meal deliveries.
Horrible since update
Since new update the app does. It work and verification codes they text continue to leave error. Therefore u are unable to even order from app...smdh.
I see nothing wrong with it
I loved the app.
Fast reliable
Ordered Came promptly as promised. USE CODE eats-maggyl123ui FOR $15 off 1st order. Hot food. Perfect order. Save me time & had a more productive day. Thanks
Apple Pay???
So we could use Apple Pay for Uber, but not Uber eats? Doesn't make any sense.
Portrait Only'!!!!!!!!!!!!!!!!!!!!!
Portrait only apps on iPad are an offensively lazy solution. Until Apple makes portrait cases, just stop it and hire someone who cares about UX to design your apps.
Ok
Wish they offered coupons based on app usage
Love this Delivery Service
TheGolightly
on
12/12/2017
A few delivery services come to my area, but I love that Uber Eats does. And they have a great selection of places to order from. There has never been a problem with my order, and the service it's great. I use DoorDash, GrubHub and Caviar, and Uber Eats is the best by far.
Rate
It won't let me check out
Uber eats review
Items are unavailable that you can still get. Very limited availability.
Filling the GAP for me
Brightprofiles
on
12/12/2017
Being a very regular and frequent traveller, 10 cities/states in less than 1 month, I almost always find myself in new places every time, and it becomes challenging to settle down, get some foods as well get well rested and set for series of meetings and conferences that surely follow the next days. The day I discovered UBER eats, a huge gap was filled perfectly and effectively in my travel life. Now, with UBER EATS, I EAT whatever I want to EAT whenever I want to EAT it at a cost fair enough for the service.
Great but
Nikeycreeper
on
12/12/2017
This app is good,I order, get it delivered by nice people, and enjoy my meal. But the only problem I have is how long uber takes to find someone to get me my food. Everything else is fine. I don't get my order wrong and the people don't mess up on where to be. I just think it takes a little too long for it to find a driver.
The new logo is bad
Ndjvskebsjd r
on
12/12/2017
Change it back
Rude !!!!
Never received my order after one hour of waiting. After asking an employee for help via phone call, I was rushed off the phone and told there was no means for me to be compensated although I had waited one hour for food that never arrived. Employees I spoke to were also extremely rude. Very dissatisfied and will be deleting the app and no longer using Uber's services.
Mahalo!
Awesomeness! Really fast. Great service. Happy for tips! On the island we don't have much that's quick & they're great!
UBER EATS SOUTH AFRICA
Ryeeeeeeeeeeeee
on
12/12/2017
By far the WORST delivery service app in South Africa.... A year ago it use to work great - no problems. Now my order takes an HOUR to find a delivery guy then when it goes to be delivered they aren't competent enough to get in. It's not a problem with Mr. Delivery or OrderIn... not sure why Uber Eats delivery people are clueless time and time again. The last 3 orders I've placed has been nothing but issues. When I contact the customer service they pretty much say they can't do anything about it. I know the USA Uber's eats delivery is much better but who handles the customer service over all? Really poor service. For example: today I ordered at 8:40 am it said it would be delivered within 35 minutes.... I JUST received my order and it's 10:25.... my food waited at the restaurant for over an hour waiting for a delivery guy.... unbelievable. Last time I contacted Uber Eats I told them I was done being a customer (loyal customer for 2 years). I gave it one more shot and it was even worse then I remember.
Better then Postmates
Nickynicole14
on
12/12/2017
Never do Postmates
Customer service
KujoDoodles
on
12/11/2017
If you have an issue, CALL CUSTOMER SERVICE. They were super quick and super helpful
Great app. But...
ChanSimone678
on
12/11/2017
Why is it green? Also not as high food selection in my area as Door Dash. Not enough promo/ coupon code, free shipping months, point system, etc in comparison to DD and Postmates
Poor service
0000010102tttgu
on
12/11/2017
Don't be surprised if your food courier cancelled your order for no reasons.
Uber eats review
Stiffyjuice69
on
12/11/2017
Perfect service every single time! Keep up the good work.
Worst App
Daniel Envy
on
12/11/2017
Always get my order wrong. It's cold. Aaa de they always take over an hour, even though it's a 5 min drive. Can't believe I've been using this app. Use other apps. Not this one
Always a great atmosphere
Sometimes I just love being home, actually, let's say, most of the time. Whatever the reason, sometimes I can't bring myself to leave if that happens on a night I also can't bring myself to cook, uber eats is my answer
Great service!
Super easy and quick!
Perfection
Beaner254life
on
12/11/2017
When you have worked all week and don't want to deal with the general public...use uber eats :)
I love this app so far
I love this app so far
Ubereats Customer Service is HORRIFIC
Waited 50 minutes—no food—driver stole it! Ubereats Customer Service: "We really can't do anything."
Cart failed to load food
lover of film
on
12/11/2017
Cart failed to load food
Uber Eats
This is by far going to be the next best thing if it's not already. Absolutely love it especially while traveling.
What's not to like?
Sit at desk; get lunch put on my desk. What's not to like?
Extremely Unsatisfied with Customer Service
Luckynunber11
on
12/11/2017
I live in a large building in the city of Chicago. Multiple times I've had the delivery people make me go downstairs to pick up my food- ok not really a big deal. I didn't realize that there's options for the type of delivery, door delivery or curb side. I selected door delivery later on. When i did this and ordered food, i got a call from the delivery person and she said "come outside and get your food I'm not getting out of my car." And hung up the phone. Really? This already was rude. I go outside and walk all the way to her car, and then she rudely says "I've been waiting here for more than 2 minutes, have a good day" in a sarcastic tone. I told her that "it would have taken the same amount of time for her to bring the food to my door like requested." She than says "I SAID HAVE A GOOD DAY" I put in a complaint to Uber eats, and their response was more than unsatisfactory. Since then I have deleted the app. I'm gonna just start getting delivery from restaurants that deliver themselves. For some reason people that work for Uber feel entitled and don't want to do their job properly. Do not respond to this review asking for more details- details were already given to Uber employees and based on their response there is nothing you can do to make me purchase any of your disgraceful services again.
nice place
JAYLEN BOYON
on
12/11/2017
pretty good except for the fact that ur account can get disabled for no apparent reason
It's really growing on me and the family
At first we were a little annoyed. We had a breakfast order come in with a lot to say. Not so nice things to say, but ubereats rectified our issue and we were back to ordering from other places.
After updating
I had more choices of restaurant before last upgrade
Pin request broken
LKoritkoski
on
12/11/2017
Keeps asking me to input 4-digit pin texted to me, but no text arrives.
Great service
Yllohenna101
on
12/11/2017
It really is great however the delivery fee is to expensive, maybe away of fixing that would be putting out more promo codes for people that use the app/service all the time.
What's up with PayPal compatibility?
Ok. I normally use UberEats or GrubHub depending on which restaurant I'm wanting to order from. Well, with regards to UberEats I've been trying to use my paypal account to pay for my order but I keep getting an error message saying they have a problem validating my payment method. I've logged in to PayPal and unless there is some type of system disconnect then this is bogus. The whole point of apps like this is to help make things convenient, this is the opposite.
Missing orden.....Again
Vlade-Runner
on
12/11/2017
Almost all driver's Never verify the order, take the order without knowing whether it is complete or not. UberEATS you are becoming a wrong service and you costumer service it is the worst of all.
Saves me and allows me to be lazy when I don't cook
DoubleMGenius
on
12/11/2017
It's amazing and I like it
Hit or miss
Danialexandra
on
12/11/2017
Very unreliable . Twice I've waited for my order 45 mins and had the person cancel. It does not make sense that they do not contact you when they are lost or whatever and that you cannot contact them.. Another service here called Delivery Dudes is awesome and if there is a problem they work it out with you not leave you hanging .
Uber screwups
bombaybomber
on
12/11/2017
They always mess up your orders and they never refund your delivery charge. Giant waste of time and money.
Fact Sheet
Publisher:

Uber Technologies, Inc.

Category:

Food & Drink

Released:

Mar 01, 2016

Current Version Released:

Dec 12, 2017

Version:

1.114.10001

Size:

176.8 MB

Compatibility:

Requires iOS 9.0 or later.

Recommended Age:

4+

Game Center Certified:

No

Supported Devices:

iPad2Wifi-iPad2Wifi, iPad23G-iPad23G, iPhone4S-iPhone4S, iPadThirdGen-iPadThirdGen, iPadThirdGen4G-iPadThirdGen4G, iPhone5-iPhone5, iPodTouchFifthGen-iPodTouchFifthGen, iPadFourthGen-iPadFourthGen, iPadFourthGen4G-iPadFourthGen4G, iPadMini-iPadMini, iPadMini4G-iPadMini4G, iPhone5c-iPhone5c, iPhone5s-iPhone5s, iPadAir-iPadAir, iPadAirCellular-iPadAirCellular, iPadMiniRetina-iPadMiniRetina, iPadMiniRetinaCellular-iPadMiniRetinaCellular, iPhone6-iPhone6, iPhone6Plus-iPhone6Plus, iPadAir2-iPadAir2, iPadAir2Cellular-iPadAir2Cellular, iPadMini3-iPadMini3, iPadMini3Cellular-iPadMini3Cellular, iPodTouchSixthGen-iPodTouchSixthGen, iPhone6s-iPhone6s, iPhone6sPlus-iPhone6sPlus, iPadMini4-iPadMini4, iPadMini4Cellular-iPadMini4Cellular, iPadPro-iPadPro, iPadProCellular-iPadProCellular, iPadPro97-iPadPro97, iPadPro97Cellular-iPadPro97Cellular, iPhoneSE-iPhoneSE, iPhone7-iPhone7, iPhone7Plus-iPhone7Plus, iPad611-iPad611, iPad612-iPad612, iPad71-iPad71, iPad72-iPad72, iPad73-iPad73, iPad74-iPad74, iPhone8-iPhone8, iPhone8Plus-iPhone8Plus, iPhoneX-iPhoneX,

Supported Languages:

Arabic; Azerbaijani; Bulgarian; Croatian; Czech; Danish; Dutch; Flemish; English; Estonian; Finnish; French; German; Greek; Hebrew; Hungarian; Indonesian; Italian; Japanese; Korean; Latvian; Lithuanian; Malay; Bokmål, Norwegian; Norwegian Bokmål; Polish; Portuguese; Romanian; Moldavian; Russian; Chinese; Slovak; Slovenian; Spanish; Castilian; Swedish; Thai; Chinese; Turkish; Vietnamese;