TapNova recommends this app!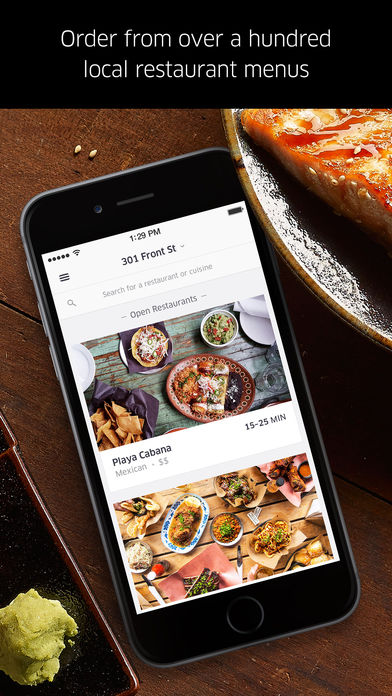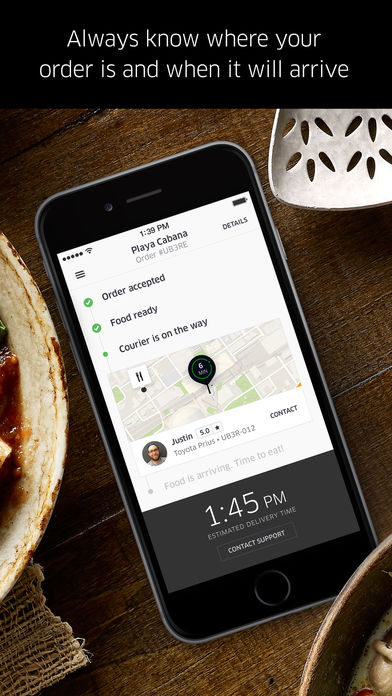 New in version 1.93.2
We're always updating the app to give you the best possible experience. Check back next week to see the latest features and fixes.Love the app? Rate us! Your feedback makes UberEATS better, so you stay full and happy. Have a question? Tap Help in the UberEATS app or visit help.uber.com.
Description
Get the food you want, from the restaurants you love, delivered at Uber speed.

Food you want: We're working with over a hundred restaurants in your city to put great local food all in one place. If you're craving it, you can find it on UberEATS.

Speed you need: It's Uber fast from app tap to table. Through the Uber network, you can get anything from our roster of local restaurants, within minutes.

Service you love: When you're ready to place your order, you'll see a total that includes the food and delivery price. There's no need to tip. Pay with your Uber account and watch your order come right to you through the app.

UberEATS is currently available in Amsterdam, Auckland, Bangkok, Bogota, Brussels, Capetown, Dubai, Johannesburg, Hong Kong, Sao Paulo, Singapore, Stockholm, Taipei, Tokyo, Madrid, Milan, Moscow, Vienna, Warsaw, and multiple cities in the US, Australia, Canada, England, France, Mexico, and New Delhi.
iPad Screenshots
Reviews
Devolution
This app gets more inferior as updates go by. Just lost an order because I went back to review the menu. The search functions make no sense. I don't even understand if this app is meant to make food ordering easy or not anymore. Maybe the goal is to frustrate me.
We live in the future
Alex Goodwin
on
7/20/2017
Far and away the best delivery experience
Can't even Order
Nikkbandy2012
on
7/20/2017
Every time I try to order, it asks for a verification code but every time I enter it, I get an error that the server is experiencing a high about of volume...for 2hours??
😁
Very easy to use and has great customer service.
Great and convenient
Drummershane
on
7/19/2017
Love the app! And fast!
Awesome app.
airforceflyboy
on
7/19/2017
Use my code and get $5 off your order 👌🏻✊🏻⛪️ eats-sc9k6
Iconic
This is the best thing Uber has ever done!!!
Love
Uber eats is so helpful when I'm working. I love it!
Uber Eats is Great
I love UberEATS it is so convenient on those nights where work is overwhelming and the thought of cooking dinner and/or leaving the house to get food just don't seem feasible, UberEATS to the rescue. The only bad thing about it is that it makes it too easy to not cook dinner.
Finally an option for tipping
Theasiandudeguy
on
7/19/2017
This should've been implemented from the beginning.
Love the convenience, dislike long waits, limited options
I enjoy the part where I can now get thai and Mexican delivered, but I dislike that it takes SO long. I haven't had any trouble with my orders, but I have been using the app much less since my favorite thai place is not available on the app any longer.
Amazing!
I enjoy every experience with Uber eats. They have a good range of restaurants that have great prices and the Uber drivers are always friendly. I love it!!
Great -- but More Restaurants
Man of the Desert
on
7/19/2017
It's as easy to use as the regular Uber app – only wish there was more selection in my area. Hope the list of restaurants available expands.
Awesome
Best food delivery service hands down. And @Zenboogieman👇🏾 you definitely have it all wrong. UberEATS does not automatically make all restaurants in your area deliver their food. Each restaurant has to signup in order to have their food delivered with UberEATS. So if your app shows only a few restaurants in your area, then only a few have signed up. And also you don't call the restaurants lol; everything is done in the app.
This is addicting.
Wassupblondieee
on
7/19/2017
I wish I had found this sooner. My husband has been in charge of dinner for the past three months due to a surgery that kept me off my feet. He does not cook so you can imagine hie he has had to go out and get dinner almost every night. Not good in the bank account though. Thanks UberEATS.
Easy to use no matter the location
I've been using the app in different states and it is amazing to me the delivery food choices / options and timely service. I specially like the ability to track and see where it is and who will be delivering via picture so you can recognize the face and car.
Love it
Visual savage
on
7/19/2017
After a 12 hour day at work uber eats is my best friend
Genius!
I love Uber- when I travel in bigger cities and when I travel away from home this luxury is amazing for when I can't or don't want to leave my hotel! Good job Uber!
Not Satisfied
ChristophrRobin
on
7/19/2017
Still didn't get my discount for signing up. 😐 Sounds crazy but why? Why didn't it work for me? I'm a loyal Uber member so I decided to give it another chance.
Great about 90% of the time
For the most part, I love UberEATS. It's convenient and easy--and I'm trying restaurants I normally pass up in favor of my regulars. That said, the one time I had an issue, I don't think it was resolved in a way that was fair. I ordered two sandwiches and only one came. When I reached out to resolve this, they only offered to refund the charge of that one sandwich. Well, if both my wife and I are going to eat dinner, I would have to re-order that sandwich, and pay the delivery fee all over again. That was as really frustrating experience, but I enjoy the app otherwise.
Only one wish
Love this app, and the service as a whole. Multiple orders with no issues and unlocks a ton of options when we can't get out of the house or don't feel like making something. The only preference is I wish when they provide you with sauce options, you could choose the number of that sauce. Sometimes one container isn't enough to cover the size of the food and if you write it in the notes they disregard it because your not paying for it. Would be perfect if not for that. But the app and service are amazing
I love it!!!
IanMichaels90
on
7/19/2017
It's fast and cheap!!! Now I can be fat in the comfort of my own home!!! Way to go Uber!!!!
Great!
Luis Olivera Jr
on
7/19/2017
Great App! Recommended to ALL!
Excellent and Easy to Use
RealtorNaveed
on
7/19/2017
The app is well crafted and really easy to use. Lots of options near me and usually quicker than the estimated time too
Terrific App!
BlueRoseBobbie
on
7/19/2017
It's so great to have choices besides pizza and Chinese when ordering for delivery!
Easy to use
If you are in the area that they serve, it's a great app!
Hope you don't expect correct orders or timely delivery
Roddyisrunning
on
7/19/2017
I've used Uber eats about 15 times now so I think I am qualified to give a review. Out of about 15 orders, 7 of them arrived on time, but only 5 of them have actually been the correct order. If you want specific changes to your food good luck, and if they don't provide the correct food or forget an item altogether, good luck with support because you can file claims all you want, they never respond. If I have missing items I would like a refund for that item, however they don't seem to care. I have had drivers refuse to walk to my door, and I have had drivers stop for 30 minutes at a time and claim they stopped for a flat tire, however they never contacted me, and only decided to finally get on their way when I had Uber support call them. Guess what? All four tires were there, and this car did not appear to have full size spares. There are better food delivery services in my opinion, such as Grubhub, or favor. Don't waste your time with Uber eats, they make promises they simply don't deliver and will steal your money.
Great app
Life saver specially in London.
Bad app, customer service is terrible
Pdiddydaddytrickydicky
on
7/19/2017
Only ever worked once. Tried to place 3 different orders. Two cancelled for unknown reasons. The 3rd order was accepted and the restaurant was already closed. Called customer service and it was terrible. They confirmed the order was accepted, the restaurant was closed and their contact number was wrong. Then they asked if I would like to cancel? I had to laugh. To a restaurant that's closed? Yes. Smh. I received no credit for wasting over an hour. Caviar is much better.
Great app
Donovan Tershay
on
7/19/2017
Great app, only time I dealt with customer service was super quick and helpful . My issue was resolved instantly . App opened up many more restaurants option to choose from .
Very convenient
Thumbs up!
I couldn't cancel my meal
Startridence
on
7/19/2017
I COULDN'T FIND ANYWHERE TO CANCEL MY MEAL . POSTMATES HAS AN OPTION WHY DOESN'T UBER EATS
Love it!
Love it! It's perfect for lunch at the office!!
Good service
Even better now that tipping is finally available through the app
First and last time
No squid forgot.
on
7/19/2017
Last week I used uber eats for my first, and last time. Ordered a pizza. Driver took 50 minutes to deliver a pizza 1.4 miles away. The whole experience was over an hour and a half from order to delivery. App said it would take 20 minutes. The driver combined deliveries with another order and delivered the furthest order first. Pizza was cold. Soggy. Not a good first impression. And this was after my original order to another restaurant was canceled after 20 minutes. They could not accept the order.
This service used to be great. Not anymore.
Vivalasvegas2000
on
7/19/2017
I've been using UberEATS for over a year. It's was great, quick service, loved the on demand deliveries. But now, they've raised the service fees and the quality has gone down. They canceled the on demand service. And now the deliveries are always late. The estimated delivery time is never accurate. It keeps ticking up AFTER you've completed an order and when it's too late to cancel. Which makes this service almost unusable at work. If I order 1 hour before a meeting and the estimated delivery time is 30 minutes, but then continues to add minutes until it's now an hour. And I can see that the food has been prepared for over 30 minutes and is just sitting there. That is unacceptable. If it had said an hour initially, I would have cancelled. The times in the description used to be accurate, but no longer ever are. This is happening more and more frequently, as they keep adding dollars to the service charge. Think I might stick to GrubHub and Favor who are more reliable.
Nice
Nice app never had a problem
Do not use UberEats app.
Do not get involved with this company. Uber's business practices are sneaky and despicable. I'm not going to recommend this app from Uber. The Uber app pulls the resale value out of your car to Pay YOU. Uber needs to compensate and pay the drives real money, so they can fix and maintain there car's. Uber doesn't pay much to the drivers at all (Uber keeps about 60% of what the rider pay UBER). Once you consider your fuel cost, extremely high cost of ride-share car insurance, car maintenance and the terrible wear and tear on the car itself plus significant lose of value of your car at resale, especially because of the super high miles on your vehicle. The Uber app is a very bad deal for the drive. However the riders are getting a great deal on your dime and time. Sorry for the bad new. Here's a timeline of Uber's troubles so far this year. - Jan. 28: After President Donald Trump releases his first executive order on immigration, New York taxi drivers protest by refusing to pick up passengers at Kennedy Airport for an hour. Some protesters say Uber tries to capitalize on the protest by picking up passengers anyway, prompting a Twitter protest urging people to delete Uber's app from their smartphones. - Feb. 2: Uber CEO Travis Kalanick quits President Trump's council of business leaders amid mounting pressure from employees and customers over the immigration order. - Feb. 19: A former Uber engineer, Susan Fowler, discloses sexual harassment and sexism claims in a blog post about her year at Uber. Fowler says her boss propositioned her and higher-ups ignored her complaints. Kalanick calls Fowler's accusations "abhorrent" and hires former U.S. Attorney General Eric Holder to investigate. - Feb. 23: Waymo, a self-driving car company spun off from Google, sues Uber. Waymo alleges that Anthony Levandowski - a former top manager for Google's self-driving car project - stole pivotal technology from Google before leaving to run Uber's self-driving car division. - Feb. 28: A video emerges of Kalanick arguing with an Uber driver. It includes yelling and profanity and ends with a combative Kalanick dismissing the agitated driver's claims that sharp reductions in fares forced him into bankruptcy. In an email to employees, Kalanick admits he needs leadership help. "I must fundamentally change as a leader and grow up," he says. - March 3: The New York Times reveals that Uber used a phony version of its app to thwart authorities in cities where it was operating illegally. Uber's so-called Greyball software identified regulators who were posing as riders and blocked access to them. The U.S. Justice Department is investigating Uber's use of the Greyball software. - March 19: Uber's president, Jeff Jones, resigns less than a year after joining the company. He tells the tech blog Recode that his approach to leadership is at odds with what he experienced at Uber. - April 18: Sherif Marakby, a global vice president who leads Uber's self-driving car program, leaves the company. - April 27: Levandowski announces he is stepping aside while Uber defends itself against the allegations from Waymo. - May 11: A federal judge in San Francisco rejects Uber's request for arbitration and refers Waymo's case to the U.S. Attorney's office for a possible criminal investigation. Days later the judge bans Uber from using technology taken from Waymo, but doesn't order Uber to halt its self-driving vehicle program, as Waymo requested. The case is set for trial in October. - May 26: Kalanick's mother dies in a boating accident. His father is seriously injured. - May 30: Uber fires Levandowski. - May 31: Uber's finance chief Gautam Gupta says he plans to leave the company in July. - June 6: Uber fires 20 people after a law firm, Perkins Coie, investigates complaints of harassment, bullying and retaliation. That investigation, which was separate from Holder's, checked into 215 complaints; 57 are still under investigation. - June 11: Uber's board meets with Holder and adopts a series of recommendations based on his report. - June 12: Emil Michael, Uber's senior vice president for business and a close ally of Kalanick, leaves the company. - June 13: Kalanick tells Uber employees that he's taking a leave for an unspecified period, but will be available for "the most strategic decisions." Uber's board releases Holder's recommendations, which include removing some of Kalanick's responsibilities and replacing Uber's chairman and founder, Garrett Camp, with an independent chairman. Holder also recommends many cultural and policy changes, from establishing an effective complaint process to recruiting more diverse applicants to prohibiting alcohol and drug use during core work hours.
Very limited
To be honest I use UberEats because Postmates doesn't deliver to my current address. UberEats is nice but it's so extremely limited with their delivery options. I live in a rather large city and the main places available on this app are chain restaurants like McDonalds and Papa Johns..yuck. However it is very convenient if you can find something decent to eat on their menu. The drivers are friendly and the delivery time is somewhat the same time as a pizza delivery. Pretty cool app but Postmates delivers groceries, food and alcohol. Y'all gotta catch up! Haha
Convenient
NPerezPatterson
on
7/19/2017
When you're a stay at home mom with a newborn and two elderly dogs, this is very convenient. I'll admit, some of the delivery fees can be quite pricey but you can't beat the convenience. Uber eats makes it so easy! Loving it!!!
Won't even come to my location
I live in Staten Island which is one of the in New York and your telling me that it's not set up in one of the major Burroughs in New York that so stupid
I'm Spoiled!
Love this app and the convenience!
AWESOME
Really helpful and reliable👍👍🙏🍗🍟🍕🍔🌭
10/10
Anubis676King
on
7/19/2017
Cool app
Amazing app
Chelseajade198
on
7/19/2017
This app is so useful like I've literally ditched the conventional ordering over the phone for this easy to use wonderful app! So happy that this is actually a thing
NICE
destroyermdz
on
7/19/2017
Very nice this app i love
Fact Sheet
Publisher: Uber Technologies, Inc.
Category: Food & Drink
Released: Mar 01, 2016
Current Version Released: Jul 17, 2017
Version: 1.93.2
Size: 124.3 MB
Compatibility: Requires iOS 8.0 or later.
Recommended Age: 4+
Game Center Certified: No
Supported Devices: iPad2Wifi-iPad2Wifi, iPad23G-iPad23G, iPhone4S-iPhone4S, iPadThirdGen-iPadThirdGen, iPadThirdGen4G-iPadThirdGen4G, iPhone5-iPhone5, iPodTouchFifthGen-iPodTouchFifthGen, iPadFourthGen-iPadFourthGen, iPadFourthGen4G-iPadFourthGen4G, iPadMini-iPadMini, iPadMini4G-iPadMini4G, iPhone5c-iPhone5c, iPhone5s-iPhone5s, iPadAir-iPadAir, iPadAirCellular-iPadAirCellular, iPadMiniRetina-iPadMiniRetina, iPadMiniRetinaCellular-iPadMiniRetinaCellular, iPhone6-iPhone6, iPhone6Plus-iPhone6Plus, iPadAir2-iPadAir2, iPadAir2Cellular-iPadAir2Cellular, iPadMini3-iPadMini3, iPadMini3Cellular-iPadMini3Cellular, iPodTouchSixthGen-iPodTouchSixthGen, iPhone6s-iPhone6s, iPhone6sPlus-iPhone6sPlus, iPadMini4-iPadMini4, iPadMini4Cellular-iPadMini4Cellular, iPadPro-iPadPro, iPadProCellular-iPadProCellular, iPadPro97-iPadPro97, iPadPro97Cellular-iPadPro97Cellular, iPhoneSE-iPhoneSE, iPhone7-iPhone7, iPhone7Plus-iPhone7Plus, iPad611-iPad611, iPad612-iPad612, iPad71-iPad71, iPad72-iPad72, iPad73-iPad73, iPad74-iPad74,
Supported Languages: Arabic; Azerbaijani; Bulgarian; Croatian; Czech; Danish; Dutch; Flemish; English; Estonian; Finnish; French; German; Greek; Hebrew; Hungarian; Indonesian; Italian; Japanese; Korean; Latvian; Lithuanian; Malay; Bokmål, Norwegian; Norwegian Bokmål; Polish; Portuguese; Romanian; Moldavian; Russian; Chinese; Slovak; Slovenian; Spanish; Castilian; Swedish; Thai; Chinese; Turkish; Vietnamese;