Screenshots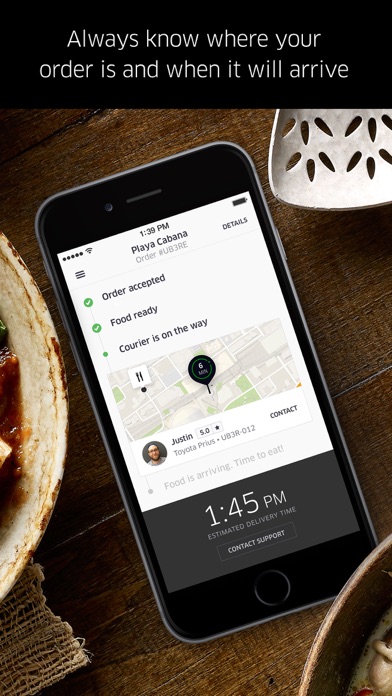 New in version 1.102.1
We're always updating the app to give you the best possible experience. Check back next week to see the latest features and fixes.Love the app? Rate us! Your feedback makes UberEATS better, so you stay full and happy. Have a question? Tap Help in the UberEATS app or visit help.uber.com.
Description
Get the food you want, from the restaurants you love, delivered at Uber speed.

Food you want: We're working with over a hundred restaurants in your city to put great local food all in one place. If you're craving it, you can find it on UberEATS.

Speed you need: It's Uber fast from app tap to table. Through the Uber network, you can get anything from our roster of local restaurants, within minutes.

Service you love: When you're ready to place your order, you'll see a total that includes the food and delivery price. There's no need to tip. Pay with your Uber account and watch your order come right to you through the app.

UberEATS is currently available in Auckland, Bangkok, Bogota, Brussels, Dubai, Hong Kong, Sao Paulo, Singapore, Stockholm, Taipei, Tokyo, Madrid, Milan, Moscow, Mumbai, New Delhi, Vienna, Warsaw, and multiple cities in the US, Australia, Canada, England, France, Mexico, the Netherlands and South Africa.
iPad Screenshots
Reviews
BK
My address is incorrect!
Missing items
UberEATS is fine IF your order gets delivered with the correct items. This is the 2nd time now (out of 6 or so orders) where items were missing. They will give you a refund, but if you want those missing items, you'll have to reorder and repay for the delivery fee. Spoke to customer service and they refused to cover it. Restaurants should have to cover the delivery fee when they mess up on missing items in an order, not the customer.
Food usually late, no support from Uber
Terrible experience.
Convinent
Hotpizzaplease
on
9/23/2017
I love the app but two times my order had been wrong and i have not complained, Every time the driver has trouble finding my apartment, so my pizza isnt to warm by the time i get it, while Its stated simply building #/ apartment #, just ordered again and we shall see, if its wrong and late again im requesting a full refund!!! 😞
Big tip
Tip the drivers they cannot live off $3 hour
Good experience so far.
We have placed a few orders from nearby restaurants, so far we only have a late delivery once, out of probably 7 orders. I also have a good experience with Uber customer service. I wanted to add an item after we already placed the order. I call their customer service, they canceled my order with the restaurant and asked me to reorder, but the restaurant was still processing my original order and added my additional item, without compromising their original ETA.
Thumbs up
I love it ! Convenience and faster than a regular delivery service.
Smooth as Apple Pie
cupcakesophie
on
9/23/2017
A life saver. Easy, quick and fun. Opens up so many options.
Needs more options
You need to add popular spots. Rudy's BBQ Wingstop Tigers Den Poke Popular sushi spots . Korean restaurants
$20 coupon: eats-vx57ue
First of all, if you haven't placed an order yet with Uber Eats make sure you use the coupon above to get $20 off your first order! Enter it right before you request an order in the promotions tab. Might as well try it out since it probably won't cost you a thing! The app is easy to use and intuitive, much more so than other food delivery apps I've used. It's amazing how quick and seamless the entire process is. The average delivery takes around 30 minutes, and if available, instant delivery is even faster. I've had some orders deliver within minutes. The restaurant selection is really good, and the app does a good job of narrowing down what kind of cuisine you want. Sometimes the selection choice is actually overwhelming, I wish the app could narrow your choices even further by providing their top picks out of all restaurants. How about a feature where you can shake your phone, and a random meal gets picked? That said, I've discovered a lot of new restaurants in the city just from using Uber Eats. So far I've used Eats in San Francisco, Chicago, NYC, Toronto and it's been great every time!
No respect for the customer
Hungry and embarrassed
on
9/23/2017
I placed a scheduled order on my way to work at 7:45 am to be delivered between 11:30 and 12 noon so that I could treat my colleagues to lunch. I checked the app a few times before the delivery time and saw that my food was "being prepared." At about 12:15 my food still hadn't arrive but it said there was a "slight delay" and the food was scheduled to come at 12:45. That would have been acceptable because our 30 min lunch actually began at 1. The time came and went and when I called the help number to sort out the issue, I was told that no delivery driver had ever taken the order and so my food would not be delivered. My money was refunded, but I was left embarrassed, furious, and hungry! This would've been less of a problem had I been informed of the issue earlier instead of having to call to find out myself because then I could have made other arrangements for our lunch. Never had a problem with GrubHub though 🤷🏻‍♂️
Really easy
Used it about 10 times. Only needs more selections...
Calificación
Bryan Ferrer
on
9/23/2017
Very good aplication.
Terrible service
Boarsbeforewhores2014
on
9/23/2017
Accidentally put in order before complete and tried to get it cancelled immediately but was refused. Offered no help whatsoever, I just wanted to change order that hadn't even been prepared yet! It was ridiculous. The $5 fee is a ripoff given how terrible the customer service is at Uber Eats, which maybe shouldn't be a surprise given what an awful corporate culture they have. I've deleted both apps and will never use again.
Worst App
Marília Zanotti
on
9/23/2017
worst app ever. Every time I tried to order they canceled my food after they had confirmed my order.
Payment nightmare
My first order was great, good took about 1 /2 hours, bit of a wait but not bad. Second order UberEATS billed my cards 6 extra times that same day for $37.65. I didn't know until yesterday when I was going over my credit card bill. Tried contact with them not one of the reps in five different emails understood that I was complaining about how many times they charged me for that one order even though I kept saying it not a fare issue. I'm contacting my credit card company now because I want my money back. I'm never ordering from UberEATS again.
Bad CS
Bobby Warnerbob
on
9/23/2017
customer service is terrible
More restaurant options
I should be able to order anywhere it should not just be a specific list for my area. More options please
Thank you
SillyMandy08
on
9/23/2017
Uber eats is perfect for those lazy days! I use it all the time!
Cancelled
Tsar1029384756
on
9/23/2017
My orders always get cancelled and it's a waste of time. Get postmates instead
Always a great experience!
I have used this app multiple times and it always delivers (pun intended). There was a mistake on my first order and got a nice refund!
Be careful!
Look, ideally I would like this app, but my first order went dreadfully wrong and now I have nearly $100 to fork over for a small meal. I'm travelling abroad in Australia, and thought I'd give it a go. I made an order, and saw the delivery driver was two minutes away, so I leave the apartment and stand outside, wait about twenty minutes and give up. I see the delivery driver has cancelled my order and tried contacting me (I'm abroad and don't have a number that works without wifi, so won't work outside). I'm naturally a bit miffed, but see the receipt says A$0.00 and an option to reorder, so I do, and this time wait till he's on my road to go out and get it. All good. Later I find out I owe for both meals, despite the first driver never actually coming to my address before cancelling the order. Customer service won't listen or don't care, and frankly I just don't see myself ever recommending or using this app again, simply not worth the stress of getting a bad delivery person.
Eat site
I don't get coupons good site just to expansive
Great app, wish there were more options
Affordable, reliable and convenient. Food is normally delivered in a timely fashion and the drivers are courtesy and professional. I only wish there were more participating restaurants
Totally Satisfied
Not gonna lie I was totally skeptical about this whole ordering food online thing but once I tried it, I have to say I have been the most satisfied lazy SOB in my neighborhood Lol
Oh yup!
Well... No use denying it. This app is for people that are too hammered to drive to their local drive through to pick up their own food. And - it works. It's great! We love it. After a great night of too many boozes we know our chicken McNuggets are a few taps away. Nothing could be better. I'm sure that someday when I'm laying in a hospital bed post-heart attack I'll look back and curse this app - but for now, F*** yeah Über!!
Mega Happy
Onecontractor
on
9/23/2017
Perfectly smooth transaction every time...
Great app
Great idea It's so awesome and makes so much sense
HORRIBLE
You add an item to the cart to check the price and SURPRISE not only does Uber add $4 for delivery BUT they automatically charge you for the entire order because they have a pop up ad that when you try to click and decline it orders what's in the cart.
Dysfunctional
KomatoseIsBoss
on
9/22/2017
I have not seen something work this poorly since the first time I got laid. It won't even let me order anymore.
I order all the time
Drivers always very friendly and food is customarily still warm! Uber Eats I love you
If I could give 0 stars I would
My wife and I have been Uber clients for a while and we are very happy with the quality of the services, which motivated us to use Uber Eats when we went to Las Vegas this week. We downloaded the app, placed the order and were informed that our drive would drop our food at our Hotel. Once we received the driver's information we called her and schedule the pick up place. 1 hour later of waiting at a parking lot and on the phone with customer service my food never arrived!!! And all I got for my frustration was 5 dollars credit. NEVER AGAIN
SO awesome!
Don't listen to the bitter naysayers! They're just grumpy hungry people with no patience! The service is awesome and opens up all types of eateries even far away! Can't rate highly enough. A++++
So far so good
Animallover9999
on
9/22/2017
Just wish there were more of the nearby restaurants as options
Foolish routing algorithm ruins dinner
Maga and Papa
on
9/22/2017
Uber sent my driver 2 miles south of my home to make a different delivery when I live .30 miles from the restaurant. As a result I had cold food. I understand maxing value per ride. But this is a business they clearly do not understand.
When I'm hungry ...
QuiseTrainet
on
9/22/2017
They provide whatever I crave and I can lazily wait on the vittles- FANTASTIC!!!!!!
Awesome experience
One of the top most apps used by my family, love the selection, speed and convenience.
Great
I love UberEATS it's Very easy to order and you can order any food
Solid App good service thus far
Da App lover
on
9/22/2017
The app has worked well for me every time my orders have arrived in a timely fashion correct and hot the drivers Have been Polite
Why can't I tip in app?
I feel really bad I can't tip the guy through the app. I didn't have cash at the time. Please add a tip function like in the uber app!!!! Asap! Thanks.
Needs more work
I entered the address wrong on my first order and it took forever to change. However it never changes in the app so it leaves you confused and probably the driver too. I get security is important but this should be something that is obvious for user experience folks over there. Food was badly undercooked but thats more the restaurant. Driver was nice but kinda felt bad for him for what Uber puts them through. Gonna avoid this app until major changes are done. How is it possible for them to be rated 4 stars when most of the comments I see (after minutes of scrolling through hundreds of comments) are negative like 1 or 2 stars?
Uber Eats is HORRIBLE
We made an order to a restaurant and got a text message it was on its way to only have it cancelled 1 min after the driver picked it up. We called the restaurant and they said order again and this happened a 2nd time. The restaurant called Uber to say they needed to take care of our order and pay / pick up the food immediately and bring it to us. Uber was not helpful and said "they need to investigate" and that they would call us back...NO CALL BACK. Deleting the app and using Cavier going forward
Safer to just call and pick up own food
I've used Uber eats a number of times and usually it delivers my food - just like my local pizza place when I call. Seems straight forward. But when it fails to deliver, it fails miserably. I placed an order but estimated time of delivery kept going up. I finally called customer service and was told that a different driver picked up my order. They offered to reorder which I assumed meant that they were handling that. 40 minutes later I call again to learn that I was supposed to reorder, not them. So now 2 hours wasted. One would think that with all of their algorithms to foil regulators or squash their competition, they would have one that proactively handled deliveries that took too long. Or at least provided a way for the driver to report that the order wasn't there for pick up so that the issue could be addressed sooner. In the end, better to take the middleman out of the equation and just call and pick up yourself.
Way to go uber
Works when it wants to lots of issues and the 5 dollar fee should be less I'd use it more
Won't let you use your card
It won't let me use any of my cards debit/credit. This app is no bueno.
Services
Never lets me use my PayPal please fix
Awesome Food, Quick Delivery
Really impressed by the amount of great restaurants that are on the app. Has my favorite burger in SF. Super quick delivery. Food is always still warm and often early.
Works well
Used several times with no issues
Payment issues ALL THE TIME
Trina Nicole
on
9/22/2017
That stupid scan card thing doesn't even work
Fact Sheet
Publisher:

Uber Technologies, Inc.

Category:

Food & Drink

Released:

Mar 01, 2016

Current Version Released:

Sep 20, 2017

Version:

1.102.1

Size:

146.5 MB

Compatibility:

Requires iOS 9.0 or later.

Recommended Age:

4+

Game Center Certified:

No

Supported Devices:

iPad2Wifi-iPad2Wifi, iPad23G-iPad23G, iPhone4S-iPhone4S, iPadThirdGen-iPadThirdGen, iPadThirdGen4G-iPadThirdGen4G, iPhone5-iPhone5, iPodTouchFifthGen-iPodTouchFifthGen, iPadFourthGen-iPadFourthGen, iPadFourthGen4G-iPadFourthGen4G, iPadMini-iPadMini, iPadMini4G-iPadMini4G, iPhone5c-iPhone5c, iPhone5s-iPhone5s, iPadAir-iPadAir, iPadAirCellular-iPadAirCellular, iPadMiniRetina-iPadMiniRetina, iPadMiniRetinaCellular-iPadMiniRetinaCellular, iPhone6-iPhone6, iPhone6Plus-iPhone6Plus, iPadAir2-iPadAir2, iPadAir2Cellular-iPadAir2Cellular, iPadMini3-iPadMini3, iPadMini3Cellular-iPadMini3Cellular, iPodTouchSixthGen-iPodTouchSixthGen, iPhone6s-iPhone6s, iPhone6sPlus-iPhone6sPlus, iPadMini4-iPadMini4, iPadMini4Cellular-iPadMini4Cellular, iPadPro-iPadPro, iPadProCellular-iPadProCellular, iPadPro97-iPadPro97, iPadPro97Cellular-iPadPro97Cellular, iPhoneSE-iPhoneSE, iPhone7-iPhone7, iPhone7Plus-iPhone7Plus, iPad611-iPad611, iPad612-iPad612, iPad71-iPad71, iPad72-iPad72, iPad73-iPad73, iPad74-iPad74,

Supported Languages:

Arabic; Azerbaijani; Bulgarian; Croatian; Czech; Danish; Dutch; Flemish; English; Estonian; Finnish; French; German; Greek; Hebrew; Hungarian; Indonesian; Italian; Japanese; Korean; Latvian; Lithuanian; Malay; Bokmål, Norwegian; Norwegian Bokmål; Polish; Portuguese; Romanian; Moldavian; Russian; Chinese; Slovak; Slovenian; Spanish; Castilian; Swedish; Thai; Chinese; Turkish; Vietnamese;