Recommended app!
App last updated
Dec 05, 2017
Screenshots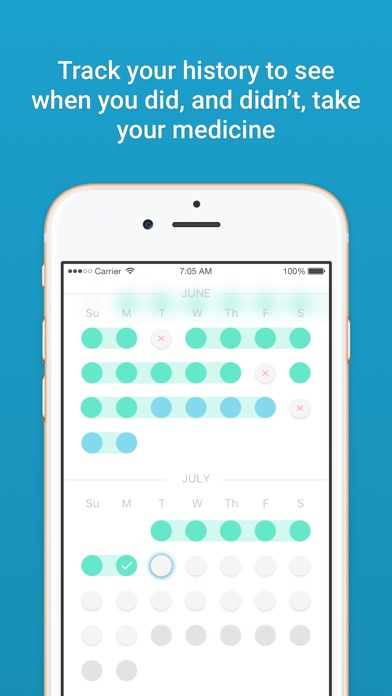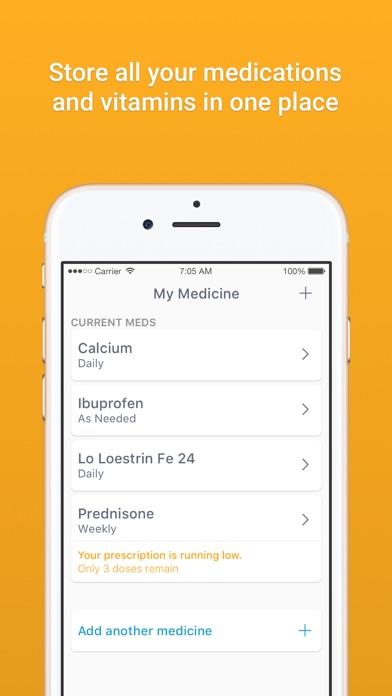 New in version 2.5.5
This update has an important fix for the account sync feature.
Description
Round makes it easier to remember to take your medicine, so you can worry less, live healthier, and be happier.

This simple, beautiful app organizes all of your medications and vitamins in one place.

It provides subtle, persistent reminders that go beyond awkward phone alarms. By helping you set "reminder windows" tailored to your medicine and schedule, Round accommodates life's unpredictable distractions and removes the stress of staying healthy.

Round features:
・Simple and intuitive interface to viewing all of your medications and vitamins
・Complex scheduling of various doses and schedules
・Tracking and taking of as-needed/PRN medications
・Apple Watch App and Complications
・Refill reminders for medications
・Persistent push notifications that remind you even if you forget or miss the first one
・Streak counting and historical viewing of previous days and months
・Refill tracking and reminders
・Specialized flow for birth control packs
・User accounts for backup and syncing between devices


We love user feedback! If you have any questions, ideas or complaints at all reach out to us at feedback@roundhealth.co or @roundhealthco on Twitter.
Reviews
Not as good as I thought...
It's free and looks nice but free and pretty don't always mean much. I got the app and used it for two days before I got tired of its "quirks". The method for storing Meds and having to go in/out to see a reminder is SO cumbersome and not very intuitive. Having a "wheel" like I'm playing with an old iPod is really silly. It's difficult to set precise times and you have to click/save, click/save, so much just to take a multi dose med that it's exasperating! Why not make ONE entry and then allow you to set intervals for your Meds. What's the point of all these "windows" of time? I also dislike, greatly, that if I made an entry and tried to add another reminder that crossing reminder times would set my previous entries to other times. I've finally just purchased a reminder app because it's simple and intuitive. I'd rather pay for something that works easily than deal with stuff that doesn't work well, even if "free".
Great app
Help keep my meds on schedule. Wonderful app. ❗️Thank You❗️
Absolutely Fantastic exactly what I was looking for
This app is exactly what I was looking for… It works exactly as I had hoped it would. I like the alarm that goes off… It's pleasant and loud and gets my attention in the middle of my busy day. I have medications I have to take daily summer in the morning, some are in the evening, some are only weekly... it was beginning to drive me crazy and I was afraid that I had missed pills. This is much better than those pillboxes… Because I have dropped those and had pills flower over the place… Which leaves you with no information. I'm also tired of dumping out bottles and counting pills to work backwards to try to remember if I took my medication or not. I highly recommend this. They've done a great job here. Plus the app is beautiful as well which is an added plus for me. It makes me want to use it more.
App crash
The app constantly crashes after I take my morning pill. Right after I note that I take my medication, it asks me to rate the app in the App Store, and then it crashes.
Very helpful
I often forget whether or not I took a pill or not today. Not anymore with the help of this app. :)
Can't update times in bulk.
Two of the medications I am on after surgery are pain medications. If I sleep an hour or two past the dosage due time, I would like to move the rest of the dosages out (1 is every 3 hours, the other is every 6, so I may need to move one and not the other). I don't want to take them "just because" if there is no any indication of unmanageable pain, since one of the side effects of one drug could potentially affect my surgical site (and the doctor would rather not have me downing them if I'm managing). It's ridiculous that this basic function is absent from this app. These really aren't "as needed" drugs, either, at this point after surgery, so these two absolutes are useless.
One more thing to be a 5 Star
I like this App a lot. I'm a "checker offer" and it's nice to know that I took all my multivitamins daily. The only thing I wish was that there was a barcode scanner of sorts for stuff like multivitamins/supplements that would track the ingredients in the pills and then filter that info into the Health App. I'm obsessed with the Apple Health App and any/all things that can flow there. Other than that I love ROUND. I have recommended this App to others. Keep up the good work.
Not bad but still a little clunky.
By clunky I mean the gui. The layout is a little off, with the daily in the middle and Preferences off to the left and medications to the right. I'd rather have Preferences in the upper right or left, with medications in there. But that's me, hence 4/5 ⭐️s.
Simple and intuitive
My need for a medication minder is light but I do need one and Round works very well. Just today I wondered if I could customize the reminders and sure enough, a couple of taps and now I'm even happier with how it works. Very handy.
Like the interface, reminders not robust enough
I'd like to see repeated reminders that nag me until I mark it as taken. Today the reminder showed on my Apple Watch as I was driving; I did not respond, just kept driving. Now no more reminders show, just the flag on the app. My schedule is different every day - does anyone know of an app that has robust, nagging reminders?
Change that alert sound!!!
You obviously already know it's an issue. It can't be that hard to fix it. The app is pretty good otherwise. But that noise is enough to bring back the migraine I take medication for in the first place.
Very useful
Great app. You can schedule all your medicines per their strengths. Multiple reminders and time recording when Medicine is taken.
Excellent App!
Resonant Blue Eagle
on
1/8/2018
I like this app so much I'm considering just using it for all my reminders! I have to take meds at 9 different times each day and this app is essential. It would be great if the developers could add a small text box at the bottom of the daily meds list for adding notes, such as symptoms that day or diet, etc.
Great for my eye drops
I use Round for glaucoma eye drops - different meds at different times for each eye. I like being able to set a window for the reminders. One half-star off for no "take and reset" for the "every three hours" drop; I have to use the phone timer.
Could be better
It's fine because you can track all your medications but it should have the option for an alarm to remind you of your dosis.
You wanted me to rate your app...
Every. Single. Day. Every time I tap to check off my medication, it pops up. It's incredibly annoying, so here's your rating.
Pretty Good
I have a lot of medications that I need to take, but I usually forget to take them or end up waiting too late and don't have time to take them. This app is really helpful because the alerts are loud and unique, and it definitely helps me to remember to take my meds. It's especially helpful that you can set a time for it to go off and remind you to take medication, and so that helps with not having enough time to do so. Definitely recommend.
Round is one of the better RX apps but it is not perfect
UPDATE!! Since the last update the app keeps crashing on me. I cannot keep it open. Round needs to give the option of keeping the scheduled time without having to manually change it. I do not always log in right when I take the pills. Therefore, I have to go and adjust the time. This can be rather annoying. There should also be a button to mark a drug as skipped. The reminder is good, so is the as needed but I don't necessarily need a time marker. I like Round but I think I will try to find a different app because there's too many variables in this. I just want an app where I can check that I took the RX drugs
3hr max
I need to take a pill every 6 hours. The max timer they have is only every 3 hours and no way to change that. The app is a timer reminder with a very limited and pre programmed timer?! Odd
Keeps me on track
Really helps me remember
Much better than my old app
Like the in app med list, alarm reminder, and ability to set time ranges.
Perfect except not with Apple Watch Series 3
bad at whistling
on
1/2/2018
I love this app. I've been using if for several months. It DEFINITELY keeps me med compliant. It's easy to use with a user friendly interface. Lucky me got an upgraded Apple Watch for my birthday. It's cellular. Unfortunately this app doesn't update the info I input on my watch unless my phone is nearby. 🙇🏼‍♀️ ⌚️ Please fix this.
Fantastic
Great app- helps me remember if I have taken my meds.
Love it
I love the app great and easy to use, unfortunately most of the medicines im using the app doesnt recognize it, but the reminders are great, thank you
Excellent app
I have to take small doses of anti anxiety and Anti depressants thru out the day with a very busy job.. this app is quiet excellent reminder for me!!
Please fix this bug and you'll get 5 stars!
athenshiker
on
12/30/2017
Still love this app, but it has become buggy in the form of having my correctly selected times overwritten by another. While the inaccurate time is not wildly so, it is a pain to make multiple corrections for nearly every dose taken.
Good Design
I like the design and simplicity. Admittedly I take only one medication so some of the complaints I see I have not had issue with. I like the design and ease of use perfect for me.
Works great
Very useful and the app works perfectly. One suggestion, I'd love to be able to pull a report of just one medication and when I took it. I have one that I take as needed rather than everyday so I'd love an easy way to see how often I took it.
Love This
This app is simple yet sophisticated. Very well made and notifications are great.
Great app
Started a new medicine, always have trouble remembering if Ive taken it that day, well this app has helped a lot gives different setting for different medicines, only thing I hate is always being asked to do a review so finally doing one...one thing I wish this app had was a mood of the day that'd be nice to show my dr how my medicine is treating me
Does Exactly What it Needs To Do 👌
Laughs loudly
on
12/28/2017
Helps me keep track of my meds! It does exactly what it's supposed to do, has a nice interface, and clicking to confirm taking meds is satisfying.
Why isn't there a "twice daily" option?
outdoor runner
on
12/28/2017
I have used this app for about a year now and have a few bothers. I don't like that I have to delete a medication entirely when I stop taking it. If I'm on a temporary dose of antibiotics, I have to delete it after the course is done. Why not have a section for discontinued meds? And also along the lines of antibiotics, if I take it every 12 hours I have to add the same medication twice. There isn't a "twice daily" option that would automatically remind me to take it 12 hours from when I last took it. Like other end users I find the time setting to be difficult. I'm thankful to have found this app, though. I struggle with remembering medication so it's like a digital mom who reminds me.
I love this app
Quick and easy to set up. Just enough prompting. No more... did I take my med this morning?
Really helpful and easy to use
btwnCOandSE
on
12/25/2017
I was often forgetting to take my vitamins and medication. This app has been a great way to stay on track. It would be nice to have the option to include the name or identification number or code word for the medicine into the notifications. Especially for medication you take less frequently than others.
One major problem for me
Pickle rock
on
12/25/2017
This app is great. It has pretty much everything I need. There's just one issue I have with it: some of my medication is less important than others. So I'll often skip some and take others. This means, though, that when I look at the month in review, it will say that I've missed all the days I only took my important medication. So it's almost impossible for me to tell in retrospect how many times a month I've taken my important medication. Bottom line: it would be very important to me (especially when discussing my medication history with my prescriber) to have a setting where I could see all the days I have taken SOME medication in the past. Or, even better, that setting specific to each kind of medication I take.
Amazing
This app is amazing - so simple but so effective!! I'm the type of person who hates having notifications or those little red numbers by apps and that motivates me even more to take my meds. I love the reminder notifications. Since downloaded it I have never missed a dose - and that's over a month! Definitely get this app.
AMAZINGLY useful
I love this app so much. I have never in my life felt so on top of remembering my medicine and taking it at the right time every day. This app is super simple, has a bunch of great features that all work smoothly, and never crashes.
Seems like it would be helpful... but features missing
I want it to work but the notifications don't give me the option to mark a pill as taken. I can only clear the notification.
Simple no nonsense tracker
I love this app's simple interface. It does its job in a well designed and visually attractive way. The only thing I would change is the ability to make notes on each day like tracking side effects. I tried several apps and this way by far my favorite.
Good app
Does what I want it to!
Apple Watch feature unreliable
Discerning User
on
12/19/2017
Apple Watch app is buggy and unreliable.
Great!!
Sapo Palacios
on
12/18/2017
It's a beautiful app wonderfully laid out. The only thing on my santa clause wish list is maybe access to a widget to tell the app i have taken my meds. But it really is a wonderful app.
Love this app!
Love this app! I am terrible at remembering to take my medicine however this app has helped me so much keep on track and even be able to share with my doctor when I have and haven't taken my medications.
Get it! Use it!
bhamilton2591
on
12/17/2017
It's not difficult to enter your medications. Maybe a little tedious but easy. And the benefits are your medications taken and taken as required! Yes, it's a nag; it's supposed to be. The one thing I would like added, is a way to record 'as needed', aka PRN, medication.
Great App - Runs Slow
I love the Round app and it's honestly the only app I've been able to find that I like the design of. Most medication apps are overly complicated and don't work for people who take a LOT of various meds. Round is perfect for me - it keeps track of medications wonderfully, and I love the timer on my as needed medication. It's very customizable and easy to see all the information you need at a glance. I also love that the medication list is so simplistic that I can just hand my phone over to the nurse whenever they ask what medications I'm on which definitely saves time at doctors appointments. My only complaint is that the app has quite a lag to it. Especially as you add more and more medications for it to keep track of. I'd love to see the app sped up because it can be quite a hassle to be waiting and waiting for an app to load multiple times a day when I take my meds. It also has a glitch where the meds don't line up properly which means you have to completely restart the app, which is even more annoying. I love Round SO much but if it gets any slower and crashes any more I'm not sure I'll be able to keep using it. I hope they release an update that fixes these problems soon.
Love this app!
I always forget to take my meds for HBP. This app is wonderful for reminding me to take my pills. It also works flawlessly on my Apple Watch. Also, the second alert when you don't respond the first time is great. 5 stars for simply, beautifully working as completely advertised.
Crashing/no replies to feedback sent
This continues to crash when we attempt to open it on my dad's new 2017 iPhone SE. I have sent feedback 4 times in the last four months but haven't gotten a single reply. I do love this app but I can't keep using it if my dad is unable to access it when he babysits my son. Disappointed. Please reply to my feedback and help me!!
Elegant design that works
HannaBayoud
on
12/16/2017
Love the easiness of setting up your medication and the implementation on the Apple Watch. Very well done. Would love to pay for this app for further developments and updates.
So helpful!
I NEVER miss a medication since using this app. Brilliant. You can mark as "taken" from the home screen so you don't even have to open the app. Love.
Fact Sheet
Publisher:

CIRCADIAN DESIGN, INC.

Category:

Medical

Released:

Dec 17, 2015

Current Version Released:

Dec 05, 2017

Version:

2.5.5

Size:

34.9 MB

Compatibility:

Requires iOS 8.0 or later.

Recommended Age:

12+

Game Center Certified:

No

Supported Languages:

English;

Parental Advisory:

Treatment Information;