Screenshots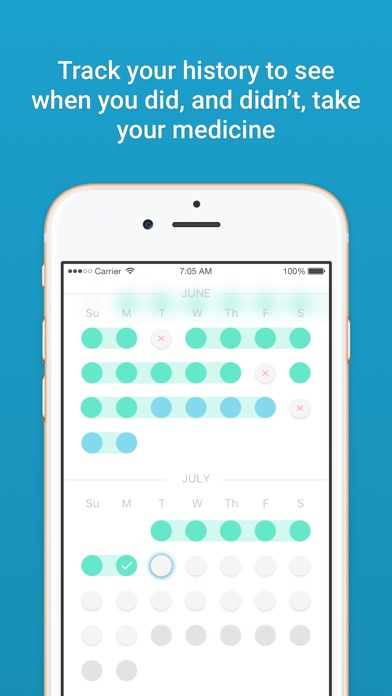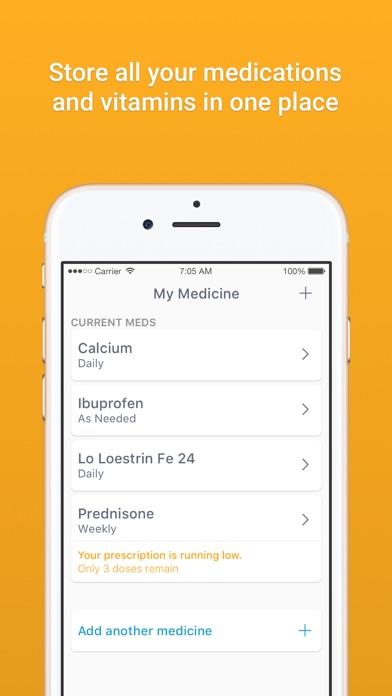 New in version 2.5.2
The networking bug is fixed! Sync and login are working again.
Description
Round makes it easier to remember to take your medicine, so you can worry less, live healthier, and be happier.

This simple, beautiful app organizes all of your medications and vitamins in one place.

It provides subtle, persistent reminders that go beyond awkward phone alarms. By helping you set "reminder windows" tailored to your medicine and schedule, Round accommodates life's unpredictable distractions and removes the stress of staying healthy.

Round features:
・Simple and intuitive interface to viewing all of your medications and vitamins
・Complex scheduling of various doses and schedules
・Tracking and taking of as-needed/PRN medications
・Apple Watch App and Complications
・Refill reminders for medications
・Persistent push notifications that remind you even if you forget or miss the first one
・Streak counting and historical viewing of previous days and months
・Refill tracking and reminders
・Specialized flow for birth control packs
・User accounts for backup and syncing between devices


We love user feedback! If you have any questions, ideas or complaints at all reach out to us at feedback@roundhealth.co or @roundhealthco on Twitter.
Reviews
Great
Very useful. It's part of my daily routine now.
Something is Wrong
FenwayFan15
on
10/19/2017
I loved his app for a long time. Since the new version of iOS, something is wrong. I still get the alerts on my watch and/or phone, but when I click "I took them" on either device through the notification, it does not register within the app. I have to physically open the app and click on my meds to have it recognize that they've been taken. This is frustrating and I hope it gets fixed soon!
Please add...
April and David
on
10/19/2017
...HealthKit integration. Please!? Love this app.
I actually take my medicine
This app is beautiful and works perfectly. I actually use it for both my meds and to remind me to give my dog her meds. The notifications work flawlessly. I really wish they made more apps UPDATE: Notifications that I mark as "Take" or "I took it" don't work anymore
Life saver!!
I DONT HAVE A NICKNAME U BUTT
on
10/17/2017
I never leave reviews, but I just had to after realizing just how helpful this app has been over the past 2 months I have had it... I have to take 3 different medications every day and this app has helped me in ways I can't even describe! I used to forget to take them ALL the time and now I rarely miss a dose. This is one of the few apps I have that I know I will never ever delete. Definitely 100% recommend :)
Great app to track your meds
I have used other apps to try and remember to take my meds but none has worked as well as round it tells me what pill I should take and when it also tells me when I took other meds as well
Great app! So easy
This app is great if you have one pill or multiple pills to remember and track. It reminds you. It's easy to input that you took it. You can add different dosages, pills, times etc. really useful app. Easy to use. And it's a good record to look back and see what you took and when.
Great! But look out for watchOS 4 bug- Causing you to double your medication
This app has great design and a pleasing UI. It's very well thought out overall. I recommend it to anyone who takes regular medication or even just to use as a "reminder" app since its flexibility is top notch. Now if it only worked with the Apple Watch I would give it 5 stars! Reminders do pop up on the watch and you can say you took your medication, however the phone app doesn't reflect the update and still reminds you to take your medication. I definitely doubled up on pills a couple times before noticing that really huge bug. Update - looks like there's a watchOS bug: Open the Apple Watch app on your iPhone. Tap the My Watch tab, then tap Health. Tap Edit, then tap Wheelchair and choose Yes. Tap Done. Update 2 - that didn't fix it, back to 2 stars
Error
The app does not mark usage unless in app directly shortcut reminders do not track usage needs an update other wise nice app
Improve your Medication Intake
Yassy F. Baby
on
10/15/2017
Only Complaint is of the time the scheduled dose was actually taken, instead of its scheduled tome, was reflected in the order it was listed instead. Otherwise great. Worth downloading.
Useless with Apple Watch
Mrs Momma P
on
10/15/2017
The perk for this app is the notification comes on my watch and I can mark the pill was taken simply. I've had this app a long time but it no longer actually marks the pill taken in the app on the phone once tapped on the watch.
Great app!
I too never write reviews but this app is easy and love the simple sound reminders. Really a big help when I'm at work or home and totally forget to take my meds til I hear my reminder. Thank you!
Perfect medicine reminder tool
Pixel Hunter
on
10/14/2017
This app is great for tracking and reminding you about your meds. Only one hitch for me; tapping "took them" on the Apple Watch reminder no longer marks them taken in the app.
Great but wish there were family reminders
Beautiful app and I like the window idea but I wish there was a way to connect with other people.
It was going to be a 5
prssvicky55
on
10/13/2017
3D touch on notifications doesn't work! The app will ask if You Took the Med... and when pushed it goes away... but actually never marks as check ... i found out the hard way when checking on the app calendar and realizing none was updated for weeks!!!!!! I still loved the App thou and tried contacting Support via the Store... it goes nowhere... so... sadly, here we are now.
Suggestions for some really useful features
dylanmossman1996
on
10/13/2017
•I have to take a pill several hours apart several times a day. Sometimes I miss it by an hour. It would be a huge feature to have more flexible notifications where if I took a pill late, it could optionally push back the next reminder another hour. (E.G. If I have to take a pill at 9, noon, and 3, and don't take the noon dose until 1, it could push the 3 reminder to 4 optionally) •Sometimes I don't need to take certain medicines that I have scheduled. Instead of selecting "take this medicine" a "skip this dose" feature to clear the notification and not deduct from my medication count would be helpful. Not having this leads to a few early low medication reminders. Having this option appear could again be configurable on a per medicine basis under "my medicines" settings. •Another useful feature would be to change the way the app handles as needed medications. I like that you can schedule as needed medications, but if I don't take it(because I don't need it) the app should optionally clear the notification itself after a user defined time. •Since medical information is so personal, it'd be great to see a passcode/Touchid/Faceid option to open the app. •Also, when I mark a pill as "taken" from the lock screen, it doesn't clear the badge app icon or reminder in the app like it used to. Maybe this is an iOS 11 bug. I am using an iPhone 6 Plus running iOS 11.0.3 I love the app so far. It's the most valued app on my phone. Your team is doing awesome work to help people stay healthy. It's a beautiful and intuitive design and adding these helpful features would earn it five stars in my book.
Cookie
My daughter put this on my phone because I use to forget to take my medication and the doctor told it was dangerous to forget it. I'm so happy I never forget now I even lost 6 lbs doing it right. I love this thank you for making this app. I've ha it for about a month and I love it.
BMW
Casper09/2007
on
10/12/2017
This is a great app. It keeps me on track with my medication. I'm so happy I found this app. I really need a reminder, and it keeps track of when I need refills. For that alone it's priceless.
Great app!
I love this app! It helps me remember to take my meds on time because I forget a lot.
Awesome!
This app is really helping me to remember to take my medicines! Awesome!
Super and lifesaver!
Super & lifesaving App! I highly recommend it!
Works perfectly and easy to use.
Well designed.
Best app ever
toobusytobesick
on
10/11/2017
I have a relatively complex medication regimen and round keeps me in control. Recommend it to all my patients.
I've never been this on track
Towson Chickens
on
10/11/2017
Nothing I've tried as far as reminders go has ever helped me actually take my meds as scheduled. I'd always end up brushing the reminders off, but somehow being able to get three push notifications within a specified time frame has given the matter more of a sense of urgency. Maybe it's the pulsating circle that gets more urgent in color as your med window starts to close. I don't know. The only thing I'd ask for, if this is not already a feature, would be the ability to log meds after that window has passed in the event that you did take them on time but forgot to hit the pulsating button, or you taken them maybe an hour after your window has passed, because otherwise it looks like you just skipped. In any case, I love the app and I plan to use it for as long as possible. Thank you!
Perfect
Does exactly what I need. Many separate reminders for vitamins, medication, and supplements. Just persistent enough without being overt annoying. Perfect.
App stopped working
I thought this was a good app but all of a sudden it started crashing and now I can't get into it. Have tried to contact the developer but can't seem to locate the support website to let them know I am having issues with their app.
Bug
hdhdhdjdjdjs
on
10/10/2017
3D Touch to say I took it on notifications no longer registers.
Reliable & Easy to Use
I even schedule my pet's meds!
Perfect, except not syncing with notification banner response
Perfect, except when the notification banner asks if I've taken a dose and I hard press to say yes, the dose doesn't register within the daily record.
Apple Watch? Skip.
Carlos_Danger
on
10/9/2017
So, the app no longer loads on an Apple Watch series 3 at all. Uninstalled. Reinstalled. Same hang. Thanks!
Stress-free reminders
This app has reduced my stress with taking my medication. No more worrying about "did I take my medication this morning?" This app really helps with the busy lives we live today.
Very helpful.
I take medication regularly throughout the day. Some are scheduled, while others are as-needed. This would be a 5-star app if the developers would add a 3D Touch action to make taking medication easier.
Great App
Gronkisgreat
on
10/8/2017
Simple and customizable way to get alerts on taking medication. Also having to make sure you check the circles to confirm. Anyone who has to take medication could benefit from this app.
Great
Keeps me on track. Loving it.
GREAT, except...
The notification swipe "I took them" never winds up registering in the app. I still get reminders even though I told the app I did already. I also recommend a 3D Touch-based means of telling the app you took your meds without having to open the app, which does take a few long seconds, which is inconvenient on the go.
Great
Without this app I would forget every other day.
Great
Wes Boudreau
on
10/6/2017
Simple and effective, and good to look at as well.
Excellent App for Med Reminders
I go to a few different docs and always tell them about this app. It works so well in conjunction with the Applewatch.
Buggy
I like the app but it doesn't work well with notifications and the Apple Watch. I have tapped my watch to say I took the medication and then later go to the app to see it still not checked off. Same with the app. It my phone notifies me to take medicine and I tap to say I took it it won't register. You have to literally open the app and check off.
Great reminder
Best Acoustic
on
10/6/2017
My only problem is that when I respond to the notification, it doesn't always update the app. Otherwise I am thankful for the easy reminder
Doesn't work after update
Hi ive been relying on this app for a few months for my pills but after updating to iOS11 the notifications don't show and i missed a pill :( please fix the app asap cuz it is very convenient to track my pills
Needs hourly feature
Great, but needs hourly scheduling. It can remind you to take a medication every day, week, bi-weekly, monthly, etc., but I couldn't set up reminders every 4 & 6 hours for eye drops, which is what I needed it most for. I remember my daily morning and evening medication, but I don't remember to check the clock every 4-6 hours :/
V 2.5.2 needs fixed
I realize you've joined Alto pharmacy, but since this has happened, there's been nothing but issues with this app. It was great prior to this merger, and still can be. I've reached out to your Twitter account numerous time but never getting a response is particularly annoying. My hope is that you get your app to work across all platforms and you get more involved with keeping up with the smartphone software updates. Your loyal customers feel stressed knowing a sense of dependency with an app that isn't working as it was intentionally designed.
Great all-around med app!
Flexible reminder windows, refill reminders- even an attractive interface! 👍 I would love an archive feature to be able to look up meds taken previously!
3D Touch
3D Touch actions have not work since iOS 11.
Amazingggg
I'm on medication I need to take everyday. And I would forgot A LOT of time. But with Round up I haven't forgotten once :))
Great Reminder-UPDATE
This works very good until they did an update. You could record taking a Med in the lock screen. Now it doesn't. You have to do it in the app. The other suggestion is I would have is to be able to chose the reminder sound.
Works great!
D0N0tJudgeMe
on
10/4/2017
Love it for reminding me to take my vitamins which I absolutely will forget otherwise.
Reminder Actions Don't Work
Jaded Old Dude
on
10/4/2017
For the last few weeks when I take actions on reminders they don't work. I.e. "Did you take your medicine?" I tap yes, but it doesn't actually log that response in the app. The same thing happens with Apple Watch, even if I manually go in and say I took it.
So easy
Simple to set up. Easy to use. Integrated with iWatch. So helpful!
Fact Sheet
Publisher:

CIRCADIAN DESIGN, INC.

Category:

Medical

Released:

Dec 17, 2015

Current Version Released:

Sep 21, 2017

Version:

2.5.2

Size:

32 MB

Compatibility:

Requires iOS 8.0 or later.

Recommended Age:

12+

Game Center Certified:

No

Supported Devices:

iPad2Wifi-iPad2Wifi, iPad23G-iPad23G, iPhone4S-iPhone4S, iPadThirdGen-iPadThirdGen, iPadThirdGen4G-iPadThirdGen4G, iPhone5-iPhone5, iPodTouchFifthGen-iPodTouchFifthGen, iPadFourthGen-iPadFourthGen, iPadFourthGen4G-iPadFourthGen4G, iPadMini-iPadMini, iPadMini4G-iPadMini4G, iPhone5c-iPhone5c, iPhone5s-iPhone5s, iPadAir-iPadAir, iPadAirCellular-iPadAirCellular, iPadMiniRetina-iPadMiniRetina, iPadMiniRetinaCellular-iPadMiniRetinaCellular, iPhone6-iPhone6, iPhone6Plus-iPhone6Plus, iPadAir2-iPadAir2, iPadAir2Cellular-iPadAir2Cellular, iPadMini3-iPadMini3, iPadMini3Cellular-iPadMini3Cellular, iPodTouchSixthGen-iPodTouchSixthGen, iPhone6s-iPhone6s, iPhone6sPlus-iPhone6sPlus, iPadMini4-iPadMini4, iPadMini4Cellular-iPadMini4Cellular, iPadPro-iPadPro, iPadProCellular-iPadProCellular, iPadPro97-iPadPro97, iPadPro97Cellular-iPadPro97Cellular, iPhoneSE-iPhoneSE, iPhone7-iPhone7, iPhone7Plus-iPhone7Plus, iPad611-iPad611, iPad612-iPad612, iPad71-iPad71, iPad72-iPad72, iPad73-iPad73, iPad74-iPad74, iPhone8-iPhone8, iPhone8Plus-iPhone8Plus, iPhoneX-iPhoneX,

Supported Languages:

English;

Parental Advisory:

Treatment Information;