Screenshots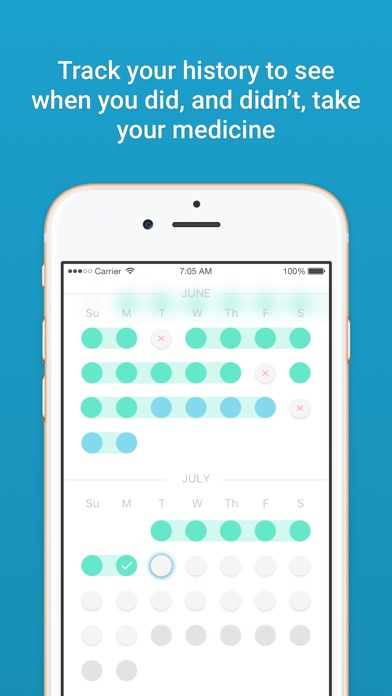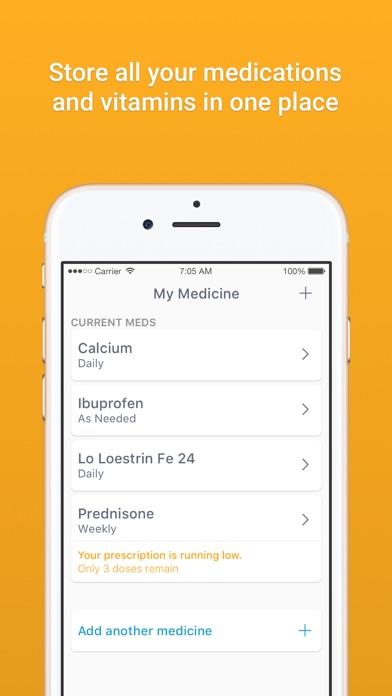 New in version 2.5.5
This update has an important fix for the account sync feature.
Description
Round makes it easier to remember to take your medicine, so you can worry less, live healthier, and be happier.

This simple, beautiful app organizes all of your medications and vitamins in one place.

It provides subtle, persistent reminders that go beyond awkward phone alarms. By helping you set "reminder windows" tailored to your medicine and schedule, Round accommodates life's unpredictable distractions and removes the stress of staying healthy.

Round features:
・Simple and intuitive interface to viewing all of your medications and vitamins
・Complex scheduling of various doses and schedules
・Tracking and taking of as-needed/PRN medications
・Apple Watch App and Complications
・Refill reminders for medications
・Persistent push notifications that remind you even if you forget or miss the first one
・Streak counting and historical viewing of previous days and months
・Refill tracking and reminders
・Specialized flow for birth control packs
・User accounts for backup and syncing between devices


We love user feedback! If you have any questions, ideas or complaints at all reach out to us at feedback@roundhealth.co or @roundhealthco on Twitter.
Reviews
Amazing app!
Remembering to take my different medications throughout the day when I have other things to focus on can be difficult, but I've found that I'm much more consistent now that I use Round. Would recommend to anyone.
Excellent app!
Muchisas gracias, de verdad
on
12/11/2017
Since I have this app I never forget to take my pills . Love this app!
Love the app.
By I hate the pop ups asking me if I want to rate. Otherwise 5/5.
Perfect Reminder
Since having a bone marrow transplant in November 2013, I've been on 19+ meds daily. Some cannot be mixed and must be taken at certain times. With the help of the Drugs.com app and this app, I take my meds on time and they don't interfere with each other 🙏🏼🙌🏼💜
Great Med Reminder
Since I've been using this app, I have not missed one dose of my required meds. Works great, especially with the last update. J
So grateful for this app
PatronusCharms
on
12/11/2017
I have to take multiple medications every day that are crucial to my health and well-being. I hate taking them, because it's not fun, but this app keeps me accountable (even if I do ignore the reminders I set for myself here and there). The UI is clean, the UX is solid and consistent, and everything just works really well. The one enhancement I'd request is the ability to add notes to a prescription if I stop taking it (or maybe even an archive feature). That would help me keep track of important changes in dosage or even brands of medication since those things make a big impact on my wellbeing.
Round Fixed! Again the BEST!
This is a great application for managing and tracking your medication use. It is leaps beyond any other app I have tried. It is especially good at tracking multiple medications with complex dosing schedules. You can even track as needed medications. I remain critical of support, especially in their lack of any response to user communication. They have, however, fixed a serious bug that limited the effectiveness of the notifications feature on some phones. Well done!
Excellent app
Very good app to make sure I take the right medication at the right time each day. I like the reminders and the ability to synch between devices.
Less alarms.
TahoeTruckee
on
12/10/2017
I was using my alarm clock feature to remind myself to take my medication, but this app does a running alarm and calendar showing when medication is due, and records the time I took it. It's much more effective than just using the alarms on my phone.
Fixed bugs, super helpful
Very helpful in keeping track of different medications!
Help me after a stroke
After having a stroke it really helps to make sure I have taken my medication love the app
Very useful app
I use this to keep track of Glaucoma eye drops. It is very useful and bug free. I tried other apps but they consistently worked improperly. So I am really happy this works correctly all the time.
Love this app
It helps me keep track each day
Near perfect app for all your medication needs
If you are looking for an app to remind you to take medication, to track when you have and have not taken the medication, and to give you the option to take something "as needed", then this is the app for you. I've been using it for six-ish months and I can honestly say the app has ensured I never missed a dosage time. The best feature for me is the "as needed" medications. I don't need to take ibuprofen every day at a set time, but I want to know when I have taken it. Round keeps track and, when asked, will send you a CSV if all the medications taken with time stamps and dosage (assuming it's been keyed in properly). My one complaint, which is minor, is having to delete a "1" every time you want to change the number of pills taken. A scrolling view would make entry that much easier. Regardless, this his a great app. You should download it if you need to take anything regularly or need to keep track of times you've taken medications.
Very helpful. Pls add "skipped dose"
For those who are forgetful, this combined with "pill a day" box is indispensable. A nice add would be to be able to say "skipped dose". Now have to say took dose, then go back and edit dose amt to zero.
Helpful unless you switch phones
Hey Round, did your app so I can register and not have to re input my meds and dosages if I switch phones or wanna use on an iPad. Very unhelpful
Great and Helpful App!
karen.eliz.mcgee
on
11/29/2017
PS - Round, can you work on developing this app with the 3D Touch function on iPhones so you can press down on the app icon and mark that you've taken your meds, rather than having to open it all the way up? I love this app! It is so simple to use and its design is beautiful and user friendly. I actually like the tone - it is loud but its uniqueness and volume makes sure I don't forget a dose. It's easy to enter all my medications, customize names if the particular medication is not in the app's system, and customize my dose. I like that you can schedule meds but also have unscheduled meds; that helps me track how often I'm needing to take my "as needed" meds and address it with my doctor. I also use the app as an easy reference in doctors' offices when I need to update my current medications for them. I definitely recommend this if you have multiple medications and scheduled you need to manage!
Thank you!
I'm fairly certain this is one of the few if not only 5 star reviews I've left. I have anxiety over remembering my meds and this app really helps. The design is perfect, seriously whoever came up with this is awesome! 💯⭐️
Simple and efficient
The app badges and notifications mechanics are great to use and the Apple Watch support, particularly with the complication, give me the tranquility I need that I won't ever forget my medicine again(or I can just check if I had and take it). If you could add a feature I would appreciate some statistics, specially one related to how far from the ideal time I'm taking my medications on average or on a graph and the average regularity for example. Overall it's an astonishing app with powerful reminders and a pill tracking monster.
Well designed
Gadget reviewer
on
11/25/2017
I like the tracker and reminder notification style
Very helpful
MrSimonTaylor
on
11/24/2017
Just an elegant, simple and reliable way to remember medication. I hope they develop more features Looke drug info and wellness logs.
Good app
Theno1Bartman
on
11/23/2017
Could be better but so far I like it.
Pretty Great
Title says it all
Feature Request: History of each drug
I would like to be able to select any drug in my list and quickly be able to see how many times i've taken that drug within a selectable timeframe <Last Month, Last Week, Last Year, etc>. i'm using the app to track when i've taken pain meds such as Ibuprofen and Naproxen Sodium, which i'm trying use in moderation (As Needed).
Beautiful.
MunchkinWheels
on
11/20/2017
I am a transplant patient. For those who don't know, that means you have to take your meds EXACTLY 12 hours apart. The day I started my medications I went on a long and painful hunt for the perfect app. This was my final stop. It is simple, clean and easy to use. All the other apps that I tried (and trust me, there were a lot) weren't as simple. I actually enjoy using this application. It's amazing. So, thank you for creating an application that made remembering to take my pills into an easy task and not a chore.
Can't sign in
MaxwellLudden
on
11/20/2017
I was recently diagnosed with a life threatening condition that made me take medication at specific times throughout my day. I haven't missed a pill thanks to this app. However after getting my new iPhone I haven't been able to log into my account and had to set everything up again and lost my history. Contacted support several times and have not heard from them in weeks.
Great ... if it would sync across devices
salt-life-1
on
11/19/2017
I really like this app and have used it for over a year now. The one thing I am missing is the ability to sync across devices.
CRASH
Lizzi_Loves
on
11/18/2017
App doesn't work with the iOS 11.1.2 update. Can't "take" my pills now. So that's fun.
Better than pretty good.
Reminds me like it should, even nags a bit when I ignore it. Reminders show on my Apple Watch. It even reminds me to get refills. Perfect.
Great
This app is a very good medicine tracker that makes keeping track easy. It has medicine suggestions when entering your medication, a simple interface, and reminders for medicine refills. I'd love to see a dashboard widget, but that would just be icing on the cake.
Lovr
Love the design, love notifications to my Apple Watch, love this app.
Extremely useful for forgetful types like me.
Sometimes I forget if I've taken a pill half an hour after I've taken it. This helps a lot. Just very thoughtfully designed overall.
Nearly perfect
I had surgery the other week and was almost impossible to keep track of medication until I got this. Only thing that could make it better if it had pictures of the pills because I can't keep track of names to what they look like
Can't login
Bobbybobbychayz
on
11/16/2017
I changed phones and I can't login to my account. I have hit the help and feedback button multiple times and get the "help is on the way email," but nobody ever follows up.
Used to Sync
Super Dragonite
on
11/16/2017
This app used to sync. Syncing broke at some point though and I lost all of my app data. Switched to a different app that actually syncs.
Great app
I'm super forgetful and this app helps a lot. Haven't missed a dose since I got it.
Valuable App
I must take medication twice a day. It is VERY important to never miss a dose. I tried several reminder apps, and Round works better than any other app I tried. Not only does it remind me - it chimes through my phone and vibrates my Apple Watch - but it allows me to keep a list of all medications I take, and gives the option of not reminding me for the ones that are taken "as needed." This app gives me peace of mind that I won't miss a med dose.
A handful of bugs
I've reported my fair share, and have seen reports of the same bugs on their Facebook page dating a month back. No changes have been made or any comment regarding the bugs. Over all it's fair, but needs some improvement.
This app has help a lot!
Anita.Tuttle
on
11/14/2017
I used to set reminders on my phone for when it was time to take my meds. That didn't really work like I wanted to. I looked for an app to remind me to take my meds at certain times of the day. I also wanted a place that kept my meds updated with what I'm taking, as well as dosages. It's one of those quirky things you have to do when you see the doc, almost like they're quizzing you to see if you know what they know. The bonus for me was the reminder notifying me when it was time for a refill. I'm still figuring this app out and what it can do, otherwise I would have given it a 5 star rate.
A good start
I have a bunch of medication I take because of a chronic health condition. I forget sometimes and it can mess me up for days if I get off track so the reminder portion really helps a lot. Recently it hasn't let me check off when I take a medication from my Apple Watch which it used to do but hopefully that's fixed soon. The one thing I'd like to see (that I'd be willing to pay for even) is that I take medication on an as needed basis for pain that doesn't really fit into a set schedule 'take at 6:00 pm" but they do have a set interval like "take every six hours" or "every 8 hours ". I really need something that can track those times and reminders for those medications, or even for a set schedule it would be nice to be able to add in things like take before or after a meal etc. I know you can add them to the schedule but if you don't need them it's very fiddly to skip a medication and there's no way to set a reminder "in 4 hours" rather than at a specific time. Having to remember the schedule for each of the pain management meds defeats the purpose of using an app.
I'd give it 5 stars but...
Hagen DeGraw
on
11/14/2017
I'd give it 5 stars but I can't successfully create or log in to a profile so I can use the sync feature. Work wonders otherwise. Would suggest that it had an ability to turn off the notification option for the day but not mark it as taken if you run out of medication.
Don't Recommend
The only great thing about this app is it's asthetic design, ability to put in multiple medications with a window of when to take them, and the discreet notifications that pop up. However, other apps have those features. The functions it claims to have do not work. You cannot check off taking medications from the notification on the lock or home screen, as they don't care to fix that bug. There is no reminder to take your medicine past the second reminder, which occurs 5 minutes after the first. Even after reporting this bug 3 times to the creators, they have yet to fix this. These are app creators who don't care much about their product, so you shouldn't care about theirs.
Cap't D
Jumptruck4567
on
11/13/2017
Awesome, easy to use
Tell all my doctors about it!
Hedgerabbit86
on
11/13/2017
I love this app! Not only does it help me remember to take my meds (something I'm notoriously terrible at), but it helps me keep an updated list of the meds I'm on, including my PRN meds! I work in the pharmaceutical world, and I recommend this to my patients who tell me they're having issues, but I also tell all my doctors about it! I've shown it to all the medical professionals I've worked with, and now they're recommending it to THEIR patients, because it's so amazing! Thank you ROUND for changing my life, and helping me change others!
Big help!
Overall I love the app. It really helps with my daughters medication. We went from not having any medications to now having her take one medication twice a day. And let's face it I am not the best at remembering to give medication. Only thing I wish the app did was from the notification screen being able to say medication taken .Even though you clear the notification you still have to go to the app and mark the meds taken.
Keeps me on track
captainmander
on
11/12/2017
I take an antidepressant every day and before using this app I would forget to take my pills at least once a week. Now I've been taking my pills every day for 3 months after using this app. It's pretty, sleek and works well.
Meh.
Disappointedxxxxx
on
11/12/2017
Two annoying factors: There's no way to change the notification sound or volume, which is SO LOUD AND JARRING, it sets off my anxiety. So I have turned off the audio notifications, which means I miss the reminder if I'm not actually on my phone at the time. The other issue I have is recording the time I took my meds. I usually have to try changing the time three or four times, because it doesn't register it correctly the first time. I'm looking to switch apps, mainly for the audio issue.
So Amazing
Lilyfritz111
on
11/12/2017
I am so glad that this app exists, I would be awful at taking pills on time without it.
Amazing for adhd
RoseVicious
on
11/12/2017
Needing to take my meds with meals means i never take have a specific time per day to take it. The flexibility of the reminders and alarms keeps me on track. Simple, and effective.
Great App
Works. Very pleased and will recommend to anyone. I am 80 y old and forgetful, this app is a Godsend. I am a miracle of modern chemistry 🤗
Fact Sheet
Publisher:

CIRCADIAN DESIGN, INC.

Category:

Medical

Released:

Dec 17, 2015

Current Version Released:

Dec 05, 2017

Version:

2.5.5

Size:

34.9 MB

Compatibility:

Requires iOS 8.0 or later.

Recommended Age:

12+

Game Center Certified:

No

Supported Devices:

iPad2Wifi-iPad2Wifi, iPad23G-iPad23G, iPhone4S-iPhone4S, iPadThirdGen-iPadThirdGen, iPadThirdGen4G-iPadThirdGen4G, iPhone5-iPhone5, iPodTouchFifthGen-iPodTouchFifthGen, iPadFourthGen-iPadFourthGen, iPadFourthGen4G-iPadFourthGen4G, iPadMini-iPadMini, iPadMini4G-iPadMini4G, iPhone5c-iPhone5c, iPhone5s-iPhone5s, iPadAir-iPadAir, iPadAirCellular-iPadAirCellular, iPadMiniRetina-iPadMiniRetina, iPadMiniRetinaCellular-iPadMiniRetinaCellular, iPhone6-iPhone6, iPhone6Plus-iPhone6Plus, iPadAir2-iPadAir2, iPadAir2Cellular-iPadAir2Cellular, iPadMini3-iPadMini3, iPadMini3Cellular-iPadMini3Cellular, iPodTouchSixthGen-iPodTouchSixthGen, iPhone6s-iPhone6s, iPhone6sPlus-iPhone6sPlus, iPadMini4-iPadMini4, iPadMini4Cellular-iPadMini4Cellular, iPadPro-iPadPro, iPadProCellular-iPadProCellular, iPadPro97-iPadPro97, iPadPro97Cellular-iPadPro97Cellular, iPhoneSE-iPhoneSE, iPhone7-iPhone7, iPhone7Plus-iPhone7Plus, iPad611-iPad611, iPad612-iPad612, iPad71-iPad71, iPad72-iPad72, iPad73-iPad73, iPad74-iPad74, iPhone8-iPhone8, iPhone8Plus-iPhone8Plus, iPhoneX-iPhoneX,

Supported Languages:

English;

Parental Advisory:

Treatment Information;