Entertainment
Photo & Video
This version of the app is not recommended
App last updated
Nov 27, 2017
Screenshots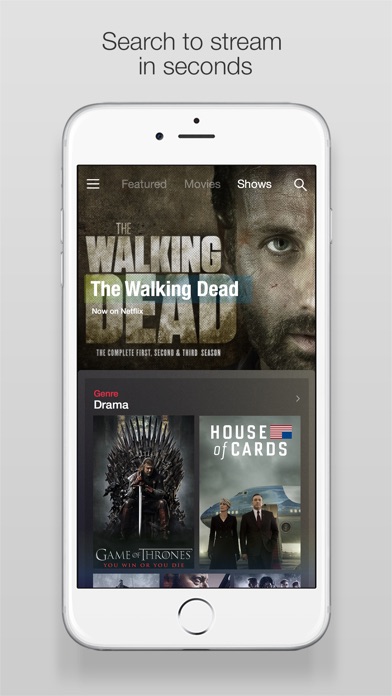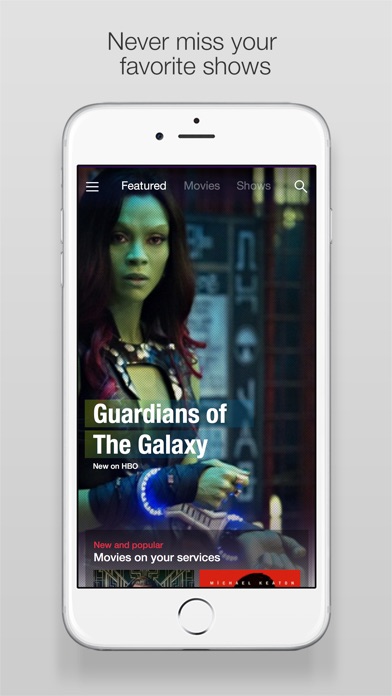 Description
Yahoo Video Guide is the fastest and easiest way to search across all your streaming services, including Netflix, Hulu, Amazon, HBO and more! Within seconds you can find where a movie or show is streaming, and stay on top of what's newly available to watch.

The essential guide to streaming:

• Search from one place across Netflix, Amazon, Hulu, HBO GO and more!
• Tap "Stream Now" to watch instantly from all your favorite streaming apps
• Save movies and shows you want to watch later!
• Need help deciding? View movie trailers, summaries, and ratings before you watch
• Never miss what's new on streaming
• Find the perfect movie or show with our fun GIF-powered Mood Picker

Yahoo Video Guide supports over 30+ services:
Amazon Video, Hulu, Netflix, HBO GO, ABC, FOX, CBS, NBC, Xfinity, YouTube, A&E, BET, Cartoon Network, Cinemax, Comedy Central, Disney, Food Network and more!
Reviews
What happened?
Now nothing shows up. It advises to select more services but I have the majority already selected. C'mon!
Stopped working
Was great, but suddenly stopped working
Was The Best - Suddenly, movies aren't appearing
Is there a bug or has this app been abandoned? The current movies and titles haven't been showing up for months. Previously, this app was my favorite: I logged content to my wishlist, I checked what networks/streaming apps showed it, and i check current movies playing. It was the most comprehensive and user friendly tv/movie tracker out there.
So good...when it works
This was the very best search-where-streaming app. But just tried to search for several nee movies and they didn't even appear in the search results. Hope the app isn't being abandoned.
5-star app has gone bust
DRE from Charlotte
on
8/17/2017
Loved this app until 2 days ago, when it completely went bust. No featured shows, no search, nothing. Please fix it!
Hope it's not gone
Great app for finding movies and shows if you have multiple steaming services.
Doesnt work
This app doesnt work at all. Wont load anything
Not correct
Sadly inaccurate but good idea, also missing STARZ
Best streaming tool there is
This is by far the best streaming search tool and service aggregator there is
The most underrated app in the AppStore!!!
Not sure why Yahoo! has made no effort to push this app to the public. It's amazing. Everything all in one place!
The Only Streaming Guide You Need
100+ Feeds in Style
on
2/12/2017
Wow. I have been googling all over trying to find an app to sift through all my streaming channels on my Roku. Roku's internal is great for search but terrible for discovery. Great job.
The key to cordcutting
This is the only source I've found that is near complete and has everything. TV Guide of the future.
Too much tapping
It takes way too many taps to get to pertinent information. The interface need simplification.
Good one
Helps finding out what's on in TV or in streaming service. Rotten tomatoes Ratings, trailers of the movies, price of rentals all coming handy too! Going good so far!!
Just wish it had STARZ
LuvAGreatApp
on
10/16/2016
Otherwise it's a great app!
A good start
Great when I need to search movies to see if they're on any of my streaming services. I'll know where they are in seconds. But it needs more services to pick from. Add Starz and more tv channels. And needs reviews about the shows. A good start
Why is no one talking about this??
Plug in your subscriptions and this app tells you where you can watch that movie or show you've been searching your media apps for all night. Freaking FINALLY! This is amazing! What's popular? Got it. New movies? Got it. Where can I watch Ricky and Morty? Free on Hulu and Xfinity. OMG! Thanks Yahoo!
WAS one of my favorites apps!
Wish list for future enhancements: 1) Port the app to iPad (to allow landscape viewing). 2) Create a favorite show toggle button, and the ability to view only favorites. 3) Ability to mark previously viewed episodes. 4) Display original air date of each show. The app WAS a really good start with the potential to be great! Update: so if you delete and reinstall the app, all of your saved shows get deleted? WTH? That is so not ok. Boo
Perfect
Exactly what I was looking for. I hope we will get also iPad support.
Super Cool!They really did a perfect job.
Super Cool!They really did a perfect job.
app is good but without iPad worthless
This app and idea are great but it makes no sense why the app is not a universal app.
So far so good!
This app is exactly what I was looking for - makes it easy to explore what's available on all your streaming services. And to those complaining about the "no iPad version available", just download the iPhone version and call it a day - it looks and works just the same. Very pleased with this app.
No iPad version? Are you joking?
I guess they took a shortcut with this app. Big mistake. Kind of sad because it could be a good app.
Helpful but no iPad support
TheFascination
on
7/10/2016
The notifications have been mostly interesting and relevant, but I wish this app would support the iPad where I do most of my video watching.
No iPad support?
Time Squire-in-Training
on
5/20/2016
No proper iPad support? Really? Come on now.
Great idea!
With all the streaming apps available today, an app like this is much needed. I love discovering new content this way. Although I feel like it could be updated much more often. There's some great new shows out that I don't see making it in this app. The new watch list feature to save ideas is very helpful. Next, I'd like a way to mark shows and movies as watched.
Awesome!
This does it all! Get app, and the mood picker is an amazing feature. Why isn't this more popular?!
Very good, but missing some features
Nice, simple way to see what's on the various streaming apps. I find it easier to use and more accurate than similar apps, but it is missing some features. There is no iPad version, no way to sync favorites and settings across multiple devices. It is also missing some of the less popular streaming services, such as Starz. Hopefully they keep improving it.
Cool
I needed something like this
Where has this been?
This is a great idea, it allows you to search across the channels and streaming services and quickly find your favorite movie. It's also accessible with VoiceOver!
Update schedule in real time to get 5 stars
The idea is amazing, but I noticed that for series that show weekly, the app does not update in real time. For example, this app may only offer episode 7, when episode 8 is available on the app of the service which actually provides the show... This is unacceptable as far as guides go since I am generally waiting for next weeks episode.
Thanks for favorites
When yahoo listens I'm happy. Love it. Great app.
Great app!!!!
FreeMoney212
on
2/26/2016
This has always been a time consuming task. Glad this app makes it easy!!!
I've Ben waiting for this
They've been a few apps like this but yahoo has built the best
Great app
Easy to use and fast. Love it!
Good app, but could use a couple enhancements
bcchristensen
on
2/6/2016
I like what they've done with this app. The only think keeping me from giving it 5 stars is the lack of more filter and personalization options. With such an overwhelming selection of entertainment options, it would be helpful to be able to filter on more options, and set those filters as preferences so they stay set. Examples: • Ratings (G, PG, PG-13, TV-14, etc.) • Flag movies or shows I know I'll never want to see so they don't clutter up the list of options • Genre (be able to exclude certain genres)
Beautiful timesaver
The app is gorgeous and smooth. It lets me know exactly what is available on all my streaming services without me having to dig all over the place. Love the mood picker too when I just can't decide what to watch. Thank you Yahoo!
Amazing
Um, where has this been my entire life??? Great app.
Made my life simple
Nice, made my life simple by searching at one location for what I want to see. Cheers Yahoo!!
Excellent
headphoneboy
on
1/28/2016
Wonderful app for discovering content across a variety of streaming services. The only addition I would request is some kind of "favorites" or "queue" function, to add content I've discovered in the app to some kind of list for viewing later.
Would like to see a "favorite" option
Would like to see a "favorite" option
Nice, but needs a queue function
Theocritus125
on
1/26/2016
This is exactly the kind of app I was hoping for, but I would love to see a queue function. Otherwise, well designed UI.
Very helpful
charles.roper
on
1/9/2016
This app is extremely you so if you have several streaming services that you can use to see what there is to watch.i've always had a problem knowing what each service offers each month this app resolve that
Great search engine but needs features
- needs the ability to watch trailers - let me creat a wish list of what I want to watch - let me mark items as "watched" and hide them from recommendations
Great app!!
Really convenient, and great recommendations ! I usually don't write reviews, but really love this one, have to gave a five star !
Only an iPhone app?
I really dislike looking at iPhone app on larger iOS devices. I was really surprised that the only version is an iPhone app. Please consider a version that works full screen size for mini iPads, iPad Air, iPad Pro. The concept is a good one. I'm looking forward to updates!
Be better if
ValentinoTucsonAZ
on
12/22/2015
All the shows and movies were free
Eagerly awaiting improvements
Shinynewipadowner
on
12/21/2015
This is exactly the kind of app I've been waiting for and it really does stream seamlessly. However, when I searched for the app in the AppStore, it didn't show up. I'm not sure why that is, but I had to follow a link in my web browser that took me to the app in the App Store. In the end I was able to download it; so no harm, no foul. I know this app has just come out onto the market so I can't expect too much, but I am a little disappointed. There is no kid friendly search, which you'd think would be a given in 2015, but hopefully that will change soon. I like the mood picker function, but at this early stage, it's a total joke. As someone else said, it's more of a novelty than an actual tool. I clicked on the 'Dark' icon and it suggested kid-friendly titles such as Home, The Penguins of Madagascar, and Sesame Street (which is no longer available on Netflix, by the way). So while I am happy overall with this app, I am eagerly awaiting improvements.
Buggy. Not loading
HotaruChibi
on
12/21/2015
App loads. Options for choosing services as well as any displayed movies or shows does not.
Not loading
dreamriverdesign
on
12/20/2015
I can launch app. But all the movies or tv shows does not display. Just blank boxes all over the screen. Cannot see names of services I am with. Buggy for iPhone 6.
Fact Sheet
Publisher:

Yahoo! Inc.

Category:

Entertainment

Released:

Dec 10, 2015

Current Version Released:

Nov 27, 2017

Version:

1.0.6

Size:

32.6 MB

Compatibility:

Requires iOS 9.0 or later.

Recommended Age:

4+

Game Center Certified:

No

Supported Languages:

Arabic; Catalan; Valencian; Croatian; Czech; Danish; Dutch; Flemish; English; Finnish; French; German; Greek; Hebrew; Hungarian; Indonesian; Italian; Japanese; Korean; Malay; Bokmål, Norwegian; Norwegian Bokmål; Polish; Portuguese; Romanian; Moldavian; Russian; Chinese; Slovak; Spanish; Castilian; Swedish; Thai; Chinese; Turkish; Ukrainian; Vietnamese;