TapNova doesn't recommend this version of the app.
New in version 1.7.1
Version 1.7.1
- Critical bugs fixed
Version 1.7
- Smart playlists (Recently added, Unplayed, Recently played, Most listened )
- Adding artworks for your tracks
- Sleep timer
- Performance and stability improvements
If you love my app please rate and review it with 5 stars!
Description
** Free MP3 Music Downloader **
Over 5 MIILLION users worldwide DOWNLOAD and LISTEN to their favorite music OFFLINE! Join them!

"Amazing - Does the job brilliantly with a fast downloading song capacity" - by Sophiie.newbold

"Amazing App - It is very easy to use. Syncs to my iCloud Drive app which has my MP3 files I listen to daily. I am so excited that this app is available" - by Mixsit

Enjoy seamless music listening experience with Musilla whether you are connected to wifi or not! Sync and manage your favorite MP3 files across all your devices such as iPhone/iPad/iPod and your Mac!

Music Player
- Full-featured music player
- Lock screen control
- Headphones and Air Port support
- Background music playback

Media manager
- iPod Library support
- Multi-storage access, listen tracks from all clouds in one playlist
- Move, reorder and delete tracks
- Sort by artist, name, date, duration, size

Music Now provides you seamless music listening experience from your device whether you are connected to wifi or not.

Music Now allows you to sync and manage your favorite MP3 files across all your devices such as iPhone/iPad/iPod and your Mac.
iPad Screenshots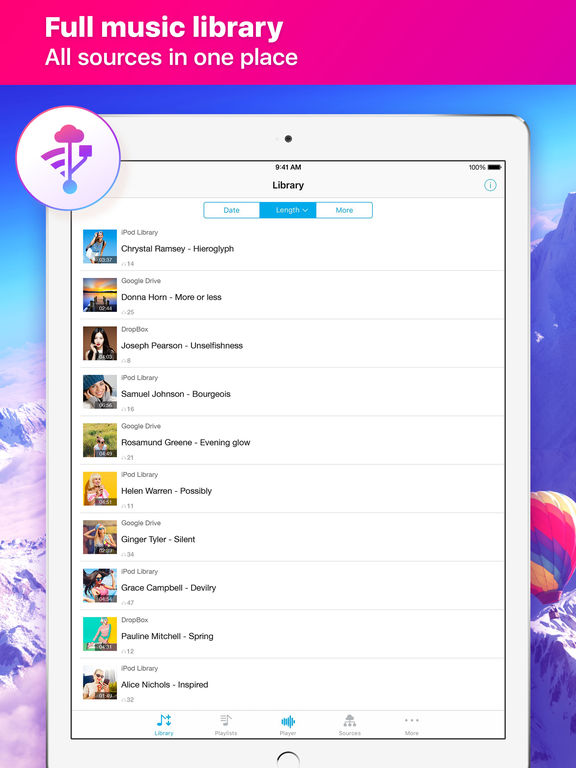 Reviews
Horrible...
I can't listen to music for free... I have to buy the songs and I don't have that money.
Mr D
NotHappy I Paid 3mths
on
7/15/2017
Download it open it crashed so deleted iPhone 7plus
Not a good music player app
So,I couldn't even listen to music offline,even wen I selected all my songs under the offline list,and it said I needed a connection.I will not be using this app again🤷🏽‍♀️
so trashy
amira boughamrani
on
7/15/2017
the worst music downloaded on the app store!! it freezes and shuts down every single time i use it!!! it gets me so mad!!
👎🏾👎🏾
Gdnfklffjkfkdkdkfkk
on
7/13/2017
It keeps crashing HORRIBLE!!!!
Horrible
Honestly wish I could give zero stars.. crashes every time I open it I can't even attempt to use it even paid to be ad free and still can't use it! What a waste!
Junk
This application keeps shutting down 3 mins.after being activated.
Terrible
It keeps crashing. I've tried multiple times and it won't work.
Awful app
Happy_llama9
on
7/11/2017
I got this app and right off the bat to many adds and it would not let me download anything nor would it let me search for the music I wished to have.
terrible
it always crashes no matter how many times i try
NOPE
this app is no good. i have an ipod touch 6th generation and i thought you could add music you dont have but all it did was crash. WAY too many ads, and i dont want to spend money for no ads. useless app, im looking for something new.
Too many ads
Should be a lot less ads but other than that the app is great
Yes
ThisIsTheDopest
on
7/8/2017
No
Issues
Fijgfhgcbjjvc
on
7/7/2017
I'm having such s hard time, when I first got this app it was amazing and I loved it but now that I have added more music it won't download no matter what I do I even bought more storage but nope so if anyone can help me please do
Good but a lot of ads
Im way to cool 4 everyone but there are a lot of ads
Don't get it
I thought you could save music to download and have them to play when you don't have internet and don't want to use your data . Well this does not do that. Of what I know . You have to already have the songs and then save them to this app which is kinda pointless.
Amazing!!
Overall it's a great app but I wish you could rename the songs.
Not...
Not that great but okay to have....
Hate
😩😩😩😩😡😡😡😡😡😡😡😡😡😡😡😡😡😡😡😡😡😡😡😡😡😡😡😡😡😡😡😡😡😡😡😡😡😡😡😡😡😡😡😡😡😡😡😡😡😡😡😡😡😡😡😡😡😡😡😡😡😡😡😡😡😡😡😡😡😡😡😡😡😡😡😡😡😡😡😡😡😡😡😡😡😡😡😡😡😡😡😡😡😡😡😡😡😡😡😡😡😡😡😡😡😡😡😡😡😡😡😡😡😡😡😡😡😡😡😡😡😡😡😡😡😡😡😡😡😡😡😡😡😡😡😡😡😡😡😡😡😡😡😡😡😡😡😡😡😡😡😡😡😡😡😡
Pretty decent
CMansjhmhvhug
on
7/1/2017
Works pretty good but shuffle plays the same songs over and like 1/2 my songs won't download
Horrible don't get
$_$ -_________-
on
6/19/2017
I started by creating a playlist THAT I COULDN'T ADD ANY MUSIC TO because there were ads popping up every 3 seconds :( don't waste your time on this if there was an option to put 0 stars I'd put -100000000000000789 stars 🤢🤢🤢🤢
A useless app for IPad
Allnicknamestaken1961
on
6/16/2017
A useless app when IPad comes with a Music App Library already. Thought it had music to download but you have to get your own, plus it pops up all these ads to convince you to upgrade. To only learn no music on App.
Muhammad Abedrabbo
Muhammad Abedrabbo
on
6/13/2017
This app is terrible you can't access a playlist and get music from that app which is absolutely trash I'm extremely disappointed
No
Status285tem
on
6/13/2017
Don't get it
Really ???
Boss Drizzie
on
6/12/2017
Really ?? You're playing ads mid song now ??? And there's a million ads per every 5 minutes 😑😑
This app will not work on shuffle
I got my music on the app just fine. When I try to play it on shuffle it will not load my songs and will not play at all.
Bad apps
Very bad apps because of adds
Great app
Really a great app...
Wow
I can't believe this app it has so many songs! I LOVE IT :)
Horrible
DOPE FRESH NATION🍪🍪
on
6/1/2017
Absolutely horrible
Nope
I couldn't figure out how to add music
Worst
Can't use unless you pay to upgrade to pro. Move in and get a different downloader
SUCKY APP
Peanut47585746
on
5/25/2017
Isn't this app allow u to search music and put it on a playlist? It can't even do what it was made to do.
THIS IS CRAP
The one that used it
on
5/24/2017
You can't even get fricking music offline or get any music, scary ads. And once you download the no ads app that they have, it gives you adds anyways. THIS IS TERRIBLE 😔😔😔
Awesome app
Works perfect the ads don't bother me
Awful
Please remove the app from AppStore
Great potential
This app is so handy and to be honest it works great for me but recently the ads have gotten completely out of hand, like ridiculous to the point where when you simply try to choose a song you have to sit through a stupid modern combat ad or those stupid ads that pop in and roll your screen so you either click the add or a different song. Other than the ads it's very great
Ads
Simply less ads please 😓
Why ads
When ads pop up that's it I delete it and 30 seconds long really waste of time
Problems
The app is great, I have your app that I pay for it and wrote a review on that app. Could you check that review please. Ther Explains some things that could help you to improve it and a problem that I have Thanks
It's good
I kinda like it
Just like others said
Not usable, ads literally constant
Best
This is the best s**t ever
Still got lots of bugs
1. Does not have alphabet for selection. You have to scroll down 100s of songs. 2. batch Download is nightmare... file that stuck, you have to manually find out yourself and tried to place in proper playlist.
Trash
To many ads and cant get music at all
Fact Sheet
Publisher: Alex Serebryakov
Category: Music
Released: Dec 19, 2015
Current Version Released: Jul 21, 2017
Version: 1.7.1
Size: 42 MB
Compatibility: Requires iOS 8.0 or later.
Recommended Age: 4+
Game Center Certified: No
Supported Devices: iPad2Wifi-iPad2Wifi, iPad23G-iPad23G, iPhone4S-iPhone4S, iPadThirdGen-iPadThirdGen, iPadThirdGen4G-iPadThirdGen4G, iPhone5-iPhone5, iPodTouchFifthGen-iPodTouchFifthGen, iPadFourthGen-iPadFourthGen, iPadFourthGen4G-iPadFourthGen4G, iPadMini-iPadMini, iPadMini4G-iPadMini4G, iPhone5c-iPhone5c, iPhone5s-iPhone5s, iPadAir-iPadAir, iPadAirCellular-iPadAirCellular, iPadMiniRetina-iPadMiniRetina, iPadMiniRetinaCellular-iPadMiniRetinaCellular, iPhone6-iPhone6, iPhone6Plus-iPhone6Plus, iPadAir2-iPadAir2, iPadAir2Cellular-iPadAir2Cellular, iPadMini3-iPadMini3, iPadMini3Cellular-iPadMini3Cellular, iPodTouchSixthGen-iPodTouchSixthGen, iPhone6s-iPhone6s, iPhone6sPlus-iPhone6sPlus, iPadMini4-iPadMini4, iPadMini4Cellular-iPadMini4Cellular, iPadPro-iPadPro, iPadProCellular-iPadProCellular, iPadPro97-iPadPro97, iPadPro97Cellular-iPadPro97Cellular, iPhoneSE-iPhoneSE, iPhone7-iPhone7, iPhone7Plus-iPhone7Plus, iPad611-iPad611, iPad612-iPad612, iPad71-iPad71, iPad72-iPad72, iPad73-iPad73, iPad74-iPad74,
Supported Languages: Belarusian; Croatian; Czech; Danish; Dutch; Flemish; English; Finnish; French; German; Greek; Hungarian; Italian; Japanese; Korean; Malay; Polish; Russian; Chinese; Spanish; Castilian; Swedish; Thai; Chinese; Turkish; Ukrainian; Vietnamese;