Screenshots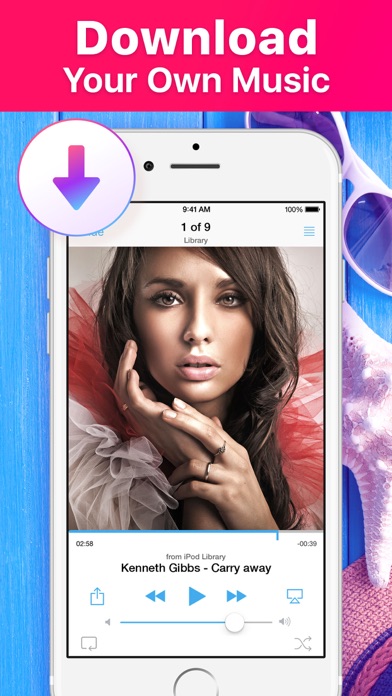 New in version 1.7.2
- Critical bugs fixed
- Performance and stability improvements
If you love my app please rate and review it with 5 stars!
Description
** Free MP3 Music Downloader **
Over 5 MIILLION users worldwide DOWNLOAD and LISTEN to their favorite music OFFLINE! Join them!

"Amazing - Does the job brilliantly with a fast downloading song capacity" - by Sophiie.newbold

"Amazing App - It is very easy to use. Syncs to my iCloud Drive app which has my MP3 files I listen to daily. I am so excited that this app is available" - by Mixsit

Enjoy seamless music listening experience with Musilla whether you are connected to wifi or not! Sync and manage your favorite MP3 files across all your devices such as iPhone/iPad/iPod and your Mac!

Music Player
- Full-featured music player
- Lock screen control
- Headphones and Air Port support
- Background music playback

Media manager
- iPod Library support
- Multi-storage access, listen tracks from all clouds in one playlist
- Move, reorder and delete tracks
- Sort by artist, name, date, duration, size

Music Now provides you seamless music listening experience from your device whether you are connected to wifi or not.

Music Now allows you to sync and manage your favorite MP3 files across all your devices such as iPhone/iPad/iPod and your Mac.
iPad Screenshots
Reviews
L Millie chick
L millie check
on
9/25/2017
Xv🦋🐲🐈🌳🐲🐐🐲🐐🌴🌴🐖🌴jdjsjsjsjenwkj nshrndndd
This is stupid
Like really because you are already supposed to have music on your phone so if you don't you can't have and no used don't download this stupid stupid app
Great site
This website is so great with the latest music
No good
I add documents of music and it says it has none!!! 😤👎🏼
The shuffle
The shuffle feature does not work as good. It keep repeating three songs until I skip until it plays a new song.
Terrible
Savvy_walker
on
9/18/2017
Ads pop up every 3 seconds slows down my phone I have a virus
Great simple app
Works great at obtaining files from cloud storage services. Paid for the pro version to get rid of annoying ads. Would LOVE the ability to repeat songs and playlists, more specifically looping a playlist and repeating a song over and over. Feels like such a basic function of a music player.
Trash !
Too many pop ups doesn't let you search.....
Why no search bar?
WolfOfMusic101
on
9/11/2017
The lack of search bar make the app more confusing for me. It's hard to find the music that I like. It didn't have some of my favorite songs and bands. Not really feeling this app.
Not a great app...
I'm going on a road trip and wanted to get some entertainment for the ride, then I saw this app. I was SUPER exited for me to play music without WiFi, so I downloaded it. Not worth it. 1. Too many adds. 2. Laggy. 3. Very confusing. I'm kinda bummed. *sigh*
No good
It wouldn't open up the app
Took my money
I payed $2.99 to block adds forever and it took my money but it did not block adds at all.
Love it
It let you follow yo dreams
Apppp love
I love This app
A suggestion
StevenLuo2007
on
8/14/2017
The app is okay, but no search bar. I want it to play specific music/songs, but I can't search it. I have to pick a category about 3 times just to get a song I don't like. (Not a angry review. I just want to express my thoughts and opinions.) Please add a search bar. Thank you if you will. If not, then
Play button is bugged
The redneck zombie
on
8/12/2017
It's a nice alternative to sync with my pc but I have some problems 1. Way too many ads play making navigating the app infuriating 2. Using the home play./pause causes the song to skip to the very first one with the pause symbol 3. No start/stop setting since some of my songs have dead space at the end
Garbage app
Horrible. Ads WHILE TRYING TO LISTEN TO MUSIC? Waste of time. Wouldn't recommend. The 5 star reviews are probably faked also, don't fall for this crap.
Dreadful app
The ads are out of control, horrible you can't even search for music you have to buy on iTunes or google drive then upload it to this app. If you are about to download this I'm warning you, it's garbage.
I do not recommend this app
It's horrible and ads are out of control
This app is so bad
This app has a lot of adds and every time I go to a different category it bring me to add the there isn't even an search button on it
Doesn't work
I'm signed up for college price and they can't seem to get the right email to give me college credit
App is garbage
Started using it and, as other mentioned, the ads are ridiculous. I wanted an app that I could import music into from Dropbox so that's why I spent the $2.00 for the "pro" version. For some reason after I spent the money the ads are still there!!! If I could rate this as zero stars, I would. Seeing as how I can't even use it, If it gets fixed I'll write a review on how it works. Until then, zero stars!!!
Ads are out of control
Eat With A Spork
on
7/22/2017
Every click makes a 30 second ad play. Quick ads or banner ads are one thing. This is ridiculous. Download something else. Skip this player.
Horrible...
I can't listen to music for free... I have to buy the songs and I don't have that money.
Mr D
NotHappy I Paid 3mths
on
7/15/2017
Download it open it crashed so deleted iPhone 7plus
Not a good music player app
So,I couldn't even listen to music offline,even wen I selected all my songs under the offline list,and it said I needed a connection.I will not be using this app again🤷🏽‍♀️
so trashy
amira boughamrani
on
7/15/2017
the worst music downloaded on the app store!! it freezes and shuts down every single time i use it!!! it gets me so mad!!
👎🏾👎🏾
Gdnfklffjkfkdkdkfkk
on
7/13/2017
It keeps crashing HORRIBLE!!!!
Horrible
Honestly wish I could give zero stars.. crashes every time I open it I can't even attempt to use it even paid to be ad free and still can't use it! What a waste!
Junk
This application keeps shutting down 3 mins.after being activated.
Terrible
It keeps crashing. I've tried multiple times and it won't work.
Awful app
Happy_llama9
on
7/11/2017
I got this app and right off the bat to many adds and it would not let me download anything nor would it let me search for the music I wished to have.
terrible
it always crashes no matter how many times i try
NOPE
this app is no good. i have an ipod touch 6th generation and i thought you could add music you dont have but all it did was crash. WAY too many ads, and i dont want to spend money for no ads. useless app, im looking for something new.
Too many ads
Should be a lot less ads but other than that the app is great
Yes
ThisIsTheDopest
on
7/8/2017
No
Issues
Fijgfhgcbjjvc
on
7/7/2017
I'm having such s hard time, when I first got this app it was amazing and I loved it but now that I have added more music it won't download no matter what I do I even bought more storage but nope so if anyone can help me please do
Good but a lot of ads
Im way to cool 4 everyone but there are a lot of ads
Don't get it
I thought you could save music to download and have them to play when you don't have internet and don't want to use your data . Well this does not do that. Of what I know . You have to already have the songs and then save them to this app which is kinda pointless.
Amazing!!
Overall it's a great app but I wish you could rename the songs.
Not...
Not that great but okay to have....
Hate
😩😩😩😩😡😡😡😡😡😡😡😡😡😡😡😡😡😡😡😡😡😡😡😡😡😡😡😡😡😡😡😡😡😡😡😡😡😡😡😡😡😡😡😡😡😡😡😡😡😡😡😡😡😡😡😡😡😡😡😡😡😡😡😡😡😡😡😡😡😡😡😡😡😡😡😡😡😡😡😡😡😡😡😡😡😡😡😡😡😡😡😡😡😡😡😡😡😡😡😡😡😡😡😡😡😡😡😡😡😡😡😡😡😡😡😡😡😡😡😡😡😡😡😡😡😡😡😡😡😡😡😡😡😡😡😡😡😡😡😡😡😡😡😡😡😡😡😡😡😡😡😡😡😡😡😡
Pretty decent
CMansjhmhvhug
on
7/1/2017
Works pretty good but shuffle plays the same songs over and like 1/2 my songs won't download
Fact Sheet
Publisher:

Alex Serebryakov

Category:

Music

Released:

Dec 19, 2015

Current Version Released:

Sep 20, 2017

Version:

1.7.2

Size:

42.4 MB

Compatibility:

Requires iOS 8.1 or later.

Recommended Age:

4+

Game Center Certified:

No

Supported Devices:

iPad2Wifi-iPad2Wifi, iPad23G-iPad23G, iPhone4S-iPhone4S, iPadThirdGen-iPadThirdGen, iPadThirdGen4G-iPadThirdGen4G, iPhone5-iPhone5, iPodTouchFifthGen-iPodTouchFifthGen, iPadFourthGen-iPadFourthGen, iPadFourthGen4G-iPadFourthGen4G, iPadMini-iPadMini, iPadMini4G-iPadMini4G, iPhone5c-iPhone5c, iPhone5s-iPhone5s, iPadAir-iPadAir, iPadAirCellular-iPadAirCellular, iPadMiniRetina-iPadMiniRetina, iPadMiniRetinaCellular-iPadMiniRetinaCellular, iPhone6-iPhone6, iPhone6Plus-iPhone6Plus, iPadAir2-iPadAir2, iPadAir2Cellular-iPadAir2Cellular, iPadMini3-iPadMini3, iPadMini3Cellular-iPadMini3Cellular, iPodTouchSixthGen-iPodTouchSixthGen, iPhone6s-iPhone6s, iPhone6sPlus-iPhone6sPlus, iPadMini4-iPadMini4, iPadMini4Cellular-iPadMini4Cellular, iPadPro-iPadPro, iPadProCellular-iPadProCellular, iPadPro97-iPadPro97, iPadPro97Cellular-iPadPro97Cellular, iPhoneSE-iPhoneSE, iPhone7-iPhone7, iPhone7Plus-iPhone7Plus, iPad611-iPad611, iPad612-iPad612, iPad71-iPad71, iPad72-iPad72, iPad73-iPad73, iPad74-iPad74,

Supported Languages:

Belarusian; Croatian; Czech; Danish; Dutch; Flemish; English; Finnish; French; German; Greek; Hungarian; Italian; Japanese; Korean; Malay; Polish; Russian; Chinese; Spanish; Castilian; Swedish; Thai; Chinese; Turkish; Ukrainian; Vietnamese;