Not Recommended
App last updated
Dec 09, 2017
Screenshots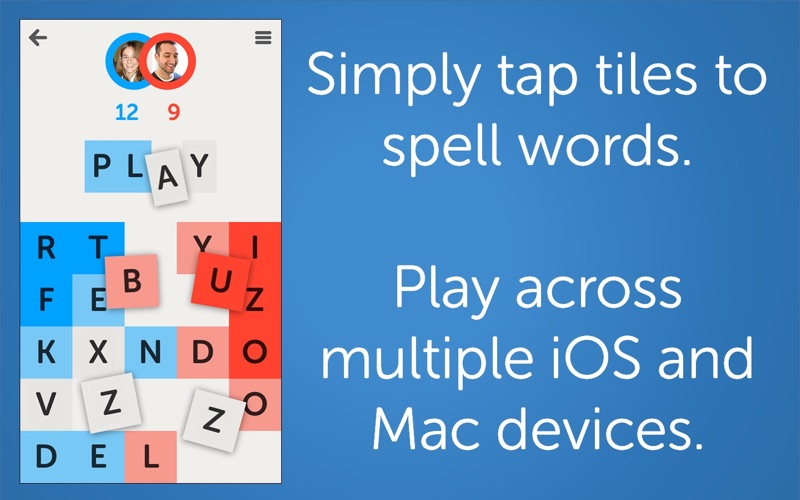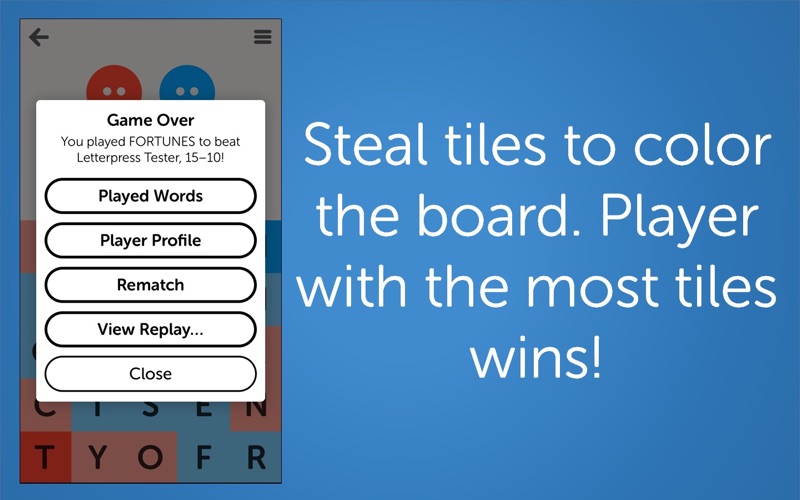 New in version 4.4.1
- NEW! Definitions powered by Oxford Dictionaries.
- Performance improvements.
- Squashed some pesky bugs.
Description
If you enjoy word games then you will love Letterpress. This Apple award winner is loved for its intuitive play and beautiful design. Players take turns spelling words to capture the board. Player with the most points wins!

• PLAY at your own pace. Notifications signal your turn.

• ALWAYS FREE and full-featured.

• COMPETE against friends, let Letterpress find you an opponent or challenge one of our Bot players.

• TRACK your performance with Statistics and Leaderboards.

• OXFORD dictionaries power real-time definitions.

• Many more features and customizations available.

For support and answers to frequently asked questions, head over to http://www.letterpressapp.com/support.html. Follow us on Twitter @LetterpressApp. Like us on Facebook http://www.facebook.com/Letterpress. Play everywhere!

Letterpress is built in the USA by the team at Solebon LLC (http://www.solebon.com) where
we are dedicated to Sharpening Minds at Play.
Reviews
Great game!
DavesFoodFavs
on
12/25/2017
Been playing for years and they keep on improving it. Best word game app available. Only improvement - thanks to the 'rematch' option I play the same people time and time again, would be great if in addition to 'overall stats' there was a 'stats vs. individual opponent' feature. Keep up the good work!
Great Complement to the iOS Game
Almost perfect! Wish I had aplace to store words I make while I wait for my turn but that's it!
My favorit casual game
I was looking for a casual game to play with my sister. We live 9 time zone apart. This game is a great casual game. 1. 5 days to finish a game. 2. Challenging and just fun. 3. Great UI. I highly recommend everyone to give it a try.
Love it!
I think I really tied into a player. Is it ok to leave computer on all night, or should I just put it to sleep?
GREAT!!!!
Billy Bob Joe XIV
on
3/16/2017
This is a hard but satisfying game. I would like to see a version where you can shuffle the letters to give you ideas, but that will come...
Another fantastic update
LetterPress was a great game at version 1.0. Years later and it keeps getting better. You won't find a better designed and thougthful word game than this.
Fun game, but writing to help 2 poor confused reviewers...
5 out of 15 reviewers found a woman's angry post about not knowing how to drag an app into the trashcan helpful. The app is free and is taking up .001% of your hard drive. The next guy scrolled passed the How To Play section to the Support section and came straight to the review section so I helped him here. I love the title "At times nonsense...". Ironic, since the game is literally supposed to be at times nonsense. 1 other person thought that was helpful. Oh and pick a dictionary? …they did so that one is out of the way too. Happy New Year folks. Spending mine doing someone else's job.
Great game, perfect complement to iOS version
Cool Apps Rock
on
12/27/2016
Letterpress makes for fantastic game play and it's free on both Mac and iOS. What's not to like? The other reviewers are very confused. Merriam-Webster's power the dictionary. The rules are clearly defined in a section labeled How to Play. One reviewer doesn't even know how to delete an app from their Mac… is that a joke? At least have the decency to go to an Apple Store for help or email the developer… feedback in the reviews doesn't help.
LETTERPRESS - WORD GAME SUPPORT
MAC APP TO UNINSTALL
on
12/21/2016
I WANT TO PERMANENTLY UNINSTALL THIS APP. IT IS INCOMPATIBLE WITH MY COMPUTER. WHERE IS THE UNINSTALL FEATURE? IF NOT AVAILABLE, CAN YOU PLEASE OFFER OTHER THOUGHTS ON HOW TO REMOVE IT FROM MY MAC BOOK PRO MAVERICK. THANK YOU.
At times nonsense
Please pick a dictionary. Cannot locate any "rules" within the support.
There goes my productivity
Marvin Danielson
on
10/20/2016
This game is dangerous. It is too easy to start a quick game and tell myself I'll get to work right afterward. Three hours later I still can't tear myself away. It should come with an antidote.
Best (word) game ever
Love this game. Endless fun. The only thing bad about it is that you can't play without an internet connection. Maybe there's a way around this so I can play with a friend/fellow passenger during a long flight?
Good Game
I like this game. It's simple and fun to play. No ads; no distractions anywhere. The strategy aspect of this game- having the opportunity to steal your opponent's letters- is really intriguing for me. Get it!
Perfectly faithful rendition!
Exactly as the title says, this is a perfect execution of the Letterpress game on OS X, and works exactly like the iOS original. Nothing needed to be changed for OS X, and the developer was smart to reproduce the exact behvior of the original.
Awesome game FINALLY on mac
I love playing letterpress for iOS and I can finally play on my mac! This works very well. It syncs beautifully with my iOS devices.
As a Scrabble player this game is amazing
I so look forward to my Letterpress games. This is an amazingly cool and challenging game once you get the relatively few strategic lessons. And it certainly aids and abets my Scrabble chops. Highest recommendation!
Non techie but I love this game
I am really addicted to this game. It makes my brain work and is fun and competitive. I enjoy the different speeds that people can get back to the game being played. I appreciate the notices of plays made and when the game is one. I believe that most people play fairly and don't use devices to help them. I would highly recommend it to anyone.
Very Addicting
This is a great brain game! I've had no problems with this app on either my Mac or my iOS devices. Works 100% fine (granted, I'm a IT/Cybersecurity Professional). :)
Favorite word game
Brilliant word game. Faithfully preserves the simple and delightful UI from the iOS version. Would be nice to have more social elements so you could have teams and tournaments and what not. Great game.
Probably my favorite word game!
Love this app that I never knew existed. I have it linked to my iPhone and 2 iMacs and have not had any problems at all. Great job! I am trying to hold steady and not use the online cheats that I also discovered is an app! (Sheesh!) Idea: any way to include a "notes" feature that can hold words you come up with between responses?
Great game; too literal a port
Letterpress is one of the great word/board games, and the new owners have made notable and valuable improvements to the iOS app. The Mac version deserves at best 3 stars, however, because it is a strictly literal port of the iOS game, down to the iPhone-sized and –shaped window. A Mac version should take some advantage of the platform it's on. Still, it's a nice convenience to be able to play a turn without digging another device out of a pocket or satchel.
Buggy, but glad to have it on Mac
Yungtacosalad
on
8/2/2016
Fantastic and a blessing to have on desktop! Super excited, this got me back into playing the game again. That said, the bugs in this version seem to to be qutie prevalent. For instance, when I uncheck the box to turn sound effects off the app crashes infalibly. Hoping this will be fixed soon and expect that it will. Looking forward to it all.
Works well
Works great, esp. for a version 1 product. The syncing with the iPhone app is also great. Adding some keyboard commands would be helpful, e.g. Cmd-[ (like Safari) to go back to the previous screen.
Needs Work
It seems they just ported it to the Mac. That's fine, but it crashes EVERY SINGLE TIME you try to turn the sounds off.
Works great
I love it, it's fun.
So Good
I love this game it is so addictive Best ap on my macbook
Fun & Challenging!
An intellectual game with lovely User Interface. Play games with real people is so fun and enjoyable!
Letterpress
fun and challenging
This might be the worst app I have used
I love Letterpress on iOS, so I am astounded at how bad this port is. I have NEVER had an application lock up my computer as badly as this one. An iOS game, so poorly ported that it brings my computer to a complete standstill. I had really high hopes for Letterpress on Mac, but I could not have been more wrong. I can't even complete a single turn in this game before it crashes and takes my entire computer with it. It's like this game guarentees a hard crash every 3 minutes while its running. If you like Letterpress on iOS, stick with it on iOS, at least it won't crash and take your entire device with it on that platform.
Lots of fun, but…...
LETTERPRESS is lots of fun, but waiting for players to respond is unpredictable. If someone signs-off, it would be nice to know if you could play independently, practice strategies, set your own personal best score or even have a best time using all the letter tiles. So, that's why my rating is 4 of 5 stars.
A great game now even easier to play
thebunderwood
on
7/27/2016
Thanks for adding macOS support! May I suggest that you add keyboard support? I have no idea how that would work, but please consider it!
Best Word Play Game
This game has been tweaked and revised over many version on iOS and has become a truly great word game. It belongs in the same category as Boggle and Scrabble. The game itself is well designed and fun to play and the implementation is top notch. Second to none. A game you can play forever without getting tired of it.
Runaways
I like it, but some players ran away if they think they are losing. I am getting tired of waiting for their new move.
If you liked it on iOS you will like the macOS version
I really like Letterpress game and I was quite excited to see it ported ot macOS. The game place is still great, however, the straight port of the game means that it is a bit awkwards. It also lacks a certain bit of polish as there are multiple references to "tapping" instead of clicking. I hope the 2.0 release of this will improve on the way UX of the game.
Great port
imho this developer has made some bad moves with the iOS version of this great game but the Mac app delivers. Quick play & turn syncing across devices, smooth animations, all the Letterpress you want and expect. They should charge $!
YAY YAY YAY
what an absolute joy to have Letterpress join the desktop family! a perfect translation to the Mac side of things, and just as much fun!
Good word game
mystery_tramp
on
7/26/2016
I played this a lot on my phone some time ago. It seemed like I was running against a lot of cheaters and quit. I like the game, but if it runs into the same issues with the iOS version, I'll just delete it and move on.
Good word game
This has been one of my favorite word games on my iPod Touch and my iPad. It is great that it is now on my Mac as well. Games usually move quickly. Most of the players seem to play in honestly. Every once in a while you run across someone who is either the reincarnation of William F. Buckley Jr. or else they are using an anagram program; but, that is rare.
Keeps crashing on my new Mac!
So I downloaded it and played a hand with whomever they matched me, but that person never played again, so it just forfeits. Unless you can get some friends who will play it with you, it's boring! Anyways, it crashed twice in about 5-10 mins. Once before I could even enter my nickname, and then again when I was reading through the directions. blah. Needs work still, sorry.
Finally!
The great iOS app finally comes to Mac OS! Works just like the iOS version - love it!
Okay
This game might be fun if you didn't have to wait for your opponent to submit a word before you could submit another yourself. Apparently there's no shot clock because the lame-o I was just forced to forfeight to took 5-10 minutes per turn. That makes for a lame game, but I could see how it might be fun playing someone mildly interested in playing.
Nice!
I forgot about this app since I no longer have an iPhone. Glad to see it on OS X, finally.
A true ultimate essential app
I believe there is aways a need fo an app or game that one can use on a casual basis for a shor distraction. I have read where this can also increase production. I seen letterpress on the features page and tried it out and was pretty much hook. Its really easy to get started and the casualness of the game is really nice. What better in my opinion is that there is a matching ios app. and it looks and functions exactly the same.
Very fun
excep.shen.al
on
7/23/2016
This game is really fun even though there are some functions that won't work on the MacBook (I can't scroll up nor down). Definitely would download!
My favorite word game.
Eric Thomas Craven
on
7/23/2016
I've been playing this for a few years and can honestly say it's never gotten old. I seems more competitive than other word games, primarily because you can steal letters played by your opponent, and you can strategically block letters off...allowing you to really get under the skin of the person you're playing against, which is super fun. Highly recommended!
Waiting
I like the game. I just don't like having to wait on an opponent.
Play at work?!?!
I can now play this at work… HAHAHAHAHA! No one will ever know. Except my boss who is playing against me now. :)
great game!
BigDaddyCatan
on
7/22/2016
Didn't think I'd want this great iOS game on my mac but I find myself playing it here too. Excellent!
Fact Sheet
Publisher:

Solebon LLC

Category:

Games

Released:

Jul 20, 2016

Current Version Released:

Dec 09, 2017

Version:

4.4.1

Size:

3.1 MB

Compatibility:

Requires iOS 10.8 or later.

Recommended Age:

4+

Game Center Certified:

No

Supported Languages:

English;