Screenshots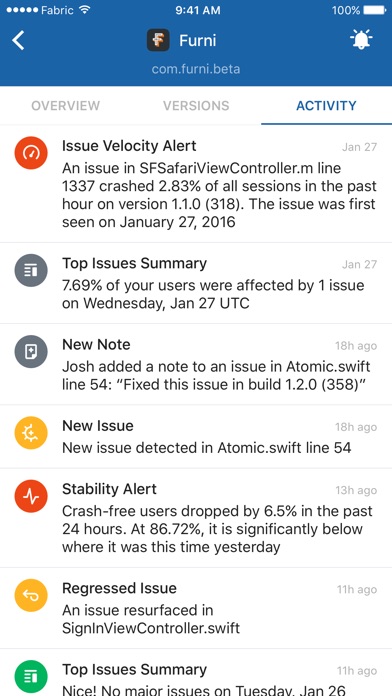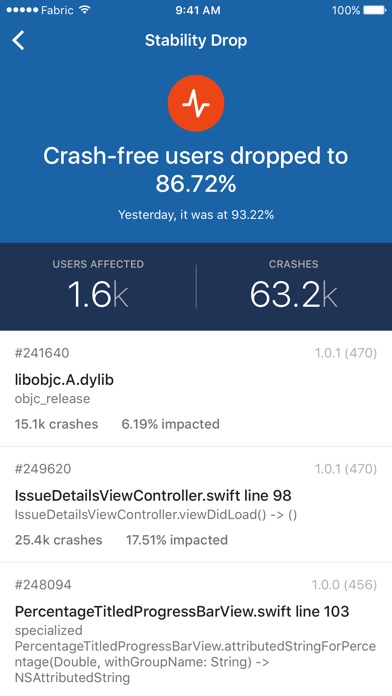 New in version 1.10.0
Adds support for iPhone X.
Description
Monitor your app on the go and get real-time analytics and crash reporting on your phone. Get alerted when something is critically affecting your app with the information you need to triage issues:
- Full stack traces
- Number of affected users
- Breakdown of devices and platforms and more

We sift through millions of events every day to intelligently bring the most important information to you. So that even before you pull up your laptop, you know where to look for a bug, who on your team to reach out to, and how that could be affecting your metrics.

Always have access to your key metrics—track currently active users in real time and drill down on your crash-free and active user graphs to see your daily, monthly, and new users over time.
Reviews
Can't even login after update
It's stuck on the full page overview login screen now. When I put in my login information, it goes "Opps! Looks like you've already logged in with this email." As an app dev, I assume you're not making this overview page go away when there's already login info stored. Unusable. Simple bug here. You've even got a message that tells me the login module of the app knows what happened but you're re-using it for multiple UI pages and not handling it correctly for each one. Shame. Edit: newest update allows me to login now, though I'm not sure if it's because of the app update or because I had to re-install the app.
Works Again
kaboomboomboom
on
11/28/2017
Newest updates fixes previous issues. Great tool for app analytics.
Please fix
Quality of this app has gone way down since Google purchased Fabric. The whole app just hangs when I open from the Today extension. Please fix.
Can't login
Says I'm already logged in to that email. Happened after I restored from backup from a different device
Great analytics and statistics!
Createanicknametheysaid
on
9/18/2017
The app has been amazing. It's absolutely the best thing about Firebase and I enjoy this feature so much. When you have any issues, the reply from support is super fast, thanks Alex! Super pleased!
Doesn't load any data
Just keeps saying that there is no internet
Latest version Crashes as soon as I log in!!!
I hope this app has Fabric installed so someone can figure out why it crashes every time I try to log in....😂😂😂😂
Gone with the wind
Arman Dezfuli-Arjomandi
on
7/22/2017
Current version doesn't work anymore and I couldn't be less happy about it
Can't connect to network, pls fix asap
It has been quite a while the app complains it can not connect to the network while the network was perfectly fine. I thought it could be a short term problem and searched for a update. But it has no update since two months ago. There are many other reviews complaining the same issue, but apparently nobody listens. Android fabric works fine.
No longer connects
App no longer connects to the fabric dashboard.
Stopped working!!! Connection issue 😡😡😡
Very frustrating!!!
Network connection issues
Recently I have been getting frequent network errors! Very frustrating used to work great with no problems! Please fix! Update: logging out and logging back in fixed the network issues so I assume my authentication token / session expired on the server but the app considered me still logged in... if my network requests are no longer accepted on the server because of expired session / token please log me out on the app or tell me so I can do so. As it stands now i assume your server is down when I get network errors and my phone clearly has a good connection.
Good analytics
I've had some issues where the app has struggled to connect but signing out and back in seems to fix it. This app provides a good bit of information for a mobile device. My biggest recommendation would be if the time zone would adjust to current. It can be difficult doing math from UTC sometimes.
Finished or finished and finished
rocketship69
on
6/15/2017
Is this app done? I know it was done the moment it left the App Store from a 'worthwhile app' perspective but was it completed as imagined? I hope not. What's the value in an app made for expressing those ever so intense poetic emotions if you cannot remotely speak on anything close to what you want to? Ex. I tried to write, by the broadest means 'Why get this' or why make this or I don't love. All those I tried for for too long to continue.
Doesn't work
Won't load app stats, says I have no apps when I definitely do.
Crash all the time after an update
Jessica Perse
on
4/8/2017
After a recent update, the app is impossible to use, it crashes all the time. Please fix up !
Crashes when accessed from Today Widget
santonahmiyas
on
4/6/2017
Please fix it on the next version
Amazing app!
First off, amazing app! As an indie developer I love being able to see my stats in real-time. Two suggestions I would like to see in a future version. One, we really need to see custom attributes in the app! All my events are custom and I group certain activities via attributes but I can't see any of them in the app. Secondly, we really need to be able to delete old custom events. Sometimes you make the wrong name or you need to update events yet I still have all these unused custom events in this app.
Analytics not working
App won't let me view analytics, and instead is just showing me "learn about answers" screens when all my apps already have it set up and displaying correctly on the website.
crash on launch
you guys need qa help, and this should not have been allowed to remain active for more than a week. Something's broken organizationally
Add Firebase support. :-)
that1guyfromUT
on
2/1/2017
I'm happy to see that Google has acquired Fabric, I'm hoping this will mean we will have access to a Firebase application as well. Or maybe an update to Fabric will allow us to view our Firebase analytics in addition to our Fabric analytics.
I would like some things fixed/added
andytriboletti
on
1/28/2017
Sometimes when clicking on a link from asana to Fabric when on iPhone I go to Fabric webpage. I should go to app. I would like an overview of stats for all apps in one screen. I would like the ability to add/remove apps from favorites on the app. Also decide what apps get shown on the today screen.
Nice!
Wow much improved since I last checked. Works great. UI is responsive and slick. Has a good amount of data in the app. Nice work please keep adding features to get to web feature parity. 👍
Access error
I have gotten request errors for the statistics page since last week. Could see only app list. It works now after resignin. Might error of access token.
Junk
Wasted my half an hour integrating into my project
Buggy
Always gives "Request error"
Thanks
jajajalonso
on
11/10/2016
Really well done.
Great
MasterSloth
on
10/31/2016
Our go-to platform. This other reviewer probably set it up wrong because it works fine. Thanks!
Worthless
Anosognosic Reviewer
on
10/25/2016
Doesn't work, always fails with 'request error'. This has been going on for weeks, even after update of this app and of iOS, on iPhone 6. No excuse for this level of botch for an app that claims to help developers with bugs. Product is worthless, don't bother, it doesn't work.
Good stuff
Reliable and constantly updated
Widget broken - great app
Widget just says "No user data. Make sure you're logged in." (I am). Wish this worked... That said - app is great
Need custom variables
This is a great start but please add the custom variables that are passed to Crashlytics. This quickly allows me to determine if this is a critical issue or not. Without it, I'll need to look on the web version of the app just to determine critical responses.
Works great
Music City Mark
on
7/8/2016
Works exactly like I would expect it to.
The notification widget it doesn't work
It keeps saying there are no logged in users - which is incorrect! Please fix.
Great App
We want more answers in app such as content view
Doesn't work
faithfracture
on
6/24/2016
No apps found. Request error, check network, all the time no matter what.
Really great!
Miss-Claudia
on
6/24/2016
This app is so well polished, I wish every app could be like this one.
Great update
DoYouKnowHowIam
on
6/15/2016
Great update, being able to quickly switch accounts is great. Can you let the web team know to do the same? Also, please add rotation on graphs and multiple touch to see % difference between days (like Apple stocks app). Another nice feature would be a graph to show adoption. Thank you and keep up the good work.
No apps available
After I updated it to the last eat version, it doesn't work, saying "no apps available"
Bugged version
I really like the app, but this last version is bugged. Always 100% crash free users and now they turned off the api for the app.
Good app
Gives you what you need.
Since update doesn't work
After the latest update I now get the error "No Apps Available" and can't do anything... Worked before the update :-(
Thanks Fabric
Love the latest update! Way more data! Fabric is yuuge for my team. I wish the mobile app had more analytics like answers on the website, but other than that no complaints
Much more data
The latest release adds a lot of value. Drilling into graphs and seeing more granular comparisons is really nice
Great app, missing some features
Isaac Casanova
on
5/25/2016
Great app, useful to see up to date analytics on your apps. I just have one request.. please display MAUs (monthly active users), I want to see whether or not the app is gaining traction!
Multiple accounts please
Why no multiple accounts?
Crashes on start
Update worked at first. But now when I open it, it instacrashes.
Great start, just one thing miss for me
This app has been hugely helpful with tracking the health of my company's mobile app. The one feature I'd like to see added is the ability to email out information. There are certain alerts I'd like to be able to send to our developer, but at the moment I have to screen shot it.
Great potential
the_lone_jedi
on
3/9/2016
This app, even with its limited functionality so far, has been a very welcome treat. I'm so sick of navigating to the website and trying to navigate from my phone. Once this app has more reporting, and allows adding testers this will be a solid app
No iPad support
I use this app on my ipad and it's far from being a useful one!
Fact Sheet
Publisher:

Google, Inc.

Category:

Productivity

Released:

Feb 22, 2016

Current Version Released:

Dec 06, 2017

Version:

1.10.0

Size:

61.1 MB

Compatibility:

Requires iOS 9.0 or later.

Recommended Age:

4+

Game Center Certified:

No

Supported Devices:

iPad2Wifi-iPad2Wifi, iPad23G-iPad23G, iPhone4S-iPhone4S, iPadThirdGen-iPadThirdGen, iPadThirdGen4G-iPadThirdGen4G, iPhone5-iPhone5, iPodTouchFifthGen-iPodTouchFifthGen, iPadFourthGen-iPadFourthGen, iPadFourthGen4G-iPadFourthGen4G, iPadMini-iPadMini, iPadMini4G-iPadMini4G, iPhone5c-iPhone5c, iPhone5s-iPhone5s, iPadAir-iPadAir, iPadAirCellular-iPadAirCellular, iPadMiniRetina-iPadMiniRetina, iPadMiniRetinaCellular-iPadMiniRetinaCellular, iPhone6-iPhone6, iPhone6Plus-iPhone6Plus, iPadAir2-iPadAir2, iPadAir2Cellular-iPadAir2Cellular, iPadMini3-iPadMini3, iPadMini3Cellular-iPadMini3Cellular, iPodTouchSixthGen-iPodTouchSixthGen, iPhone6s-iPhone6s, iPhone6sPlus-iPhone6sPlus, iPadMini4-iPadMini4, iPadMini4Cellular-iPadMini4Cellular, iPadPro-iPadPro, iPadProCellular-iPadProCellular, iPadPro97-iPadPro97, iPadPro97Cellular-iPadPro97Cellular, iPhoneSE-iPhoneSE, iPhone7-iPhone7, iPhone7Plus-iPhone7Plus, iPad611-iPad611, iPad612-iPad612, iPad71-iPad71, iPad72-iPad72, iPad73-iPad73, iPad74-iPad74, iPhone8-iPhone8, iPhone8Plus-iPhone8Plus, iPhoneX-iPhoneX,

Supported Languages:

English;