Not Recommended
App last updated
Mar 14, 2017
Screenshots
Description
The Android TV app is now available in the App Store. Use your iPhone as a remote for your Android TV. The d-pad mode and touchpad modes let you easily navigate to your favorite content. Tap the microphone to start a voice search or use the keyboard to input text on your Android TV.

Android TV remote for iPhone allows you to:
- Use d-pad or touchpad gestures to control your Android TV.
- Enter text with keyboard.
- Search using voice commands.
- Connect multiple remotes to Android TV for multiplayer gaming.

To get started, connect your iPhone to the same network as your Android TV device.
Works with all Android TV devices.
iPad Screenshots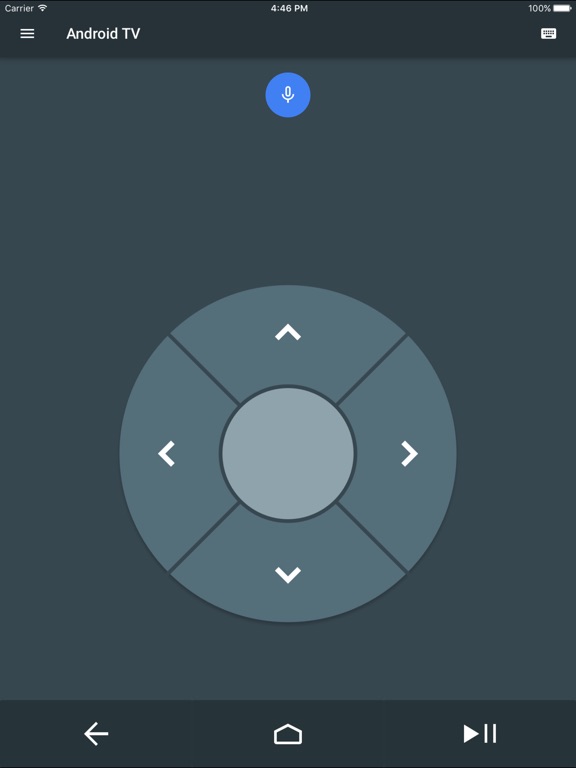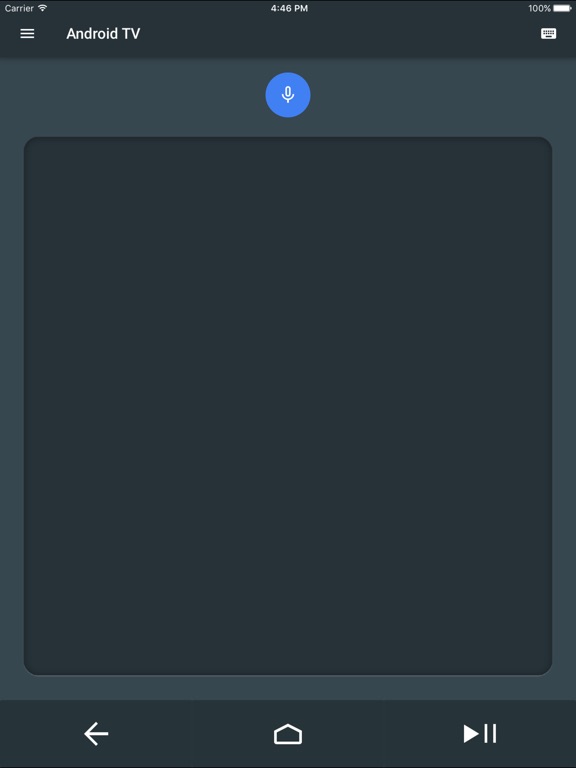 Reviews
Remote fails to connect
No longer connects to my Nvidia Shield. Doesn't control volume and voice didn't work even when it used to connect.
Com on google...no volume ?
This is a native app for Android TV shield..but no way to control volume ??? The most basic needed feature is missing... I can't even Understand why such important thing for a remote is not there...
Lir Bar
Why still no iPhone X support ? It so buggy on iPhone X compare to iPhone 7 / 8...
Voice search Instant Crash
Come on now. This application only has like six buttons and one of them crashes the app instantly over and over. A) this should not be possible B) it should have been fixed the next day after being reported. I honestly don't understand why this hasn't been fixed. 1-12-18 Still no update for crashing.
Terrible!
Hey_SoulSista
on
1/9/2018
This app is HORRIBLE! I almost feel like it's so crappy on purpose. The same app works just fine on my sister's android, but 90% of the time it does not work for me.
Crashes constantly
DontWantNicknameaaa
on
1/8/2018
I keep buying google products, but they continue to disappoint in hardware and software. This is the last straw. Downloaded this app as a workaround to a Google Nexus remote that wasn't working very well (would only work half of the time you pressed buttons). Well, this app crashes every time you try to use the voice feature and most of the time when you try to use the keyboard feature. I see here that someone posted the same problem about 6 months before my review, so it's clear that Google isn't working on this app very much. Google Nexus was discontinued and this app is probably dead too. Goodbye google products.
Please fix voice control crashes
mattcsaunders
on
1/8/2018
I love this app for my Nexus Player (since the factory one is garbage), but it keeps crashing when I try to use voice control. Please fix it Google!!
It's obviously you guy don't care
This app obviously does not work at all. why in the hell will you not fix it . Your google for crying out loud . Really ridiculous especially if you guys are pushing the whole whole automation deal
Works fine
Clinically Sexy
on
1/4/2018
No significant issues for me. My remote broke and I'm grateful this app saved me $60 for a new one. Clearly others have not had such luck. Google needs to figure out why this works for some and not for others.
Crashes, unusable...
I am not sure how Google is still allowed to make Apps for iOS. If I were them I'd be embarrassed, or just not even bother making iOS apps anymore. All of their iOS apps are so mediocre, unreliable, and behind their other platform's apps, it's amazing they haven't been kicked out of the Apple iOS App Store. Good luck to you Google, keep on believing you're "winning customers" over to your platform by making terrible iOS apps. Or I guess that doesn't really matter when you get so big, things like this become so insignificant, right?
Works
Jaaaaaaaaaymg
on
12/31/2017
Works but lags.
Voice Search Broken
Tried to search over and over again and it keeps failing and crashing the app. This app really needs some serious work. It shows voice search on the TV, but the app crashes on the phone so you can't search.
Voice Options always crashes.
MrUnequivocal
on
12/30/2017
Please fix the voice option please. It's a very handy app and could you add a volume panel as well. Thanks.
Crashes when you use voice recognition
This is convenient to use with my TV. Fact is, I've had the TV 6 months and didn't even know this app was an option. Yet, for the convenience it provides, the fact that activating the voice option causes this app to crash immediately is poor development.
Total piece of sh**
100% the sh**iest app iv ever used
Worthless
Azteksoldier
on
12/7/2017
Never works always crashing, this app should be erase from App Store
Horrible
This is from Google? They should be embarrassed. It's buggy, and looks terrible. Much like their OS. Why even put out a remote app if you're not going to put any effort into it? Would have been handy for my Shield TV. But whatever.
Voice typing doesn't work
Whenever you try to utilize voice typing, the app force quits. Also, it has to re-pair every connection.
Not good
Voice dictation is not working and causes collapsing to the app.
Laughable
While basic navigation seems fine (arrows, clicking, back button etc.) Keyboard function is basically inoperable and doesn't seem to work across all apps.
Crash
Voice Control crashes app Keyboard repeats characters Pasting in usernames or passwords double inputs everything in certain apps... for instance when signing into services like Netflix. No Updates in like forever... Obviously not a priority for Google at all to support iOS users... 😒
Volume control
The app works okay but it really needs to have the ability to control the volume up and down.
Works... sort of
Review is for pairing with Sony x900e. Navigation works fine between apps and home. Using the keyboard produces weird results. Works okay with certain apps like Crunchyroll but in Netflix it would always add a "T" character before what I typed in the search box. Did not bother with voice as even with the remote that came with the tv is shaky between apps. I can overlook a lot of it's issues but it definitely force closes and loses connection more times than it should. Not sure if it's an issue with the app/individual apps on tv/or Android TV as an OS. Still it's a Google app so I would have assumed they would have had a talented dev team working on this project for it to be such crap.
Buggy
Pradyumna2905
on
11/25/2017
Please make this app open source. I'd like to contribute!
Voice crashes the app
The app crashes as soon as I touch the mic symbol. I have a Nvidia shield.
Glitchy AF since update
Since the android tv update this app and my nexus player have been super glitchy. I literally can't search the App Store. Apple TV ftw...
This app used to work well
hilaurennicole
on
11/16/2017
This app used to work well just for simply connecting and allowing us to stream. I'll admit it was prone to crashing but if we already connected it to the tv our shows would still continue to play. Unfortunately it no longer works and fails to connect every time. Not worth the frustration anymore.
Doesn't work
Doesn't work
Won't connect to Shield TV
This app used to work fine with my Shield TV, but a few months ago, it stopped connecting, and nothing I do makes any difference.
'Android TV' Keyboard doesn't work for typing!!
The main benefit, to me, of using an app like this is to not have to hunt and peck with the TV remote to enter text. But this app, which was advertised to 'help', doesn't allow the typed text from the app to be pushed into the TV's text input boxes. So not only does my original TV remote voice search stupidly not work in most of my TV apps, the supplemental smartphone Android TV remote doesn't allow the simpler entry of text from its keyboard. There is no reasonable excuse for this. FIX THIS!??! You are punishing your own fans and giving yourselves a bad name. Meanwhile, I see Android TVs pushed in this holiday purchasing season...
Crashes every time I use the mic
Can't use the mic it crashes. Google doesn't care they never update anything
Doesn't find Android TV 7.1.2
MrCorleone23
on
11/8/2017
Doesn't find Android TV 7.1.2
ZERO STARS
Doesn't work on iOS devices. Can't connect to my android tv (Nvidia Shield on its latest firmwAre). It sees the tv but won't connect using any of our iOS devices...via this app. Complete dumpster fire.
Voice control crash
Gcoliveira77
on
11/7/2017
Always crashes when you press the mic button to try voice control
Crashes and pair android tv every single time 😪
Umut Akparlar
on
11/7/2017
I cannot believe google made this app, i am experiencing lots of app crash and app wants me to pair same tv every single time when i start the app. This is crazy, why google don't mind smart tv business. Just look at the apple tv and learn how to design user interface please.
Does not work with kodi on nvidia shield
My nvidia shield controller broke so I tried this as a replacement. It's fine for most general controls, but is missing many buttons so if your trying to use kodi, you get stuck on a screen and can not navigate out. Needs a,b,x,y buttons and option button.
Voice feature doesn't work!
Guys, do you read reviews??? Voice feature is not working for more then a year already! App crashes every time you press mic button!!! Please fix it!!!
Used to work now it's crap
Thisisduanec
on
10/31/2017
Don't bother- no voice control and constantly crashes.
Used to work
Now every time I use the app it makes me pair it over again. I literally had to pair it 5 times in one sitting. Voice never worked.
Failed to Connect
Falls to connect with Nexus Player
Mic Crash
Only thing why I downloaded the app and is not working need to fix ASAP.
Does not work - crashes after single use
The app crashes after minimizing and reopening, or when trying to activate voice control. Further, it doesn't retain the pairing with my Nvidia Shield and therefore I need to enter the code every single time I open the app. Very poorly designed and executed.
Never worked
I have had this app for the past year in hopes that it will one day work. It hasn't, there have been updates but it has not shown any improvement on fixing the bug to connect to the device. The remote does not work on any android tv i have ran into. App has now been uninstalled from my device wish i could give 0 stars
On screen keyboard fails
Possibly an issue with Oreo as well, but it's awful. When keyboard is asked fire on screen (no on screen keyboard anymore with Oreo) it does not populate at all on the mobile app. Fix it please!
Stop working after 2017
Used to work with my Nexus TV but now it will never connect. Even the Android version on my Pixel has the problem, although it does connect once out of 20+ attempts. So who to blame? Android TV app or Nexus TV? Either way it is Googles fault. All their consumer hardware and software is beta at the best.
Don't even
This so called remote app doesn't even work. I have the Nexus turned on, bluetooth on and even sitting a couple inches close to it. It keeps on saying failed connection. I saw they updated and I keep thinking it's gotta be a joke. You have better chances on buying a new remote than downloading this garbage for free. This is coming from someone that's a cheapskate.
Could be useful: isn't
The worst thing about using Android tv is inputting long passwords such as for WiFi connections and your Amazon prime subscription. This app doesn't help with either of those problems.
Useless
No volume, channel, input, or power buttons
Can't control volume
Surely there's a way to match your android version which allows for volume control?
Plz help / not working tv box nogat 7.1
Can't download anymore
on
9/22/2017
I have tv box nogat 7.1 And i do connect both on same wifi But the app doesnt fint the tvbox Help Thanks 🙏
Fact Sheet
Publisher:

Google, Inc.

Category:

Entertainment

Released:

Apr 26, 2016

Current Version Released:

Mar 14, 2017

Version:

1.10.06

Size:

20.5 MB

Compatibility:

Requires iOS 8.0 or later.

Recommended Age:

4+

Game Center Certified:

No

Supported Languages:

Arabic; Catalan; Valencian; Chinese; Croatian; Czech; Danish; Dutch; Flemish; English; Finnish; French; German; Greek; Hebrew; Hindi; Hungarian; Indonesian; Italian; Japanese; Korean; Malay; Norwegian; Bokmål, Norwegian; Norwegian Bokmål; Polish; Portuguese; Romanian; Moldavian; Russian; Chinese; Slovak; Spanish; Castilian; Swedish; Thai; Chinese; Turkish; Ukrainian; Vietnamese;