Screenshots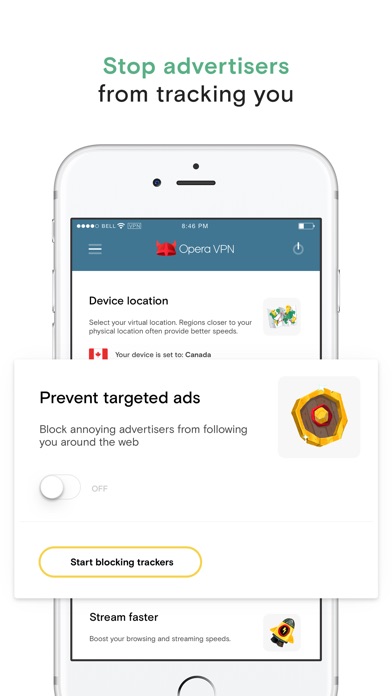 New in version 2.1
Thanks again for choosing Opera VPN.

Olaf and the team have been working tirelessly to fix the connectivity issues. We appreciate your patience and this update will improve performance.

If you're experiencing any issues, please contact our customer support at support@operavpn.com

Happy browsing!
Description
Opera VPN unblocks the web in one tap! Change your virtual location to access content from wherever you are in the world. Opera VPN is simple to use and is one of the fastest ways to browse the web and apps securely.

With Opera VPN, you get:

► Fast and reliable VPN
One of the fastest, most reliable VPN services around with over 500 servers worldwide

► Unblocked geo-specific content
Choose from 5 regions (Canada, US, Netherlands, Germany, Singapore)

► A simple solution
Unblock the web in one tap with Opera VPN

-------------------------------------------

OPERA VPN GOLD

► Tracker Blocker
Enhance your online privacy with our Tracker Blocker. Prevent advertisers from tracking online movements

► Additional regions
Access content from 10 regions (Canada, US, Netherlands, Germany, Singapore, Spain, UK, Australia, France, Italy)

► Lightning fast VPN
Olaf has his running shoes on! With Opera Gold you can enhance your speeds up to 7x faster

► Dedicated customer support
Olaf loves to talk, so if you have any questions send us an email!

Get it now!

-------------------------------------------

Opera VPN Gold Subscription Terms

► All Opera Gold VPN features and unlimited bandwidth are included in the trial.

► The free trial period lasts for 7 days.

► Once the free trial period has finished, the length of the subscription will be 1 year

►The cost of the subscription is $29.99 USD a year. You won't be charged until the end of your free trial.

► Payment will be charged to iTunes Account at confirmation of purchase.

► Subscription will automatically renew unless it is turned off at least 24 hours before the end of the current billing period.

► Your account will be charged for renewal within 24 hours prior to the end of the current billing period.

► You can edit your subscriptions and auto-renewal may be turned off by going to "Manage Subscriptions" in the side menu.

► Any unused portion of a free trial period, if offered, will be forfeited when you purchase a subscription.

-------------------------------------------

Privacy Policy - https://www.operavpn.com/terms/#privacy

Terms of service - https://www.operavpn.com/terms/#terms
iPad Screenshots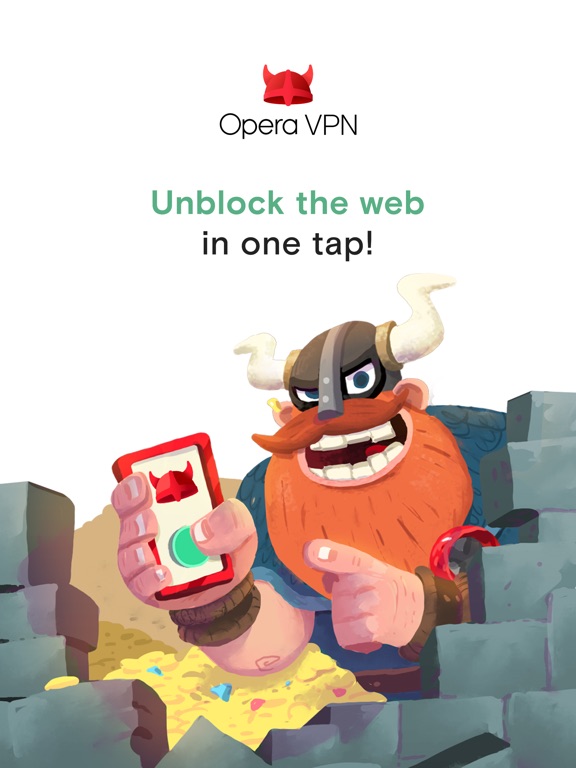 Reviews
Very good
jamesyuwang
on
10/19/2017
Works well.
Doesn't connect
Won't connect on my home WiFi network and it is installed correctly. I use a lot of VPNs in an effort to see what's best and Opera does nothing at all. Into the bin it goes.
Slooowwww
Was great before the bait and switch update where you now have to pay for faster connection speeds.
VPN not working
Sankar22222
on
10/15/2017
VPN is not working
You liars
Djbainfdundtkh
on
10/14/2017
The app works occasionally but is not reliable. The app is worthless most the time. It loses connections after five minutes. You have to flip airplane mode 20 times. No connection has ever lasted an hour. This app is only reliable if you don't use it.
I bought Gold but it won't never load Gold!
Jamieleetodd
on
10/14/2017
I love this been with you guys for awhile before you offered Gold. So I bought Gold and I was charged for Gold but it never loads as Gold it stays continue for free! My phone is iPhone6...
It used to work great...PLEASE FIX THIS!
Yo Mama is my GF Niggah
on
10/13/2017
Now it knocks off my wifi randomly. Meh...
Like
javzandolgor
on
10/13/2017
Like
Keep up the good work team Opera!
nitelite767
on
10/13/2017
Keep making Opera better....
Not-So-Good app
In order to prod people to purchase the paid option, Opera slowed down this VPN. Unfortunately, now it is so slow that I have to turn it off whenever I'm updating my apps, otherwise the apps would fail to update. Also, it is slow in acquiring server connection when I wake the phone up. Hopefully Opera can find a solution that results in a faster, usable product.
Thanks
Very very good applicatin
Too many disconnect but big thanks
I get disconnected many times. But thanks a lot
I give up
When I enable this I get practically nothing but spinning wheels. Now to try to get my money back. The free app did the same. Thought the paid version would work better. I was wrong!
very fast and reliable
thanks. it is the best vpn
Stopped working
Does not connect at all: disconnects from my home wify and connects to wireless by itself. Then just: connecting forever. Support does not answer my messages. Completely useless!
Stopped working
The Man behind E
on
10/9/2017
After last update app stopped working. Location stopped working also
Best Mobile VPN. Free No IAP. *NOT ANYMORE*
Updated Review: 4 star to 1 star. Reason: Recently Added "Pro Version" as an Upgrade via In-App Purchase! Be prepared for significant limitations to "Free Version" soon. Prior Review: For MOBILE privacy on popular browsers a must have. Free, No-In-App and fully functional --Very Rare for App Developers!! For DESKTOP the options are different. Free Opera VPN for desktop requires use of their browser. Not very practical. Opera not always supported.
Unable to block add
dinacarter88
on
10/8/2017
I had upgraded to a gold subscription but I have noticed the ad-block does not seem to be working in Safari anymore
Crashes on iOS 11.
Read title.
Best VPN app in App store
This is simply the best VPN app you can find here Thank you so much opera
Deceptive
Watch out. Its a "free app" to use it one must sunscribe. They do sell your information to third parties as evidenced in their RTFQ. Like the Browser tho
App doesn't work
Prevents me from using other apps, doesn't block ads, very poor customer service. Phone is a fax machine and they don't answer emails. I'm sorry I upgraded and paid for the more services upgraded app.
Pay version a problem?
I loved the free version and thought I'd up my privacy factor as well as contribute to the coffers of a fine company by purchasing the pay service. Well I'm sorry to say that since I switched, I constantly get kicked off the vpn and have trouble connecting to alternate regions
Location settings don't work
I can rarely use the vpn bc, regardless where I set for location, it changes my web browsing to that of someone in the middle east. All of my search results are Middle East web sites. The language is not English so I cannot read it and the info is completely irrelevant to anything in my life. I even upgraded to the paid version hoping it would be better at setting locations but nothing changed.
So far so good!
I've only had the app for a couple of days but so far it's been reliable and working well! UPDATE: I'm not loving this latest update. You can't access certain country servers anymore unless you're willing to pay. Adjusting my rating accordingly.
Simply doesn't connect.
...
Barely functions b4 cutting out
Unhappy @ KPN
on
9/29/2017
Sold to Chinese consortium for 600 million dollars... Really believe your privacy is being protected? After reading Aug 12 review from gophucurslf I really agree. Coming off my phone as I don't trust it anymore. Who is listening and watching?
So bad
You were the best but now the worst application and service
Used to work -- but no more
I used to use this app al the time. But it has stopped working. Has gotten pushy to signup the Gold service. Do not bother to download. It is a waste of effort.
Vpn doesn't start.
Nikhil.kumar13
on
9/28/2017
This app used to be so good. But today I updated to 2.0.3 and app doesn't even open. Restarted my phone and now the vpn doesn't start. Please fix this issue
Not stable.
Gold user and still unreliable connection, connections that go nowhere, connection drops constantly having to reload. send multiple emails through the app with no reply whatsoever.
Working much better with latest update!
ChesterGreenBird
on
9/28/2017
I had used Opera VPN with iOS 10, but since upgrading to iOS 11, it simply did not connect on my iPhone 5s. I left a negative review on the App Store, and Opera contacted me right away for more information to solve the problem. (Great response time, by the way!) Since I had just uninstalled the app, I reinstalled it to get screenshots and diagnosis info. Now it works just fine! Tips for anybody else who has problems: (1) Uninstall, (2) Reboot, and (3) Reinstall. Basic solution, but worked for me.
Opera did this?!!
One of the worst VPN I ever used . This "VPN" works 1 or 2 minutes and then stopped and do nothing(does not downloading pages, images, videos or another content ), I must manually restart app to further work.
Not working in iOS 11
tj from minnesota
on
9/27/2017
Simply will not work on iOS 11
I wish this app had a desktop version!! it's by far the best free vpn
This app works better than any other vpn app i have tried on the app store and I have tried probably over 30 vpn apps, just to get past my school's wifi restrictions. When I speedtest my wifi without the VPN on, I get about 14 ping and 80mbs download and about 70upload. When the VPN is on, it merely raises it to 32 ping! while keeping a solid 52mbs down and about 46 up! I have had no problems(at least for my location) with intermittent connections, it connects to the Washington DC vpn very quickly, and not to mention the app is a please to look at in design. By far my favorite VPN app
Mixed Feelings
I've been using Opera VPN for a while now and I've noticed that Opera changed their options. Last time it was FREE AD blocking and Stop Trackers for FREE! In the new update and recent update, they now changed that feature and put that most important option in Opera VPN premium gold membership. I have mixed feelings about this new update. I hope in the future they put both AD blocking and Stop Trackers in the free option.
Solid performance when it is running
It connects quick enough. Not the quickest but good enough. I like to use it with my iPadpro and the orientation doesn't change when I want to view it in a landscape view. It stays in portrait mode. Another problem is that it is difficult to turn off. I slide the tab over to off but the app will try to resign back on. I have to try to turn it off a few times before it will stay off. 09/25: It has been greatly improved. Quick connection. I flip between this VPN app and another for my go to VPN. Now when I shut it down. It doesn't try and reconnect on its own.
Was good for the first two month.
Internet dropping every 10 minutes or so, I thought was my carrier, called them they boosted my connection but next day was the same, i did a back up copy of my iPhone and deleted it , once again it worked good for one day, I just uninstalled the opera VPN and my phone it's working great now.
Want to like this
As much as I would like to use this 100% of the time I am just getting way to many issues both on wireless and LTE on a iPhone 7 with the current update. Though it says it has a solid connection and repeated reboots I just can't get a reliable connection to the internet. Unfortunately the repeated saying of "You get what you pay for" seems to ring true. I guess I have to shop around for a new VPN again. Update: updated to the new IOS version and only got a minor improvement. The app is still a total crapshoot if it'll work or not and still remains completely unreliable for normal use.
The new update is terrible!
This new update makes the app simply useless! It does connect to the server, but it doesn't work at all. It used to work pretty well when they introduced the IKEv2 connection, but this new GCM is terrible. Hope they'd let the users choose their own connection method.
👎🏻 *still* portrait-only on iPad!
Many folks like myself use our iPads mostly or exclusively in landscape orientation. For over a year now, this app's design has effectively told us that the developers either don't understand how we use our iPads, or they simply don't care.
Reliable connections have returned.
v2.0.2 Quality connections have returned. Thanks, opera. (Using iOS 9.3.5.) v2.0.1 The most recent update now causes regular crashes and pushes some features into the paid "gold" package. The most recent update description is a generic, happy-poem so… the latest patch was not so great t'was much better before that date reliability it did eviscerate let us hope for a better fate
Fact Sheet
Publisher:

OSL Network Services Limited

Category:

Productivity

Released:

May 09, 2016

Current Version Released:

Oct 10, 2017

Version:

2.1

Size:

48.8 MB

Compatibility:

Requires iOS 9.0 or later.

Recommended Age:

4+

Game Center Certified:

No

Supported Devices:

iPad2Wifi-iPad2Wifi, iPad23G-iPad23G, iPhone4S-iPhone4S, iPadThirdGen-iPadThirdGen, iPadThirdGen4G-iPadThirdGen4G, iPhone5-iPhone5, iPodTouchFifthGen-iPodTouchFifthGen, iPadFourthGen-iPadFourthGen, iPadFourthGen4G-iPadFourthGen4G, iPadMini-iPadMini, iPadMini4G-iPadMini4G, iPhone5c-iPhone5c, iPhone5s-iPhone5s, iPadAir-iPadAir, iPadAirCellular-iPadAirCellular, iPadMiniRetina-iPadMiniRetina, iPadMiniRetinaCellular-iPadMiniRetinaCellular, iPhone6-iPhone6, iPhone6Plus-iPhone6Plus, iPadAir2-iPadAir2, iPadAir2Cellular-iPadAir2Cellular, iPadMini3-iPadMini3, iPadMini3Cellular-iPadMini3Cellular, iPodTouchSixthGen-iPodTouchSixthGen, iPhone6s-iPhone6s, iPhone6sPlus-iPhone6sPlus, iPadMini4-iPadMini4, iPadMini4Cellular-iPadMini4Cellular, iPadPro-iPadPro, iPadProCellular-iPadProCellular, iPadPro97-iPadPro97, iPadPro97Cellular-iPadPro97Cellular, iPhoneSE-iPhoneSE, iPhone7-iPhone7, iPhone7Plus-iPhone7Plus, iPad611-iPad611, iPad612-iPad612, iPad71-iPad71, iPad72-iPad72, iPad73-iPad73, iPad74-iPad74, iPhone8-iPhone8, iPhone8Plus-iPhone8Plus, iPhoneX-iPhoneX,

Supported Languages:

Arabic; English; French; German; Indonesian; Japanese; Polish; Portuguese; Russian; Spanish; Castilian;