TapNova doesn't recommend this version of the app.
New in version 1.1.8
Description
Opera VPN blocks ads and lets you change your virtual location. Unblock more content and stop trackers from following you around the web — completely free.

With Opera VPN, you get:
- One of the fastest, most reliable VPN services
- Unblocked access via your choice of five virtual locations (with more coming soon)
- A built-in ad blocker for ads in Safari, Chrome and other apps
- A built-in tracker blocker to enhance online privacy

Opera VPN is one of the best and fastest ways to access more of your favorite online content for free. With super-fast VPN servers and other premium features included for free, Opera VPN is the smart choice for you.

Opera VPN includes free ad and tracker blocking! Block annoying ads and save time, battery life and sanity. You can also help prevent pesky sites from tracking your footsteps and activities on the web.

Opera VPN is a service provided by SurfEasy, Inc., an Opera company. Opera's 20-year history of web innovation enables more than 350 million people worldwide to do what matters most to them online. Get the performance you need from people you can trust.

Get it now!
iPad Screenshots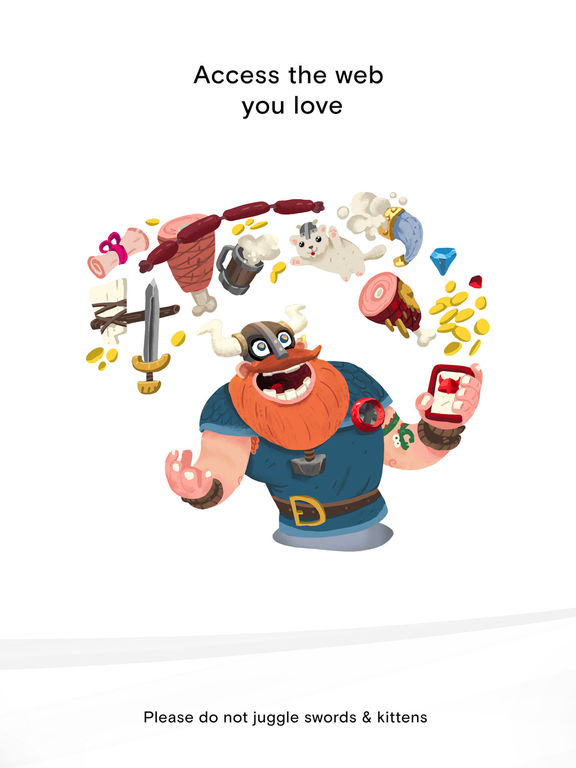 Reviews
Something wrong
User.From.PRC
on
6/26/2017
When i click the turn on button,my connection turn Wi-Fi to 4G.Neither WiFi nor 4G can connect to the server. It tells that no responses from VPN server.I'm in the mainland of PRC=people's Republic of China.
The best
Kingofkings225
on
6/26/2017
This vpn is really good!
Works great
BidDdaddyonly1
on
6/25/2017
Easy to use on my iPhone 7 and works great if you need a good VPN this is it and it's free 😊
Best VPN!
StevenLovesTech.ml
on
6/25/2017
I use Opera VPN all the time! I love how it's ABSOLUTELY free!
Great
So far it is great time will tell
Great VPN
Had fantastic success with this VPN. Blocks ads without an ease. Highly recommend.
Great
P233905019584
on
6/23/2017
Such a good vpn gets the job done
Does not connect over WI-FI
Only connects over cellular network and frequently drops the VPN connection. Does not connect at all over home WIFI network. It's totally useless for me. I deleted it. I would give it zero stars if I could. @CeeMeeCU--Net Neutrality was defeated. That means nothing changed and there is zero impact on the Internet. Trump had nothing to do with the issues you are having with Opera VPN. Or are you one of these idiots that think Hillary lost because of global warming? Get real. This is not the appropriate forum for your silly liberal politics.
I love it, only a few minor inconveniences.
Master_Chief554
on
6/22/2017
It works great, when it's working. Occasionally it will refresh and disconnect for a few seconds but it's usually no big deal, also the ad block and tracker blocker like to turn off, but rarely. Overall I like the app it's helped me a lot, just a few small issues.
Does Exactly What It Claims!
Great app for hiding your IP address! I no longer see tailor made ads when surfing websites!!
Great VPN
aryanasshole
on
6/22/2017
Really like how simple it is!
Too slow
Techexpert25790
on
6/21/2017
I put this on my iPad and non of my browsers will load now. The same thing happened on my iPhone. Browsers loaded fine before I downloaded this app. It's not working.
Screenshot is lying
Clint_White_III
on
6/20/2017
I can now get it to connect. But, still no U.K. Server to choose from. Yet, it clearly shows it's available in the screenshots here in the App Store. What gives?
Pulchritude, Tedious, and Oblivious.
One of my go-to VPN's, whenever I cannot afford SurfEasy. I love the amalgamation of an ad block and tracker block incorporated into this free VPN, making it beautiful, giving options whether to enable or disable said ad block and tracker block via application, but it auto turns off periodically, having me to re-enable it. Sequentially, the VPN auto turns off as well, leaving me on my WiFi exposed, along with my IP address and also, with my data exposed towards my ISP provider, trackers, etc., even with connect on demand is turned on, which can be tedious to turn on, and untrustworthy to use in keeping anonymised. In addition, I have little of such knowledge whether this VPN keeps logs, has AES-256 encryption and SSL, P2P, PPTP, L2TP, SSTP, and other protocols, or able to use with Tor, because it does not say in app, nor in the App Store, making it feel as if I am not in control of my data being exposed and collected. I'd feel more reassured if there were disseminations in description on being irrefutably anonymised, and with more control, instead of it being a 13 year old's utilisation. What about widget(s) for your current IP location with and without OperaVPN on, in the Control Centre, or IP leaks? Or in app, having graphs on what was blocked from tracking you or ads, whitelist, blacklist, etc.? Although, this is a free VPN, I love it, but there are many ideas in concept you can go with applying towards this VPN, making it overall, the best, but with all of time putting in trying to make this VPN work, I am displeased and have to make it one star.
Superb
I am actually very surprised that it is a free
Great VPN at Good Price (free)
Traveling abroad requires VPN for communications and work. Opera VPN is a great application for this.
Works on iPhone not iPad
On iPhone7plus this works great but on iPad Pro 12.9 (2015) it does not install the VPN profile. Taping 'Install Profile' does nothing. Developer: reach out if you like to debug.
Great app
Works very well
Good one
Better than others
Anyone help me
Everystep 101
on
6/17/2017
I was stucked when trying to install profile. Nothing happened when I touched the Install Profile button. Anyone, thank you.
Good
sactownbobby
on
6/17/2017
I don't see any negative so far. I have been using it for 4 days now
Protection at its best!!!
Try it
By Majid
Very very good app for evey one. Thank you so much.
🔥PURELY AMAZING🔥
This VPN is free, and it works as how it says it works, blocks ads and blockers, and keeps your IP safe, I rate 5 stars! This is what you guys get >> 🌟🌟🌟🌟🌟
Solid performance when it is running
It connects quick enough. Not the quickest but good enough. I like to use it with my iPadpro and the orientation doesn't change when I want to view it in a landscape view. It stays in portrait mode. Another problem is that it is difficult to turn off. I slide the tab over to off but the app will try to resign back on. I have to try to turn it off a few times before it will stay off.
Pretty good
Aaofbeiwnqkfbfiebdjdowbfh
on
6/16/2017
No complaints right now
Writer director
A very fast and efficient vpn
Can't connect to vpn servet
Connecting to nearest region just goes around and around endlessly and never connects to the vpn server. Unable to determine the prob from any of the help info available.
Please read
I would like to be able to select the protocol type (L2TP / IPsec, PPTP, OpenVPN). The app works with Firefox focus? Incorporate Latin American countries. When unlocking my iPhone takes a while to activate the VPN while connected to WiFi.
Works Well
I was skeptical, but this works well. Fairly fast, very easy to use. Try it out!
Great VPN
Very useful and easy to use. It is much better than those apps full of ads. Limited use with great level of satisfaction
Really slows the new iPad Air down
Installed this on a new iPad Air. Ipad was running slow with down speeds between 5-14. Could not run my MLB app. After calls to MLB, Comcast and Apple still slow. 2 days later someone at Simply Mac said it might be the VPN. I deleted this VPN and sure enough my down load speeds went up to 50-60. So if you install this be aware this really slows the IPad down dramatically.
Worthless
Mysteriousgirl711
on
6/14/2017
I have great Wifi but it still doesn't connect. In my opinion hotspot is a better app for me. I'm sure Opera is a great VPN but it wasn't for me. It never held a connection for more than two minutes and if I didn't have full bars (like if one was down) it wouldn't even try to connect. Sorry but it's a one star for me :/
Connection Issues
Rauf Anugroh
on
6/14/2017
Works really well when it was able to connect. Lately it hasn't been able to connect though. It seems to be stuck on tryin to connect.
Not working
Not working for me I have tried to remove it and installed again and still not working
Запрацював ВК
Дуже добра штука, в порівнянні з тюнелбіром, набагато кручє!))
useless
I installed this before going to China and it tested ok when I tried it out in New York, but now in Beijing it fails to connect to the server -- hasn't succeeded even once.
VPN done rightly!
A great must have app. to go underground.
Works well
I've only had it for a few days, but so far so good. I have noticed slower wifi, but I'm not sure it's because of the app. I've also noticed so much less junk on my screen. I recommend it.
Easy, Fast, and Secure!
Thanks for creating and easy to use app.
Loving it so far!
I've been using this app for a good few months now, and I think I see less ads when I'm browsing the Internet.
Good protection
Kareem's Itunes
on
6/13/2017
Very appreciative
Spam notification and no ad block
Ad blocking is nonexistant and spams notifications telling you to re enable VPN. I'll use VPN when I need it thanks. Uninstalled
Helpful!
Jazz Quirante
on
6/12/2017
I've always needed a VPN for free and this is really fast. I recommend this,
Fact Sheet
Publisher: OSL Network Services Limited
Category: Productivity
Released: May 09, 2016
Current Version Released: May 29, 2017
Version: 1.1.8
Size: 40.9 MB
Compatibility: Requires iOS 8.0 or later.
Recommended Age: 4+
Game Center Certified: No
Supported Devices: iPad2Wifi-iPad2Wifi, iPad23G-iPad23G, iPhone4S-iPhone4S, iPadThirdGen-iPadThirdGen, iPadThirdGen4G-iPadThirdGen4G, iPhone5-iPhone5, iPodTouchFifthGen-iPodTouchFifthGen, iPadFourthGen-iPadFourthGen, iPadFourthGen4G-iPadFourthGen4G, iPadMini-iPadMini, iPadMini4G-iPadMini4G, iPhone5c-iPhone5c, iPhone5s-iPhone5s, iPadAir-iPadAir, iPadAirCellular-iPadAirCellular, iPadMiniRetina-iPadMiniRetina, iPadMiniRetinaCellular-iPadMiniRetinaCellular, iPhone6-iPhone6, iPhone6Plus-iPhone6Plus, iPadAir2-iPadAir2, iPadAir2Cellular-iPadAir2Cellular, iPadMini3-iPadMini3, iPadMini3Cellular-iPadMini3Cellular, iPodTouchSixthGen-iPodTouchSixthGen, iPhone6s-iPhone6s, iPhone6sPlus-iPhone6sPlus, iPadMini4-iPadMini4, iPadMini4Cellular-iPadMini4Cellular, iPadPro-iPadPro, iPadProCellular-iPadProCellular, iPadPro97-iPadPro97, iPadPro97Cellular-iPadPro97Cellular, iPhoneSE-iPhoneSE, iPhone7-iPhone7, iPhone7Plus-iPhone7Plus, iPad611-iPad611, iPad612-iPad612, iPad71-iPad71, iPad72-iPad72, iPad73-iPad73, iPad74-iPad74,
Supported Languages: Arabic; English; French; German; Indonesian; Japanese; Polish; Portuguese; Russian; Spanish; Castilian;