This version of the app is not recommended
App last updated
Dec 18, 2017
Screenshots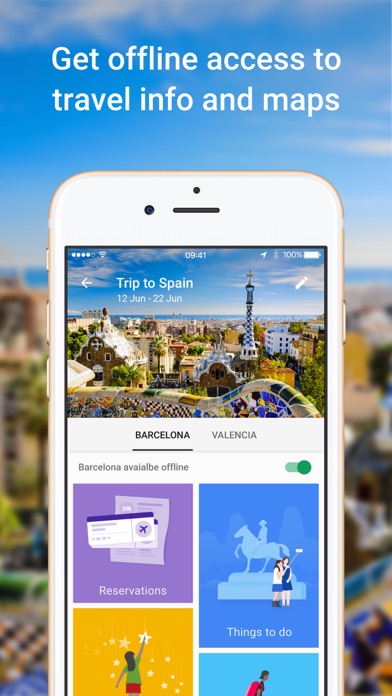 New in version 1.14
• Easily merge your trips.
• Edit and move your trip reservations.
• Optimized for iPhone X.
Description
Exploring the world just got easier with Google Trips. Get activity suggestions based on what's nearby, customizeable day plans, and your travel reservations from Gmail. Google Trips is even available offline, so you'll always have your info when you need it.

DAY PLANS
For several hundred of the world's top places, find popular day plans organized on a map that you can customize based on your interests and available time.

AUTOMATIC TRIP ORGANIZATION
Your travel reservations are automatically gathered from Gmail and organized into individual trips. Each trip contains day plans, things to do, food and drink suggestions, and more.

NEARBY THINGS TO DO
Find out when you're near popular attractions (and whether they're open) as well as reviews and ratings from other travelers. Every trip contains ideas for things to do automatically organized into useful categories like Nearby, Top Spots, and Indoors or Outdoors. For many of the world's top places, you'll get curated local suggestions and travel tips.

BUNDLED RESERVATIONS
See your flight, hotel, rental car, and restaurant bookings in one place without having to search for them individually.

OFFLINE ACCESS
No Internet? No problem. Google Trips is available offline, so you'll always have access to your info.

Permissions Notice
• Location: used to customize attraction suggestions such as "Nearby" and "Now" as well as for calculating the distance of attractions to the user.
iPad Screenshots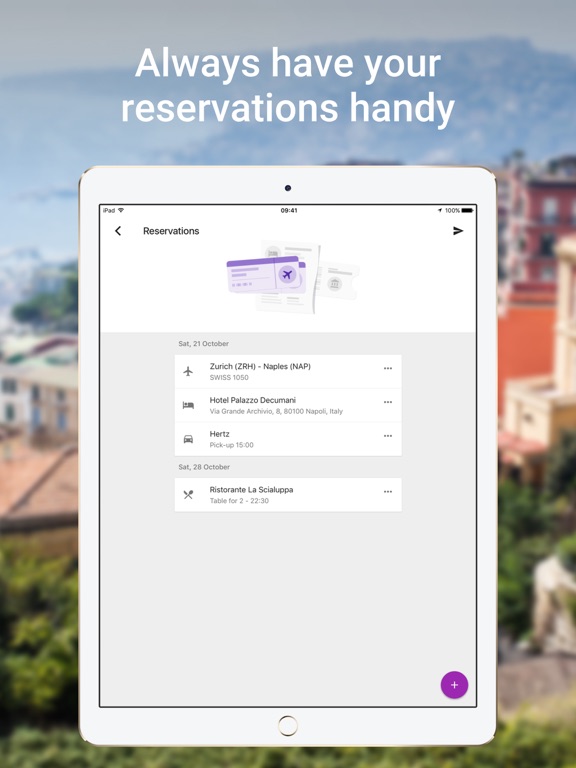 Reviews
Needs significant improvements...
- Pulling the trips from Gmail is not always perfect..trips are often duplicated or missed... -Need better integration with Google Maps and Flights...BTW, where is the dedicated native app for Google Flights??? - Need a feature to save Airport parking location..Maps has this feature but integration with Trips is missing - Need Real time flight info and tracking (like flightview) - Need airport terminal maps/info (like gate guru and seat guru ) - Ability to share the trip itinerary with friends and family via Whats App..Right now, email support is available but not super useful...messages are better than email for real-time info sharing... - Real time updates on gates and baggage claim info
It's a boat anchor
Not my monkeys not my circus
on
1/20/2018
I don't use my google email account for travel so it doesn't work for me. I tried typing in Phoenix but it couldn't find that.
Worthless - should sync with GCal
I travel approx. 75% for work. I keep all of my reservations in GCal and delete emails. It seems like a no-brained for Google Trips to sync with GCal, but it doesn't. After reading about this app I was excited, but it doesn't meet my needs whatsoever.
A start but a long way to go
My issues: No way to manually link emails that it didn't find automatically - like my airport transfer Can't add any information other than the specific reservation options - like my airport transfer, pet kennel reservation or info links relevant to your trip Can't add attachments or screen shots An all in one trip planner this is not!
Wouldn't let me use it.
I downloaded the app and tried to sync it with my google account, but it said I wasn't allowed. No explanation. Just get lost. Thanks, google.
This App Is Accessible to the Visually Impaired, Via VoiceOver
MarkTheWave
on
12/30/2017
Hello, I am delighted to report that this app is accessible to the visually impaired, via VoiceOver, Apple's software screen reading solution for the blind and low vision. A special thanks to the developer for insuring that this marvelous resource is available to everyone. Sincerely, Mark
Don't trust! it only shows Google partners.
Google Trips and Flights in some cases only show its partners, not the cheapest prices. Same thing with Google Flights. Sad!
Location not Found
The first thing this app asked me was where do you want to go? I said Turks and Caicos. The app just showed a gray screen. So much for planning my trip.
A must have
Really useful app.
Great app!
Fantastic way to plan out what sites you'll see on a trip, especially for one with multiple stops. Just wish google would hurry up and add iPhone X support!
iPhone X support is essential
iPhone X support and fix flights auto detection issue as I had to add flights manually all the time!
TripCase is better
Thought this app was a replacement for OnTheFly, or at least a better interface for Google Flights. Bring back OnTheFly it was the best tool on the market!
Let down
Worked perfectly for the few weeks leading up to my first trip to Europe. I leave tomorrow and now the app keeps crashing every time I open it. Was actually depending on it for my schedule. EDIT: Tried deleting and downloading the app again, now I lost all of my downloaded data and it won't save anything again.
LOVE all my trip data in one place!
For an big upcoming trip, this app automatically organizes all of my trip data, reservation confirmations and saved places, all in one nifty app! I absolutely love the download for offline mode and sharing itineraries with family members. However, particularly with Airbnb, I have had reservations show up as duplicates due to a confirmation email and then subsequent itinerary email. I really wish there was a way to remove just one of these duplicate reservations, since I have so many and can't handle that many extras in my itineraries list. Though I love the additional capability of being able to ADD a reservation that currently isn't supported, such as spa or boat tour reservations.
Need Booking
Add booking capabilities, continue to enhance the "things to do", maybe add a "what your friends did" section, and you'll definitely have something here. Right now, still just, meh.
App is crashing
App is crashing after adding additional cities to my scheduled trip
Not optimized for iPhone X
Not optimized for iPhone X
Calendar
Needs an actual calendar in the app!
Got Rid of Google Flights for this Garbage
IHateWriviewingApps5421
on
12/1/2017
Google got ride of their Flights app which was super convenient to use for this nonsense. You have to create a trip before you can do anything.
Crashing
I started to upload my travel plans and now the app crashes. Tried restarting both the app and my iPad but no good.
I miss google flights
Please bring back google flights to the App Store this is not a good replacement.
Disappointed
Downloaded today and was amazed when I saw that all of my upcoming travel reservations (and past ones too) had been automatically imported from my email. Nifty! When I went to download the three legs of my trip (Rome, Florence, Venice) - it downloaded Rome and Venice easily and quickly. Then hung for eternity on the middle leg of my trip - Florence. Bummer. I tried restarting my phone and toggling the download button on and off and on again - same result. Double bummer. Can't find anyone to actually contact at Google and the Trips help section doesn't address my issue. I'm wondering if it's because the dates overlap on that middle leg while I move from one city to another? Looks like I might have to try a different app.
Waiting for trip recommendations
Swarmblooded
on
11/15/2017
- love that all trip stuff is in one place - would like to create place holders - person level info parsing would be nice. It took my parents trip and joined with mine - photos integration would be cool - some sort of budgeting option or showing price of tickets would be nice - A brief weather report would help prepare for the trip like packing etc. - Related major news which might disrupt the trip
Great!
Exactly what I was looking for in a travel planner app. Automatically downloads travel itineraries from your Gmail account. The "Need to Know" section for each city is extremely helpful for international travel.
Very reliable information
Excellent search in finding the info of travel
Good - keep the improvements coming
Frequent Traveler USA
on
11/10/2017
I like the trip planning feature - can you add the ability to have another person - with a google account - the ability to view or edit the trip - and sync between devices?
Please make a desktop site!!!
LoveTheBudget
on
11/8/2017
Great app and perfect for when you have started your trip. I just really would like to use the desktop when planning. I don't like having to organize only using mobile.
Missing notes
App is so basic. It is missing the most important feature, adding your own notes or adding your custom places. It doesn't even allow to search a place from google maps and add it to the trips. I don't think it is a rocket science to enabling an option which allows custom notes
Good app but not 100%
DoubleA1234
on
10/31/2017
App is good but it's not it adding all my reservation to my calendar. I see it in trips but it does not add it to my calendar. Other trips are working fine.
Promising but needs work
The app idea is amazing, join all your trip information in one place, tickets and download city maps. The day planner is the best part, except that it is not as intuitive and easy to edit as it should be, I couldn't find a way to organize the spots as I want. I expect that Google keep improving this app.
Needs work
While it was a little creepy to open and see trips I took over the past year but never entered into this thing (it pulls from your gmails), I quickly appreciated this feature. But the inability to plan road trips (driving time, maps) quickly became frustrating. And if you try to visit the same city twice in a single trip the second repeat of the city gets kicked out. It also wasn't actually very good at picking up the trips. One complex trip simply wouldn't "import" because the first name on the reservation was a family member's instead of mine. Great potential, but needs work.
Not what I thought it was
Won ton luie
on
10/27/2017
I want to plan a trip along the route I'm taking. This is only good for the final destination. I want to be able to plug in the from and to address; then tap one each stop along the way. Then have the app show me interest at each stop.
Great job at capturing end users world
CalizFinest213
on
10/16/2017
I am on the older side of Millennial and appreciate fluid easy navigation. The experience is good. Google is best at capturing the users life and surrounding them with meaningful data that makes life easier. I am all about it, nothing scary they just make relevant information pertaining to the end user more accessible.
Indispensable
BrandongAwesome
on
10/16/2017
Great source of vital information when traveling internationally.
Nice
Good app to keep everything in one place but kind of creepy if you think about it. In less than a minute I had a list of everywhere I had been by just scanning my gmail account. Wow. 🤔
Doesn't seem to work
The first time I tried to use it, I put in the destination of Astoria, NY. It would not recognize the location. I could go no further with the app.
Not as good as Trip It.
I've been comparing Trip It and google has not been up to the challenge doesn't automatically find houses I'm renting, people I'm traveling with stuff. Needs work.
Not what I expected - Worse
Barbe forever
on
9/28/2017
I was so exited when I found out google as a travel app because I love using all the app's google offers to stay organized, but this app disappointed me. It has so much potential but it lacks depth in so many things. Speaking for all true travel organizers...this app should offer from a regular day trip to a cruise weekend.
So helpful!
Google just one more thing needed. Can you make it collaborative so friends etc that I'm traveling with can share trip info?
Unable to parse flights books via Concur
It's so frustrating that the App couldn't find the trip and there's no option to add the trip either :(
Good start, but could use some improvements
This app is a good start, but needs some work. If you can get the Day Plans to work, it's useful, but I found it hard to use. You can't just add a place to a day plan. It would also be useful to see your trips as place to save to when searching in Google instead of having to just star it. If you save to a list in Google, it doesn't appear in Google Trips. Would also love to add other travelers so we could share places and day plans.
Replaced TripIt
Google Trips works well enough that I could no longer substantiate paying $49/year for TripIt Pro.
Very easy to use app
Laurent Hesnard
on
9/16/2017
Every traveler could use this!
All good but.....
..... there is no way of sharing the itinerary with others. The app isn't as intuitive. Once I got a trip set up, I tried to share it with people going on the trip but without success. The app has so much potential. But until improvements are made, I am still using numbers/excel to plan my trips.
All in one
RedHotChiliPepperssss
on
9/10/2017
This is exactly what my wife and I were looking for, and the fact that it's integrated with Gmail is so so nice. We're planning a long term trip together and this is just what we needed. My only request would be to somehow make trips collaborative, right now my wife and I both sign into one account in order to plan together.
Handy automatic trip itinerary maker
It's amazing how helpful it is to have my itinerary automatically assembled, downloadable in case I don't have a connection, and with helpful traveling tips like things to do. Love this!
Would be 5 star with just 3 features
What's Missing (deal killers): (1) Ability to share itineraries, ideally with specific contacts, for instance Google contacts, as with Google Docs; (2) Ability to return to a city within the same itinerary, without the itinerary looking like you've been there the whole time. Example: flying into one city and traveling around a country to other cities and/or countries, eventually looping back to the original city before catching the flight out. What's up with not being able to do that? (3) Ability to add a lesser known city. I put those things first, because it would have saved me so much time had I known these weren't features in advance. Really, Google? A web app that doesn't allow content sharing?! Great Features: (1) Easy to build itineraries; (2) Easy to add activities that are already there, like sites to see, where to eat, kid activities, etc; (3) Easy to see what's open when; (4) Suggestions for day plans; (5) Nice layout and easy to use; (6) Can be seen across devices and downloaded locally, so great while traveling.
Simply the best travel app out there
Simply the best travel app out there, it pulls your trips out of gmail automatically.
Not that useful
Much bigger fan of check my trip. App doesn't do too much
Has potential
This app has potential but is really in a beta version currently. I recently visited Lisbon, Portugal. I stayed in a centrally located hotel. There were multiple sights in each direction. The app would suggest walking tours that started miles away from my hotel. It made absolutely no sense.
Fact Sheet
Publisher:

Google, Inc.

Category:

Travel

Released:

Sep 20, 2016

Current Version Released:

Dec 18, 2017

Version:

1.14

Size:

84 MB

Compatibility:

Requires iOS 9.1 or later.

Recommended Age:

4+

Game Center Certified:

No

Supported Languages:

English; French; German; Italian; Japanese; Portuguese; Spanish; Castilian;