This version of the app is not recommended
App last updated
Nov 05, 2017
Screenshots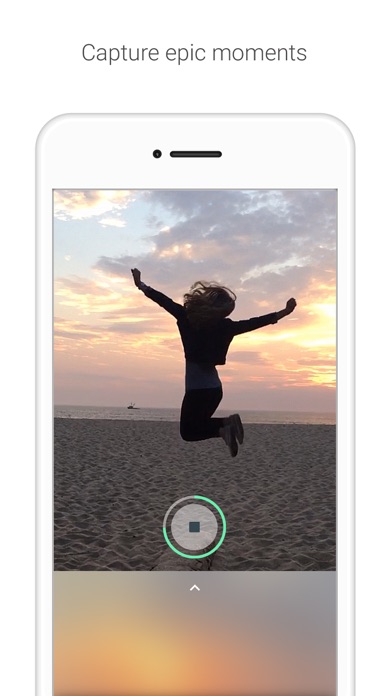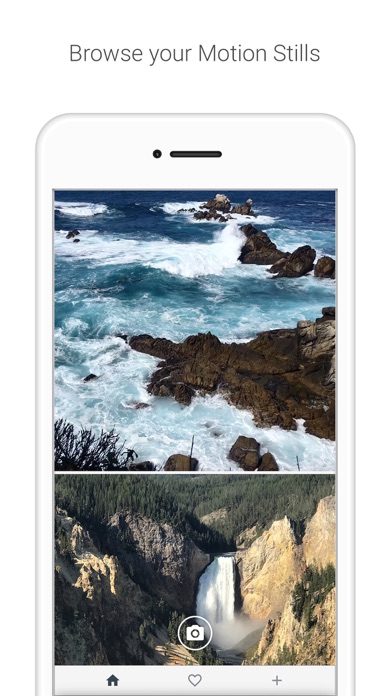 New in version 2.0.2
• Capture Motion Stills right inside the app.
• Capture and save Live Photos on any device.
• Swipe left to delete Motion Stills in the stream.
• Export collages as GIFs.
• Bug fixes and performance improvements.
Description
Turn your Live Photos into epic, cinematic GIFs and video collages with Google's advanced stabilization technology:
• Create epic movies and video collages.
• Add fun Motion Text and emoji that tracks objects.
• Share your Motion Stills as looping GIFs directly in your favorite messaging app.
• Pick the best frame and export your Motion Stills as Live Photos so you never miss a moment.
• Browse through your Motion Stills stream, or flip through one-by-one and watch them auto-play.
Reviews
New Live Photo are over 1.5 seconds long
It only capture and converts 1.5 second of the Live Photo instead iOS 11's 3 seconds long Live Photo.
Just remove the watermark and it's perfect
Watermark option is buried in the camera menu but it is possible to remove.
I really love Live Photos for all devices.
I love the fact that Live Photos can be taken on my non 6S++ devices. Please keep updating this application with UI tweaks and features. A Flash would be appreciated. 😉
Simple and awesome
Alright peeps, it's all okay. The watermark is a toggle that you can change in the app's settings, which you can access while in camera mode. Thanks Google for the great app!
REMOVE THE WATERMARK
PostUpLegend
on
12/12/2017
Nobody wants the watermark. Just change that back and this app will be everything I want it to be.
Remove the hideous logo when sharing video
Why are you adding that water mark? Remove it and this app will be perfect
Why?
Why the f would we want "motion stills" on the photo or video rather than something useful, such as the date or location? Please don't upgrade any more. You (google) will probably f it up. Now the settings are hidden in a camera pane? We don't need this. Does this improve anything? And now I can't save videos
Please support trimming!
zoobidoobizoobidoobi
on
11/3/2017
This is an awesome app that creates magically stabilised animations and text that moves with the objects in your live photo. However, not being able to trim off excess bits of animation makes this app much less useful than it could be.
App crashes with every use
I've spent far too much time adding photos and captions only for it to crash when I try to export the photos or create a movie. App worked the first few times I used it and now crashes every time I try to create a project. I have deleted and re-downloaded the app and that did not help. Great concept but needs work.
Why?!
ReallyannoyedbyApp
on
10/30/2017
Love the app. HATE THE LOGO.
Watermark
Great app but the watermark, really?
Watermark
Giant watermarked logo in the bottom right makes this app completely useless. I'm not sharing photos that have massive text on them
Hope it can support iPad Pro
zhangbillbill
on
10/15/2017
Hope it can support iPad Pro
Watermark
Google has been doing good job on reducing shakiness of live pictures for better GIF creations but it looks like they added "Motion Still" logos at the bottom right corner did recent update which I don't like.
Just ok
I'm currently using the Android version of this app. There are so many things that are left out of the iOS version. It pulls all animation from Live Photo's and you have no control over what you want to capture. For instance, you cannot take pictures from the app which is disappointing.
Crashes
This app crashes when I try to convert a live photo into a video
Ruined by watermark
Great app that they then ruined with a watermark that looks like something an elementary school photographer would add.
Instructions
How you use this app?? No help file or instructions
Neat Little App
I. Am. In. Love.
on
9/8/2017
This is such a neat little app. It's a fun way to put your Live Photos to use. I would love to see some more editing features in app, like color changes. But overall it was very simple to use and understand.
Ability to remove photos gone
I used to be able for to erase picture by swiping left to get rid of photo I didn't want to see feature is now gone. How do I get that back?
clean, precise, simple! THANK YOU
I don't always give reviews, but when I do... it's because an app was actually BETTER than expected! Google nailed this simple and fun app.
Horse shoes and hand grenades
HomerHorowitz
on
9/5/2017
This does what it says fine but there is no way to remove there watermark!!! I don't see any upgrade to paid version or anything like that. For me that makes this pretty much unusable. I'm a professional photographer looking for better ways to use Live Photos but my search continues. Also, there's no way to level the horizon in app and the changes you make before hand to the live photo don't seem to transfer into the app.
No connection with Google photo
No connection with the backup solution of Google photo
Meh
Kellermeyer14
on
8/24/2017
A nice app except for the ability to trim clips and the stupid watermark. Really Google?
Singular
I love this app. It's exactly what I was looking for and allows us to create a new form of art. Thank you, Google!
Great app for authoring motion stills
Cheerioboy25
on
8/24/2017
Only thing I wish for is a way to trim clips for better loops. 🍻
Good idea but doesn't work well
Only see a fraction of my Live Photos in this app. Also is difficult to navigate as there are only symbols and the icons don't explain well what their functions are. Would use this app if it were more user friendly and would actually access all my Live Photos.
It was cool but...
Whatever73827293$219
on
8/8/2017
Why aren't all the photos in my camera roll that I took available on the app?
App won't start on phone
Not sure why this app won't start up on my phone-- I have an iPhone 7+ with the latest iOS (10.3.3), but for some reason this app refuses to start on my phone. Very disappointing.
What I needed
Does what I need, turned my Live Photos into videos or let's me choose the right frame! You have to click the export buttons to make it work which took me a minute to figure out!
Doesn't save stills
It's called motion stills, yet I can't save a single frame as a still.
Higher Resolution!
Great app. But would love to see the gif creation use the same high resolution as the preview I'm seeing within the app! Cmon Google! You can do it before iOS11 comes out! I know you can!!!
A guide would help,maybe...
Between the first login months ago till now...I still don't see anything except a way to export "Live" photos as a GIF or Video. If that's all this does then it's no better or worse than other solutions out there. Literally, there is nothing more than a setting cog and Live Photos on the landing page of the app.
Good potential
emmaleighpaige
on
6/22/2017
It says that it "enhances" the video but from what I've seen is the stabilization really causes certain things to look extremely wonky and for some reason affects the lighting and makes the brightness level fluctuate as if it were flashing oddly. The clips also get shortened which doesn't make sense to me, it's not as if the clips have much substantial length to them anyway so I'm not sure the reasoning behind that. It's a really great concept and I'm sure will improve in the future, but as of now it's somewhat useless to me.
Shortens Live Photos
This app shortens Live Photos buy a few frames and only has a few basic features
This app is amazing<3
I love it ! But there's a problem. I have error when i try to share to other apps :(
Changed my production for the better
Another great product from from Google, space this is the only way I can share my life photos from apples iPhone 7 Plus. I love that I can just take Live Photos and then look back and find some that I can make into Videos, my only hope is that the resolution would be higher but I'm not sure if that's the live photo to video algorithms, space the iPhones hardware, space and or where I'm uploading them which is Instagram. I highly recommend this application.
I love it! But...
Unlike other gif making apps, you cannot choose when the video would be cut before the loop happens...
Can't access all photos
I love this app but I want to access a live photo I had from a year ago and it won't let me. I think it should be fixed
Ok
A few key functions missing. For single files, trim, re-speed. After selecting files to combine, need to be able to edit segments before combining: Trim some files/segments, stabilization optional for some segments, reversing loops optional for some segments. Optional overwrite/blend audio with library Music.
Best for Live Photos
Amazingly great for exporting Live Photos props to google!
Loved the first post
Jennnnnnnnnnar
on
4/22/2017
I was able to export ONE live photo to my instagram. Since then it freezes/crashes every time I try. Really only have the app for one purpose. Hopefully they'll read these reviews and fix it before I delete it! ☹️
Useful Live Photos
Pages09 we will miss U!!
on
4/13/2017
Excellent, now Live photos makes sense
Doesn't work
Has crashed every single time I try to export. Pretty frustrating.
Great App
Very simple straightforward app that works perfectly for me.
Marvelous little app
Makes Live Photos actually usable! Have made dozens of unexpected and wonderful gifs from ordinary snapshots. Motion stabilization is excellent. Kudos to the developers.
Thanks, Google
Amazing app. I wonder what's the benefit for Google.
Crashes on export
This app used to be amazing but after the last few updates it crashes every time I try to export a live photo as a photo or gif.
Horrible user interface
Impossible for non-nerds to figure out how to use. Just a few cryptic icons, no instructions or help screens. Yeah, can tolerate the non-Apple, Google style "material design" UI if it was intuitive and not cryptic. Epic fail from Google
Good app but March 15 2017 update keeps crashing on iOS 9
Please fix
Fact Sheet
Publisher:

Google, Inc.

Category:

Photo & Video

Released:

Jun 07, 2016

Current Version Released:

Nov 05, 2017

Version:

2.0.2

Size:

62.8 MB

Compatibility:

Requires iOS 9.0 or later.

Recommended Age:

4+

Game Center Certified:

No

Supported Languages:

Afrikaans; Albanian; Amharic; Arabic; Armenian; Azerbaijani; Basque; Belarusian; Bengali; Bosnian; Bulgarian; Burmese; Central Khmer; Catalan; Valencian; Chinese; Croatian; Czech; Danish; Dutch; Flemish; English; Estonian; Finnish; French; Galician; Georgian; German; Greek; Gujarati; Hebrew; Hindi; Hungarian; Icelandic; Indonesian; Italian; Japanese; Kannada; Kazakh; Kirghiz; Kyrgyz; Korean; Lao; Latvian; Lithuanian; Macedonian; Malay; Malayalam; Marathi; Mongolian; Nepali; Bokmål, Norwegian; Norwegian Bokmål; Persian; Polish; Portuguese; Punjabi; Romanian; Moldavian; Russian; Serbian; Sinhala; Sinhalese; Slovak; Slovenian; Spanish; Castilian; Swahili; Swedish; Tamil; Telugu; Thai; Chinese; Turkish; Ukrainian; Urdu; Uzbek; Vietnamese; Zulu;