Social Networking
Games
Trivia
Word
This version of the app is not recommended
App last updated
Mar 20, 2018
Screenshots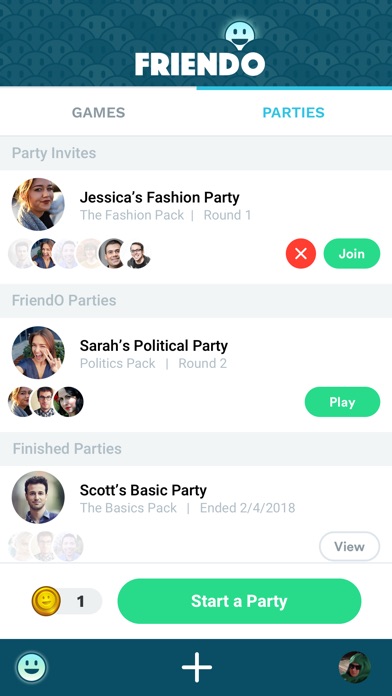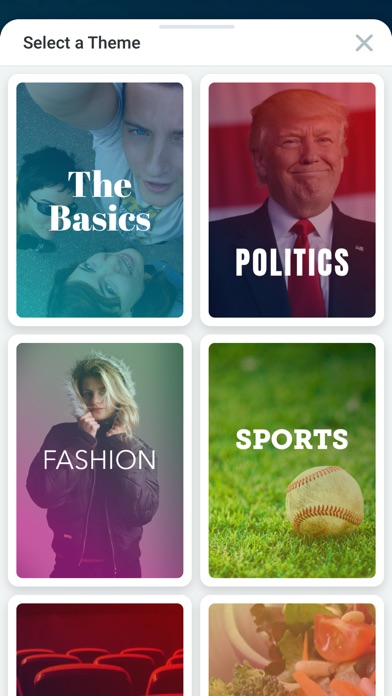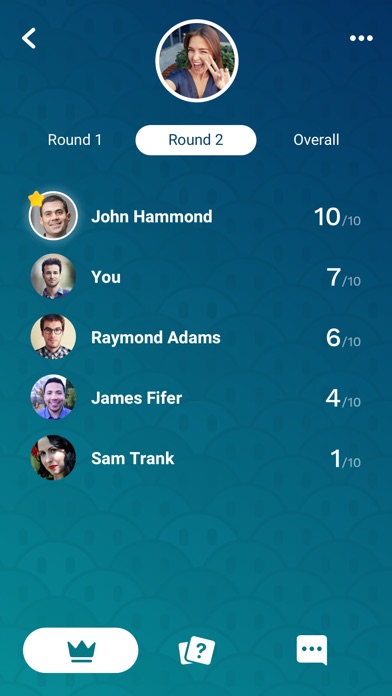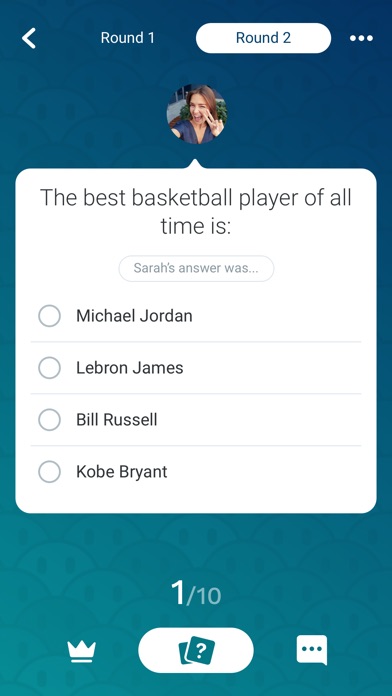 New in version 1.2.2
MORE BUG FIXES AND PERFORMANCE IMPROVEMENTS

Thanks for playing FriendO!
Description
We believe in friends, not followers. We want to help friends learn to get to know each other better and have fun while doing it!
True friendship is about depth and conversation. And it's so much better than just having followers!

FriendO is the new social app that allows you to answer fun questions about yourself, send them to your friends, and see how well they know you! See if Johnny really knows what you like to eat, or if Becca really knows your favorite sports team. Then, once they've shown their friendship, you get to show yours!

Only real friends will move up each others' FriendO ranking board! The more questions you answer correctly about each other, the better FriendOs you become! Make sure you're on top of your friends' boards, and vice-versa.

FriendO has thousands of fun questions in all categories.

Get started making FriendOs today!
Reviews
#DOYOUKNOWME
This is the best way to get to know a friend or family member better and learn thing u never knew. #AWSOME #SMART IDEA #I💜IT
Questions
Louisiana bloggess
on
3/16/2018
App could be less glitchy and 3 questions at a time would be better than one. But overall I dig it.
FriendO
coolbeansToots
on
3/15/2018
This game is great! It allows me to connect and play with my family and friends! I love it!
Cool
moodstoods123
on
3/14/2018
Cool
Great app
Savage belly
on
3/12/2018
Ya it's great
Notifications don't work
Lazerboy0311
on
3/10/2018
It doesn't ask to allow notifications and there's no option for it in the iPhone's settings
FriendO
I love it but it's boring at the same time
Social
This app helps me socialize with friends and family. Thank you for making a GREAT app!!!
Fun and Addictive
Ten of us downloaded this at work and immediately lost an hour of productivity. Incredibly fun and addictive. Takes a few minutes to figure out and then you get sucked in. Great way to find out more about your buds. Awesome.
2 Things to Fix
Get rid of the animations & have a way to visually tell if you're answering a question for yourself or for your friend.
This app is a hypocrite
I nudged my friend once after a month of not playing, because the game sent me 15 messages a day. The game told me to stop nudging because I was being annoying 🤔🤔🤔🤔🤔🤔🤔🤔🤔🤔🤔🤔🤔🤔🤔🤔
Stupid questions
Some questions I feel were written by teenagers. If you're in high school this is a okay app. A lot of the answers listed are really bizarre and cater to the liberal/millennial side. Change questions/answer choices for everyone playing, not just teenagers and keep politics out!! I only play because my young niece likes it and I find myself adding my own answers most of the time because the ones listed are just stupid.
Shuffle option is crap
I really don't like the shuffle option. Most of the questions are not what I want to ask so when I shuffle I only get 3 chances!! Not much to work with!!
Like the game
Don't like that I can't go back and change my notifications, but I do like the game.
…
This was a great app until I opened it today to reply to my friend, only for the app to tell me I have no games active. Funny thing is, you sent me a notification 11 minutes ago telling me it is my turn to respond. If this gets fixed, I'll amend my rating. Seems like everything is fixed, so I'll change my rating
FriendO
It's a great way to tell who is a true friend
Great time!
margieschmitt
on
3/2/2018
Super fun to learn more about your friends!!
I lost a friend
Corey "The Threat" Burnett
on
3/2/2018
Don't use friendo! There was a question that asked how many states I visited, and I chose C, 21-30, I was taking an educated guess because I didn't want to count them all. He didn't believe it and challenged me. Turns out I should have chosen B,11-20, because I have only visited 19. We got in an argument, and to help support my case I said I've been to three different states in Brazil, but he just laughed at me. He won't talk to me and it's very frustrating. Please, Jeff, if you're reading this I am sorry. It was a mistake and I wish you would talk to me again.
Great game
Slipingturtle
on
3/1/2018
This game is a great way to get to know your friends better!!👍👍
Very amusing...
Hahahahaha
AWSOME
Annavidallas
on
2/28/2018
I love this app it's friendly and fun u can play this on fam night or just with friends
Barney's making new friends
flutterwonder9102
on
2/28/2018
Barney's making new friends VHS Barney's making new friends DVD
Don't lock categories
Bobbslesbehd
on
2/26/2018
Locking categories so I invite friends is a stupid idea, I understand what you're trying to do but it won't work
Horribly biased questions, bad UI
This is a fun game to play, except for two problems: first, the user interface sucks—even after the latest update, I get mixed up on who I'm answering for. You need different-colored backgrounds. Second—and much worse—are the biased and offensive questions. Take this horrible and biased question for example: "The murders of unarmed individuals by police could be solved by..." I am giving this the lowest possible rating I can because of this question. More filtering out of inappropriate questions must be done or this game should be banned.
Awful, annoying game
This game won't stop sending me notifications that have nothing to do with the game. So stupid, if it hadn't been for that I would have kept it.
Fun
Easy to test if you know someone or a way to get to know someone !!
Love except I want to delete games
marasbookshelf
on
2/23/2018
I love this game it's so fun to play but when a friend and I get tired of playing and I have like 30 games open I would like to be able to DELETE the games I don't wish to play anymore like most game apps allow. So let's say I'm playing with my friend and my cousin and my friend and I get into a fight. I'd like to be able to delete the round against my friend but keep playing the one with my cousin.
The app was cool for 5 seconds
Brandonb3131313
on
2/23/2018
Just got boring for me and all my friends I was playing super fast. I played for maybe a week, two weeks max. The layout of the game was poorly done and by the time they updated and seemed to have corrected a lot of the issues they had been having it was already too late. People lost interest. Got a ton of repeat questions. The concept was good, just badly articulated.
FriendO is Great
I love FriendO! I enjoy spending time learning with my friends. FriendO is great!!!! 10/10, please get FriendO and play it. I would give up parts of my life for this game. FriendO.
Fun game, waaaaay too many notifications
Their newest update makes the animation faster which is good but there are way too many notifications from the app itself. I don't care what the question of the day is and I do not need to be urged to play. I've gotten at least three notifications from the app today that have nothing to do with the people I'm playing and there is no way to turn them off. It is driving me crazy!
Biased but fun
sometimes the questions are very political and biased which can become annoying and distracting from the true purpose of playing a game with your friends. I like the game for the most part besides that!
OMG
Gavin I. Marsh
on
2/16/2018
My friend Kendall asked me if I would download this on my phone and I love it so much. At first I wasn't sure, but after I got the app I loved it.❤️❤️
The best
notascoolasirony
on
2/16/2018
A wholesome app; good & perfect
Fun
ya boy meldin
on
2/15/2018
So stupid needs a devoted egg and to get the dirty catogory and is ok bc that was my fave and you can't take it away you stupid cow
Fun
Game fun to do with other people.
Great
So fun! Love sending inside jokes with friends.
Used to be better
This is a great game. I love to play it with my good friends. But the new update is just AWFUL. It was so much better before and so much more enjoyable it is way to slow and looks weird
It's really fun game when you want To know your friends better
Nice
Fun!
Fun app that doesn't have a time limit, and fun for friends or family.
Hi
fireballrocket
on
2/10/2018
This app is great
Game Bug
It's a great app with an awesome idea. But after a friend of mine got me to get the app and play with her it just crashed and when I pulled it back up our game was gone. I tried to start another but it wouldn't let me bc "another game was already in progress" and when I would try to add her by phone number it would say the same. I tried to add her through the app and she wasn't even there (maybe bc the app thinks we already have a game) but it's a great app I just wish this bug could be solved.
You excessively telling me not to nudge is ANNOYING
I only have to nudge once to get this stupid message. It's not on every player just s few of them. Take away the option if you are going to scold me. If it's annoying why do you have it as an option to even use. Let us use it freely or take it away. It makes me not even want to open the app and play.
Recommend to unlock categories doesn't even work
I've sent a request to 6 different people tonight but I only unlocked one the first time I sent one. None of the categories went down by one they all stayed exactly where they were at please invite 1 more friend.
Fantastic !!!
marcusthomas11
on
2/9/2018
Fantastic app. So much fun to play. Even after a month, I'm still back every day. They really listen to their user base and address problems right away. I love to play with my wife, Carol.
I HATE WHEN IT SAYS THIS
Mishaya titanic
on
2/9/2018
I love this App, but you guys shouldn't give me an opinion to nudge people if it's gonna tell me to chill and to stop bugging my friends. Seriously hate when it says that, I've considered deleting the app just cause.
This new update is actually garbage
I really liked this app before the new update. The animations make the app feel like it takes a lot longer to play a round and seem completely unnecessary. Please fix this as soon as possible.
Dont like the new update
Great game! But I do not like the new update
Fact Sheet
Publisher:

Friend-O, LLC

Category:

Social Networking

Released:

Oct 16, 2016

Current Version Released:

Mar 20, 2018

Version:

1.2.2

Size:

84.8 MB

Compatibility:

Requires iOS 9.0 or later.

Recommended Age:

17+

Game Center Certified:

No

Supported Languages:

English;

Parental Advisory:

Mild Alcohol, Tobacco, or Drug Use or References; Mild Profanity or Crude Humor; Suggestive Themes; Mild Sexual Content and Nudity;