Screenshots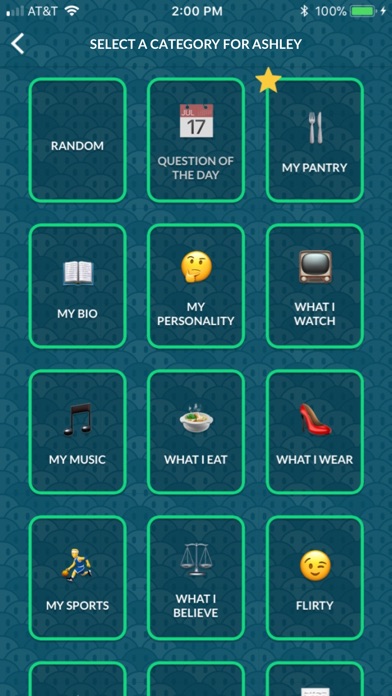 New in version 0.4.15
MORE BUG FIXES AND PERFORMANCE IMPROVEMENTS
* We're squashing bugs and working to make the game move faster and more smoothly.

THANK YOU!
Thanks for playing FriendO!
Description
Sure, you're a "friend", but are you a true Friendo?

FriendO is the new social app that allows you to answer fun questions about yourself, send them to your friends, and see how well they know you! See if Johnny really knows what you like to eat, or if Becca really knows your favorite sports team. Then, once they've shown their friendship, you get to show yours!

Only real friends will move up each others' FriendO ranking board! The more questions you answer correctly about each other, the better FriendOs you become! Make sure you're on top of your friends' boards, and vice-versa.

FriendO has thousands of fun questions in all categories.

Get started making FriendOs today!
Reviews
More creativity
I have used this app for 1 weeks and I have seen ever question it asks. So can you please add more questions that are creative and fun
Fun but would like some improvements
Overall the game is entertaining and fun to play but the improvement I would like added is a feature to create my own question with my own answers for my friends to guess. I would recommend the game to other people otherwise.
Naughty fun
Znhextajxuhsnrjdksjx
on
12/12/2017
Great gave I have only 1 complaint and I've seen a couple other reviews about it and y'all need to bring the dirty and mfsk back, those were honestly fun for me and my friends and now it's boring and I barely play. Please bring back a dirty one again. Flirty is okay but no excitement or much surprise
Love It
Giving this a 4 star because became me and my closest friends and family members absolutely adore this game. It's a great game to get to know others, as well as just something to do when you're really bored (so great for over the holidays). The only bad thing I have to say about this game is that you can't delete friends... and if I'm wrong, I'd to know how. Anyway, overall, this app is really fun for everyone.
that A.J.
This is a good App BUT I think you should let Australians play it
Bring dirty back
Jesse's Girl!:D
on
12/10/2017
i loved this game till you took away the funniest categories. Bring them back!!
help!
akdkfjdjsjsk
on
12/9/2017
i love the game, but i didn't allow for it to send me notifications and now i can't change it so that i do get notifications. so i never know when my friends play me back. please fix this!
Good app, needs more space.
My biggest problem with this game is that everything feels small and cramped. Why not make the scoreboard smaller so there's more room for the questions/answers?
Unfriend problem
CoyoteRidge kid
on
12/9/2017
I was playing the game and I had tried to block someone, but instead I accidentally blocked my real friend, but there must be a glitch because every time I try to unblock them it never works. Please fix this.
Sexist question
BriTheEarthling
on
12/8/2017
I have thoroughly enjoyed using this app, however I received a question for which I was surprised and offended by the options. It was "which one of these people's grit has inspired you the most?" The options for this question were all men. I'm not saying these men do not have inspiring backstories, I am aware that they do and have worked very hard to get where they are today and deserve to be options. That being said, There are plenty of women who have accomplished just as much, worked equally as hard, and defied just as unlikely odds to get where they are today. I hope in the future All individuals will be considered regardless of their gender.
Good quality, release on iTunes Store in UK
THECAPTIVEMIND
on
12/8/2017
Great app. Just please release on UK iTunes Store so more people can play. Thanks.
HELP ME
The start playing button is at the bottom and some phones it's impossible to play when that happens if u would make it where I can change the position of the screen or put the start button in the center I will play the game thank u
Bug please fix!!!
Great fun app except I accidentally blocked someone and now the app keeps glitching and won't let me unblock them!! Please fix! :)
X
soiHDSGHFJKSDBiugas
on
12/6/2017
iPhone X support?
Bad Categories
The dirty category was one of the only reasons this game was fun. The new dating category is better than nothing but still not as fun as the dirty category. If I have to invite friends to unlock special ones, it should be worth it and the ones there now aren't. Fun game when it had the old categories.
Please put in Bulgarian App Store
Lilly55_Lilly
on
12/6/2017
My friend from Bulgaria would like to experience this app for himself, but he cannot do so because it's not available in his country of origin. Please make it international! WORLD WIDE
Disney Category
WorkoutGirl343328
on
12/6/2017
Game is really fun to play but I got bummed when certain categories I really liked kept disappearing. The Disney and dirty categories were the best. Can they be brought back?
Annoyed even further
I loved the app and the addition of the add your own answer feature but they took away the MSFK, Dirty, and Flirty categories, which were the best ones and should be staples. They added "dating" by "popular demand," but we didn't ask for that lol. Game is less fun now that they're trying to go PG-13. Also still glitches a lot
Doesn't work with new iOS
Paul181872jh
on
12/3/2017
Doesn't work won't let me invite friends
Would be more fun with a few minor changes
brittanypiper
on
12/3/2017
This is a fun game to play with friends! I wish you could answer more than one question per friend game (let's say 3) to send a small set of them to the friend, so the game felt a little more substantial. I also wish there was an option to play instantaneously, when both players are present. I've played a few times when my friend/opponent and I have played in the same room, but the gameplay could have been smoother.
Bug
Fun game- unplayable now though. Guessed correctly on a friend's question, asked the same question back (picked the same answer), and now our game is soft locked. Tried blocking and unblocking, deleting and redownloading the app, nothing. Please fix!
Fun!
Stacie.Oliver
on
12/2/2017
It's fun but I'm having issues playing with one of my friends. I open it to play and it just sits there and loads and then the app crashes. It's really annoying.
Needs bug fix update
I love the game but while answering questions it'll show it twice I'll click the right answer but it'll say it's wrong bc it shows it twice
iPhone X
Please update for iPhone X 😘
Players
Qqqqqqqqqqqrrrrrrrrrrrrrvvv
on
12/2/2017
The app won't let me respond to one of my friends. Only that one friend. It will let me respond to everyone else but him.
fun and stress
funkypenguin18
on
12/2/2017
i just downloaded this game yesterday, but already there is a glitch. i am throroughly entertained by this game which is definitely a pro, however on one of my matches, if i open it, there's a loading circle and then the app crashes. even if i click on it, then retreat to my list of matches, it still crashes. very disappointed.
Really buggy
Legacycomnander
on
12/1/2017
I cant play back some people because the game just crashes. Ive tried reinstalling the app but that doesn't work. Game crashes so much. Please fix
Fun game!
Belovedheart
on
12/1/2017
Fun and easy, haven't found too many repetitions of questions and have been playing with a couple friends so great job on that! Only annoyance: the notifications! I'll have notifications sitting there for no reason and there doesn't seem to be any way to get rid of them.
Love the game but bugs...
I love the app but right now it's crashing whenever I go to play a specific friend. I can't play at all because it does nothing but crash.
All about gathering contact info
This app requires you to spam your friends to unlock categories. It later removes those categories and replaces them with new locked categories. Additionally the questions are naive and vapid. Overall this app is terrible.
Category
Bring back the dirty and MSFK categories, many of my friends and myself enjoyed them.
pretty good but . . .
allidoiswinnomatterwhat
on
12/1/2017
pretty good but . . . BRING BACK DIRTY! BRING BACK DIRTY! BRING BACK DIRTY! thank u
Very sad right now
Angel_Star_
on
11/30/2017
I love this app! However with a few friends it won't work all of a sudden... it won't open it just closes off the app and it has nowhere where I can get customer support and help with this. It's very frustrating. And one of the people are the person I play it with most! 😡😡😡
Keeps crashing
I was having so much fun with this game, loved it, until it kept freezing on one of my friends. Every time I tried to open my game with her, it would try to load and then the app would completely crash. Its fine for the other friend I play with so I'm not sure what to do. I tried logging out, redownloading the app, blocking and then re-adding her as my friend...NOTHING works. Very frustrating.
Glitches
I can't open a game with a Friend because the app crashed.
Super fun
Love this game. I'd love to see more questions and some new categories from time to time. Lately I've been running into where all possible answers are all in one spot so I can't individually select one- it's either all or nothing.
Disappointed
ayysianpersuasion
on
11/29/2017
This app was a lot of fun but after the dirty category was taken off it became boring. Will be deleting the app
Love it
Randi_O_nickname
on
11/29/2017
I love it because I can have a great time with my friends even if they are across the country but sometimes it is a little slo but I love it
Stolen categories
A disappointed long time fan
on
11/29/2017
Made me advertise the app to unlock a category then took it away. Thanks dicks
Writing questions
Imabubblebear
on
11/29/2017
I think this app would be 10x better if we could write questions too. :)
Dirty?!?
This game is pretty fun. But why is the dirty category gone? The best category was removed from the game and we weren't even rewarded with a new category. Also there was no compensation given for people who had the category unlocked.
Bug fixed
They seem to have fixed the bug that froze questions. Love the new option for adding your own answer. Great app
Friendo
They took away one of my favorite categories to play and now it's not as fun anymore.
Bring back dirty
Zack-A-Thon
on
11/28/2017
The dirty category was the best way to get to know someone really well, not too sure why it's gone.
Please
sleazybreezy
on
11/28/2017
Bring the dirty category back
Confused
MarkerVille
on
11/28/2017
Love the game! What do the emojis mean though?
Where'd the dirty category go??
Kayla Bouwman
on
11/28/2017
Only fun part about the game man, just bring it back
Great potential
carcinoTerror
on
11/28/2017
Game is a lot of fun. Would like to see the dirty category return and more questions overall. Also there's a bug where when I guess my opponents answer, it will not tell me if I'm right and will send them the same question back with whatever I guessed as my answer
iPhone X Support!
Please optimize the screen size to match the iPhone X's new screen shape. Thank you so much and I'll change my rating.
Remove people not playing
You know 319
on
11/27/2017
Make a remove option so you don't have to see people who aren't playing you anymore like deleting that game with them instead of having to block them
Fact Sheet
Publisher:

Friend-O, LLC

Category:

Social Networking

Released:

Oct 16, 2016

Current Version Released:

Dec 05, 2017

Version:

0.4.15

Size:

62.1 MB

Compatibility:

Requires iOS 9.0 or later.

Recommended Age:

17+

Game Center Certified:

No

Supported Devices:

iPad2Wifi-iPad2Wifi, iPad23G-iPad23G, iPhone4S-iPhone4S, iPadThirdGen-iPadThirdGen, iPadThirdGen4G-iPadThirdGen4G, iPhone5-iPhone5, iPodTouchFifthGen-iPodTouchFifthGen, iPadFourthGen-iPadFourthGen, iPadFourthGen4G-iPadFourthGen4G, iPadMini-iPadMini, iPadMini4G-iPadMini4G, iPhone5c-iPhone5c, iPhone5s-iPhone5s, iPadAir-iPadAir, iPadAirCellular-iPadAirCellular, iPadMiniRetina-iPadMiniRetina, iPadMiniRetinaCellular-iPadMiniRetinaCellular, iPhone6-iPhone6, iPhone6Plus-iPhone6Plus, iPadAir2-iPadAir2, iPadAir2Cellular-iPadAir2Cellular, iPadMini3-iPadMini3, iPadMini3Cellular-iPadMini3Cellular, iPodTouchSixthGen-iPodTouchSixthGen, iPhone6s-iPhone6s, iPhone6sPlus-iPhone6sPlus, iPadMini4-iPadMini4, iPadMini4Cellular-iPadMini4Cellular, iPadPro-iPadPro, iPadProCellular-iPadProCellular, iPadPro97-iPadPro97, iPadPro97Cellular-iPadPro97Cellular, iPhoneSE-iPhoneSE, iPhone7-iPhone7, iPhone7Plus-iPhone7Plus, iPad611-iPad611, iPad612-iPad612, iPad71-iPad71, iPad72-iPad72, iPad73-iPad73, iPad74-iPad74, iPhone8-iPhone8, iPhone8Plus-iPhone8Plus, iPhoneX-iPhoneX,

Supported Languages:

English;

Parental Advisory:

Suggestive Themes; Mild Alcohol, Tobacco, or Drug Use or References; Mild Profanity or Crude Humor; Mild Sexual Content and Nudity;