This version of the app is not recommended
App last updated
Dec 18, 2017
Screenshots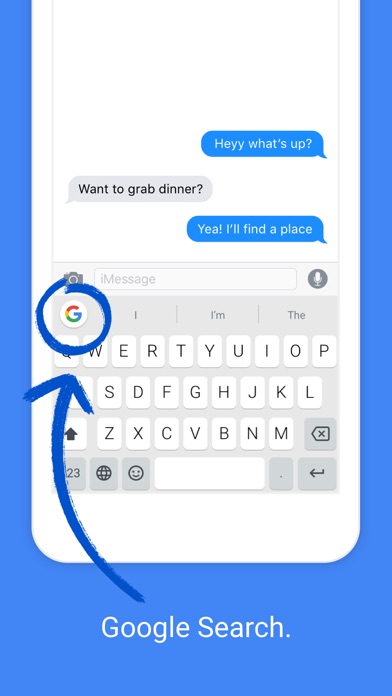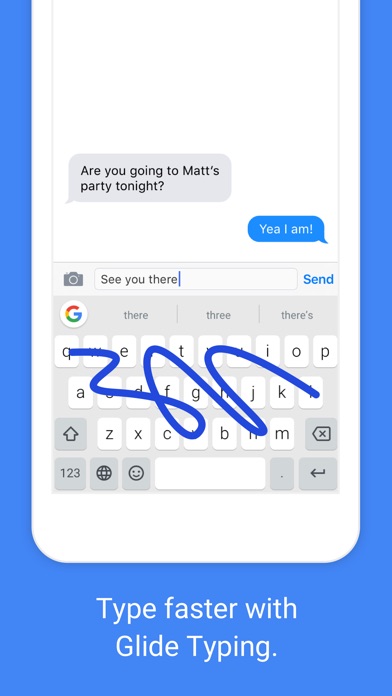 New in version 1.17.0
Gboard now supports Korean!
Description
Gboard is a new keyboard from Google for your iPhone. It has all the things you would expect from a great keyboard — GIFs, emojis, and Glide Typing — plus Google Search built in. No more app switching; just search and send, right from your keyboard.

Search and send anything from Google:
• Nearby stores and restaurants
• Videos and images
• Weather forecasts
• News and articles
• Sports scores
• And anything else you'd search on Google

GIFs — Search GIFs for the best reaction

Emoji Search — Find the perfect emoji, faster

Glide Typing — Type faster by sliding your finger from letter to letter

Privacy
We know the things you type on your phone are personal, so we've designed Gboard to keep your private information private.

What Gboard sends to Google:
• Gboard sends your searches to Google's web servers to give you search results.
• Gboard also sends usage statistics to Google to let us know which features are used most often and to help us understand problems if the app crashes.
• If you use Gboard's microphone, voice input will be sent to Google for transcription.

What Gboard doesn't send to Google:
• Other than your searches and voice inputs, Gboard doesn't send anything you type to Google, whether it's a password or chat with a friend.
• To help you with spelling and to predict searches you might be interested in, Gboard will store the words you type on your device. This data is not accessible by Google or by any apps, and can be cleared at any time.
• If you've turned on contacts search in Gboard search settings, this allows Gboard to search the contacts on your device so you can easily share. None of these queries are sent to Google.
iPad Screenshots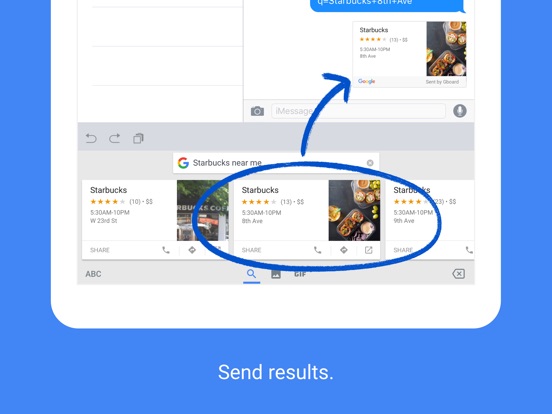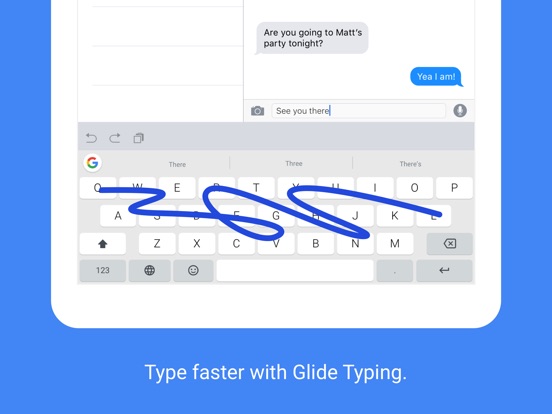 Reviews
Doesn't play nice with Apples "Account and Passwords"
MikeReynolds
on
1/23/2018
Love this app but just never works when I enter "Accounts and Passwors"section in the settings of the iPhone. Would love to have multiple emoji suggestions like on the new iOS 11.1 keyboard. Apart from that pretty good.
Great things but...
I love the ability to google search, use speech-to-text, customize the photo on the keyboard.. there are so many things I love but the app just stopped working. The keyboard won't show up sometimes. Sometimes, when trying to swipe, the keyboard decides to get sticky and sink off the screen. I just uninstalled it. I will be trying Swift key for a little while to see if that works better. Keyboard used to work really well but newest update is bad bad bad. Also, it would be awesome if the app could remember the words I actually use everyday rather than the misspelled version I accidentally typed in one time. Really needs a way to edit dictionary which words are suggested. ALSO! Please suggest emoji replacement as predicted for next word: I love adding emojis that come up in predictive text bar but I want the option to add them AFTER adding the actual word I'm typing. Please update so that I don't have to type the same word in its entirety to get the emoji to be suggested again. Predictive text needs to be smarter!
Need tamil keyboard
Karthikeyansa
on
1/22/2018
Hi dev team Could u please integrate TAMIL language keyboard .
Love the new update!!
The new update will make you forget that you're not using the Apple keyboard.
Contradicting user security...!!
ThalmanThilak
on
1/22/2018
During the initial setup after downloading, it says "only searches are sent to google but nothing else". But while using the keyboard you say all features are available only once the user gives full access. And when I do that it says that "I agree to send all sensitive information to the developer - including credit card information and street address" 😡😡😡
Works every time
Everything works perfectly
Lie
Searge Boremchuq
on
1/22/2018
It's written that it has ukrainian, but it's not.
Best keyboard
Best keyboard for all language 😍
Almost Perfect
Gboard has everything I'm looking for in a keyboard: one handed use, glide typing, emoji search, and a dark theme. I was looking in setting and there is one setting that intrigues me a lot. Haptic feedback. Enabled it and nothing happened. I tried a few things, but nothing worked. Google, please work out this bug so that we can have haptic feedback when we're typing! The feature is there in setting, please fix it and I will update this review.
Too Slow, Poor UI
One of the critical things a keyboard needs to do is be available when you want to type. Gboard simply isn't ready when you are, taking a second or two to load which is constantly frustrating. Another issue is that predictive text is too small. The bar takes up plenty of space but the text is perhaps a quarter of its height! Not only that but the keys look slightly blurry and oddly spaced. Overall it looks like an application designed for only the standard iPhone screen and not the Plus size. Also changing the Google button so it matches more with the theme would be pleasant. The swiping and word prediction work well, but the other issues kill it compared to superior competition from apps like SwiftKey.
Wonderful and effective
Abhishekhing
on
1/21/2018
I love this keyboard a lot more than Swiftkey or any other keyboard options it works like magic on my iPhone 8
You can do better than this ...
Fahmi Abdallah
on
1/20/2018
I bet if iOS implemented there keyboard on android it would be stellar. This is a half baked attempt to implement your keyboard on iOS. I'm surprised ..On my Android phone this (google)keyboard is awesome. Even SwiftKey equally equips there keyboard on both systems equally well.
Number pad is missing the decimal point
DeadliftQueen
on
1/19/2018
No decimal point in the Gboard number pad means I can't use this keyboard with any of my apps that require detailed numerical inputs. Gboard even offers a blank key in the bottom left of the number pad... Why isn't this a decimal point?
Use to be good!
Games for beginners
on
1/19/2018
The keyboard in itself is a wonderful idea and doesn't make me feel like I'm missing out on my iPhone keyboard. Some of the settings are still in the same like the left and right handed one hand typing. Honestly the bit of personality with the photos you can add behind a keyboard gives me life.My biggest downfall is since the update the GIFs that you can use white from the keyboard are so small it barely makes a statement. Is honestly the most annoying thing, and once that's fixed this could be the best keyboard to download.
Gif Cam!!!
I haven't used Gboard since I traded my 7+ in for the 10, I love the ability to create gifs right on the keyboard!! I wish that there was an option to choose the resolution to make it easier to send in areas with little coverage :)
Love it
Also very Easy to install.
Too inaccurate and time-consuming.
CaptainDeadman
on
1/17/2018
There are a lot of great features with this keyboard. Unfortunately, it's far less accurate than the standard iPhone keyboard, even when predicting. I've had to edit at least 60% of my texts, with single sentences taking close to over a minute to send. Great effort, but ultimately useless and frustrating.
Inaccurate
Always messing up
Urdu language
Need to add urdu Language soon. Because we use regularly.
Ruined by AUTOCORRECT
This keyboard started out great, but autocorrect becomes worse and worse with each version. Autocorrect is constantly trying to put words together that make absolutely no sense. On to of this it now goes and changed words two words back, so you have to constantly check if it's destroying your sentences. Sad that this is what's making this, otherwise awesome keyboard, almost completely unusable.
Almost
Please please please make more themes and customizable.
❤️ it.
I absolutely love this keyboard. It makes my iPhone somewhat tolerable.
Voice typing and so much more
Thatcoolguy25597
on
1/15/2018
I am so happy with my Google keyboard because I can actually speak into the microphone and Google understands when I'm saying if I was if using my Apple keyboard Siri would not have understood what I was saying and put something random also they have meme on here that you can search and that's really cool because I like to put memes in my messages also you could search what type of emoji you want use if you not sure what the actual emoji is... By the way I did all of this on voice typing. Also they have swipe which I easy to use but I don't use it often cause I'm so used to just typing it out. They also have Google search on the word bar which is really helpful.
'abs' vs 'and' autocorrect fail
It still consistently mistypes 'abs' instead of 'and'. Everyone must think I'm commenting on their abs. Really awful prediction and autocorrect algorithm. Intolerable UI too.
Was good but lately has been really really buggy
Six months ago i would have given this a 4.5 star rating. The last few updates though are really sub-par. The target for the backspace seems to have gotten larger and is often hit while swiping the letter m, erasing what I've entered. Also text suggestions are really really inaccurate and often doesn't recognize common words
Causes major lag
Good but major lag when using iPhone 6. There's a delay when opening anything that requires a keyboard. Will be deleting soon
Every single time JUDY instead of JUST
How do you fix it?
Might considering 5 stars, if and only if...
Pocket Frequent User
on
1/13/2018
Devs could implement Google Translate like the Android Counterpart
Serbia?
Wher is the Serbian language?
Solid idea, please improve autocorrect.
The only reason I don't use this more often is because of how inaccurate the autocorrect is... what's the hold up? Be upfront about it and how you aim to fix it please.
Gif!!!!!!!!!
Love it for gifs search. Bigger than Apple's but now my Gifs are now small. Please fix!
Lagging
This version is very laggy, even talk to text takes forever to start and misses words
Iphone X !!!!
Works really good on the Iphone X way easier to Text with one hand
Voice dictation needs a lot of work
1. I'm using voice dictation to type this but I have to keep activating it every couple of seconds because the time out is terribly short. If you pause for even half a second between words or sentences it times out and you have to press it again. It works even worse in Google's own apps because it won't put the speech to text into the field you're trying to dictate into. 2. Then there is the strange fact that it randomly capitalizes words, but will not capitalize the beginning of sentences. It also randomly starts autocorrecting with meaningless words or acronyms and spaces. And why does it insist on RE capitalizing words I have intentionally decapitalized, like emails. 3. Speaking of emails, why doesn't it autocomplete my email consistently??? It is obnoxious that no one has provided a keyboard that does this.
3D touch to highlight?
How could you possibly miss the 3D touch to highlight words that comes default on the iOS keyboard? Literally the best feature of 3D touch and you completely failed to implement it, rendering this keyboard useless. PS would've given 5 starts if it weren't for this
NEEDS UPDATE
The keyboard is ok. However you need to update it to support the iPhone X
Getting worse
Used to be my favorite, but it's been utter garbage the past several days. Going to try to switch back to Swiftkey for a while. I'm correcting more words than I'm not, and much more than I used to even weeks ago.
Missing one thing.
The only complaint I have is that I hate that I have a globe button and an emoji button. I wish there was a way to get rid of one or the other since they both have emojis. Or else I would give it a total 5 star!! Update: Since upgrading to iPhone X the keyboard is hideous. It looked way better on the 7+ as it was more of a white than the cream color it is now. Ick.
Still better than Apple keyboard
But, when I updated it seemed to have forgotten even it had learned with respect to predictive text based on what I write. Also, there are some emojis that are all of a sudden missing, like woman with arms crossed. Weird!
Really bad
I have deleted Swiftkey to try this which I was very excited about Google! It's pretty bad though- don't recommend this. Hopefully you will become better than Swiftkey because the inbuilt Google is a great option.
Really frustrating to use
While I love the idea of this board and it's many functions like being able to google emojis. I really don't like how it changes a whole sentence while I am typing. And if you try to delete a word or extra letter it ends up putting together all the words so rather than reading " I'm so happy to hear that Mary" it read imsohappytohearthatmark" yes because it will also change the letter you just tried to delete to a different letter all together. The amount of beyond confusing texts or emails I've had to edit because of this keyboard is insane . It saves more time to just flippen search for emojis rather than have to re type everything out 3 times.
Great, but lacking
Some of the best predictions and features of any keyboard including swyping which is usually really inaccurate but google does it great. But it is seriously lacking in settings. There are no screen-space-saving, or size-reducing settings at all, there are no settings to remove unused buttons or turn off features being added all the time, there are no dictionary editing options, you can't even edit themes after you make them.
Just as smooth as native keyboard but more useful
Everything works prefectly. Swipe works very well. Missing one key feature though: Shift-Delete to delete an entire word. Also, force-touch text cursor on native keyboard is better.
Everything is BETTER on an Android!
Haven't had an iPhone in 3 years. I got the iPhone X because it was sexy. However I am not sold. I'm just goning to use the new experience for a few. When the next hot Android comes out I will snag it and ditch Apple for good.
So glitchy
Frustrated Fading Chiver
on
1/8/2018
This keyboard is so awesome when it works but it's really glitchy. Seems like the predictive text capabilities have gotten worse too.
Love the customization options
I lost my TI-84
on
1/7/2018
I just can't believe these are gboard's early days! I actually prefer this over Swiftkey because I can google search without leaving what I'm writing. I just recently discovered that I could change themes as well and it works really nicely.
It's ok
Keys 'edges' are too narrow. LOTS of mistakes when typing. Autocorrect is terrible. Awesome gif selection though. Locks up and makes it hard to access text inputs (Instagram and Tumblr for example) forcing you to post and then go back to edit in order to add text. Too complicated to access emoji keyboard (have to cycle through all three keyboards to get to it then back). Needs improvement.
Could be better on iPhone X
that1guyfromUT
on
1/5/2018
Although the latest update does help color match Gboard to look more natural on the iPhone X, it is still noticable, especially in dark apps. It would be nice if Gboard adopted iOS style translucency.
Please bring same level language support as in Android
I don't see many languages and handwriting input as in the Android app in iPhone version. Please bring Malayalam language support.
Needs artifical intelligence predictions
STARSHINEGOLDEN
on
1/3/2018
One of the reasons I love using swiftkey is because of their artifical intelligence prediction system
Fact Sheet
Publisher:

Google, Inc.

Category:

Utilities

Released:

May 12, 2016

Current Version Released:

Dec 18, 2017

Version:

1.17.0

Size:

178.8 MB

Compatibility:

Requires iOS 9.0 or later.

Recommended Age:

4+

Game Center Certified:

No

Supported Languages:

Arabic; Catalan; Valencian; Chinese; Croatian; Czech; Danish; Dutch; Flemish; English; Finnish; French; German; Greek; Hebrew; Hungarian; Italian; Japanese; Korean; Latvian; Lithuanian; Malay; Norwegian; Persian; Polish; Portuguese; Romanian; Moldavian; Russian; Chinese; Slovenian; Spanish; Castilian; Swedish; Chinese; Turkish; Ukrainian; Vietnamese;