Screenshots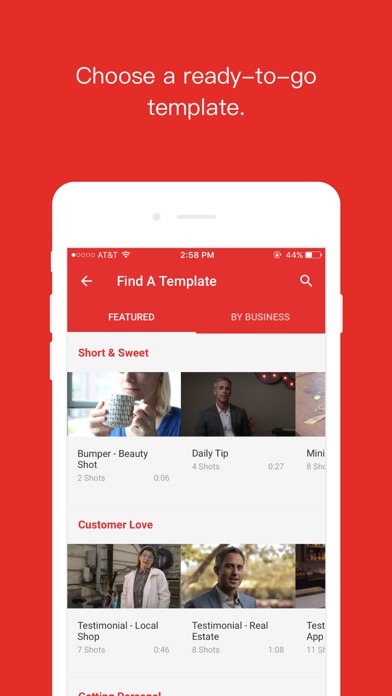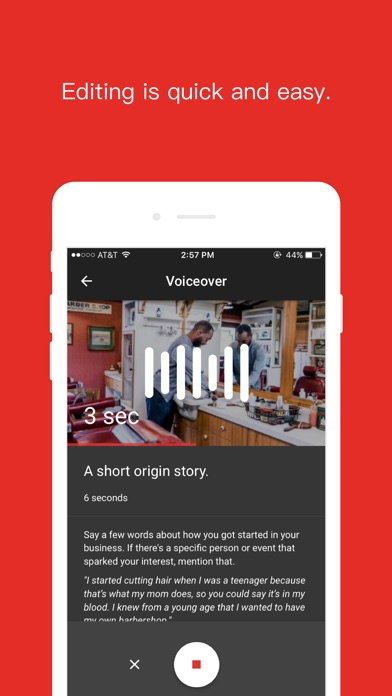 New in version 1.3.3
• Minor bug fixes and improvements
Description
YouTube Director provides shot-by-shot guidance—so you can create a high-quality video ad and upload it directly to YouTube from the app. No video editing experience required. Now, sharing your unique story with customers on YouTube is easy.

CHOOSE A READY-TO-GO TEMPLATE
Browse from 130+ ready-to-go templates designed for businesses of all types and sizes.
Whether you're a restaurant, service, retail shop or anything in-between, YouTube Director has a template that lets you tell your story, showcase your products, and highlight your mission.

STEP-BY-STEP INSTRUCTIONS
First-time making a video? No problem. YouTube Director provides shot-by-shot guidance to help you create a polished video for your business.
YouTube Director helps you with everything from how to frame your video to what to say, and when.

NO EDITING SKILLS REQUIRED
Easy-to-use features like voiceover and custom text animations give your video a professional look.
Add the perfect soundtrack to your video with music from YouTube's extensive library.

PROMOTE YOUR VIDEO ON YOUTUBE
Upload your finished video to YouTube and start promoting your business to customers.
An AdWords expert will reach out to help you run your new video ad on YouTube.
Reviews
Best app yet
As a realtor, video is becoming a vital part of our advertising. This app allows me to look professional while creating videos every single day
D Koder Marketing - loves this for small businesses
If you are a small business and need ideas than you should be downloading this app now. Video is the second to best when it comes to engagement and pushes your marketing dollars and effort further. We love this app and highly recommend.
Wonderful
As a car salesman, the director app lets me create decent walkaround videos in less than 30 minutes. You're biggest time consumption will be on your part with writing a script.
Very Easy
Air National Texas
on
6/26/2017
Very easy to create and publish videos to promote our business Air National Texas.
Easy to use
It's a Very great and useful app so easy to use and save a lot of time! I love it . Thank your guys.
I can't get in the app
I get in the app and I do my stuff.but then like one minute later I can't get in the app.so I try and try but it's not working so I would say you're one star.because this is kind of the worst app.
Great for the Automotive Business
Such a great tool for video walk-arounds.
Awesome tool!
What a great user friendly tool to make videos quickly. The templates provided help me with design, flow and content. I love this app and wish I had more videos to make.
Great app
The best I've seen yet.
Plagued with errors and senseless limitations
This app sure can help create a video, the problem is, that if you use the app to film it, it will "own" your raw material with no way for you to take it out. What's worse is, if you have multiple accounts it will sometimes "migrate" your project from one account to the other (which is a huge problem if one of your accounts is a corporate account with no access to YouTube) I've lost countless hours of work beachside of this bug and I haven't been able to get any support whatsoever from google or YouTube.
Awesome breakthrough for small businesses!!!
Astuteashley
on
4/20/2017
I have been waiting for an app like this for a very long time! I am beyond impressed with all of its capabilities. Thank you so much Google!!!
So easy to use
Created a video for my business in an hour. This is by far the BEST app to create a simple video to show off your work. I love it!!!
It won't let my video publish
Foreign.entertainment
on
1/28/2017
Always getting error when I try to upload pls fix
Seems simple but..
Sometimes the minimalism of the user inrerface is too minimal to figure out where you are in the storyboard/progress. Had to exit app repeatedly to get it to accurately move to next stage. Needs ability to easily drop in a jpg image in between takes or even OVER the audio of the on camera person. It works bit now i have to export to Youtube then download so i can finish edits this app leaves out.
Functions well
Great template type app for the business on the go.
A wonderful app and easy to use
Dan Chan Master Magician
on
11/26/2016
This is the one of the best video apps out there and it uploads directly to YouTube no music no problem there's a selection of royalty-free music as well to choose from
Wow
BamTheArtist
on
11/23/2016
This App has allowed me to create a meaningful, well balanced , professional grade production all on my own. No Experience Necessary! The path to success is clearly written and explained. With easy to access and use text, audio, and video content the guides and directs the director to filmmaking bliss. Thank you for developing such a wonderful time saving money saving impactful business app!!
Easy to use with great built in templates
I used Director to make a promo video for my sailing business in Austin Texas. It was easy to use and I really appreciate the templates and script advice right in the app.
Great app
Great entry level app to create video content.
Good Overall App For YouTube Business Needs
While the YouTube Business app has been recently updated many times, the YouTube Capture app hasn't seen an update since 2013. It works poorly with larger iPhones and iOS 10. Add music crashes the app as well. Please update it YouTube & Google.
Salesman
Melvinashura
on
10/7/2016
Just wanted to be the first to say I love google products!!!
Amazing
What a great app! Tells you exactly what to do shot by shot to make a professional quality video. Instantly add production value to your business!!
Love the ease of use
I'm not really a camera guy, and editing takes so long until I found this app, it makes me want to post videos on my YouTube channel every day now.
So easy to use!!!
Wannabe gym rat
on
9/6/2016
I love this. For those who don't want to or are able to do more in depth videos for work or play, this template- heavy app takes all the thinking out and enables you to crank out informative short videos that don't look bad! ;). Of course you can make them look even better with a little more effort but not everything needs to be pro-level.
New update is great
Great app has added a very necessary feature- now when posting a video I can pick which YouTube channel it gets uploaded to!
Not for Music Businesses
Sorry, Musicians
on
7/6/2016
I was disappointed to find that there is no way for a musician to insert their own unique music clips. Arts doesn't include any templates for musicians.
Nice App! Needs Minor Fix.
Very nice app -- this will really help to guide the creation of video ads. However, there is one basic feature lacking that I'd love to see fixed in the next update. I cannot seem to select the YT Channel that I want to upload the video to. I am only able to upload to my manager account. YT's other apps (Capture, etc) allow the user to view and select the upload Channel.
Easy, fast video creation
Paul, Bike Supply Store
on
6/15/2016
Director has allowed me to revitalize the marketing for my business. Like most owners, I'm strapped for time but director lets me shoot video on the fly and promote my business to customers.
Excellent business video creation app
A great way to make videos for my business quickly and get them on to YouTube easily.
Direcrtr + YouTube == better than ever
EliSchleifer
on
6/15/2016
Very excited to see this product back in business. Excellent new polish. Pumped to see how it will evolve from here.
High quality videos without spend $$$
YouTube delivers! I've been waiting for an app like this. I can finally create high quality videos for my family's accounting business without spending lots of $$$.
Easy and fun to make a video
This app gives you guidance on the entire process of creating your video, and lets you add titles and music. Most of the templates are geared towards businesses. It's actually really fun to use and make a video.
Awesome app for promoting a business!
It's hard to make video on your own, especially if you're a busy business owner. This app makes it really easy! The instructions are helpful and the app puts everything I've filmed together and helps me make it perfect. Recommended for any business that wants to create their own video content!
Fact Sheet
Publisher:

Google, Inc.

Category:

Photo & Video

Released:

Jun 15, 2016

Current Version Released:

Jul 25, 2017

Version:

1.3.3

Size:

85.1 MB

Compatibility:

Requires iOS 8.0 or later.

Recommended Age:

4+

Game Center Certified:

No

Supported Devices:

iPad2Wifi-iPad2Wifi, iPad23G-iPad23G, iPhone4S-iPhone4S, iPadThirdGen-iPadThirdGen, iPadThirdGen4G-iPadThirdGen4G, iPhone5-iPhone5, iPodTouchFifthGen-iPodTouchFifthGen, iPadFourthGen-iPadFourthGen, iPadFourthGen4G-iPadFourthGen4G, iPadMini-iPadMini, iPadMini4G-iPadMini4G, iPhone5c-iPhone5c, iPhone5s-iPhone5s, iPadAir-iPadAir, iPadAirCellular-iPadAirCellular, iPadMiniRetina-iPadMiniRetina, iPadMiniRetinaCellular-iPadMiniRetinaCellular, iPhone6-iPhone6, iPhone6Plus-iPhone6Plus, iPadAir2-iPadAir2, iPadAir2Cellular-iPadAir2Cellular, iPadMini3-iPadMini3, iPadMini3Cellular-iPadMini3Cellular, iPodTouchSixthGen-iPodTouchSixthGen, iPhone6s-iPhone6s, iPhone6sPlus-iPhone6sPlus, iPadMini4-iPadMini4, iPadMini4Cellular-iPadMini4Cellular, iPadPro-iPadPro, iPadProCellular-iPadProCellular, iPadPro97-iPadPro97, iPadPro97Cellular-iPadPro97Cellular, iPhoneSE-iPhoneSE, iPhone7-iPhone7, iPhone7Plus-iPhone7Plus, iPad611-iPad611, iPad612-iPad612, iPad71-iPad71, iPad72-iPad72, iPad73-iPad73, iPad74-iPad74, iPhone8-iPhone8, iPhone8Plus-iPhone8Plus, iPhoneX-iPhoneX,

Supported Languages:

Danish; Dutch; Flemish; English; Finnish; French; German; Hindi; Italian; Japanese; Korean; Norwegian; Bokmål, Norwegian; Norwegian Bokmål; Polish; Portuguese; Russian; Spanish; Castilian; Swedish; Turkish;