Screenshots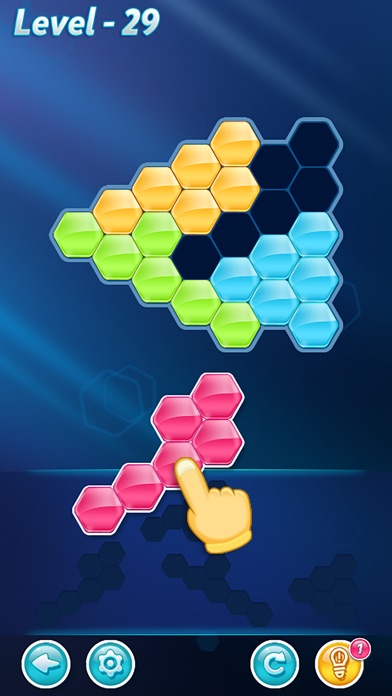 New in version 1.4.16
• Performance Updates and Optimizations.

Thank you.
Description
Easy rule but unlimited fun! Enjoy the world's most beloved puzzle game for FREE!

This is a new Block puzzle game created by BitMango.

"Block! Hexa Puzzle" is a tetris style exciting block puzzle game.
Easy to play, and pleasurable game for all ages.
Move blocks to fill up the square and collect block pieces to level up!

HOW TO PLAY
• Drag the blocks to move them.
• Try to fit them all in the frame
• Blocks can't be rotated.
• Don't worry! No time limits!

FEATURES
• BLOCK PUZZLE
- Smoth effect for block puzzle game!
- Play easily and quickly.

• TONS OF UNIQUE LEVELS
- Over 300+ puzzles are unique and full of fun and amazing challenges!

• EASY AND FUN PLAY
- Easy to learn and fun to master gameplay

• NO TIME LIMIT
- Enjoy game for any time, anywhere and a short time.

• NO WIFI? NO PROBLEM!
- You can play offline in anytime.

• STUNNING GRAPHICS
- Soothing sounds and gorgeous visual effects

SUPPORT UNIVERSAL APP
• Enjoy the game with various devices. (Phones and Tablets)

NOTES
• Block! Hexa Puzzle contains the ads like banner, interstitial, video and house ads.
• Block! Hexa Puzzle is free to play, but you can purchase In-app items like AD FREE and Hints.

E-MAIL
• contact@bitmango.com

HOMEPAGE
• http://www.bitmango.com/

Like us on FACEBOOK
• https://www.facebook.com/BitMangoGames

Thank you.
iPad Screenshots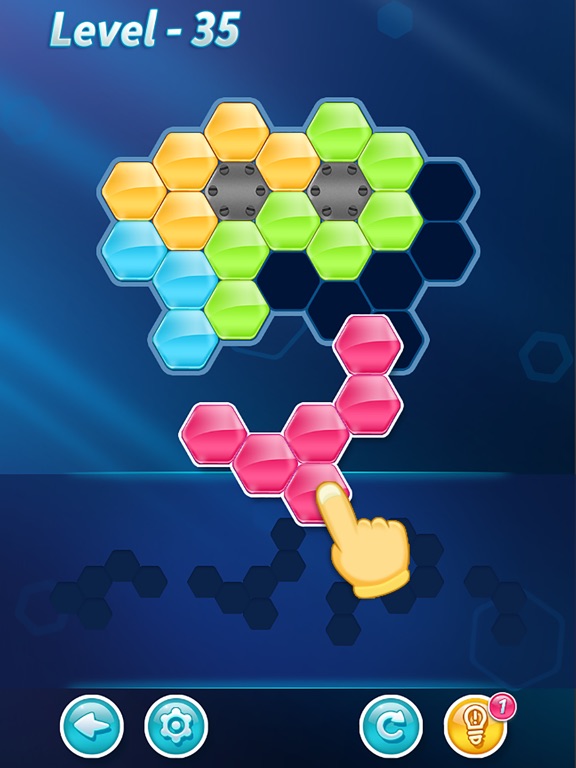 Reviews
It is ok
👍🏻 It is good So is Pinterest
Fun and addictive!
I really like this game. The bright colors are fun and sliding the shapes into place is very satisfying. Definitely have to keep an eye on the clock, tho. 😊
Best game ever this game is so good I
Never had a problem with this game ❤️❤️❤️❤️❤️❤️❤️❤️
Mavulous!
OMG this game is so addicting it has great features i'm already on level 61 and it gives you prizes a.k.a. hints if it is too hard this is the perfect game for me!
Fun but....
A frustrated teacher
on
11/18/2017
Those constant ads! I've never played a game that forced you to view ads every 3 minutes!! I'm ready to uninstall.
When you are bored
Dg1353455667889
on
11/17/2017
This app is so awesome when you are bored and need something to do
Fantastic game but..
This game is great it helps me relax. It also is fun for my daughter to play. She's 3 and is better than me! But I'm annoyed by all the freaking ads that pop up. Two in a row and they last 15-30 seconds each. I understand that the ads pay for the app but it makes me loose interest really fast.
Great way to relax and pass time
Shalla2sweet
on
11/15/2017
Love the game
It's addicting,fun, and AD CENTRAL
death in u face
on
11/15/2017
I love the game It's addicting But way too many ads: at a point I got 2 ads in a row! The ads make it lose a star for me
Loved it
Howgoodisthisgame?
on
11/15/2017
So fun and addicting
Fun
AnnieeRosee
on
11/15/2017
Love it
Block! Hexa
Hours of fun, great game!
Challenging
Really enjoy this game. Good for my brain
Love Block Hexapuzzle
Love your game but hate the ads. They keep going even after I tap the x. You show you aNd but No ads for 1.99 but how do you do it? Other than that I Love this game. Loverboy5
NewinTown
Purrball's Mom
on
11/14/2017
This is a quick stress-reliever. And a quick brain exercise. Ignore the complaints about too many ads. The ads make it possible to play for free!
😘
The big Pokemon
on
11/14/2017
I really love this game. I could play this for days
Great game
Great game but I'm out of boards to play☹️
Constant ads
Shows an insane number of ads, videos you have to wait to play. Game isn't unique, or that good.
Great!
Random letters djdbdjsjcjd
on
11/13/2017
Keeps my brain active!
It is fun but....
I have finished all the levels for a while and no update for new levels about to delete it because it is not fun. Plus way to many ads
Love it but one issue
I love this game! It is fun and easy. It occupies me when I'm bored, sick, etc. The one issue is EVERY TIME I go to the next puzzle(and I mean EVERY SINGLE TIME) a cruddy ad for Final Fantasy IV or Jigsaw Puzzles comes up and it is getting on my nerves! Otherwise, overall a great game and you should add more puzzles! Cut down on ads please though!
Challenging, and fun
This game is challenging, but not so hard that it's not fun. Love it!
Cant save
I was playing and I got all of the easy levels done and medium and hard and some others and I went to play it again, it was all gone. The game is fun, but it did not save.
Hexa block
It's a pretty good game but the ads are making me so mad
The best thing ever
Me and my grandma love it
I love it but....
Candace0412
on
11/11/2017
It is fun but it doesn't keep your mind engaged when there is an ad every couple of seconds or couple of minutes depending on how fast you are 😩 less ads will make the rating go up!
Addicted
Yes this game is very addictive and challenging, and I do agree it has wayyyy tooo many ads, I went all the way and finished. I just as sad to see it ended, I at least thought that it would keep going and going.
Obsessed!
I love this game and play it throughout the day. Too many ads though.
Hexa blocks
This is so much fun!!!!!!!!!!!!!!!!
Absolutely dreadful
I feel like I should be paid for watching at least five advertisements in about five minutes worth of play. It's not even that engaging after you play your first level. The ads are ridding and really destroy the fun quality. Don't get it!!!
Fun game but ads freeze the game.
Good game to have while you're killing time. Helps with spatial reasoning. Updating my review: there seem o be more ads than there were before. I don't mind them except there are a few ads that freeze up the game and clicking the X in the corner doesn't work.
So fun but to many ads
carr123321cupcakes
on
11/10/2017
I enjoy but it to hard to sit through the ads
Game is great but too many ads
The puzzles are great and the game is very addictive. The only complaint I have is there are WAY TOO MANY ADS!
Deleted it in 5 mins...boring. Too many ads.
It's one big ad with a few games in the middle. Would be challenging to a 6yr old.
Great way to exercise the brain and problem solving
Great game to exercise the brain
None
sirwalterwrongly
on
11/8/2017
Great game like it not complicated in its base set up
Awesome ahana
Ahana,Andy,and Mom
on
11/8/2017
I love this game a lot because ther is when you are finished with a level the shape breaks apart.
Mesmerizing
Just started playing. Now I can't stop. I find fitting the patterns together very satisfying.
Fun
Really like this game
Ohhh
Game is great and I love it so much I wish it would come out of my phone
Blocks Hexa
Sydney Spilios
on
11/7/2017
I love this game! It is so addicting! Go download it now!
Amazing
i love dean ambrose
on
11/7/2017
Block Hexa is such a good game fun addicting I personally think it is the best game ever but I do think they should make more levels cause I am almost to the end and I'm like what do I do when I'm done
It's good!!
Giada22772277224
on
11/7/2017
So maybe this game is fun, but it has WAY to many ads. Its overall a really fun game and I recommend that you get it!!
YP THIS GAME IS FLIPPING GOOD'
This is such a good puzzle game that is additive and time consuming! I love it and love how you do daily challenges!! Over all this game is so great and fun! Love it!👍🏻👍🏻
TOO MANY ADS
You cannot even play this game (which I would enjoy) BC of all the FREAKIN' ads every second or two. RIDICULOUS, when there are so many, many free and ad-free games to play!
Great but....
Love the game but hate all the ads. Would gladly purchase but there is no option to do so.
Addicting game
I LOVE this game! I can't stop playing it. I hope they get more levels before I run out!
Mixed feelings
The game is great but endless buggy ads.
Fact Sheet
Publisher:

BitMango Corporation

Category:

Games

Released:

May 31, 2016

Current Version Released:

Nov 16, 2017

Version:

1.4.16

Size:

132.5 MB

Compatibility:

Requires iOS 7.0 or later.

Recommended Age:

4+

Game Center Certified:

No

Supported Devices:

iPhone4-iPhone4, iPad2Wifi-iPad2Wifi, iPad23G-iPad23G, iPhone4S-iPhone4S, iPadThirdGen-iPadThirdGen, iPadThirdGen4G-iPadThirdGen4G, iPhone5-iPhone5, iPodTouchFifthGen-iPodTouchFifthGen, iPadFourthGen-iPadFourthGen, iPadFourthGen4G-iPadFourthGen4G, iPadMini-iPadMini, iPadMini4G-iPadMini4G, iPhone5c-iPhone5c, iPhone5s-iPhone5s, iPadAir-iPadAir, iPadAirCellular-iPadAirCellular, iPadMiniRetina-iPadMiniRetina, iPadMiniRetinaCellular-iPadMiniRetinaCellular, iPhone6-iPhone6, iPhone6Plus-iPhone6Plus, iPadAir2-iPadAir2, iPadAir2Cellular-iPadAir2Cellular, iPadMini3-iPadMini3, iPadMini3Cellular-iPadMini3Cellular, iPodTouchSixthGen-iPodTouchSixthGen, iPhone6s-iPhone6s, iPhone6sPlus-iPhone6sPlus, iPadMini4-iPadMini4, iPadMini4Cellular-iPadMini4Cellular, iPadPro-iPadPro, iPadProCellular-iPadProCellular, iPadPro97-iPadPro97, iPadPro97Cellular-iPadPro97Cellular, iPhoneSE-iPhoneSE, iPhone7-iPhone7, iPhone7Plus-iPhone7Plus, iPad611-iPad611, iPad612-iPad612, iPad71-iPad71, iPad72-iPad72, iPad73-iPad73, iPad74-iPad74, iPhone8-iPhone8, iPhone8Plus-iPhone8Plus, iPhoneX-iPhoneX,

Supported Languages:

English;