Games
Board
Puzzle
Entertainment
Recommended app!
App last updated
Jan 10, 2018
Screenshots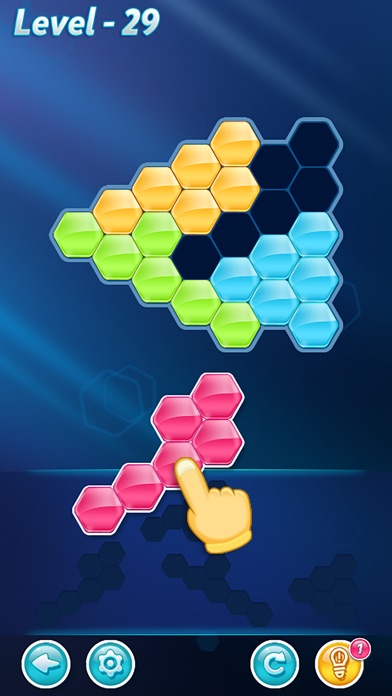 New in version 1.4.17
• Performance Updates and Optimizations.

Thank you.
Description
Easy rule but unlimited fun! Enjoy the world's most beloved puzzle game for FREE!

This is a new Block puzzle game created by BitMango.

"Block! Hexa Puzzle" is a tetris style exciting block puzzle game.
Easy to play, and pleasurable game for all ages.
Move blocks to fill up the square and collect block pieces to level up!

HOW TO PLAY
• Drag the blocks to move them.
• Try to fit them all in the frame
• Blocks can't be rotated.
• Don't worry! No time limits!

FEATURES
• BLOCK PUZZLE
- Smoth effect for block puzzle game!
- Play easily and quickly.

• TONS OF UNIQUE LEVELS
- Over 300+ puzzles are unique and full of fun and amazing challenges!

• EASY AND FUN PLAY
- Easy to learn and fun to master gameplay

• NO TIME LIMIT
- Enjoy game for any time, anywhere and a short time.

• NO WIFI? NO PROBLEM!
- You can play offline in anytime.

• STUNNING GRAPHICS
- Soothing sounds and gorgeous visual effects

SUPPORT UNIVERSAL APP
• Enjoy the game with various devices. (Phones and Tablets)

NOTES
• Block! Hexa Puzzle contains the ads like banner, interstitial, video and house ads.
• Block! Hexa Puzzle is free to play, but you can purchase In-app items like AD FREE and Hints.

E-MAIL
• contact@bitmango.com

HOMEPAGE
• http://www.bitmango.com/

Like us on FACEBOOK
• https://www.facebook.com/BitMangoGames

Thank you.
iPad Screenshots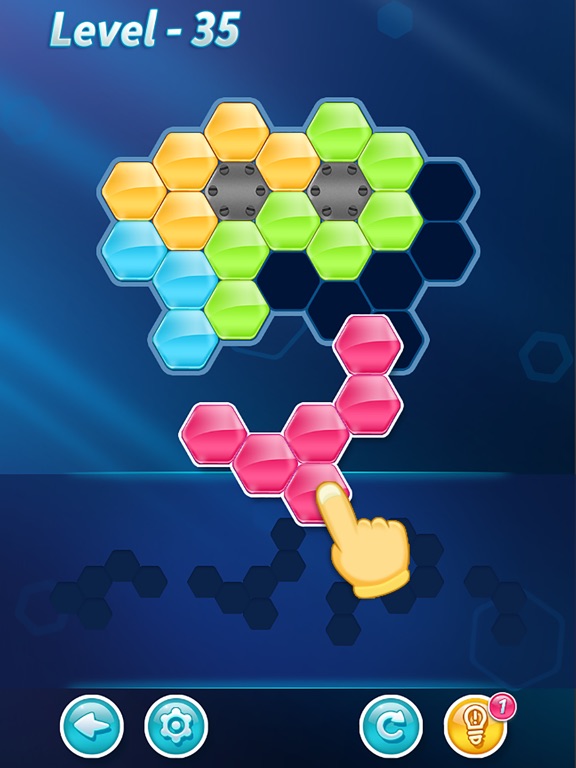 Reviews
Crashes and Ads!
Great game if you can play. Be ready for a ton of Ads every few games. Then to make it extra fun it'll crash after an add and won't let you continue. I'm stuck in the black waiting window.
Great Game, Too Many Ads
Of course I expect some ads with a free game, but this is a bit much. The frequency of the ads increase as you move farther along in the game. Very annoying, but the game is a lot of fun.
Enjoyable puzzle
This is a good puzzle to wind away a day. Challenging enough to keep your attention but not so much to make it unpleasurable.
A great time waster
It's pretty fun and challenging and it is all so a wonderful way to waste time!!!
Love but too many ads
Dangelaevans
on
1/20/2018
Relaxing and uses the brain. Wish there were not so many ads.
What fun!
Spacey granny
on
1/19/2018
Whether I am waiting on kids or unwinding before bed, it great! I even work puzzles while I am listening to tv shows!
It's fun
If you like these puzzle games, you should definitely play this game! 😊
Lot of adds
2 adds between every puzzle is a bit much. At least it's fun
Review
Excellent fun time makes you think
Faaavvvee!!!
This game never gets u bored
The block Hexa!
The game is so amazing and fun. You guys should totally buy the app😜. I think it is very fun but also challenging in a different way! Some people may not like it but it is super cool and entertaining for me. Hope you guys with enjoy block hexa!
Crash
This was a fun game until it crashed and won't let me play anymore
Okay about hints
All star French fries eater
on
1/15/2018
I love this game and al of the hints but I was shaking one time and accidentally hit the hint button three times also I was trying grab a block that was next to the hint button and it hit the hint button and that was all just right now
Ads kill the fun
I find myself staring at ads more than I spend solving the puzzles. Were it possible for me to pay for no ads, I'd jump at the chance.
Love it!!!
This game is really fun i like how it saves battery and i love how u can just drag the pieces and put them in a place instead of tapping, or anything else! This game is really fun and i love how it has daily puzzels!! Love this game. Please keep making great changes to it!!! Keep up the good work!!!!
Addictive
Mewewewewewwryuyrry
on
1/14/2018
I love this game so much. But I beat all of the levels 😩 please add more soon because I get no life and I'd really love to play more. There is unfortunately no other game like this 😩🤦🏾‍♀️
Block hex
Fun game and relaxing
It's okay 😒
It's okay 👌 but has too many adds and loads a little/just saying 😐.but it's interesting to play.😅
Way too many ads.
Windexismylife
on
1/13/2018
Fun game. With an ad after every other level.
This game is lit
Personally I like it a lot and it is lit😍😍😍😍😊😊👑👑👑👑👑👑👑👑🎉🎉🎉🎉😆😎😎😎😎😎😎😎😎😎😎🤩🤩🤩🤩🤩🤩🤩🤩🤩🤩🤩🤩🤩🤩🤩🤩🤩🤩🤩🤩🤩😟🤩🤩🤩🤩🤩🤩🤩🤩🤩
Keeps the mind engaged
I enjoy solving the puzzles. Helps kill time in a waiting room or when have nothing else to do.
Awful
Game is alright but gets boring after a while but my main problem is that ads for the app "hooked" pop up so many times when I'm playing at night and it's unsettling.
Addicting as hexa!
Omg this game is so great for me because I have ADHD and most people at my school thinks its an amazing game also! Thank you so much for helping me with focusing. 🤩 💖
Hate to lose me!
I love the game but the ads are messing up my iPad. Help!
Enjoyable concept but ads undermine the fun
The Fourth Wall
on
1/10/2018
I really like the concept of this game, and it does make you work your brain, but the amount of ads is so atrocious I've had to turn on Airplane Mode every time I play it to avoid the popups every time I select something. Developers of this app, If you'd really like to increase your ad revenue I'd suggest cutting back on the popups every time a button is selected & let people watch ads for hints-that'd get you your $ without irritating your player base. Otherwise, people get sick of the ads and limit their playtime on the app, which reduces overall any chance for money making.
Great game
Excellent game but too many adds
GAME SUCKZ
my Kids and I yhink that it should add some more adds bcuz adds give the game its life make it just an add it would be betrrr
Of course it's addicting!
This is game is so fun and addicting and fun! If you love to try to solve puzzles this is the game for you!
Love it' now
Regretful App
on
1/7/2018
I Love it. I think it's a terrific game. It help me strategize and relax at the same time.
Easy but fun
Quick and easy to do while watching tv. Good for the mind. Keeps me thinking.
Great App
This app is a simplistic puzzle game that requires you to drag and drop shapes to make one big shape. The gameplay is great and it's a satisfying and enjoyable experience playing this game.
😍😍😍😍😍😎😎😎😎😎<3
Myiathepretty1
on
1/5/2018
I love this game mad much my favorite game
Love It!!! Needs More Levels!!!
SeddieForwood1
on
1/5/2018
I love this game, but I've done ALL of the levels available!!! Needs more levels!!! Thanks!!!
😍
I love this game it is soo entertaining 😍
Good game but froze
I downloaded this game and loved it. Worked with it for several days and played hard. Got 4 levels in and then it froze. Couldn't get out of the screen. Probably should've restarted my phone but instead deleted the app and all my efforts with it not realizing I wouldn't be able to pick up where I left off. That was so frustrating. Oh well.
Great fun and great to pass time
I have just started playing this game and already I am enjoying playing it. I find the game hard enough to be challenging and easy enough to make me want to keep playing. I have not needed to use the hints I have earned yet. This game is ideal for anyone who loves puzzle games.
Block Hexa
Great game !!!!! Awesome game !!!! ..... BUT THE ADS, if I could buy this game just to get rid of the ads I would it's 2 ads per each game And it's the same ad every time. I know it's how you keep the game free but allow us to buy it if it will get rid of the ADS!
It's a really fun game 😁
It's a really fun game but it gets you frustrated and mad 😡 but for the most part it's a really fun game!!!! ❤️❤️❤️❤️
Fun
It's fun game to play also a good time killer.
Love this app!
Jellie Beane🙃
on
1/1/2018
This game is a great brain game and really easy to get addicted to it!😍😁😜
Fun, fun, fun!
Challenging levels and exercises brain. Love this game! I'm hooked.
Too many ads!
Games not bad but there are soooo many ads all the time 👎🏼
Fun & Challange
Dollface01313
on
12/31/2017
This game is fun and challenging for a 70 year old, who doesn't usually play games.
Perfect!
Neoepiphanes
on
12/30/2017
Can't stop playing since I got it!
Constant fun
BlueFalcon98
on
12/30/2017
Makes the brain work, and is amazingly fun to play. Haven't set my phone down since getting this app.
Block ! Hexa puzzle
I rated block ! Hexa puzzle cause it's the first game That I loved and I rated it 5 Stars !!! If you read this make another game like puzzle games plz , team BITMANGO TEAM BITMANGO GO GO GO .
Too Many Ads
I love the game, but the number of ads is ridiculous.
Decent
Good at helping me waste time
Fun game. But... (not about ads)
Phin be 9 🤢🤮
on
12/29/2017
Very fun but YOU CAN'T GO BACK AND PLAY LEVELS YOU'VE COMPLETED it's annoying.This is how the game works... You drag groups of hexagons in to a grid and make them fit. It's kind of hard later in the game but...easy to. You will see what I mean when you get the game.have z goodz dayz.👍🤜🤛
Fact Sheet
Publisher:

BitMango Corporation

Category:

Games

Released:

May 31, 2016

Current Version Released:

Jan 10, 2018

Version:

1.4.17

Size:

132.5 MB

Compatibility:

Requires iOS 7.0 or later.

Recommended Age:

4+

Game Center Certified:

No

Supported Languages:

English;