Screenshots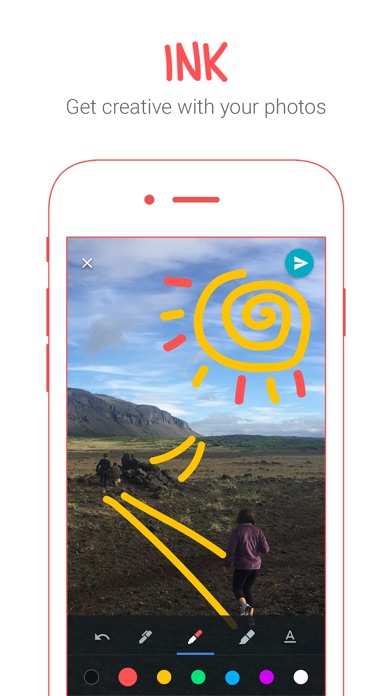 New in version 24.0
• Bug fixes: Performance improvements for a better chatting experience.
Description
Google Allo is a smart messaging app that helps you say more and do more. Express yourself better with stickers, Smart Reply, and HUGE emojis & text. Allo brings you the Google Assistant.

Smart Reply
Respond to messages without typing a single word. Smart Reply learns over time and suggests responses to text and photos, in your style.

Ink
Get creative with the photos you send by doodling on them or adding text.

Stickers
Say it all with the perfect sticker. Stickers in Google Allo are designed by independent artists and studios from around the world.

SHOUT or whisper
No more typing in ALL CAPS to get your point across. Say it louder or quieter by changing the size of your text with a quick swipe.

Meet your Google Assistant
Google Allo brings you the Google Assistant. Find restaurants nearby, share videos to watch, and get answers, right in your conversation with friends. Add @google to your group conversation or chat one-on-one with your Assistant. It's your own personal Google, always ready to help.

Incognito mode
Send messages with end-to-end encryption, use private notifications to help keep your chats more discreet, and control how long your messages stick around with expiring chats.

* Mobile carrier and ISP charges may apply
** Some features not available in all countries
Reviews
Eliminates freedoms turns your phone over to the police
This app makes all of your texts, photos, voice memos and current location available to the police, 171 cases occurred where people used this app to sell drugs and marijuana and this app scans for words like "sell" "drugs" "weed" "police" and even words like "dome" "pyramid" "hollow" "eye" and "Antarctica" for some reason, it finds these words and sends all of your messages to law enforcement along with your current location and everything on your phone that you have the app access to, if your on the app, they can listen to you three your microphone, this app even got 4 people in prison for the rest of there life for growing marijuana, no one even wants it to be illegal but the government wants you sick and in pain so the pharmaceutical corporations get more money. The government just uses the police as pawns in there game of "who can steal the most money and kill off the most people" makes me sick.
Great app
I really enjoy the app but ever since the latest update, majority of the time I try to send a voice messages, the button freezes causing me to close the app and restart it again. Happens frequently. Please fix this. Overall, wonderful experience.
Me encanta
Excelente aplicación. Antecede lo q debería responder. Mejor q otras aplicaciones existentes...👏👏👏👏👏
Worst app ever
In 2017, if it takes 20 minutes to send a video (22 secs length). For sure not a competitor to whatsapp, Google work on a good version for ios and then release the app.
Finally iPhone X support
AhmedSheshtawy
on
12/4/2017
It took a while for you guys to support iPhone X, and finally it's here!
iPhone X support is starting to roll in
Just stretching the app to fit was mostly exactly what I wanted. All that's left is to kind of space elements on the bottom of the display so that they don't bunch up with the home bar gesture area, particularly the text entry field.
Add Multi device, gmail contacts, sms, etc.
-Add option to chat with gmail contacts. -Add multi device support. -Add automatic and unlimited messaging backup. Forget about backing up in Drive or iCloud. -Put sent pictures in bubbles, not edge to edge, it's confusing to know who shared them. -Add voice and video calls, not requiring the installation of Duo. -Match the Android adaptive icon by filling the white in the iOS icon with yellow, and making the Allo bubble bigger. -Make the Web favicon round, to match the default round adaptive icon for the Allo app in Android.
Need iPad Version
Currently Allo is unusable on iPad. There's not an iPad version on the app store, and the web version doesn't work on iOS. I can't give this a serious go until I have someway to use it on my primary computing device, which is iPad.
Screen
This app does not yet support IPhone X's full screen.
Best app
penguing123
on
11/30/2017
Best app for funny and awesome stickers. Location sharing is soooo good. But I dnt know why people are not using it much
Battery issues with Allo web
little planet
on
11/28/2017
Works fine for the most part, except the having the web client connected has wrecked my battery life beyond belief. Google needs to fix this, until then I can't keep using it.
iPhone X
Peetsosweet
on
11/28/2017
They need to update the app to support the iPhone X. It's been out for a month now and I'm still waiting for them to update the UI for the larger screen.
iPhone x
Optimize for iPhone x please!
Not optimized for iPhone X
LanaLadybug
on
11/27/2017
New review: iPhone X has been out for weeks now and still no support. It's annoying. Even free to play games have come out with iPhone X support, surely google can. Older review: I switched phones and restored everything via iTunes. This app did not keep my message history (compared to other messaging apps that do). Are you kidding me?! Not reliable if you care about message history. Otherwise works well.
Great experience but with performance and battery issues
I really like Allo but I have the following issues: * It drains my battery way more than competitors. * Performance can be an issue at time (on an iPhone 7) * Google Assistant is both the most helpful person and the least knowledgeable person at the same time, I think this is due to me not residing in the western world. * Weird stuff can happen when sending/viewing images, you can get strange aspect ratios.
One star until updated for iPhone X
JasonStiles
on
11/24/2017
This is a great messaging app but the iPhone X has now been out for several weeks and still no update to remove the letter boxing? In fact all of googles apps except for the main search app are in need of this. Google is dragging their feet here.
Doesn't work with iPhone X
Doesn't work with iPhone X
Effective but...
iPadSuperDad
on
11/24/2017
Effective but needs a makeover? All in all a terrific app. Just a bit cartoonish for my taste.
slow
anghel batman
on
11/24/2017
google try sale your ffff publicity
Five STARS❣️❣️❣️❣️❣️
Snoopyhorse
on
11/24/2017
—Allo is so much fun to talk to your friends!You can send GIFS and change the background!!! —IT'S SO MUCH ❤️FUN🧡
Solid App
That One Guy Around The Corner
on
11/23/2017
Overall, the app works well and Google Assistant can be extremely helpful. My only concerns are that there's currently no way to turn off message predictions, and everyone in a chat has to use the same theme.
👍
Y guys are the best!!! 👍👍👍
Gifs no longer animated
Ever since new update, gif animation is broken. Only static image is sent to the recipient.
Buggy
Slow, buggy in iphone
Great! Family connection!!!❤️❤️❤️
La Loma Ranch
on
11/21/2017
Great! Family connection!!!❤️❤️❤️
Great, needs tablet support.
Not available on iPad.
Not iPhone X compatible
Eloy Giovonnie
on
11/20/2017
Please make allo iPhone X compatible so I can give it 5 stars.
No iMessage
MpowerSkills
on
11/19/2017
This is a good group messing app if you know people w/o Apple devices. But it really struggles when it comes to sending videos. Better to just talk all your ignorant people into using Apple.
A great app for talking with a small group
My friends and I started using this app because we all had different types of phones. And now we just use it all the time.
iOS version is very buggy
porfymartinez
on
11/19/2017
This app is very good on Android operating system, but on iOS I've had nothing but problems. The app will randomly freeze like it is loading but will not show the conversation. I will receive notifications but still unable to see the conversation. I have found no resolution to this problem it just randomly starts working after few hours/days. I have submitted many feedback to Google via the shake feature but still no resolution or response from Google. A new problem that started this week is now my GIF's aren't showing to the other people in the chat. I can see theirs and I can see mine but they say mine isn't showing.
Videos stopped playing in Sept Iphone 8 to iPhone 6
PatriciaMarie31
on
11/19/2017
All of a sudden I can't see iphone 8 videos. And this week the pictures don't show until I download them. I have reported this problem over a month ago and is still not fixed.
Won't Open Links
When a get sent a link, and tap on it, Nothing happens. Browser won't open or do anything.
Can't Leave Bitmoji Keyboard
Since the iOS 11.1.1 update I can no longer switch keyboards once I select the Bitmoji Keyboard. I'm stuck there. I have to go into another app to switch keyboards then back into Allo.
Lacks iPhone X Support
computernerd
on
11/8/2017
This app ignores iPhone X users. Allo lazily resorts to the black bars at the top and bottom for iPhone X instead of taking advantage of the full screen.
excellent overall app, but it is missing a few features.
Google. I love your app - it's beautiful, it's easy to use, it is fast. two stars deducted, one for each crucial feature missing: - ability to customize themes. PLEASE PLEASE PLEASE. this seems like a fairly easy thing to do that more basic apps have mastered. - ability to use as an SMS replacement without the other user needing to know about it/download it.
Nice but needs iPad support
Kmdu59 Clone
on
11/5/2017
This app is amazing I would give it 3 or even 4 stars if it supported iPad the I love this app use it a lot I don't understand why it isn't supported on iPad
Doesn't work on iPhone X
I couldn't get it to go past the initial set up screen to input your phone number.
iPhone X NEEDS to be optimized
Shiffdogg420
on
11/5/2017
I use Allo on a daily basis and even after only a couple days, the huge black boarders I get while using the app are extremely annoying. This app needs to be updated for the iPhone X's screen!
Needs True Multi-Device Support
The app works fine, but seems to be more interested in copying WhatsApp than being a great messaging app. Support should be added so that we can use the app on a computer or tablet without having to have our phone connected to the internet. Want to love the app, but can't convince anyone to use it until true multi-device support is added.
Great app
I am an iPhone user and I enjoy this app more than iMessage, Apple's messaging platform. One thing I wish could change if possible is to be able to use the app without having to invite another person to download the app. I'd like to use this as my primary messaging platform, but only if another user wants to use it. I would also love to be able to customize my own themes.
Meh
Update: doesn't even let me get off the screen to verify my phone number. Hit next and the app just sits there. Contacted Google via the app and no reply. I really feel the quality of their web and app offerings have gotten really poor. I want this to be tied into gmail, hangouts, etc. I don't need another separate chat app. WhatsApp is still my favorite and Hangouts is way way behind the times.
Search feature for iPhone users
This is a very great app. But it would be better if there's a search feature in each chat to go over previous messages quickly. This feature is available in androids and would be nice if we have it for iOS as well.
Good, but no SMS support
Good app, but lack of SMS support kills it.
Great app
Great app, easy to use. Actually found out about this at one of our schools football games, they were giving it free rides in return for downloading the application, but now I can't see myself deleting the app off of my phone. Fun way to chat!
NOT FOR IPAD
Blinkonce19
on
10/24/2017
Description says compatible with iPad but you can't even search for the app without switching the filter to iPhone only apps. Upon opening the app, it's clear it was meant for iPhones only.
Reliable, lovely App.
Reliable and accurate, easy to use, keeps your loved ones close by. I love it!
Sending video
Why does video looks so weird when you send through the app?
Great app!
AcceptChange!
on
10/21/2017
Excellent app. Their auto suggestions are amazing. Would be good to have a search or a bookmark functionality for future references.
Great App
Great app to stay in touch...especially forniut if the country trips.
Google Allo work well but need the web to work better
Thank you 🙂
Fact Sheet
Publisher:

Google, Inc.

Category:

Social Networking

Released:

Sep 21, 2016

Current Version Released:

Dec 04, 2017

Version:

24.0

Size:

181.1 MB

Compatibility:

Requires iOS 9.1 or later.

Recommended Age:

17+

Game Center Certified:

No

Supported Devices:

iPad2Wifi-iPad2Wifi, iPad23G-iPad23G, iPhone4S-iPhone4S, iPadThirdGen-iPadThirdGen, iPadThirdGen4G-iPadThirdGen4G, iPhone5-iPhone5, iPodTouchFifthGen-iPodTouchFifthGen, iPadFourthGen-iPadFourthGen, iPadFourthGen4G-iPadFourthGen4G, iPadMini-iPadMini, iPadMini4G-iPadMini4G, iPhone5c-iPhone5c, iPhone5s-iPhone5s, iPadAir-iPadAir, iPadAirCellular-iPadAirCellular, iPadMiniRetina-iPadMiniRetina, iPadMiniRetinaCellular-iPadMiniRetinaCellular, iPhone6-iPhone6, iPhone6Plus-iPhone6Plus, iPadAir2-iPadAir2, iPadAir2Cellular-iPadAir2Cellular, iPadMini3-iPadMini3, iPadMini3Cellular-iPadMini3Cellular, iPodTouchSixthGen-iPodTouchSixthGen, iPhone6s-iPhone6s, iPhone6sPlus-iPhone6sPlus, iPadMini4-iPadMini4, iPadMini4Cellular-iPadMini4Cellular, iPadPro-iPadPro, iPadProCellular-iPadProCellular, iPadPro97-iPadPro97, iPadPro97Cellular-iPadPro97Cellular, iPhoneSE-iPhoneSE, iPhone7-iPhone7, iPhone7Plus-iPhone7Plus, iPad611-iPad611, iPad612-iPad612, iPad71-iPad71, iPad72-iPad72, iPad73-iPad73, iPad74-iPad74, iPhone8-iPhone8, iPhone8Plus-iPhone8Plus, iPhoneX-iPhoneX,

Supported Languages:

Afrikaans; Amharic; Arabic; Azerbaijani; Basque; Bengali; Bulgarian; Burmese; Central Khmer; Catalan; Valencian; Chinese; Croatian; Czech; Danish; Dutch; Flemish; English; Estonian; Finnish; French; Galician; Georgian; German; Greek; Gujarati; Hebrew; Hindi; Hungarian; Icelandic; Indonesian; Italian; Japanese; Kannada; Kazakh; Korean; Lao; Latvian; Lingala; Lithuanian; Malay; Malayalam; Marathi; Mongolian; Nepali; Norwegian; Bokmål, Norwegian; Norwegian Bokmål; Persian; Polish; Portuguese; Romanian; Moldavian; Russian; Serbian; Chinese; Sinhala; Sinhalese; Slovak; Slovenian; Spanish; Castilian; Swahili; Swedish; Tagalog; Tamil; Telugu; Thai; Chinese; Turkish; Ukrainian; Urdu; Vietnamese; Zulu;

Parental Advisory:

Mild Cartoon or Fantasy Violence; Mild Sexual Content and Nudity; Mild Profanity or Crude Humor; Unrestricted Web Access; Suggestive Themes; Mild Alcohol, Tobacco, or Drug Use or References;