Screenshots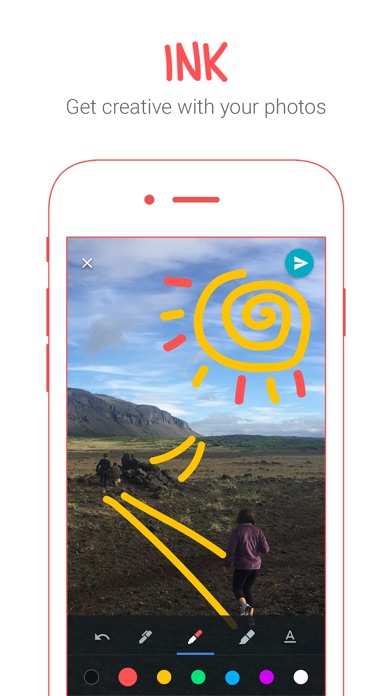 New in version 19.0
• Allo for web: Keep chatting on your computer with Allo. Visit g.co/alloforweb in your Chrome browser to get started.
• Bug fixes: Performance improvements for a better chatting experience.
Description
Google Allo is a smart messaging app that helps you say more and do more. Express yourself better with stickers, Smart Reply, and HUGE emojis & text. Allo brings you the Google Assistant.

Smart Reply
Respond to messages without typing a single word. Smart Reply learns over time and suggests responses to text and photos, in your style.

Ink
Get creative with the photos you send by doodling on them or adding text.

Stickers
Say it all with the perfect sticker. Stickers in Google Allo are designed by independent artists and studios from around the world.

SHOUT or whisper
No more typing in ALL CAPS to get your point across. Say it louder or quieter by changing the size of your text with a quick swipe.

Meet your Google Assistant
Google Allo brings you the Google Assistant. Find restaurants nearby, share videos to watch, and get answers, right in your conversation with friends. Add @google to your group conversation or chat one-on-one with your Assistant. It's your own personal Google, always ready to help.

Incognito mode
Send messages with end-to-end encryption, use private notifications to help keep your chats more discreet, and control how long your messages stick around with expiring chats.

* Mobile carrier and ISP charges may apply
** Some features not available in all countries
Reviews
Google Allo work well but need the web to work better
Thank you 🙂
Getting better
Better than Hangouts because of assistant and intelligent features Worse than hangouts because tied to phone. Main way I know lots of people use hangouts is so they don't need to have phone and the web enabled Allo still requires phone!
Needs some important updates
Needs flexibility to have option to send sms or allo message. Google hangouts allows this. Also, messages falling through the cracks..... Responses not being received. Not ready for prime time yet.
Can't send videos
You can't send videos in landscape because it will reform it into portrait
Another great app from google.
Go for it its the best app for chat, way better than WhatsApp.
Works great
This seems to work just fine, but one Huge request. Any chance of getting an option for a 'dark mode'?
Square video? No thanks.
Allo takes any video messages and squishes them down into a square. Looks ridiculous. Also, I'd prefer the option to default with Incognito messages, as I'm much more interested in encryption than the Google assistant reading all my texts. The feature is cool, but let me choose my default.
Should be able to chat with hangouts contacts
Should be able to chat with hangouts contacts
Buggy after last iOS 11 update
Cannot read conversations as screen splits and doesn't allow scrolling.
plsssssssa do it
finally ios 11 hve one handed support type. so when i try to use it its ok. but i must send reply eith > botton. pls add send eith return key at keyboard
Great app!
I really like this app, but I wish it would have more features like video calling or calling incorporated. Instead, you have to download another app just for you to be able to video call. Another thing I'd like to see is new themes! I feel like the ones provided are all too similar. It would also be great if it allowed you to change the wallpaper using your own photos. I really enjoy this app, but it just needs a few more things in my opinion.
Agreed with Hangouts+Allo
spirited wings
on
9/23/2017
Google has many great apps. Integration is a must.. Google's intelligence level means these requests shouldn't be any problem to add really soon to get more users and high ratings. I'll be waiting for this integration to hopefully happen soon but until then it's Google Hangouts for me as well. Just do it!
Cannot multi platform
spoildangelgrl
on
9/23/2017
I have this on my android. I love it. But, there is no iPad app (only iPhone), and even so, I cannot use it on both (signing in on one signs me out on the other). Whenever I try to access my chats on Chrome on my iPad, it continually asks me to download Chrome to view the content (which I am viewing it on... really?)
Performs great but is redunant
Kdhrisvdbrudbeks
on
9/23/2017
Good interface. Google assistant works well in the app and is very useful. The app is perfectly designed, fast and reliable. would be more convenient if this app was more optimized for ipad. Also, it would be great if Google duo and Google allo were combined into one app. Its confusing for users and is redunant since google also offers hangouts, which has messaging and video calling too. But google allo is diffefent in that it is not centered towards google accounts and rather uses a users phone number but also has the option to connect the nunber with a google account. It all comes down to which app users use most. I for one think google allo and google duo is overall better than hangouts but these two apps face competition from Hangouts which is more widely used.
Nice App, Top Battery Drainer
fellowdev123
on
9/21/2017
App is really nice. Makes it easy to have people jump on a digital messaging solution vs SMS. Going to go back to Slack because this app is always 1st or 2nd highest on my battery usage and I only message 2 people on it sparingly so far.
Awesome App for Business
We love this app. I suggest Business to get this app.
High Vibe Cafe is loving the High Vibes of Allo
HighVibeCafeNebradk
on
9/20/2017
We switched our group chats to allo and love it!!it actually provides a platform for efficiency and for FUN!!!
great app
Midhavab 🎶🎶🎶
on
9/16/2017
changed my life
Feature request
SpaphyTwitch
on
9/16/2017
Make it so you can add your own emojis to this app for each chat room. I guarantee you this app will sky rocket if this feature is added. Also better advertisement and windows + mac clients would be cool. Nothing that diversifies this app currently.
Lame
No iPad version. What?!? Why not? The chat bots are annoying. Why would I want one of contacts to be able have Google send me daily messages at a certain time? That's just as nuisance. And if I turn alerts off, I'd miss messages from real people. How many chat apps does Google need?
App lovet
Diva's Den Fashion
on
9/13/2017
Love the app. Easy to use and communicate with my customers.
Fun app
Fun app to text with gifs and pictures
A full replacement for your default messages app.
BeachsideSix58
on
9/8/2017
Thanks to Google Allo, you will never need to use sms again since Allo doesn't need sms to send texts to Android devices whereas iMessage only works on and between Apple devices.
Great, but a couple suggestions
Zac, Catan Fanatic
on
9/7/2017
Everything about this app is fantastic, but just a couple tweaks could place it firmly at the top with a glowing 5-star rating. 1. Allow users to tweak the «hinted responses» before sending/making it permanent. 2. Do the same with @lucky gifs. They're often hilarious, but too high-risk when messaging your mom/boss/girlfriend. Er, rather mom, boss, or girlfriend. (They're not the same person. 🌚) > Maybe fix via "undo" macro or fill in the box & let people confirm via send button, or "re-roll" by shaking their phone or throwing it on the ground. Ba-dum, perfect.
Gif fails
Sending your own gif, it fails and says there's not enough memory to complete the task.
Shared Media Missing
Would have given this a higher rating if it had the "Shared Media" feature that the Android version has. It's sad that the Allo team continues to leave this feature out of app updates.
This app is awesome
Overall I find it more functional than iMessage
It's good
The stickers are hilarious
update won't work at all.
HoodieNinja33
on
9/4/2017
as soon as i open the app it says there's an error and i can't do anything.
Muy buena herramienta
Podría ser mejor si las personas pudieran saber que al descargar la aplicación podrían al momento que estuviesen en un negocio pudieran comunicarse con alertas para entablar una conversación más directa
I love the app
Youplaymenot
on
8/30/2017
Like the title says I love the app but the ability to not be able to rotate and type is infuriating.
Im in love with this app
Sergio Fratto
on
8/30/2017
I wish it didn't have to use 'duo' app seriously that just doesn't work for me. It would be better if you could 📞 inside the app. I hope you guys change that. BUT AMAZING WORK WITH THIS
Doesn't open
ForHisGlory987654321
on
8/29/2017
App doesn't open after latest update.
Great business tool
Massage Studio Buffalo
on
8/29/2017
We use Allo for our business Google page, clients directly message us from our Google listing super fast and easy for clients to request information and book a appointment with us at The Massage Studio-Buffalo!!
Awesome texting app from Googlee
Congratulations for the google team. Such awesome texting app. Love it. Hope in time will be the best and very popular. Better that fb messenger and WhatsApp. Highly recommend this app.
Great
Awesome message app
Meh
I want this to be tied into gmail, hangouts, etc. I don't need another separate chat app. WhatsApp is still my favorite and Hangouts is way way behind the times.
Yikes
Amazeballs app. Except the notifications no longer work after latest update!! Awful.
Most recent update is buggy
contratromba858
on
8/24/2017
It refuses to open.
do not update !!!
It will not let you open the app with the last update👎🏼👎🏼👎🏼👎🏼👎🏼 it's useless now
Amazing
It's awesome really wish more people would use it.
Fit it
New update came with an amazing thing . . . IT WONT OPEN
Latest update bug
Notifications no longer work after latest update. All settings are correct and logs sent by have yet to hear back after a few days.
Love it
Great app. Wish it could be password protected when opening it as an option.
Love this app!!
New favorite way to communicate. My coworkers and I are obsessed, trying to migrate my friend chats now too :) The @lucky for gif feature is our favorite + gimme more option afterwards The only thing we wish would be added asap is the ability to react to each others posts like we can in iMessage. Thanks Allo!
Super cool
Wish more people to use it instead of pesky Facebook messenger or WhatsApp
Great for Customer Service
Helps connect you to customers on the go.
Fact Sheet
Publisher:

Google, Inc.

Category:

Social Networking

Released:

Sep 21, 2016

Current Version Released:

Sep 25, 2017

Version:

19.0

Size:

273.9 MB

Compatibility:

Requires iOS 9.1 or later.

Recommended Age:

17+

Game Center Certified:

No

Supported Devices:

iPad2Wifi-iPad2Wifi, iPad23G-iPad23G, iPhone4S-iPhone4S, iPadThirdGen-iPadThirdGen, iPadThirdGen4G-iPadThirdGen4G, iPhone5-iPhone5, iPodTouchFifthGen-iPodTouchFifthGen, iPadFourthGen-iPadFourthGen, iPadFourthGen4G-iPadFourthGen4G, iPadMini-iPadMini, iPadMini4G-iPadMini4G, iPhone5c-iPhone5c, iPhone5s-iPhone5s, iPadAir-iPadAir, iPadAirCellular-iPadAirCellular, iPadMiniRetina-iPadMiniRetina, iPadMiniRetinaCellular-iPadMiniRetinaCellular, iPhone6-iPhone6, iPhone6Plus-iPhone6Plus, iPadAir2-iPadAir2, iPadAir2Cellular-iPadAir2Cellular, iPadMini3-iPadMini3, iPadMini3Cellular-iPadMini3Cellular, iPodTouchSixthGen-iPodTouchSixthGen, iPhone6s-iPhone6s, iPhone6sPlus-iPhone6sPlus, iPadMini4-iPadMini4, iPadMini4Cellular-iPadMini4Cellular, iPadPro-iPadPro, iPadProCellular-iPadProCellular, iPadPro97-iPadPro97, iPadPro97Cellular-iPadPro97Cellular, iPhoneSE-iPhoneSE, iPhone7-iPhone7, iPhone7Plus-iPhone7Plus, iPad611-iPad611, iPad612-iPad612, iPad71-iPad71, iPad72-iPad72, iPad73-iPad73, iPad74-iPad74, iPhone8-iPhone8, iPhone8Plus-iPhone8Plus, iPhoneX-iPhoneX,

Supported Languages:

Afrikaans; Amharic; Arabic; Azerbaijani; Basque; Bengali; Bulgarian; Burmese; Central Khmer; Catalan; Valencian; Chinese; Croatian; Czech; Danish; Dutch; Flemish; English; Estonian; Finnish; French; Galician; Georgian; German; Greek; Gujarati; Hebrew; Hindi; Hungarian; Icelandic; Indonesian; Italian; Japanese; Kannada; Kazakh; Korean; Lao; Latvian; Lingala; Lithuanian; Malay; Malayalam; Marathi; Mongolian; Nepali; Norwegian; Bokmål, Norwegian; Norwegian Bokmål; Persian; Polish; Portuguese; Romanian; Moldavian; Russian; Serbian; Chinese; Sinhala; Sinhalese; Slovak; Slovenian; Spanish; Castilian; Swahili; Swedish; Tagalog; Tamil; Telugu; Thai; Chinese; Turkish; Ukrainian; Urdu; Vietnamese; Zulu;

Parental Advisory:

Mild Sexual Content and Nudity; Mild Profanity or Crude Humor; Mild Alcohol, Tobacco, or Drug Use or References; Mild Cartoon or Fantasy Violence; Suggestive Themes; Unrestricted Web Access;