Screenshots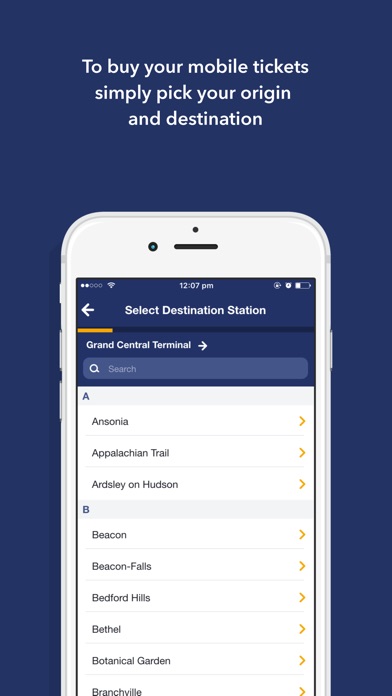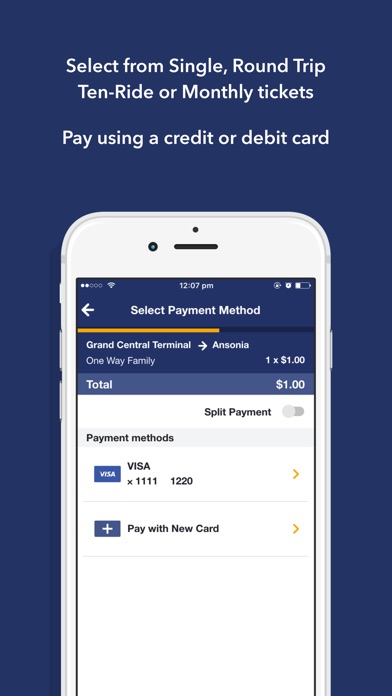 New in version 3.2.17
Bug fixes and optimizations
Description
The MTA eTix app allows customers on MNR's Hudson, Harlem and New Haven lines and all LIRR branches to purchase tickets on their phones.

-------------------------------------------------------

Never use a vending machine or wait in line again when purchasing your rail ticket for Metro-North Railroad or Long Island Rail Road. Your phone is the ticket machine. Better yet, your phone is the ticket.

With MTA eTix, you can securely purchase One Way, Round Trip, CityTicket, Weekly and Monthly tickets in seconds. Purchasing a ticket is easy: sign up for an account, select your trip, buy your ticket and enter your card information, then activate your ticket just before you board.

Benefits
• Never worry about missing a train while you're stuck in line to buy your ticket
• See all your tickets in your electronic wallet
• 'Punch' your own ticket just before you board
• Never misplace your ticket again
• Take your ticket with you when you upgrade your phone

If you are having issues using the app, please call customer services at 511 for support and ask to speak to a Representative after selecting your railroad. Customers outside NY State call 877 690 5114.
Reviews
Worse than useless
SimplyOlivia
on
9/24/2017
I tried buying a one way peak ticket. The app accepted and processed payment but said payment was not completed. No ticket showed up in my app wallet and no history showed. Okay, I thought it was a glitch because I'd just downloaded the app and signed up. I gave it a few hours to refresh and tried again. Same problem. I called my cc company and learned the app put through SIX charges! I only tried twice and got a message that payment didn't complete both times. Now I have to dispute the charge AND I still don't have my train ticket. This app caused me so much extra work. MTA this is shameful.
ZERO STARS IF I COULD!
Can't sign in. Can't get help. I have two peak tickets I haven't been able to use for weeks. Trying to get tech support is like trying to get God in the phone. DO NOT GET THIS APP! Unless you have time and money to throw away!
Usually reliable until...
Bex in the Big Apple
on
9/13/2017
This app has never given me any trouble until today when I tried over and over again to purchase a ticket, one way and round trip, two different cards- only to met each time with an error message that there is an "Error Processing Payment" I suggest attempting to use the app while you still have time to run to a physical machine in case something is on the fritz.
No TouchID!!
This app gets one star until login and purchases are allowed using TouchID. Who wants to try to remember their username & password when they're hurrying through a station trying to catch their train? And then to have to put in their credit card info as well? Ridiculous. Much easier & faster buying a paper ticket with the vending machines.
Getting better... but still needs work
Can't buy a one way off peak ticket? Should I just buy a senior since it's same rate? Cmon guys. Also, how about some 3D Touch love?? - tap and hold the icon to view activated monthly/weekly tickets would be a great feature.
Downloaded & purchased a ticket within minutes
Not the best user interface but it works. I was able to download the app quickly, select my origin/end station and sign up for an account. My main complaint would be that there's a second app to look up train times, which seems redundant. I typically use NJ transit and their app has both train times and purchasing capability.
No Safari keychain support
Please add support for Safari Keychain. Support for third party password managers such as 1Password would be important too.
Disappointed
It's a great app but why can't I purchase off-peak tickets?
Better
I'm upgrading from one star to two with Apple Pay. But you need to eliminate your annoying, pointless account requirement.
Can't buy monthly ticket
What happened? There is no more option for a monthly ticket...
Check your credit card!!!
reallypickyreviewer
on
8/20/2017
This app constantly overcharges me, and I have to wait weeks for them to fix their error. Since they immediately take the money out of my account, I don't have access to it. Once, they charged me for NINE tickets instead of one! They charged me 74.25 instead of 8.25. It's a convenient way to buy tickets but they really need to fix their payment process.
It's alright
When my phone is dying I can't use it. Every time I'm nervous. Also I switched my devise to iPhone plus. I can't use on new device b/c I have to wait 3 month before switching. So I carry my old phone just for this ticket app. So inconvenient. I was expecting reduce fare on app due to less paper and machine. Just only we don't need to use cash or card after in long line.
Horrible
Kept trying to open music for some reason
Stupid bug in the app
There is a stupid bug in the app. They can't recognize the credit card CVV if it starts with 0. This is basically a bug in the code where you should recognize the CVV as a string instead of an integer. Unfortunately I am the unlucky one who has a CVV that starts with 0. Fix your bug MTA. This is freaking stupid and ridiculous.
Good for Tix but add reminders
Send push notification to monthly card holders on first of each month. Would be a nice reminder to buy a new monthly ticket
DOES NOT WORK - JUST LIKE MTA TRAINS
Just downloaded the app. It is stuck and will not move... just like the trains!!!
Fix it
It's great when it works...not at all convenient when it doesn't....
Works well
It might not be aesthetically pleasing, but it does the job. Don't have to worry about rushing to buy a ticket if you're running late. You don't have to worry about digging for your wallet. It's not hard to remember the three digit security code.
Crashes and does not work
NoFoodForYou748393
on
7/21/2017
Cannot buy tickets using this app.
Pay Twice For One Ticket
It deleted my ticket that I activated before boarding the train after five minutes when I went through a tunnel and my phone lost connection. The app rebooted as if I had never bought or activated a ticket, so I had nothing to show the conductor, but my receipt for my purchase was in my email. So I had to pay twice for the same ticket with this piece of garbage app. Salt in the wound after I shelled out more money- my LIRR train was late to my destination.
Doesnt fix the tracks
I had high hopes that this extra money generated by the benevolent overlords at the mta would make their service adequate, but nevertheless i can now stand up, crushed by the weight of other passengers and my shattered dreams, on a stalled train for an hour with the date and time moving back and forth across my screen to indicate i just wasted time and money. 1/10 ign
Long time coming
Brian Whitton
on
7/13/2017
And it works well, but there's definitely some quirks. For instance.... Atlantic Terminal isn't in the list of "favorite" origins. Updating the app logs me out. And is there a way to "star" a route without purchasing a ticket first?
Missing important features, still
The app works, for the most part. But after more than a year's worth of updates, the app is still missing key features. And, it logs you out at will without the option to use a password manager (like 1Password) to log back in. It also requires that you input your credit card's CID number each time you purchase a ticket — meaning that you'll need to grab the card from your wallet, while balancing your phone in your other hand. Why not utilize the biometric features offered by iOS and Android? The addition of being able to use ApplePay, however, is a good one. So here are key missing features: - Not password manager enabled. - No option to use TouchID to log in and/or to process ticket payment — instead of entering a CID. - No way to manage payments prior to purchasing tickets. - No website interface. - Enable all password fields to accept copied data from password managers.
Not bad with room for improvement
I use this app for occasional rides. The etix part works pretty well including paying with Apple Pay. I like that I can purchase and activate multiple tickets for a small group. My main complaint is that with every update I get logged out and usually notice this 5 mins before the train leaves and then it gets hectic. The other minor issue is that I can favorite only one trip and not multiple trips, e.g. I can favorite XYZ to Penn but not the return trip.
Need to manage favorites
This app is ok but I want to see shortcuts to two trips when I launch it: my trip to work and my trip home. My usual inbound trip is listed as a favorite as well as some other random trip I once purchased and have no intention to repeat. Why can't I manage this?
Why does it log me out?
That takes away a lot of the helpfulness of this app. Also - fix your rates MTA. $38 RT? What a joke.
Great app!
This app is great for people who manage to not run out of charge on the smartphone. No more taking out my wallet to show the ticket. I always have the phone in my hand so I can just switch screens quickly when the conductor walks by and show the eticket and then get back to eBay or whatever..
Charges Card Says Transaction Failed
Should have listened to other reviews here. App says "Transaction failed, contact your bank" then charged my card. Again, like another reviewer here, fortunately I had an understanding conductor who didn't think I was pulling a scam. Come on MTA, is it really that hard? Your app is like your train service...a FAIL!!!
Never going back to paper tickets
This app is amazing! I save so much time and never have any issues with my tickets. Highly recommend it. I wish this app was made earlier-it is a lifesaver.
Screen brightness bug.
1. iPhone at full brightness before launch etix app. 2. Launch etix app. 3. Switch to any other app or home screen and your screen brightness decreases by nearly 50%. Also if your screen is dimmed at step 1, then step 2 will increase screen brightness and step 3 will dim it again. I have auto brightness in iOS turned off.
Please fix brightness function
TakeItBackNow
on
6/21/2017
The app turns the brightness all the way up on your phone when you open the app, but does not turn it back down when you exit the app, which is a pretty standard function in other apps that require brightness to be scanned properly. Please fix as this unnecessary drains battery life. UPDATE: Now it turns the screen brightness ALL THE WAY DOWN when you exit the app, so you can see nothing on your screen. I would like to NOT have to edit my brightness EVERYTIME I exit the app.
Incredible Step Towards the Digital Age! 😄
I've already rated this application 5 stars before even downloading it because I know that this is a major convenience for everyone who is pressed for time. Can you imagine? Never having to pay extra for a ticket on the train again. Or rushing to buy a ticket at the ticket machine before the train comes only to miss it by the time you buy it. We've all been there and done that so finally, we can experience extreme convenience with this app. I understand that it's not available on all lines but the fact that it's available is a huge advantage and I can't wait for it to be deployed on all the lines. For the naysayers who do not know how to read.. Read the description BEFORE rating the app poorly. The first sentence CLEARLY STATES that the app will be launched in the coming months for the rest of the lines. So learn to read before writing reviews. 😡 Gotta roll out these things softly to make sure all the bugs are ironed out. That's how it works in the IT world, you do a soft roll out and then when it works properly you roll it out em masse. So before rating it one star, understand that these apps have to be tested before rolling it out across all the lines. Read the description!! Can't wait to use this on the Babylon line soon! :) Way to go Long Island Rail Road and Metro North!! 😃 June 2017 Update: ================= Only issue I have now with the app is that sometimes it logs you out and it does not tell you if you're logged off. I end up purchasing extra tickets for no reason, so now I have an excess amount of tickets lol. Would be nice if it could have an ability to store tickets locally without needing to log in again. Or it should say "you already have tickets for this route" would you like to purchase again to avoid over purchasing.
Great but needs Force Touch
Works great for me everyday but the ability to force touch to the ticket wallet would be a huge time saver when I didn't see the conductor coming.
Update Billing Info
Good app. Wish I were able to update my billing address on my saved credit cards. Would also be great if it would merge with the MTA Train Time app instead of being 2 standalone apps.
Apple Pay is not working
Roberttt1980
on
5/24/2017
Apple Pay is not working at the time to pay for the tickets 🙄
Great app so far but room for improvement
yeahwestilltippin
on
5/16/2017
Please consider adding widget support so we can easily show the conductor our ticket by bringing down the Notification Center instead of having to open the app and navigating through two different screens. The app also logs me out from time to time.
Convenient in pinch but poor UI
Makes you login every time - no Touch ID option, then asks for card ID number each time. Because of these two things the kiosk is actually faster.
I loved the app until today!
It gave failed message to contact my bank 10!!! It charged me several times and thank gold for a nice conductor that didn't charge me onboard fare because he saw my frustration !! Update the app!!!
Almost as bad as LIRR service. Guaranteed to fail when needed.
Where do you begin? Never mind the exorbitant pricing: All the times it kicks you out of the app, forcing you to remember the complicated password forced upon you? Or the every time you use it and have to put in the security ID from your credit card for each transaction (hope you have a good memory - the NJ transit version, written by the same company doesn't have this failing)? Or the fact that it doesn't work with Apple Wallet? Or the sluggish code that you will struggle with as the conductor walks down the aisle towards you? Or the fact that your E-ticket expires in 60 days if not used? Or the limited ability to switch phones? Best to maintain more than one account if you have a business line. Make sure you remember your password when you get kicked out. Or the lack of a schedule integrated with the app to help you determine if it's Peak or Off-Peak time? How many people end up accidentally donating extra monies to the MTA's coffers? Or the requirement to have a strong Internet connection to activate? Or the fact that internet connectivity is nearly impossible to achieve on the LIRR platform in Penn Station to activate said ticket?
Easy to use, and works great!
Didn't even have to add a credit card, as it takes Apple Pay. Installed app and purchased ticket on way to station.
So convenient!
Love this app! So easy to use and I never had an issue with it.
Fantastic
Very convenient. Seamless and smooth.
Rip Off
Charges your card but says it failed. So you pay for a ticket but don't get one. This happened multiple times to a handful of people I commute with. I am contacting consumer affairs to get this app shut down.
Constantly logged off
Big pain to have to relogin every single time
DO NOT DOWNLOAD
What a waste of time charge my credit card twice and it kept saying failed I did it the third time ultimately charging my bank account but no tickets in my wallet what a disgrace of an application get it together!! MTA!!!!!!! The hassle , frustration of calling the bank and MTA people RIDICULOUS stick to paper people , stick to paper...
Room for Improvement
gregalawnjee
on
4/19/2017
Love this app and have been using it since day one. The new update is supposed to allow for one-time activation for monthly users but mine still makes me activate each time. Please fix this!
fail
fuzzywuzzywaza
on
4/19/2017
I would fire a first year intern for producing an app of this quality.
Can't sign out
Can't sign out?
Won't accept my card or Apple Pay
louisamaynyc
on
4/10/2017
Keep getting an error. Lame!
Fact Sheet
Publisher:

MTA/New York City Transit

Category:

Travel

Released:

Jun 29, 2016

Current Version Released:

Aug 17, 2017

Version:

3.2.17

Size:

12.2 MB

Compatibility:

Requires iOS 8.0 or later.

Recommended Age:

4+

Game Center Certified:

No

Supported Devices:

iPad2Wifi-iPad2Wifi, iPad23G-iPad23G, iPhone4S-iPhone4S, iPadThirdGen-iPadThirdGen, iPadThirdGen4G-iPadThirdGen4G, iPhone5-iPhone5, iPodTouchFifthGen-iPodTouchFifthGen, iPadFourthGen-iPadFourthGen, iPadFourthGen4G-iPadFourthGen4G, iPadMini-iPadMini, iPadMini4G-iPadMini4G, iPhone5c-iPhone5c, iPhone5s-iPhone5s, iPadAir-iPadAir, iPadAirCellular-iPadAirCellular, iPadMiniRetina-iPadMiniRetina, iPadMiniRetinaCellular-iPadMiniRetinaCellular, iPhone6-iPhone6, iPhone6Plus-iPhone6Plus, iPadAir2-iPadAir2, iPadAir2Cellular-iPadAir2Cellular, iPadMini3-iPadMini3, iPadMini3Cellular-iPadMini3Cellular, iPodTouchSixthGen-iPodTouchSixthGen, iPhone6s-iPhone6s, iPhone6sPlus-iPhone6sPlus, iPadMini4-iPadMini4, iPadMini4Cellular-iPadMini4Cellular, iPadPro-iPadPro, iPadProCellular-iPadProCellular, iPadPro97-iPadPro97, iPadPro97Cellular-iPadPro97Cellular, iPhoneSE-iPhoneSE, iPhone7-iPhone7, iPhone7Plus-iPhone7Plus, iPad611-iPad611, iPad612-iPad612, iPad71-iPad71, iPad72-iPad72, iPad73-iPad73, iPad74-iPad74,

Supported Languages:

English;