Not Recommended
App last updated
Dec 11, 2017
Screenshots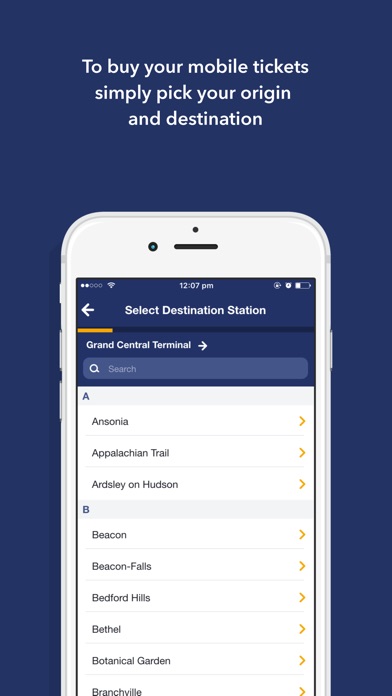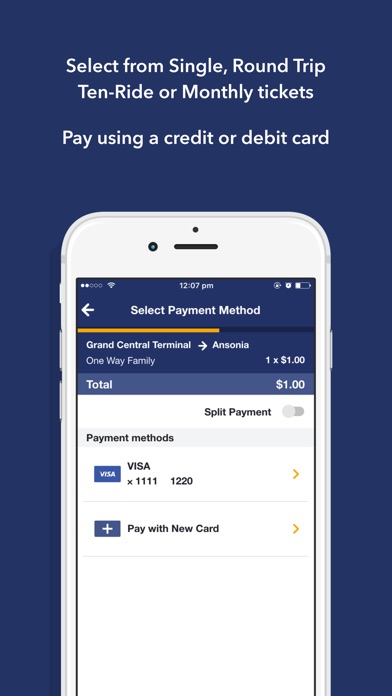 New in version 4.1.3
- Bug fixes and performance enhancements
Description
The MTA eTix app allows customers on MNR's Hudson, Harlem and New Haven lines and all LIRR branches to purchase tickets on their phones.

-------------------------------------------------------

Never use a vending machine or wait in line again when purchasing your rail ticket for Metro-North Railroad or Long Island Rail Road. Your phone is the ticket machine. Better yet, your phone is the ticket.

With MTA eTix, you can securely purchase One Way, Round Trip, CityTicket, Weekly and Monthly tickets in seconds. Purchasing a ticket is easy: sign up for an account, select your trip, buy your ticket and enter your card information, then activate your ticket just before you board.

Benefits
• Never worry about missing a train while you're stuck in line to buy your ticket
• See all your tickets in your electronic wallet
• 'Punch' your own ticket just before you board
• Never misplace your ticket again
• Take your ticket with you when you upgrade your phone

If you are having issues using the app, please call customer services at 511 for support and ask to speak to a Representative after selecting your railroad. Customers outside NY State call 877 690 5114.
Reviews
Account issues
You can't sign out which blows
Please stop making me reload my ticket!
The overall use of the app is OK for buying tickets, but it is very annoying to both riders and ticket takers that the app is very slow to load and slow to display your ticket, especially for monthly ticket holders. Also, if I switch from this app to another and back within just a minute I'm usually forced to reload my ticket again, which can take about 20-30 seconds again that's very annoying as a user and to the ticket takers. It shouldn't take so long to load a ticket and it should not have to be 3 steps to get to a ticket for monthly ticket holders. Monthly tickets should be the first thing that appears when the app loads along with the option to access a menu - not the other way around.
Always says no data at this time- useless
just ur everday consumer
on
1/9/2018
The app barely ever works just like the mta
Less clicks
Why is it 3 clicks to get to an activated ticket? Especially as a monthly user. Why not show active tickets on the home screen (outside of the ticket wallet). Ticket wallet should be inactive tickets and then just show active on the main screen. Especially for monthly users that have only one ticket active at a time.
Convenient app, just has a few bugs
FayeRichardson
on
1/3/2018
This app is a life saver when you have to decide between buying your ticket or missing your train. However, lately it has been unreliable. Many times I buy a ticket and there's an error message that my payment hasn't gone through. No ticket, I'm always charged. My bank always reverses the payment but I'm stuck paying the ridiculously high on board fare.
Glitches Activating Tickets & No iPhone X Support
Constant issues with "http errors" with this application. Needs to be updated because it's frustrating to purchase tickets with this. Ticket wallet doesn't refresh properly either.
Good app, needs updates
benisbeautiful
on
12/26/2017
Needs iPhone X update. The app overall is a must-have, but it's quite buggy.
Forgets login and password
Yet_Another_Matt
on
12/23/2017
The whole point of using an app is convenience. Any use of my credit card information is going to be protected by a strong password. This app forgets login credentials after a very short interval and forces me to input, again, a strong password that cannot be remembered and would be securely stored in any event. Why do you kneecap your application by forcing users to log in over and over again?
Constantly signs me out
Constantly signs out making it unavailable when you need it most
Needs some improvement
Sjonesrones12
on
12/21/2017
The app is definitely a step forward for purchasing tickets on the go, but it suffers from some persistent problems: - Keep the selected monthly ticket "alive" for 10-30 minutes. Otherwise, it needs to be completely reloaded when the conductor comes to view it, taking time and generally being a poor user experience. - why so slow? It's a monthly ticket. Good for 1 whole month. Is it checking with a server? Just show the ticket. - ticket wallet is a good idea executed clunkily. Why not take me directly to my wallet by default and then I can navigate back if I want to buy stuff? Copy Apple's wallet if you want to keep multiple tickets available easily. Or if Monthly, Then Display Monthly by default.
Ticket used??
I purchased tickets on this app,that part was easy.When you go yo use them on the train,you need to activate them,I had to connect in Jamaica to another train and it used both my round trip tickets for one way?When i went to go home it said the return ticket was used and no longer valid?I had to purchase another one way ticket to get home.
Mediocre
Latin-records
on
12/17/2017
Fist month I ever used it, work absolutely great then second month I couldn't even purchase tickets and calling customer service it's like pulling teeth, you get almost nothing from these people.
No iPhone x support?
This app will be great if it had iPhone x support. I pay so much money for a monthly the least they can do is update this app..
Please add Touch ID for login
Love where this app is going. Please make it easier to login with Touch ID when you open the app. Also, it would be great to have a quick checkout for favorite combinations. Thanks!
iPhone X compatible
ChrisFranando
on
12/11/2017
Cmon, w/ the iPhone X update, what is taking y'all so long?
Please update for iPhone X support
Thanks
Manage favorite trips?
Can someone please explain how to manage the favorite (star) trips. Its not very clear how to edit or set what trip gets starred. This app is useful but not very intuitive.
Convenient , won't accept my Apple Pay
App is convenient, but when it's time to pay, rejects , forces me to enter a new card no.! Fix this now!!!
Embarrassing
ScriptorSpes
on
12/8/2017
Eliminate he need for an account. It's a joke. You sent me an email saying I can only move the app to a new phone two more times. This is ridiculous. Why are you tracking this. You use Apple Pay. That's all the info you need. It's 2017.
Apple Pay error
Cannot pay via Apple Pay and app isn't updated to iPhone x
Great app!
Wu tang for ever
on
12/7/2017
Works perfectly and is super easy to use.
Excellent
Works fast and efficiently each time and every time. A years use with no problems. Just remember to keep your phone charged.
Hangs
Stopper and shopper
on
12/6/2017
It worked great but me time. Now it just constantly hangs... very frustrating.
Removed Apple Pay for some reason
Mortimermorts
on
12/4/2017
Why would you remove it? Please bring it back. Just do this one small thing to benefit your customers. Thanks.
Do not trust!! This app is unstable!!
This app just lost all my info. The $300 I just spent on a monthly just went out the window. Not cool. Now I have to purchase a ticket on the train? Thanks for stealing my money MTA!
still does not work with applepay
Satyricon jr
on
11/29/2017
it says it does, it thinks it does but it doesn't. give unhelpful error message, charges your card, doesn't give you a ticket been like this at least a year, telling them didn't help
Functional, needs some work
Jonny99express
on
11/27/2017
App basically does the job. Needs to be combined with Train Time. One pet peeve: If you activate a ticket and then switch to some other app, then try to return to the app 5 mins later to show your activated ticket, the app rewinds to its home screen and it takes quite a few taps (and time) to get back to your activated ticket. While the conductor is waiting. There should be no need to rewind! How about an option to put an activated ticket into your iPhone Wallet?
App Doesn't Work
As others have indicated the app simply doesn't work as it won't accept payment. I would avoid until it's fixed.
Repeated charges no tickets!
I entered my credit card information 5 times and kept getting error messages. My card was charged 5 times but no tickets received. Terrible app!
No value at all
DukeOfNYA#1
on
11/22/2017
I try to use Apple Pay. Ticket never ever gets processed. Apply pay works on everything else for me. Total incompetent agency!
Awful system
Uselessguitarist13
on
11/20/2017
System makes no sense that you can't access unused tickets and MTA employees won't accept screenshots of unused barcodes. Total morons forced me to buy a second ticket on the train.
Could really use some UX design
One star for allowing ticket purchase. However, design leaves much to be desired. Also, half the links or functions don't work.
Could be so much better
MTA app is a big step forward, but desperately needs some quick and simple improvements: - App only keeps ticket active/live for 5-10 minutes, but you need to show tickets multiple times on most trips. Why not keep tickets live for 30 min so you don't have to reload the ticket multiple times in your trip? - As noted by others, schedules should be integrated into 1 app. There's no need to toggle between multiple apps. Favorite trips, notifications and track information should be right at your fingertips. You might also consider: - Integrating into Apple Wallet to speed pulling tickets up for conductor. - Enable location services to automatically activate ticket whenever you are on train line. This would save conductors lots of time as riders open app and wait for the app to activate their ticket.
useful app, but
Watch your credit card charges. I downloaded it without glitch yesterday; when I punched in my credit card to buy my first ticket, I typed the wrong CVV code, and the card was rejected. I typed it correctly the second time and it went through. Astoundingly, I was charged twice for the one fare. I called MetroNorth (511) and have gotten it straightened out.
more expensive
victoriapembs
on
11/6/2017
Almost a great idea except that ticket prices are more expensive $2 extra for round trip (local to Stamford) and an extra $30 for the monthly pass (app charges $100 vs $71 at the train station ticket machine)
Review
App makes my life and commute much easier
DONT DOWNLOAD
this app will let you buy tickets then now work when you want to use them, then stuck buying another ticket. Don't use this app !!!!
MNR TrainTime button does not work
The eTix app is very convenient and works well in most instances. However, ever since MNR TrainTime 3.0.0 was released, the TrainTime button prominently at the bottom of the home screen in the eTix app no longer works.
Clunky, confusing, outdated
One of the biggest problems with this app is that any time that you restore your phone, you might lose your ability to log in and thus your ability to access your tickets (and the money you paid for them). You can only reinstall the app 3 times in 4 months - even on the same phone - and for no practical reason. The app is also clunky. The MTA has another separate app to check train time. Why?
Pretty good
Destructor1123
on
10/24/2017
Had a problem, but I set up a new account which fixed it.
It's adequate and largely reliable
Kind of ugly and clunky, but totally works. And, for the first time, this update didn't log me out—THANK YOU for that.
Monthly ticket forces brightness to max level
Using this app should respect users brightness settings for their iPhone.
Security Breach
NewNetworking guy
on
10/17/2017
Etix allowed flor 2 transactions that were unauthorized to my account. They didn't notify me of the transactions like they normally do and the only way I found out was through my bank notifications. I'll not be using this app again.
Helpful app - much UX needed
Nachmansiegel
on
10/17/2017
Basic things: - Monthly ticket should not need daily activation! Should be by default first screen you see after first activation. (3 taps now) - link with mail & ride account - Group with schedule app. - fix UI. Most users go to the same place after opening the app, that should prob be their home screen.
Payment problems
I can only use Apple Pay with success. When entering the credit card details directly, it doesn't work. I had similar problems as others where the charge shows up as pending, but there's no actual ticket in the wallet. This has been an issue for months. Once the tickets are on the app, it seems to work fine. It's that pesky paying for your ticket piece that's troubling.
Forced to use
It's absurd that they make you use the app to buy tickets - they actually removed the ability to buy tickets online to boost their stats of how many people use their expensive-to-make app. Shameless
Easy to use but...
The app is easy to use for buying tickets. It has a simple interface which is good for something that's just supposed to buy tickets for the train... but why the hell do they include a train time button that just brings me to the App Store to then open another App. It's ridiculous, just put the train schedule in the same App! It can't be that difficult. In fact, I know it's not. Do better MTA, hire a proper developer.
Trash App that steals money
Ex Minomonsters fan
on
10/7/2017
Don't download this garbage unless you want to have your money STOLEN. I purchased a ticket, the stupid app says processing failed and of course no ticket shows up on my ticket wallet. I check my credit card and there's a pending charge....nice little scam you guys have going on. Fix the app and stop stealing money morons.
This app is amazing!
jain.......Aj
on
10/7/2017
Idk why the overall rating is so low! The app is a blessing. Incredibly user friendly and very convenient for a commuter. I love the feature of the ticket activation because it it lets you use tickets only when you activate them. There is also a benefit of getting refunds within 5 minutes of buying the ticket. If one happens to make an error, they'll most probably catch the error within minutes and can get a refund. That isn't possible with paper tickets. Also, and my most fav reason of all, it's environment friendly and is a huge step head of the digitization of the MTA.
Wish I could give no stars!
Horrible, useless no info. USE CITIMAPPER. Reinstalled this just so I could share how bad this is with others.
Fact Sheet
Publisher:

MTA/New York City Transit

Category:

Travel

Released:

Jun 29, 2016

Current Version Released:

Dec 11, 2017

Version:

4.1.3

Size:

13.2 MB

Compatibility:

Requires iOS 9.0 or later.

Recommended Age:

4+

Game Center Certified:

No

Supported Languages:

English;