TapNova recommends this app!
New in version 1.8.2
Description
There's a new flock on the block. Hatch, collect, and evolve over a hundred all new Angry Birds characters from the other side of the tracks, and kick the pigs off of Bird Island while you're at it.

Something is causing the the pigs to herd to Bird Island in droves, and the birds have found their eggs in danger once again. It's up to you to assemble an unstoppable team of evolved super birds and put a stop to the pigs' shenanigans once and for all. Or at least until the next time they pull a stunt like this...

Collect, assemble, and evolve your flock.
100+ crazy new Angry Birds?! We're gonna need a bigger nest. The flock is bigger and badder than ever before. Build your own team, combine super skills and evolve your birds into their ultimate form.

Embark on an epic adventure.
Something sinister is brewing on Bird Island. Why are there so many pigs around? Who is behind the mysterious Bacon Corp? What's the Eagle Force? Who lost the dungeon keys? Find the answers – only in Angry Birds Evolution.

Crush the pigs in explosive battles.
What's worse than egg-stealing pigs? Over 90 different varieties of egg-stealing Pigs, that's what. Pirates, ninjas, tourists – someone has to clean this place up. Let the feathers fly in full contact battles and send the pigs packing.

Join weekly events.
Earn awesome rewards, and get a chance to add extra rare birds to your team by taking part in weekly events. Join by yourself or assemble a clan of buddies to compete with other clans. Build the strongest, most awesome clan on Bird Island and rule the roost!

Compete against other players.
The Oinktagon: two teams enter – only one leaves (victorious). Challenge other players in PVP tournaments of the Bird Island pastime, Pigball, and dominate the leagues for even more awesome rewards.


FEATURES:
– Over 100 colorful new characters to hatch and collect.
– Assemble the ultimate flock of birds and take down the pigs with ease.
– 5 Classes of birds with unique abilities.
– Evolve your feathery heroes into unstoppable super birds.
– Explore the island and stop the Bacon Corp.
– Battle other players in the Oinktagon.
– Join clans to unlock perks, compete with other clans, and chat with clanmates.
– Send out scouts for rewards & challenges.



MONTHLY SUBSCRIPTION
Angry Birds Evolution offers a subscription service that grants subscribers exclusive benefits every month.

Subscription Benefits:
– One Premium Egg Ticket every day
– 10% more gold and gems when purchasing in the shop

The monthly subscription is available as a recurring monthly purchase at a price of 24.99 USD (or local equivalent) / month. Payment will be charged to your iTunes Account starting at the initial confirmation of the subscription purchase. Your subscription will automatically renew 24-hours before the end of the current payment period.

Manage subscription auto-renewal in iTunes Account Settings. No cancellation of the current subscription is allowed during the active subscription period. Cancellation will take effect at the start of the next subscription period.

---

Terms of Use: http://www.rovio.com/eula
Privacy Policy: http://www.rovio.com/privacy

This game may include:
- Direct links to social networking websites that are intended for an audience over the age of 13.
- Direct links to the internet that can take players away from the game with the potential to browse any web page.
- Advertising of Rovio products and also products from select partners.
- The option to make in-app purchases. The bill payer should always be consulted beforehand.
- This application may require internet connectivity and subsequent data transfer charges may apply. After the initial download, additional content will be downloaded and this may include data charges.
iPad Screenshots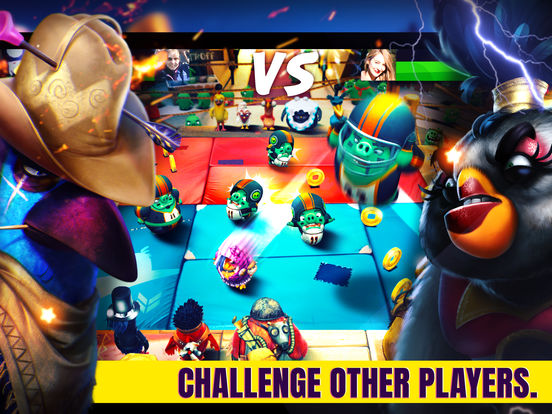 Reviews
Fun but tough
Ragnarthetroutguy
on
6/26/2017
The graphics are great. But it is tough to get through the levels
Awesome
Desertdog1975
on
6/26/2017
Better than I expected
Slow to start
Sharp Eyed Sally
on
6/26/2017
Very slow learning curve, but once you play awhile it becomes very fun and challenging! Keep up the good work. Also I agree with other reviews scouts take too long to regenerate.
Fun
Animations are great, the birds are all different, and it can be challenging. Fun time wasting app.
Can't Get It
Not compatible with my iPad mini - and am running the latest IOS. Disappointed.
Wery good
I love playing this game! Its very beauty and nice :) But have some hard! Please do whats about in eggs hatches no only 1-3 star birds, do something like algorithm ;) THANKS!
Angry birds Evolution
Awesome game
Good Game But Too Hard to Evolve
ScandalousEscort
on
6/26/2017
Been playing for about a week now. Despite many tries at Golden Egg/ Premium Hatching I have no birds beyond three stars. I'm now stuck in the White area and can get no further because I have no White Birds over two stars, and the others I have I'm struggling with the cost to level them beyond twenty. I think the Golden Eggs should guarantee 4-5 star pulls for the cost you have to pay. On a ten pull I only had maybe 2 @ three stars, the rest were two star birds which is ridiculous. I also don't understand why there is no way to replay older levels for practice and gold. There are special perks for every day. For example, today (Sunday), extra gold earned in battles. Thursday's are lowered cost for leveling. So I guess I'll keep checking in on my scouts for battles and wait until Thursday to level my teams up. Not sure where the fun is in that...
Fun mix of game types
StephenMahieu
on
6/26/2017
If you like all things angry birds they you will enjoy this latest creation. Sure there are a few bugs but this is expected and rovio always fixes them so download and enjoy.
Nope
Irishchocolate
on
6/26/2017
The chances associated w/ various in-game prizes are inaccurate. The game forces you to the bottom of the barrel, unless you purchase and even then, the odds for getting good items seem horribly fixed. Waste of time.
Errors no support
TheBigFatPanda
on
6/26/2017
My account is corrupt - I've written Rovio 3 times and tweeted them - my ticket has been open for 3 days with no response. If you spend real green money, you are on your own. It's sad because it's a good game until it's not anymore. I'll update this review if they help me.
Fun game
Thomas124578
on
6/26/2017
This is different then the normal ab but it is a fun and addictive game
Pretty nice game
It's something really fun to play on your down time
Fun
PearlyKittyBaby
on
6/26/2017
Fun
Super glitchy, doesn't work
I can't play past level 2, get only crappy birds, no support and no solutions,... I can't see myself playing if it doesn't get fixed yesterday....
Somewhat confusing
Pretty fun, but it doesn't elaborate on how to fuse or evolve your birds very well. Maybe I need to play more to find out? Furthermore, you have to pay a lot or probably play a lot to get anywhere. Still not bad with all the different option of playing.
Fun but not too addictive
Really fun game and complex. Plays like pool a little and takes a while to get good birds. Definitely recommend.
Great idea but have patience
The concept of the game is a good one, but when it comes to hatching extra birds lots of disappointment. Still a great game.
Fun
520smiley420
on
6/25/2017
Fun
Awesome
This game is awesome😄
Very nice game
Nice game ilove it
Provides change
More change than most games and will keep you active but not to consuming
Great game
2 days into it. Enjoying very much.
Love it!!!
So addicting and fun. I love the large variety of character choices
So far so good
emylouswanson
on
6/25/2017
So far so good
Good game!
Good game but I gave it 4 stars because there should be a lot more to hatching eggs. You need TONS of gems to get only a level 4/5 star bird witch isn't the best deal. It should be easier to get better birds but overall amazing game I'd recommend it!
Hours of fun
Best birds yet. Hours of play time no cash required.
Awesome game
Incoming daddy
on
6/25/2017
Love it
Hard grind, fun overall
Like others said. Be prepared to drop a whole lot of money or grind forever to even dent the game. Fun for the first few days but I'm sure the novelty will wear
Horrible support for bugs
genieinabottlebaby
on
6/25/2017
The game is buggy and the support non-existent. I have had a couple issues that I opened tickets for and have heard nothing. I even follow up every few days and still silence. Unfortunately the game will do well because of brand recognition and people with the luxury to spend $$$ on a novelty.
It'll do pig
It passes the time
Nice
Lalala hahtc
on
6/25/2017
5
Red "Event" was a con!
The goal of getting red from the Angry Birds movie is a con. We invested tons of money in this game, Lost lots of sleep and finally got our 250 bird heads and then won the 10 premium tickets. NO Red from the movie to be won. Just a bunch of three-star birds, not even one four star bird. I will never invest another dime in this game again! You are reduced from five stars down to one star you greedy dishonest jerks
Only Because..
I only rate this 5 stars because I see potential in this game also it is obviously fairly new so right now I would actually rate it a 3 and a half but I see room for improvement and besides that it is actually good graphics and designs// //UPDATE\\ game is boring and not much to do
These are some good good bird boys
yesmrcartersir
on
6/25/2017
What's up, you cool birdy
😊😍
Itz_jojo_here
on
6/25/2017
I love this game!! I play with my mom and dad and it is so much fun! Although,I did have problems with the game download.
New fav AB game
Think angry Birds meets pinball
My opinion so far
Game is awesome, i love the graphics and game play. Needs more work though. Please add a way to sell multiple birds by selecting them instead of selling them one by one. Also add a button or shortcut to get to beginning of bird list to select your team members instead of having to scroll back and forward if you are trying to upgrade each of your team members. Increase coins rewards, earning coins is way too slow at the moment and increase value of gold pig coins.
Loads of fun.
I tried it thinking it would just distract me but I found that I really enjoyed the game play.
Fun game needs easier evo
Billy :O titi
on
6/25/2017
Would give 5 stars but evolution tokens are too hard to get. And benefits of evolution arent that great
Fact Sheet
Publisher: Rovio Entertainment Ltd
Category: Games
Released: Jun 14, 2017
Current Version Released: Jun 14, 2017
Version: 1.8.2
Size: 800.7 MB
Compatibility: Requires iOS 8.0 or later.
Recommended Age: 9+
Game Center Certified: No
Supported Devices: iPad2Wifi-iPad2Wifi, iPad23G-iPad23G, iPhone4S-iPhone4S, iPadThirdGen-iPadThirdGen, iPadThirdGen4G-iPadThirdGen4G, iPhone5-iPhone5, iPodTouchFifthGen-iPodTouchFifthGen, iPadFourthGen-iPadFourthGen, iPadFourthGen4G-iPadFourthGen4G, iPadMini-iPadMini, iPadMini4G-iPadMini4G, iPhone5c-iPhone5c, iPhone5s-iPhone5s, iPadAir-iPadAir, iPadAirCellular-iPadAirCellular, iPadMiniRetina-iPadMiniRetina, iPadMiniRetinaCellular-iPadMiniRetinaCellular, iPhone6-iPhone6, iPhone6Plus-iPhone6Plus, iPadAir2-iPadAir2, iPadAir2Cellular-iPadAir2Cellular, iPadMini3-iPadMini3, iPadMini3Cellular-iPadMini3Cellular, iPodTouchSixthGen-iPodTouchSixthGen, iPhone6s-iPhone6s, iPhone6sPlus-iPhone6sPlus, iPadMini4-iPadMini4, iPadMini4Cellular-iPadMini4Cellular, iPadPro-iPadPro, iPadProCellular-iPadProCellular, iPadPro97-iPadPro97, iPadPro97Cellular-iPadPro97Cellular, iPhoneSE-iPhoneSE, iPhone7-iPhone7, iPhone7Plus-iPhone7Plus, iPad611-iPad611, iPad612-iPad612, iPad71-iPad71, iPad72-iPad72, iPad73-iPad73, iPad74-iPad74,
Supported Languages: English;
Parental Advisory: Mild Cartoon or Fantasy Violence;