Screenshots
New in version 1.10.1
- Diamond and Champion Leagues now award Prestige Totems for high rankings again (more than before)
- All-time-highscore trophy rewards increased to 15.000
- Captain Freedom's super shot power has been increased, he is now in line with other white 5-star birds
- Claude's Leader ability was a bit too strong, his crit damage and healing bonus have both been nerfed
- Chuck's super shot was too powerful in PvP, his damage has been reduced
- Technical improvements
Description
There's a new flock on the block. Hatch, collect, and evolve over a hundred all new Angry Birds characters from the other side of the tracks, and kick the pigs off of Bird Island while you're at it.

Something is causing the the pigs to herd to Bird Island in droves, and the birds have found their eggs in danger once again. It's up to you to assemble an unstoppable team of evolved super birds and put a stop to the pigs' shenanigans once and for all. Or at least until the next time they pull a stunt like this...

Collect, assemble, and evolve your flock.
100+ crazy new Angry Birds?! We're gonna need a bigger nest. The flock is bigger and badder than ever before. Build your own team, combine super skills and evolve your birds into their ultimate form.

Embark on an epic adventure.
Something sinister is brewing on Bird Island. Why are there so many pigs around? Who is behind the mysterious Bacon Corp? What's the Eagle Force? Who lost the dungeon keys? Find the answers – only in Angry Birds Evolution.

Crush the pigs in explosive battles.
What's worse than egg-stealing pigs? Over 90 different varieties of egg-stealing Pigs, that's what. Pirates, ninjas, tourists – someone has to clean this place up. Let the feathers fly in full contact battles and send the pigs packing.

Join weekly events.
Earn awesome rewards, and get a chance to add extra rare birds to your team by taking part in weekly events. Join by yourself or assemble a clan of buddies to compete with other clans. Build the strongest, most awesome clan on Bird Island and rule the roost!

Compete against other players.
The Oinktagon: two teams enter – only one leaves (victorious). Challenge other players in PVP tournaments of the Bird Island pastime, Pigball, and dominate the leagues for even more awesome rewards.


FEATURES:
– Over 100 colorful new characters to hatch and collect.
– Assemble the ultimate flock of birds and take down the pigs with ease.
– 5 Classes of birds with unique abilities.
– Evolve your feathery heroes into unstoppable super birds.
– Explore the island and stop the Bacon Corp.
– Battle other players in the Oinktagon.
– Join clans to unlock perks, compete with other clans, and chat with clanmates.
– Send out scouts for rewards & challenges.



MONTHLY SUBSCRIPTION
Angry Birds Evolution offers a subscription service that grants subscribers exclusive benefits every month.

Subscription Benefits:
– One Premium Egg Ticket every day
– 10% more gold and gems when purchasing in the shop

The monthly subscription is available as a recurring monthly purchase at a price of 24.99 USD (or local equivalent) / month. Payment will be charged to your iTunes Account starting at the initial confirmation of the subscription purchase. Your subscription will automatically renew 24-hours before the end of the current payment period.

Manage subscription auto-renewal in iTunes Account Settings. No cancellation of the current subscription is allowed during the active subscription period. Cancellation will take effect at the start of the next subscription period.

---

Terms of Use: http://www.rovio.com/eula
Privacy Policy: http://www.rovio.com/privacy

---

This game may include:
- Direct links to social networking websites that are intended for an audience over the age of 13.
- Direct links to the internet that can take players away from the game with the potential to browse any web page.
- Advertising of Rovio products and also products from select partners.
- The option to make in-app purchases. The bill payer should always be consulted beforehand.
- This application may require internet connectivity and subsequent data transfer charges may apply. After the initial download, additional content will be downloaded and this may include data charges.
iPad Screenshots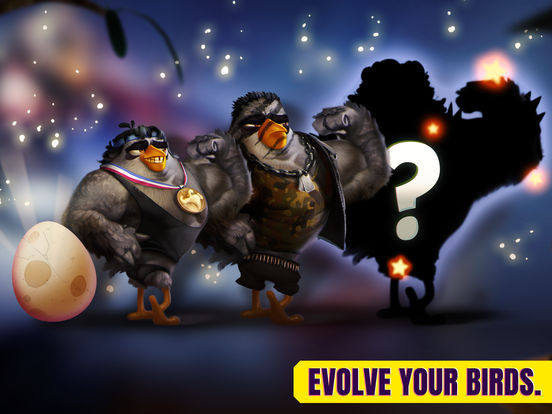 Reviews
Messaging
Would be nice if there was an alert that a member of your clan posted a message. There is no indication right now.
Exciting
Ladyinthemoonlight
on
8/21/2017
This is lots of fun
Different Type of Angry Birds
Poker by zynga
on
8/21/2017
I like that this Angry Birds is different from the other versions. Would like better opportunities to get higher rated birds. Overall the best Angry Birds I have played to date.
Still 3 stars
Sewinglaura312
on
8/21/2017
This is a very addictive game. I just have a few issues though: the special birds- I have been playing and getting the tickets, but this is the third special bird that I have missed out on. In the PVP battles- I think winner should take all. Even what the other player won during the play. I am still having glitches. And I don't think it is my internet connection, as I upgraded it this past week.
My Review/ Backlash515
Great game really like the new style and gameplay 👍🏽😃
Terrible gamesmanship
If you would like to play a game than relentlessly begs you for appreciation of advertisements, consistently matches you against insurmountable odds, and then chastises you for your inadequacy, this game is for you. Personally, I'm seconds away from deleting this app and never looking back. It's obvious they put a lot of effort in the development, but unfortunately all of these talented game designers will have their efforts wasted in the name of unabashed commercialism because apparent the only way to win is to fork up hundreds of dollars in cheats and boosts. No thanks Rovio, continue your downward spiral into oblivion and I'll see you in hell. Update: I'd like to add that the PVP mechanics are a complete joke, and that you are almost never pitted against a similarly powered foe. If you do everything perfectly and get very lucky, it's possible to win some games. Other games you simply have no chance at victory at all. Brilliant.
Love it
bonnie's fun toy
on
8/20/2017
Great game
Arena Battles
Fun game but the arena system is broken. Computer always has better "luck" than you do unless you have 5 people vs 3. Great addicting game though.
I like it
It's a good entertaining game!!
Cute and fun
Grindr in MN
on
8/20/2017
Great character design
These Birds!
Short & Sweet: Stay @home mom Homeschooling mom Stress Reliever: my favorite game Love the updates keep them coming!
The WORST Angry birds game ever
Tailsthecm126
on
8/20/2017
This game is really annoying and it has a really boring game play like angry birds action has the similar boring gameplay. Thanks rovio you ruin my childhood. i no longer like angry birds thanks to this game
Great game
Slotmaster109
on
8/20/2017
Love it
So fun.
Toriadore4Life
on
8/20/2017
This game is fun and addicting, I just wish I could play more without having to pay. Evolution seems nearly impossible.... I have 5 birds ready, but still soooo long to go to even evolve 1 bird. *sigh*
Love
Michael swygert
on
8/20/2017
Love love love this game! The only problem i have is the videos dont always play and there should be more options to buy stuff or earn stuff
Must download
Dolo Da Demi
on
8/20/2017
Great game to play to pass the time
Fun to pass time
Great way to pass time not as good as some of the past angry bird games bust overall it's enjoyable and fun
Great game!!!
Awesome gameplay
Trash
CJB The girl
on
8/20/2017
Absolutely TRASH
Fun game
Great game play. Arena is fun but need to have balanced matches.
Great except......
Great game, if you want people to continue to play I would make it a bit easier to advance and give out more coins.
Good & Fun
My new favorite game. Can get pricey even if you are patient. Getting really good birds is a matter of luck- can't buy or earn them- depends on what hatches. It does take awhile to level up the longer you play and the power ups don't come often enough or do that much good when you get them. A nice addition would be to earn the ability to consistently play with a friend's bird so that you have 6 birds on your time in story mode as well. It would be nice if you could get more gold/gems per pig defeated in a round and after a win and 2 or 3 dungeon keys after a pigball win. It would also be nice if it didn't take an hour to get more scouts. The new Eagle Mountain is ok but it's like gambling and you can lose your loot if luck isn't with you. Level up your 4 & 5 star birds as often as you can. If you are going to spend $$$, buy gems. Play the events. Join a clan. Get good at pig ball. :).
New twist to old classic
Love ability to swap and level up birds. Great game play
Nice game
McKenzie, Ella
on
8/20/2017
It's a pretty great game except could you please make matchmaking more fair? Other than that nice game!
Fun
Animations are great, the birds are all different, and it can be challenging. Fun time wasting app.
Great game
Continual challenge! Especially enjoyable after the update. Makes it easier to get gold since they've changed the daily challenges so you only need 6 to get the challenge gold and you can get berries and other prizes in the dailies. The arena can be challenging, but so long as you're able to KO birds that would attack you, you can beat your opponent. Love this game!
Super fun
This game is really fun only downfall is that you don't get to have enough birds on your team until you leave up.
Awesome
I love this game you should play it
Very addicting
Love playing the game, wish I could play more at a time because I am inpatient. Fun game 👍
Love the Birds!
Love the game!
Like it
I like the game, but sometimes I feel like there's too much going on. Other than that, I find myself playing a lot.
Amazing
Leaporddude61
on
8/19/2017
The game continues to blow my mind lol
OMG
This is so addictive!!! I would recommend this to anyone that might be bored, it really makes time go by fast!
App is unfair and infuriating
Rovio really needs to work on the fairness of the arena...and without the arena, this game is IMPOSSIBLE TO SUCCEED AT!!!! I don't know about anyone else, but I play games on my cell as a fun distraction and this game just infuriates me and my husband due to the inequality of the items required to advance. Additionally, if there are issues with your connection, you lose items, which developers refuse to fix. I love the premise of the game, but Rovio doesn't make it enjoyable. UPDATE: Please note that I've been playing on wifi and I've "had connection issues with the server" for the last two days. The "issues" aren't with my connection, but Rovio service.
❤️❤️❤️❤️❤️
Sandi Woodard
on
8/19/2017
Kids love it, I love it. 🐣🐔🐧🐦🐤
Addicting
Munchies1620
on
8/19/2017
I love this game. As with all other app games the downfall is the perks and coin being so expensive Maybe more people would play and play more often if coin were more affordable
Love!!
Great game, wish there was possibility to buy scout berrys
Ab Revolution
Best evo mini game that!!!
enjoyable source of quality entertainment
this game keeps my constant attention
Awesome spin on Angry Birds!
Very fun game! Already spent too much real money though! Lol :(
Great game
Wonderful game. Never making me wait. Always something new.
Fun game
Jimmyjam6913
on
8/19/2017
Love the weekly challenges and free arena play.
Fact Sheet
Publisher:

Rovio Entertainment Ltd

Category:

Games

Released:

Jun 14, 2017

Current Version Released:

Aug 21, 2017

Version:

1.10.1

Size:

825.7 MB

Compatibility:

Requires iOS 8.0 or later.

Recommended Age:

9+

Game Center Certified:

No

Supported Devices:

iPad2Wifi-iPad2Wifi, iPad23G-iPad23G, iPhone4S-iPhone4S, iPadThirdGen-iPadThirdGen, iPadThirdGen4G-iPadThirdGen4G, iPhone5-iPhone5, iPodTouchFifthGen-iPodTouchFifthGen, iPadFourthGen-iPadFourthGen, iPadFourthGen4G-iPadFourthGen4G, iPadMini-iPadMini, iPadMini4G-iPadMini4G, iPhone5c-iPhone5c, iPhone5s-iPhone5s, iPadAir-iPadAir, iPadAirCellular-iPadAirCellular, iPadMiniRetina-iPadMiniRetina, iPadMiniRetinaCellular-iPadMiniRetinaCellular, iPhone6-iPhone6, iPhone6Plus-iPhone6Plus, iPadAir2-iPadAir2, iPadAir2Cellular-iPadAir2Cellular, iPadMini3-iPadMini3, iPadMini3Cellular-iPadMini3Cellular, iPodTouchSixthGen-iPodTouchSixthGen, iPhone6s-iPhone6s, iPhone6sPlus-iPhone6sPlus, iPadMini4-iPadMini4, iPadMini4Cellular-iPadMini4Cellular, iPadPro-iPadPro, iPadProCellular-iPadProCellular, iPadPro97-iPadPro97, iPadPro97Cellular-iPadPro97Cellular, iPhoneSE-iPhoneSE, iPhone7-iPhone7, iPhone7Plus-iPhone7Plus, iPad611-iPad611, iPad612-iPad612, iPad71-iPad71, iPad72-iPad72, iPad73-iPad73, iPad74-iPad74,

Supported Languages:

English;

Parental Advisory:

Mild Cartoon or Fantasy Violence;