Recommended app!
App last updated
Dec 13, 2017
Screenshots
New in version 2.1
- Updates for iOS 11 and iPhone X.
- Squashed some small bugs.
Description
This classic windows-style Solitaire (also known as Klondike or Patience) is beautifully crafted with a clean, intuitive design. Loaded with innovative features like Winning Deals, Deal Preview and Auto Hints, this Solitaire will quickly become your favorite!

Your victories are celebrated by custom animations. Beautifully designed and feature-rich. Highly rated and loved by millions. You will love it too.

Key Features:
• Draw 1 or draw 3 card Klondike play
• Simple tap-to-play or drag-and-drop card movement
• Beautiful high-resolution graphics
• Large custom cards with several styles
• Player account enables play across multiple devices.
• Winning Deals ensures every deal is winnable
• Auto Hints keep the game moving
• Foundation Auto Play
• Unlimited undo move
• Replay the last deal
• Portrait and landscape play
• Right or left-handed play
• Detailed statistics
• Leaderboards
• Personal best scores
• Winning animations
• And so much more!

For support and answers to frequently asked questions, head over to http://www.solebon.com/support.html. Follow us on Twitter @SolebonApp. Like us on Facebook https://www.facebook.com/SolebonApp. Play everywhere!

This Klondike Solitaire game is built in the USA by the team at Solebon.
iPad Screenshots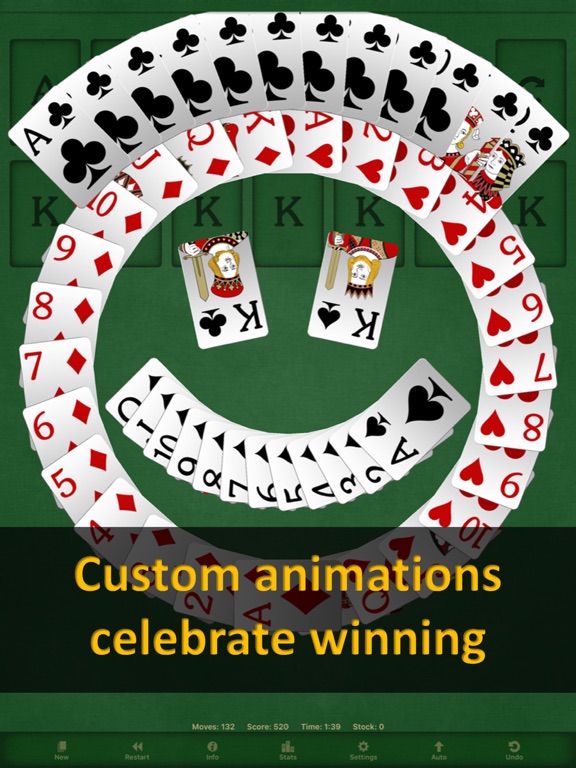 Reviews
Great app
I like that this has all the functionality of Solebon Solitaire with the simplicity of just the Klondike game.
Excellent
I play this when I have a few minutes to kill. It's fun and it makes the wait time go faster.
Solibon Solitare
Great game - Thanks!
Fun game
A great way to pass time
Simple fun
Love the chance to play solitaire for mindless rest!
Solitaire
Greatest game ever.
This is the very best Klondike solitaire came their is I love it
Thanks
Klondike
The best classic
Solebon
Richlandramsarenumberone
on
12/19/2017
Great game.
Solitaire by soledon
RickyFloyd1
on
12/18/2017
Fantastic card game.
Great app. Great fun!!
Lot of options for great game play. Always works!!
Delightful if you don't mind the ads
ericwilliammarshall
on
10/11/2017
Lots of polish; if you don't like the ads, there are ad-free versions which are nearly identical.
Dragon lady
Have to think
on
10/7/2017
Great game! Enjoy playing!
Don't waste your time
This company makes a good solitaire game, but an ad after every single game is too intrusive. There doesn't seem to be a way to get rid of the ads, either. I have used other Solebon software for years and like them a lot. This one is far too irritating to bother with. It will be deleted until they tell me an ad free way to play is available.
Great game
Great game... you will be addicted.
The best Solitaire app
This is the very best Solitaire App I have ever played. Love it!
Love the app, but...
okiemagnolia
on
9/14/2017
The app is freezing on the ads, not letting you continue playing another game. Please fix...!!!
Just one thing to change
Why can't I auto complete? This is a pain. All other solitaire games that I have played do auto complete. Why not this one??
Fun!
K9Professor
on
12/15/2016
Great app-challenging yet ample opportunities to win'
Good
A good, simple standard Solitaire game.
Passes the time when I can't sleep.
Works well.
Love it!
Great interface!
Great improvement
Roma's new mac
on
9/5/2016
I love this new solitaire with the bigger cards and the way the cards that can't be played shake so you know and it shows when you should use the auto play button! I deleted the old one and put this one on! Good job! Still loving it!
Great app!
I play this daily and love the ease of the features!
Review
Patrick J. Boehrig
on
9/4/2016
Fun game
Better than ever!
I like the new improvements!! I still play every day!
Very entertaining
Love this app. I use it everyday!
Lovely Game
Can't stop playing
Works great
Fun little app
Great game
I really like this version, it started slow but once I understood it was addictive.
works well
Smooth action even on older iDevices. Has a few occasional alignment problems, but doesn't crash or run into other issues.
Entertaining!
Definitely worth the download!
Solitaire
S HIRLEY SILVERMAN
on
8/18/2016
Love the game, laid out very well, keeps the game going fast!!
One of the Finest
Who Is John Galt?$
on
8/15/2016
Really like the format. It's an excellent Solitaire app!
This is a fantastic service
Mamunislabxjzkbxk
on
8/10/2016
Definitely worth checking out. Modern life needs modern help. I'm definitely a fan
Very simple and smart app
Robinhooddjdbdksk
on
8/10/2016
amazing effect,and easy to use..
Supreb
josephheath568
on
8/10/2016
i luv it this is a nice app!
So cool...
JamesFaulkner3654
on
8/10/2016
Best App ever! I love this app so much!
Awesome!
JakeParkin9874
on
8/10/2016
This app is so awesome.
Excellent
FinleyGodfrey2587
on
8/10/2016
Very nice and easy to use app.
Perfect!!
AnthonyVaughan894
on
8/10/2016
It is exactly what i wanted.... very very nice
Excellent
jonathanshah254
on
8/10/2016
It's very nice application.
Excelent App!!
TomDavies2154
on
8/10/2016
Fully recommended. Fantastic!
Good way torelax and unwimd.
ConnorParkes4
on
8/6/2016
I finally feel empowered and more confindent in many aspects.I can't thank you enough!
Finally my choice!
TaylorMahmood
on
8/6/2016
I have tried other apps like this, some purchased, some free, all no avail.
beautiful App
It is a great activity. Howerer, it's a bit expensive.
Fact Sheet
Publisher:

Solebon LLC

Category:

Games

Released:

Jun 23, 2016

Current Version Released:

Dec 13, 2017

Version:

2.1

Size:

79.2 MB

Compatibility:

Requires iOS 8.0 or later.

Recommended Age:

4+

Game Center Certified:

No

Supported Languages:

Arabic; Catalan; Valencian; Czech; Danish; Dutch; Flemish; English; Finnish; French; German; Greek; Hebrew; Hungarian; Indonesian; Italian; Japanese; Korean; Malay; Bokmål, Norwegian; Norwegian Bokmål; Polish; Portuguese; Romanian; Moldavian; Russian; Chinese; Slovak; Spanish; Castilian; Swedish; Thai; Chinese; Turkish; Ukrainian; Vietnamese;