Screenshots
New in version 2.4
Bug fixes & performance improvement!
Description
Browse, search and listen unlimited free music to your iPhone/iPod/iPad and support to iPhone 6s/6s plus.

Music X is an amazing music player which enables you to enjoy your favorite music Anywhere Anytime!!

Key Features:
- Full iPhone 7 and 7 Plus Support!
- Discover & search directly with different categories: Classical, Rock, Jazz, Dance, Country, Folk, Hip Hop and so on.
- Search for artist, DJ, song, remix or cover
- Easily find your watch history
- Auto play next music
- Repeat and shuffle songs
- Background playback
- Lock screen playback controls
- Sleep timer
iPad Screenshots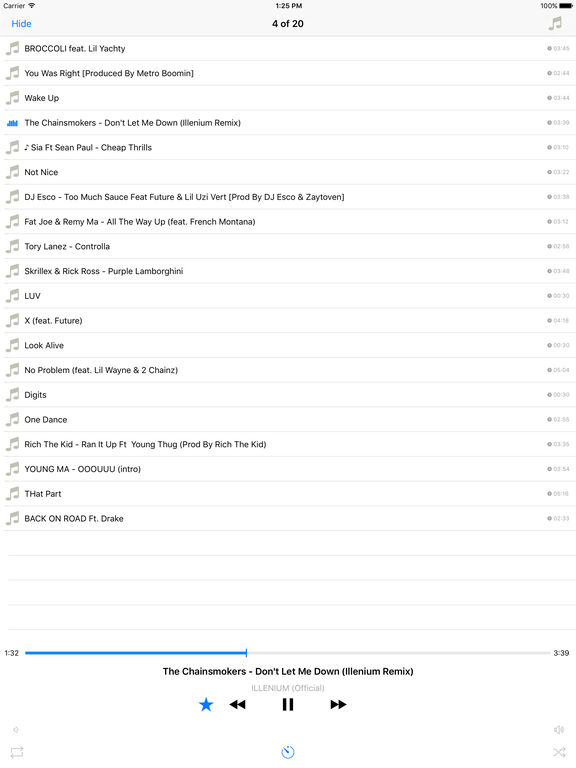 Reviews
LOVE IT
I can find all my song
🙄
It doesn't show anything when I click on the song that I want .like how do u even work this thing
idkkkk
Kosraengurl204
on
7/14/2017
idk yet
Good app
Very good app u can put your fav music in one playlist but u have to be cannedted to wifi
Rating
Gabe King solis
on
7/13/2017
Love this app
LOVE IT
Idc(I don't care)
on
7/12/2017
This is such a good app. I was looking for this kind of app instead of using sound cloud. I can find all my favorite songs in this app. Would reccommend this app to anyone looking for a music app.
How do you add songs to your playlist?????
I downloaded this app because I was tired of having to pay for my favorite songs on the iTunes app but I can't add songs to my playlist every time I click on " add tracks " and find the song I want when I select the song my screen goes blank with the title on the top of the screen and I click again then I click done and the song isn't on my playlist this is super confusing please add instructions on how to work the app instead of expecting me to know because I don't
Jaylise
JayliseMarie
on
7/11/2017
Pretty good but it need to have the songs u want like it need the actual song not covers
Horrible
This app doesn't allow for you to listen to the actual songs it takes you to something totally different. I give this a thumbs down
It too good
This app is so awesome I can listen to all the music I want
Stops at the end of every song
I found good music but it stops playing after every single song....
I hate it
I f&$@en hate this app
Awesome
Love it! Finally an app that has great music selection! Thank you!
muusikluva/51
muusiklover/51
on
7/8/2017
Just love it. The app lets you play what you want to hear,(the one's there),and enjoy them. Great!!!
Nope
Cant find any of the song you search for.
Awesome
I feel free it's like I found the music I love this app it's good wait no great I feel great with it feel great feel like I never seen my life.
Wifi or no.
I thought you were supposed to be able to play this without wifi. But I found all my songs
Suppeerr
Awesome,easy and welldone!!!!!
Easy to use
Vanilla frosted
on
7/7/2017
I love how easy this app is! I was having struggle downloading music from my library but this app helped me a lot!
I love this app!
I can find any song I want to play!
Horrible
It takes forever to find the song you want!!!Dont waste your time!!!
Nice
Jebacicasamoravu
on
7/6/2017
Najs
Really good app!!!!!!!!!111!!!!!!!!!
Really good app for a lot of people that like music
App
Hopefully I can listen to this while I'm offline now🤗🤗
Old and boring music
I gave it a star just because had to rate it. But in my personal opinion it's the worst app for music ever. Nothing is updated. The music is old, unknown and it seems to be recorded by others rather than the original artist. Very disappointed on this app.
Finally found a music app
I've gone through many, I mean music apps, and I found something that I can rely on to put life in my body; music that is. The only problem I would to ask if it can be fixed would be the delay waiting for the song to come on.
Love
Kggiffshvsjbdbczdg
on
7/4/2017
Love that I have music for free
Exelente
pantera lumbre
on
7/3/2017
Justo lo que necesitas
It's okay
that one guy59
on
7/2/2017
It's not that special.
Love, Love & Love
President Holmes
on
7/2/2017
I love this app I can use it without wifi and it's so helpful if there were more stars I would rate it higher.
Decent
The app works but I can't listen to songs without wifi, which is a huge draw back.
Just One Question...
Does it play music offline? That's all I wanna know, but besides that I love the fact you can listen outside the app. Very good
not good
you could find everything, but not what you need. garbage
It's Ight
Nylah_is_da_name
on
6/28/2017
It has all the songs I'm asking for!! The only problem is that it's not offline music. I don't have data when I'm away from the house. If it would be online music, then it would earn five stars. Great app otherwise!!
Cool
Djsjsjxnxnxnn
on
6/26/2017
Cool
Review
This app won't let me find the songs I'm looking for it shows the song you click on it then it takes you to a list of songs that aren't even close to what you wanted
I
xMIDWAYTRACKx
on
6/25/2017
Aim just doing this because i want to try it out but aim really hoping this is a good app the reviews do look god to me sow yeah
GREAT WITH A CAP g
Boby the zombie
on
6/25/2017
I luv this sooooo much
Lit
I gotta write a review before I listen??
Its ok
Ive been looking for an app that doesn't need internet access to listen to the music and sadly this isn't the app for me.
Love it but just one problem
I can't delete a song once I put it in my playlist
Amazing
Smile Emoji😀 54
on
6/24/2017
Yassss. I can listen to Jake Paul now👑
cool
jdksndcbxjjas
on
6/24/2017
cool
Great app
It's a good enough app
Question
QUESTION Can you or can you not listen without wifi
Fact Sheet
Publisher:

Hung Van

Category:

Music

Released:

May 23, 2016

Current Version Released:

Aug 18, 2017

Version:

2.4

Size:

11.6 MB

Compatibility:

Requires iOS 8.0 or later.

Recommended Age:

4+

Game Center Certified:

No

Supported Devices:

iPad2Wifi-iPad2Wifi, iPad23G-iPad23G, iPhone4S-iPhone4S, iPadThirdGen-iPadThirdGen, iPadThirdGen4G-iPadThirdGen4G, iPhone5-iPhone5, iPodTouchFifthGen-iPodTouchFifthGen, iPadFourthGen-iPadFourthGen, iPadFourthGen4G-iPadFourthGen4G, iPadMini-iPadMini, iPadMini4G-iPadMini4G, iPhone5c-iPhone5c, iPhone5s-iPhone5s, iPadAir-iPadAir, iPadAirCellular-iPadAirCellular, iPadMiniRetina-iPadMiniRetina, iPadMiniRetinaCellular-iPadMiniRetinaCellular, iPhone6-iPhone6, iPhone6Plus-iPhone6Plus, iPadAir2-iPadAir2, iPadAir2Cellular-iPadAir2Cellular, iPadMini3-iPadMini3, iPadMini3Cellular-iPadMini3Cellular, iPodTouchSixthGen-iPodTouchSixthGen, iPhone6s-iPhone6s, iPhone6sPlus-iPhone6sPlus, iPadMini4-iPadMini4, iPadMini4Cellular-iPadMini4Cellular, iPadPro-iPadPro, iPadProCellular-iPadProCellular, iPadPro97-iPadPro97, iPadPro97Cellular-iPadPro97Cellular, iPhoneSE-iPhoneSE, iPhone7-iPhone7, iPhone7Plus-iPhone7Plus, iPad611-iPad611, iPad612-iPad612, iPad71-iPad71, iPad72-iPad72, iPad73-iPad73, iPad74-iPad74,

Supported Languages:

English;