TapNova doesn't recommend this version of the app.
New in version 2.3
Description
100% Millions of Free Music! No limits!

Browse, search and listen unlimited free music to your iPhone/iPod/iPad and support to iPhone 6s/6s plus.

Free Music is an amazing music player which enables you to enjoy your favorite music Anywhere Anytime!!

Key Features:
- Full iPhone 6 and 6 Plus Support!
- Discover & search directly with different categories: Classical, Rock, Jazz, Dance, Country, Folk, Hip Hop and so on.
- Search for artist, DJ, song, remix or cover
- Easily find your watch history
- Auto play next music
- Repeat and shuffle songs
- Background playback
- Lock screen playback controls
- Sleep timer
iPad Screenshots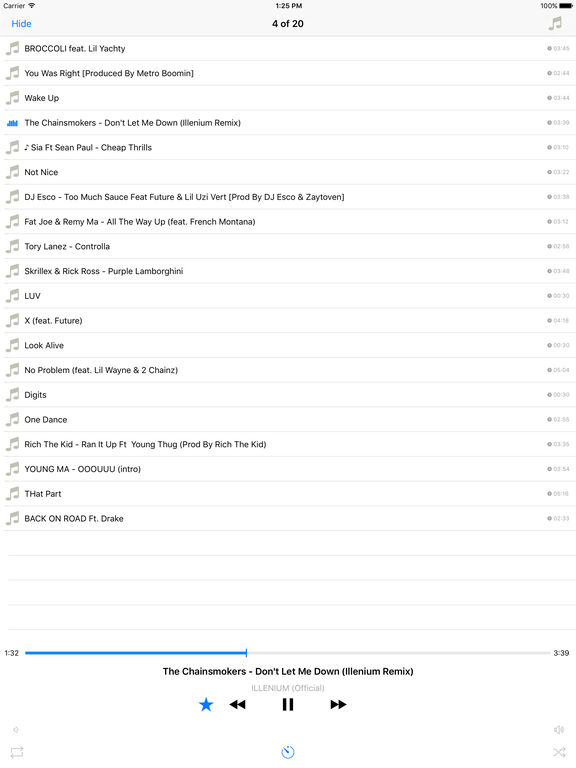 Reviews
Love it but just one problem
I can't delete a song once I put it in my playlist
Amazing
Smile Emoji😀 54
on
6/24/2017
Yassss. I can listen to Jake Paul now👑
cool
jdksndcbxjjas
on
6/24/2017
cool
Great app
It's a good enough app
Question
QUESTION Can you or can you not listen without wifi
Pretty cool
I really cool except that all the music has remixes and not the original song.
Best app!
Butt face mr. Bob
on
6/22/2017
This is by far the best music I app I've ever seen. They have lots of good song options. And have my favorite songs, ("its everyday bro" by Jake Paul). I really recommend it!!
Garbo
Worst app ever dose not even work at all
Pretty good
Pretty good app but I wish I could find more of my music on here. Overall a nice app to use.
Awesome
Runner6712342
on
6/20/2017
This is a good app but you have to write a review before yo get the exact song you searched so other that that its an awesome app its AWESOME!!!!!!!!!
By a good person
by a good person
on
6/19/2017
I love this app it has my favorite songs
Horrible.
PinkieAliRainbowCheese
on
6/19/2017
Can't find a single song. Not even the most popular. Needs fixing. FAST!
Amazing
Sammy🤘🏻🤘🏻😎🤑🌈
on
6/18/2017
I love it ❤️❤️❤️ I can make a playlist and album
Stupid
Paige Gammon
on
6/18/2017
This is the dumbest app ever. When you open it up to download a song you click on the song that looks like it but then it opens up to a whole bunch of random songs that don't even sound like songs and it's really stupid don't get this app
Worst app ever!!!😡😡😤😤
Hasti Tajbakhsh
on
6/18/2017
It doesn't have any good songs and if it does it's not right it's a mix
Love this app!!!
Qwerty server
on
6/16/2017
i can find all my favorite songs and even pu them in a playlist. adding the songs as a favorite makes it easy to find all my faves instead of searching again. my only complaint is that i was looking to be able to backup my songs and sign in with an account (google facebook etc. ) so that i could uninstall the app if need be and reinstall it later and still have my music because i was able to sign in. other than that I LOVE THIS APP. i went thru 5 others without any luck then i found this, sweet!
Almost
app tester 360
on
6/16/2017
I just downloaded this app and then I started scrolling through the songs When I found a song I liked I clicked it and it started loading And then after it was done loading nothing happened it was just white No music no nothing Later I decided it was a bug and to make a playlist Still the same thing happened I could not listen to any music
Lily
pizzaloveheart!!!
on
6/15/2017
I really hope this app dose what I need it to do!!!
Bad app
I cant listen to the song i want i am deleting this app
No download feature
What's the point of it showing up under music downloader if it can't download music
Good unless
Starburst riddle lover
on
6/13/2017
Well for starters this is a lot like the other downloadable music apps but I got the app so I could get some other songs that aren't on the radio but uploaded to YouTube. This includes the songs by the fat rat and the ones by the living tombstone. But guess what THIS IS THE 5TH APP THAT I LOOKED THROUGH TO FIND THOSE SONG AND THEY WERNT THERE!! JUST BECAUSE THEY ARENT AS POPULAR AS THE CRAZY BIRD ON A WRECKING BALL DOESNT MEAN THEY ARENT GOOD. IF YOU ARE READING THIS FEEL MY PAIN AND LOOK UP THE PEOPLE I WAS LOOKING FOR ON THE APP
TRASH!! Don't download
All songs I find except from one artist even well known artists al songs are crappy guitar covers vocal covers or remixed or nightcore versions. Spent an hour trying to find one original song and couldn't, it's a waste of time.
Not sure yet
I'm writing this because it is not letting me listen to music until I do.
Good
Seminary football
on
6/12/2017
Love the app, but the music will randomly stop playing sometimes.
Pretty Good So Far
I just got the app but I am writing this review because it's the only way I can listen to a certain song. I like that u can make playlists
Pretty good
Chelsey Raper
on
6/11/2017
I think it's good
Testing
ATTENTION!!! IF you or a loved one has been diagnosed with mesothelioma, you may be entitled to financial compensation.
Better than nothing
Pretty good
Decent app
This music app is decent
Pretty good
It's better than most music apps
No songs
Searched 3 songs and was stuck at loading for too long
To listen too
Live thus app
on
6/10/2017
Have to write a review ig to listen to music but like it so far.....having a hard time trying to download or figure it out but it seems relative easy
Sucked
Nothing what i thought it would be i cant find the songs i want to listen to.
Like
Mikayla 12346687267472674
on
6/9/2017
This app is great
I ❤️❤️free music you get free music no paying
Ghjjbgyjhgghjhhhhjj
on
6/9/2017
I ❤️❤️free music you get free music no paying
Haven't tried it yet
Didn't know you have to write a review before the songs can play
Best app
Gdhdhjsjskjsjs
on
6/9/2017
You need to make this befor you listen to music
Bad app
I got likes from this so
on
6/7/2017
It's a pretty terrible app that all I'm going to say
Stupid
I don't find the point in it, and it doesn't work.
.
XxRaminatorxX
on
6/6/2017
vrgs
What EVEN is happening.
I just got this app because i have been searching for a decent music app but this is the complete opposite. As soon as i downloaded it i searched a song to begin a playlist and it took 468 years to load, and then it never did. I checked my wifi with multiple speed tests and even turned on my data and still would not load.
This rocks
Love this app it rocks!
Okay
Kayyyrekkless
on
6/6/2017
App is cool, they don't always have the original song but for free music can't complain.
Pretty good
This app is goooooood!
Yo
Little shrimpers
on
6/3/2017
It good
Good
It's a good app it just won't let u choose the song u want without typing it the exact way it is spelled and stuff
Fact Sheet
Publisher: Hung Van
Category: Music
Released: May 23, 2016
Current Version Released: Jan 10, 2017
Version: 2.3
Size: 10.5 MB
Compatibility: Requires iOS 8.0 or later.
Recommended Age: 4+
Game Center Certified: No
Supported Devices: iPad2Wifi-iPad2Wifi, iPad23G-iPad23G, iPhone4S-iPhone4S, iPadThirdGen-iPadThirdGen, iPadThirdGen4G-iPadThirdGen4G, iPhone5-iPhone5, iPodTouchFifthGen-iPodTouchFifthGen, iPadFourthGen-iPadFourthGen, iPadFourthGen4G-iPadFourthGen4G, iPadMini-iPadMini, iPadMini4G-iPadMini4G, iPhone5c-iPhone5c, iPhone5s-iPhone5s, iPadAir-iPadAir, iPadAirCellular-iPadAirCellular, iPadMiniRetina-iPadMiniRetina, iPadMiniRetinaCellular-iPadMiniRetinaCellular, iPhone6-iPhone6, iPhone6Plus-iPhone6Plus, iPadAir2-iPadAir2, iPadAir2Cellular-iPadAir2Cellular, iPadMini3-iPadMini3, iPadMini3Cellular-iPadMini3Cellular, iPodTouchSixthGen-iPodTouchSixthGen, iPhone6s-iPhone6s, iPhone6sPlus-iPhone6sPlus, iPadMini4-iPadMini4, iPadMini4Cellular-iPadMini4Cellular, iPadPro-iPadPro, iPadProCellular-iPadProCellular, iPadPro97-iPadPro97, iPadPro97Cellular-iPadPro97Cellular, iPhoneSE-iPhoneSE, iPhone7-iPhone7, iPhone7Plus-iPhone7Plus, iPad611-iPad611, iPad612-iPad612, iPad71-iPad71, iPad72-iPad72, iPad73-iPad73, iPad74-iPad74,
Supported Languages: English;