Screenshots
New in version 2.10
Halloween has taken over Bowmasters!
Meet Stephanie the Witch with her magic broom! Enjoy spooky Halloween backgrounds, they will give you the shivers. Trick or treat!
Description
A brand new version of the world-famous multiplayer game with bowmen — a hotsy-totsy aim and shoot game Bowmasters has in store for you:

• 60+ INSANE CHARACTERS from all dimensions absolutely for free!
• ONLINE MULTIPLAYER!
• 60+ DIFFERENT WEAPONS for total mayhem, awesome fatalities with rag-doll physics!
• EPIC DUELS WITH YOUR FRIENDS. Grab your mates and and show them what you're worth!
• MULTIPLE GAME MODES. Shoоt birds or fruits down, defeat the enemies in duels and get money for that!
• ENDLESS REWARDS FOR YOUR SKILLS!

Don't miss out on the fun! Be the first to grab it!!!
iPad Screenshots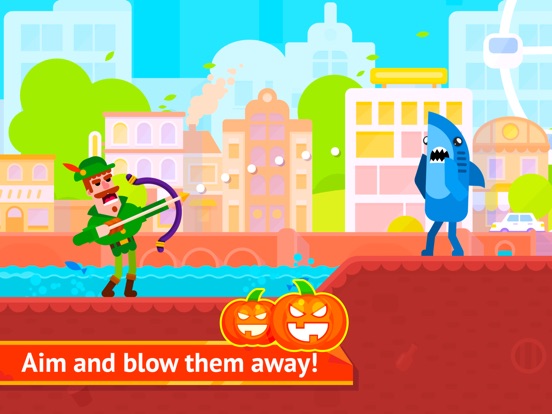 Reviews
AMAZING!!!!
Skywarp1984
on
10/19/2017
SO ADDICTIVE AND FUN!
bowmasters
KTS is awesome
on
10/19/2017
:)
Stephanie keeps crashing my game
The gameplay is really fun, but every aspect of the new character, Stephanie the Witch, makes my game crash. My game would freeze every time i tried to send invites to unlock her, and when i tried to use her in a match, it kept crashing. I also think the Young Tree character is stupidly hard to get and not at all worth it.
I love it
white landon
on
10/19/2017
It's so fuuunnn!!!!!!
It's pretty good
Overall this game is fun. But after you collect all the characters and unlock and beat all the game modes it gets a little boring. But this is about ideas for the Halloween update. You could add some sort of texture pack for the characters or have all characters look differently. You could have Halloween quests or maybe a story mode to go with the whole game and not just Halloween. You could also add new Halloween fatalities. You could add Halloween, Christmas, Easter, and maybe even Valentine's Day characters. I hope you use some of these ideas to improve your game!
Good
Cook Em Haitian
on
10/19/2017
Good game
It's ok
EmoHephalump
on
10/19/2017
It's ok
So far so good
App is ok so far.
Plz fix it,very laggy. Make it smooth yoall
Plz fix it,very laggy. Make it smooth yoall
I love this game
Chelseashore
on
10/19/2017
So funn my head will explode
Huhhhhhhh
Hahahhanamamaka
on
10/19/2017
Ghhhh
Holiday
LoveThaShiz
on
10/19/2017
Maybe a Christmas themed event? 🤔
Characters
A ninja turtle and a power ranger
Entertaining
Jerisa2kgre
on
10/19/2017
Great game
New characters
007 mickeymouse
on
10/19/2017
Ok you should have Harry Potter and call him garden potter or something. He throws a wand. And you should have boba or jango fett or them as a team. Bobas is a wrist rocket and jangos is a dart. Or darth Vader and Luke. And do one of the doctors from dr who.
Halloween ideas
Witch with a broom spear with a special of super speed when tapped and the fatality would be the magic broom carrying enemy into the sky and dropping it. Enemy smashes into bits upon hitting the ground. Werewolf with infected tooth mini spear. Special is splitting into 3. fatality would turn enemy into werewolf but then explode. Skeleton with chattering teeth. Fatality would be teeth eating through body and turning enemy into a pile of bones.
Good
Ultimatenarutofan2163
on
10/19/2017
It's fun
Good game
Thought it was pretty fun
Hilarious!! But...
This game is amazing, very creative, just freezes and crashes a lot, fix that and this game will be perfect!
Character suggestion
Make grumpy cat into grumpy dog. Make grumpy dog
omg
Fat blob fish
on
10/19/2017
YESSSSSS
xtn it
Little Lizzi
on
10/19/2017
zudtixyodi
Awesoem
Llllllllllooooolllpeople
on
10/19/2017
It's cool
880y
You should make a character that is like a figet spinner dude but make a figet cube dude
Entertaining but so many ads
Chrisottwashere
on
10/19/2017
Ads ads ads
Put porn
thatboybryan
on
10/19/2017
PUT PORN PLZ
To many ads
This game gave you an ad every chance it could get.
Crashes all the time
Jomomma 9283747
on
10/19/2017
Developers, this is a great game, but I'm losing patience with the constant crashing and freezing, fix it Update Oct 19 2017, game updated today, and now crashes almost every other match super annoying, updates are supposed to improve the game not make it worse, will be deleting very soon if not improved
Best game ever
Tygggggggger20000001
on
10/19/2017
You should download this game.
Time waisted
Good doctors office game
Awesome game
For a free multiplayer game this is top notch!
More Characters
Have a ton of coins, just can't use them. Need more characters.
The fatalities at funny
It is so relaxing and fun and it's the game you can not really get mad at it the Rappers fatalities is the best you guys did great on that🔥🔥🔥🔥👍👍
More character
Spaceraid3r
on
10/19/2017
What about a piece of paper that throws a pencil and his finishing move is erasing the player. Also make more overwatch characters because of the weebs
Definitely needs more characters
Love the game and the fact that I don't need internet to play it. I think the characters you have to invite 5 friends to get is annoying because I don't have 5 friends each character.
Paid to get rid of ads and I still have ads!!
I feel like paying 4 dollars to get rid of ads should get rid of ads! I still have ads! So stupid! The game is fun but all I do is wait for ads to stop
Character Suggestion
BlackSuperSaiyan
on
10/19/2017
Give us a Dragonball super based character 🤘🏽
More Characters and Open Chest w/ Wins
PolarAssassin
on
10/19/2017
There should be more heroes. Maybe Pokemon or Overwatch themed heroes. Also you shouldn't have to watch an ad to open chests you should be able to open a chest every four-five wins.
Hoi
DragonBallGod215
on
10/19/2017
I'm loving it
Super fun game!
I recommend everyone to play this bc yeah
Fact Sheet
Publisher:

Playgendary GmbH

Category:

Games

Released:

Aug 17, 2016

Current Version Released:

Oct 19, 2017

Version:

2.10

Size:

227.9 MB

Compatibility:

Requires iOS 9.0 or later.

Recommended Age:

12+

Game Center Certified:

No

Supported Devices:

iPad2Wifi-iPad2Wifi, iPad23G-iPad23G, iPhone4S-iPhone4S, iPadThirdGen-iPadThirdGen, iPadThirdGen4G-iPadThirdGen4G, iPhone5-iPhone5, iPodTouchFifthGen-iPodTouchFifthGen, iPadFourthGen-iPadFourthGen, iPadFourthGen4G-iPadFourthGen4G, iPadMini-iPadMini, iPadMini4G-iPadMini4G, iPhone5c-iPhone5c, iPhone5s-iPhone5s, iPadAir-iPadAir, iPadAirCellular-iPadAirCellular, iPadMiniRetina-iPadMiniRetina, iPadMiniRetinaCellular-iPadMiniRetinaCellular, iPhone6-iPhone6, iPhone6Plus-iPhone6Plus, iPadAir2-iPadAir2, iPadAir2Cellular-iPadAir2Cellular, iPadMini3-iPadMini3, iPadMini3Cellular-iPadMini3Cellular, iPodTouchSixthGen-iPodTouchSixthGen, iPhone6s-iPhone6s, iPhone6sPlus-iPhone6sPlus, iPadMini4-iPadMini4, iPadMini4Cellular-iPadMini4Cellular, iPadPro-iPadPro, iPadProCellular-iPadProCellular, iPadPro97-iPadPro97, iPadPro97Cellular-iPadPro97Cellular, iPhoneSE-iPhoneSE, iPhone7-iPhone7, iPhone7Plus-iPhone7Plus, iPad611-iPad611, iPad612-iPad612, iPad71-iPad71, iPad72-iPad72, iPad73-iPad73, iPad74-iPad74, iPhone8-iPhone8, iPhone8Plus-iPhone8Plus, iPhoneX-iPhoneX,

Supported Languages:

Chinese; English; Chinese; Chinese;

Parental Advisory:

Suggestive Themes; Mild Profanity or Crude Humor; Intense Cartoon or Fantasy Violence; Fear Themes; Mild Alcohol, Tobacco, or Drug Use or References;