Screenshots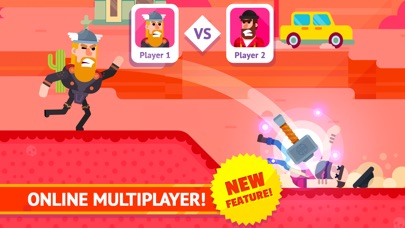 New in version 2.10.1
With this update you can get more coins in the chest roulette! Update the game and enjoy!
Description
A brand new version of the world-famous multiplayer game with bowmen — a hotsy-totsy aim and shoot game Bowmasters has in store for you:

• 60+ INSANE CHARACTERS from all dimensions absolutely for free!
• ONLINE MULTIPLAYER!
• 60+ DIFFERENT WEAPONS for total mayhem, awesome fatalities with rag-doll physics!
• EPIC DUELS WITH YOUR FRIENDS. Grab your mates and and show them what you're worth!
• MULTIPLE GAME MODES. Shoоt birds or fruits down, defeat the enemies in duels and get money for that!
• ENDLESS REWARDS FOR YOUR SKILLS!

Don't miss out on the fun! Be the first to grab it!!!
iPad Screenshots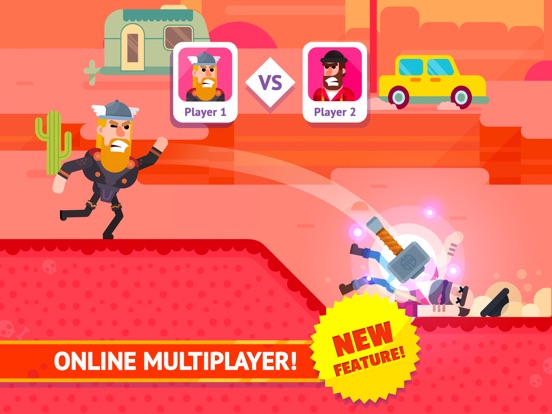 Reviews
Good
stressgirlithelps.com
on
12/13/2017
I think you should be able to buy a costume in a person with money but everything else is good and I don't think you need to update or anything but that's the only thing I think you do need update on this game is very good. There are barely any ads
Wow
Mommabuddah
on
12/13/2017
Wow
Love
jt angry gee
on
12/13/2017
It
Cool
scrubzzzsss
on
12/13/2017
Cool
Amazing!!!! And Funny!!!!!!
Amazing!!!! And Funny!!!!!!
It's tight
Like u get to bow tf outta Otha guys .yeeeeeeet.
Best game
behzad33999
on
12/13/2017
Nice
Syria pvieyfYDIFv
Iywvrgipysdgvipeygfviwylf
It good
Space guy flag stab 🇷🇺⚒
No use for coins
wealthy beggar
on
12/13/2017
I have over 200,000 coins but they are useless. I cannot buy any more characters as the few remaining are only offered if I subscribe to Instagram, recommend friends, or win in roulette. So what is my incentive to keep winning?
I Never leave review but I just had to
Popttacoolj
on
12/12/2017
The overuse of ads is ridiculous had to delete after 35 mins even though I liked the game! Within those 35 mins I probably saw 40 ads so annoying!
Ads are a bit much
TH3 GAM3R 1736786575467
on
12/12/2017
I love the game but the Ads are a bit much
Pretty good game
Honestly I have fun playing the many characters and thoroughly enjoy the final knockouts. The only issue is that you can buy the characters fairly quickly as the characters that require gold make up around half the board. This means that after you get these characters there's nothing to spend gold on. In the first weeks I struggled to get past a few thousand gold with my few characters. Now I'm well past 200,000 and have nothing to spend it on besides a second try if I get bodied by an opponent. I ask that future characters be made to purchase through gold, or that some new area of the game be made that you can use gold in.
Good
boi with fidget spinner
on
12/12/2017
None too shabby
Glitchy "at times"
Scabbyheadz
on
12/12/2017
To me, the game is awesome! Sadly, It has ads, but you can skip them! The only thing that I dislike about the game, is the fact that it glitches when you open chests, get my daily reward, and go into a PvP battle. Other than that, the game is perfect!
Bowmazing
Your one awe some bowshooting game of all time.
Let's go cavs
It's really fun
I love it
It's a great game to pass the time
Fun!!!!!!
Dudegun133337
on
12/12/2017
Fun but very deathly
Pretty neat
Bass.Player4000
on
12/12/2017
Fun to play in my spare time
Fun
It's a perfect game to play while ur bored or just wanna through things at people
Good
rockofgibraltar
on
12/12/2017
Good
Addicting and fun!
Funny game.
Fun game!
It makes you do this... but it's fun
Fun
star bolt maniac
on
12/12/2017
This is a very good game on the phone this is the best app ever created and it's original in its own right give it a try you won't regret and it's two players and loads of cool playable characters
Good
It's a dope game can't say nothing bad
All right app
Okay to pass time
Bowmaster
shane or die
on
12/12/2017
Awesome game. Love it been playing for months on Android. Just switched to iPhone. First game I looked for
Great
thatkid2004
on
12/12/2017
Ads aren't actually that bad, like at the end of a game, it kinda gets annoying, but I mean how else is the developer supposed to make money, and if it really bothers you, just pay $2, I love this game and definitely recommend
Not bad
Allen S. Thoreau
on
12/12/2017
Reminds me of a dos. Game from my childhood
Advertisement city
Ads are so bad, it's hard to play. Calm it with the ads Developers...
Fun game; absurd Ads!
GregPowrhous
on
12/12/2017
Pretty fun game overall with a lot of fun characters to choose from, but honestly will probably be uninstalling due to 30 second ads every menu change, game selection, post game, start of the app. Really poor taste on the dev's part. :(
Wow
So very annoyed ok come on
on
12/12/2017
Wow
Fun
Dukes123456
on
12/12/2017
Addicting
Amazing and fun
dembowmanallday🖤
on
12/12/2017
This game is great but it glitches and lags a lot. I love that from hit other people u get points from where you hit em!! This is a great and fun game💜💜💜
Free stuff
Chest dare inside me
Bowmaster
Joel corona
on
12/12/2017
I love this game so much
Horrible Ads, Just OK Gameplay
So some of the ads are skippable, but they also throw Ads and tricks onto buttons that are normally something else in the game, tricking you into watching 30 min ads for other games. I would pay for the game also if the courses and opponents were more interesting and gameplay was more challenging and creative, but it is mindnumbing easy
Yup
Co&Ca Fan13
on
12/12/2017
Yup
Fact Sheet
Publisher:

Playgendary GmbH

Category:

Games

Released:

Aug 17, 2016

Current Version Released:

Nov 01, 2017

Version:

2.10.1

Size:

226.2 MB

Compatibility:

Requires iOS 9.0 or later.

Recommended Age:

12+

Game Center Certified:

No

Supported Devices:

iPad2Wifi-iPad2Wifi, iPad23G-iPad23G, iPhone4S-iPhone4S, iPadThirdGen-iPadThirdGen, iPadThirdGen4G-iPadThirdGen4G, iPhone5-iPhone5, iPodTouchFifthGen-iPodTouchFifthGen, iPadFourthGen-iPadFourthGen, iPadFourthGen4G-iPadFourthGen4G, iPadMini-iPadMini, iPadMini4G-iPadMini4G, iPhone5c-iPhone5c, iPhone5s-iPhone5s, iPadAir-iPadAir, iPadAirCellular-iPadAirCellular, iPadMiniRetina-iPadMiniRetina, iPadMiniRetinaCellular-iPadMiniRetinaCellular, iPhone6-iPhone6, iPhone6Plus-iPhone6Plus, iPadAir2-iPadAir2, iPadAir2Cellular-iPadAir2Cellular, iPadMini3-iPadMini3, iPadMini3Cellular-iPadMini3Cellular, iPodTouchSixthGen-iPodTouchSixthGen, iPhone6s-iPhone6s, iPhone6sPlus-iPhone6sPlus, iPadMini4-iPadMini4, iPadMini4Cellular-iPadMini4Cellular, iPadPro-iPadPro, iPadProCellular-iPadProCellular, iPadPro97-iPadPro97, iPadPro97Cellular-iPadPro97Cellular, iPhoneSE-iPhoneSE, iPhone7-iPhone7, iPhone7Plus-iPhone7Plus, iPad611-iPad611, iPad612-iPad612, iPad71-iPad71, iPad72-iPad72, iPad73-iPad73, iPad74-iPad74, iPhone8-iPhone8, iPhone8Plus-iPhone8Plus, iPhoneX-iPhoneX,

Supported Languages:

Chinese; English; Chinese; Chinese;

Parental Advisory:

Mild Profanity or Crude Humor; Fear Themes; Intense Cartoon or Fantasy Violence; Mild Alcohol, Tobacco, or Drug Use or References; Suggestive Themes;