TapNova recommends this app!
New in version 2.7
Check out TWO new FREE characters:
— Lol Vein, feel like a Hip-Hop star!
— Investor, he can make any enemy of yours rich!

Download this update and get new UNIQUE characters FOR FREE!
Description
A brand new version of the world-famous multiplayer game with bowmen — a hotsy-totsy aim and shoot game Bowmasters has in store for you:

• 60 INSANE CHARACTERS from all dimensions absolutely for free!
• ONLINE MULTIPLAYER!
• 60 DIFFERENT WEAPONS for total mayhem, awesome fatalities with rag-doll physics!
• EPIC DUELS WITH YOUR FRIENDS. Grab your mates and and show them what you're worth!
• MULTIPLE GAME MODES. Shoоt birds or fruits down, defeat the enemies in duels and get money for that!
• ENDLESS REWARDS FOR YOUR SKILLS!

Don't miss out on the fun! Be the first to grab it!!!
iPad Screenshots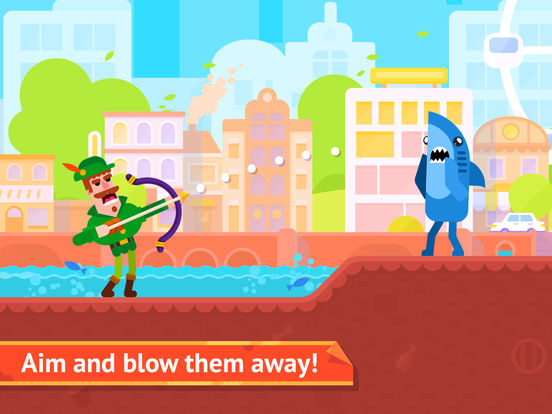 Reviews
Make a customizer character
codysmash1234
on
7/24/2017
Awesome
This game is not the best but fun
River and George
on
7/24/2017
It's game is pretty cool but once u get all the characters it's not as fun as it used to be at the beginning so I hope u add more games or new tournaments for the game thanks 🔥
Lavionn
Emoji kisses😘😘😘
on
7/24/2017
I love this game ❤️❤️❤️🍫🍫🍫🍫
Tone down the ads
Amazing game but the amount of ads are unbelievable :/
Bowmasters
AAAAAAADDDBBBGFTsgdgh
on
7/24/2017
This game is so fun it looks really cheesy at first but it's a great game I love it ever for a beginner its really easy to start of and To expand. I would give this game a 5 star higher if I could I would all so tell any one that they should give it a shot I have came back to review i got a little bored with the game and I think you should make a 3-d pvp whith 8 players so you can move around and fight others. I think you should make a halo man that through a guns 😀 Please know I tried to help whith my advice
Jfduuxus
Thank dictating dictating dictating thing to dedicate think they could take the 50 that that that that that that that that that that that that that that that that
Not a lot to do
Cool dude53578😎
on
7/24/2017
There's not a lot to do after you collect the guys plus they added two new guys but you have to have instagram to get them and I'm not even allowed to have,! But still it's fun when you first get it but it starts to get boring after👍 and 👎
Too much blood
It is disturbing
Wow
isabellacpgp
on
7/24/2017
This app is very addicting and fun. I really like it
Great game!
I don't have any ideas for characters but I would like to see a hack and slash element implemented into the game, as it would make the game a lot more fun.
Glitches
Has a few bugs. It he game is great!
Cool
Awesome man great
on
7/24/2017
Game is dope
Awesome game!
It's a fun game and most of the characters are familiar from references that I love... I'm just surprised there's not a character from Jojo's Bizarre Adventure though, since that's like the most referenced anime ever, almost all modern day animes have references to it. Be funny to see Kira Yoshikage launch explosive bubbles, then get hit by an ambulance or something like that. Or time stopping bisexual vampire: Dio Brando, with a handful of throwing knives. Edit: Or have a game related character like DOOM guy (from DOOM), just have him throw entire limbs, bodies, and/or hellspawns lol. Or make a Robbie Rotten like character with a net, people love Robbie Rotten
Fun game
datfreaknrican
on
7/24/2017
.....
Awesome game
Awesome game
Bowmasters
Good game could be better
Toilet
Dr Nut Buster
on
7/24/2017
I play on the toilet
Awesome game
Johnstonewall
on
7/24/2017
Good game to pass time
It's good but the lag
Bowmasters is a good game but I always get lagged out pls fix
Love it
It's so fun to play with friends
Chests Problem
It's way too hard to get a new character from the chests. Otherwise the game is pretty fun.
Love love love!
Sydthesquid03
on
7/24/2017
Great game for when you are bored
Best game eva 😁😁
NERDY LLAMAS
on
7/24/2017
play this game now it is soo addicting
I love this app
I LOVE MONKEYS IM AWESOME DUDE
on
7/24/2017
It is the best app ever
Fun but there is a problem
I like this game it is very fun but the problem is that every time I start a match it crashes also it sometimes crashes when I get an ad.
Great👍
BrainBullets
on
7/24/2017
So much fun.
So far so good
Thanks for great game!
Wow
Kelvin Anderson Almonte
on
7/24/2017
This is one of the best games ever played by me
Fun
Minecraft things I whant
on
7/24/2017
It's a great game but if the deva are reading this make it so you can use in game coins to get chests
Niks review
Best game ever made👍👍👍👍👍👍👏
Overall good but this one bug...😡
I love the game overall and I play it every day. The thing that bothers me is that every time I would go to play a gold tournament, when I would win I would only get the 1,000 gold and I don't even get a character! This has happened to me two times now and this is getting really annoying. Please update and fix this bug and then I'll rate this 5 stars
Gold coins a big waste
Chrisjhansen33
on
7/24/2017
I have $51k in gold coins with nothing to spend it on. Should make all characters available for purchase with coins.
Mmens
Kaitebug1016
on
7/24/2017
This game is good for you kids but don't courage your kids to do this. Behavior at your home or school
Best game ever
Omg this is the best game ever so many people to play as and so much weapons 🦄🦄🦄🦄🦄🦄🦄🦄🦄🦄🦄🦄🦄🦄🦄🦄🦄🦄🦄🦄🦄🦄🦄🦄🦄🦄🦄🦄🦄🦄🦄🦄🦄😍😜😛🤑
Hejalskdngfh
Njdhfhcudkskjfjdidisosodikfkckchshdhvofishshdhh
Bowmasters
I love the game but it constantly crashes!! It drives me crazy. No matter where I am in the game it starts over again. Otherwise...when it IS working I love it!
Awesome
Forging King
on
7/24/2017
This game is awesome!!
Rate
Hdjgurgcccjr
on
7/24/2017
Rating because they want me to
Great game
It's a absolute great game , fun for you and all your friends. I'm writing this review hoping it's useful for anyone playing.😀
Jajaj lol 😹👌👌
Chirimojalogme821
on
7/24/2017
⭐️⭐️⭐️⭐️⭐️
Great Game!
I have to say that I have downloaded a lot of games on my iPod, and then deleted them 3 - 4 days later cause I need to buy things to continue the game or just because they got boring in general, this game is the exact opposite, I would definitely recommend this game!
Gooooooooo
Amazing amazing amazing amazing amazing amazing amazing amazing amazing amazing amazing amazing amazing amazing amazing I love it
Fact Sheet
Publisher: Playgendary GmbH
Category: Games
Released: Aug 17, 2016
Current Version Released: Jul 21, 2017
Version: 2.7
Size: 183.7 MB
Compatibility: Requires iOS 9.0 or later.
Recommended Age: 12+
Game Center Certified: No
Supported Devices: iPad2Wifi-iPad2Wifi, iPad23G-iPad23G, iPhone4S-iPhone4S, iPadThirdGen-iPadThirdGen, iPadThirdGen4G-iPadThirdGen4G, iPhone5-iPhone5, iPodTouchFifthGen-iPodTouchFifthGen, iPadFourthGen-iPadFourthGen, iPadFourthGen4G-iPadFourthGen4G, iPadMini-iPadMini, iPadMini4G-iPadMini4G, iPhone5c-iPhone5c, iPhone5s-iPhone5s, iPadAir-iPadAir, iPadAirCellular-iPadAirCellular, iPadMiniRetina-iPadMiniRetina, iPadMiniRetinaCellular-iPadMiniRetinaCellular, iPhone6-iPhone6, iPhone6Plus-iPhone6Plus, iPadAir2-iPadAir2, iPadAir2Cellular-iPadAir2Cellular, iPadMini3-iPadMini3, iPadMini3Cellular-iPadMini3Cellular, iPodTouchSixthGen-iPodTouchSixthGen, iPhone6s-iPhone6s, iPhone6sPlus-iPhone6sPlus, iPadMini4-iPadMini4, iPadMini4Cellular-iPadMini4Cellular, iPadPro-iPadPro, iPadProCellular-iPadProCellular, iPadPro97-iPadPro97, iPadPro97Cellular-iPadPro97Cellular, iPhoneSE-iPhoneSE, iPhone7-iPhone7, iPhone7Plus-iPhone7Plus, iPad611-iPad611, iPad612-iPad612, iPad71-iPad71, iPad72-iPad72, iPad73-iPad73, iPad74-iPad74,
Supported Languages: Chinese; English; Chinese; Chinese;
Parental Advisory: Mild Profanity or Crude Humor; Intense Cartoon or Fantasy Violence; Suggestive Themes; Fear Themes; Mild Alcohol, Tobacco, or Drug Use or References;