Screenshots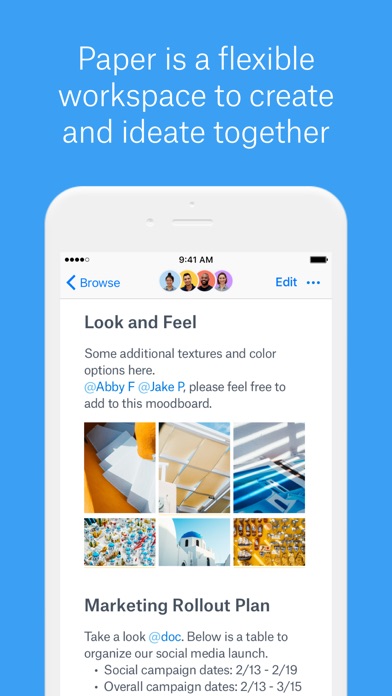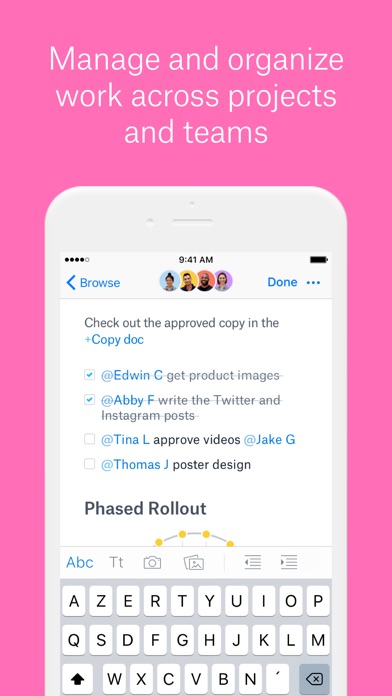 Description
Grow bigger, brighter ideas with Dropbox Paper, a flexible workspace that brings people and ideas together. With Paper, you and your team can create, update, and collaborate on documents—and keep everything synced seamlessly across all your devices.

EDIT AND CREATE DOCS
Capture inspiration wherever it hits. Create new docs or make changes to existing ones—and keep projects moving forward from anywhere.

STAY UP TO DATE WITH YOUR TEAM
See everything that happens in your docs—like comments, shares, and @mentions—in one organized list.

POST AND REPLY TO COMMENTS
Add, view, and reply to comments right inside docs, so the conversations around work continue—even when you're away from your desk.

PRIORITIZE KEY DOCS
Star docs and folders for quick access. Use folders to keep docs organized by project.

SHARE YOUR DOCS
Keep everyone on the same page by adding people from your team to your docs.

WORK OFFLINE
Get work done anytime, anywhere—even without an internet connection. With the mobile app, you can access, edit, and comment on your starred and recent docs, or create new docs while offline.
iPad Screenshots
Reviews
Love it!
Henrique89robot
on
9/22/2017
Can write on the go
Disappointing
Invalid certificate on signup
on
9/18/2017
I love the editing experience on my desktop, and hoped I could start a new document from my phone. I started typing a document name and it just froze the document, presented a stupid message to the tune of, "Can't connect or save. Copy the entire document and paste it into a new one..." FYI Devs, don't let UX hacks into production! Please allow local edits and sync when connection is available.
Hope it gets better.
I do not like the way Paper presents folders and documents. I have a hard time finding the files and folders I have created.
Very promising
Paper seems to have a lot of potential (and on my devices anyway, hasn't yet crashed), and it's great to have the potential for this kind of thing built into Dropbox too. That said, Paper has what's to me an annoying way of presenting folders and documents. As far as I can tell, it doesn't want to show you the actual folder structure that you've set up, it does that thing of showing a list of ALL your folders at one time, whether or not you've nested them inside each other, and it orders folders and/or documents by Recently Viewed -- with no option to have them displayed alphabetically by name instead. I hate that. My brain wants to see and work with the folder structure that I've set up, and wants the folders and documents listed alphabetically by name. So until those options are offered in Paper I won't be using it. But otherwise it seems like a nice app, and if you aren't bugged by the All Folders (and listed by Recently Viewed) thang, maybe it's for you.
Web App Amazing, iPad Not So Much
Marvin Bogner
on
9/15/2017
Imagine if Google Docs were created in 2016 instead of 2006. You'd get Dropbox Paper on the web. Dropbox Paper is amazing … on the web. A joy to use. Lots of style options but they don't get in he way or slow you down. Sadly, despite the amazing iPad Pro hardware and iOS, the iPad is a second class citizen among developers and Dropbox Paper is no exception. Despite there being no technical limitation, Dropbox Paper on iPad is essentially a viewer as it lacks many of the style and writing tools of the web version. I'm awarding two stars for the collaborative writing support. But it needs parity with the web version.
Crashes every time it opens : (
Crashes every time it opens : ( Crashes every time it opens : ( Crashes every time it opens : (
Release Notes
Dear Dropbox, it's bug fixes, bug fixes!
It's a 1000x better then google docs
RockManNameNotTaken
on
8/26/2017
Just super easy to write and collaborate on great looking documents
Not bad but not great and no options
FistOf Strength
on
8/18/2017
No font control, no font size control, doc list lacks options. They have taken minimalism so far there are no user options. You have to do it the drop box way. No thanks.
Amazing.
Jaak Johanson
on
8/3/2017
Better than google docs!
Buggy, slow, crashes a lot
This is a beautiful app. It's well designed, and Dropbox paper in general is great. I love it a lot, and my whole company does too. But! This app crashes for me *all the time*. If I get a few comments, I can reliably budget that it'll crash once for each I use the app to deal with (read, respond, it doesn't seem to matter.) It also seems to hang for no reason when navigating between links. Is it losing the request or something? Who knows! It just spins until I force quit it. Overall if they can fix these issues I'll be super stoked to keep using it but for now I much prefer the desktop version.
Good app
Nice job! Can you support more code syntax styles? I use Fortran.
Good App
Works good feels good looks good.
Great Features, Perfect Details!
Zeinali Hossein
on
7/29/2017
I think this is the first app that I started using immediately after I installed it. Paper is simple and effective. There are some minor problems and some features that will make your app amazing, but lack of these features and existence of those problems do not give users enough excuses to leave Paper. Great features brings customers, and perfect details keep them. I suggest you integrate with Grammerly, Todoist, Things, MindeNode and productivity apps like this. Thanks for your great work. I've been Dropbox user for some years and you always delivers good experience.
Wedding Planning Solved!
Little10Foil
on
7/26/2017
I downloaded this app to keep a task list for my upcoming wedding. Works like a charm! I created a task list in a few minutes and tagged my mother, mother-in-law, etc., and was easy to assign to do's to everyone. I had previously been using Apple Notes but you can't tag owners and everyone on my wedding team is not on iOS. This is perfect because it works across multiple platforms. It's also so much easier to set a shared "paper" vs a shared note in MS OneNote.
Almost There!
Love this application and the potential it has to be! Since my initial review, I have now given it a 5 star review! My top two requests (offline support and folders) have been added. Would be amazing to add these: 1. Option to disable the "recently viewed" function, I'd prefer to not move old docs to the top
a nice companion to Dropbox
Paper is a nice companion to Dropbox which has replaced Evernote as my note storage app. However, the strong focus on team use in the workplace is rather tiring when I am just using it for personal use. An option for personal use only would be a great add-on in this respect.
Good App with Great Potential
Loving paper on the web, and as the app develops to allow more of the features that the web has it will be incredible, but certainly functional as it stands now. Allows for easy collaboration for interior design projects.
Love paper...
beckyankerberg
on
7/4/2017
...for basic planning and idea-sharing, and especially like that you can comment on specific parts if an image. Makes collaborating on designs super easy!
One of the best, with major flaws
Dropbox paper on the desktop rules over all other applications. It's simple and clean, and stores your documents securely. The app lacks a lot of essential features. There needs to be an ability to select multiple documents, and be able to delete, share, print, etc. them all at once. Documents should be able to be organized in order of "Date Created". This is extremely frustrating.
Setting up document still spinning
Chief BowWow
on
6/21/2017
It's been 3 hours and 4 separate uninstalls and reinstalls - the "Preparing Your Docs" screen is still spinning. Can't be right! Waste of time
Better than GSuite
Finally, a collaboration product that's not based on the metaphor of an 8.5" by 11" piece of paper.
Does not have enough options
There is no way to delete or move any documents within the app (unless I'm losing my mind). The other Dropbox apps offer the ability to move & delete files as a basic feature- that makes me hope it's supposed to be a feature of this app as well
Not ready. Not good.
It is not really a PM app or a CRM or a good ToDo app. I'm Not sure what this thing is supposed to accomplish. Also needs markup and proofing. I guess us users will tell Dropbox how to fix it. Blah.
App freezes in latest update
With the latest version, the Paper app freezes after a few minutes. I'm on a iPhone 5s, latest app update, and on the latest iOS 10.3.2. I'm a Dropbox Pro member. Please fix!!! I use this for work and personal so it's great when it works! In the meantime I have to use txt files for notes synced to Dropbox, yuck! So 2010...
Pretty messy
I do love Dropbox and probably couldn't live without it (or a similar service) but their mobile apps are lacking in a big way. While the main iOS dropbox app is unfortunately light on options this app is even lighter - and that's not a good thing. Maybe it's time for dropbox to throw a little more money at their mobile apps. As far as issues go - word wrapping in tables is horrendous - almost as bad as Evernote was. Phone numbers will only turn into links for about a split second before turning into un-clickable black text. I've had a few crashes. No ability to set due dates on tasks as far as I can see. When trying to assign a task the entire pop up window moves up and down the screen as you scroll - pretty sure this isn't intended behavior. I've only used the mobile app a few times but in that time I've found all these silly issues. Doesn't anyone test their apps before releasing anymore?
Good but lacks organization and UX
Has a lot of wonderful features but lacks organization. Not a deal breaker. Would still recommend, but the app is very hard to use for organization. I can't seem to find a way to add docs to a folder within a the app. Also, it's difficult to find things since it presents you with most recent instead of just my folders.
Amazing
An abstraction of Google docs perfect for getting things done.
Can't see my Dropbox Files
Scooter-IT Debit
on
5/17/2017
I can't see or export a txt file from Dropbox or open the file from this app. Can't find an option to link my DropBox app or account either. Useless app for me.
Powerful and useful
Nice editor and convenient to sync between all devices.
Good and getting better
Paper is used heavily at my place of employment, and has been since it was in beta. Having access to my Paper docs on my iPhone is essential. It allows me to create/edit documents, share with colleagues, comment, and get notifications when others comment. Markdown is supported and makes formatting easy. I have noticed a few bugs: when double-tapping to edit, the cursor is often placed at odd spots, and if you have predictive text enabled your sentences appear as one word above the keyboard. Despite these minor issues, I have opted to start using Paper over Evernote. I would love to see multiple accounts supported as in the Dropbox app so I can have my personal Paper account as well, and also the ability to link to files I keep in Dropbox and keep them inline while offering a preview of the file, just like I can on my laptop. It's easy to see Paper is a priority to Dropbox with the frequent updates to the product, as well as to this app. Looking forward to seeing more features and improvements added.
Just great
I didn't realize how much I needed an app like Paper to exist. It's a perfect lightweight notebook. Can't wait to see how they make it even better (like adding support for multiple Dropbox accounts 😏)
It's made for businesses and teams
FashionGeek1
on
4/30/2017
It's not meant to be an office suite, it's a mark down editor for teams who can update and edit documents in real time, you can also provide the links on websites to share your documents with customers, and also share documents so they can be edited, with the desk top version you can add tables and even more to documents, remember this app is free I'm sure there's a lot of work and dedication put into this app! Five stars all the way and thanks to the developers, I've used this for clients, studying, and sharing informational docs on the web!!!!
It's a start
Desktop Paper is a winner. The more I use it, the more I value it. Unfortunately, as many have said, this iOS app is half-baked and bug-ridden.
Why
Xkvkcmsnsnfjxjcjdjfjcjdjcnx
on
4/24/2017
Hackpad worked perfectly in a mobile browser. Now I'm installing yet another app. Fantastic, thanks.
Horrendous
Look like a solo project made by an intern. Not usable at all. I'm not even kidding. Documents can't be opened. Everything is slowing down. Imported and shared files don't appear until after a day. Please delete this app.
Doesn't work at all
Only blank white screen. Nothing happens.
App does work now
App does work now
Meh :/
I cant delete a file, I cant rename or delete a folder, I cant move a file.
Folders??
Why can't I add folders within the app? Has anyone else had this problem?
Needs folders..
I like this app. It's great on desktop. But I like to make notes on the go and not being able to categorize the note in a folder is a bummer. 👎🏻
in short, yes.
Kenny Pistol
on
4/19/2017
once again dropbox asserts its dominance over all others. GOAT. this is perfect for a creative team. bravo dropbox, bravo.
Lacking features and buggy
The web version is nice, but the app has weird issues with touch constantly triggering edit mode and cursor moving around weirdly.
So unstable.
When I first opened this app and tried to write something, I found out when click the bottom space of a picture I can add a caption. After a while, somehow the caption tool just disappeared. No matter how I tried it never showed again. This is a mysterious app.
Bugs
Dade Murphy (zerocool)
on
4/17/2017
A lot of various bugs, from losing new documents to the edit mode not inserting to edit. I love the idea, but it makes it difficult to use for work when it's not consistently there for you to use at its fully working capacity.
Not Working
I've downloaded and reinstalled 3 times. When I first open the app after downloading, there's a "Get Started" button. I click the button then choose an account. I'm then taken to another screen that is blank. It appears to be loading but completely blank. I'm not able to go back or go to settings. I can't do anything.
Great way to collaborate!
This app makes it easy to create and share docs with your team. Love the clean UI!!!!
blank page no response
When I login in with my dropbox account it shows error "Something went wrong Unable to load current paper user". even with the newest version It doesn't work. there is no feedback button to click in the Paper app
100% not working, i see only loading the app 24hrs.
simple opinion.. NOT working AT ALL. It crashes even right after executed. I can't go to the "Report" tab.
Good, but...
First, let me say that I love the concept of this app, but there are some issues: - Feature parity is not a realty between web and iOS versions. I can't create tables in the app for example, and anything requiring the left menu seems not to be accessible. - Some interactions are weird: bolding text or creating a list using the drop down menu gives no positive feedback, which means you're not sure if it worked until you begin typing. - Something funky is going on with the scroll; when you type and your cursor moves off screen, the editor view doesn't move down to compensate, and you can scroll way past the existing canvas. Still, I suspect it will become a very polished app so long as Dropbox continues to push updates on a regular schedule. I prefer the UI and integrations to Google docs but the polish is not quite there yet.
Fact Sheet
Publisher:

Dropbox, Inc.

Category:

Productivity

Released:

Aug 07, 2016

Current Version Released:

Sep 13, 2017

Version:

1.15.5

Size:

167.1 MB

Compatibility:

Requires iOS 9.0 or later.

Recommended Age:

4+

Game Center Certified:

No

Supported Devices:

iPad2Wifi-iPad2Wifi, iPad23G-iPad23G, iPhone4S-iPhone4S, iPadThirdGen-iPadThirdGen, iPadThirdGen4G-iPadThirdGen4G, iPhone5-iPhone5, iPodTouchFifthGen-iPodTouchFifthGen, iPadFourthGen-iPadFourthGen, iPadFourthGen4G-iPadFourthGen4G, iPadMini-iPadMini, iPadMini4G-iPadMini4G, iPhone5c-iPhone5c, iPhone5s-iPhone5s, iPadAir-iPadAir, iPadAirCellular-iPadAirCellular, iPadMiniRetina-iPadMiniRetina, iPadMiniRetinaCellular-iPadMiniRetinaCellular, iPhone6-iPhone6, iPhone6Plus-iPhone6Plus, iPadAir2-iPadAir2, iPadAir2Cellular-iPadAir2Cellular, iPadMini3-iPadMini3, iPadMini3Cellular-iPadMini3Cellular, iPodTouchSixthGen-iPodTouchSixthGen, iPhone6s-iPhone6s, iPhone6sPlus-iPhone6sPlus, iPadMini4-iPadMini4, iPadMini4Cellular-iPadMini4Cellular, iPadPro-iPadPro, iPadProCellular-iPadProCellular, iPadPro97-iPadPro97, iPadPro97Cellular-iPadPro97Cellular, iPhoneSE-iPhoneSE, iPhone7-iPhone7, iPhone7Plus-iPhone7Plus, iPad611-iPad611, iPad612-iPad612, iPad71-iPad71, iPad72-iPad72, iPad73-iPad73, iPad74-iPad74,

Supported Languages:

Danish; Dutch; Flemish; English; French; German; Indonesian; Italian; Japanese; Korean; Malay; Bokmål, Norwegian; Norwegian Bokmål; Polish; Portuguese; Russian; Chinese; Spanish; Castilian; Swedish; Thai; Chinese; Ukrainian;