Recommended app!
App last updated
Nov 28, 2017
Screenshots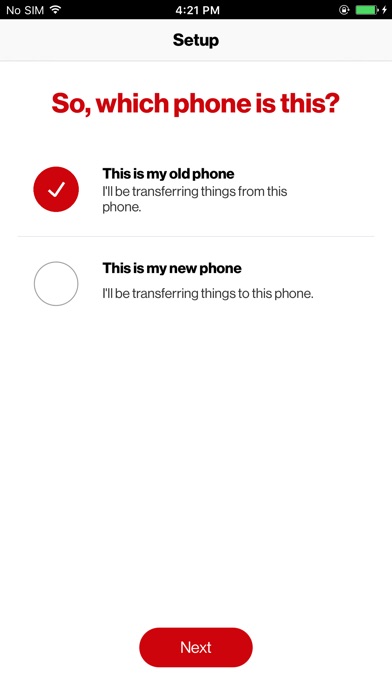 New in version 3.5.9
- Support for iPhoneX
- Bug fixes
Description
The Content Transfer app allows fast and simple transfer of personal media (photos/videos) as well as contacts, calendars, and reminders from your old device to a new one. Content can be transferred over the air without the need for wires, subscribed services, or additional equipment. Simply run Content Transfer on both devices to easily and intuitively copy all your personal data and begin enjoying your new phone. Also supports transfers to and from other devices that run on other major operating systems.
iPad Screenshots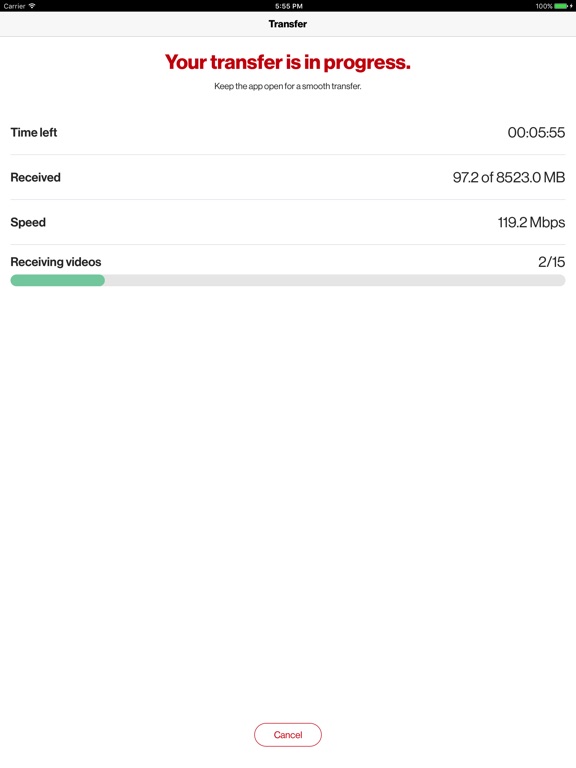 Reviews
Good job
judgemental joe brown
on
1/21/2018
Flawless. Took about 5 minutes
Amazing!!!
This app worked perfect for transferring all photos to my new iPhone it was flawless and took about 30 minutes.
Great app
jimmybean437
on
1/20/2018
Transfers fast and better then standing in the store waiting.
Perfect
Judgeit59644
on
1/20/2018
Fast and easy
Easy to use
This made transferring my info from an android to an iPhone easy
Amazing
Super fast .. amazing app
Easy, excellent app to transfer info
This is a very simple app to use to transfer info from one phone to a new phone. It was very easy to follow the directions.
Great Job!!
UndergroundFlowers
on
1/19/2018
This app made the transferring process so easy. I was extremely worried that everything wouldn't transfer over but it did so everything worked out and it didn't take a million years!
Easy
Christmastoy2013
on
1/19/2018
Quick and easy to do.
Great!
Made things much easier
Wayne Williams
Transfer was fast once it got set up properly.
Awesome
It was very easy to use
Content transfer app
Really easy to use! I'm so glad this app was created!!!
Easy
Made my Android to iPhone transfer easy. User friendly
Content Transfer
JaketheGardensnake🐍
on
1/18/2018
Awesome app
Super simple
buddy the squatch
on
1/18/2018
Well, that was certainly an easy process!
👍🏼
Kelseythrock
on
1/18/2018
Super easy and very quick
Continued failure
I was transferring iPhone to iPhone and it took 3 separate attempts and over night to complete the transfer. I started the transfer at 7p and it was complete when I woke up at 5a. So, as long as you have time to wait if this happens to you this will work. I'd recommend backing up your phone on iTunes or iCloud instead!
Good
Totes ahmazing
on
1/17/2018
Good app, I just transferred my pictures, contacts, and videos to my iPhone.
Worked great
rancher11111
on
1/17/2018
Easy to use ... even for an old guy
Awesome
Very easy to use and made the process very smooth. Great app
Flawless
Sunshine0071
on
1/17/2018
Worked exactly as it said! Very pleased!!
Transfer
Was very easy and greatly appreciated
Worked like a charm
Content transfer worked well
Quick & easy
It was painless.
Easy as can be
Used this app for the first time and I'm a matter of minutes, all was transferred.
Smart
Very nice, smart, and fast.
Great app
Worked perfectly!!!
Love it
Saves so much time!!!!
Easy to use
The transfer was easy to use and move things over to my new phone. The only thing is if you don't have storage on your old phone to download the app, you might be in trouble. You have to be able to get the app. That's my only complaint.
Excellent app..!!
For Snap Deal
on
1/15/2018
I just loved it. Made it like a breeze to move all my contacts n media from my old to new phone..!!!!!!
Very easy!!!!
This is the easiest app I have ever used to transfer information from any phone to another thank you VERIZON for creating a very easy app to use😊❤️
Infinitely faster than the iOS app
Took 45 mins to transfer 2% data on the iOS app that comes with the phone. This took 15 seconds.
A little buggy but it works
Did the job after three tries
Easy
Easy to use and save the trouble from going back to the store.
LG G4 to iPhone
Melloyellow0123
on
1/14/2018
App worked great, did what it was suppose to do.
Excellent App
Easy to use, fast
Easy and quick
Figgmaster1234
on
1/13/2018
Easy and quick!
Downloaded content....
Excellent and the download was done quickly
Transfer process for iPhone
Things went very well after I got things connected correctly
Quick and easy
Super fast and easy to use
Content transfer is awesome
The easiest way to transfer my stuff!!
For Teal Great
GiGiUpchurch
on
1/13/2018
Literally took seconds to do. Touché mammajammas!
Fact Sheet
Publisher:

Verizon Wireless

Category:

Productivity

Released:

Jul 20, 2016

Current Version Released:

Nov 28, 2017

Version:

3.5.9

Size:

30 MB

Compatibility:

Requires iOS 8.0 or later.

Recommended Age:

4+

Game Center Certified:

No

Supported Languages:

English; Spanish; Castilian;