Screenshots
Description
Tize - Easily create professional music

Make beats easily
in landscape or portrait, your choice.

Share your music with the world
Publish to the Tize feed, and vote on your favorite tracks!

Export
your song and share it, or bounce each track individually or the MIDI file to use in your favorite DAW.

Over 400 professional sounds designed by Sonic Sounds
for you to download.

Lay down the funk
with classic drum pads!

Easy Chords
stay in key and focus on making music.

Add Effects
to your instruments or vocals!
Now with audio unit extension (effects) support.

Record Audio
record an instrument or vocals, loop it, and change the speed
Tize will keep everything on beat for you

Sample
Easily Import audio trim it, slice it,
change the pitch and loop it in your project.

Collaborate and share
with your friends. Show them what you made, or work on something together.

Ableton Link Support
allows you to collaborate live with other musicians in the same room!

Tize Cloud
never loose a song again. Back up your song to the Tize Cloud, share with your friends, or export your song to sound cloud or jam in your car!

Arrange your song
simply tap on a loop to mute it or un-mute it

Pattern Editor
easily create, move, or edit notes!

Settings
change the speed, scale, or even turn of quantize to give your song more of a live feel

MIDI Support
Plugin your favorite iOS compatible MIDI Keyboard.

With a TIZE VIP Pass, enjoy the following benefits:
- Unlock all sound packs

Using in-app purchase for recurring billing makes it easier than ever to subscribe to TIZE's VIP Pass. In-App Purchase information:
- Subscribe to TIZE VIP Pass for only $4.99 per month (amount in USD in US App Store).
- When you have confirmed purchasing the subscription, your iTunes Account will automatically be charged.
- The subscription automatically renews unless auto-renew is turned off at least 24 hours before the end of the current period. You can manage subscriptions and turn off auto-renewal by going to Account Settings after purchase.
- Your iTunes Account will be charged $4.99 monthly for renewal within 24 hours prior to the end of the current period.
- The current subscription cannot be cancelled during active subscription period.
- You can find our Privacy Policy at http://www.tizemusic.com/privacy and Terms of Service at http://www.tizemusic.com/terms
iPad Screenshots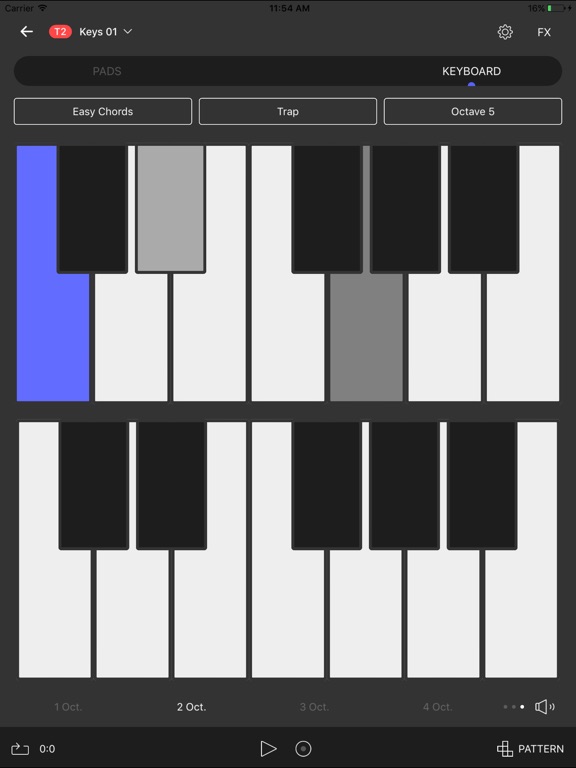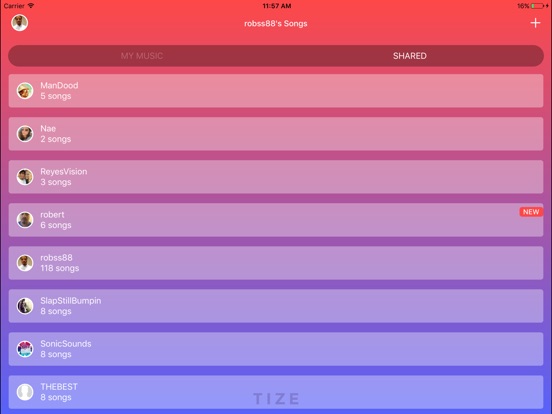 Reviews
😒
MTJP1998-.....
on
10/17/2017
It Wouldn't Let Me Import An Audio
Nothing Like It
knumskullbabe
on
10/6/2017
Using Tize for about 6 months or longer... I've spent hours researching, downloading, using, & deleting countless music/sound apps in search of the simplest, yet stocked with tons of quality features for creating my beats/instrumentals & for recording vocals... Tize I can honestly say ranks in my DAILY TOP 2! Great app!!!!
I wanna sign up! But I can't.
Clyclone Isaac
on
10/5/2017
The only way it seems able to sign up is through Facebook. I love this app, I really do but not being able to sign in with my email really bums me out. Please add email sign in. Thanks!
WTH?
This app was by far the best beat making app as far as its price goes hands down. But ever since the ios 11 download as soom as i startt up TIZE it jus freezes on me and forcecloses.WTH?..?
glitchy
not say this is a bad app it is awesome! but the glitches in the app like making me exit the app out of nowhere and tracks not playing correctly and acting like i missed keys is glitchy and annoying.
Best music app
At first I thought this app would be like any other app, little choices to sounds and repetitive sounds. However, after playing around with this app, I was surprised. This app has a wide range of sounds to use, and has different FX for sounds.
Not compatible with iOS 11
The app is great and I like everything on it but it doesn't work with iOS 11. every time you go to record it just closes out of the app. It will glitch out and close out of the app. Please fix.
I like it
viperthesnake22
on
9/17/2017
I like it a lot
Amazing
So, i have been using this app for a while and i have to say its pretty cool to use
Sohhyn
Want to cancel the VIP thing but I couldn't find where to
YES!
the hitch-hiker
on
9/3/2017
Excels in music technology, 100% awesome UI and functionality. Thank u tize!
Audio is laggy/delayed
Overall this app is great BUT when recording audio the delay will make you sound like you have no Tempo.
Great app!
Have to take time and really learn how to use it. Once you've learned very easy and very addicting.
Suggestion
Add a reverse tool/filter for melodies and drums✊️💯
I wish they had a tutorial
I have no clue how to work this app. When I try to sample part of a song it only lets me record the first few seconds
Its dope
xXyounglordXx
on
8/2/2017
I love it. Its a great way to make beats. And if really simple. My two beats are not the best but they are good.
Love it
Great app...would like to know how to activate the monthly feature though
HMM
I really like this ..
ey not bad
Pretty good app. Wish there were more default sounds availible though, that you wouldn't have to buy.
Best drum app.
David Steve Vega
on
7/17/2017
Not sure what the other reviews are talking about, but this became my favorite drum app after about five minutes of use. The stock sounds are amazing when combined with effects. Completely blown away, will report back after more use.
DONT BUY THIS APP
Austineaggon
on
7/12/2017
In my opinion I hate this app period. The pads don't even work, the features in the app aren't even cool, when someone buys a FX sound it dosent even work it's the worst app I've ever bought don't buy it
Very Bad.
Horrible App, Extremely hard to use
Great app with a flaw
The app is amazing for making the beats but whenever I try to upload to soundcloud it doesn't let me
unstable
decibillionaire
on
7/4/2017
crashes a lot. usually upon press of play/stop or switch to/from piano roll editor. very sensible, usable app otherwise.
Really good
Could make a beat
Wonderful!
This app basically has everything you'd want when it comes to on-the-go beat making. Tize also offers tutorials that are simple making this an app for any skill level, as they also have advance settings. Love this app, can't wait to use it more!
Freezes too much
Freezes way too much
Amazing !!!!!
I love everything about it , can't wait for new updates !!!
Fire. The business. It's AMAZING!
Nuther app addict
on
6/26/2017
Other music apps don't even come close. Versatile, intuitive and feature rich. I'm learning composition just using it!
Update ruined everything
The update ruined over 60 tunes I made
THIS APP IS AMAZING AND ...
PLEASEEEEE LET ME SIGN IN WITH SOMETHING, ANYTHING OTHER THAN FACEBOOK. ITS 2017 & I'LL BE DAMNED IF I GET A FB ACCOUNT NOW. PLEASE, TIZE DEVELOPERS, LET ME IN 🙏🏻
Awesome
budasfamily274
on
6/11/2017
This app is great wow am so happy us apple users have this app show me what you got on this tize
As an Artist
As an artist im trying to use this app to create beat and it skips around alot.. I wanna support this app but these flaws need to be fixed. I really enjoy this app its just very buggy.. Other then that i love it.. Please make these changes so i can give you app recognition
Great!
This is an AMAZING app! There is only two problems I've had with it so far. The first is that if you add too many sounds at once it starts to make static noises (HOWEVER, if I export it, it sounds PERFECT) The second problem I've had is more of a content issue. This app is geared more towards Trap & Hip Hop than other genres, but this app would be amazing for people making medieval/fantasy-esque music! In fact, I already have made several great sounding fantasy tracks, however it really needs some more acoustic instrumentals. The Waves Sound Pack helps this some, but it does need more. TL;DR GREAT APP, needs more instruments for us Fantasy people, one small bug, GET IT NOW!!! EDIT: The crackling glitch happens a lot less now.
Few more Adjustments
This is a very great app to use, however there are some things that needs to be looked at again. 1. Once you press the undo button it should only undo the last thing you made not delete things or undo the whole track. 2. It's starting to skip around a lot. Sometime the app closes in mid edit, not cool! 3. Sometime the tempo for the metronome is kinda off, which throws me off as well! On the other hand the Tize is awesome just fix those up a bit!!!
Needs to be fixed/updated
At first it was working just fine considering I downloaded it on my ipad but then as I was making the songs, the sounds wouldn't play as I played them back. They would skip and play at some parts and then it wouldnt play at all. I thought it was my ipad doing it so i unstalled the app and restarted the app, installing it back again and the same thing happened. I love the app but that bug issue needs to be fixed.
it doesnt work, force closes
great app all its ability s are great but i use this on my iPhone 5s and the app force closes all the time. it will freeze which i will have no other option but to quit and restart the app. if this is the case then at least have an auto saving app or just update it please.
Dear Tize Team,
Thank you so much for finally bringing a music app to the appstore that's worth my time. You are the first app I've found that allows people to seriously start making music, not just mixing loops. Furthermore, thanks for making both the app and a fair amount of sounds free to use. Music has always been one of those things that I wanted to learn but was turned away multiple times by big prices and lack of technical know-how. So thanks. Sincerely, David
Great
gsugajqiuaysuqjqyqi
on
4/25/2017
It is very easy to use and fairly simple to understand I enjoy playing around and making beats on here
Had an issue but it's all gone!
I had an issue with syncing my previous songs. Now, there's no problem! This is a great app!
Tize
BEST APP TO THIS DAY
Super dope
The truth....best beat app out
Bomb
I actually enjoy the interface and with my beats the sound is epic
favorite ios app for music
I create some great ideas with this app easily and there are exporting features that you wont get with any other app. This app was cofounded and developed by some people who really have a passion for technology and have been creating digital music for years. I see great things in the future as this is still only version 1.
A great little app just got even greater!
Ben Efitofadoubt
on
4/16/2017
A fun app that packs surprising power. Recommended!
Fact Sheet
Publisher:

Tize Music, Inc.

Category:

Music

Released:

Nov 04, 2016

Current Version Released:

Oct 13, 2017

Version:

1.4.11

Size:

25 MB

Compatibility:

Requires iOS 10.0 or later.

Recommended Age:

4+

Game Center Certified:

No

Supported Devices:

iPhone5-iPhone5, iPadFourthGen-iPadFourthGen, iPadFourthGen4G-iPadFourthGen4G, iPhone5c-iPhone5c, iPhone5s-iPhone5s, iPadAir-iPadAir, iPadAirCellular-iPadAirCellular, iPadMiniRetina-iPadMiniRetina, iPadMiniRetinaCellular-iPadMiniRetinaCellular, iPhone6-iPhone6, iPhone6Plus-iPhone6Plus, iPadAir2-iPadAir2, iPadAir2Cellular-iPadAir2Cellular, iPadMini3-iPadMini3, iPadMini3Cellular-iPadMini3Cellular, iPodTouchSixthGen-iPodTouchSixthGen, iPhone6s-iPhone6s, iPhone6sPlus-iPhone6sPlus, iPadMini4-iPadMini4, iPadMini4Cellular-iPadMini4Cellular, iPadPro-iPadPro, iPadProCellular-iPadProCellular, iPadPro97-iPadPro97, iPadPro97Cellular-iPadPro97Cellular, iPhoneSE-iPhoneSE, iPhone7-iPhone7, iPhone7Plus-iPhone7Plus, iPad611-iPad611, iPad612-iPad612, iPad71-iPad71, iPad72-iPad72, iPad73-iPad73, iPad74-iPad74, iPhone8-iPhone8, iPhone8Plus-iPhone8Plus, iPhoneX-iPhoneX,

Supported Languages:

English;