TapNova recommends this app!
New in version 1.4.1
Fixes a crash for iOS 9 devices.
Description
Download the free Donald Trump app with constantly updated information from the Donald J. Trump for President campaign website, Donald Trump's social media accounts and greatagain.gov.

• Send your favorite Trump sticker to your friends in the new Messages app for iOS 10.
• Watch short videos from Donald Trump and learn about his positions on important issues
• Read of free sample from Donald Trump's best selling book The Art of the Deal
• Read Donald Trump's most recent tweets and retweets on Twitter
• Read the most recent news stories about Donald Trump curated by the campaign
• View the latest posts from Donald Trump's official Instagram account
• View the latest posts from Trump supporters from the largest subreddit on Reddit for Donald Trump
• Find out where and when Donald Trump will be appearing, maybe in your hometown!
• And if your a Trump supporter, what better way of showing your support by sharing this app.

Enjoy daily news, videos, press releases and tweets from Donald J. Trump!
iPad Screenshots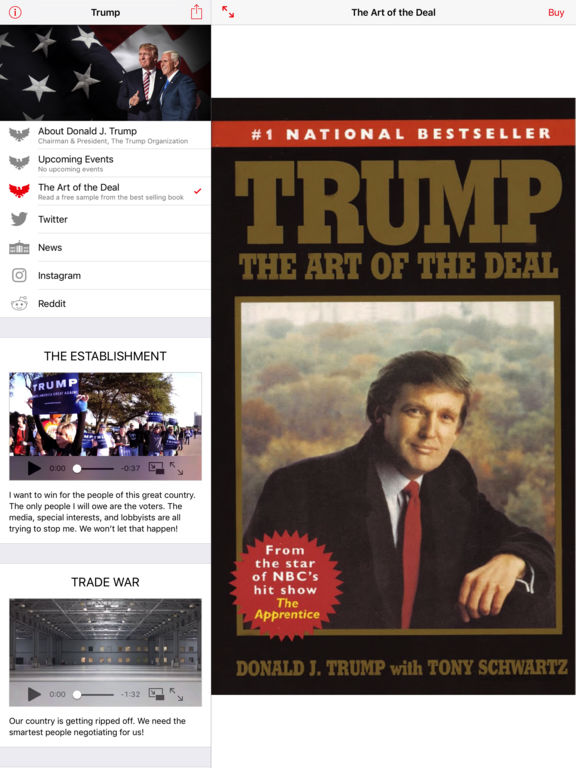 Reviews
MAGA
Love this app very user friendly.
MAGA
Great news and information.
MAGA
yiffymcdabbo
on
4/11/2017
all your Trump news in one place, top tier!
Super Duper App!!
No Twitter account needed. Plus I feel as though President Trump is Speaking directly to me without his message being altered 10 ways to Sunday by Drve B's and Social media. Thanks!
Yuuuuge
TruthHurt$$$
on
3/24/2017
Love it!
Clean, fast, easy to use
FapLeftSurfRight
on
3/24/2017
The app is fast and clean. I like that I can see tweets without needing twitter. I like the videos and messages directly delivered without the media. A direct link to the DomReddit is a truly magnificent touch. This is Barron's best work yet.
MAGA
iCloud Strife
on
3/24/2017
This Makes Apps Great Again.
Trump Tweets without Twitter! And r/The_Donald too!
Interesting how Apple made me re-confirm my credit card info to download this FREE APP. Barriers to entry much?
Most American App there is!
Best App ever made, can't stop all this winning.
Tweets without twitter
JDgiantmidget
on
3/20/2017
Got this app because I wanted to follow the Presidents tweets without getting a twitter account!!!
Not bad
I use this app to piss off the liberals around me. Their hatred is so easy to trigger already, but having trump's tweets at the ready, without having to actually have a twitter account, makes the task even more delightful.
Just like he is here
Love his tweets, too! Support is great should you have any issues! Trump is too important not to have this app!!!
Trump
CoolSergeGuillen
on
3/12/2017
Amazing Application 🇺🇸
iPad issue
I like the app. Trump tweets on my iPhone are informative but the site crashes now every time I open it on my iPad since a few days ago. Please fix ASAP. Thank you.
Was good till last update
Only instant crash since last update.
I love this app
I love President Trump and I love this app.
Making apps great again
Ryan Evan bell
on
3/9/2017
Maga
Don't let this app fail
Isotelus Maximus
on
3/4/2017
This app is a gold mine. Easy to navigate the content and stay current with the voice and actions of my President and my Vice President. Beautiful app. Well done.
Rick78
Trump propaganda for people with small brain.
Great All-in-1 App
Since I don't "do" Twitter or FB, it's great having this app to keep current with all of our President's Twitter posts. The other app features are great, too.
Making it all great again!
This is the president I have been wanting my whole life. Finally service members can be proud again. Finally we all can be proud again. And great App, works perfect. Better than um, another site the last president tried. Awesome Job President Trump!
POTUS DONALD J. TRUMP
Colerdgreens
on
1/20/2017
Thank you for this great app! It keeps me informed on all things President Trump! I don't have twitter so I appreciate being able to read them...and bypass the dishonest media! He did it his way 👍
Gene23
Great app. Get the official word, from president-elect Donald J Trump himself. I hope this app will run for the next eight years. Bypass the fake news, from the lame stream media. Make America Great Again. God Bless.
I love this.
Spellmonger
on
12/14/2016
There should be a trend of more apps bringing the populace together with their representatives! Let's defy party affiliation and get back to business.
Excellent all-things-Trump app!
Just took a look on my iPad Pro--loving it! Trump's tweets (I am not on Twitter), upcoming events, news, all sorts of current and interesting info about our President-elect. Very Patriotic! Thanks, Pomegranate Apps!
Amazing App
Famericaaaaa
on
11/5/2016
We are sick and tired of the politicians in DC not representing the people. With Donald Trump we will Drain the Swamp and MAKE AMERICA GREAT AGAIN - AMERICAN WITH TWO LEGAL IRANIAN IMMIGRANT PARENTS BUILD A WALL!
T4P
Gwogwogwogwog
on
10/24/2016
T4P
Hillarys app is so basic.
Dibbgoogs655
on
10/14/2016
With the Donald's I'm getting it in !
Why
I have so much disgust for Donald trump
Very well done!
I've downloaded 10,000 apps and I can say that this App was done right, that's for sure. Nice job.
Trump 2016
AWESOME APP!!! IT'S FREAKIN' YUGE!!! #Trump2016 #MAGA #BuildTheWall
No Time for Half measures
Rabindranath62
on
9/14/2016
Anything that is pro Trump automatically gets a five star rating from me. The stakes in this election are too high, and danger to freedom too great for half measures. Go Trump!
Love trump
Bringthemdown
on
9/13/2016
He is doing amazing for the adversary he has had
Fantastic!
Great app with lots of info about Trumps plans to "Make America Great Again"!
Murray's review
Best political app I've ever seen, and I have been around a long time (66 years). Better than anything in print, on radio, TV, etc. Must see for every American asap!!!!
Great app
This app is great about trump and all the things it does
I love this
Incredibly informative, learned a lot of new things about the campaign I didn't know before, THANKS DONALD!
Intuitive, Fact checked, Patriotic
I've downloaded all the Trump apps and this app does the best job of outlining Mr. Trump's values and intentions for the presidency. All news is fact checked and without the added media spin!
Fact Sheet
Publisher: Pomegranate Apps LLC
Category: Social Networking
Released: Sep 04, 2016
Current Version Released: Mar 18, 2017
Version: 1.4.1
Size: 55.9 MB
Compatibility: Requires iOS 9.0 or later.
Recommended Age: 4+
Game Center Certified: No
Supported Devices: iPad2Wifi-iPad2Wifi, iPad23G-iPad23G, iPhone4S-iPhone4S, iPadThirdGen-iPadThirdGen, iPadThirdGen4G-iPadThirdGen4G, iPhone5-iPhone5, iPodTouchFifthGen-iPodTouchFifthGen, iPadFourthGen-iPadFourthGen, iPadFourthGen4G-iPadFourthGen4G, iPadMini-iPadMini, iPadMini4G-iPadMini4G, iPhone5c-iPhone5c, iPhone5s-iPhone5s, iPadAir-iPadAir, iPadAirCellular-iPadAirCellular, iPadMiniRetina-iPadMiniRetina, iPadMiniRetinaCellular-iPadMiniRetinaCellular, iPhone6-iPhone6, iPhone6Plus-iPhone6Plus, iPadAir2-iPadAir2, iPadAir2Cellular-iPadAir2Cellular, iPadMini3-iPadMini3, iPadMini3Cellular-iPadMini3Cellular, iPodTouchSixthGen-iPodTouchSixthGen, iPhone6s-iPhone6s, iPhone6sPlus-iPhone6sPlus, iPadMini4-iPadMini4, iPadMini4Cellular-iPadMini4Cellular, iPadPro-iPadPro, iPadProCellular-iPadProCellular, iPadPro97-iPadPro97, iPadPro97Cellular-iPadPro97Cellular, iPhoneSE-iPhoneSE, iPhone7-iPhone7, iPhone7Plus-iPhone7Plus, iPad611-iPad611, iPad612-iPad612, iPad71-iPad71, iPad72-iPad72, iPad73-iPad73, iPad74-iPad74,
Supported Languages: English;